Las Vegas with Kids – Where to stay and the best things to see and do for families.
Las Vegas may exist primarily as a playground for adults but that doesn't mean that families can't enjoy a visit as well. I have no real interest in gambling but I was interested in seeing the city for myself so I thought that it could be fun for a few days during my 9 year old daughter's spring break.
This article may contain affiliate links.
Where To Stay
We stayed at the Four Seasons Las Vegas which is a non-gaming luxury hotel located on the top floors of Mandalay Bay Resort.  The Four Seasons is located at the end of the strip which is comparably quiet making it a family-friendly haven from the hustle and bustle further along Las Vegas Boulevard. The hotel has its own luxurious pool and guests may also use the pools at Mandalay Bay which feature a sand beach, a Lazy River and a Wave Pool. Your kids might not want to leave the resort once they have experienced the pools!

The Four Seasons is expert at pampering kids and every parent knows that if the kids are happy then the vacation is going to be a success. The hotel may be pricier than some of the other options on the Strip but we enjoyed our stay at The Four Seasons so much that I wouldn't even consider another hotel for a return trip.
Travel Tip: Bring an inflatable inner tube from home if your family plans to use the Lazy River. They are only available for purchase at Mandalay Bay at a charge of $18 each and once your child sees how much fun everyone is having floating down the river they are going to insist on having one.
Things to Do in Las Vegas with Kids
We spent 3 nights in Las Vegas followed by a 2 night trip to the Grand Canyon and then another night back in Vegas before flying home. These are the family-friendly activities that we found over the course of our visit.
1. Check Out The Hotels
Many of  the hotels in Las Vegas are attractions in and of themselves. It can be fun just walking down Las Vegas Boulevard and seeing Egyptian pyramids, the New York skyline, or the Eiffel Tower. My 9 year-old got a big kick out of the themed hotels – as far as she was concerned, Las Vegas was just one big theme park. Walking around inside the various hotels can also provide some entertainment and many of the hotels feature attractions as well.
2. Take a Walk on Las Vegas Boulevard
You never know what you might see on the street in Las Vegas – some of it family-friendly and some of it a bit unsavoury. Depending on the age of your children, you may find that a stroll on the strip prompts a discussion about some of the activities that happen in Vegas and stay in Vegas. It's pretty hard not to notice the individuals handing out cards with photos of naked women as these hand-outs are discarded and litter the street and my 9 year old was curious as to why. It is also legal to walk the streets with alcohol and you will see people in various states of inebriation at any time of the day. Again, parents should be prepared that this may lead to some discussion. By avoiding the Strip at night we were able to limit exposure to anything too risqué. On the other hand, while walking on Las Vegas Boulevard we met some showgirls in costumes that Emma thought were very pretty and we had our very own Elvis sighting which made my trip to Vegas complete.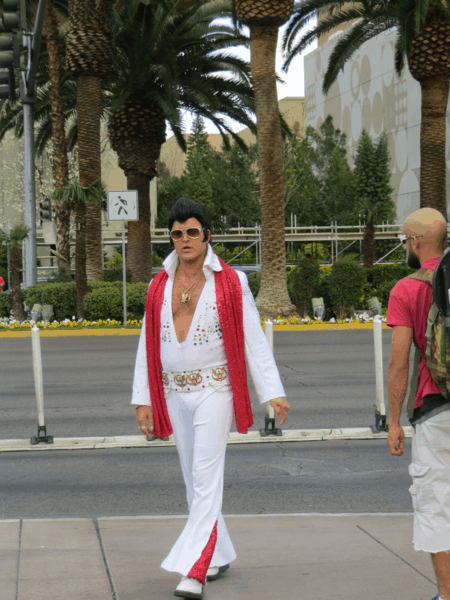 3. The Shark Reef Aquarium at Mandalay Bay
The Shark Reef Aquarium at Mandalay Bay will appeal to both kids and adults. The aquarium features 14 exhibits of aquatic predators and a total of more than 2,000 animals on display – there are over 100 species including 15 species of sharks. The highlight of the aquarium is the acrylic shipwreck tunnel which provides visitors with a 360 degree view of the animals and the thrill of seeing a shark or stingray swim directly overhead. There is also a touch tank which is quite popular with most kids – mine decided that she could live without touching a stingray.
Read reviews of/purchase tickets in advance for Shark Reef on TripAdvisor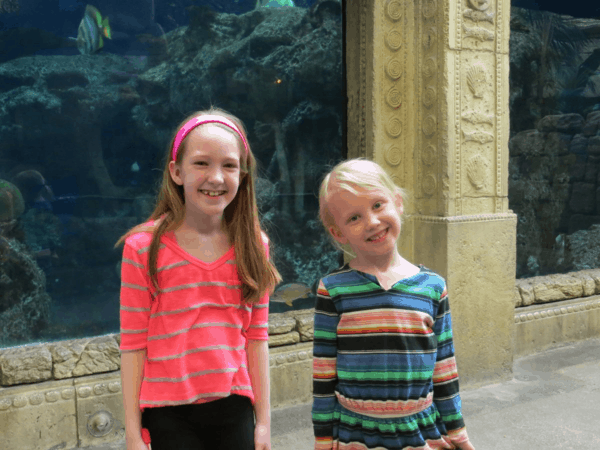 Visiting Shark Reef with our new friend from Wandering Off
4. Fountains of Bellagio
We paused twice to watch the spectacular Fountains of Bellagio entertain passers-by with its choreographed water display. The second time we stopped to watch was on our way to the Celine Dion concert and, much to Emma's delight, the fountains danced in time to My Heart Will Go On. We would have loved to have seen the fountains after dark as well but we never got the timing right. The shows take place at regular intervals over the course of the day and evening and are absolutely free.
5. The Bellagio Conservatory and Botanical Gardens
The Bellagio Conservatory is another great attraction for families and also free! We were blown away by the elaborate floral displays that change periodically over the course of the year. The Spring Celebration exhibit had just opened prior to our visit and featured swans, butterflies, windmills, ladybugs and lots of tulips. We were also treated to a live musical performance during our visit. 
The Bellagio Gallery of Fine Art is located near the Conservatory and is currently (March 2013) showing Warhol Out West – an extensive collection of works by Andy Warhol but, unfortunately, we didn't have time to visit.
6. The Chocolate Fountain at Bellagio (Closed in 2018)
Another attraction at The Bellagio which is both exquisite and free to look at is the Chocolate Fountain at Jean Phillippe Patisserie. Chocolate-lovers of any age will be amazed by the floor to ceiling fountain which is officially the largest chocolate fountain in the world. Be warned though, if you stop to see the fountain then you may well be tempted to indulge in some chocolate. 
7. 50 Greatest Photos of National Geographic Exhibit
We were able to attend the 50 Greatest Photos of National Geographic Exhibit which was on tour (in 2013) and showing at The Venetian Las Vegas. This exhibit was one of my favourite attractions in Las Vegas as it includes some spectacular photographs as well as the photographer's story behind the photo which in many cases was a fascinating look into how these photos came to be. The collection included a photo of a heartbroken young Peruvian boy, about Emma's age, who has just seen his family's herd of sheep destroyed by an out-of-control car. The photo brought me to tears and I don't think that I will ever forget that image or the pain on his face.
8. The Titanic Artifact Exhibition
We also enjoyed the Titanic Artifact Exhibition which was on display (in 2013) at The Luxor Las Vegas. Emma's fascination with the story of the Titanic led to us to visit several Titanic sites in Eastern Canada last summer so she insisted on seeing this exhibition when I mentioned it to her. The 25,000 square-foot exhibit features many items recovered from the wreck; re-creations of passenger rooms, the Grand Staircase and a frigid Promenade Deck; as well as a large piece of the Titanic's hull. The exhibit provides a fascinating and informative look at the series of events that led to the wreck of the Titanic and what happened in the aftermath. 
9. Gondola Rides at The Venetian
The Venetian Resort in Las Vegas features its very own Grand Canal along with gondolas and singing gondoliers. We only agreed to a gondola ride because Emma was keen – if she hadn't been with us then I would have skipped it. A singing gondolier boating around an indoor canal in Las Vegas is just a bit hokey and at $18.95 a person is also expensive. I should have waited to go to Venice and have the authentic experience!
Read reviews of/purchase tickets in advance for Gondola Rides at The Venetian on TripAdvisor
10. The Dolphin Habitat and Secret Garden of Siegfried and Roy
A family-friendly attraction at The Mirage is Siegfried & Roy's Secret Garden and Dolphin Habitat. We spent about an hour here one afternoon watching the bottle-nose dolphins swim and interact with their trainer and walking through the garden to see the white lions, white tigers, panthers and leopards. The cats are beautiful and Emma enjoyed taking a lot of photos of them but there is something just a little bit sad about seeing them behind wire fencing. 
Read reviews/purchase tickets in advance for Siegried & Roy's Secret Garden and Dolphin Habitat on TripAdvisor
11. Attend Shows
For a family that enjoys the theatre there are a number of shows that will appeal. We love the theatre so attending shows while we were in Las Vegas was one of the most anticipated aspects of our trip. We took in a performance of the Cirque de Soleil's The Beatles – Love at The Mirage; A Broadway Celebration at New York, New York, and a Celine Dion concert at Ceasar's Palace.
I was blown away by the production of Love. I wasn't really sure what to expect as I hadn't seen a Cirque de Soleil show for close to 20 years but it more than lives up to the hype. There is so much happening on that stage that it is hard to know where to look, the music is great, and the acrobatics are astounding. Emma wasn't familiar with many of the Beatles songs beforehand but she emerged from the show as a huge new Beatles fan.
Celine was Celine – she put on an amazing show and Emma was thrilled to attend her first real concert. The Broadway Celebration show was okay – it was a much smaller venue and the acoustics weren't great but the tickets were about half the price of the other shows that we saw so I suppose that reflected the quality of the show. Emma enjoyed hearing many of the Broadway songs that she was familiar with though and learning a few new ones. 
12. Shopping
We didn't really spend much time shopping but for those who are keen there are shops around every corner. We did spend far too much time at the 28,000 sq.ft., 4 level M&M World Las Vegas – the likes of which we had never seen before – Emma thought that she was in candy heaven. (Parents should prepare to be astounded when the purchase is rung up at the cash register.) We also shopped at David & Goliath for silly t-shirts as it's a store that we don't have at home. 
We had no difficulty finding kid-friendly activities during the four days that we spent in Las Vegas – in fact, we had several other attractions on our list that we didn't have time to visit. So yes, Las Vegas is an adult-oriented destination but there are plenty of activities that will appeal to families as well and there is no need to worry that you will be the only family visiting. In all likelihood, you will be quite surprised at just how many families have chosen Sin City for their family vacation.
Related Links
A Family Holiday at the Four Seasons Las Vegas
Photo Memories from the Grand Canyon
Book Review: Las Vegas: An Indie Travel Guide