The annual Canadian Tulip Festival is underway in Ottawa which has me reminiscing about our visit to the festival last year. Tulips were originally gifted to Canada by the Netherlands as a thank you for providing a safe haven to the Dutch Royal Family during World War II and in 1953 a festival was established to occur at the time that the flowers bloomed each spring. It has continued to expand each year and now features more than 1 million tulips in Canada's Capital Region.
Emma and I arrived in Ottawa at the tail end of last year's festival and enjoyed searching for tulips even though they were nearly finished blooming. We were told that the best flowers could be found in Commissioners Park so we headed there. We had a lovely walk in the park enjoying what blooms there were and then we happened upon this huge statue of a man holding two hats.
Like the tulips that are the focus of the festival, the statue Man With Two Hats which stands in Commissioners Park was gifted to Canada in thanks for the role that Canadian soldiers played in liberating the Netherlands during the Second World War.
The monument was designed by Dutch artist, Henk Visch, and an identical statue stands in Apeldoorn in the Netherlands. According to the commemorative plaque "the twin monuments symbolically link Canada and the Netherlands, though separated by an ocean, the two countries will forever be close friends". The two hats are said to symbolize Canada and the Netherlands and his outstretched arms represent the liberation of the Netherlands and the cooperation between the two countries.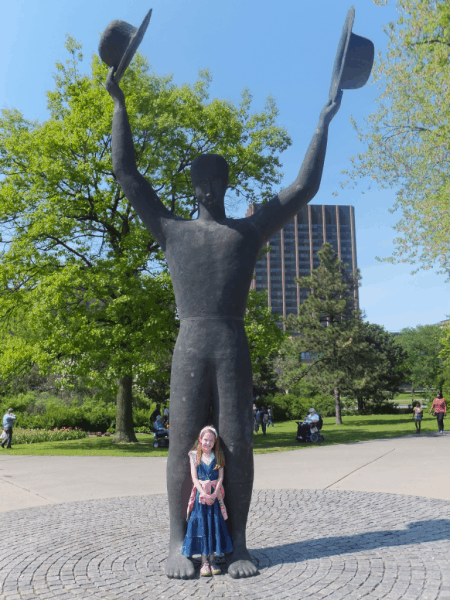 Related Articles
Ottawa with Kids: Fun in Canada's Capital Region
Searching for Tulips in Ottawa