A review of the children's book series The Adventures of Bella & Harry.
One of the things that I have always loved to do in anticipation of a trip is read fiction set in my destination and I have always firmly believed that this is the ideal way to prepare children for travel as well. Travel books aimed at kids haven't always been easy to find though – and believe me, I searched high and low for relevant story books when my daughters were younger.
Fortunately, this is no longer the case and there are now books such as The Adventures of Bella & Harry series, written by Lisa Manzione and illustrated by Kristine Lucco, which are designed to introduce young readers to travel, different countries, cultural diversity, customs, history and landmarks.
We are a participant in the Amazon Services LLC Associates Program, an affiliate advertising program designed to provide a means for us to earn fees by linking to Amazon.com and affiliated sites. As an Amazon affiliate I earn from qualifying purchases.
I recently had the opportunity to review two of the most recently published titles – The Adventures of Bella & Harry: Let's Visit Edinburgh! and The Adventures of Bella & Harry: Let's Visit Rome and fell in love with the series.
How I wish that there were books like this when my girls were little but even though they are beyond picture books, I still get excited to discover that there are now wonderful options out there for parents who want to encourage a love of world travel in their children.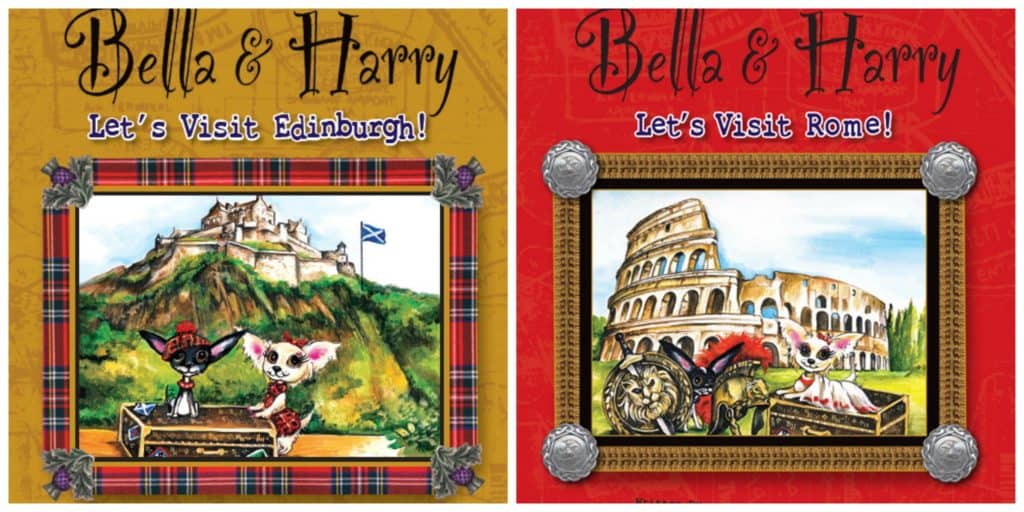 The Adventures of Bella and Harry is a picture book series about two adorable Chihuahua pups who are traveling around the world with their family. Bella and Harry are siblings and the big sister/younger brother relationship will likely seem familiar to many young readers.
Big sister Bella may be just a bit of a know-it-all providing all of the details about each destination but her little brother doesn't seem to mind. Good-natured and curious, Harry has a vivid imagination, loves to dress up and might be inclined to get into some mischief if his big sister wasn't watching out for him.
The books are beautifully illustrated and provide young readers with a wonderful introduction to the featured destinations with information about famous landmarks, local customs/traditions, the tastiest foods to try and a bit of history of the area. The books also include a list of fun words and phrases that are easy for kids to learn.
In Edinburgh, Bella & Harry learn about the Royal Edinburgh Military Tattoo, Edinburgh Castle, the Royal Mile, and Holyrood Palace while they are in the city and then head to the Highlands to search for the famous monster of Loch Ness.
In Rome, the pups learn about gladiators, visit the Colosseum and the Roman Forum, eat some antipasto in Piazza Navona, toss coins in the Trevi Fountain and race up the Spanish Steps.
Parents and children will also enjoy exploring the Bella & Harry website which features interactive activities such as word match, flag match, and a bag packing game as well as colouring pages. There are even lesson plans and guides for teachers who want to use the books in the classroom to explore the world with their students.
Parents will love sharing Bella and Harry's adventures with their children whether they are preparing for an upcoming trip or whether they simply want to encourage a love of travel and appreciation of the world's diversity. I know if my girls were younger we would have the complete Bella and Harry collection on our bookshelf!
Titles in the series include these and more: Paris, Venice, London, Cairo, Athens, Barcelona, Rome, Edinburgh, Istanbul and Jerusalem. Books may be ordered from the Bella & Harry website and are available in retail locations and on-line booksellers as well.
As an Amazon affiliate I earn from qualifying purchases.
I received complimentary copies of the books for review purposes