Tour of the Canadian Warplane Heritage Museum in Mount Hope, Ontario.
Until October 2013, the Hamilton, Halton, Brant region of Ontario is offering visitors a Canadian Heritage Passport with savings for many attractions and activities. My younger daughter and I recently visited three of these, including the Canadian Warplane Heritage Museum.
The Canadian Warplane Heritage Museum is an aviation museum located at Hamilton International Airport in Mount Hope, Ontario. The museum includes a collection of over 40 aircraft in the hangar, an exhibit gallery and a gift shop.
A private tour had been arranged for us, however, group tours with an experienced guide are also available. This museum is popular for school field trips as well as there is a program to teach kids about aviation/military history, the theory of flight and aircraft design.
The tour begins with exhibits relating to Canada's aviation history.
We moved through the exhibits rather quickly as we were short on time and keen to see the aircraft on display in the hangar. This is a flying museum – some displays are static, however some of the aircraft are regularly maintained and may be out flying at any given time.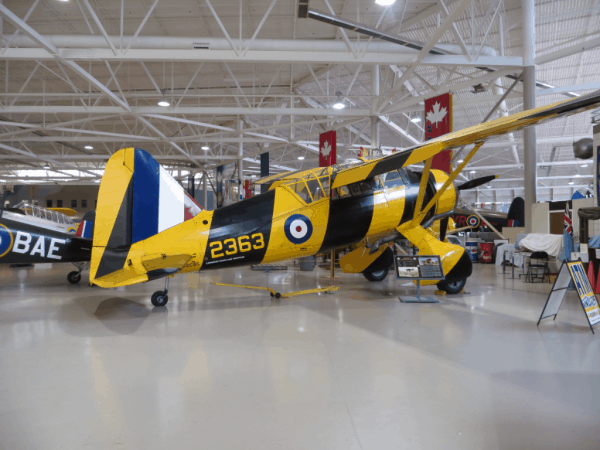 Restoration work is underway on several aircraft in the hanger and visitors can watch the work being done.
One of the things that kids love doing at the Canadian Warplane Heritage Museum is sitting in the cockpit of one of the vintage aircraft and imagining that they are soaring through the skies. There are also flight simulators that the kids can use to experience the thrill of piloting an aircraft.
The Canadian Warplane Heritage Museum is more family-friendly than one might have thought and makes a great day out for families that want to learn more about Canadian history and get an up-close look at the vintage aircraft on display.
What You Need To Know
The museum is located at 9280 Airport Road in Mount Hope, Ontario and is open year-round, 7 days a week from 9am – 5pm. Closed December 25, 26 and January 1st only.
Admission prices are available here. Children 5 and under are free.
Free parking is available for all visitors.
It is recommended that visitors allow 2 hours for a full walk-through. Same day re-entry is permitted.
Museum members may purchase an upgrade to book a flight in a vintage aircraft.
We were provided with complimentary admission to the museum.
Related Articles
The Royal Botanical Gardens in Photos
A Family Visit to the Hamilton Museum of Steam and Technology