Now is the perfect time to visit Springridge Farm for the Harvest Festival every weekend (including Thanksgiving Monday) through to the end of October. Fun activities for kids, delicious baked goods, and a large selection of pumpkins makes it the perfect fall outing for families.
My daughter and I visited Springridge Farm today as it was a school holiday and the start of our Canadian Thanksgiving long weekend. It was an absolutely perfect day at the farm with clear blue skies, brilliant sunshine and mild weather. We enjoyed the farm with a great number of other families who also thought it was the perfect way to kick off the holiday weekend.
Harvest Time – Pumpkins and Apples
There is so much to do at Springridge Farm that it's hard to know where to start but we decided to check out the various pumpkins first. There are a variety available at the farm during the fall harvest season including large Jack-o-Lantern pumpkins, Cinderella pumpkins, pie pumpkins and Ghost pumpkins. There is also a wide selection of gourds and visitors can purchase straw bales and corn stalks for fall decorating as well. Once we had decided which we wanted we decided to explore the Fun Farm Yard for awhile and then purchase our pumpkins on the way back to the car.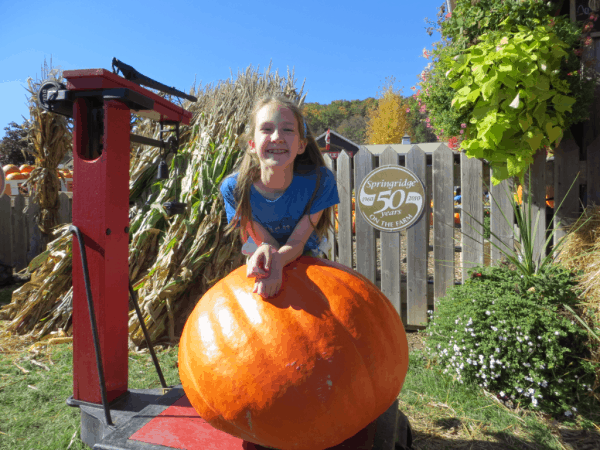 Fall harvest also means it's time for scrumptious fresh-from-the-tree apples.
Fun Farm Yard
Kids love the Springridge Fun Farm Yard which is a fun and educational place for families to explore and play.
One of the great seasonal activities is the Spooky Boo Barn – a fun, Halloween themed glow-in-the-dark walk-through area.
There are several great activities for kids in the yard including the Witches Mouth Corn Trail, the Tricky Trails Corn Maze, straw bales to climb and jump on, a singing chicken show and pipe slides.
There are pony rides available for young children at an extra cost of $3.
It wouldn't be a farm visit without a Wagon Ride so we went on a tour around the property. On weekends the wagon will also drop visitors off at the 5 acre Corn Trail.
If the kids have a lot of energy then climb to the Lookout on the escarpment for the great view over the farm property and beyond. It was such a clear day today that we could see the CN Tower in downtown Toronto.
The Animal Barn is also popular with most kids as they can purchase feed – 25 cents a handful – for the chickens and goats. (There is sanitizer in the barn to clean hands afterward.)
Weekends and special days (like today) there's a BBQ tent set up and there's also freshly popped kettle corn for sale as well as fresh apple cider.
Market, Bakery and Gift Shop
The 19th century barn at Springridge Farm houses a gift shop with a large selection of accessories, unique gifts and seasonal decorations as well as an extensive line of fine foods including jams, preserves, fresh honey, and maple syrup. The bakery is famous for fruit pies and tarts and also sells delicious homemade muffins, and cookies as well as lunch items.
There's still time to visit Springridge Farm this year before the Harvest Festival wraps up on October 27th. Be sure to check the website for further details before visiting.
What You Need To Know
Springridge Farm is located at 7256 Bell School Line, Milton, Ontario (west of Toronto).
The farm is open daily 9am – 5pm from the end of March until Christmas.
Admission to the Fun Farm Yard is currently $5 per person (aged 2 and up). There is no charge to visit the Market, Bakery and Gift Shop. During Harvest Festival weekends the admission charge is $11 per person and there are additional activities scheduled.
Springridge Farm sells freshly-picked seasonal fruits and vegetables in the Market, however, there is no pick-your-own at the farm.