A Haunted Walk historical tour of Toronto is an interesting way to learn about the city's dark past at Halloween or any other time of the year.

Halloween week seems like the perfect time to talk about one of the spookier activities Toronto has to offer. If your idea of fun is listening to spine-tingling tales then Haunted Walks Inc. has a walking tour for you. The company specializes in historical walking tours that explore the city's darker side and has special Halloween tours available until November 2nd. 
In September (on Friday the 13th, no less), I had the opportunity to experience The Haunted Walk Toronto along with my 16 year-old daughter and one of her friends. There are two Haunted Walks available in Toronto – one in downtown Toronto and the second in the historic Distillery District – and we opted to take the downtown tour because of it's convenient proximity to the train station.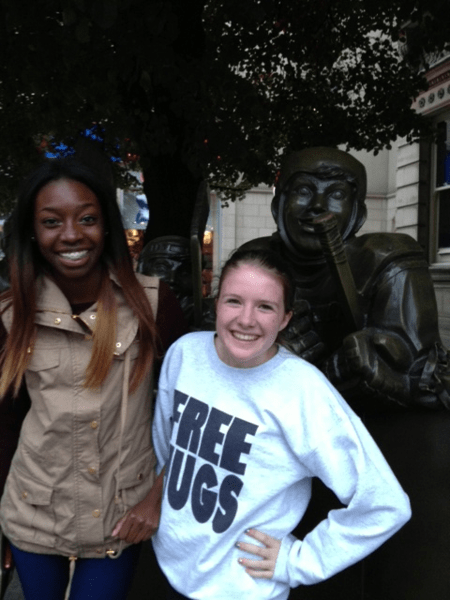 Haunted Walks take place after dark commencing at either 8pm or 9pm depending on the tour and participants should be sure to dress for the weather. Our walk took place on an unseasonably cold September night and, despite the fact that I had cautioned them to dress warmly, I had two under-dressed and cold teenagers along with me.
Haunted Walk Tour Guides dressed in black cloaks and carrying lanterns lead the walks through the downtown area, pausing to tell true stories of ghostly encounters that have occurred. We met our tour guide, Jill, in front of the Hockey Hall of Fame Building at 30 Yonge St. for the start of our walk which had 17 or 18 participants eager to be frightened.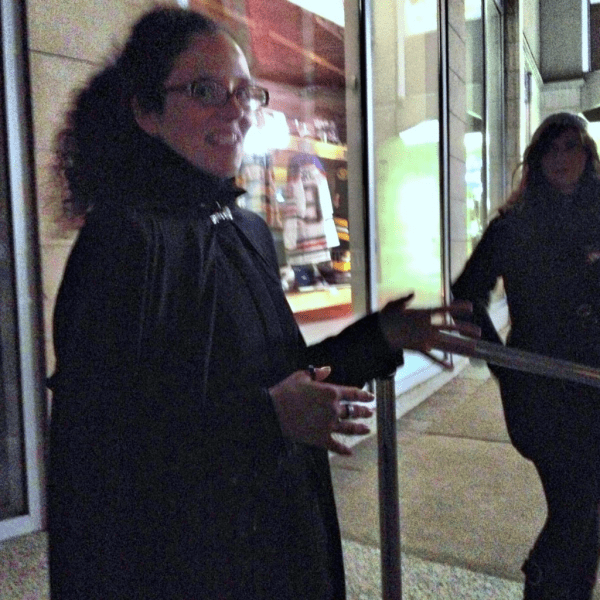 The Hockey Hall of Fame, which had previously been a bank, was both the starting location of the tour and also the site of the first ghost story of the evening involving a heart-broken woman committing suicide and returning to haunt the building where her lover worked. As we walked around the downtown core, we stopped at other well-known buildings such as Mackenzie House, St. Michael's Hospital and Old City Hall, to hear tales of public hangings, murders, suicides and the troubled spirits that returned to connect with (or terrorize) people in this world.
Adjustments were made to the standard itinerary in order to mark the fact that our tour was taking place on Friday the 13th. There were a number of instances when tour participants were given the opportunity to decide how the tour would precede by choosing which direction we would head, choosing the type of story to be told etc.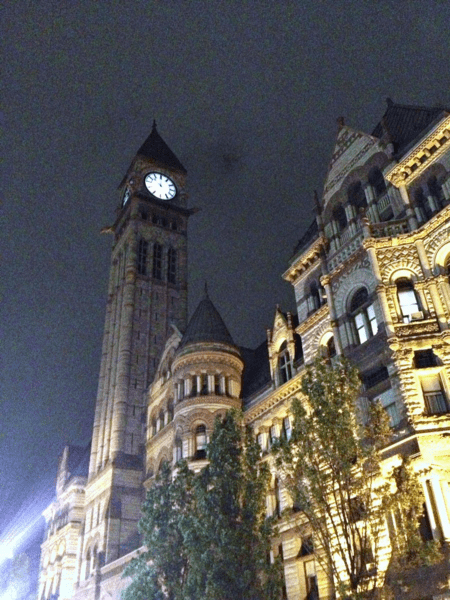 The ghost stories that the guides tell on the tours have not been made up. The company thoroughly researches the information and, whenever possible, conducts interviews of the people involved to ensure authenticity. Guides share the stories and it's up to the audience to decide whether or not they believe that there is proof of supernatural activity. It was unseasonably chilly on the night of our walk and sometimes I wasn't sure whether it was the cold or the ghost stories that were causing me to shiver.  
This is a great tour for adults, teens, and older kids to gain a unique perspective on Toronto's history and the girls and I thoroughly enjoyed our evening. A Haunted Walk historical tour of Toronto is an interesting way to learn about the city's dark past at Halloween or any other time of the year.
What You Need To Know
The Haunted Walk Inc. offers walking tours in Toronto, Kingston, and Ottawa.

Reservations are recommended and can be made by calling 416-238-1473. Any remaining tickets are sold on a first-come, first-served basis from the start location 30 minutes before the scheduled departure.


Current (2013) pricing: Adults – $18.75, Students – $16.75, Children (6-12 yrs.) – $9.75.

Tours last approximately 90 minutes.
Related Links
Best Halloween Events in Toronto and the GTA
I reviewed this attraction on behalf of Trekaroo as a guest of Haunted Walks Inc. but opinions are, as always, my own. 
Have you liked our Facebook page yet? I post articles from the blog there as well as photo albums from our travels and other travel news. Or, if you prefer to follow on Google+, I'm there too. You may also subscribe to the free RSS feed or sign up for an email subscription to keep up-to-date on our travel adventures.