A review of our stay at Westin Trillium House at Blue Mountain Resort in Collingwood.
Searching for the perfect Ontario getaway? No need to look further than Westin Trillium House – one of several lodging options at Blue Mountain. Located a mere two hours from Toronto, I have just recently discovered this family-friendly resort which has something for everyone.
This post may contain affiliate links. If you click an affiliate link and make a purchase then we receive a small commission at no additional cost to you.
Until recently Blue Mountain was considered a destination for ski enthusiasts but it has evolved into a four season resort with a full roster of year-round activities. My 9 year-old daughter and I visited during the summer season but I have no difficulty imagining how beautiful it would be with the changing leaves of autumn or with snow-covered hills.
Check current rates and read reviews for Westin Trillium House Blue Mountain on TripAdvisor
First Impressions
Whether it's a good or a bad thing, I tend to judge hotels and resorts based on first impressions and my initial glimpse of the Westin Trillium House reassured me that my daughter, Emma, and I would enjoy our stay. I was immediately drawn to the architecture of the resort which is reminiscent of a traditional lakeside cottage and perfectly suited to its location.
By the time we had parked our car and made our way up to the spacious and inviting lobby to check-in, I was convinced that this would become one of my favourite Ontario resorts provided our suite was as comfortable and stylish as the public areas.
Accommodations at Blue Mountain Resort
I love staying at hotels and relish that sense of anticipation before seeing my room for the first time. As the door swings open, I can't help but hold my breath for a moment wondering if it will live up to expectations or whether I'll be disappointed. Fortunately, it was love at first sight when we crossed the threshold of our Two Bedroom Suite at the Westin Trillium House. Emma, who shares my love of luxury hotels, squealed with delight as soon as she saw the living area of the suite and proceeded to skip around excitedly checking out all the details.
The Two Bedroom Suite at Westin Trillium House boasts 1000 sq. ft. of living space. The living and dining area is so spacious that a family of 6 could easily stay here for several days without tripping over each other. The living area is comfortably furnished with a Queen pull-out sofa bed and two armchairs so that there is plenty of seating to watch the large screen TV or enjoy the gas fireplace. Comfort and space are important for families, however, I'm most impressed by hotels that manage to provide both without sacrificing style and the Westin Trillium House does this very well.
The suite has a fully-equipped kitchen which is great for families who wish to prepare at least some of their meals in the suite. There is also plenty of meal-time seating with a large dining table and six chairs.
Emma was giddy with the excitement of choosing which of the two bedrooms would be hers for our stay as her older sister usually claims first choice of beds or rooms. She chose the Master Bedroom which has a king bed and a full ensuite bathroom but I didn't mind at all as the second bedroom has a queen bed and an adjoining three piece bathroom as well.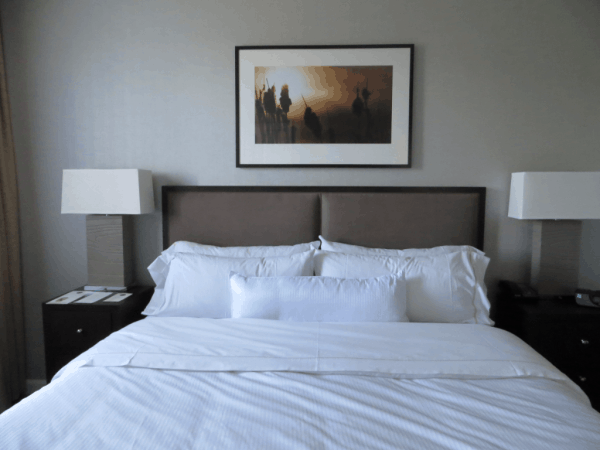 Our room also had a balcony with a lovely view of the mountain which was the ideal place to relax with a good book (and maybe a glass of wine) on a summer's evening.
Hotel Amenities
Amenities at the Westin Trillium House include: a gorgeous pool area, Westin Kids Club, the WestinWORKOUT gym open 24 hours a day on the main level with views of the outdoor pool, and the Oliver & Bonacini Cafe Grill overlooking Mill Pond.
Resort Activities
Guests at Westin Trillium House have full access to the wide array of activities available at Blue Mountain Resort, including Scenic Caves Nature Adventures and the Plunge Aquatic Centre which is located right next door. No matter the season, there is enough to do to keep kids busy for several days.
Summer activities include: hiking at Scenic Caves, water play at Plunge Aquatic, a gondola ride up the mountain, ropes courses to suit various age levels, a putting course, and a mountain coaster. Guests also appreciate the hotel's close proximity to Mill Pond and the shops and restaurants of Blue Mountain Village. We had so much fun over the course of our two day stay that my daughter made me promise that we would return soon.
Blue Mountain Resort is the ideal outdoor getaway for families that live within driving distance as well as those visiting Toronto and the Westin Trillium House is an excellent choice for accommodations that are family-friendly without compromising style.

What You Need To Know
The Blue Mountain Resort area is located in Collingwood – a 90 minute to 2 hour drive north of Toronto.
Westin Trillium House Resort is located at 220 Gord Canning Drive.
Dogs are welcome at Westin Trillium House but must be pre-registered to ensure that a pet-friendly room is available.
The hotel has a Make-a-Green-Choice program which rewards guests with $5 vouchers or Starwood Points for declining housekeeping during their stay. The resort also has a partnership with Clean the World. More information is available here.
Accommodations vary from Deluxe Guestrooms to 3 Bedroom suites. Rooms are either village or mountain view.
Thank you to Blue Mountain Resort for hosting our stay.
Related Articles
Blue Mountain Resort: The Perfect Family Getaway
Summer Fun at Blue Mountain Resort