Beaches Resort – Negril is ideal for a family getaway in the Caribbean.
I recently had the opportunity to visit Beaches Negril Resort & Spa, an all-inclusive resort located on Negril's Seven Mile Beach in Jamaica. The resort is a popular getaway destination for families, especially those in Canada that want to escape the northern winter for sunshine and fun.
This post may contain affiliate links which help support this site. If you click an affiliate link and make a purchase then we will receive a small commission at no additional cost to you.
I had never been to an all-inclusive resort prior to spending this weekend at Beaches with my 10 year-old daughter early in December. Our visit was short but it didn't take us long to discover why Beaches Negril is one of the top resorts for families in the Caribbean. 
Gorgeous Resort Property
 Emma and I left Toronto on a chilly winter morning and arrived in Negril late in the day excited to shed our layers of clothing and feel the warm Jamaican breeze on our skin.
We received a warm welcome to the resort which set the tone for our stay. Every  staff member that we encountered at Beaches was friendly and helpful – making us truly feel like we were being welcomed home even though we were first-time visitors. 
Beaches Negril Resort & Spa is a low-rise resort located on a stretch of Negril's Seven Mile Beach which is considered to be one of the world's best beaches. The white sand beach and turquoise waters are gorgeous and Negril Bay is sheltered by a reef so the waters are calm and perfect for playing with children.
The 20 acre property is lush and tropical and the buildings blend in seamlessly with the surroundings.
We arrived at the resort and were taken through the lovely open air lobby to the separate check-in/lounge for guests who have Concierge and Butler rooms. We were quickly and efficiently signed in and then escorted to our room.
Luxurious Accommodations
We had a Concierge class room in the Savannah block close to the waterpark which was the ideal location as far as my daughter was concerned. Emma and I both love hotel rooms and we might have squealed a bit when we entered our luxurious and spacious room at Beaches.
I loved the island-style decor complete with ceiling fan and Emma felt like a princess on her mahogany bed which was one of two doubles in our room. She was also thrilled to see the thoughtful welcome gifts that had been left for us along with a plate of cookies which she devoured before dinner.
The room has a small refrigerator which is fully-stocked with drinks and replenished each day. Every room at Beaches is also equipped with a large flat-screen television and Xbox game system but we were so busy with all the activities the resort has to offer that the TV was rarely turned on over the weekend.
The room has a large closet with plenty of hangers and shelf space as well. Closet space isn't so much an issue when there's just two of us for a couple of days but if we had been staying longer we would definitely have needed it. The marble-finished bathroom has a full tub and shower and the vanity area is outside which makes it easier for multiple people to get ready at the same time.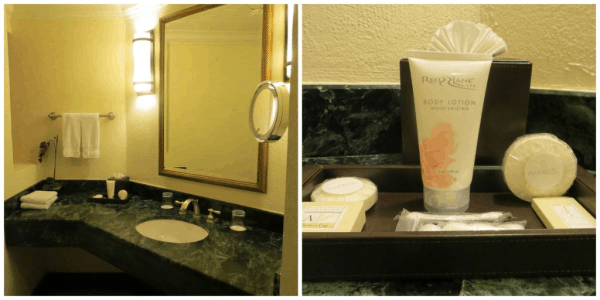 Our balcony was furnished with a table and chairs and we enjoyed sitting out and taking in the incredible view of the waterpark and beach beyond.
Kid-Friendly Dining Options
 One of the advantages of staying at an all-inclusive is that all the food and drinks are included and kids can be introduced to a variety of types of foods without worrying about the cost or whether they will like it.
There are 7 individual restaurants at Beaches Negril: The Mill Restaurant (international buffet); Arizonas (Tex-Mex); BarBQ Park; Dino's Pizzeria; Kimonos (Japanese Teppanyaki); Stewfish (Jamaican seafood on the beach); and The Venetian (Italian à la carte).
During our short stay we only dined at The Mill, a buffet restaurant that serves a variety of cuisines, because Emma loves a good buffet. We also frequented the Café de Paris which has ice cream, pastries and espresso drinks as well as Sweeties which is located pool-side and has soft-serve ice cream and itty-bitty cones that are perfect for cooling off in between runs down the waterslide.
There was also a chocolate buffet outside the Café de Paris on Friday night that was divine. Emma was particularly impressed by the chocolate fountain.
Awesome List of Activities
Beaches Negril is luxurious and the location is stunning but the best thing about the resort by far is the activity options which are seemingly endless.
Shortly after we had checked in and settled in to our room we headed to the Porte Cochère at the front of the resort to participate in the Sesame Street Carnival Celebration & Parade.
This was a sneak peak as this parade will be new to Beaches for 2014 and includes island music and lovable Sesame Street characters in colourful Carnival costumes. 
As the parade wrapped up we followed the characters and dancers down to the Main Beach for a buffet-style dinner and a Caribbean beach party. That was just the start of an exciting two days jam-packed with activities.
We weren't able to come close to doing everything that my daughter wanted to do in our short stay.
There is a long list of activities available at the resort including: the Caribbean Adventure with Sesame Street program; kids camps for all ages; Pirate's Island Waterpark; Scratch DJ Academy; live entertainment; and a variety of land and water sports.
There is so much to do at Beaches Negril that I am going to devote another post to describing the available activities in more detail.
Beaches Negril Resort & Spa is a lovely resort in a stunning location on Seven Mile Beach that has something for everyone. This was my first experience at an all-inclusive and in just two short days I came to appreciate why it is such a popular option with families.
One thing which is absolutely certain when visiting Beaches is that there is no possibility that the kids will get bored. And really, what more could any parent ask for? Emma had so much fun that she started planning a return trip while we were still at the resort – all the evidence that I need that Beaches is ideal for a Caribbean family getaway.
What You Need To Know
Beaches Negril is located on Negril's Seven Mile Beach a 60-90 minute drive from Montego International Airport.

The all-inclusive package includes round-trip shuttle transportation between the airport and the resort.

There are a range of rooms and suites available including luxury rooms, concierge rooms and butler rooms.

Tips and gratuities are strictly prohibited for all staff except for butlers.

All rooms are air-conditioned.

The resort has 7 restaurants as well as the Café de Paris.

There is a nurse on premises with office hours and a physician on call 24 hours a day for emergencies.

WIFI is available for a fee.

Spa treatments are available for an extra fee at Red Lane Spa one of the largest spa facilities in the Caribbean.

The resort has a range of included activities available for all ages on land and in the water.  Additional excursions are also available for a fee.
Disclosure: My daughter and I were the guests of Beaches Resort Negril, however, I received no other compensation for this post. My opinions are, as always, my own.