Giveaway of children's books KeeKee's Big Adventures in Rome, Italy and KeeKee's Big Adventures in Paris, France.
A few months ago I reviewed KeeKee's Big Adventures in Paris, France which launched a children's book series about a calico cat named KeeKee who travels the world in a hot air balloon. I loved the first book so I was delighted to read the recently-published second installment in which the charming feline finds herself in Rome, Italy.
While in Rome, KeeKee visits the Roman Forum, the Colosseum, the Pantheon the Trevi Fountain and other famous sites in the city. She also learns about gladiators, eats pizza on a piazza and practices a few words of Italian. Through her adventures, KeeKee provides a lovely introduction to Rome for young readers who will enjoy learning about the city along with this adorable character.
As part of the celebration of the publication of KeeKee's second adventure, I have copies of both the Rome and Paris books to giveaway. One lucky winner will receive a copy of each.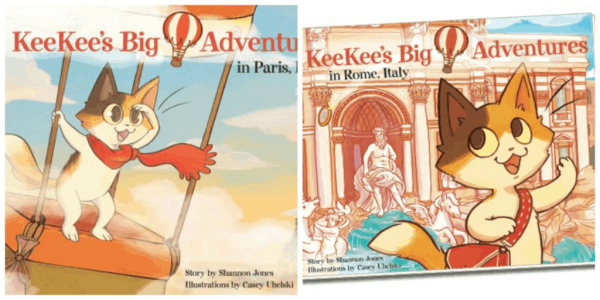 Just use the Rafflecopter form below and one entry will be randomly selected to receive a copy of each of the books. (Shipping in Canada or the United States only.) 
KeeKee's Big Adventures in Paris, France and KeeKee's Big Adventures in Rome, Italy, written by Shannon Jones and illustrated by Casey Uheski, are available from the online KeeKee Shop in hardcover or eBook format. I was provided with review copies but have received no other compensation for this post. My opinions are, as always, my own.This post also contains an Amazon affiliate link which means that if you click the link and purchase a product from Amazon that I will receive a small commission at no charge to you.
We are a participant in the Amazon Services LLC Associates Program, an affiliate advertising program designed to provide a means for us to earn fees by linking to Amazon.com and affiliated sites.
Related Links
KeeKee's Big Adventures in Paris, France: Book Review and Giveaway
Exploring Rome with Kids in 2.5 Days
Paris with Kids? Mais, Bien Sûr!
Sign up now for a FREE email subscription and new posts will be delivered directly to your in-box.