Instagram Travel Thursday: Public Sculpture
One of the things that I love about Instagram is scrolling through photos of quirky things that people stumble upon. Although many of these pictures would never make it into a blog post, they are interesting little snapshots that provide a glimpse into the places we visit.
Public art falls into that category for me so I thought that I would share a few of the photos that I have taken of interesting artwork in public spaces for Instagram Travel Thursday this week.
I just recently came across Immigrant Family, an enchanting work by New York sculptor Tom Otterness, that has been in place on Yonge Street in Toronto since 2007. The artist is famous for his whimsical bronze sculptures that are featured in public spaces across North America. This one celebrates the many immigrant families who arrived in Canada and settled in Toronto transforming it into one of the world's most multicultural cities.
Tembo, Mother of Elephants is a bronze sculpture by Derrick Stephan Hudson of a mother elephant and two babies outside Commerce Court in downtown Toronto. Elephants might seem out of place in the financial district but it's impossible not to smile when you see them – or pause to play with the babies in my daughter's case.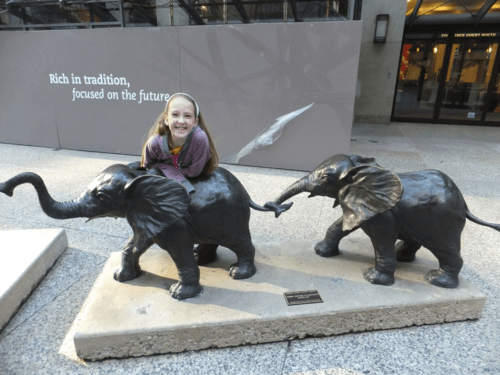 This is one of the more interesting displays in Toronto at the CTV building on Queen Street West – that's an actual CP24 news truck embedded in the wall.
Near the entrance to the Halifax Seaport in Nova Scotia, a bronze sculpture called The Emigrant by artist Armando Barbon was installed just days before I visited in September 2013. The statue depicts an emigrant leaving his home country to start a new life in Canada and is inscribed with the words "The pain of separation he overcame, with faith and hope his heart aflame…".
Public art isn't always bronze sculptures – sometimes it's colourful and fun like this whimsical art installation by Yayoi Kusama called Flowers that Bloom at Midnight that we saw at the Tuileries Gardens in Paris. It still makes me happy every time I look at the photo.
This blue rooster on the 4th plinth in London's Trafalgar Square has to be the most interesting piece of public art that I have ever seen, particularly when juxtaposed against the other formal pieces in the square. The sculpture by Katharina Fritsch is called Hahn/Cock and is apparently meant to symbolize male-dominated Britain. I'm not sure any of the people posing with it in the square really care much what it's supposed to represent – they just love it for its quirkiness.
I haven't shared these last two photos on Instagram but wanted to include them as they are among my favourite sculptures. Both were created by a Canadian artist, Ruth Abernethy, and commemorate two of Canada's best-known musicians. The first is Glenn, a sculpture of classical pianist Glenn Gould sitting on a bench outside the CBC building in Toronto. The second is Oscar,a bronze of legendary jazz pianist Oscar Peterson outside the National Arts Centre in Ottawa. I love that both of these bronze sculptures seem to have been designed with the intention of encouraging the public to interact with the art work.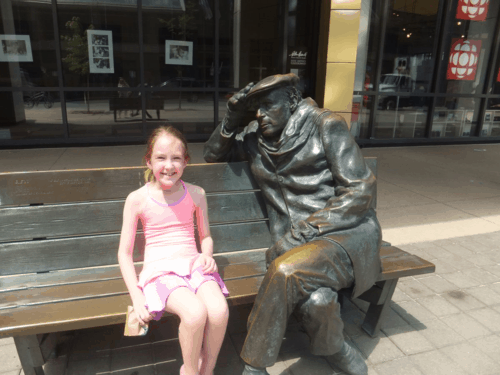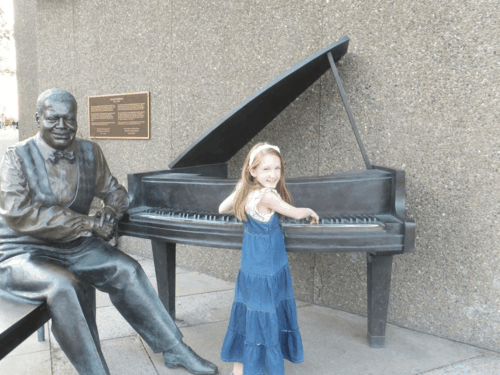 Related Articles
A Glimpse of Halifax Through Instagram