Review of We'll Always Have Paris by Jennifer Coburn.
I have just finished reading a travel memoir called We'll Always Have Paris by best-selling author Jennifer Coburn. I don't generally read nonfiction but I was intrigued by this mother's tale of taking her daughter to Europe to create special memories – just in case. Jennifer's story is captivating from the first page and in less than 24 hours I had devoured this entertaining book.
In We'll Always Have Paris, Jennifer tells the story of several mother-daughter summer trips to European cities beginning in 2005 when she took 8 year-old Katie to Paris and London. Jennifer lost her father to cancer as a teenager and is consumed by the fear that she will also die prematurely and wants to ensure that she leaves her young daughter with wonderful memories. When planning that first trip to Europe she imagines herself on her deathbed telling Katie "we'll always have Paris".
In subsequent years, the two also travel through Italy and Spain, to Amsterdam and back to Paris but as much as the memoir is about the experiences of the duo in Europe, it is also the story of how those travels helped Jennifer address her fear of dying and learn to live in the moment.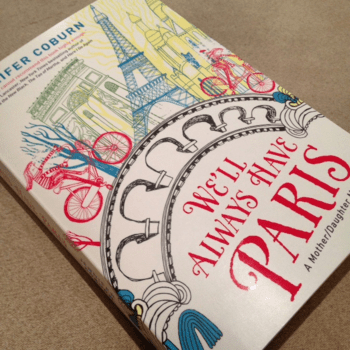 This is the kind of book that I just love to curl up with and I thoroughly enjoyed it for so many reasons. The author and I are about the same age and my older daughter, also named Katie, is the same age as hers but when I read this passage from the introduction I knew that I would relate to her story.
Whenever my doctors tells me I'm perfectly healthy, I lament the state of the American health care system. I shake my head, saddened that the doctors are so inept that they haven't yet diagnosed my serious illness.
It's not often that I come across someone who can be as completely irrational about the state of her health as I am so I felt an instant connection! Those of you who don't suffer from health anxiety will still find Jennifer to be a compelling storyteller and will enjoy the heart-felt and humorous anecdotes from both her travels and her past.
In each section of the book, the reader is transported along to a different European city and swept up in Jennifer and Katie's adventures and mishaps. I have spent time in London, Paris and Rome with my children and enjoyed the trip down memory lane while reading about their experiences. The descriptions of time spent in the rest of Italy, Spain and Amsterdam left me longing to plan a visit with my own two girls.
I especially loved Katie's observations that provide insight into the way that kids view the world with enthusiasm and optimism. At one point in Rome she explains to her mother that the piazzas are what she loves best about Italy and asks "Who do we talk to about getting some piazzas in San Diego?" I can imagine my younger daughter asking the exact same sort of question.
As a mom who loves to travel, I thought it was wonderful to watch Jennifer and Katie evolve over several years and trips and become more at ease with travel. The overwhelmed mother who arrived in Paris with an 8 year-old was afraid to leave the hotel for fear of getting lost but several years later we see her navigate European trains like a pro in Spain. Katie is an easygoing girl from the beginning but we also witness her becoming a young woman who is comfortable exploring without plans and confidant in her own ability to manage in a foreign city.
This is more than a travelogue though and the author weaves memories of her father into the narrative of her European experiences in such a compelling way that it helps the reader understand her past and demonstrates how her travels helped her to address her loss and finally move forward. By the time that mother and daughter return home after their 2013 Parisian adventure, "we'll always have Paris" has taken on a whole new meaning and, as readers, we are thrilled for both of them.
We'll Always Have Paris is a thoroughly enjoyable read for both those who love travel and those who enjoy a good mother/daughter story. Be forewarned though that before you have closed the book on the final page, you will be planning a European adventure of your own.
I received a copy of We'll Always Have Paris for review purposes.
You can learn more about Jennifer on her website and can follow her on Facebook.
We are a participant in the Amazon Services LLC Associates Program, an affiliate advertising program designed to provide a means for us to earn fees by linking to Amazon.com and affiliated sites. As an Amazon affiliate I earn from qualifying purchases.

Related Links
Paris with Kids? Mais, Bien Sûr!
London with Kids: 14 Favourite Attractions and Activities
Exploring Rome with Kids in 2.5 Days
Book Review: Have Mother, Will Travel