A first-time camping experience made easy at the Barrie KOA campground.
I tell people that I have never camped, but I actually went once as a teenager with a 4-H youth group. We slept in tents in the woods. There were outhouses and the only water was carried from a nearby lake. It was meant to be fun but almost 30 years have passed and I have essentially wiped the experience from my memory. I have never seriously considered camping since.
Truth be told though, I have always felt a tiny bit guilty that I have never taken my kids camping. Families we know go camping during their summer vacations and return with stories of how much fun they have had. And we're Canadian – we're supposed to love the great outdoors! I know what I'm capable of though and camping in the woods, sleeping on the ground, cooking over a fire, and dealing with bugs and dirt are things that just don't appeal to me at all.
For all of these reasons and more, I have been reluctant to agree to any sort of camping experience over the years. When I was asked by KOA campgrounds if I would be interested in visiting one of their campgrounds to learn more about "what's behind the yellow sign" and the variety of available accommodations, however, I was intrigued – perhaps I could take my kids camping after all.
KOA Camping
KOA campgrounds have been around for more than 50 years and now have more than 485 locations across the United States and Canada. I have seen the yellow signs while driving down highways many times but I had no idea that there was now much more to a KOA campground than just a place to pitch a tent or park an RV or camper. When I learned that many campgrounds have a variety of accommodation options that make camping easy, I was keen to learn more.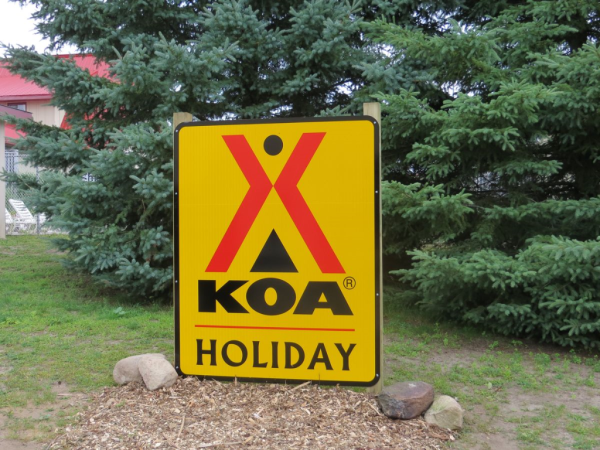 I spent a fair bit of time considering each of the campgrounds located in Ontario before deciding which one to visit. I finally chose the award-winning KOA Barrie, located north of Toronto approximately a 90 minute drive from our home, because it seemed the ideal distance away for a short two night getaway for two of us. I booked a stay in a Deluxe Cabin for myself and my 11 year-old daughter and we started making plans for our first camping trip.
Comfortable Modern Accommodations
We arrived at the KOA Barrie campground on a Sunday afternoon and within minutes were checked in and headed to our campsite. The location of our Deluxe Cabin was perfect – down a hill behind the camp store, the pool and the playground so we were able to get to any of them in just a couple of minutes.
I was impressed with our cabin from the moment that we parked alongside. We realized that we had our own little cottage for a couple of days complete with porch, picnic table, fire-pit, and gas BBQ. Once inside the cabin, a single glance and I was convinced that this was a camping experience that both of us city girls would enjoy.
The KOA cabins have everything needed for a comfortable camping trip which is quite a relief for the reluctant camper. The living area of the cabin features a pine table and chairs as well as a kitchen with a refrigerator, a microwave and a stove top – no need to cook over a fire here. There is even a coffee maker so mom and dad can have that first cup of coffee sitting outside on the porch.
The seating area doubles as additional sleeping space if required and there is a flat-screen television with cable mounted on the wall. We were too busy to watch but it would certainly be welcome on rainy days at the campsite.
There were only the two of us on this trip, but the cabin would comfortably sleep six people with a separate bedroom furnished with a Queen bed, bunk beds, and a pull-out sofa-bed. Emma was thrilled with the bunk beds, located in the hallway between the bedroom and the living area, and spent a good deal of time practicing climbing up and down from the top bunk.
One of the aspects of camping that has always put me off is the thought of using communal bathroom facilities so I was pleased to learn that our cabin would be equipped with a bathroom. I was surprised and delighted to discover upon arrival, however, that the bathroom was every bit as nice as those found in many hotels with a decent-sized vanity and sink, toilet, shower and a hair dryer.
There was even air-conditioning – with a ductless unit installed in the living area and in the bedroom keeping the entire cabin cool and comfortable for sleeping. If, by chance, it had turned cool during our stay, we would have had heating in the cabin as well.
Family-Friendly Amenities
The Barrie KOA has a number of amenities that will please family campers. Two heated pools, a playground, gemstone mining, a games room, and volleyball and basketball courts means there are plenty of activities to keep the kids busy. There is also a camp store with delicious ice cream for sale in addition to a good selection of items that you might have forgotten to pack. They also sell s'mores kits and firewood.
During the summer months, there are themed activities scheduled, wagon rides around the campground, pancake breakfasts, and family-friendly movie nights. We stayed two nights and didn't have time to try everything that was available so it's safe to say that a family could spend several days here without any risk of the kids complaining of boredom.
It's even possible to have piping hot, stone-baked pizza delivered to your campsite from Bando's Pizza Parlour which is located on the campground. Ours was delivered in the middle of a deluge of rain – incredible service if you ask me!
Barrie KOA – A Great Location
One of the main reasons that I chose the Barrie KOA is because the location is convenient for exploring the southern Georgian Bay region. I have always wanted to visit the Sainte-Marie among the Hurons historical site in Midland so this was the perfect opportunity as it was only about a 30 minute drive from the campground.
Sainte-Marie among the Hurons was the site of the first European settlement in Ontario as construction began in 1639 to set up a French Jesuit mission to the Huron Wendat nation. Wye Marsh and Discovery Harbour are nearby as well but we didn't have time for either this trip. On our way home we also stopped to spend the day at Canada's Wonderland which is about an hour's drive south of the campground.
I can't imagine Emma and I having a better first family camping experience. Our accommodations at the KOA Barrie were clean, comfortable and modern, there were plenty of activities to keep us busy at the campsite, and staff was friendly and helpful on all occasions. It might not have been "roughing it" but it suited us just fine!
For anyone who is the least bit hesitant about camping, staying in the cabin accommodations at any KOA Campground is the ideal way to test the waters and try family camping. Summer isn't over yet so if you act quickly then you can still make this the year that your family tries camping for the first time!
Tips for First-Time Campers
Camping in a cabin means that there are far fewer details for first-time campers to stress about but there are still a few things to bear in mind.
Summer weekends at campgrounds fill up quickly so be sure to make reservations as early as possible – particularly if you are trying to book a cabin as there will be limited availability.

Confirm what you need to bring with you when booking accommodations as it may vary by campground. Some campgrounds require campers to bring their own linens and you may need other items such as hand soap etc.

Don't forget to pack for any sort of weather (you can still have fun at a campsite if it's cool or rainy but not if you only have shorts and t-shirts with you!).

Bring a deck of cards and board games for rainy day and after-dark fun.

Don't forget sunscreen and bug spray.
For further advice see 60 Camping Tips for Beginners compiled by Becca of R We There Yet Mom?.
Barrie KOA Details
The award-winning Barrie KOA campground is located at 3138 Penetanguishene Road, RR 1 in Barrie, Ontario.

The campground has RV camping sites and tent camping sites as well as 1 and 2 room camping cabins (without bathroom) and Deluxe Cabins (with bathroom).

The campground features two outdoor heated pools (open May – September), laundry facilities, a playground, a games room, a Gemstone Mining attraction, volleyball and basketball courts, wagon rides around the property, themed activities and more.

There is a Recreation Hall with a big-screen TV where movies are played in the evening and pancake breakfast served on Wednesday and Sunday morning.

Dogs are welcome and there's a Kamp K9 leash-free zone on site.

There is a convenience store on site as well as Bando's Pizza Parlour which will deliver to camp sites.

Firewood is available for sale.

Wireless internet is free.
Thank you to KOA Campgrounds for sponsoring our first family camping experience at the KOA Barrie and to our wonderful hosts at Barrie KOA for their hospitality.