Book Review and Giveaway: The Unofficial Guide: Walt Disney World with Kids 2015 and The Unofficial Guide: Disney Cruise Line
If you are planning a family trip to Walt Disney World or a Disney cruise then your first step should be reading The Unofficial Guide: Walt Disney World with Kids 2015 and/or The Unofficial Guide: Disney Cruise Line.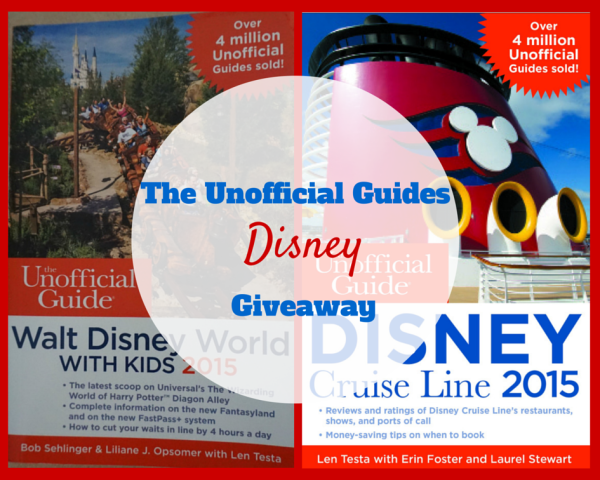 We are a participant in the Amazon Services LLC Associates Program, an affiliate advertising program designed to provide a means for us to earn fees by linking to Amazon.com and affiliated sites. As an Amazon affiliate I earn from qualifying purchases.
If you are not familiar with the Unofficial Guide series, the guidebook authors are completely independent of Disney so can always be counted on for honest advice about the resorts, attractions, restaurants and cruise ships. The authors love Disney but their obligation is to their readers and they have no reservations about saying that something isn't worth it when they don't think it is.
The Unofficial Guide: Disney Cruise Line
If the thought of taking the kids on a Disney Cruise has ever crossed your mind then this is the book for you. The guide, written by Len Testa with Erin Foster and Laurel Stewart, contains a wealth of information about the Disney ships, dining, entertainment, activities and the ports of call and shore excursions as well as general planning tips that will be particularly relevant for first-time cruisers. Anything that you could possibly need to know about cruising with Disney is covered in this guide.
The authors have ranked the four Disney ships, rated all of the restaurants (full-service and counter) on all four Disney ships, rated the shows on each ship, provided information on Castaway Cay and each of the ports of call that Disney visits, and providedUnofficial Tips that give readers the inside scoop on Disney cruises.
The 2015 edition of the Guide which will be published soon will have up-to-date descriptions of all of the new itineraries announced by Disney for the 2015 season.
This book is so jam-packed with information about the Disney Cruise Line that I read it cover to cover even though I have already been on two cruises on the Disney Magic. I learned so much that I will definitely be better-informed the next time that I cruise with Disney!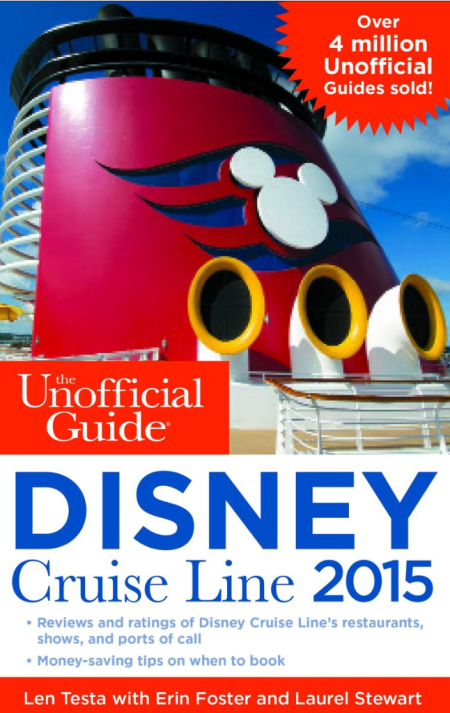 The Unofficial Guide: Walt Disney World with Kids 2015
Likewise this thorough guide to Walt Disney World in Orlando, Florida, written by Bob Sehlinger & Liliane J. Opsomer, will simplify planning a trip to visit the Mouse – even if this isn't your first time to the park. We are considering planning a Disney trip in the next few months and I found myself reading this book very carefully because even though we have been on six family trips to Disney World there's always something new and I wanted to be sure to understand the details.
The guide covers planning and preparing for a Disney vacation, accommodation and dining at Disney, and each of the parks (Magic Kingdom, EPCOT, Animal Kingdom, and Hollywood Studios) in detail. Disney hotels, lodging outside WDW, restaurants, rides and attractions are all described in detail and given a rating out of five stars.
One of the things that I love about this guide is that rides are rated for different age groups and the "Fright Potential" is listed. This is crucial when you have young children who might be hesitant to try some of the rides because the last thing you need as a parent is to have a frightened pre-schooler turned off rides altogether. As it has been a couple of years since we have been to Disney I also appreciated the explanation of how the new Fast Pass+ system works.
The most valuable section of the book for many people is likely to be the actual clip-out Touring Plans that are included. The plans have been field-tested and promise to save up to 4 hours of standing in line a day if they are followed.
I have never actually followed one of the plans and I have to admit that a small part of me objects to having to stick to a plan instead of going with the flow; but I sure would like to get back the hours of time that we have spent in queues!
There are a variety of plans for each park that have been designed for different scenarios including touring with young children, with tweens, with grandparents and for one day or two days. My personal favourite is The Sleepyhead Touring Plan, aka touring with a teenager in my family.
If you don't plan to spend the entire family vacation at Disney World then you will be pleased to know that this guide also covers Universal Orlando, Sea World and a few of the other attractions in the area. This will be especially useful for families with Harry Potter fans who want to try and fit a visit to The Wizarding of Harry Potter – Hogsmeade and The Wizarding World of Harry Potter – Diagon Alley into their vacation plans.
There's a lot of planning that goes in to having a successful Disney vacation and The Unofficial Guide: Walt Disney World with Kids makes it that much easier to make it happen.
More information about the Unofficial series can be found on the Unofficial Guides website.
As an Amazon affiliate, I earn from qualifying purchases.