Tips from the Canadian Air Transport Security Authority (CATSA) for spring break travel.
It may seem like winter is never going to end but, thankfully, spring break is just around the corner. As many families will be flying over their school break, most airports will also be at their busiest. The Canadian Air Transport Security Authority (CATSA) has asked me to share their tips to help make security screening during this busy travel period less stressful for everyone.
Are you flying this spring break? Follow these tips to take the stress out of security screening.
If you are like the thousands of Canadians who will take to the air for a vacation this spring break, the Canadian Air Transport Security (CATSA) has advice that will help you go through security in no time. 
Family Friendly Tips
Good news! When you're travelling with children under the age of two, you can bring liquids such as milk, breast milk and juice that exceed the 100ml restrictions in carry-on baggage. Just have the containers ready to present to screening officers for a quick inspection. For older kids, solid foods such as apples, granola bars and sandwiches can go in your carry-on without restrictions.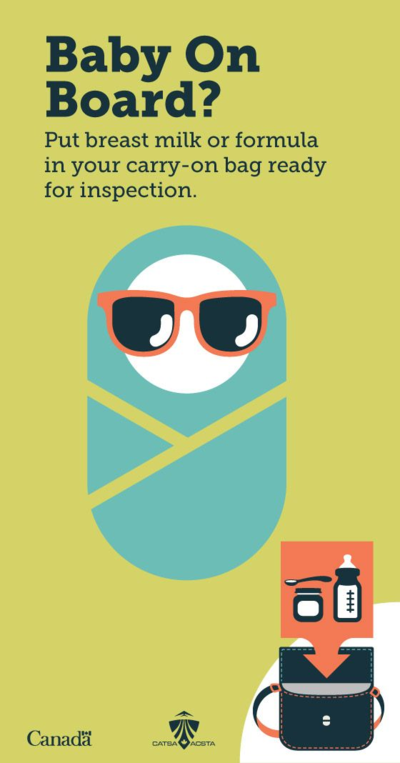 Before you leave for the airport, make sure everyone is wearing easy-to-remove outerwear and avoid clothes with metal clasps or snaps that may trigger the metal detector. 
At the airport, get boarding passes ready and check for a Family/Special Needs lane. They offer extra space to accommodate larger items like strollers and car seats.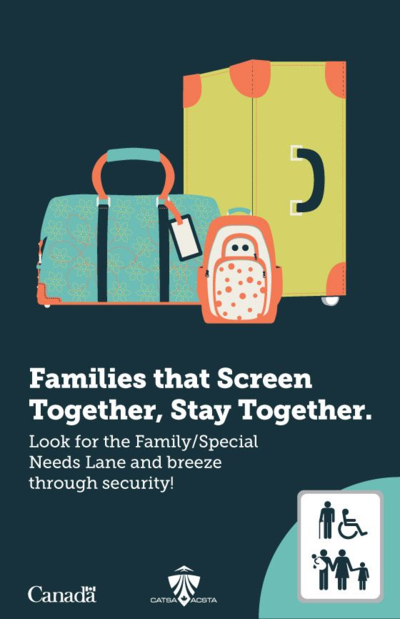 Pack Your Sunscreen Properly
Whether you're heading for the Caribbean or staying in Canada, sunscreen is a popular must-bring item. Just don't get burned at security with an over-sized bottle in your carry-on bag  Small bottles under 100ml are fine, but bigger bottles need to be packed in your checked baggage.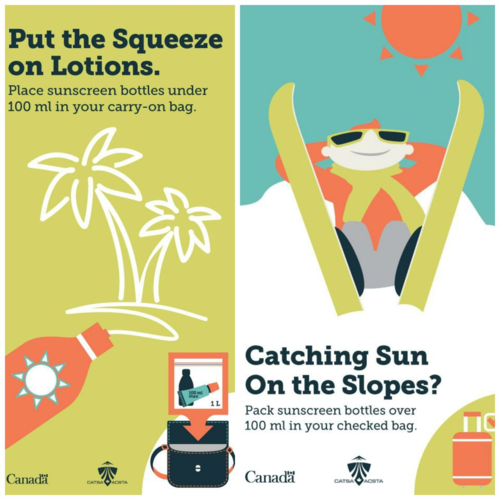 Check Your Large Sports Gear
Planning to race down a mountain, brave the waves or challenge the pins? You can bring large sports equipment like surfboards, snowboards, skis and golf clubs with you on your trip. Just make sure you check these items in with your airline. If you have questions about checked baggage restrictions or extra charges, contact your airline before you travel.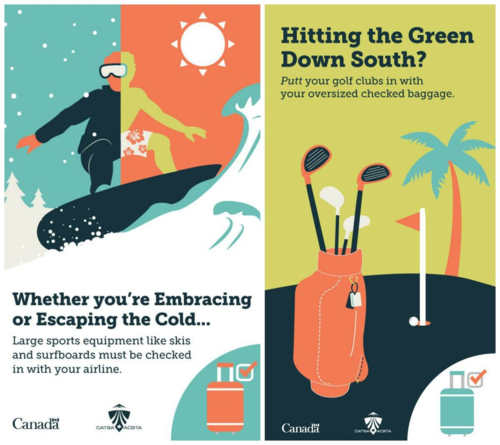 Know the Rules for Duty-Free
Parting with duty-free purchases is no fun. All duty-free liquids, aerosols and gels (e.g., alcohol, perfume) in your carry-on bags are subject to screening and must be properly sealed in an official security bag, accompanied by a receipt. These bags should be provided by duty-free retailers. If you have a connecting flight in Canada on your return trip, make sure your bag is the real deal. Even better – place your duty-free items in your checked baggage.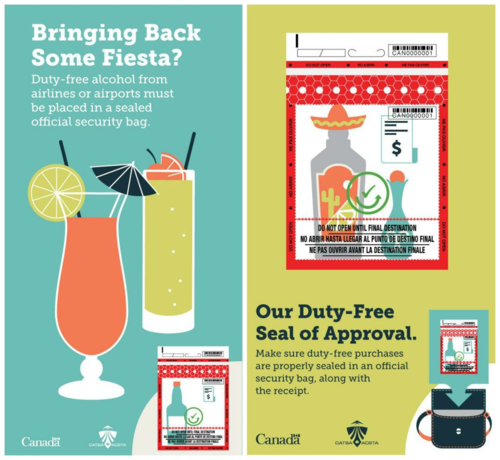 For more tips to help you breeze through security this spring break, visit CATSA at catsa.gc.ca, on Twitter (@catsa_gc) or Pinterest (CATSAGC).
Thank you to the Canadian Air Transport Security Authority (CATSA) for sponsoring this post.