Looking for fun things to do in Niagara Falls? Here are five fun lesser-known attractions in Niagara Falls, Canada that will appeal to those looking for unique things to do.

Niagara Falls is one of the most popular destinations in Canada and with good reason. The Niagara region is jam-packed with attractions and activities for visitors of any age. I previously shared my family's Top 10 Things to Do in Niagara Falls with Kids but there are other fun activities and attractions in Niagara Falls that are less well-known.
I have visited Niagara Falls many times over the years but visited these 5 attractions for the first time recently. If you're looking for unique things to do in Niagara Falls, Canada then add these to your list!
This post may contain affiliate links. If you click an affiliate link and make a purchase then Gone with the Family will receive a small commission at no additional cost to you.
We are a participant in the Amazon Services LLC Associates Program, an affiliate advertising program designed to provide a means for us to earn fees by linking to Amazon.com and affiliated sites. As an Amazon affiliate I earn from qualifying purchases.
1. White Water Walk
If we hadn't been using a Adventure Pass on a visit to Niagara Falls last summer then I wouldn't have even known that the White Water Walk along the Niagara River existed. Since the attraction was included, we decided to check it out and I'm glad that we did.
Visitors access the 305 metre (1/4 mile) boardwalk along the Niagara River via elevator and tunnel. There are also stairs to two observation decks which provide a close up look at one of the world's fastest stretches of white water. The water rushes through the rapids here at speeds around 48 km/h (30 miles/hr) making it a Class 6 rapids which is generally considered unrunnable. It's quite incredible to witness this powerful force of nature up close!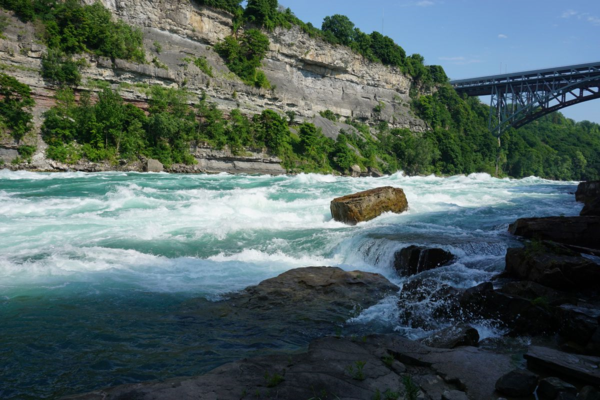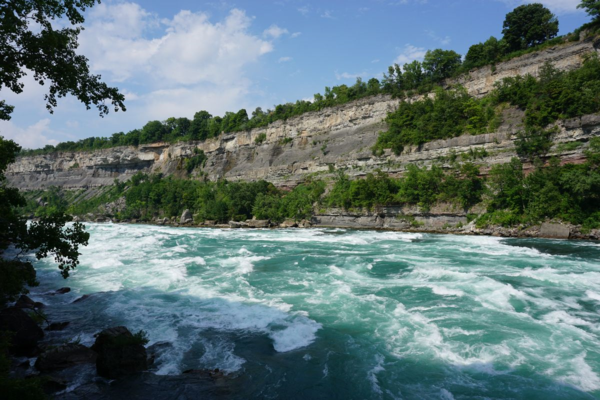 2. Oh Canada Eh? Dinner Theatre
Our family loves theatre so we were very excited to learn about the Oh Canada Eh? Dinner Theatre which celebrated 20 years in Niagara Falls in 2014. This light-hearted musical celebration of Canada is performed in a log cabin theatre and features characters such as a Mountie, a French lumberjack, and Anne of Green Gables singing popular Canadian tunes.
Dinner is served family-style during breaks in the on-stage action with the young actors from the show doubling as wait staff and serving up favourites such as French-Canadian Pea Soup, PEI potatoes, and Maple Chocolate Cake.
The show is fun for all ages but is particularly good for families with older kids who need something to do in the evening in Niagara Falls. We loved the show from start to finish and it's now definitely one of our highlights of Niagara Falls!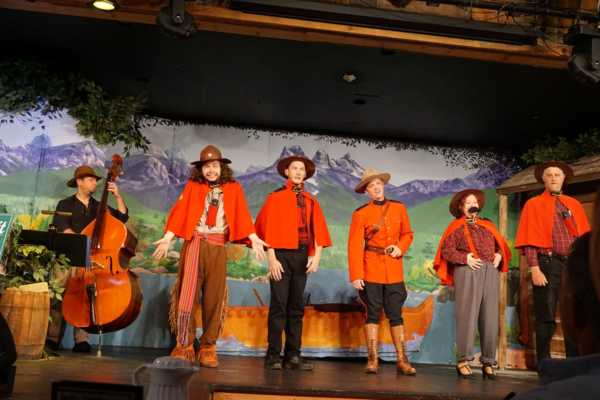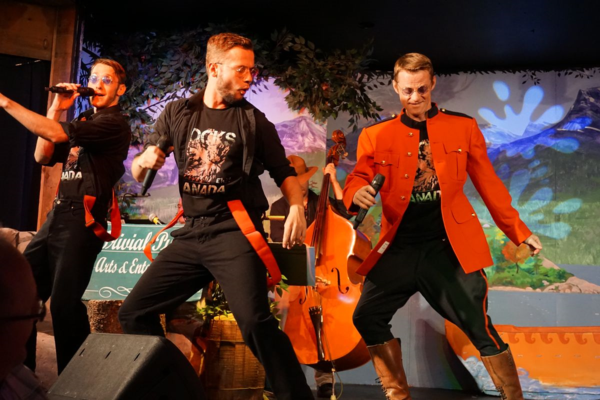 3. IMAX Movie and Daredevil Exhibit
Anyone who enjoys the IMAX movie experience should attend a screening of Niagara: Miracles, Myths and Magic at Niagara Falls IMAX. The 6 story high screen and surround sound will make you feel like you are standing at the brink of the Falls watching the action.
The film highlights the early myths and legends surrounding Niagara Falls, miraculous stories of survival of people who have accidentally gone over the Falls, and a few of the daredevils who attempted to take on the Falls in a barrel.
If you are intrigued by these thrill-seekers then be sure to check out The Daredevil Exhibit which is in the lobby of the theatre to learn more about their stories and see some of the actual barrels on display.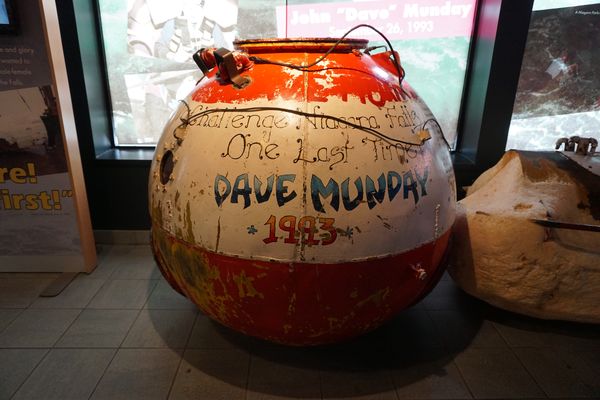 4. Niagara Falls History Museum
My family loves visiting museums so I have no idea why we had never visited the Niagara Falls History Museum before this. The recently-renovated museum has two permanent exhibits and one temporary exhibit space which provide a great introduction to the history of the area and many opportunities for interactive hands-on learning experiences.
Kids will love trying on a replica uniform while exploring the Gale Family War of 1812 Gallery which houses a collection of important artifacts relating to the war.
The Community Gallery on the 2nd floor highlights various aspects of the community of Niagara Falls and also offers several fun interactive exhibits. During our visit, we had a great time exploring the museum's temporary exhibit "No Vacancy" which looked at motel culture and how it affected the development of Niagara Falls.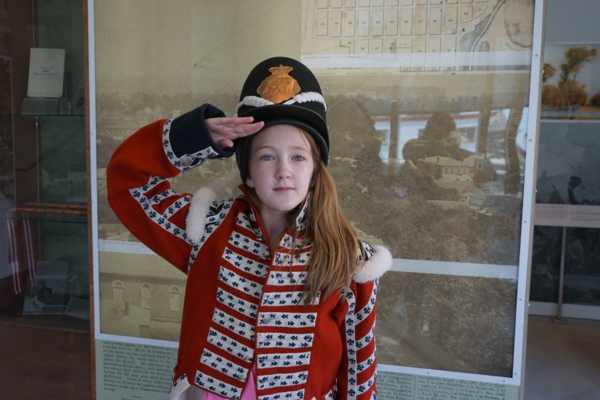 5. Niagara's Fury
Niagara's Fury is another family-friendly attraction that I never would have considered visiting if we hadn't been using a Niagara Falls Adventure Pass. The attraction is described as a multi-sensory 4-D experience but I had no idea what that really meant. When we were handed ponchos on the way in I assumed there might be a bit of misting water. We were indoors so how wet could it really get?
The experience starts with a cute animated character named Chip the Beaver who is working on a project about how Niagara Falls was formed during the Ice Age. When this pre-show is over the audience moves into a specially-designed 360 degree theatre with drains in the floor where the multi-sensory aspect of the experience becomes clear. The temperature drops, the floor moves and the drenching begins – a few minutes later you will feel like you have gone over Niagara Falls!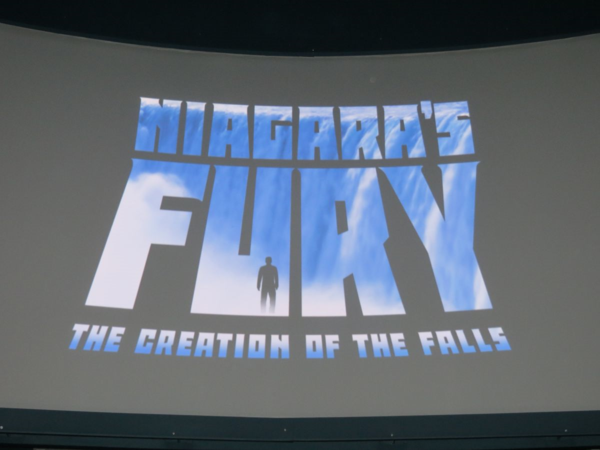 The next time you are in Niagara Falls and looking for fun things to do, check out some of these lesser-known attractions – you won't be disappointed!
Looking for a