Planning a trip to Niagara Falls with kids? Here's our list of the top 10 things to do on a family vacation in Niagara Falls, Canada.
Niagara Falls, Canada is a destination bursting with activities for families with kids of all ages. Whether you are in town for a week or just a weekend there is more than enough to keep the kids busy and begging to come back for more. Here's our list of the top 10 things to do in Niagara Falls with kids.
Do you need more than 10 things to do on your trip to Niagara Falls? Then check out 5 Fun Things To Do in Niagara Falls (That You Might Not Know About) for five additional suggestions.
Last updated March 2021
This post may contain affiliate links. If you click an affiliate link and make a purchase then we receive a small commission at no additional cost to you.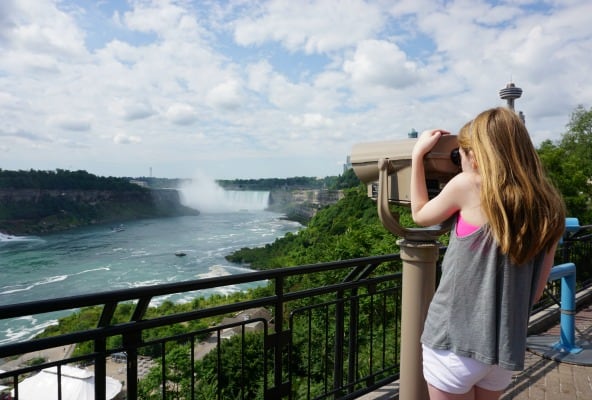 1. Cruise to the Falls
There's absolutely nothing to debate here – the best thing to do in Niagara Falls with kids is to get up close by taking a thrilling tour on Hornblower Niagara Cruises.
Passengers don plastic rain ponchos and board one of the Hornblower state-of-the-art 700 passenger catamaran boats to sail right into the basin of the 170 foot high Horseshoe Falls.
As the boat nears the falls the roar from the millions of gallons of water thundering into the basin becomes deafening and squealing passengers realize that "mist" is a bit of a misnomer. It's an absolutely soaking good time – and kids love it!  
Don't forget to check this item off your Ontario Bucket List!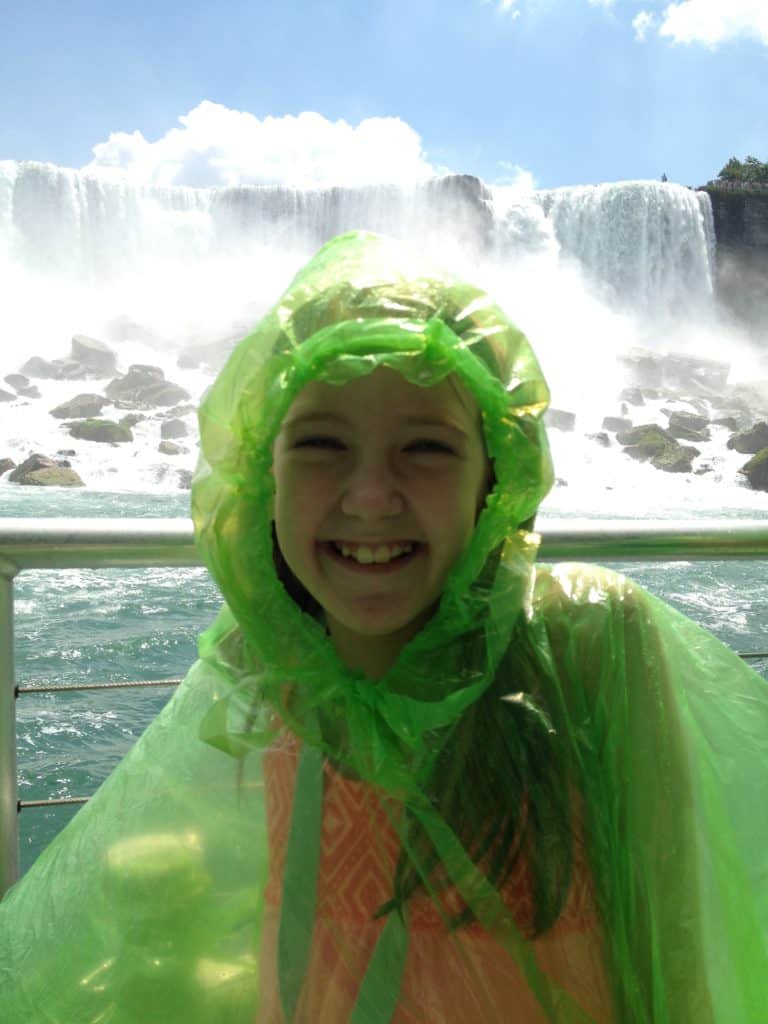 2. Journey Behind the Falls
Once the Falls has been seen up close then it's time to go behind the scenes. Journey Behind the Falls is an attraction that involves descending 150 feet through bedrock to tunnels that lead to the upper and lower observation decks at the base of Horseshoe Falls. From that perspective visitors can stand in the mist and experience the water crashing into the basin below from the Falls which is 13 stories up.
Rain ponchos are needed as protection from the mist on the lower deck during the spring and summer season. During other times of the year the lower deck is closed as it ices up. The upper deck is protected and remains open year round. The entire experience takes about 30-45 minutes but will be remembered for a lifetime.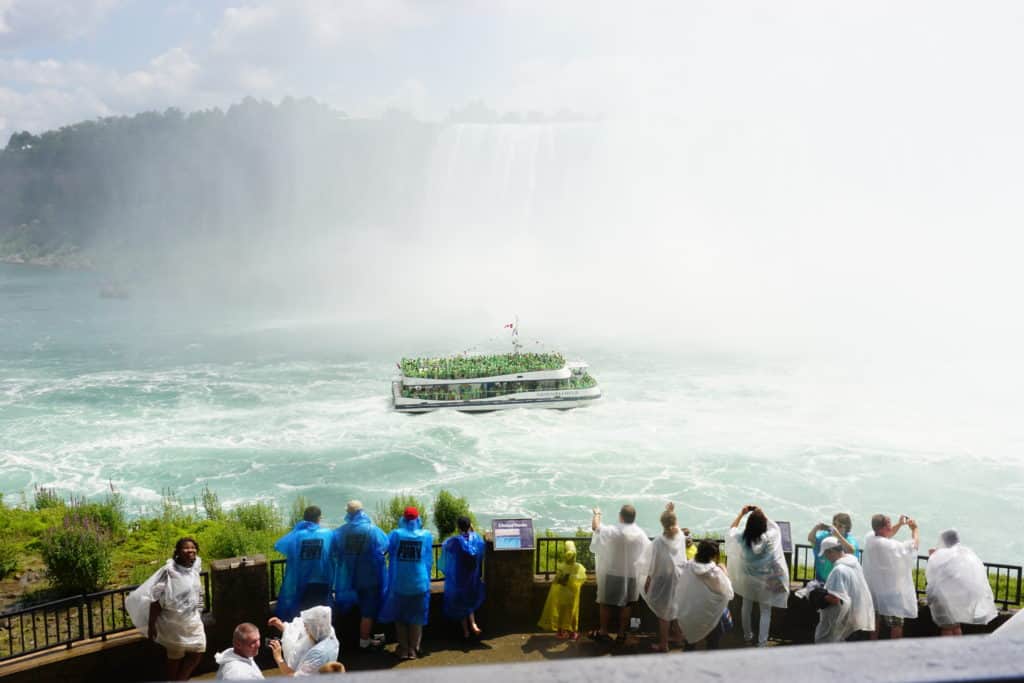 3. WildPlay Niagara Falls
Does your family love a bit of adventure on vacation? If so, then you might want to check out WildPlay Niagara Falls which has an aerial adventure course and a zipline which will provide adrenaline junkies with amazing views of the whirlpool gorge and the falls.
There are adventure courses available for ages 5+ and the zipline is 7+ but there are also height requirements in place so be sure to check their website for restrictions ahead of time if you have young adventure-seekers who might not be tall enough to participate.
Check out WildPlay Niagara Falls on Instagram for action shots!
4. Stay at a Water Park Hotel
There are a number of choices of family-friendly accommodations in Niagara Falls which include water parks and are very popular with kids. The only downside is getting them to leave the hotel to explore the Falls area. They include:
Great Wolf Lodge Niagara (check rates and reviews at TripAdvisor) – Guests can check into cabin-themed rooms and then enjoy a 100,000 sq.ft. indoor water park with thrilling slides for the big kids and zero-entry pools for the little ones. The fun doesn't end in the water park as the resort also has an arcade, miniature golf, a Kid's Spa and the Cub Club activity and craft centre.
Located directly across the street from Niagara Falls, The Fallsview Indoor Water Park is the area's largest indoor waterpark featuring 16 thrilling slides, an indoor wave pool, a year round outdoor sun deck and much more. The Fallsview Indoor Waterpark has direct indoor connections to three hotels – Sheraton on the Falls (check for current rates), Crowne Plaza Niagara Falls – Fallsview (check rates and reviews at TripAdvisor), and Skyline Hotel & Waterpark (check rates and reviews at TripAdvisor).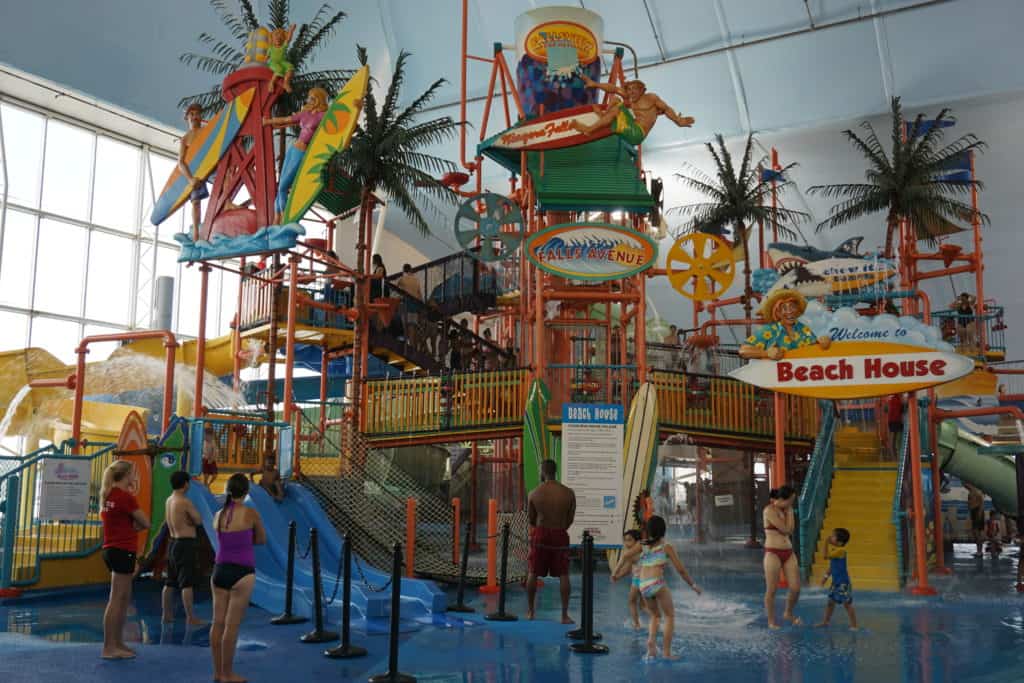 5. The Niagara Parks Butterfly Conservatory
Visiting the Niagara Parks Butterfly Conservatory is one of our favourite family-friendly things to do in Niagara Falls and it only takes about an hour. The Conservatory is located on the Niagara Parkway only about a 10 minute drive from the Falls.
Families can take a self-guided walking tour through the conservatory which features over 2000 colourful butterflies floating freely in the rainforest setting. It is impossible not to be fascinated by all the beautiful butterflies fluttering around. There are also horse and carriages that provide pleasant rides through the Botanical Gardens.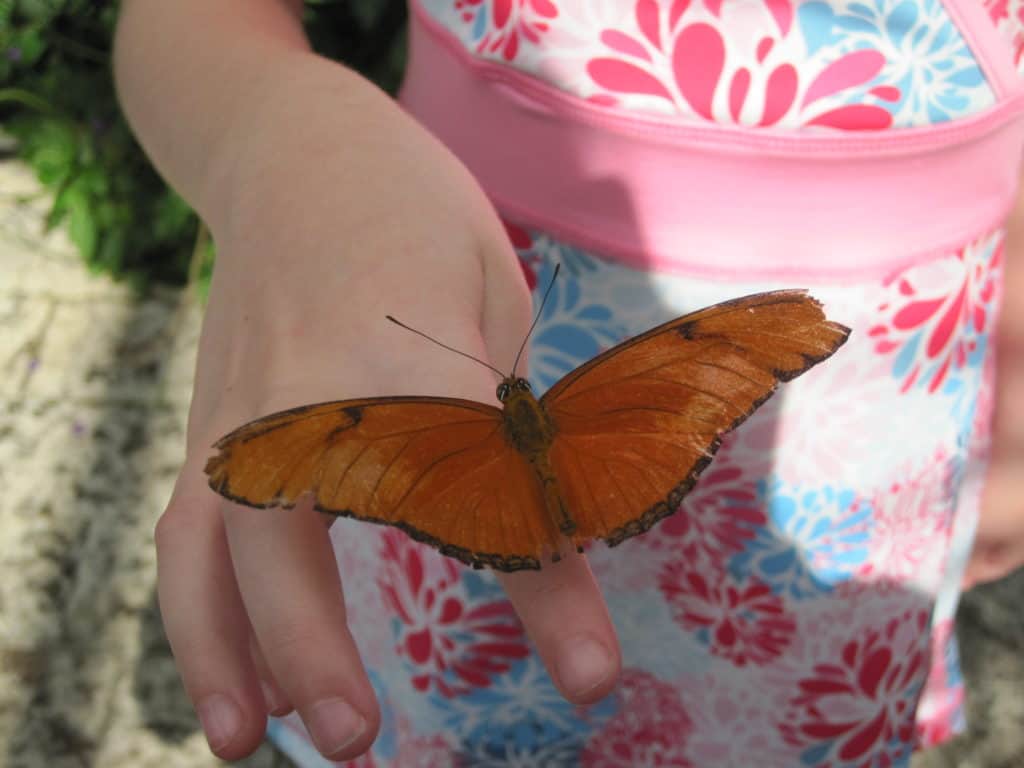 6. Visit Historical Sites
The Niagara Falls area has a number of historical sites that are both educational and fun to explore. Families can learn about the Canadian heroine of the War of 1812 at The Laura Secord Homestead, learn how British soldiers lived at Fort George and Old Fort Erie, or climb Brock's Monument to look over the territory that the British were defending in 1812.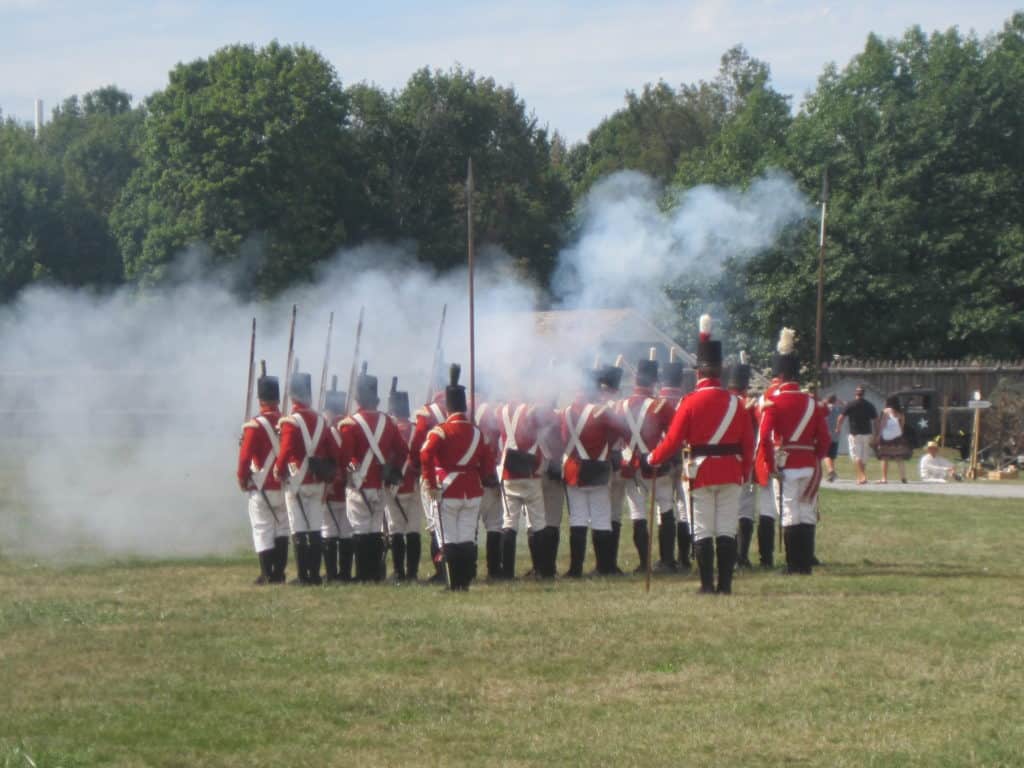 7. Ride the Niagara Skywheel
At 175 feet high The Niagara Skywheel is Canada's largest observation wheel and provides passengers with memorable aerial views of the Falls and the surrounding landscape.
The Skywheel is open year-round as the fully-enclosed gondolas are equipped with heating and air-conditioning to ensure the comfort of passengers for the 8-12 minute flight. The bird's eye view of the Falls is sure to impress even the most jaded of youngsters and net some pretty impressive photographs.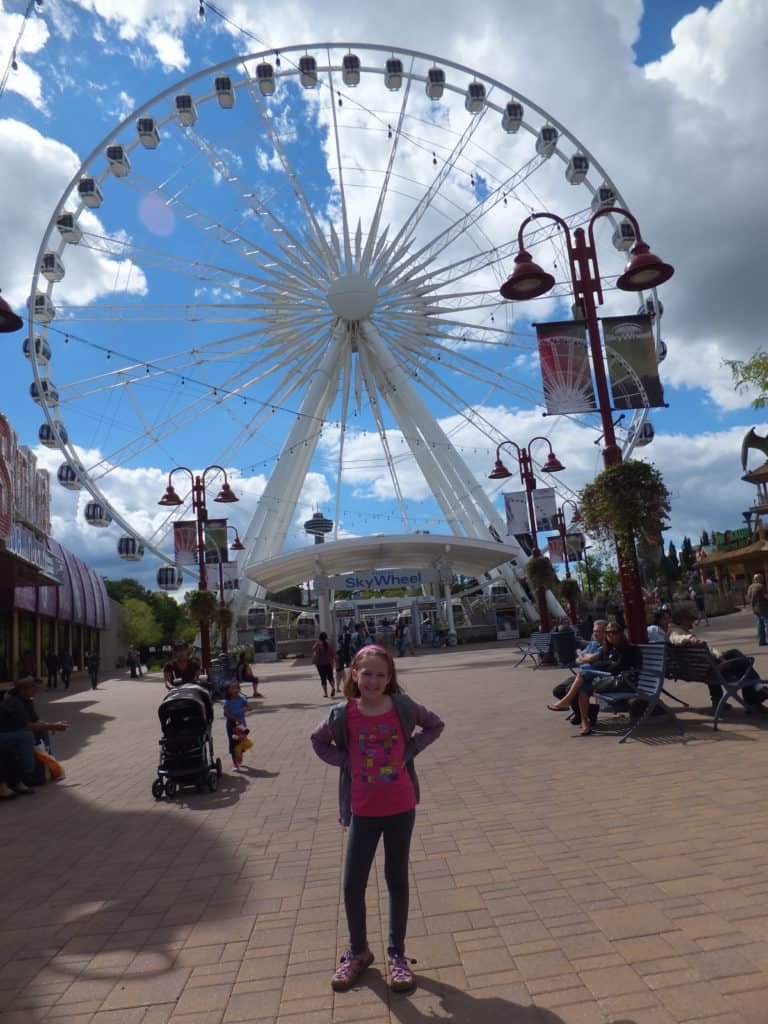 8. Clifton Hill Attractions
If your kids like midway rides and games then they will love Clifton Hill, known as the world-famous street of fun. Attractions in Clifton Hill include:
The Great Canadian Midway – with over 300 games
Dinosaur Adventure Golf – miniature golf among prehistoric giants
Ripley's Believe it or Not Museum – over 500 mind-boggling displays of rare and amusing oddities
Movieland Wax Museum of the Stars – take pictures with the wax versions of top television, movie and music celebrities
FX Ride Theatre – motion simulator ride through a fun house
The Clifton Hill area is also home to a number of chain restaurants popular with families including The Rainforest Cafe and The Hard Rock Cafe. The kids will also enjoy shopping on Clifton Hill where they can browse for novelties and wax hands at The Fun Factory, satisfy a sweet tooth at The Fudge Factory or find a Canadian souvenir at Canada Trading.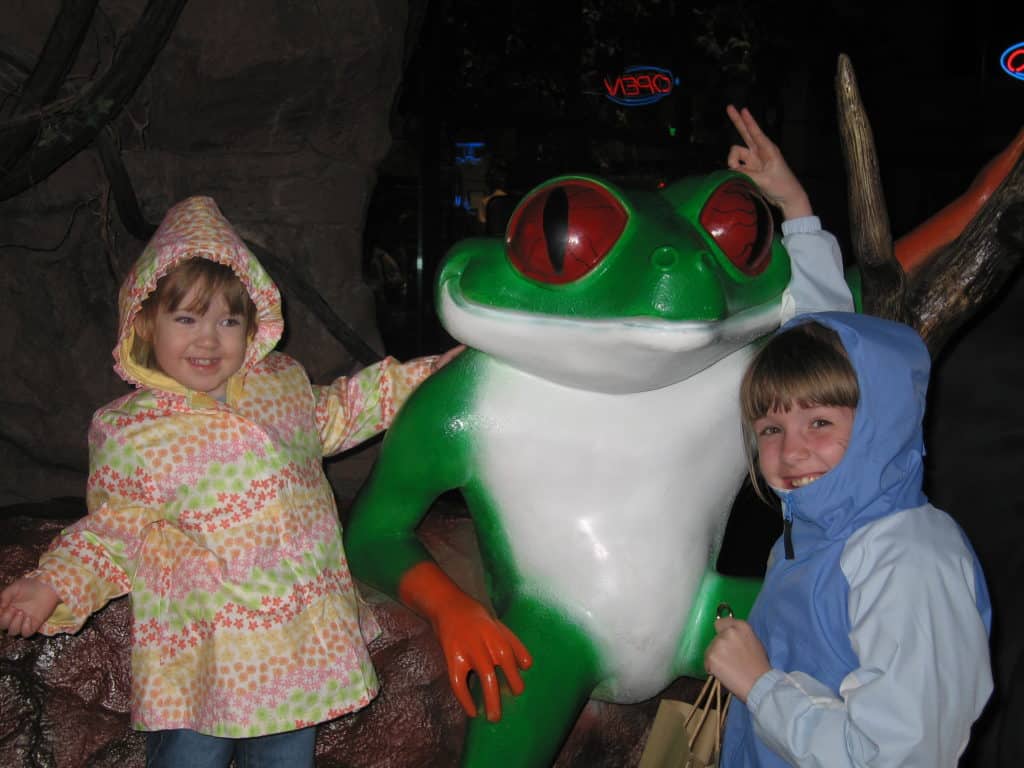 9. Skylon Tower
The view from The Skylon Tower Observation Decks (775 feet off the ground) can't be beat. It takes only a 52 second elevator ride for visitors to reach the Observation Decks and experience the unparalleled views of the Falls and surrounding area.
The Tower has two dining facilities – The Revolving Dining Room for award-winning continental cuisine and the Summit Suite Buffet Dining Room for family-affordable casual dining. The lower concourse of The Skylon Tower also has a indoor entertainment centre and a food court with convenient quick-service restaurants like Pizza Pizza, Dairy Queen, Mr. Sub and Starbucks.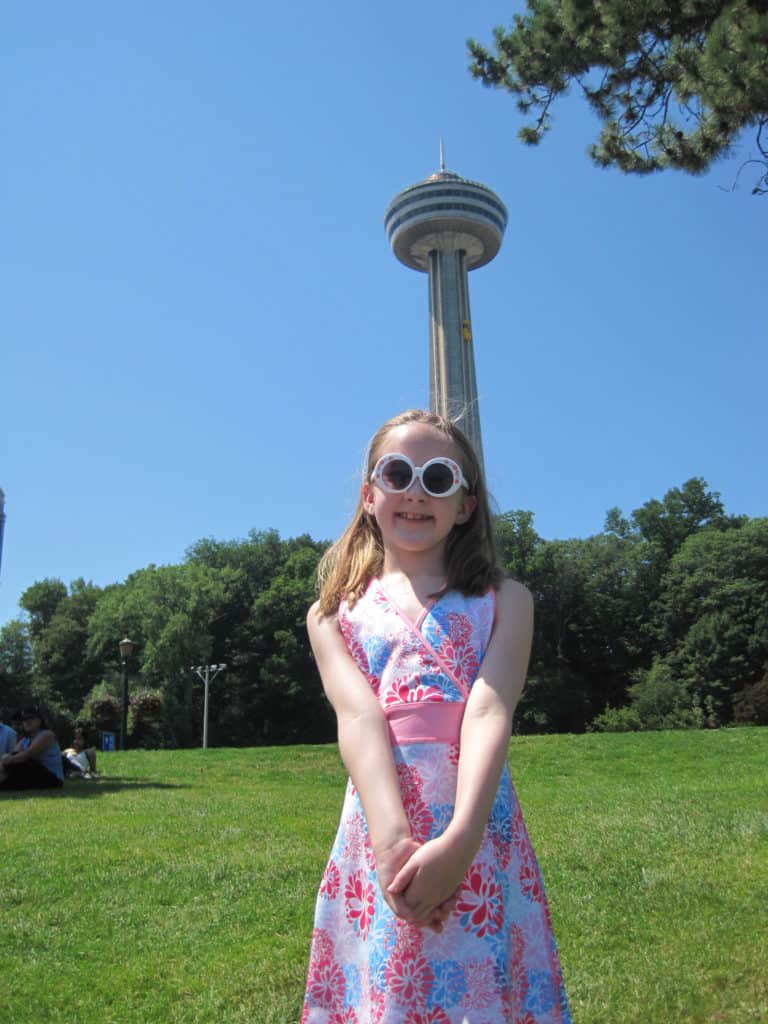 10. Drive to Niagara-on-the-Lake
This one is a little bit of a cheat, however, if you are in Niagara Falls you simply have to visit the quaint village of Niagara-on-the-Lake located just a short drive away.
This is one of my favourite places on earth – it's a charming village with unique shopping and boutiques, lovely hotels and world-class theatre at The Shaw Festival. The village also has the only Ontario outlet of COWS Ice Cream, the world-famous ice cream from Prince Edward Island that is a favourite of our family.
It is very easy to while away an afternoon in Niagara-on-the-Lake – it simply doesn't get much better than this.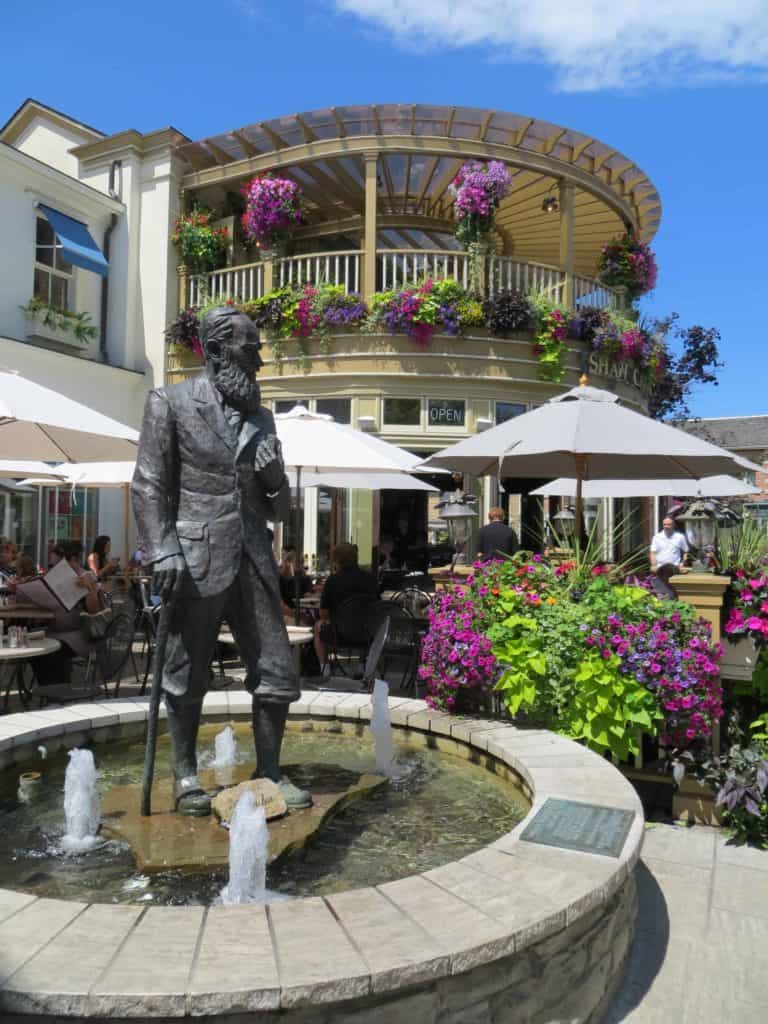 Now you have your itinerary set, it's time to visit Niagara Falls with kids. Don't worry if you don't get to everything on the list – if there is one thing for certain it's that your kids are going to want to come back.
Pin This For Later