More often than I would like to admit, I fall into the trap of thinking that I need to travel a great distance to explore even though I know that's not the case. I need to remind myself just how much there is to do in our home province so I decided to create my ultimate list of things to do and places to visit in Ontario. I settled on 52 items to check off a bucket list for Ontario – one for each week of the year.
I have already completed about 2/3 so still have quite a few to look forward to. I have a feeling that we will be spending more time close to home in the next year and I should be able to make some progress on my list!
Don't forget to download and print the Ultimate Ontario Bucket List Checklist at the end of this article so you can keep track of which items you have completed too!
This post may contain affiliate links. If you click an affiliate link and make a purchase then we receive a small commission at no additional cost to you.
12. Stroll Grafitti Alley in Toronto
Just south of Queen Street West in Toronto you will find Grafitti Alley – a half mile of vibrant street murals that shouldn't be missed on a visit to the city.
14. Cycle Along the Niagara River
Enjoy the scenic views, historical attractions, shops, and restaurants with a bike ride along the Niagara River Recreation Trail. The 56 kilometre trail runs parallel to the Niagara River from historic Fort Erie through Niagara Falls to Fort George in Niagara-on-the-Lake.
26. Visit Cheltenham Badlands
Looking for a unique place to visit in Ontario? The Cheltenham Badlands, located in Caledon northwest of Toronto, is another natural site that should be on your bucket list. The series of barren rolling hills are protected as part of the Ontario Heritage Trust and can now be viewed from an accessible boardwalk.
Read Visiting the Incredibly Unique Cheltenham Badlands in Caledon, Ontario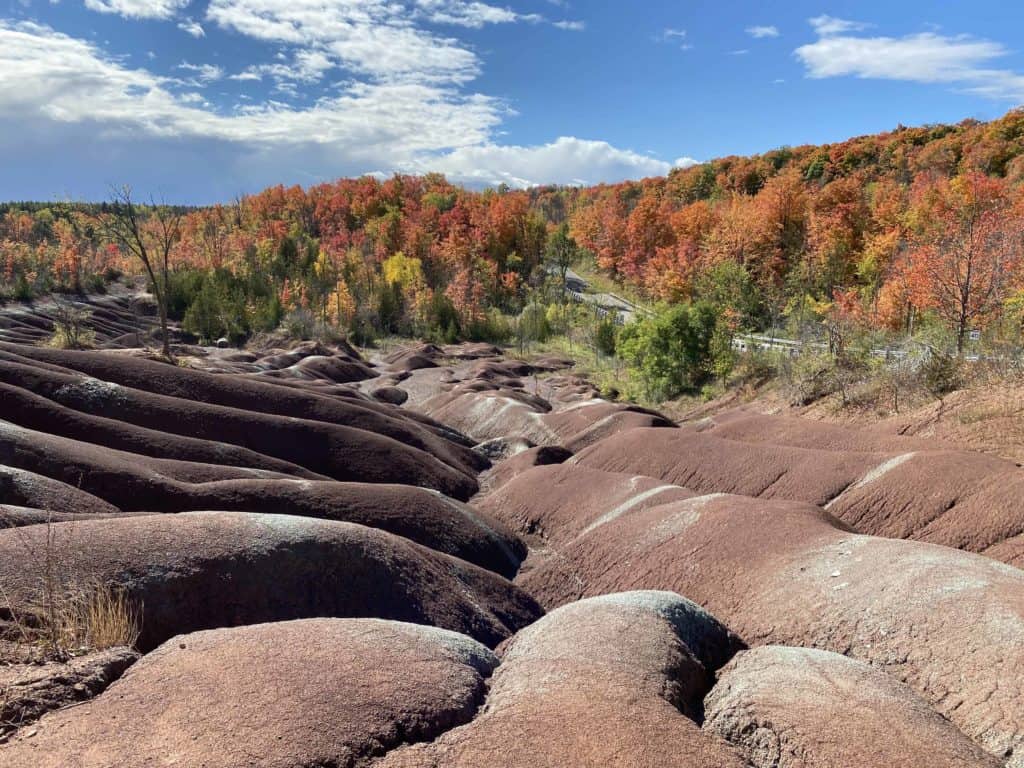 48. Terry Fox Memorial in Thunder Bay
The Terry Fox monument on the outskirts of Thunder Bay is a 9 foot high bronze statue that was erected in memory of a courageous Canadian who embarked on his Marathon of Hope in 1980 to raise funds for cancer research. The memorial is located not far from the spot where Terry was forced to end his cross-Canada run when the cancer returned.
Are there any places on your Ontario bucket list that I missed? Let me know in the comments below or send me a message on Facebook, Instagram or Twitter.