Manitoulin Island, located in the north channel of Lake Huron on the Ontario side, is the largest freshwater island in the world (2,766 square kilometres) and a popular destination with nature lovers who enjoy the island's rugged landscape, extensive hiking trails and numerous inland lakes. If you're planning to visit for the first time then you will appreciate our recommendations of the best things to do on Manitoulin Island based on many years of visiting.
Last updated in August 2023
This post may contain affiliate links. If you click an affiliate link and make a purchase then we receive a small commission at no additional cost to you.
We have spent a great deal of time on Manitoulin Island over the years. My husband's family is from the island and built a cottage in Kagawong in 1969 which we inherited a few years ago. He has been visiting all of his life and we have visited as a family during summer break for more than 25 years. Now that my husband is semi-retired we are able to spend several weeks on the island each summer.
I could write a much longer list of things to do on the island but these are my recommendations for the 15 best things to do on Manitoulin. Depending on the length of your visit, you may be able to fit all of them in or you may have to pick your favourites and come back another time to finish off the list.
Getting to Manitoulin Island
The first decision that you will have to make when planning your trip is how to get to Manitoulin island. Visitors travelling from Southern Ontario have the option of taking the MS Chi-Cheemaun from Tobermory to South Baymouth or driving around and onto the island via the bridge at Little Current.
We drive around most of the time because the ferry doesn't save us any time, however, it does mean less time behind the wheel and it's very relaxing to just sit back and enjoy the boat ride and the lovely views. Driving around is also scenic as you will be driving through the Canadian Shield. Driving through the large rock cuts in the Parry Sound area and through the La Cloche Mountains between Espanola and the island are both particularly scenic.
Information about the MS Chi-Cheemaun is available on the Ontario Ferries website. There are currently safety restrictions in place including reduced capacity, required reservations and health screening for the 2020 season.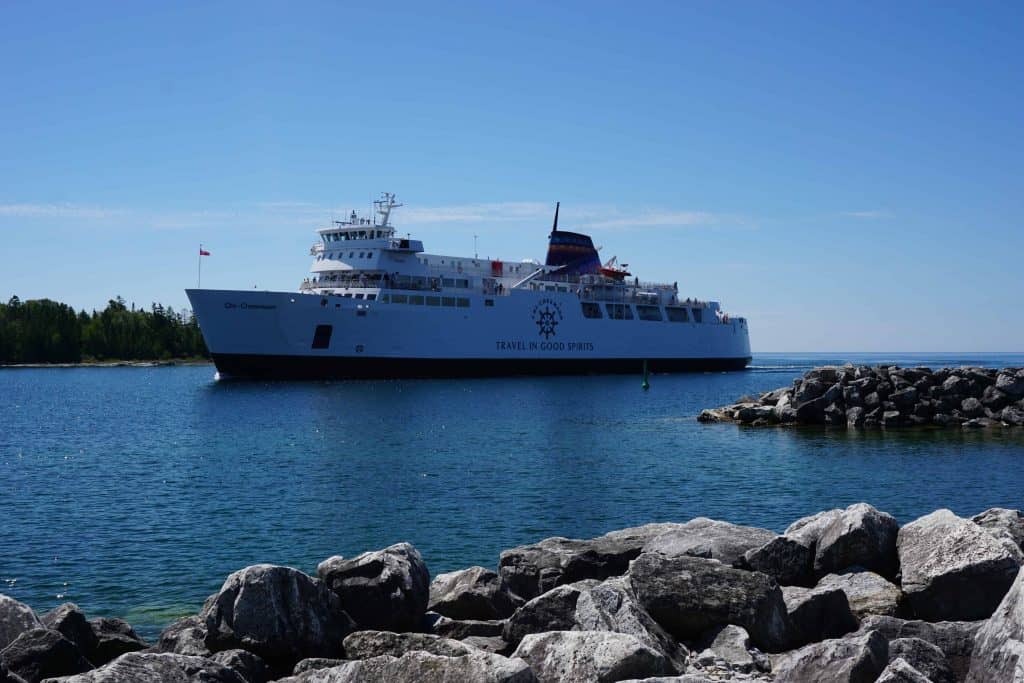 1. See the Little Current Swing Bridge
If you're travelling to the island via Highway 6 then you will cross the Little Current Swing Bridge. The bridge was initially built for railway traffic in 1913 and opened to vehicle traffic in 1946. Train service to the island was discontinued in the 1980s and the bridge has been open to vehicles only since then.
The bridge remains in the closed position for most of the year, however, during the summer it swings open to allow boat traffic through during daylight hours for the first 15 minutes of each hour. Watching the bridge swing is fun (when you're not in a rush to get on or off the island)!
While in Little Current, you can pop into the Tourism Information office that is just past the bridge and take advantage of the Manitoulin sign photo op. There are also shops and restaurants downtown on Water Street and a waterfront boardwalk that's perfect for strolling. North Channel Tours also operates out of Little Current if you're interested in a boat tour.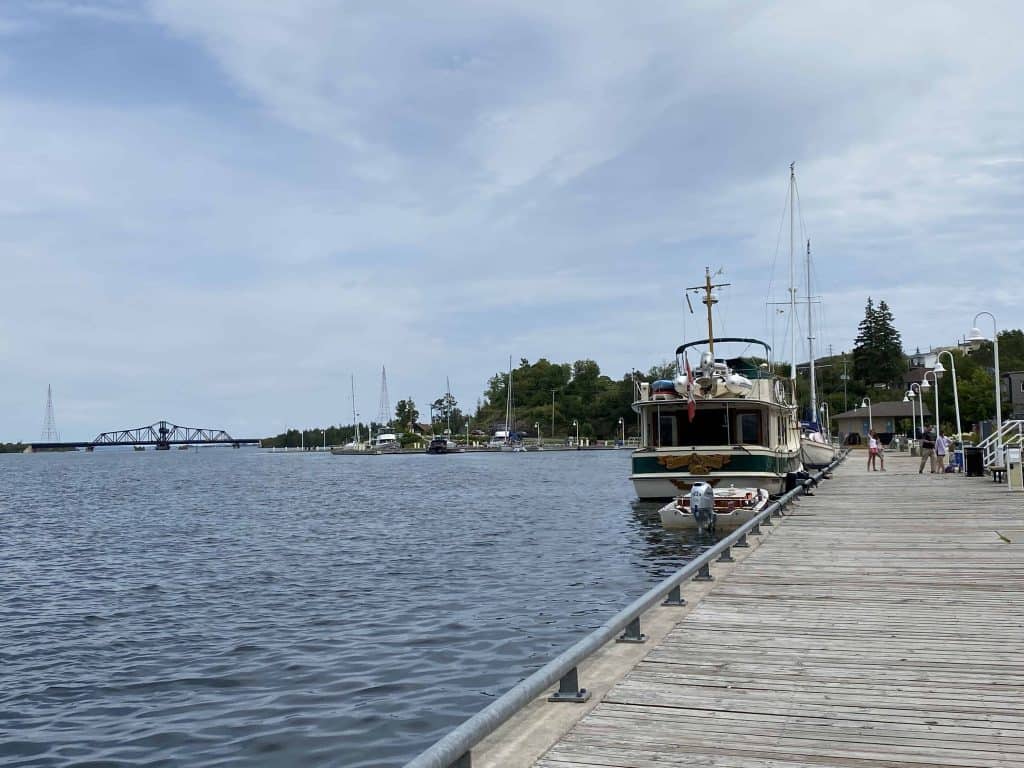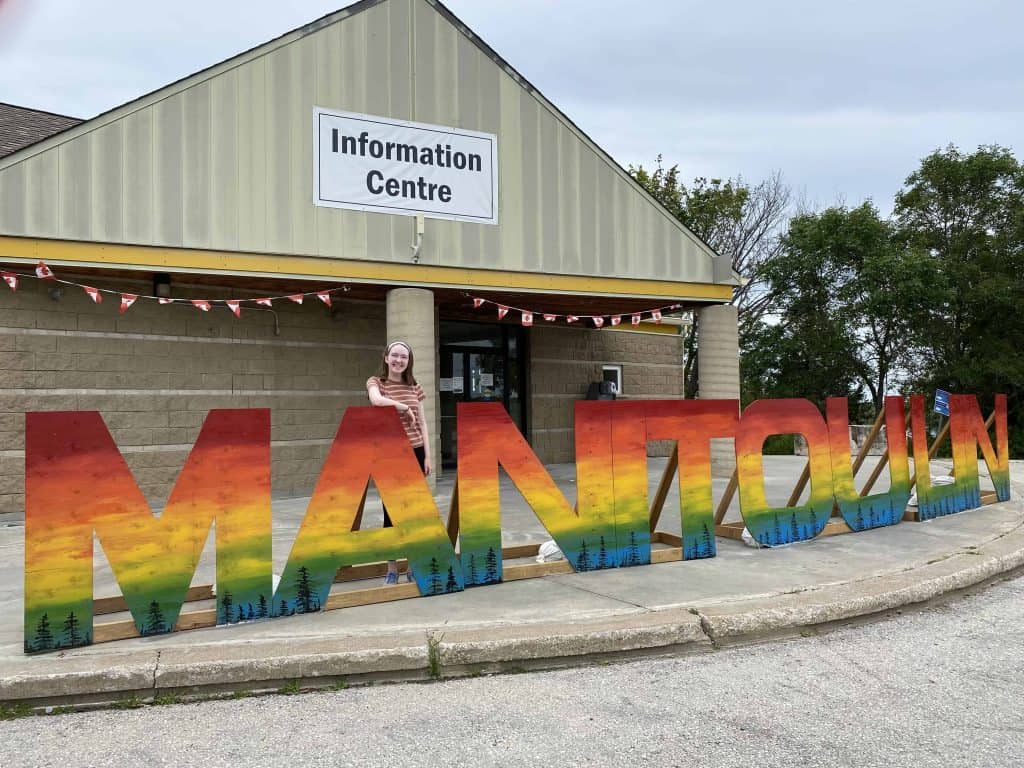 2. Visit Bridal Veil Falls
Bridal Veil Falls in the village of Kagawong is one of Manitoulin Island's top attractions for good reason. The falls, which is about 10-12 metres high, is formed by the Kagawong River cascading over a limestone cliff into a plunge pool below and is named for its resemblance to a bridal veil.
There is a parking lot and a picnic area with restrooms near the top of the falls. Visitors arriving from the parking lot use a sturdy metal staircase to descend to the base of the falls. The falls can also be reached via a walking trail from the village that follows alongside the river through a forested area. Visitors often wade or swim in the basin of the falls (depending on water levels at the time) or walk on the rocks behind the falls for another vantage point.
If you're hungry after hiking to the falls, head to Main Street Cafe (now known as Main Street Express) for delicious sandwiches and paninis!
Bridal Veil Falls is located on Highway 540 near the entrance to the village of Kagawong.
Read Fun Things To Do in Kagawong on Manitoulin Island This Summer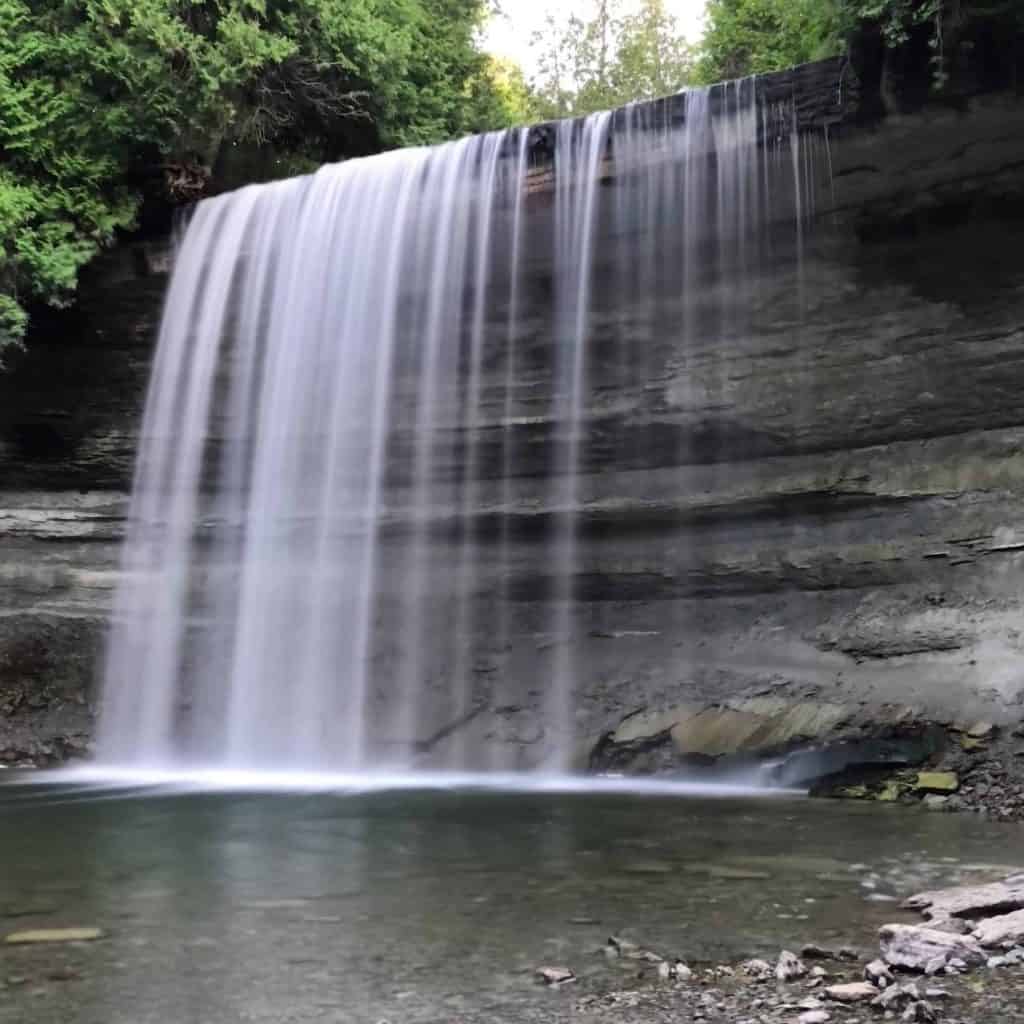 3. Explore the Hiking Trails at Misery Bay Provincial Park
Misery Bay Provincial Park is an 860 hectare day-use only nature reserve that provides access to the Lake Huron coastline and approximately 15 km of hiking trails of varying difficulties. Misery Bay, designated a provincial park in 1989, encompasses Lake Huron shoreline, a wetland, scrub woodland and mixed forest as well as unique plants, wildlife and glacial features. Available trails include:
The Coastal Alvar Trail – Rating: Moderate – Length: approximately 8km (loop)
The Inland Alvar Trail – Rating: Easy – Length: approximately 5km (loop)
Misery Bay Trail – Rating: Moderate/Difficult – Length: approximately 5km (loop to trail head)
Mac's Bay Trail – Rating: Easy – Length: approximately 2km (return to trail head)
We recently spent an afternoon hiking the Inland Alvar Trail which goes through mixed forest, old glacial beaches and a variety of open alvar pavements (a habitat with either a thin covering of soil or no soil over a base of limestone or dolostone).
The trail was easy and mostly flat although it seemed considerably longer than 5 km based on what my FitBit recorded. There was some flooding along the coastline due to high water levels but we were able to get around the flooded areas without any difficulty. We had initially planned to hike the Coastal Alvar Trail, however, it was closed due to flooding when we visited.
The park is located on the south shore of Manitoulin Island 35km West of Gore Bay, 2km South of Highway 540 a 10 minute drive west of Evansville. Check the park website for details on opening and closing dates and available activities/educational programming. The Visitor Centre was closed in 2020.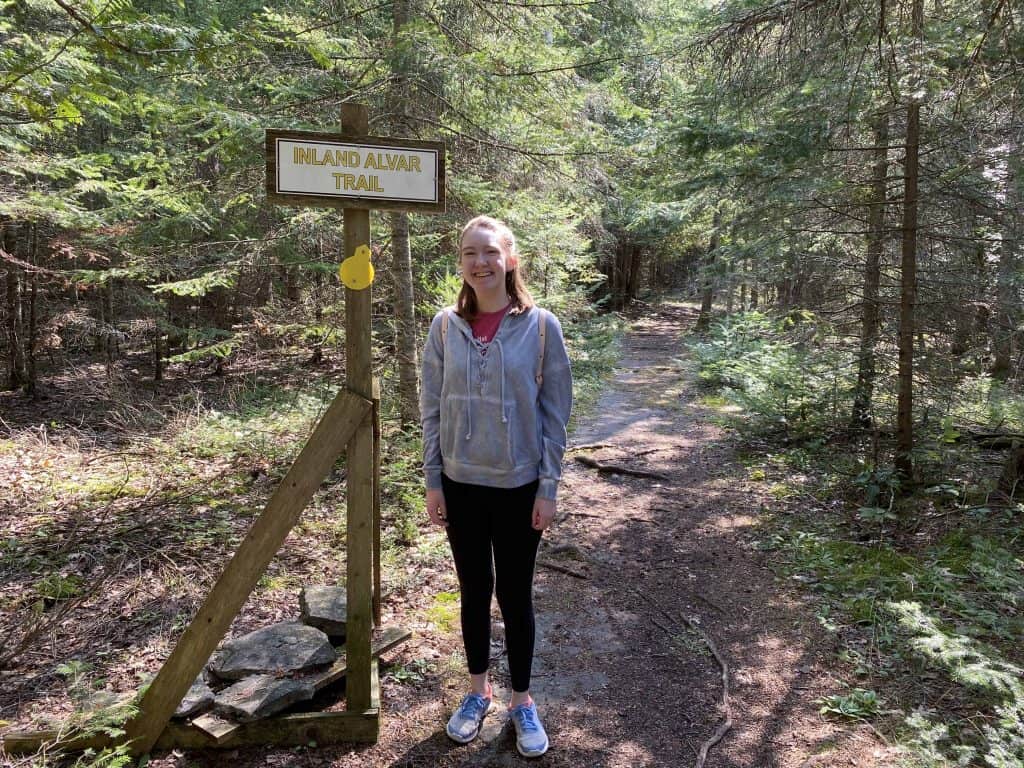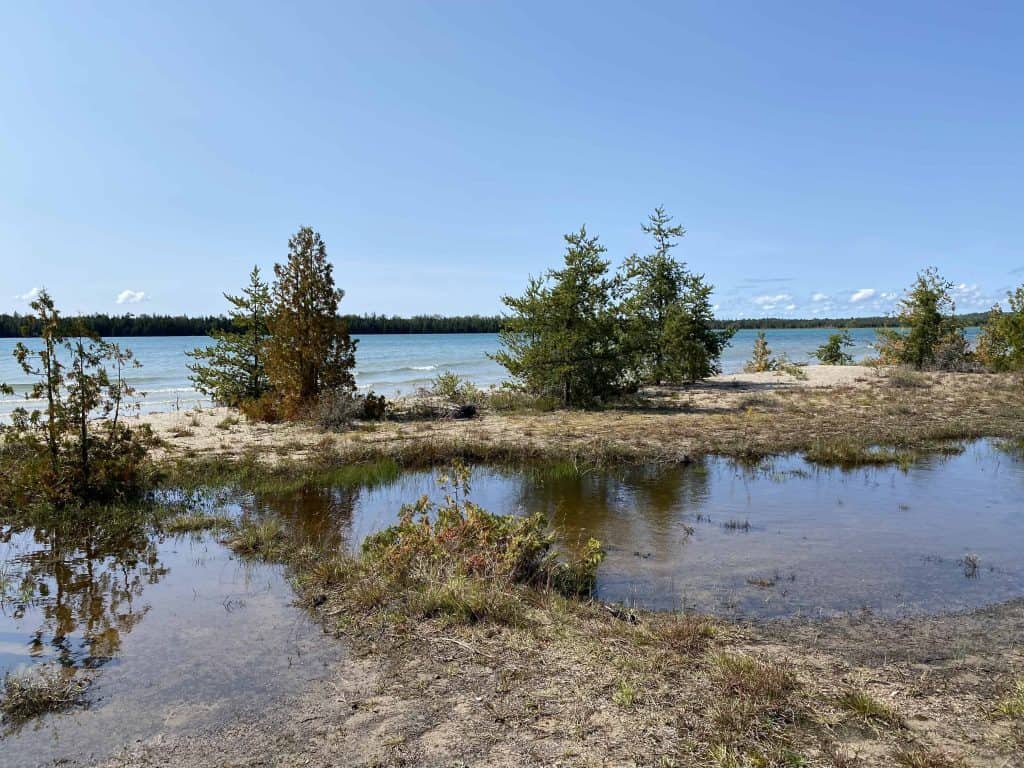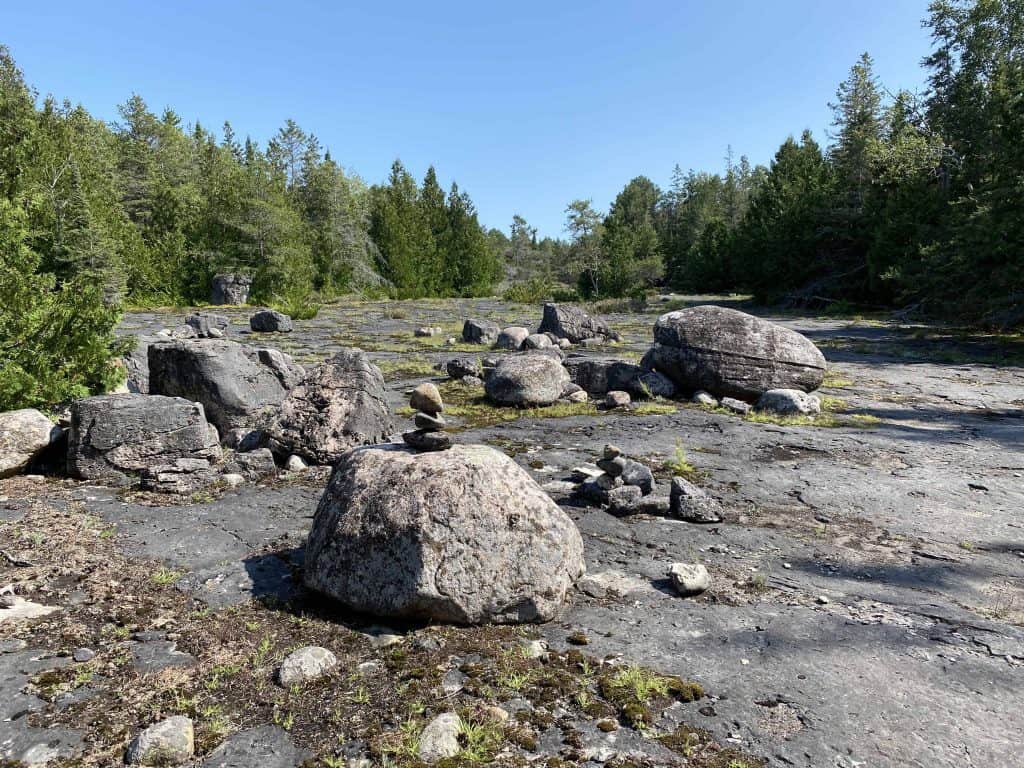 4. Play at a Water Park
Kids (age 5 and up) and adults can have fun playing at the Splash N Go Adventure Park inflatable splash park located in the Gore Bay harbour in July and August. The set-up includes multi-course routes so guests can choose a simple, relaxing obstacle course or one that is more athletically challenging.
There is always a lifeguard on duty and lifejackets must be worn at all times. Children aged 5-8 must be accompanied by a parent or guardian on the inflatable.
A session pass for 1.5 hours is $23/person plus taxes/fees and there is a discount for group passes.
Located in the harbour near Buoy's Restaurant.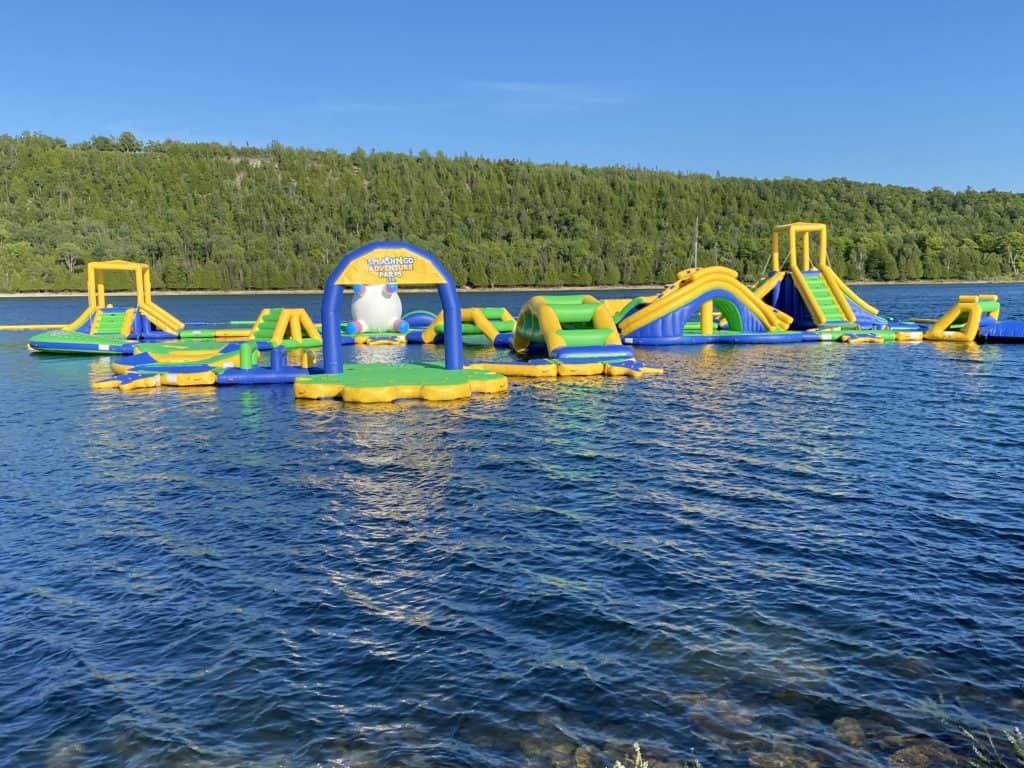 5. Spend Time on the Water
Since Manitoulin Island is the largest freshwater island in the world, it's hardly surprising that water sports are a popular summertime activity. In addition to Lake Huron, there are also many inland lakes and rivers to be enjoyed. Whether you head out on a boat, canoe, kayak, or do some fishing – spending time on the water should be part of your Manitoulin Island vacation.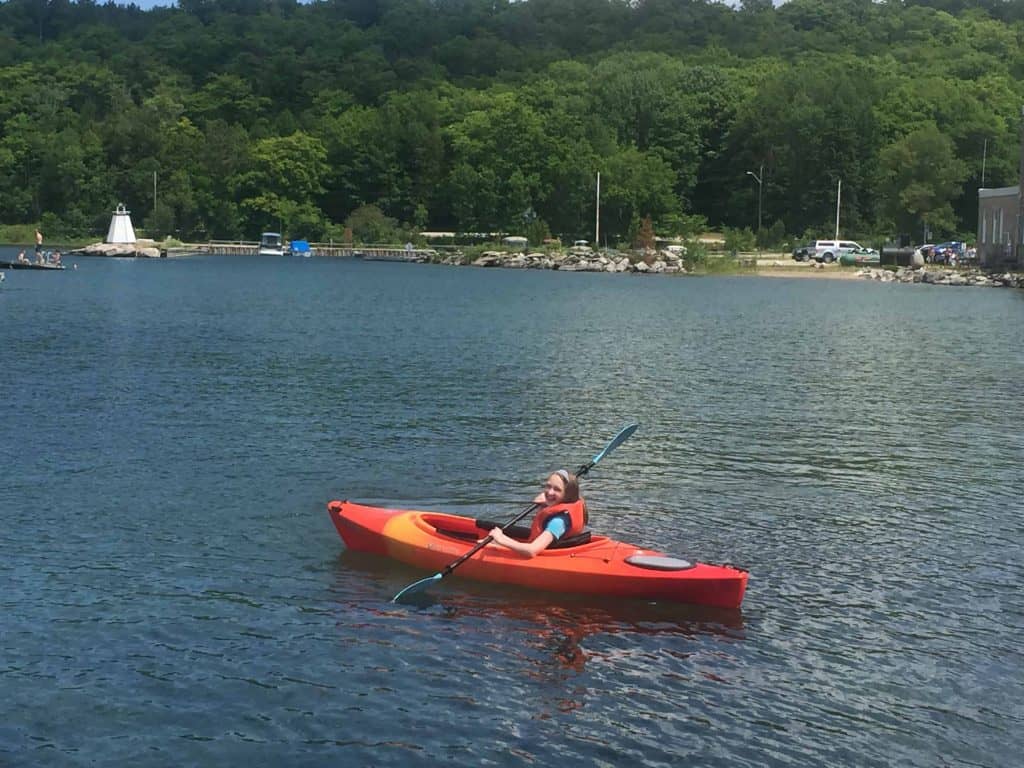 6. Learn About First Nations Culture
Manitoulin Island is the home of 6 Anishinaabe First Nations (M'Chigeeng, Sheguiandah, Sheshegwaning, Aundeck Omni Kaning, Wiikwemkoong and Zhiibaahaasing so visitors to the island have a unique opportunity to learn more about native culture.
Tours and cultural experiences can be booked through Wikwemikong Tourism including a variety of guided hikes and canoe tours, culinary experiences and cultural workshops.
There are also several Pow Wows held on Manitoulin Island each year that are a celebration of indigenous culture and community spirit that includes music, food, storytelling, and traditional dancing with brilliantly coloured regalia. These cultural festivals are a great way to learn more about the First Nations communities on the island and their traditions. We have attended the Wiikwemkoong Annual Cultural Festival which is one of the largest and longest running Pow Wows in Northeastern North America and also the M'Chigeeng Traditional Pow Wow.
High quality aboriginal items can be purchased at Lillian's in M'Chigeeng or at Ten Mile Point Trading Post in Sheguiandah. Both shops offer items such as quill boxes, moccasins, and handcrafted jewelry and Ten Mile Point also has a good selection of books by First Nations authors.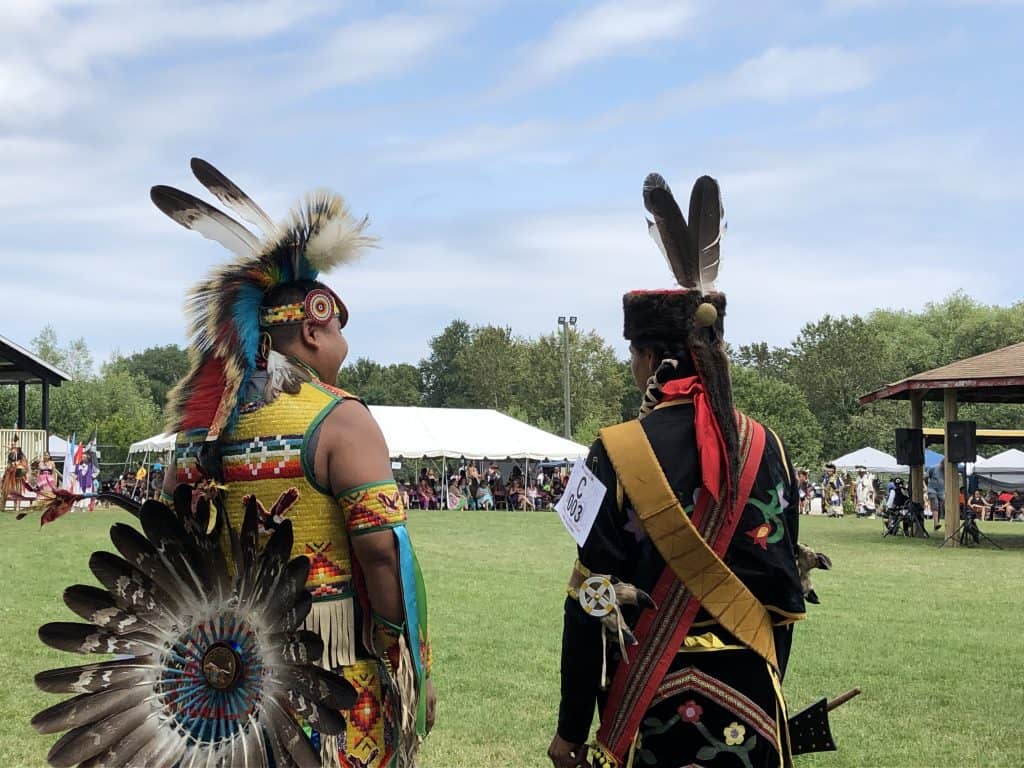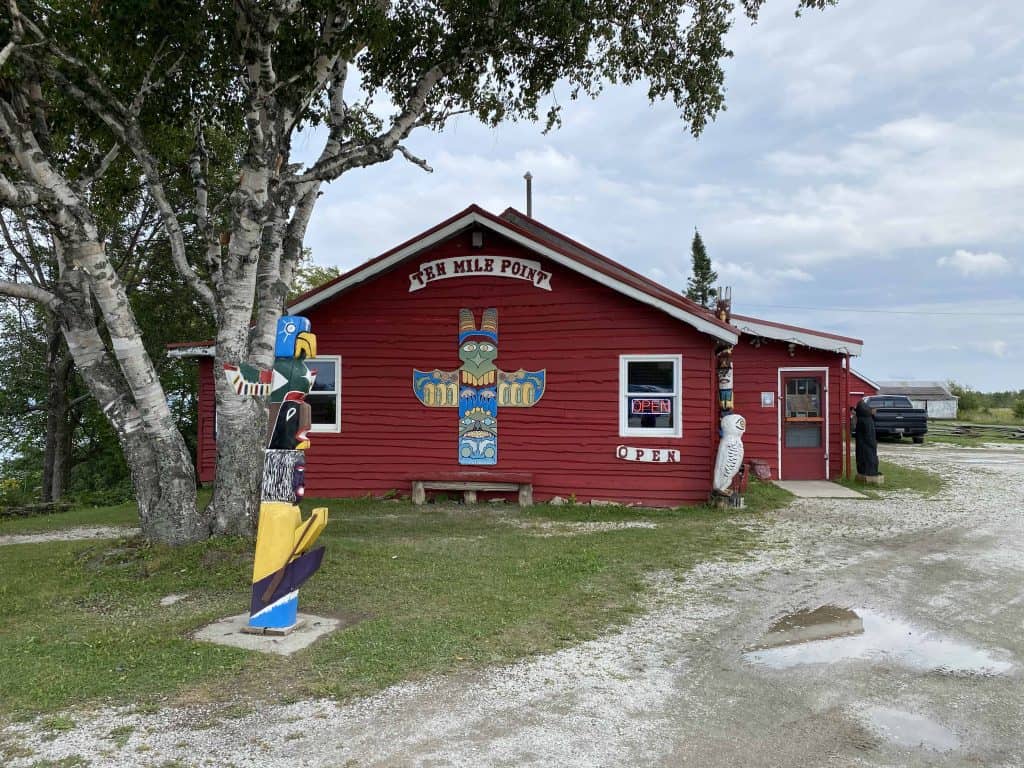 7. Dig Into the Best Apple Fritters
Mum's Bakery in Mindemoya serves the best apple fritters that I have ever tasted – and I like to think that I'm a bit of a connoisseur when it comes to fritters! When you're ordering bear in mind that they are huge – half of one fills me up. These fritters are so popular that they generally are sold out by 10 a.m. so arrive early or order ahead to avoid disappointment.
Mum's Restaurant & Bakery is located at 2215 Hwy 551, Mindemoya and usually opens at 6 a.m. Take-out and delivery only available in 2020.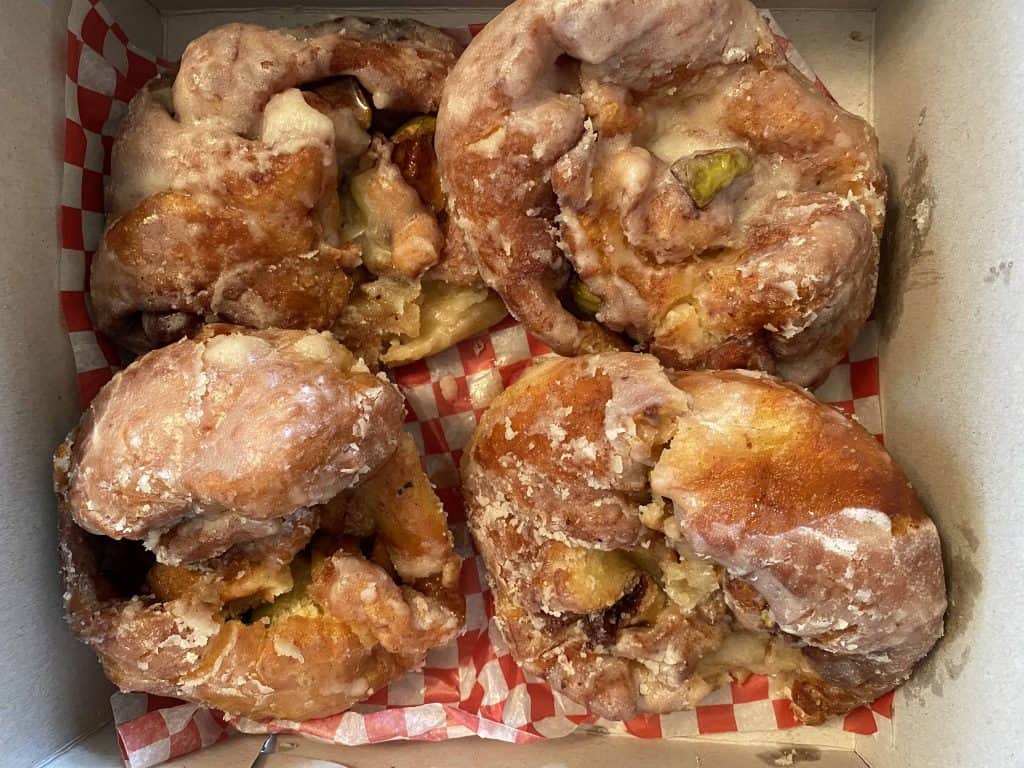 8. Hike the Cup and Saucer Trail
The Cup and Saucer Trail (also known as Michigiwadinong in Ojibwe) is the best known hiking trail on the island and considered one of the best in the province as well. The trail is named for its unique rock formation – a cup and saucer or a spearhead and spearhandle according to native legend.
The Cup and Saucer Trail takes you to the top of the Niagara Escarpment so there are a lot of dramatic cliffs and breathtaking views across the forest to West Bay in the Northwest and East to Lake Manitou as your reward for climbing to the peak. There are three trails available: the Main Trail is approximately 4 km round trip according to signage at the trail entrance; the South Loop adds 5 km to the Main Trail; and the Adventure Trail which is about 500 metres and off of the Main Trail.
The Cup and Saucer Trail is located on Highway 540 about 20 kilometres from Little Current near Bidwell Road. Be sure to arrive as early as you can in the morning because it gets quite busy as the day progresses and you might not find a parking space at mid-day.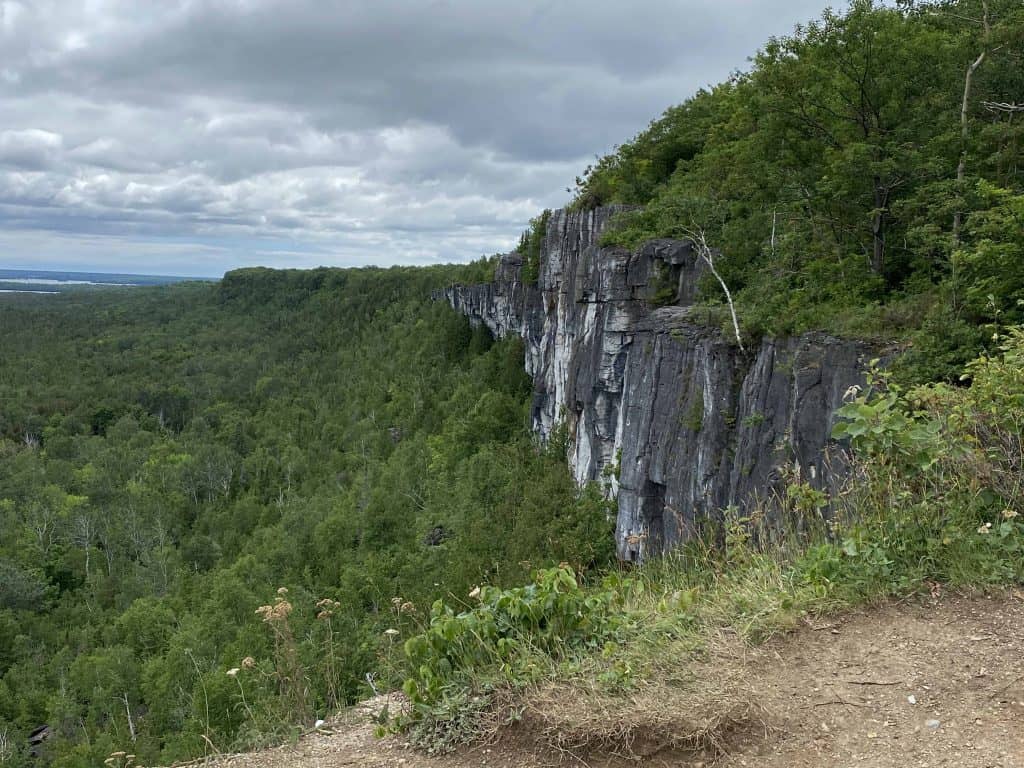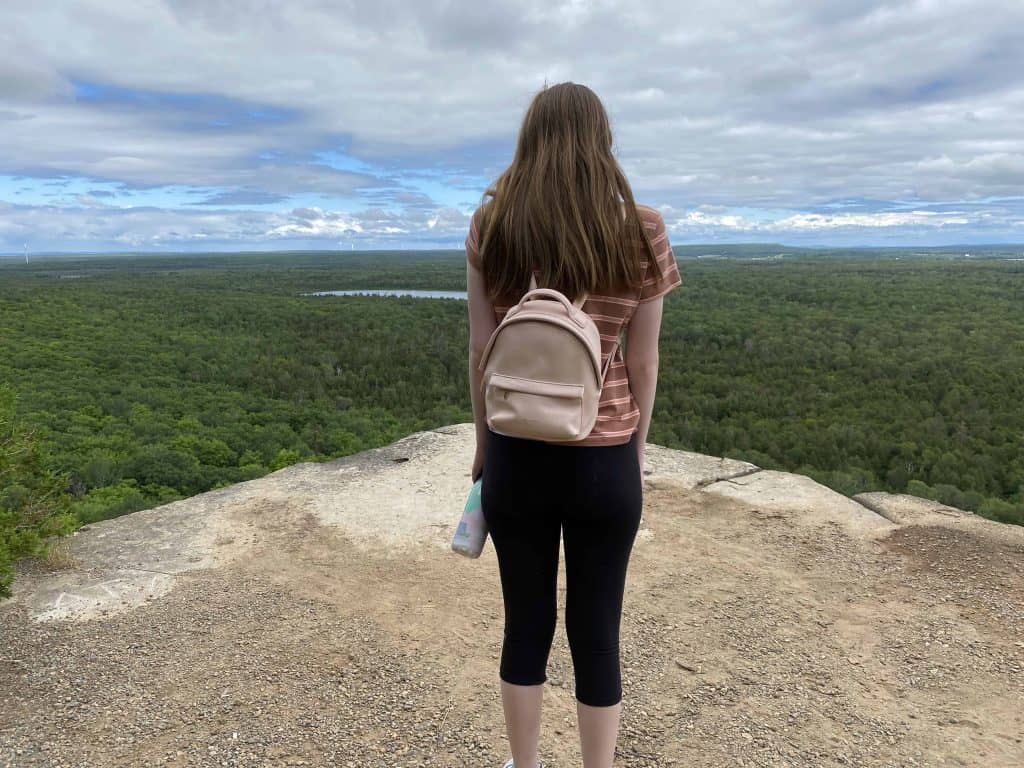 9. Visit a Museum
Although most of your Manitoulin island vacation will be spent outdoors, there are several small museums which can be a great activity when you want a change of pace or when the weather isn't great. These include:
The Old Mill and Heritage Centre in Kagawong – historical exhibits and multi-media presentations as well as a Postal Museum.
The Gore Bay Museum and the William Purvis Marine Museum
Ojibwe Cultural Foundation in M'Chigeeng – unique and culturally authentic interpretations of Anishininaabek history, cultural practices and beliefs.
Lillian's Museum in M'Chigeeng – the owner's private collection of quill boxes and baskets.
Central Manitoulin Pioneer Museum in Mindemoya – historical displays in a modern building surrounded by log cabins and a covered bridge.
Centennial Museum of Sheguiandah – exhibits on the history of the community, a pioneer village of log buildings, a collection of fossils and artifacts found in an excavation of the nearby quarry and the salvaged wreckage of Franklin Delano Roosevelt's mail plane.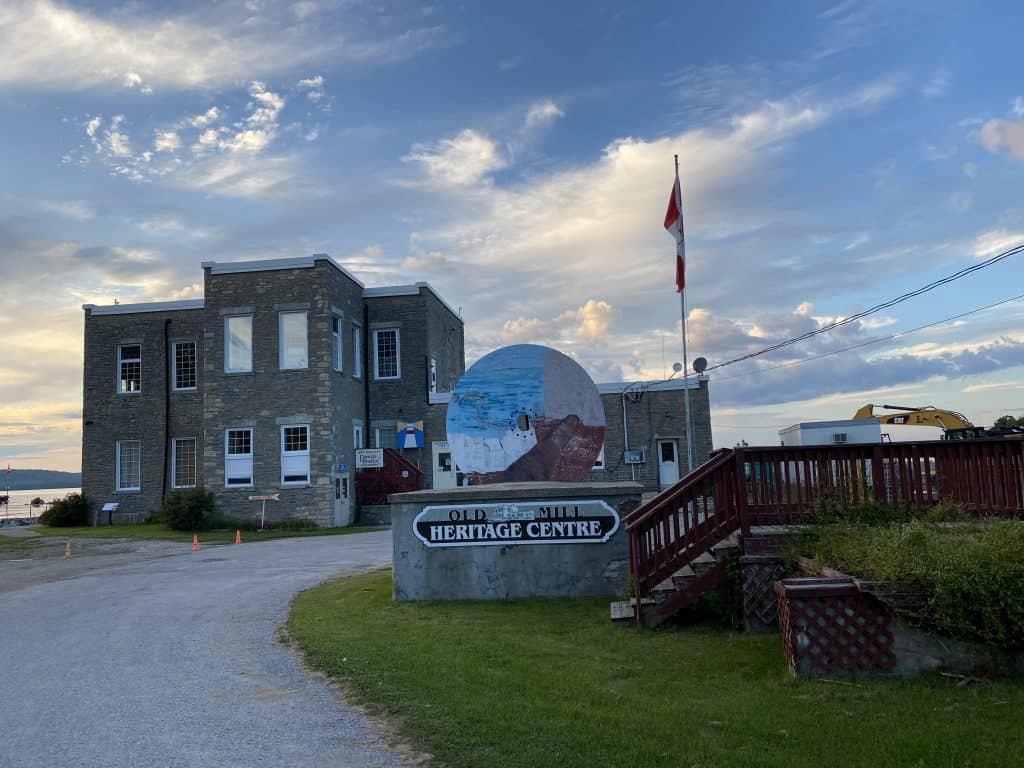 10. Indulge Your Sweet Tooth
Do you have a sweet tooth that needs indulging from time to time? If you do then you won't want to miss Manitoulin Chocolate Works in Kagawong. Located in one of the village's historic buildings, Manitoulin Chocolate Works has been selling delicious handmade chocolates, other treats and freshly roasted coffee since 1998. All the products are delicious and made with the finest and freshest ingredients but we recommend the Peanut Smoothie Bar, the Mint Meltaway, and the Chocolate-Dipped Oreos.
If candy is more your thing then visit Boo-Bah-Lou Candy Shop, also in Kagawong, which carries some hard to find treats that you may have enjoyed as a child.
The best ice cream on the island is Farquhar's Dairy which is locally produced in Northern Ontario. Our favourite places to get an ice cream cone are at Three Boys and a Girl in Mindemoya, 3 Cows and a Cone in Little Current, and Buttercup Ice Creamery in Kagawong.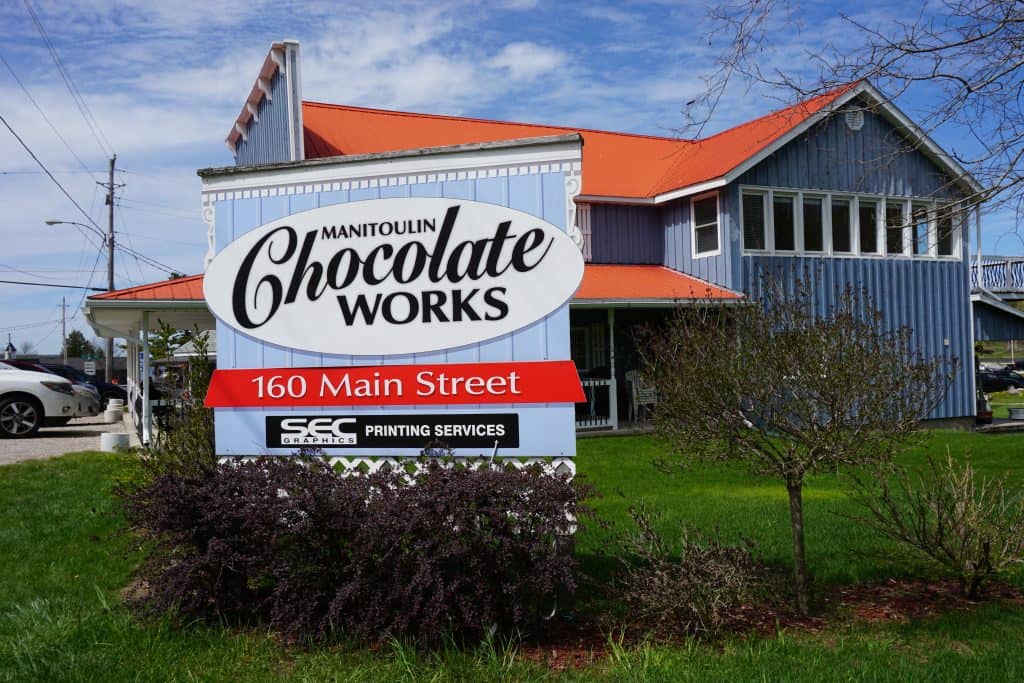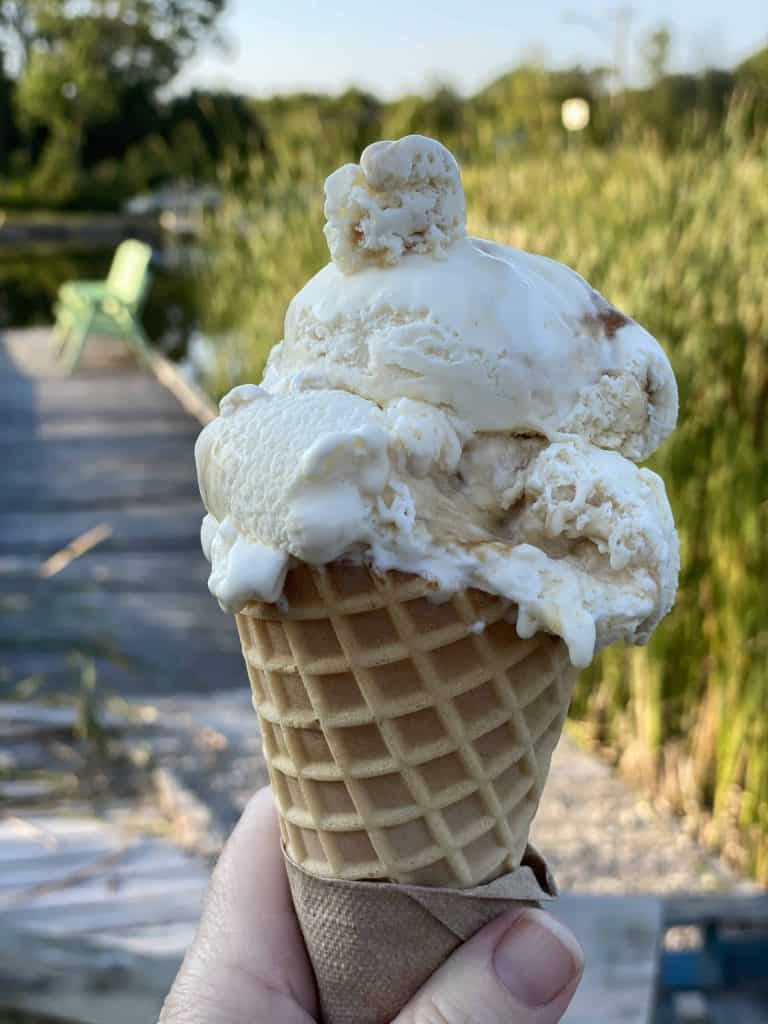 11. Spend an Afternoon at Providence Bay Beach and Boardwalk
Head to Providence Bay if you want to spend a few hours laying on the beach, swimming and building sandcastles. This beautiful sand beach on Lake Huron on the south shore of Manitoulin Island might just be the most beautiful in Northern Ontario.
There's a boardwalk which is wheelchair-accessible (and stroller friendly) that runs a considerable distance down the beach and is worth a stroll. There's also a large playground at one end of the beach if you're travelling with children who want to alternate between the beach and swings and slides.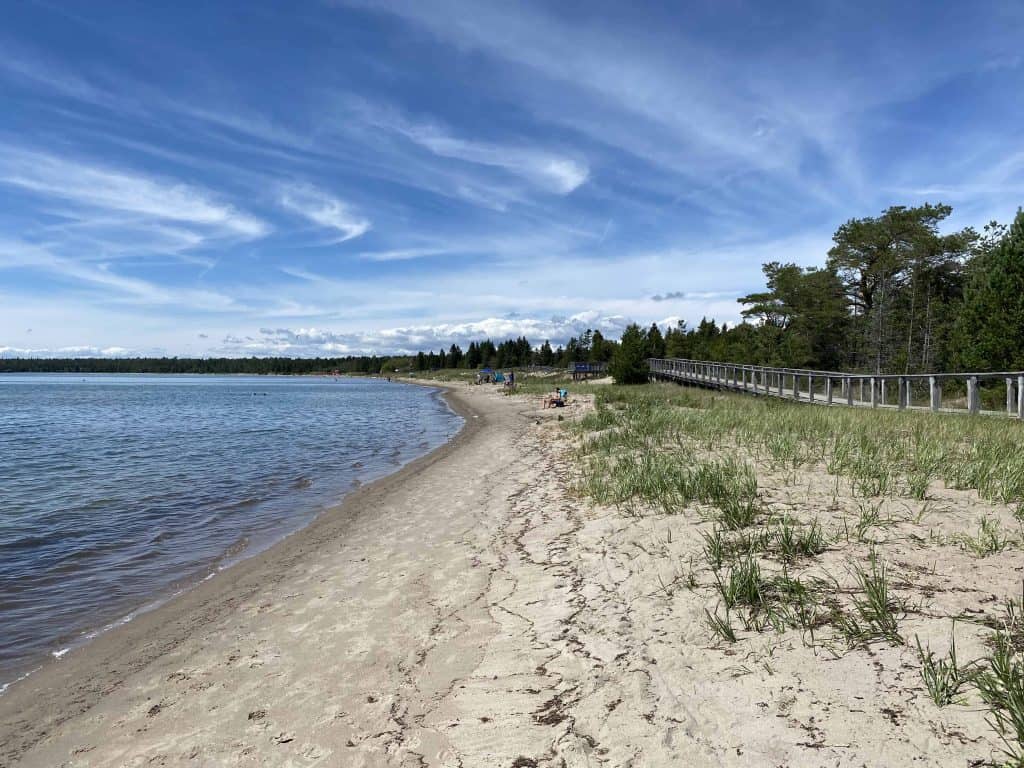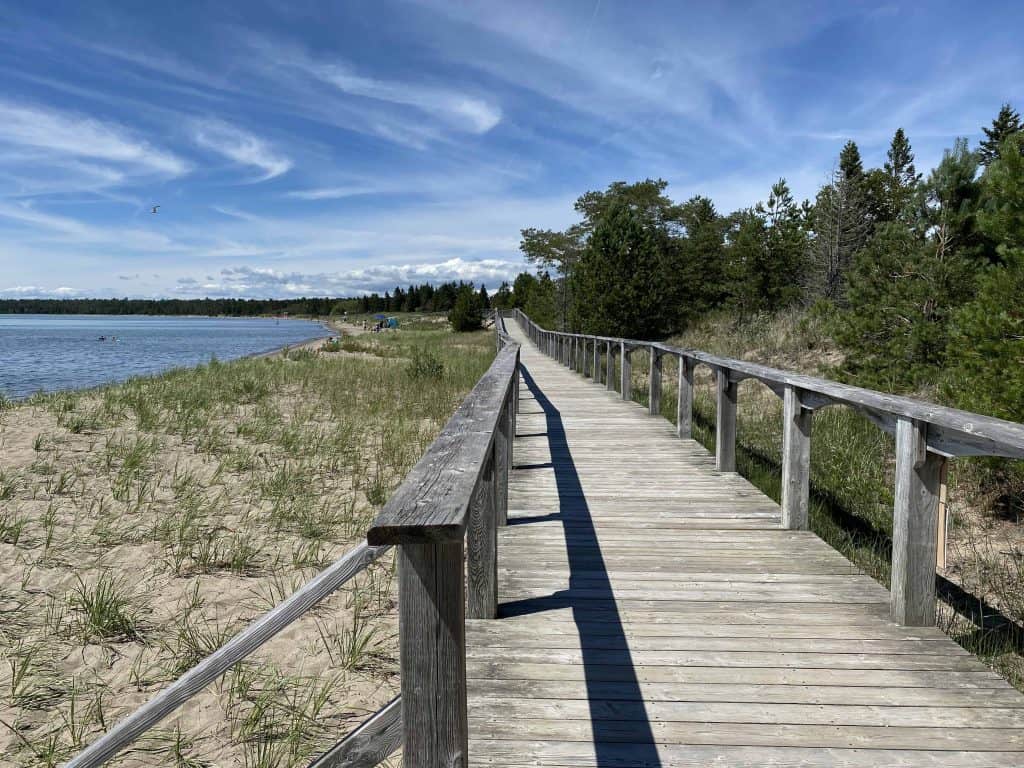 12. Explore Gore Bay
Gore Bay is a busy little town during the summer particularly with the number of visitors arriving on boats at the Gore Bay Marina. There's a boardwalk that runs along the waterfront for just over 1 km which is lovely for a stroll and at the end you will find the Harbour Centre which houses several artisan shops. There is also a community theatre group that performs at the Community Hall during the month of July.
If you're looking for a bit of a hike (about 1 km) then follow the Noble Nature Trail to the east bluff where you will enjoy a panoramic view over the town of Gore Bay.
Buoy's Eatery on the waterfront in Gore Bay is one of our family's favourite places to eat on the island with a menu that features local food and delicious pizzas and panzarottis. For a cup of coffee or espresso-based drink then head to Loco Beanz on Meredith Street (they also offer light fare for breakfast and lunch).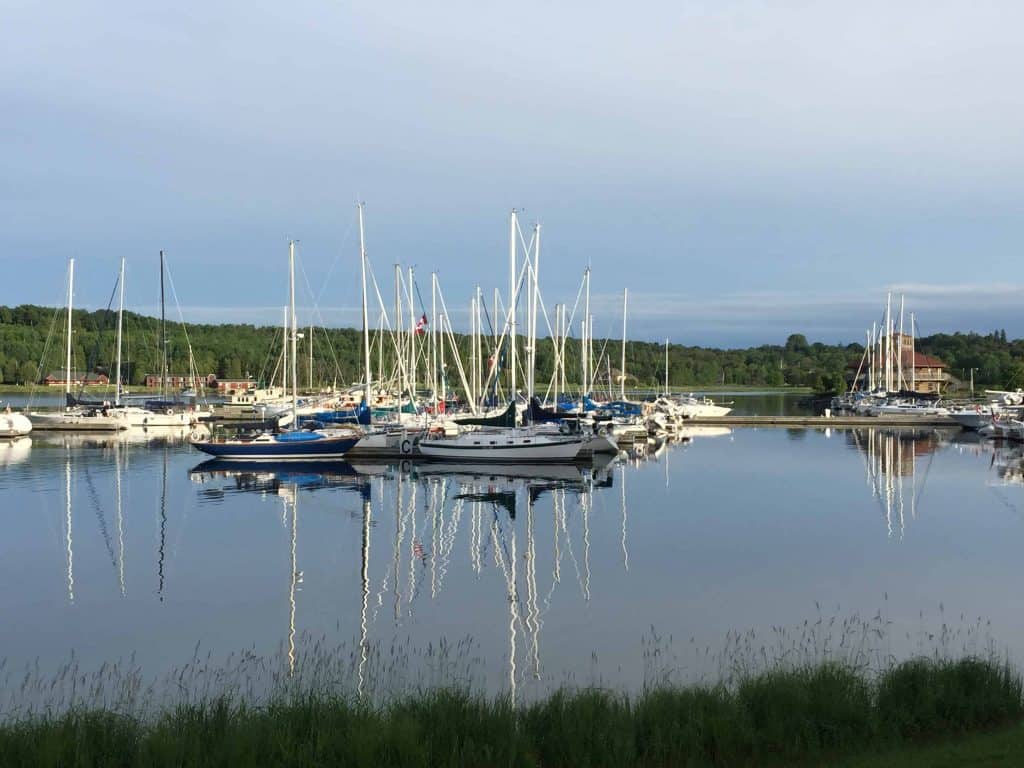 13. Enjoy the View at Ten Mile Point
At Ten Mile Point Scenic Lookout, located about 5 minutes east of the village of Sheguiandah on Highway 6, you can enjoy a beautiful view across the water to the La Cloche ridge in Killarney.
You will also find a Historic Site marker here noting that this was the site of a Jesuit settlement established 1648-50 by Father Joseph Poncet who was the first European resident of Manitoulin Island.
Be sure to have a look around the Ten Mile Trading Post which has Manitoulin souvenirs as well as a good collection of First Nations art, crafts and books.
Nearby in Sheguiandah, you will find the Centennial Museum which has exhibits on the history of the community, a pioneer village of log buildings, a collection of fossils and artifacts found in an excavation of the nearby quarry and the salvaged wreckage of Franklin Delano Roosevelt's mail plane. Archaeological excavations have established that there has been human activity where the community stands for more than 9,500 years.
While driving around this summer we also found the Batman Sawmill, a picturesque reproduction of an 1880's mill with a water wheel, where you can take some beautiful photos. A short walk from the creek there is a viewing platform where you can see jumping fish during the spring or fall spawning runs.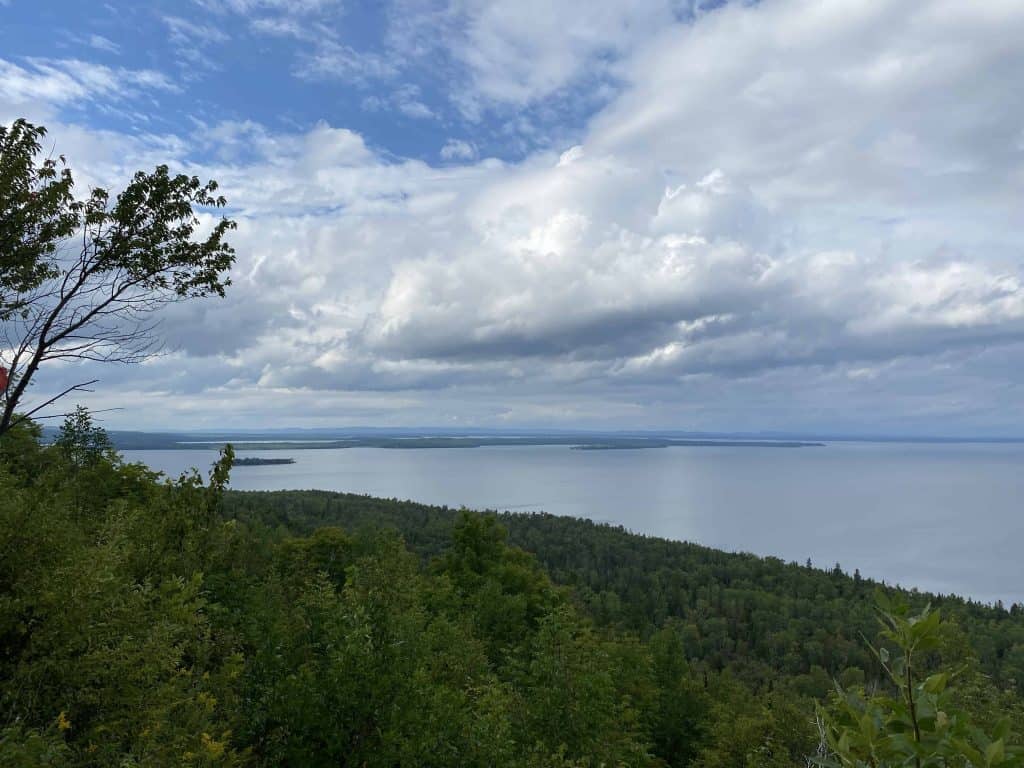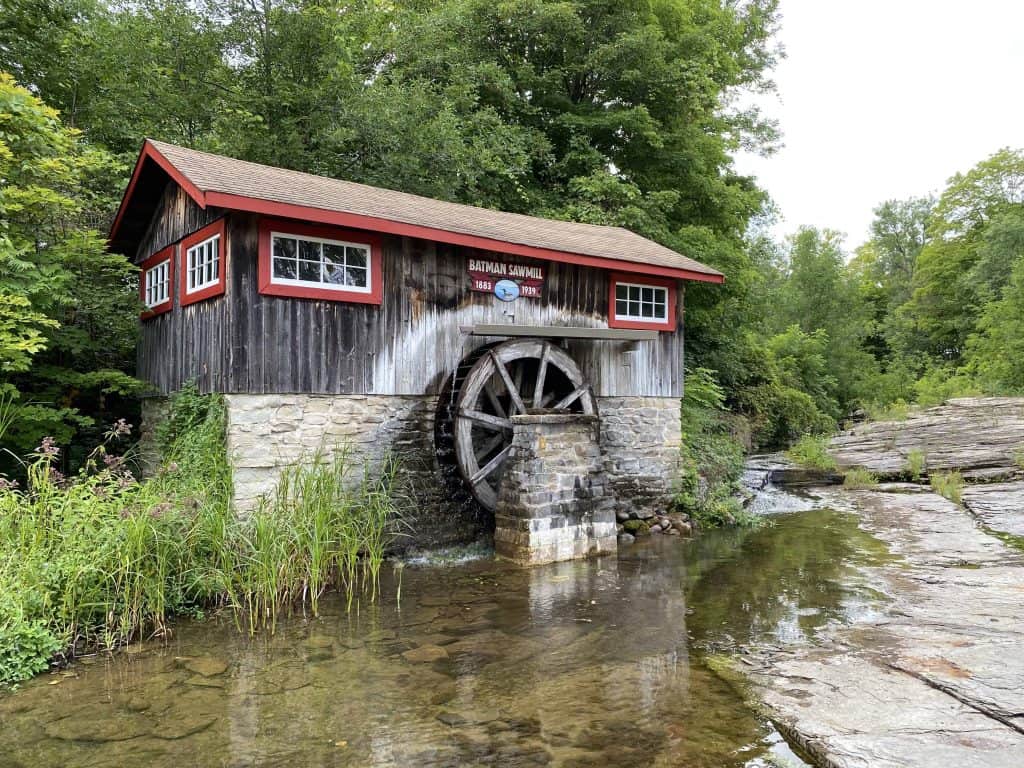 14. Browse or Shop at Perivale Gallery
My mother-in-law introduced me to Perivale Gallery on one of my first trips to the island and we have been visiting ever since. We have purchased several pieces from the gallery that are on display either at home or at the cottage but it's also fun to pop in just to browse what is on display each summer. The gallery features work by local Manitoulin and other Canadian artists and has a popular annual summer exhibition In the Spirit of Tom Thomson and the Group of Seven.
Located at 1320 Perivale Rd E, Spring Bay. Open May long weekend to mid September.
15. Visit a Lighthouse
There's just something about lighthouses that make them popular destinations across the globe. I know I'm drawn to them in equal parts for the architecture and the history that they evoke and seek them out whenever we're travelling in coastal destinations.
It's not at all surprising that there are several historic lighthouses on Manitoulin Island given the island's location in Lake Huron. I have only seen three – South Baymouth, Kagawong and Janet Head – but my island bucket list for next summer includes visiting as many of the others as possible.
The Janet Head Lighthouse in Gore Bay (built in 1879) which has a two-story keeper's dwelling attached is the second oldest standing lighthouse on the island. The lighthouse is open to the public during the summer months at set days and times.
The Kagawong Lighthouse is located on a small hill overlooking the bay and has been automated since the 1960s.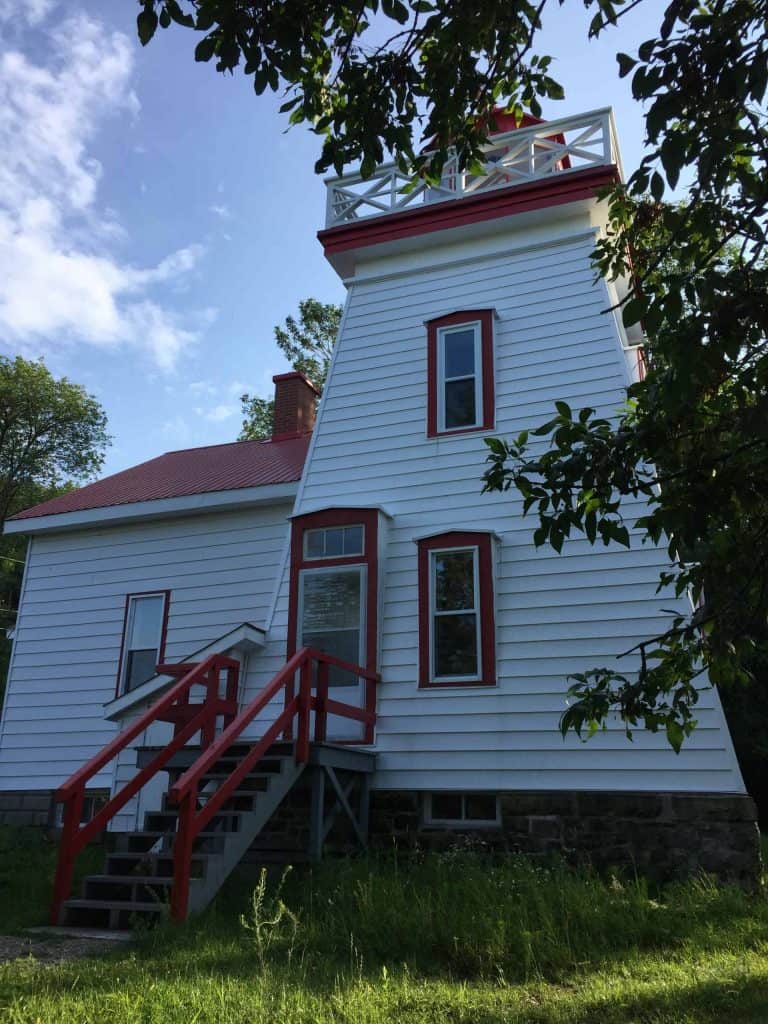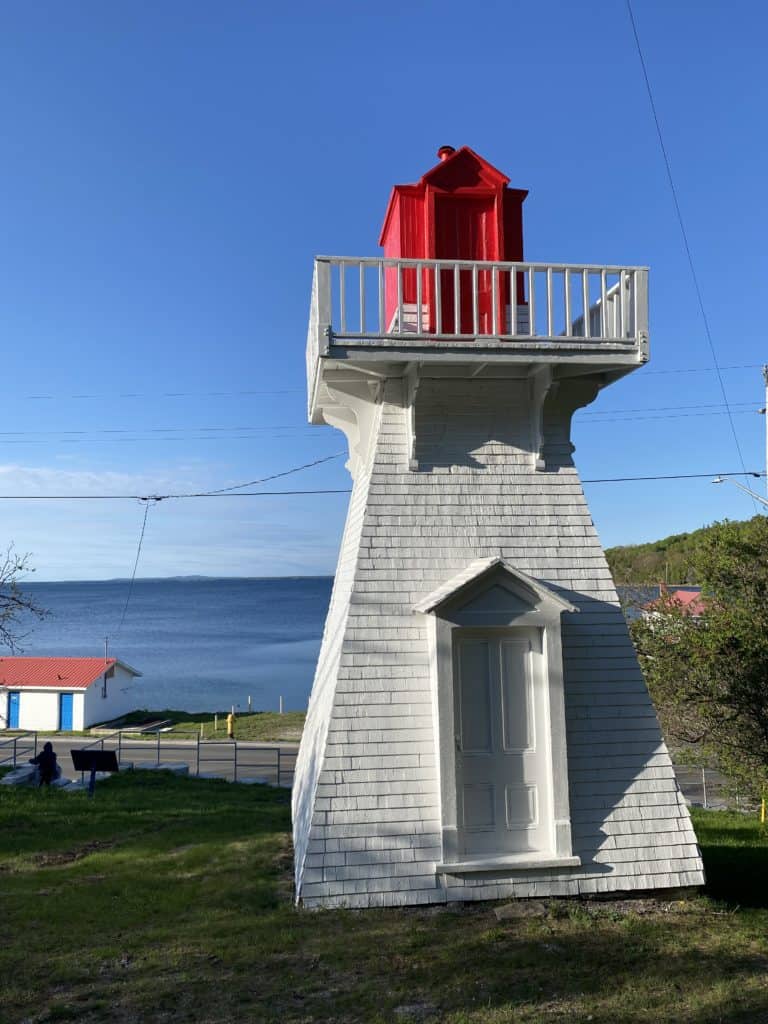 Pin This For Later