I love nothing more than a fall day trip to Kleinburg north of Toronto but for anyone in the GTA it's really the ideal day trip at any time of the year.
Kleinburg, located between two branches of the Humber River, was founded in the mid-19th century by John Nicholas Kline who built a sawmill and a grist mill to serve the local farming community. Today historic Kleinburg is an unincorporated village in the city of Vaughan and its location just a short distance north of Toronto makes it perfect for a getaway of a few hours.
One of the main things to do in Kleinburg is visit the McMichael Canadian Art Collection, however, this charming village offers activities for outdoor enthusiasts, shoppers and foodies as well!
For more information on visiting Kleinburg and current events and activities check out downtownkleinburg.ca.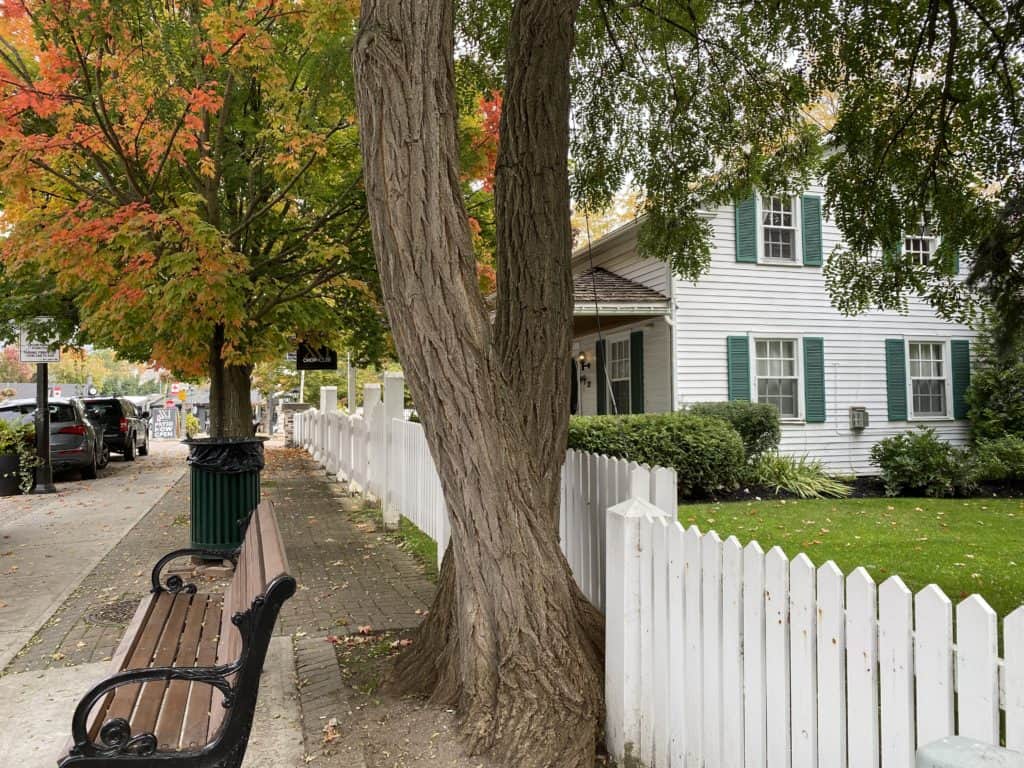 This post may contain affiliate links. If you click an affiliate link and make a purchase then we receive a small commission at no additional cost to you.
Getting to Kleinburg
Kleinburg village is located on Islington Avenue just 20 minutes north of Toronto (about 40 minutes from our home in Oakville west of Toronto) east of Highway 27 and west of Highway 400.
Depending on where you're travelling from, it's possible to visit Kleinburg via public transit although it will take considerably longer. From Union Station in downtown Toronto, for example, it will take close to 2 hours according to Google maps.
Finding a parking space in the business district of Kleinburg can be challenging particularly on weekends. If you are visiting the McMichael then it's easiest to park in the lot there and walk the short distance to downtown instead of trying to move your vehicle.
Visiting the McMichael Canadian Art Collection
The primary reason we day trip to Kleinburg is to visit the McMichael art gallery which exhibits the distinctly Canadian landscape work of The Group of Seven as well as First Nations, Inuit and other Canadian artists. The McMichael gallery is one of my favourite Canadian art galleries because of its unique collection and also because it's one of the most family-friendly art museums.
Read: 9 Tips for Taking Kids to an Art Museum
The McMichael Canadian Art Collection, located on the original lands of the Ojibwe Anishinaabe and Huron-Wendat People, began when Robert and Signe McMichael purchased land and built a pioneer-style home in the village of Kleinburg in 1952. Their surroundings inspired them to begin collecting works of art by Tom Thomson and the Group of Seven because these artists drew their inspiration from the natural landscape. The collection grew in size and importance and in the mid 1960s the couple donated their collection as well as their home and property to the province of Ontario and the gallery officially opened in 1966.
Today the McMichael's permanent collection consists of over 7,000 artworks by Tom Thomson, the Group of Seven, their contemporaries, and First Nations, Métis, Inuit and contemporary artists who have contributed to the development of Canadian art.
Located at 10365 Islington Avenue, Kleinburg. Open Tuesday to Sunday & holiday Mondays 10 am – 5pm. Parking $7 open daily. McMichael gallery tickets can be booked online and walk-in visitors are also welcome. Adult admission is $20 – with discounts for seniors and under 25, children under 5 are free. Free admission on Family Sundays which are the third Sunday of every month. McMichael gallery current exhibitions are listed on the website. There is a café/restaurant (Cabin) and McMichael gallery shop in the lobby. Face masks are encouraged but not required.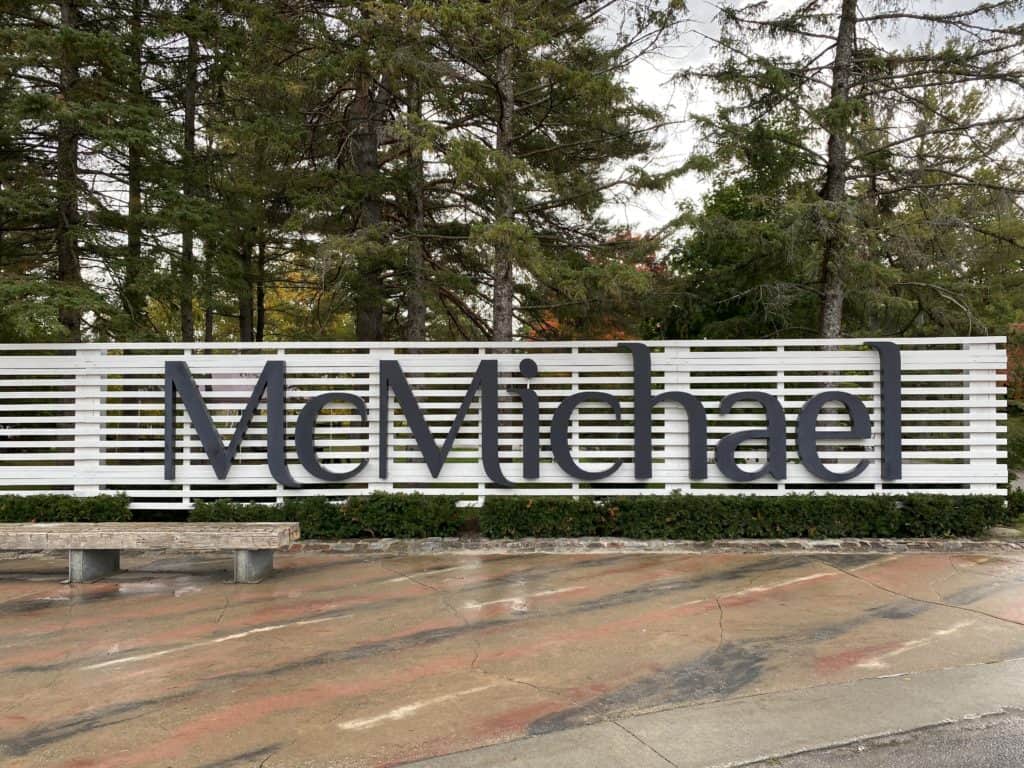 When first arriving at the McMichael, you can't help but be impressed by the architecture of the building which has a striking modern design and is built from fieldstone and hand-hewn logs. I also love the stunning sculpture of a polar bear by Pauta Saila, an Inuit artist from Baffin Island, located just outside the main entrance.
Moving inside, the lobby of the gallery continues to reflect nature and the ruggedness of the Canadian landscape with its soaring stone pillars, timbered ceiling and totem poles.
There are thirteen exhibition galleries displaying the permanent collection as well as current exhibitions and floor-to-ceiling windows provide visitors a view of the Humber River Valley woods that surround the McMichael. The McMichael is not a particularly large museum so it's easy to see the collection in a couple of hours which makes it a great choice for families.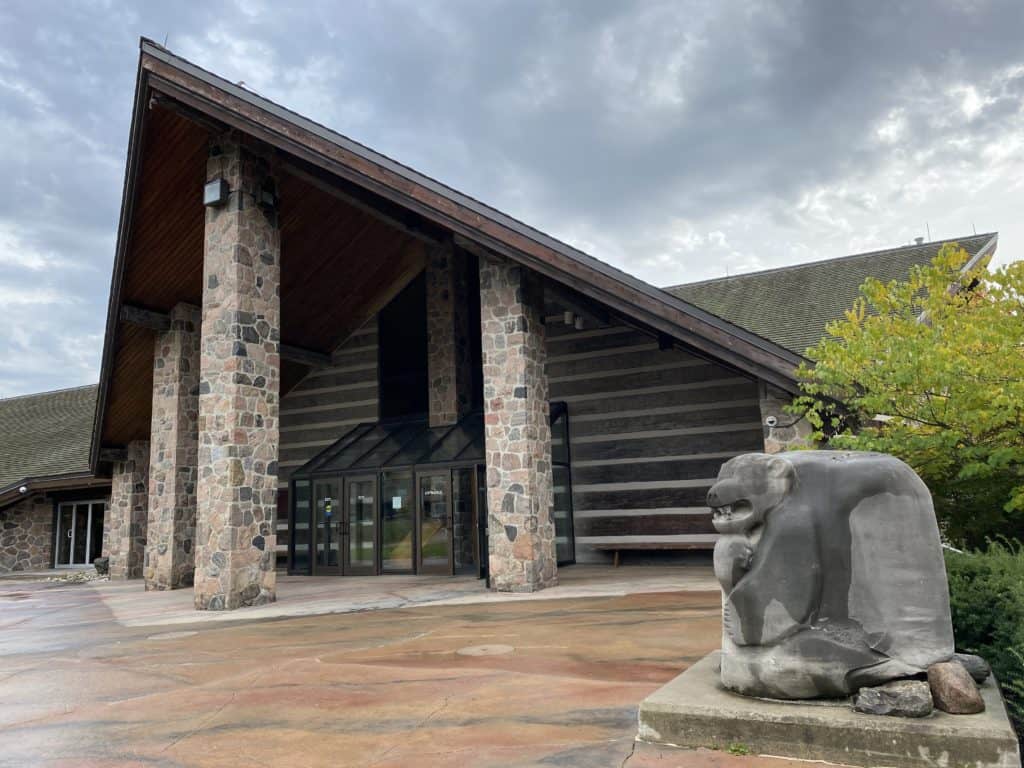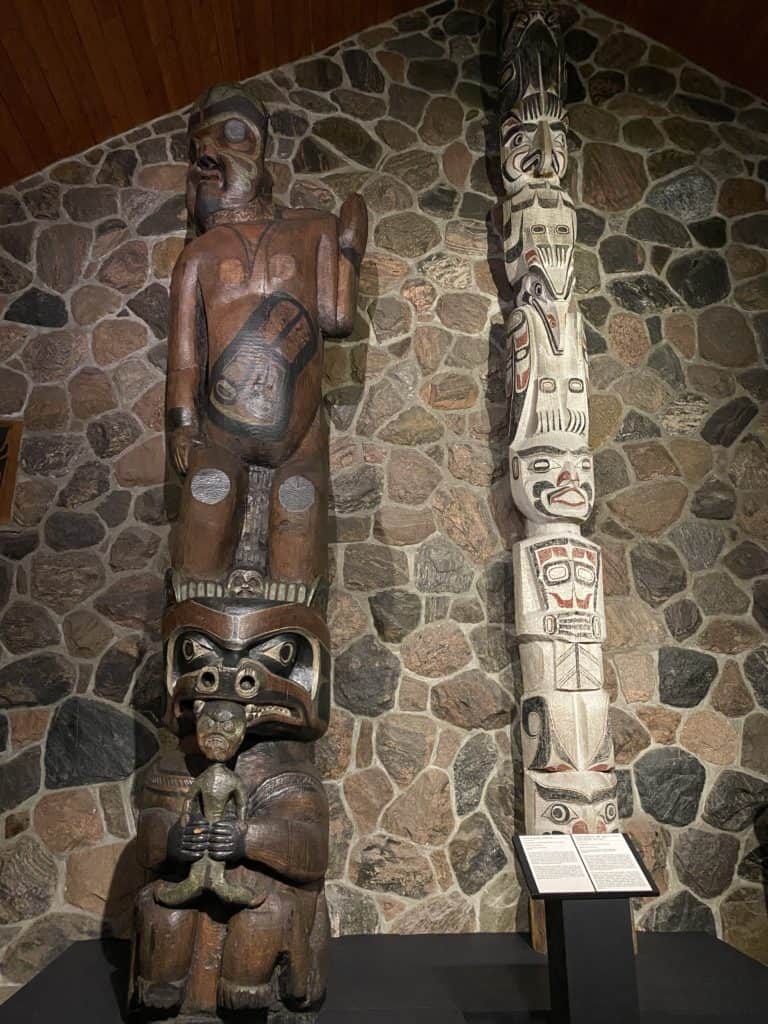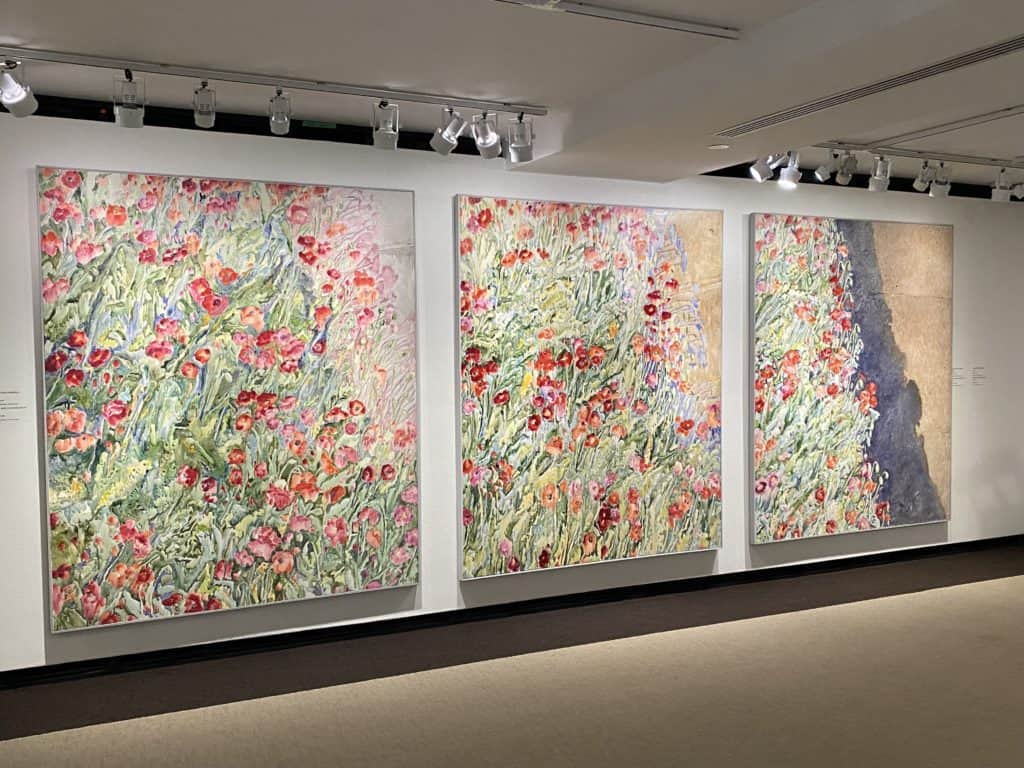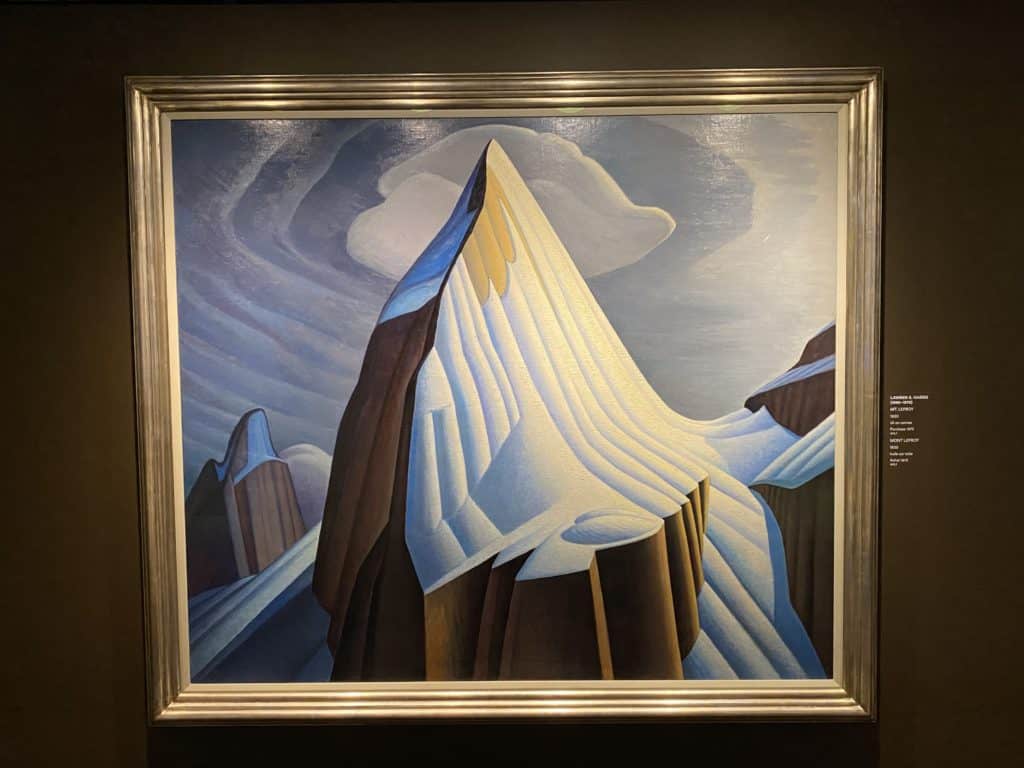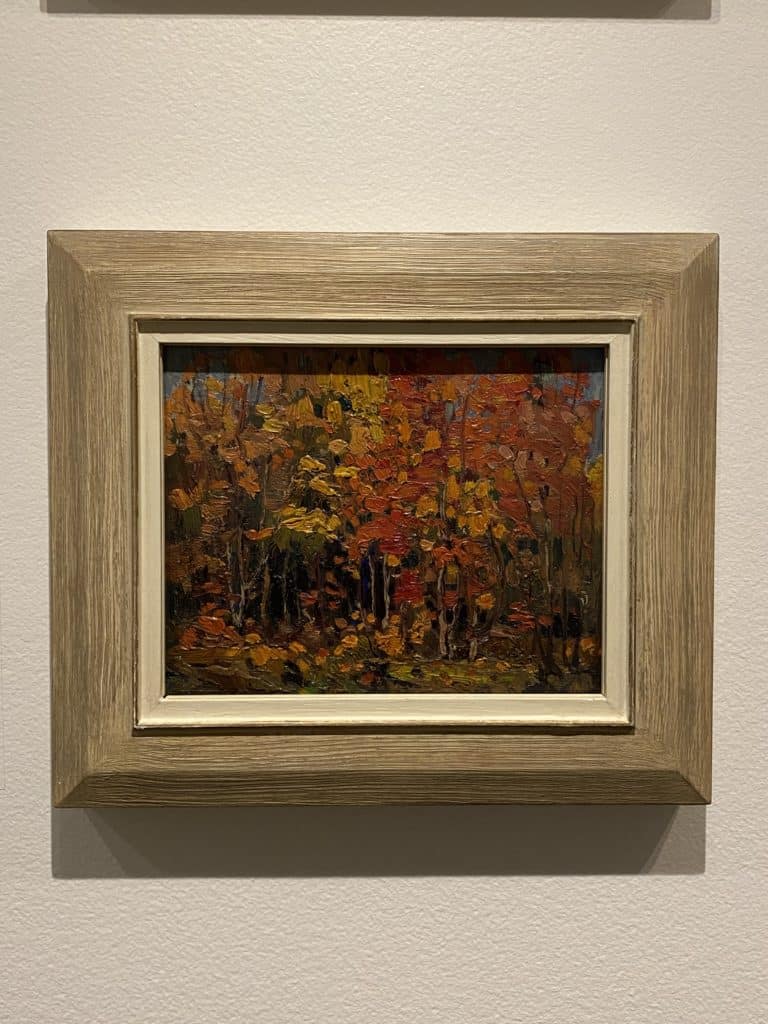 The McMichael Sculpture Garden and Walking Trails
The McMichael is a gallery that doesn't limit itself to indoor exploration. There is a sculpture garden on site and the grounds also have extensive walking trails. The outdoor experience is part of what makes this such a family-friendly art gallery experience – it's easy to burn off excess energy before and after the car trip to Kleinburg by exploring the grounds!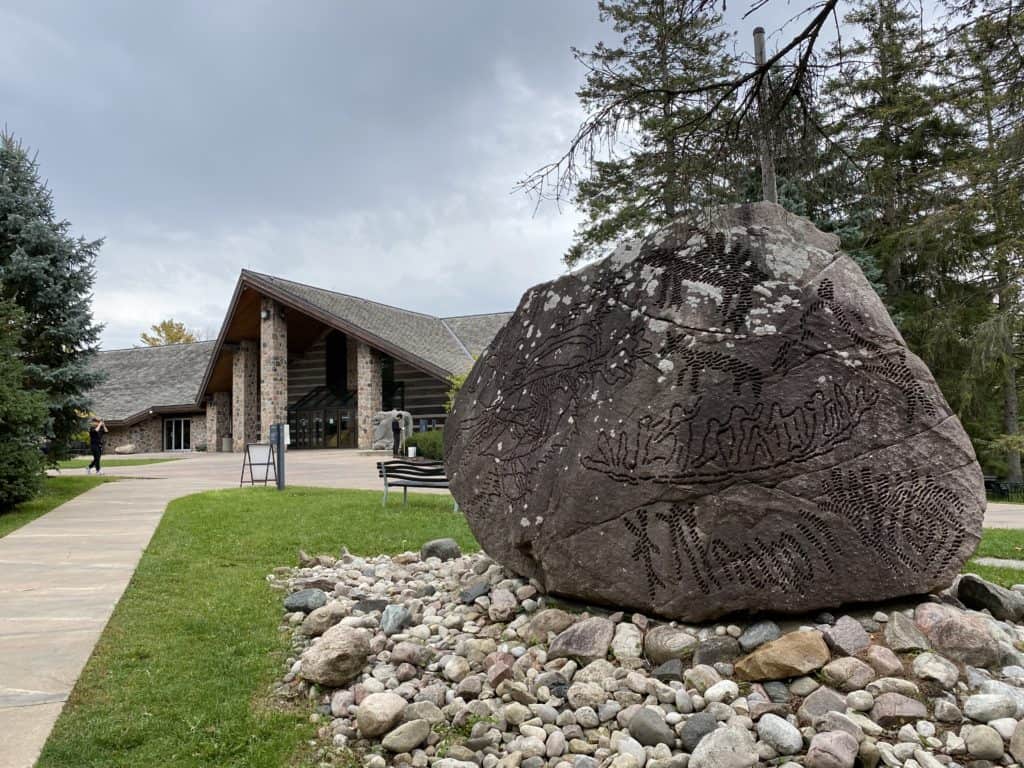 The McMichael Canadian Art Collection sits on 100 acres of wooded conservation land overlooking the East Humber River Valley and boasts a network of several kilometres of trails winding through the woods of the Humber Valley that are perfect for a leisurely walk.
The McMichael Trail, for example, is a 1.5 kilometre path down into the valley running alongside the Humber River to Bindertwine Park just outside the town of Kleinburg. There is also access to the Granger Greenway, a 5.7 km trail that links to the Boyd Conservation Area trails.
Our recent day trip to Kleinburg was on a beautiful fall day so we spent some time walking the McMichael Trail as well as the Gallery Loop Trail after our visit to the gallery and before heading into the village.
Trails are open daily. Dogs must be on leash.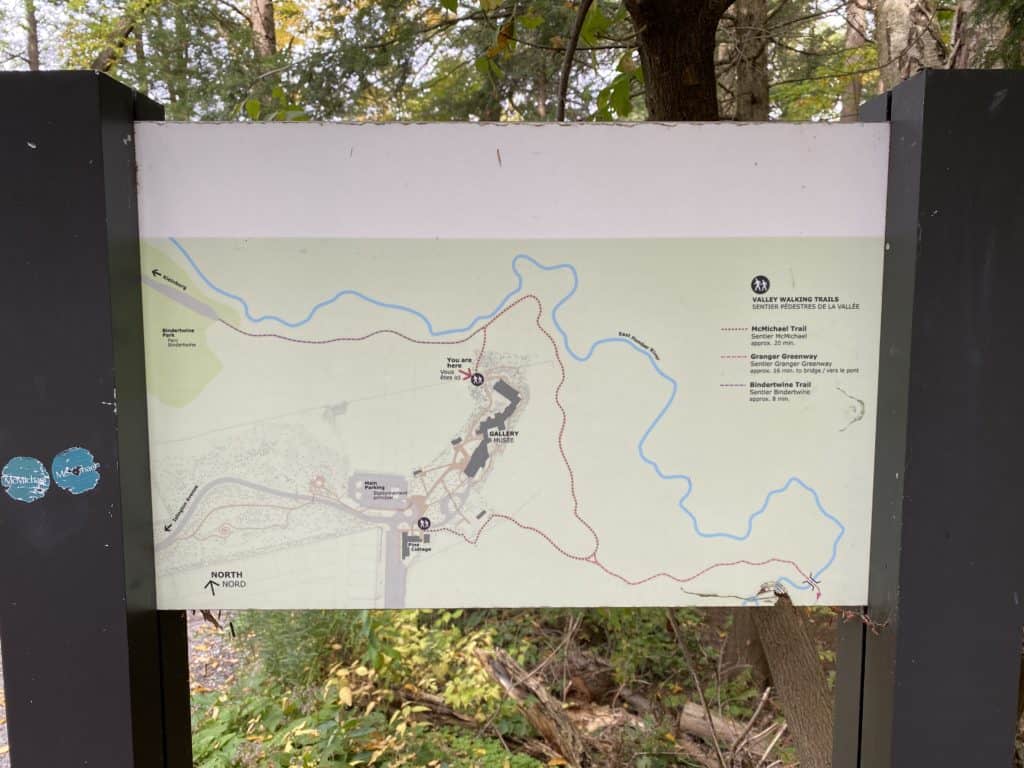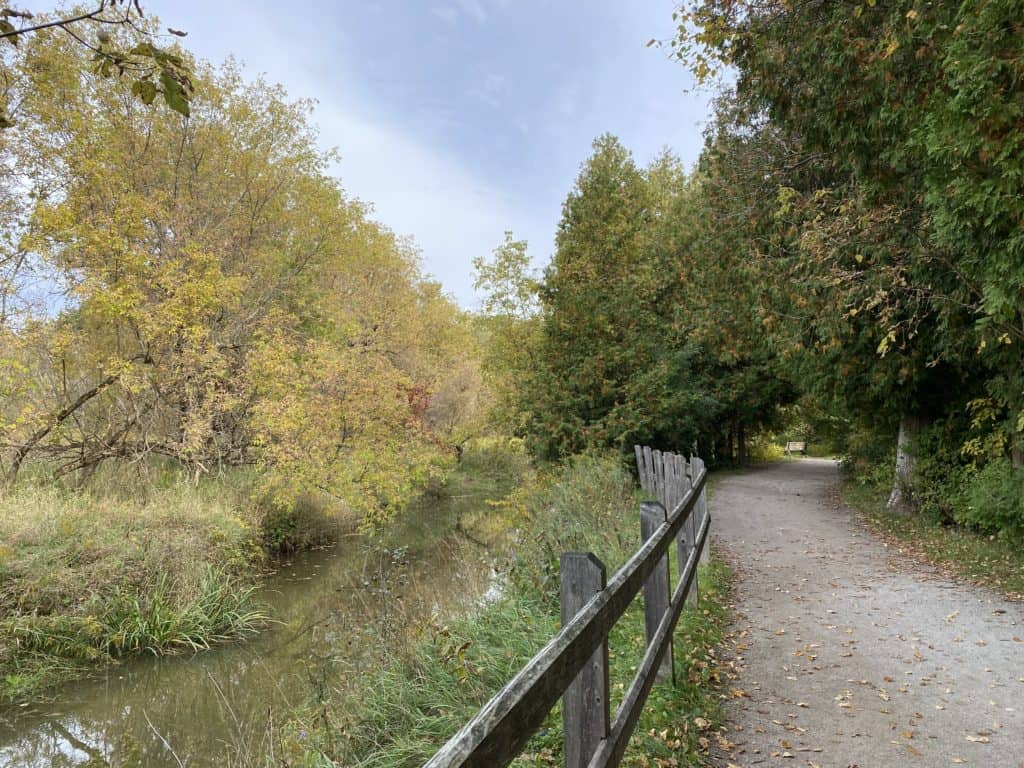 One of the buildings on the grounds of the McMichael is the Tom Thomson shack (a shed which Thomson used as a studio while he was working in Toronto from 1915 until his death in 1917) which the McMichaels purchased and moved to their property. The iconic shack provides a glimpse into the life of one of Canada's greatest artists and today the Tom Thomson Shack is also used as studio space when the McMichael gallery has an emerging artist in residence.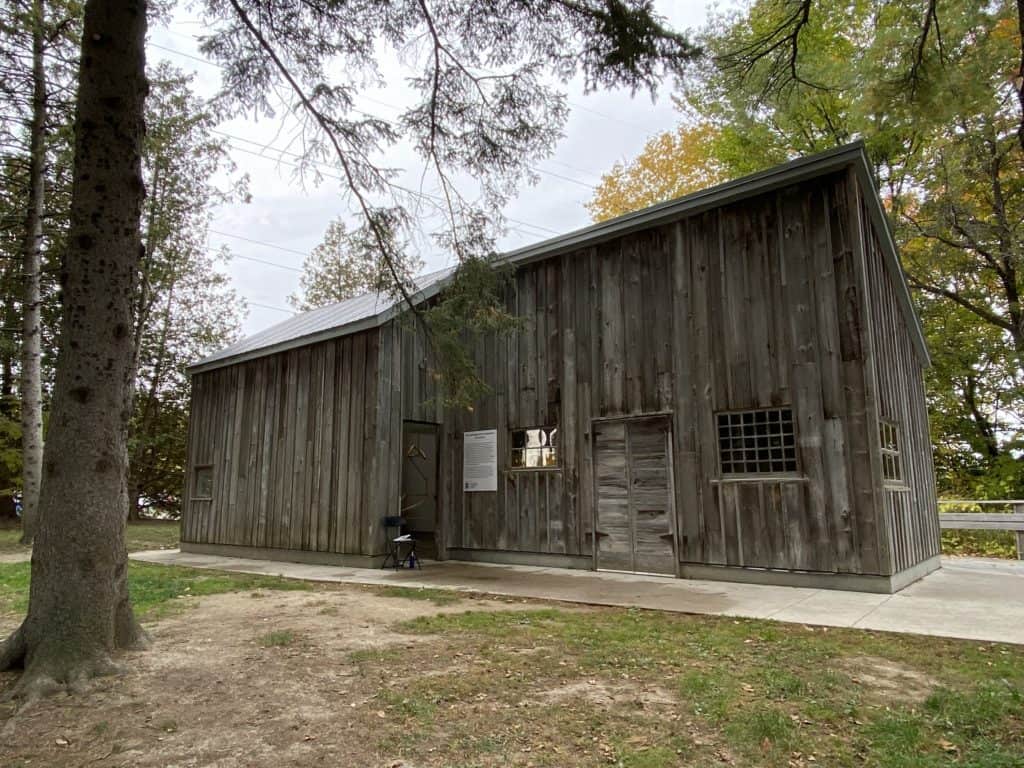 The McMichael Sculpture Garden located around the front of the property nearest the street features nine bronze sculptures created and gifted by Winnipeg-based artist Ivan Eyre which are part of the McMichael permanent collection. The Sculpture Garden is open for enjoyment year-round.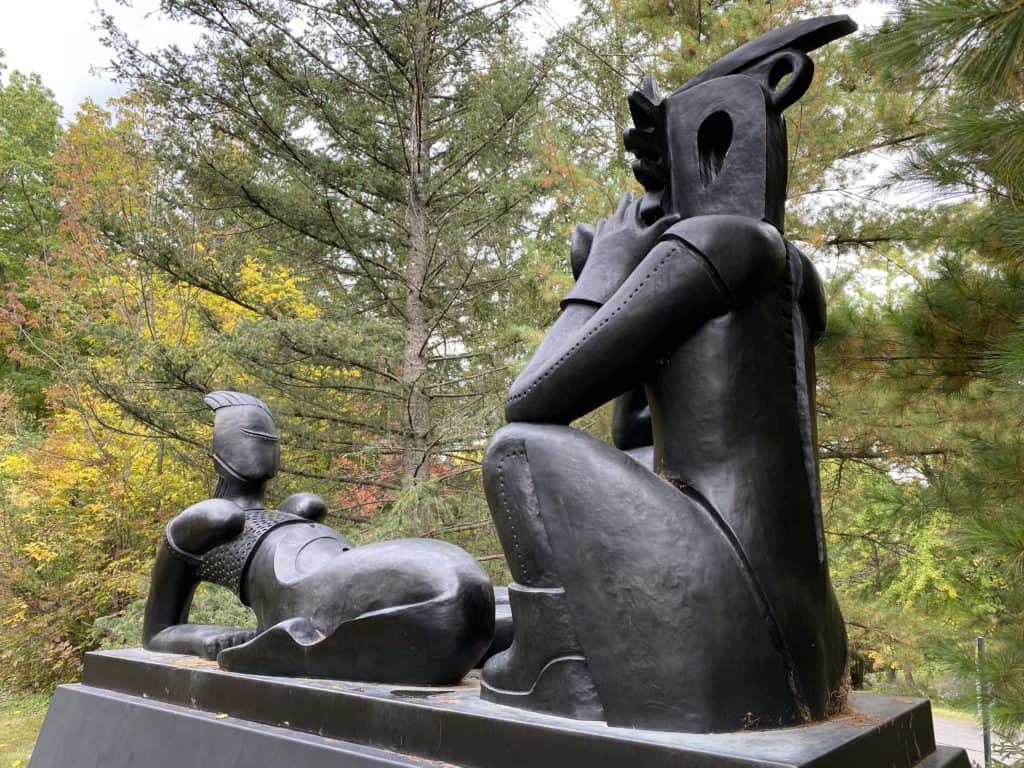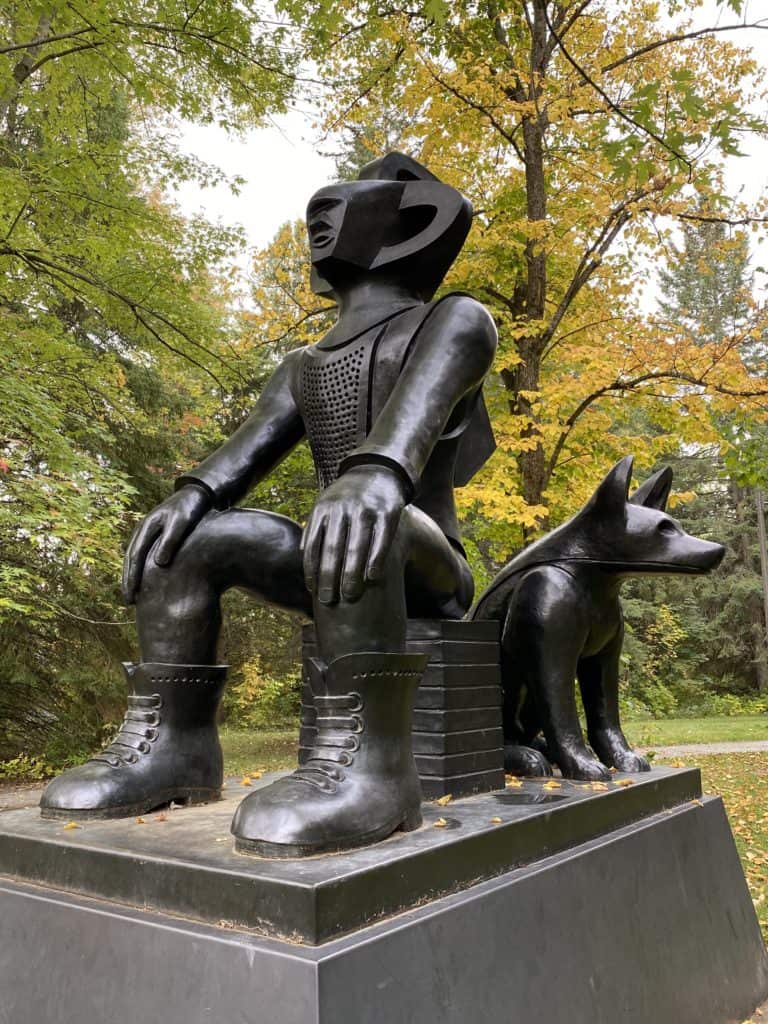 The small cemetery on the McMichael grounds is the final resting place for six of the ten artists who were members of the Group of Seven (Arthur Lismer, Frederick Varley, Lawren Harris, Frank Johnston, A.J. Casson and A.Y. Jackson) as well as gallery co-founders, Robert and Signe McMichael.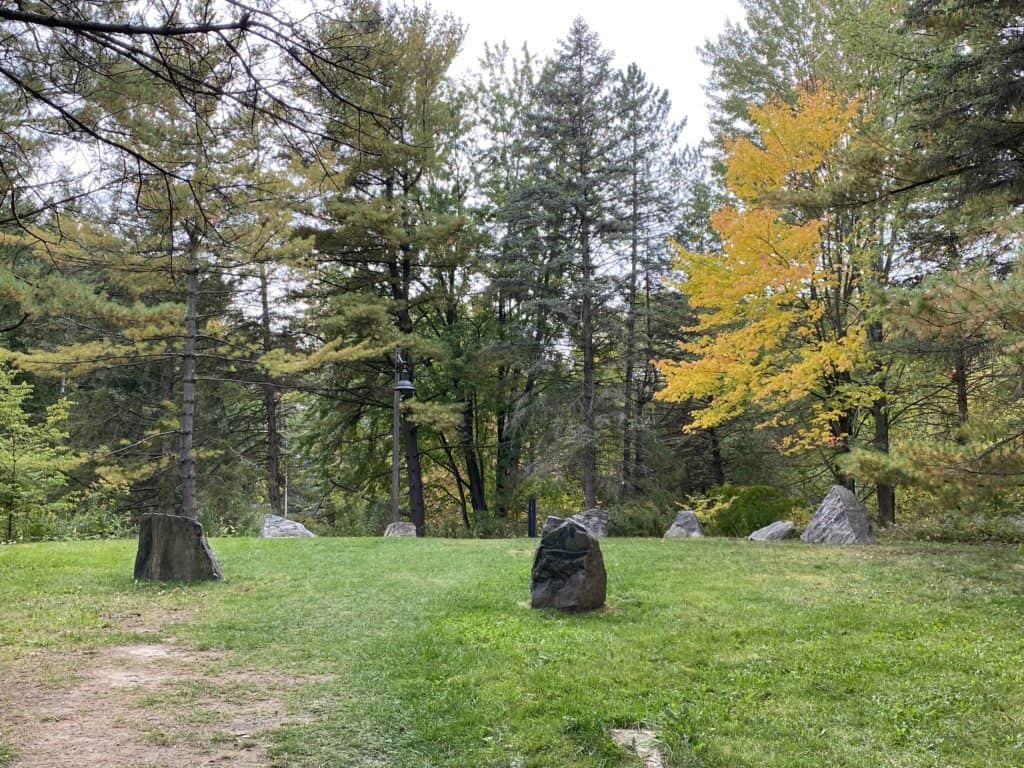 Village of Kleinburg
The quaint main street of the village of Kleinburg is lined with shops, restaurants, and cafés which are fun to explore after a visit to the art gallery or a hike along one of the many nature trails. Alternatively, visiting the boutiques and having a bite to eat could be the main objective of your visit! We always make a point of stopping at Balzac's for coffee and a snack as there isn't one close to us so I only get to indulge on day trips.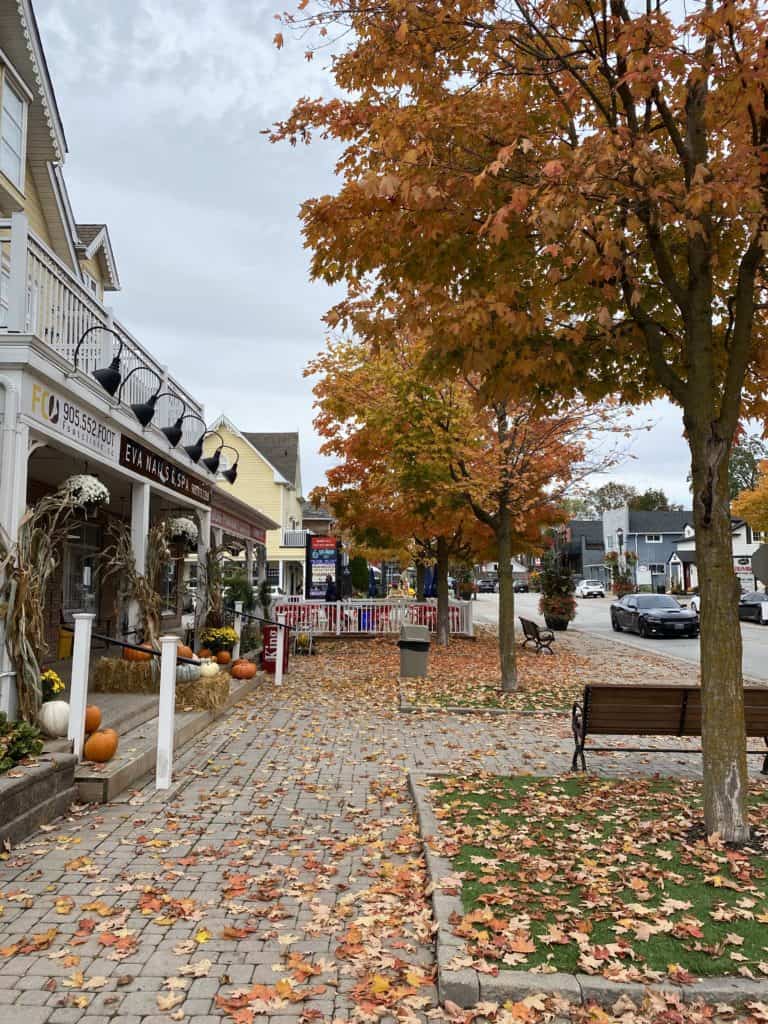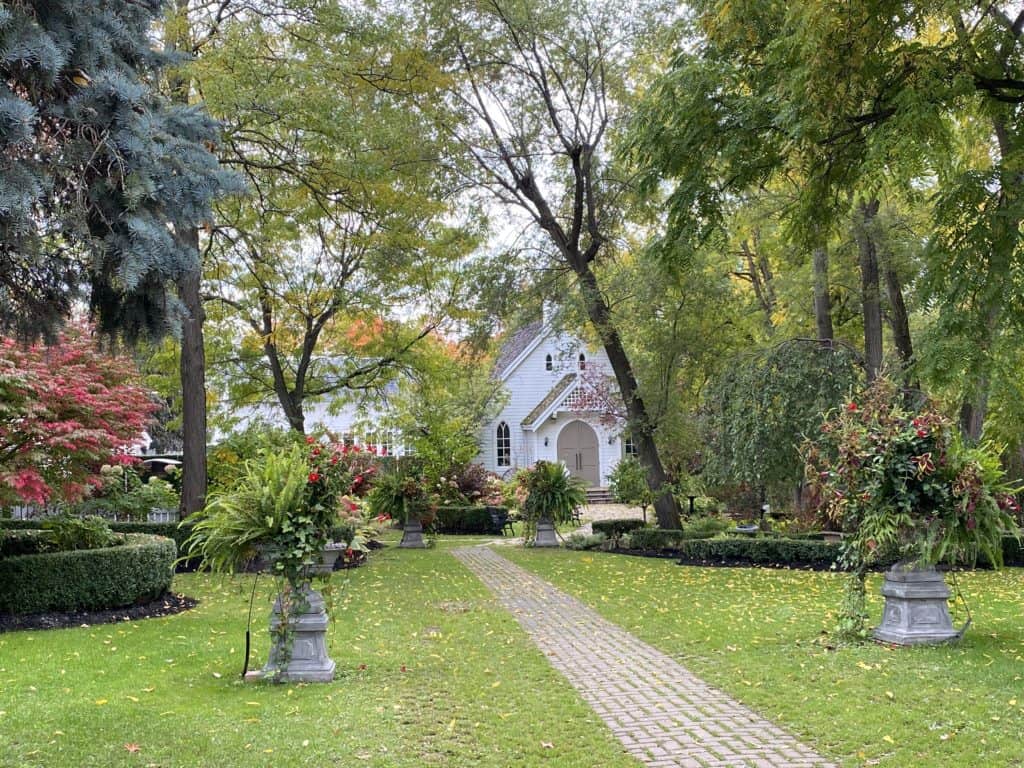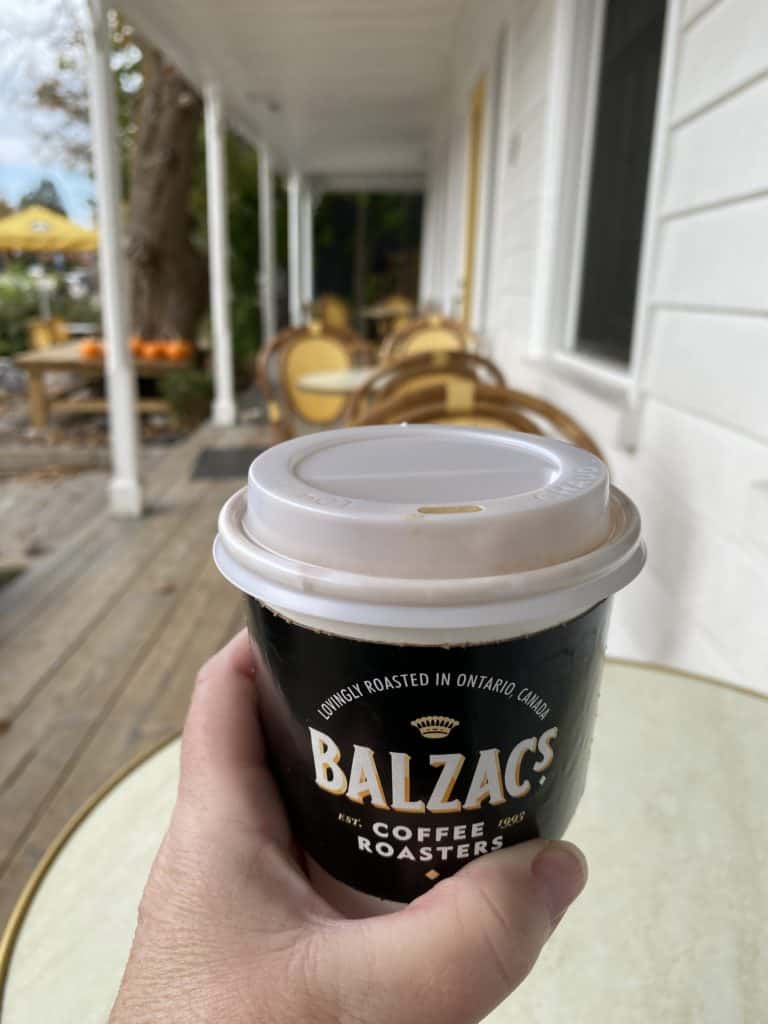 Kortright Centre for Conservation
While not technically in Kleinburg, if you have time then you can include a visit to the Kortright Centre for Conservation which is just a few minutes away on your day trip.
Located on 325 hectares of woodlands, the Kortright Centre for Conservation combines a beautiful natural setting and some of the best hiking trails and bird watching in the GTA with leading edge sustainable education programs for adults and children. We planned to include Kortright on our recent day trip to Kleinburg but ran out of time so will have to make it a priority for another day.
Located at 9550 Pine Valley Dr., Woodbridge. More than 16 km of hiking trails open year-round. Open to the public daily 9 am – 4 pm. Admission $7.75 + HST for adults with discount for seniors and children. Toddlers 3 and under are free. Visitors are encouraged to purchase tickets in advance. Paid parking on site.
Pin This For Later