There's so much to do in the city of Stratford, Ontario whether you enjoy the arts, outdoor activities, food or shopping which means it's the perfect destination for a day trip or a short getaway for families, couples, groups of friends or solo travellers.
About Stratford
The city of Stratford in southwestern Ontario is located on the picturesque banks of the Avon River, approximately a two hour drive from Toronto. As a major railway hub in the 19th century, Stratford was a prosperous community with grand buildings in the downtown core which can now be seen on a walking tour of the central heritage district. With the founding of the Stratford Festival, tourism developed into a significant industry and Stratford was soon transformed into one of North America's great arts towns.
My husband and I first visited Stratford in 1993 and have been visiting several times a year since then to attend performances at the Stratford Shakespeare Festival and enjoy all that this gem of a city has to offer.
These are our favourite things to do in Stratford, Ontario based on more than 25 years of visiting multiple times during the summer theatre season.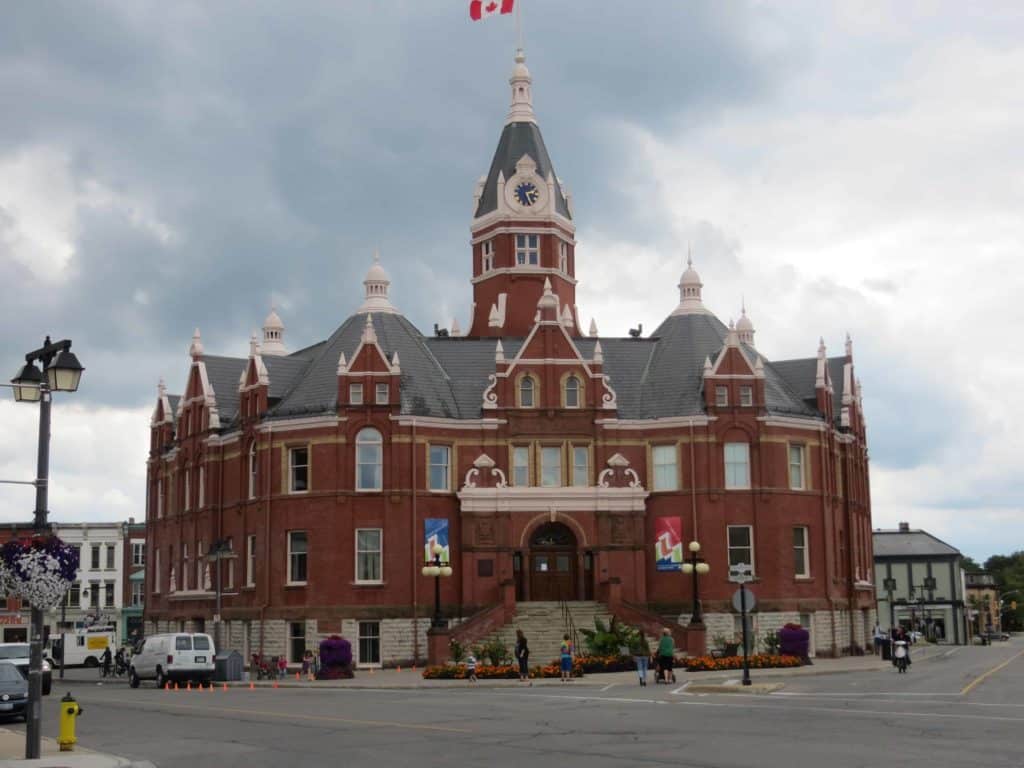 This post may contain affiliate links. If you click an affiliate link and make a purchase then we receive a small commission at no additional cost to you.
Read Stratford for All Seasons: Secrets & Surprises by Phyllis Hinz and Lamont Mackay for fun facts, history and little known stories about Stratford. Available at Amazon and Amazon Canada.
1. Attend a Performance at the Stratford Festival
The internationally recognized Stratford Festival, founded in 1953, is an annual celebration of theatre that performs several plays during a season that generally runs from April through November. The primary mandate of the festival is to showcase the works of William Shakespeare, however a variety of works are staged each season including popular musicals.
The 2020 season was cancelled due to the pandemic, however, the Festival was able to mount a modified 2021 season. Open-sided canopies were set up at the Festival Theatre and at the Tom Patterson Theatre where patrons attended outdoor performances of several plays and musical cabarets. Performances lasted approximately 90 minutes without an intermission and additional safety enhancements were in effect as well.
We attended performances of one play and two of the musical cabarets in 2021 and thought the Festival did an incredible job with these productions. It was truly wonderful to have the opportunity to attend live theatre once again and we can't wait to see what is planned for the 2022 season!
Tickets can be booked on the Stratford Festival website.
Read Theatre Getaways in Ontario for more information about live theatre in Stratford.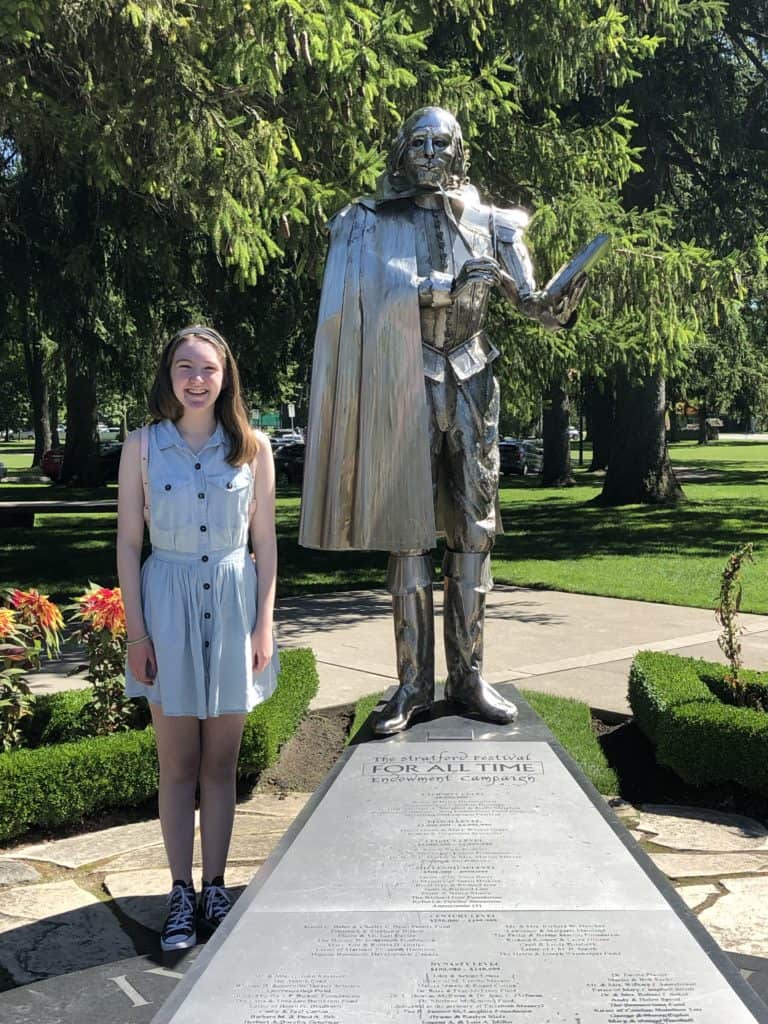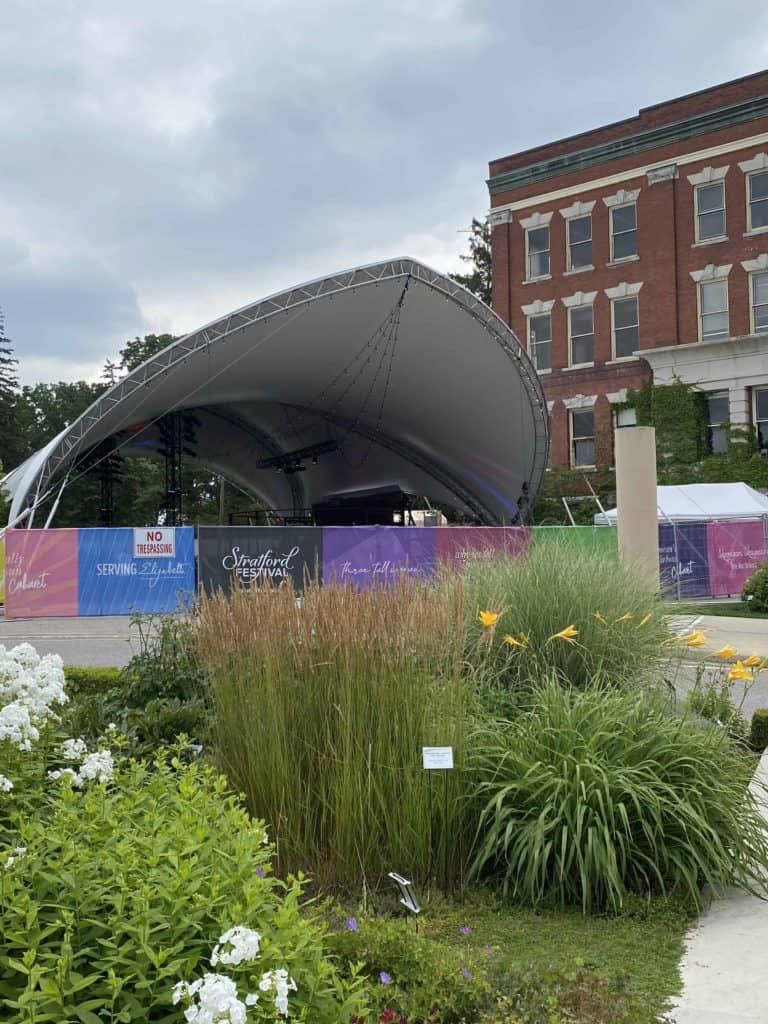 2. Enjoy a Stratford Festival Tour or Workshop
In addition to the performances, we have enjoyed many of the tours and workshops offered by the Stratford Festival over the years. These include tours of the Festival Theatre which provide a glimpse at where the behind the scenes magic happens as well as tours of the Costume and Props Warehouse which involve dressing-up and plenty of photo opportunities. Song and dance or acting workshops are also held prior to select shows providing participants of all ages the opportunity to work alongside cast members and learn more about what it takes to be a Stratford actor.
These activities have, of course, been affected by Covid-19 restricitons but hopefully a full slate of tours and workshops will be available in 2022.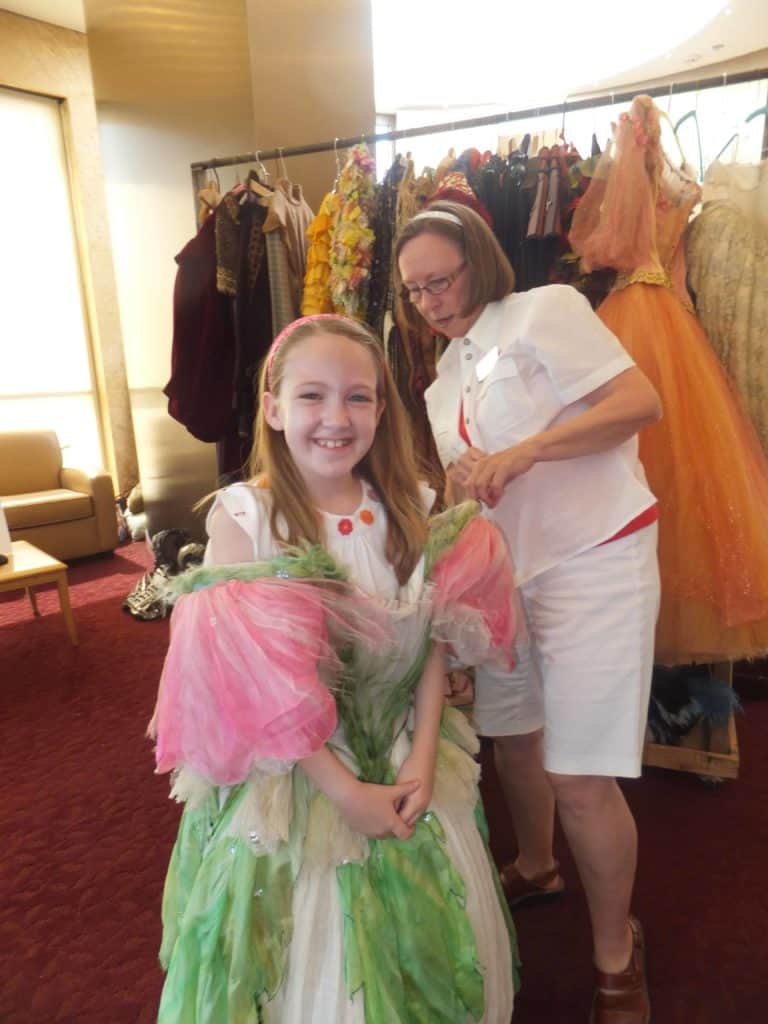 3. Stroll Along the Avon River
One of the best free things to do in Stratford is taking a walk along the beautiful Avon River to admire the swans (and ducks and geese) that make their summer home there.
The banks of the river are also a lovely location for a picnic pre-theatre or if you're spending the day in town. There are many picnic benches along the river but be sure to arrive early enough to stake your claim or be prepared to wait until theatre goers have left for the afternoon performances.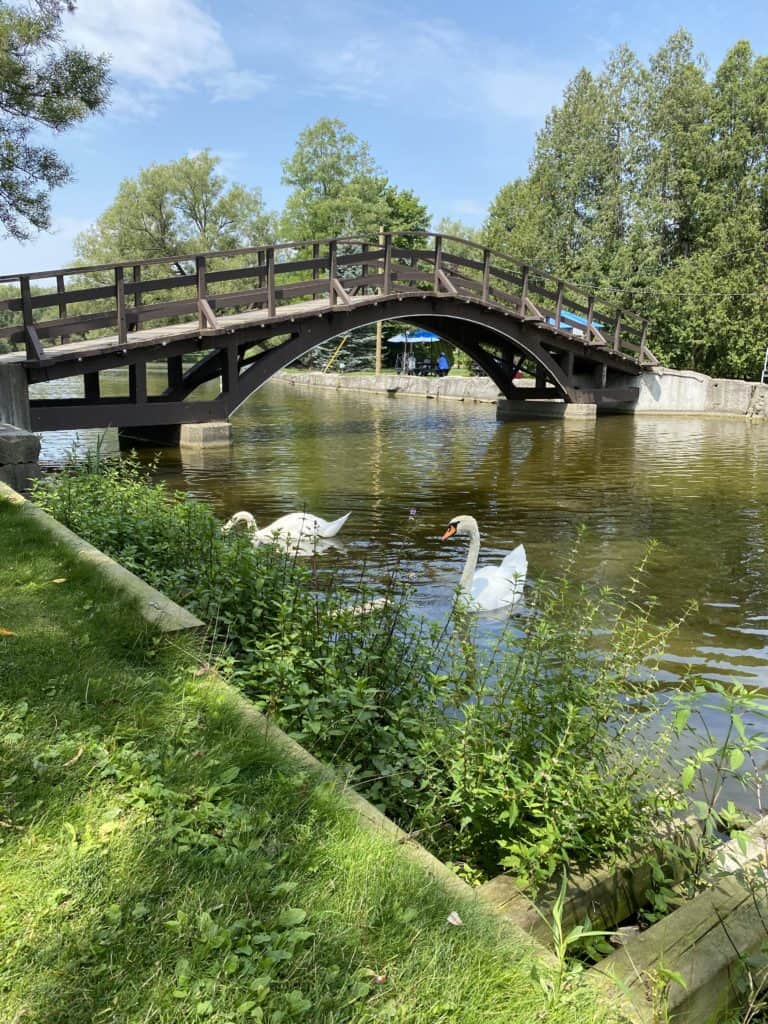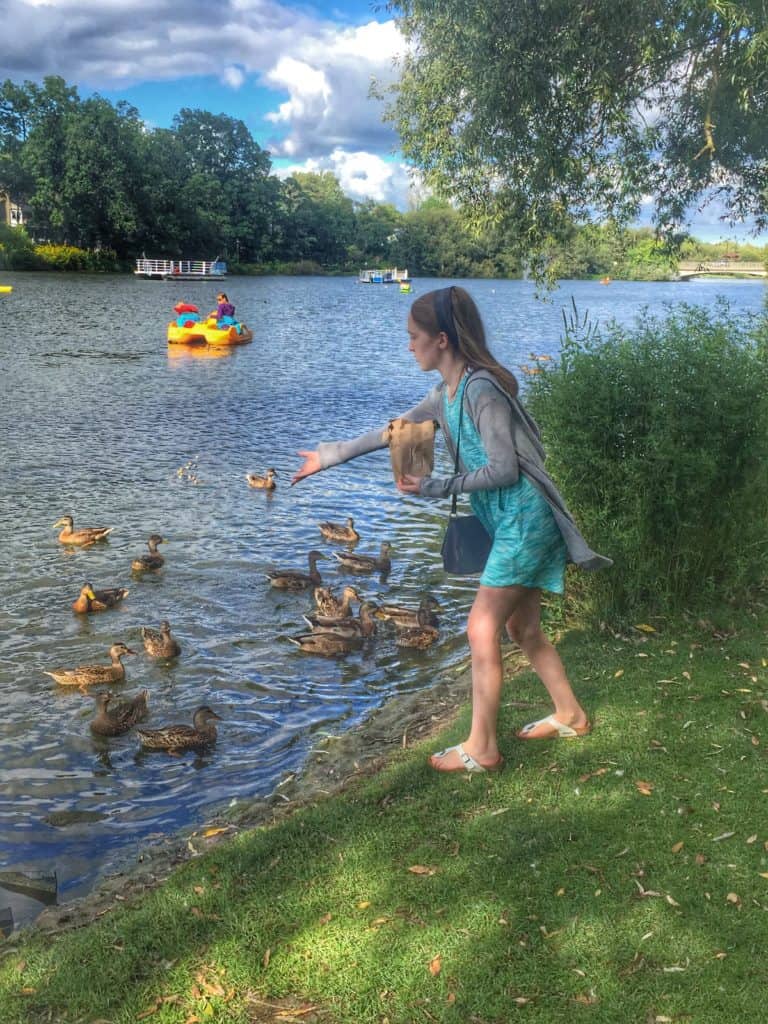 4. Rent a Boat
Rent a paddle boat, kayak or canoe at Avon Boat Rentals for an hour and enjoy some time on the water. Or if you would rather just sit back and enjoy the sights then take a relaxing 30 minute river cruise on the Juliet III.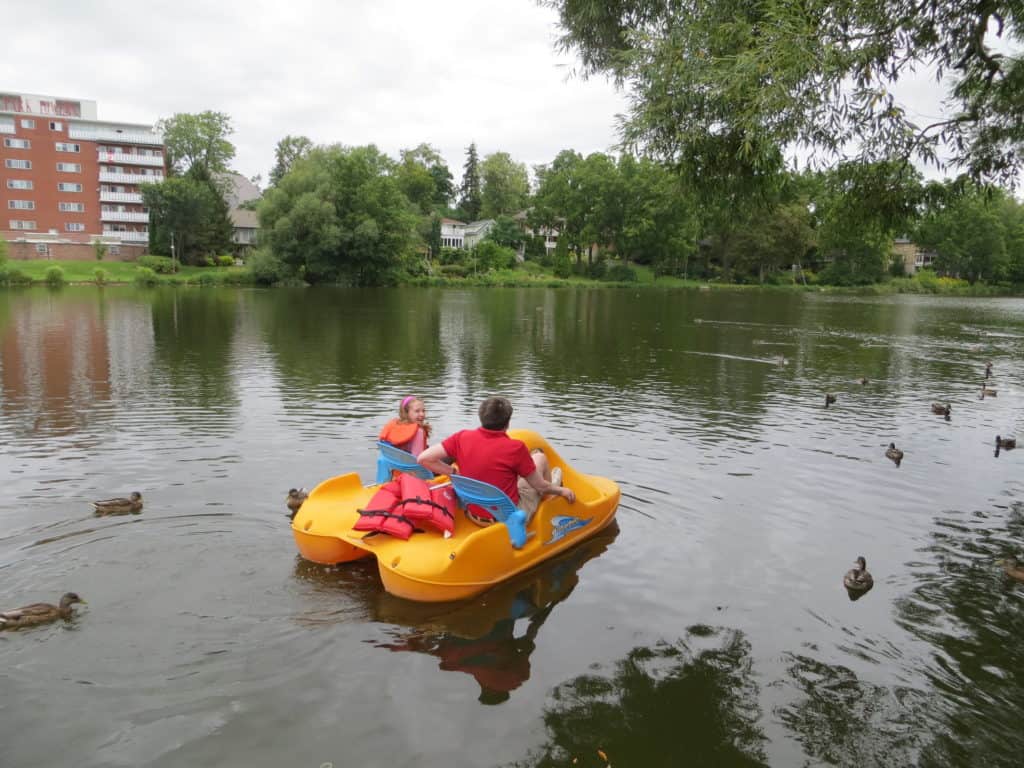 5. Enjoy a Stratford Summer Music Concert
Stratford Summer Music is an annual music festival that takes places over several weeks with performances at indoor and outdoor venues around downtown Stratford. Many of the events are free outdoor concerts during the summer season including Barge Music performances on the Avon River. On one of our visits this summer, we happened to see an excellent concert by Marcus Nance who is a well-known performer both in Canada and the U.S.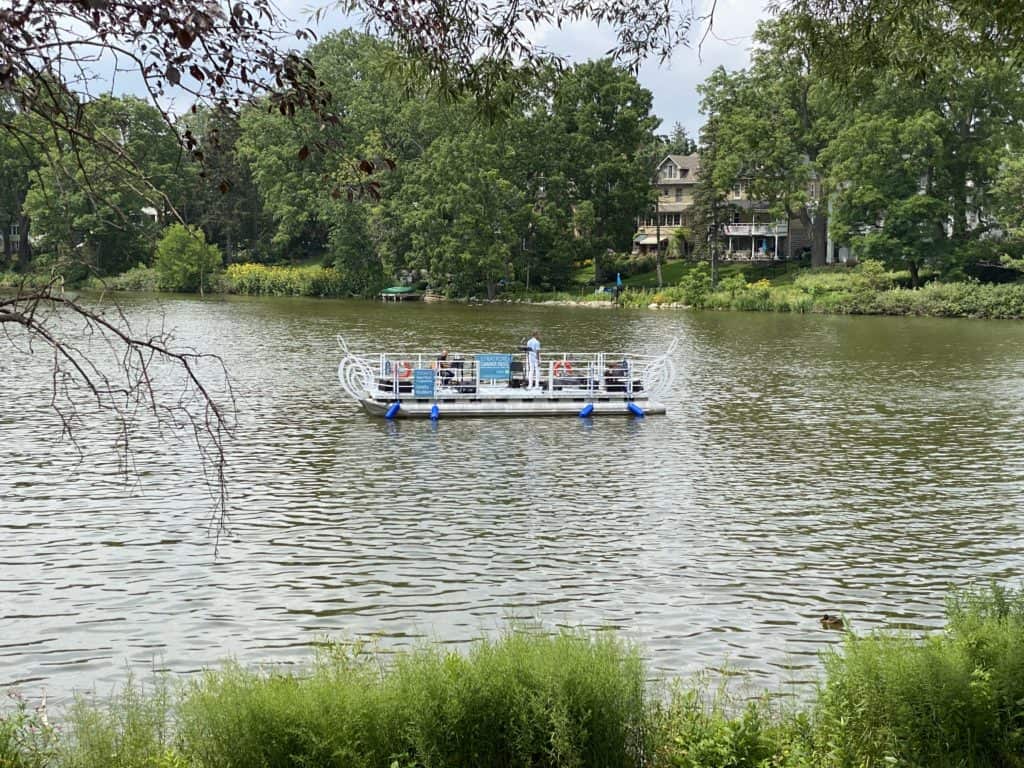 6. Visit an Art Gallery or Museum
Gallery Stratford is a small public gallery of visual art located in Stratford's original pump house which is a city designated heritage building. The gallery features contemporary art exhibitions (indoor and outdoor) as well as a new community studio that can be used for educational events as well as exhibition space. We saw Amanda McCavour's Poppies exhibit here a couple of years ago and it was one of the most beautiful and most interesting art exhibits that I have seen!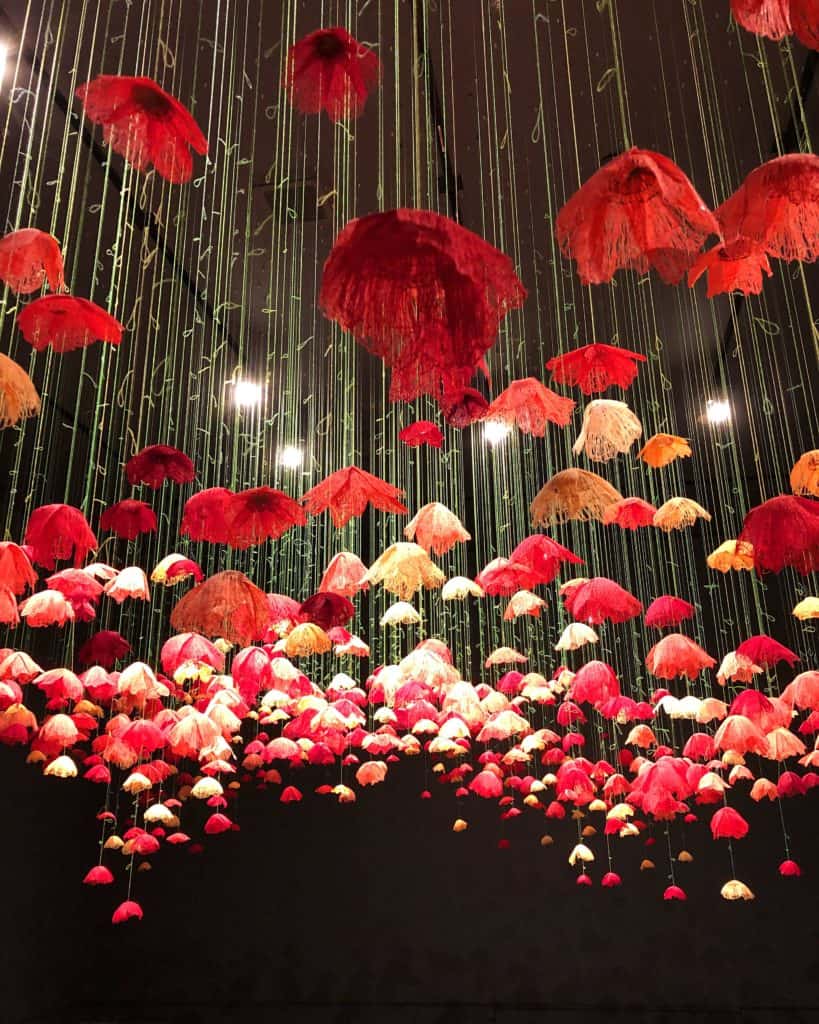 The Stratford Perth Museum has a collection of over 20,000 artifacts that tell the stories of people and communities in Stratford and Perth County from the early 1800s until today. The collection, housed in a variety of buildings over the years, moved in 2008 to the current location which includes a Victorian home, woodlots and trails. Check the museum's website for current exhibitions – Justin Bieber: Steps to Stardom has been extended to the end of 2021 if you happen to be a fan.
Gallery Stratford is open daily noon to 8 pm and is located at 54 Romeo Street, Stratford. Admission is free, donations are welcome.
The Stratford Perth Museum is open daily 10 – 4 and is located on Highway 8 just west of Stratford. Admission is $7 for adults with reduced admission for seniors, students and children. Families (2 adults, 2 children) $20. Children 5 and under are free.
In accordance with Ontario regulations, masks are required indoors and proof of full vaccination may be required to access non-essential businesses.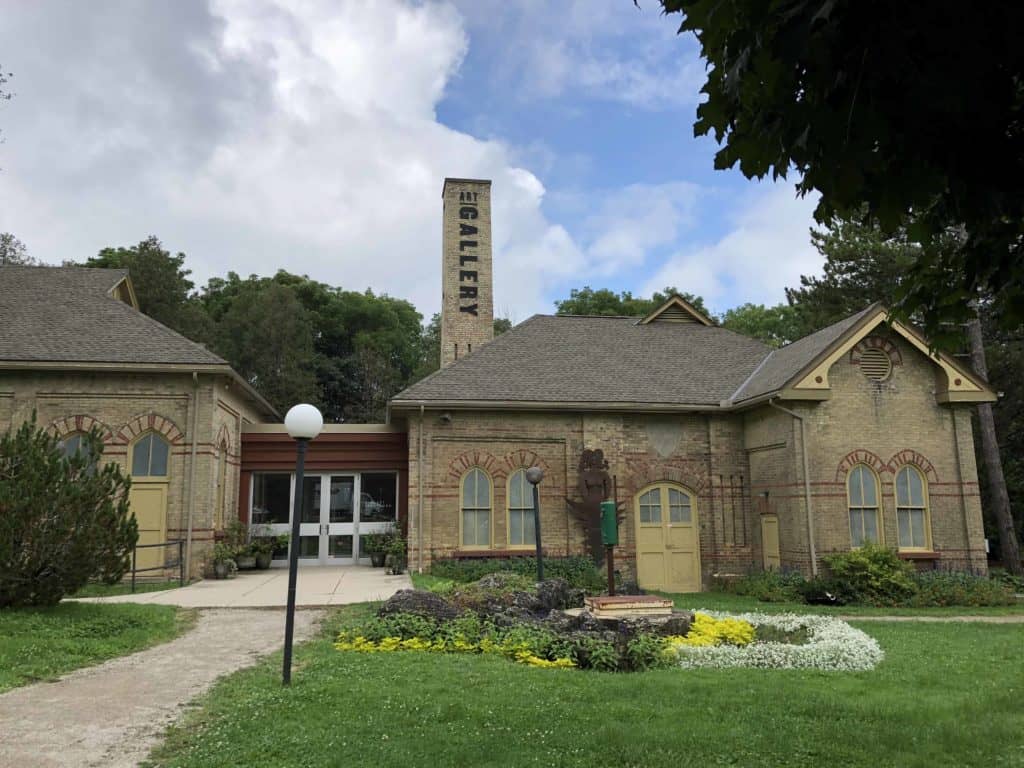 7. Browse and Shop Stratford Art in the Park
One of my favourite things to do in Stratford during the summer has always been browsing and shopping at Stratford Art in the Park. This outdoor art show has been a fixture in Stratford since 1968 and features the work of many artisans across a variety of mediums. You're sure to find a unique and beautiful gift or something special for yourself here and you'll be directly supporting local artists too!
Art in the Park typically starts in May and runs until late September but, unfortunately, had to be cancelled in 2020 and 2021 due to restrictions. Hopefully, 2022 will be a more normal season!
Lakeside Drive between Front and North Streets; Wednesday, Saturday and Sunday from 10am – 5pm, weather permitting.
8. Wander the Shakespearean Gardens
I'm embarrassed to admit that I had been visiting Stratford regularly for more than 20 years before I discovered the Shakespearean Gardens a couple of years ago and now I love going for a walk through these lovely gardens. The gardens originally contained only plants that were mentioned in Shakespeare's plays, however, that is no longer the case and there are some non-Shakespearean plants as well. In the gardens you will also find the 65 foot chimney which is all that remains from the woolen mill that was once on site, a lovely gazebo, and a bust of William Shakespeare.
The Shakespearean Gardens extend west from Huron Street – entrance is just before the Huron Street Bridge.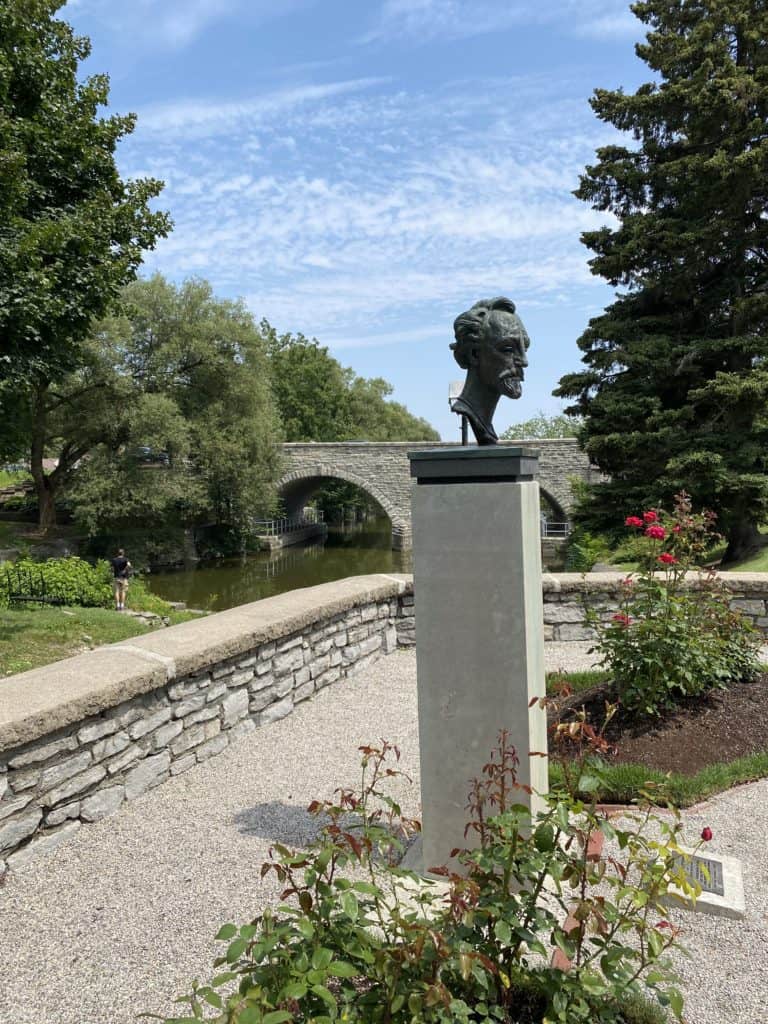 9. Indulge on a Stratford Culinary Trail
If you like to snack your way through a day of sightseeing then be sure to purchase passes for one of Stratford's culinary trails. On the self-guided Chocolate Trail and/or the Bacon & Ale Trail, you will have an opportunity to indulge your inner foodie with samples of some of the best of Stratford whether you're interested in bakers and confectioners or bacon and breweries. We haven't tried either of the trails yet but look forward to doing so on an upcoming visit.
Passes may be purchased on the day of your visit at Destination Stratford, 47 Downie Street; Bradshaws, 129 Ontario Street; Small-Mart, 119 Ontario Street; or Werk Shop, 111 Ontario Street. The Chocolate Trail is $30 + HST and includes 6 stops. The Bacon & Ale Trail is $30 + HST and includes 5 stops. Vouchers do not expire and can be used over multiple days.
10. Browse the Shops of Stratford
Need a little retail therapy? Downtown Stratford is known for one-of-a-kind boutiques selling unique items that you definitely won't find at the mall. It's easy to spend an hour or an afternoon shopping for fashion, gifts, art, housewares and so much more ,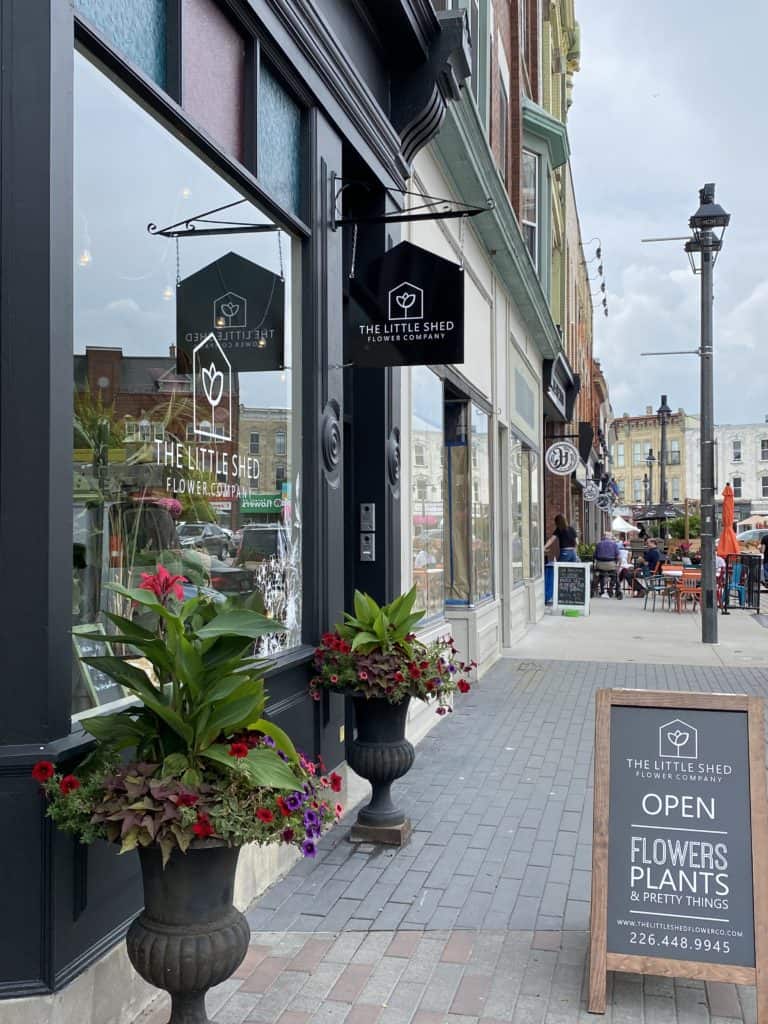 11. Explore Stratford on a Walking Tour
Explore the city on foot at your own pace with one of Visit Stratford's self-guided audio themed walking tours. Themes include: Justin Bieber, Tom Patterson, Bronze Star, Stratford Gardens, Art Walk, Insta-Worthy Spots and The Chocolate Trail.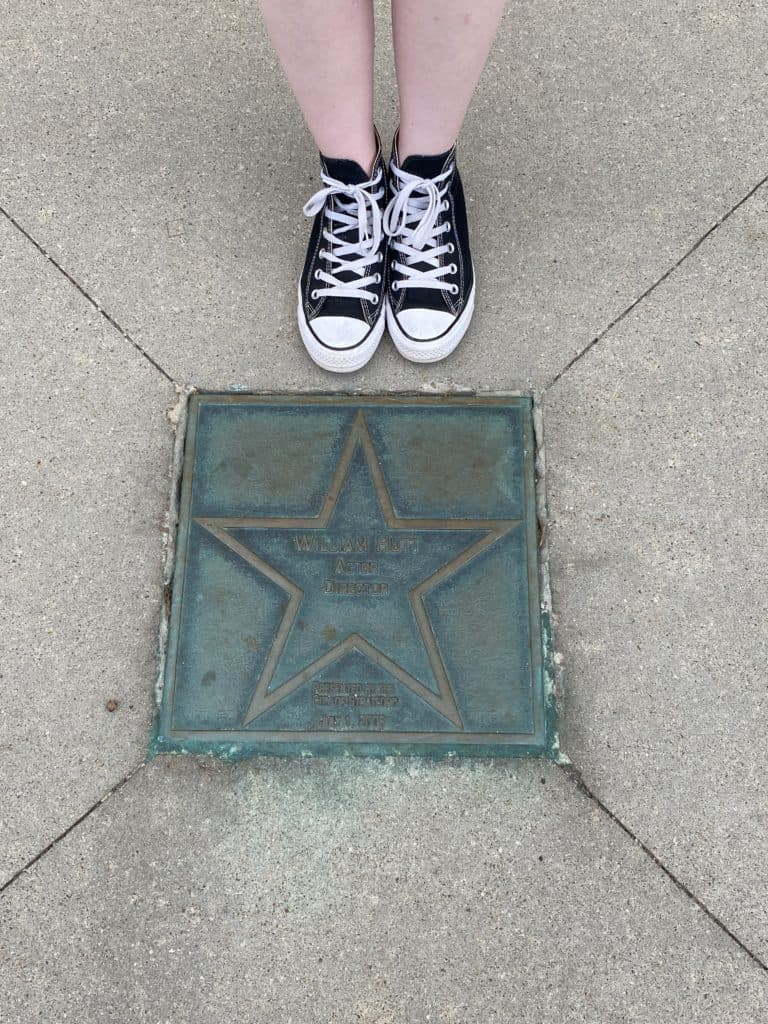 12. Visit the Alley Cat Cafe
We discovered the Alley Cat Cafe at the end of our most recent visit to Stratford so didn't have time to go in. We plan to visit the next time that we're in town. There's a small admission fee to enter the Kitty Lounge where you can enjoy a cup of coffee or tea and something to eat as well as cuddles with the adorable rescue kittens who are looking for forever homes.
Located at 1 Market Place, Stratford. Open Tuesday to Saturday 10-7 and Sunday 10-3. Reservations for the Kitty Lounge are strongly recommended. 1 hour bookings can be made online. Admission to the Kitty Lounge is $9/hr for adults and $5/hr for children up to 13 years of age. In accordance with current health regulations in Ontario, proof of vaccination is required for entry to the cafe.
13. The Spring Swan Parade
Winters in Stratford are too cold for the resident swans (about 25 of them) to spend outdoors so they are moved to cozy winter quarters each year and parade back to their summer home on the Avon River/Lake Victoria each April. The annual Swan Parade is a Stratford tradition that usually draws large crowds of thousands so had to be cancelled in 2020 and 2021. Attending the parade is on my wish list so I'm hoping that it will take place again in 2022.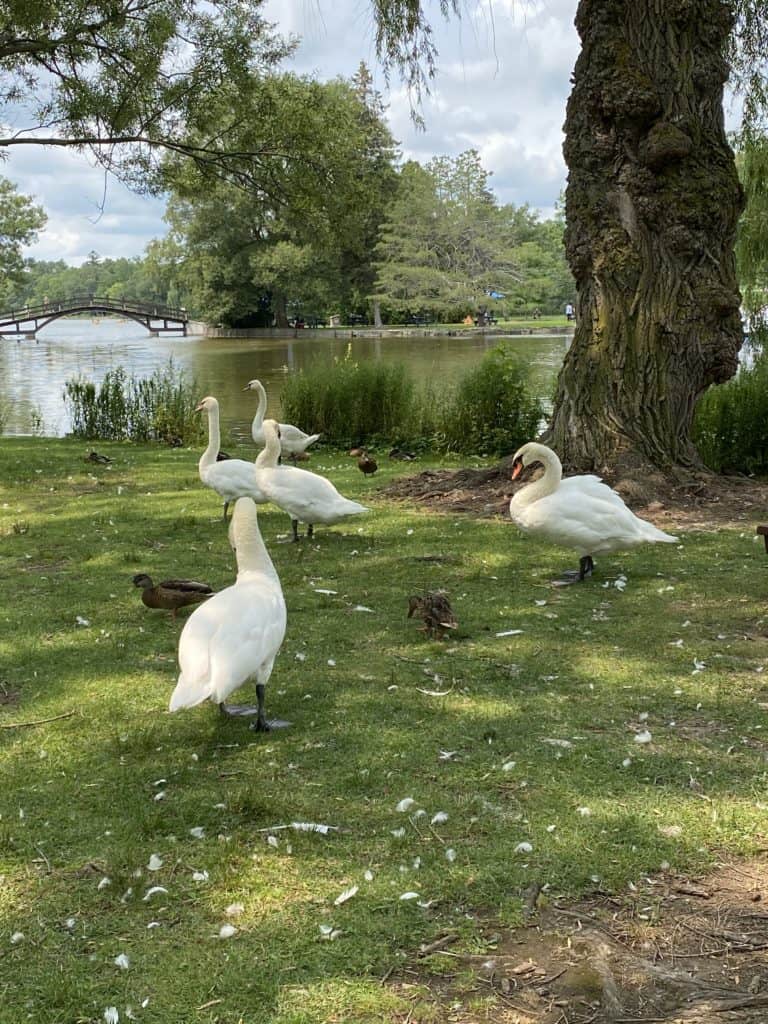 14. Enjoy a Delicious Meal in Stratford
Foodies love Stratford for the wide variety of restaurants to choose from so be sure to enjoy at least one meal even if you're only in town for a few hours. Our family favourites are Pazzo Taverna & Pizzeria for gourmet Italian meals and Mercer Kitchen + Beer Hall for the delicious food and hip atmosphere. I also stop by Balzac's for my latte every time that I visit Stratford.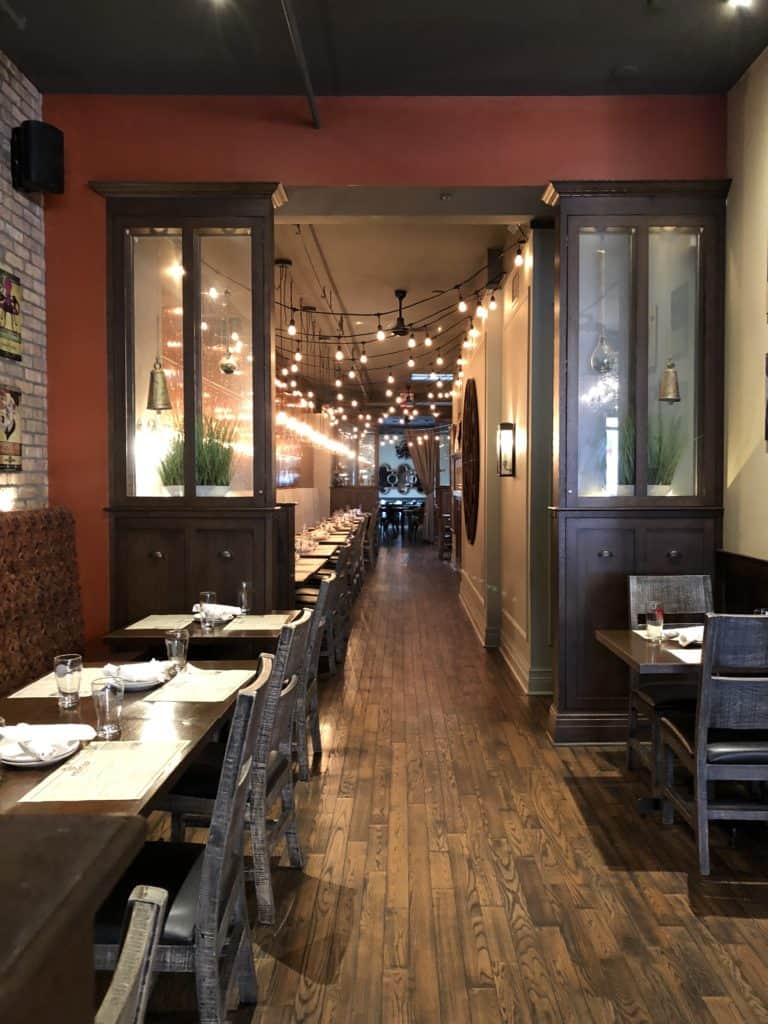 15. Lights On Stratford Winter Festival
The Lights On Stratford Winter Festival of Lights, launched during the pandemic in 2020, will return to Stratford's heritage district and park system again in 2021. The theme for the luminous art and interactive light installations this year is Journey and will explore motion, transportation, worldly and other-worldly landmarks. We had planned to visit Stratford for this festival during Christmas break last year, however, it was cut short by a provincial lockdown that went into effect on Boxing Day so I'm looking forward to attending this year.
Lights on Stratford is free to the public and designed to be safely enjoyed with physical distancing – December 17, 2021 – January 28, 2022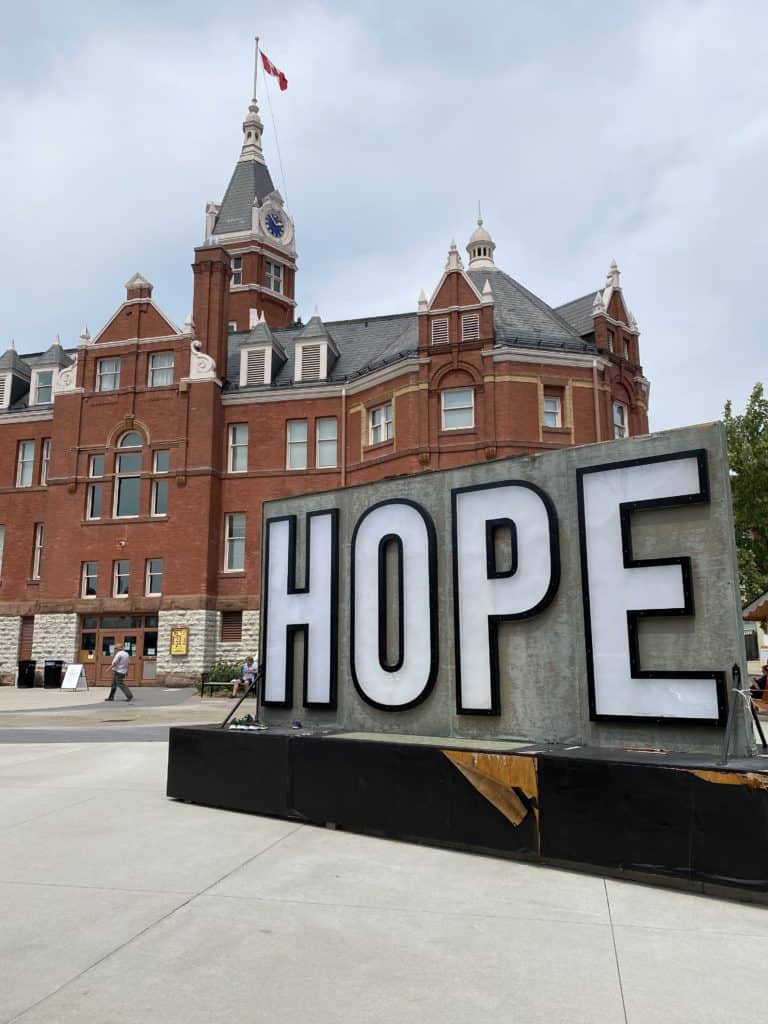 Things to Do Near Stratford
Visitors staying for more than a day can spend some time exploring the region around the city of Stratford.
St. Jacobs – A favourite destination is friendly St. Jacobs where the horse and buggies of the local Mennonite community are a common sight and visitors can shop at the bustling Farmers' Market on Tuesday, Thursday and Saturday or browse the studios, galleries and shops in the village. Also worth a visit in St. Jacobs is the St. Jacobs & Aberfoyle Model Railway.
St Marys – Just a few minutes from Stratford, the town of St. Marys has a limestone quarry swimming hole which is billed as Canada's largest outdoor swimming pool as well as the Canadian Baseball Hall of Fame and Museum which shares Canada's baseball heritage.
Cambridge – The Cambridge Butterfly Conservatory is one of those can't miss destinations because everyone, no matter their age, is enchanted by the beautiful butterflies fluttering around. The Conservatory has a 10,800 square foot tropical garden that is home to thousands of free-flying butterflies and moths from around the world.
Kitchener/Waterloo – The Kitchener/Waterloo Region is home to a number of family-friendly attractions and activities including Waterloo Regional Museum & Doon Heritage Village and the Bingemans entertainment complex.
Shakespeare – Just 12 km down the road from Stratford, Shakespeare is known for its antique shops but it also has a British shop (The British Touch) that sells British chocolate bars.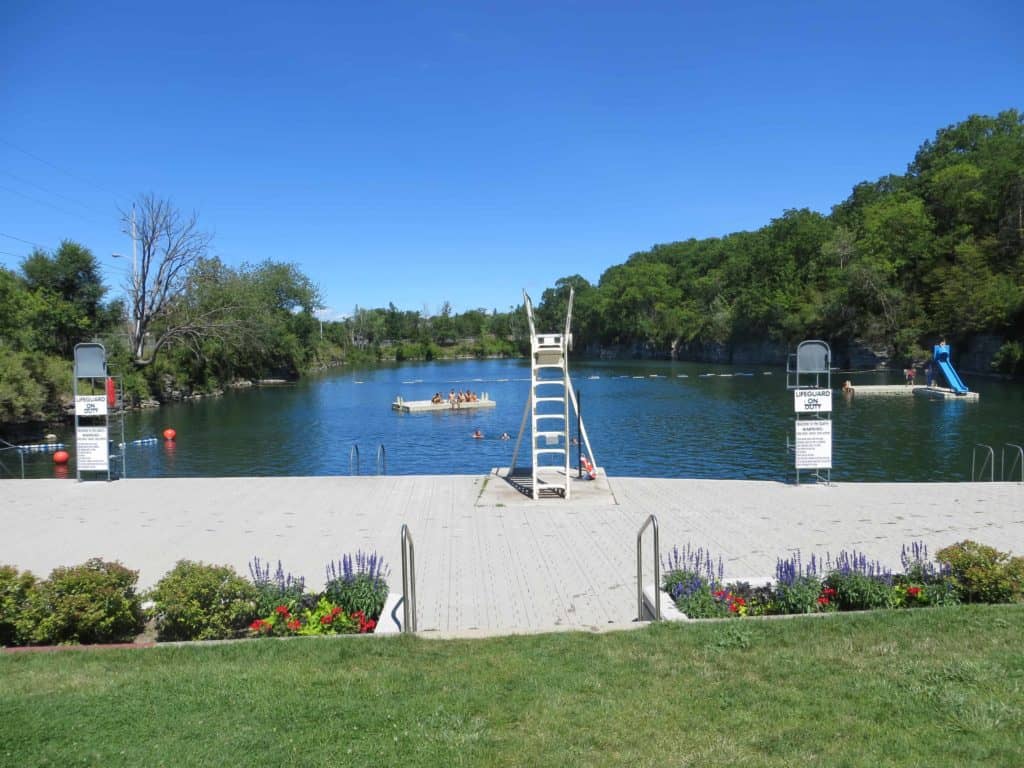 Where to Stay in Stratford
Many of our visits to Stratford have been day trips, however, we have also stayed at a number of inns and hotels over the years of visiting Stratford including:
The Mercer Hotel – Unique boutique hotel, restaurant, and beer hall located in Stratford's heritage downtown and within waking distance to all theatres.
Queen's Inn – A landmark hotel for over 150 years, the historic Queen's Inn is located within the heart of Stratford and walking distance of all four Festival Theatres, entertainment and shopping.
Arden Park – A Best Western Plus Hotel that provides affordable and comfortable accommodations.
Festival Inn – comfortable and convenient within a short drive of the theatres and downtown Stratford.
You Might Also Enjoy
Pin This For Later