Favourite attractions and activities for families visiting the Waterloo Region.
The Waterloo Region may not be on your family getaway radar yet but it definitely should be as there are far more family-friendly activities and attractions than you would expect. Doing it all in one day is impossible though so spending a night or weekend is the best way to experience all the region has to offer.
My 11 year-old daughter, Emma, and I had the opportunity to spend two days this summer discovering just how family-friendly the Waterloo Region is. The Region encompasses the cities of Kitchener, Waterloo and Cambridge as well as four townships and is within reasonable driving distance of most of southern Ontario.
In fact, it is only about a 60 minute drive from our home west of Toronto and we have never stopped despite driving through every summer on our way to Stratford. Since I knew so little, I was eager to discover just what there was for visiting families to do.
Cambridge Butterfly Conservatory
The Cambridge Butterfly Conservatory is one of those can't miss destinations because everyone, no matter their age, is enchanted by the beautiful butterflies fluttering around. 
The Conservatory, which first opened in 2001, has a 10,800 square foot tropical garden that is home to thousands of free-flying butterflies and moths from around the world. In addition to the butterflies, the garden is also home to many tropical plants and flowers, a variety of insects, small birds that you will hear chirping and see at the feeders and quail that scurry around the paths and into the bushes.
Emma and I could have spent hours wandering around the garden paths watching the butterflies and trying to get photos of them whenever they landed for a moment.
(More photos from our visit can be seen in Visiting a Tropical Paradise at Cambridge Butterfly Conservatory.)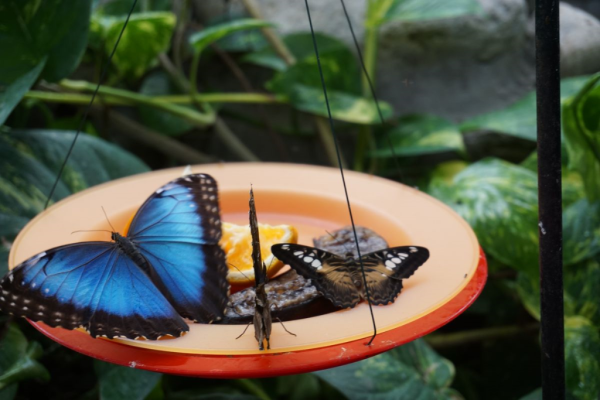 There is a window in the tropical garden where visitors can watch butterflies and moths emerging from cocoons and chrysalides. We were extremely fortunate as we were able to see an Atlas Moth, the largest moth in the world, emerging from its cocoon.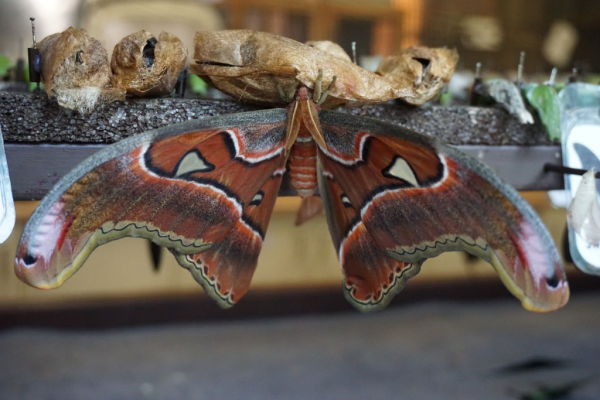 St. Jacobs Farmers' Market
The Farmers' Market in the Village of St. Jacobs is Canada's largest year-round farmers' market. It is a great choice for families because where there's food, it's pretty hard to go wrong. The market is open Thursday and Saturday year-round and also on Tuesdays during the summer. The Harvest Barn building is home to many food and craft vendors and during the summer there's an outdoor market as well.
We spent a very enjoyable hour or so wandering the market indoors and out first to scope out what was available before deciding to have fish on a bun for lunch followed up by some of the famous apple fritters from The Fritter Co. for dessert. I couldn't pass up all the booths of delicious-looking produce in the outdoor market so we purchased some farm fresh fruit to take home with us as well. This is the type of market that you can return to again and again with the kids – I'm sure we will be back soon.
St. Jacobs & Aberfoyle Model Railway
After our lunch at the market, Emma and I drove into the village to visit the St. Jacobs & Aberfoyle Model Railway. This was the one stop on our itinerary that I wasn't too sure about because, even though Emma is a fairly easy-going traveler, I didn't think that a model train exhibit was going to appeal at all to an 11 year-old girl.
As we walked from the parking lot, I attempted to butter her up by assuring her that we we would just have a quick look at the trains and then we could go shopping. It turned out that my concern was for naught. From the second we stepped into the room to see the model train exhibit, we were simply blown away.
The St. Jacobs and Aberfoyle Model Railway has been around for more than 40 years although it only recently moved to the Village of St. Jacobs from its home in Aberfoyle. The model railway display, started by Frank Dubery in 1972, has grown to more than 3,000 square feet. It showcases life in a southern Ontario town in the 1950s in incredible detail and even cycles from day to night.
The craftsmanship, the attention to detail and the passion that went into creating this model railway is beyond impressive. Emma was fascinated by the display and circled it over and over again pointing out all her favourite details.
The railway display is now owned by Waterloo County Heritage Preservation Inc., and Mike Craig, the grandson of Frank Dubery, is the Executive Director. Mike, who has literally spent all his life around this model, answered our questions and provided us with much appreciated background information.
For anyone visiting the region, this is really a must-see. Your kids don't have to be train fanatics to appreciate the display but if they are then you might want to come prepared to spend the day!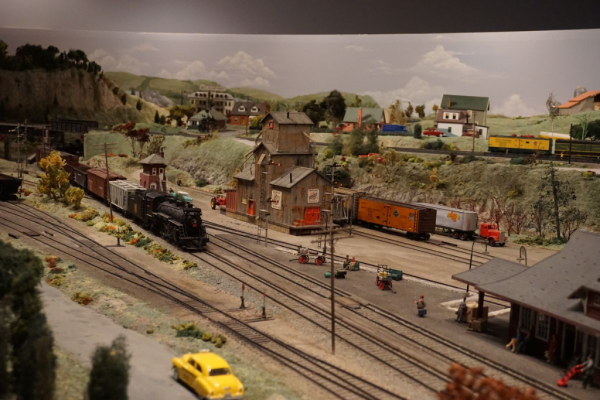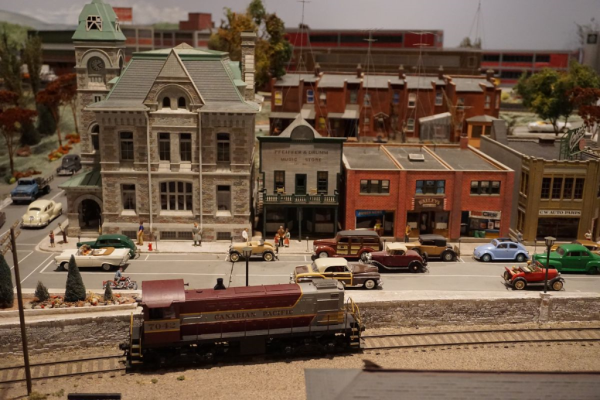 Additional Activities in the Village of St. Jacobs
The village of St. Jacobs on the Conestoga River is a great place to spend a few hours. Apart from the Farmers' Market and the Model Railway, there are also many unique shops in the village including Conestoga River Pottery, Hamel Brooms, Thorn Glass and A Touch of Scotland which, much to Emma's delight, sells British candy.
If you are interested in learning more about the Mennonite people of the region then it's worth a visit to Mennonite Story  for a self-guided tour of the exhibits – admission is by suggested donation.
If it's a hot summer day, or even if it's not, be sure to stop by Moser's Ice Cream Caboose  for delicious ice cream in hand-rolled waffle cones served up in a railway car – the most original venue for an ice cream shop that I have seen yet.
The village also has world-class theatre at St. Jacob's Country Playhouse which was right next door to our hotel. We are a theatre family so both Emma and I were disappointed that there wasn't anything playing the night of our visit but it would be worth a trip back just to check out the playbill.
Waterloo Regional Museum & Doon Heritage Village
Emma and I love museums and we could have easily spent the entire day at the Waterloo Regional Museum. This is the largest community museum in Ontario and it includes several indoor galleries as well as Doon Heritage Village, a 60 acre living history village that depicts life in the region in 1914. (There will be additional information and photos in an upcoming post on the museum.)
We were worried that it was going to rain on the day of our visit so headed outside to tour the village first. From the moment we stepped outside the door of the museum and into the village we were transported back in time 100 years.
Our first stop was the Railway Station and we probably spent close to 30 minutes there chatting with the historical interpreter who did a marvelous job engaging my daughter in a discussion of the places she would like to travel and whether or not she could get there by train. Eventually Emma decided that she would like to purchase a ticket to Paris, France and a ticket for the journey by train and by ship was issued. It was great fun visiting all of the buildings in the village and interacting with the costumed interpreters who imparted their knowledge of life in the region early in the 20th century.
Back inside we toured the Main Gallery to learn more about the history of Waterloo Region. The exhibit called What Makes Us Who We Are? traces the region's human history from 12,000 years ago through European settlement of the area early in the 19th century through to modern times. The museum has a great scavenger hunt/questionnaire for kids that makes it fun to examine the exhibits in search of the answers. We also enjoyed the Waterloo Region Hall of Fame and the temporary exhibits Museum Mysteries and Street Style.
Bingemans
Bingemans is a huge family-friendly entertainment complex that is one of the region's top attractions. Emma and I didn't have a great deal of time to spend so we had a quick lunch at Boston Pizza before checking out the Big Splash water park. Bingemans also has an indoor playground, beach volleyball, bowling, paintball, summer day camps and more. Regardless of the age of the kids, there is hours of fun to be had here.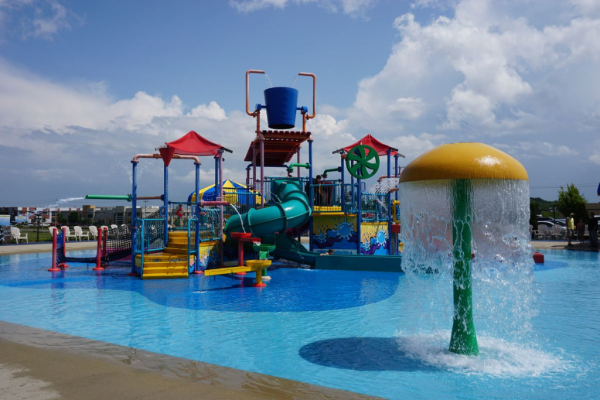 Where To Stay
There is so much to do in the Waterloo Region that it makes perfect sense to turn a visit into a true getaway and book a room for the night. We did just that and stayed at the Courtyard by Marriott Waterloo St. Jacobs which has a convenient location near St. Jacobs Farmers' Market and right next door to St. Jacobs Country Playhouse.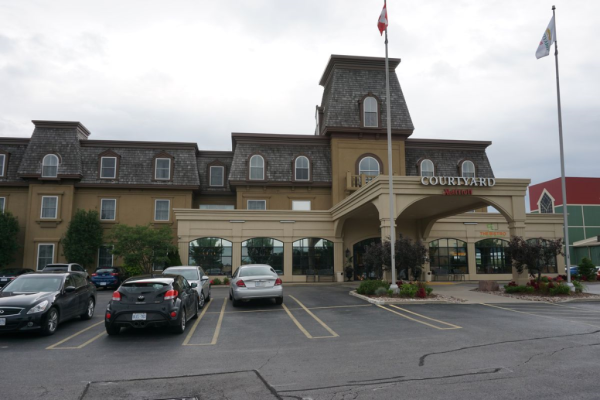 The hotel has a fantastic lobby area with more than one comfortable seating area – perfect for working or just relaxing. We ate our dinner at The Bistro which was both convenient and delicious. I loved that they also served Starbucks and Emma loved that we had our own personal television in our booth – she would have happily spent the evening there.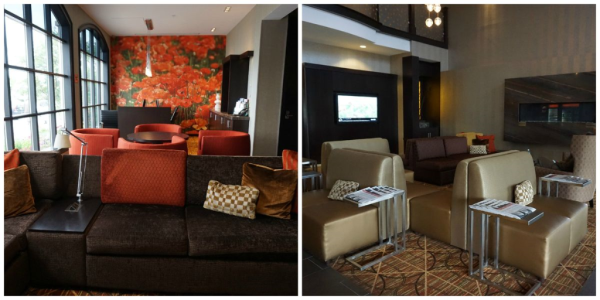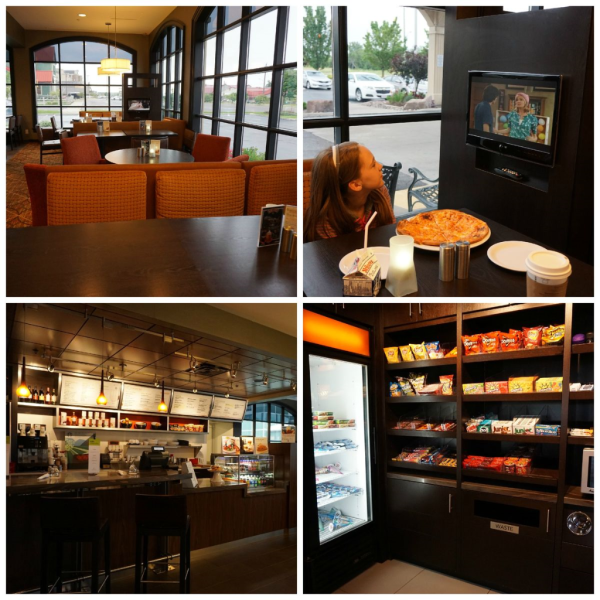 Our spacious room was both comfortable and functional with two Queen beds, a desk with plenty of space to work easily, and a television as well as an upholstered chair and lamp that made a cozy little reading nook. The room also had a small kitchenette with a refrigerator, microwave, and coffee maker with supplies. We were both most appreciative of the free wireless internet – an amenity that, in my opinion, all hotels should offer.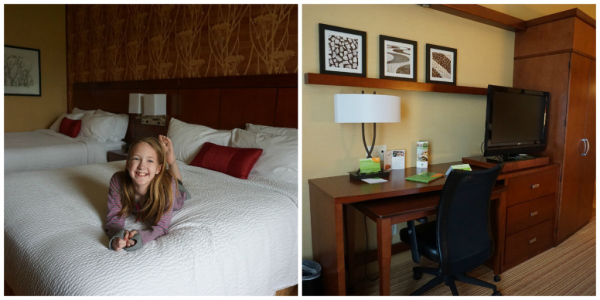 The Waterloo Region has more to offer families than I ever would have expected which makes it ideal for anyone looking for a fun family getaway that doesn't involve travelling a great distance.
In addition to all of the attractions which we were able to enjoy during our summer visit, Kitchener-Waterloo also celebrates the region's German culture and heritage for 9 days each October during Oktoberfest. If you are planning to visit the festival that National Geographic named the best Oktoberfest outside of Germany, then why not spend the night and take in some of the great attractions that the region has to offer at the same time?
Have you visited the Waterloo Region with your family? Let us know what your favourite area attraction is or what attraction you would most like to visit.
Emma and I visited Waterloo Region as the guests of Waterloo Regional Tourism and Courtyard  by Marriott Waterloo St. Jacobs. All opinions expressed are mine alone.