A day trip to St. Marys, Ontario can include a visit to the Canadian Baseball Hall of Fame, a walk along the Thames River, shopping amidst historic stone buildings, and swimming in a limestone quarry.
Driving into St. Marys, we were greeted by the town's historic stone water tower painted with the words: "The Town Worth Living In". My curiousity was piqued as soon as I caught sight of it and I couldn't help but wonder – would St. Marys live up to such a public claim?
St. Marys is located in southwestern Ontario, a 90 minute drive west of Toronto which makes it perfectly located for a day trip from many parts of the province. It is also just a short 15 minute drive from Stratford where we were staying for the weekend.
Read Theatre Getaways in Ontario
When St. Marys was first settled in the early 1840s, the area's natural resources were the attraction as the Thames River flowing down over limestone ledges provided the power needed to run mills. Soon after, residents began to quarry the limestone along the river banks and use it for building purposes and the town became known as Stonetown because of the unique limestone architecture.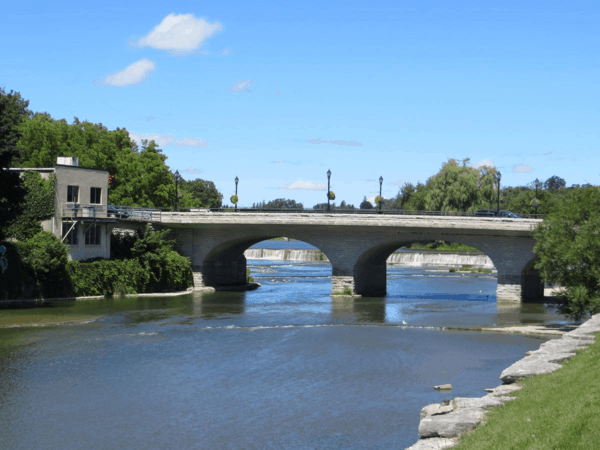 Canadian Baseball Hall of Fame and Museum
The Canadian Baseball Hall of Fame and Museum is now located at 386 Church St. in St. Marys, Ontario adjacent to the limestone quarry.
Our first stop in St. Marys was the Canadian Baseball Hall of Fame and Museum which was established to preserve and share Canada's baseball heritage. The Hall of Fame was originally located in Toronto but opened in its present location in St. Marys in 1998 thanks to a generous donation of 32 acres of land by the St. Marys Cement Company. A select group of professional and amateur baseball players as well as others with a connection to the sport in Canada have been inducted into the Hall of Fame and are recognized at the museum. Individuals don't have to be Canadian to be recognized in the museum – they simply need a connection to baseball in Canada.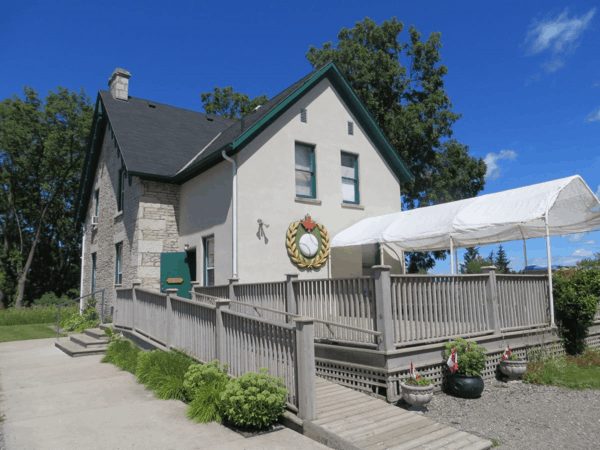 Some of the museum's artifacts are behind glass but there are others that can be picked up and examined more closely. Staff members on hand are very helpful in answering questions, providing additional information and assisting with the set-up of photos. When we visited the museum featured displays on Jackie Robinson, the Pearson Cup, women's professional baseball, recent inductees into the Hall of Fame, Blue Jays and Expos memorabilia, the former Toronto Maple Leafs baseball team and much more.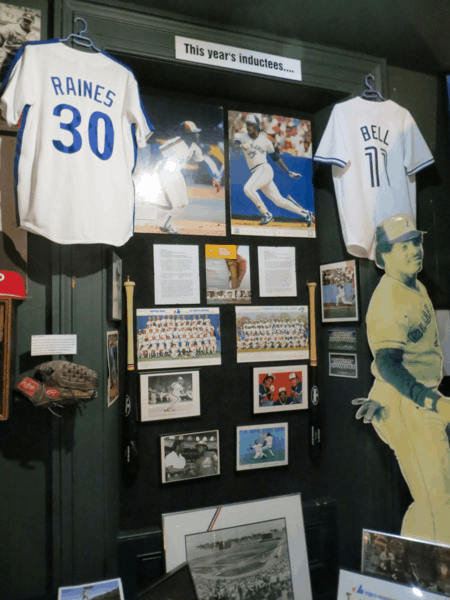 I was quite surprised by the extent of the memorabilia collection that the museum houses. There are 4 rooms with displays as well as a wall featuring plaques of Hall of Fame Inductees. The museum only has about 1/3 of the collection on display at any one time so visitors are bound to see something knew if they return. Not many people are aware that this museum exists and it's really quite a gem for sports fans. It would be wonderful if they were able to expand and have the entire collection on display at one time.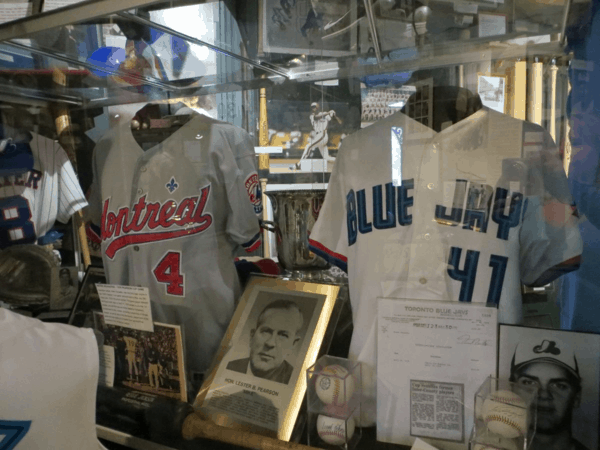 Walking Trails
After visiting the Hall of Fame, we parked downtown to explore a bit. The town maintains three walkways and trails varying in length which visitors will enjoy strolling or cycling. We chose The Riverview Walkway, a paved 2.4km path, which follows along the Thames River from the centre of town to the swimming quarry. The walkway is on former railway lands to which the town acquired the rights in 1988 and there is an interpretive plaque near the beginning of the walk which explains the railway history of the area.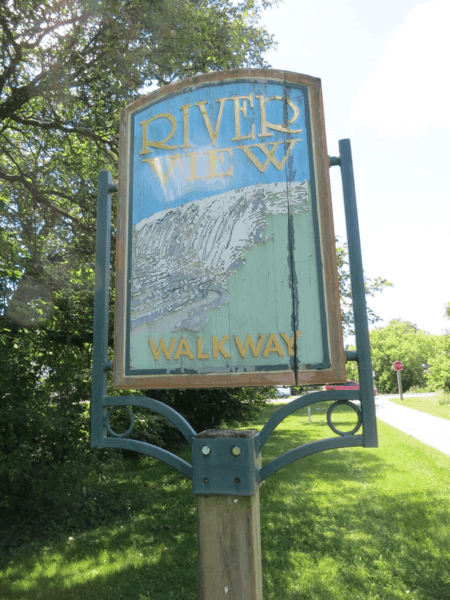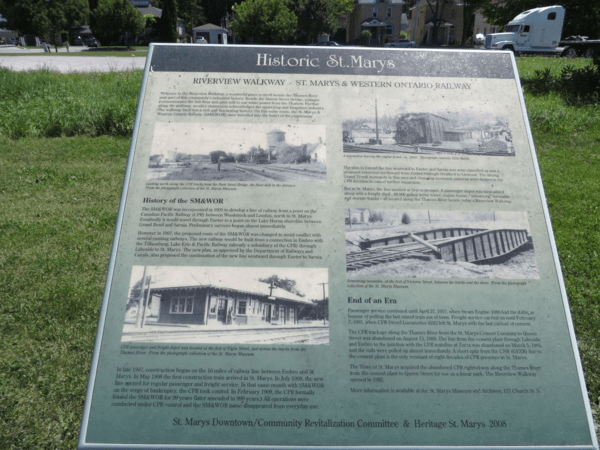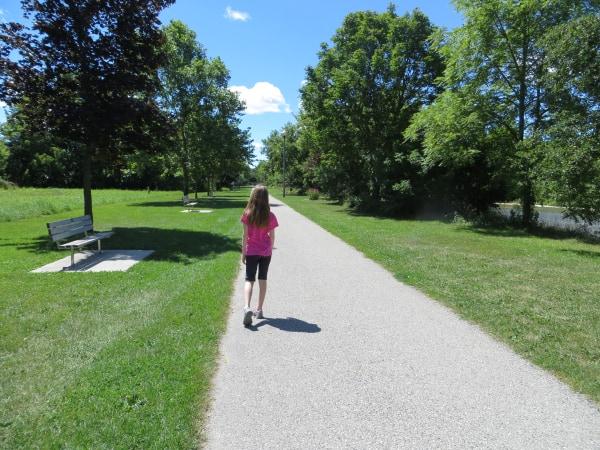 Downtown St. Marys
There are a number of historic limestone buildings to view in the downtown area of St. Marys and various shops and dining establishments to suit your taste. We were in need of an ice cream cone after our walk so popped into the delightfully old-fashioned Sweet Treats on Water Street before walking around to photograph the buildings.
Swimming in the Limestone Quarry
Our final stop in St. Marys was at the town's Limestone Quarry swimming site. The quarry was abandoned in 1930 and has been converted into Canada's largest outdoor swimming pool. Admission to the quarry is paid and there are lifeguards on duty. There is a small cliff diving area, a slide, high and low diving boards (although the high board was closed when we visited because of low water levels) and two floating rafts. A large grassy area is perfect for sunbathing, enjoying a picnic or just relaxing.
Children must be able to pass a swim test or wear a lifejacket to use the quarry as touching bottom is not an option (depth ranges from 20-25 feet). The water in the spring-fed quarry is best described as refreshing and Emma found it a bit chilly at first on a day that wasn't particularly warm but she had a great time once she was in.
*An interesting bit of trivia is that former Prime Minister Pierre Elliot Trudeau dove off the high diving board here in 1968.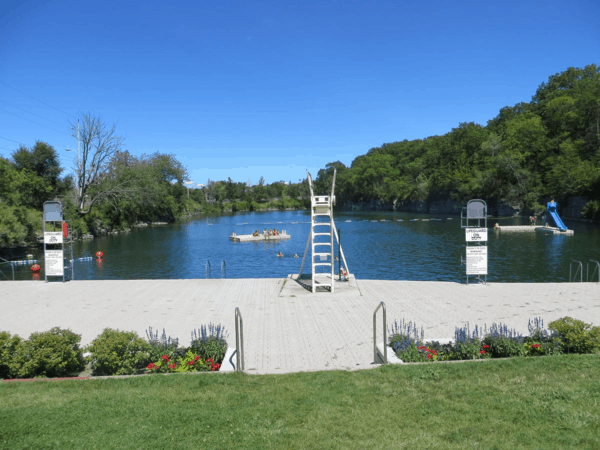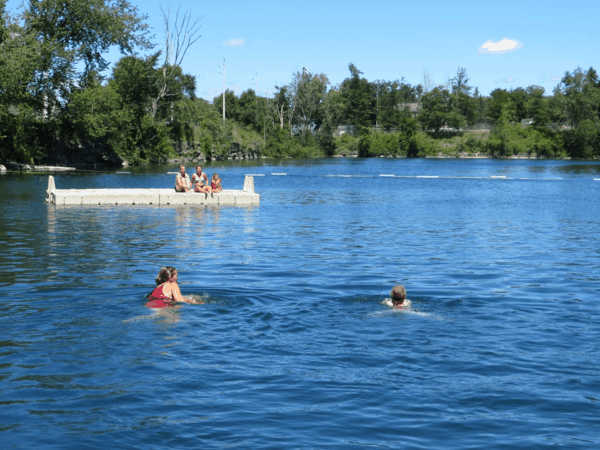 After spending just a few hours in St. Marys, I couldn't tell you whether it truly is "a town worth living in" but I can say that it's a town worth visiting and one that is worthy of a return visit as well.
What You Need To Know
St. Marys is located a 90 minute drive west of Toronto and 45 minutes northeast of London in southwestern Ontario.
The town's Visitor Information Centre is located at the historic Grand Trunk Station (5 James St. North) and is open year-round although hours vary. Additional information can be found on the Town of St. Marys website.
The Annual Stonetown Heritage Festival takes place in St. Marys each July.
We were only in town for the afternoon, however, overnight visitors may choose from a number of bed-and-breakfast establishments or The Westover Inn which was built in 1867 and is a member of Ontario's Finest Inns.
Opening hours and admission prices for The Canadian Baseball Hall of Fame can be found here. From October to May the museum is only open for pre-booked tours.
The town's limestone quarry is open for swimming during the summer months and is operated by the Town of St. Marys. Information about hours of operation and admission prices can be found on the town's website.
You Might Also Like
Reader Interactions