9 Tips for successfully visiting art museums with kids.

Museums can be great places for learning about history, art and culture but, unfortunately, they also have a reputation for not being very kid-friendly. It may seem like a daunting proposition to take kids to a museum, however, with the right preparation and the right attitude, it can be a fun experience for everyone in the family.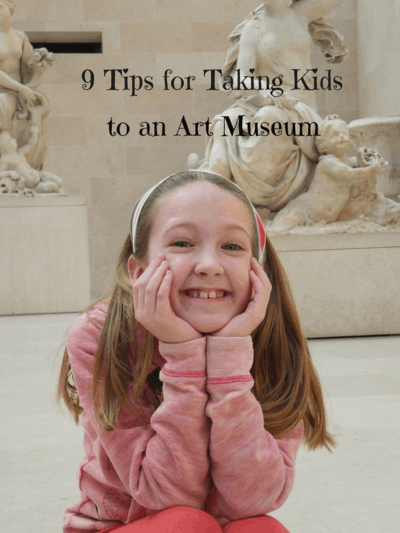 Our family has visited a long list of museums and art galleries including The Hermitage, The Vatican, and The Louvre. Some have been more fun than others but we have survived them all and learned a few things in the process. These are my 9 tips for increasing the chances of having a successful museum visit with kids.
1. Prepare for the Visit
The most important step for a successful museum visit will probably take place before you ever leave home. There are a number of great books and other resources that can be used to introduce kids to art and get them excited about what they are going to see. We have a book called 13 Artists Children Should Know which is a great resource as is Usborne's Famous Paintings set of cards. Emma also enjoyed Katie Meets the Impressionists which provides an introduction to Renoir, Monet and Degas.
Consulting the kids to find out what they are most interested in seeing at a museum will improve your chances of having a successful visit. Prior to our visit to Paris, Emma and I browsed The Pocket Louvre to familiarize her with some of the collections housed in the museum. She already knew that she wanted to see the Mona Lisa and the Venus de Milo and after flipping through this book she decided that there were other works of art that she wanted to see as well.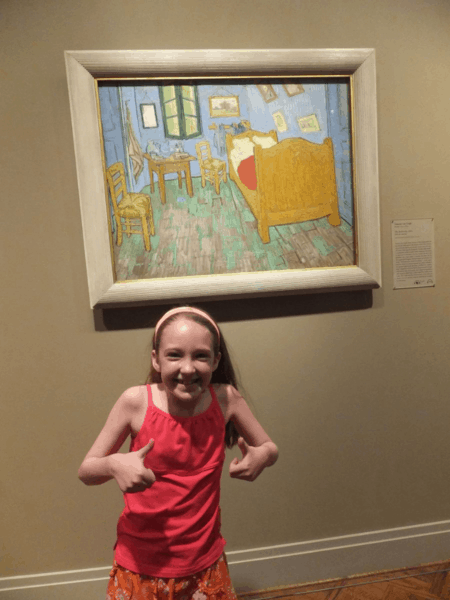 Emma's favourite Van Gogh at The Art Institute of Chicago
2. Consider a Tour Guide
Many museums offer guided tours for families (for a fee or sometimes free) or private guides can often be hired as well. It's important to take some time to consider whether your family would benefit from the services of a guide as it may be the most efficient way to see some museums.
We opted for a private tour of the Vatican with a guide from Context Travel because I recognized that, with my limited knowledge, I wasn't going to be able to convey the importance of the museum to my daughters. I also knew that they would be more willing to pay attention to a guide than they would to me. A good guide will be able to engage the kids and the adults in your group and everyone will have a more enriching experience as a result. Our Vatican guide, for example, caught on very quickly to Emma's interest in Greek mythology and used that to hold her attention while we toured the Vatican Museums.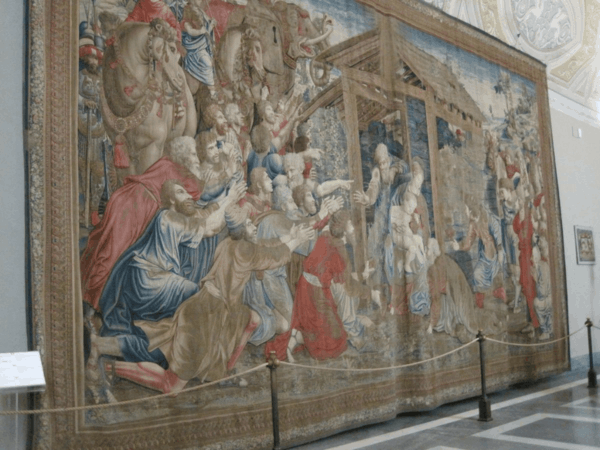 Tapestry in the Vatican Museums
3. Set the Ground Rules
If it's the first time visiting a museum then make sure that the kids know what the ground rules are ahead of time – no running, no shouting, no touching the artwork are the basics. It may seem obvious to adults but kids shouldn't be expected to know what's allowed and what's not if it's their first visit to a museum.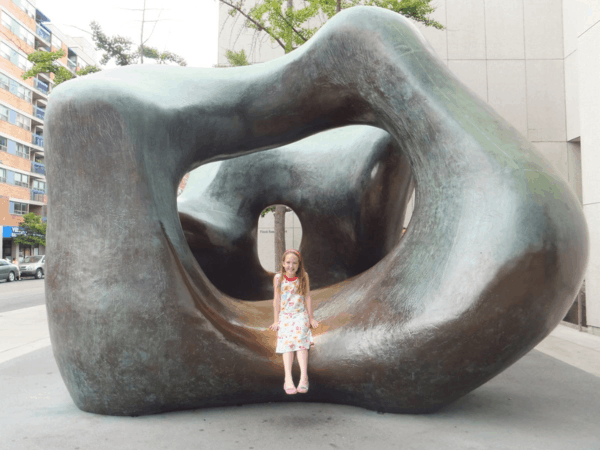 Outside the AGO (Art Gallery of Ontario)
4. Wear Comfortable Walking Shoes
Be sure to have your kids in comfortable walking shoes as a lot of ground will be covered over a couple of hours in a large museum. The last thing you want is to have the museum visit derailed because someone's feet are hurting or, worse yet, blistered.
5. Narrow Your Focus
The larger the museum's collection the more important it is going to be to focus on two or three exhibits. Try to do otherwise and the kids are likely to become overwhelmed and either lose interest or have a meltdown. There is no point in trying to see as much as possible until everyone drops – this is supposed to be fun not an endurance contest. Determine which exhibits the kids are most interested in and head there first in order to reduce the risk of disappointment if the visit has to be cut short.
The Louvre in Paris is one of the world's largest museums and apparently it would take an estimated nine months to see everything in the collection. I knew that I would have a disaster on my hands if we wandered aimlessly or tried to see too much here so we formulated a plan ahead of time. We decided that our priorities were to see the Mona Lisa, the Venus de Milo and the Napoleonic Apartments (Emma had seen a photo of a bedroom in The Pocket Louvre that she wanted to see). Once we had seen those we wandered through a few more interesting galleries and then called it a day.
6. Be Flexible
Be prepared to abandon Plan A for Plan B if you sense mutiny among the troops. Sometimes things just don't go according to plan – the exhibit might not be as interesting as it appeared it would be, crowds may be overwhelming, or someone may just be in a contrary mood.
We visited The Hermitage in St. Petersburg, Russia at the height of the summer tourist season and it was as crowded as I have ever seen a museum. It was so bad that my husband had to carry a 6 year old Emma because I was afraid that she was going to get stepped on. There are a number of very important works of art in this museum that all the guides show their clients and ours dutifully tried to do the same. The problem was that there were so many large groups of visitors that one had to queue in order to see each painting.
This wasn't working for any of us. I couldn't enjoy the paintings with this hurry up and look atmosphere and Emma was getting grumpy about getting jostled by the crowd. At that point I suggested to our guide that we find a less crowded part of the museum. Off we went to a wing with impressionist paintings and the mood did a 360 – we were able to spend another hour or so at the museum and then left while everyone was still happy. We may have missed seeing some very important works of art but it simply wasn't worth making everyone miserable in order to see them.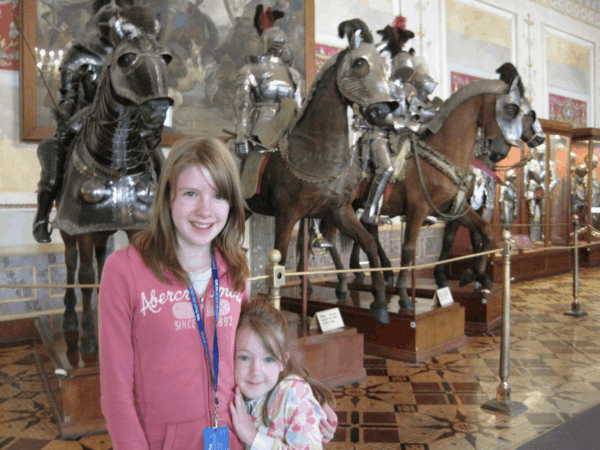 At The Hermitage in St. Petersburg, Russia
7. Limit Time
Don't plan on spending a full day in a museum or the entire family is likely to end up exhausted and grumpy. An hour or too will be more than enough with younger kids and even older kids and many adults start to lose interest beyond half a day. It's a good idea to research whether a museum has any days or times when admission is free so that a short visit doesn't feel like a waste of money.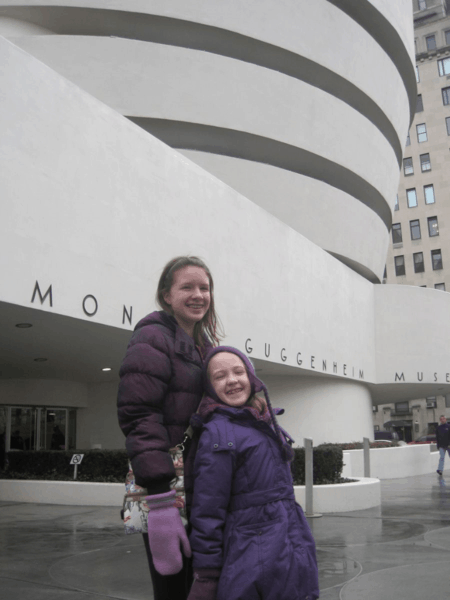 Outside the Guggenheim in New York City
8. Plan Fun Activities
Planning activities for the museum can increase the fun factor for younger family members. A popular option is to plan a scavenger hunt by either printing out some photos at home prior to the visit or selecting postcards in the gift shop upon arrival and have the kids search for the works of art. Another option is to pick a theme or a common object and count how many times it appears in paintings. Kids who like to draw may also enjoy sitting with paper and crayons/coloured pencils and sketching their favourite works. Some museums now have programs for kids as well but generally require pre-registration so families wishing to attend should plan ahead.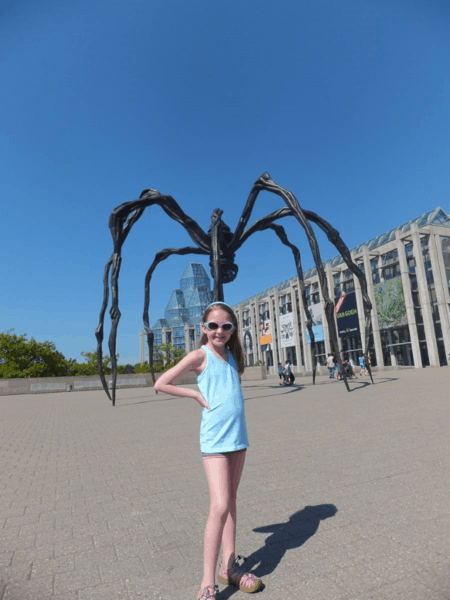 Outside the National Gallery of Canada
9. Take a Snack Break
If you have kids who need to snack often or just need a few minutes of downtime every so often then plan to have a break or two to keep everyone back on track. Most museums have small cafés where snacks and drinks can be purchased or parents can come prepared with their own. Browsing the gallery's gift shop can also work as a break from viewing the art as most now have sections dedicated to merchandise for kids. We generally use a trip to the gift shop and the purchase of a small souvenir as a reward for good behaviour at the end of the visit though.
I have always enjoyed art museums and wanted my children to enjoy them as well so we started visiting galleries when our daughters were quite young. These tips for a successful outing to an art museum summarize what I have learned through trial and error over the years. The most important thing to remember is that the goal is to leave with kids who are happy and who have had an enjoyable visit so that they will be excited the next time that a trip to the museum is planned.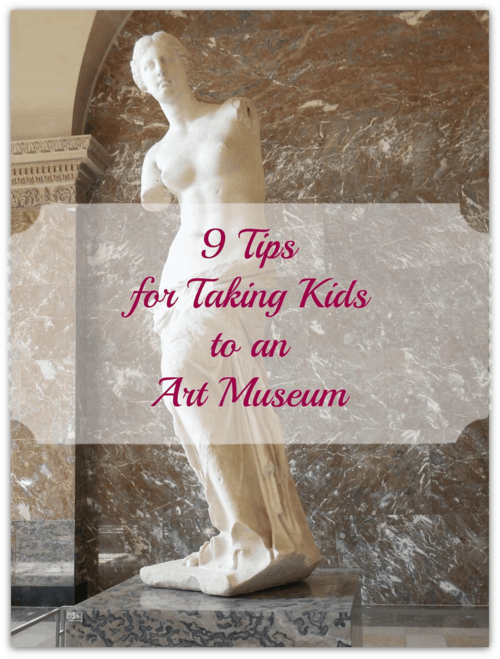 Related Links
Touring The Vatican With Context Travel
A Whirlwind Visit to Musée Rodin