A brief but lovely visit to Musée Rodin in Paris with kids.
My first trip to Paris was for three days at the end of our honeymoon and when we arrived in the city the museums were all closed as the workers were on strike. I was very disappointed but, fortunately, the strike ended on the morning of our last day and we at least managed to see both the Louvre and the Musée d'Orsay on that one day. 
As a result of that experience, I knew when I first started planning for our spring break family trip to Paris that I wanted to visit both of those museums as well as a couple of more that we hadn't had the opportunity to see on the previous visit.
As I started to read and conduct research for our trip, I began to assemble a list of things that we might like to do and museums that we might like to visit. Prior to starting the research, I hadn't heard of the Musée Rodin, however, after reading about it I added it to the list of possible museums to visit. Then I watched the movie Midnight in Paris, a small part of which takes place in the gardens of the musée, and I was smitten. Musée Rodin moved up on my list to become one of my must-see attractions in Paris.
Our days in Paris were quite busy so the hardest task was figuring out how to fit in everything that we wanted to do. We planned to visit Musée Rodin at the end of an already heavily-scheduled day about half-way through our 9 day visit. We started the day with a train trip to Versailles to see the château and gardens (this was another site that had been closed on my first visit to Paris). Following a self-guided tour of Versailles we caught the train back to Paris and hopped on one of the Bateaux Mouches for a boat tour of the Seine. After the cruise we started walking back toward Saint-Germain-des-Près planning to visit Musée Rodin prior to dinner.
We knew that our time was getting short but we were still hoping to visit the museum as we were starting to run out of days that we would be able to fit it into the itinerary. We arrived at the musée to discover that it was set to close in about 20 minutes but opted to tour the gardens anyway. Only the gardens were open as the interior of the museum (the Hôtel Biron) was undergoing a renovation and it costs only 1 Euro to visit the gardens so there wasn't really any downside to trying to see as much as possible in a short period of time.
The Musée Rodin contains the largest collection of the work of Auguste Rodin at two sites – this location in Paris and in Meudon at the site of his former home. The museum was created in 1916 as a consequence of the artist's donation of his works to the French state and was opened in 1919.
The gardens cover three hectares and are divided into a rose garden, an ornamental garden and a relaxation area. As we were there mid-March the gardens were in the process of being prepared for spring but it is quite easy to imagine just how stunning they are at their peak. There are two thematic walks that can be followed in the gardens – "Garden of Orpheus" and "Garden of Springs". With our time limitations, however, we just wandered through the gardens and tried to see as much as possible in a short period of time.
Rodin chose the sculptures to be displayed in the gardens himself and, along with his works, he included some antique sculptures from his personal collection. Some of the sculptures we were already familiar with and some were new to us, however, they are all stunning works of art. I regret that we didn't have more time to spend at the musée as it would have been quite useful to have used an audio-guide to learn more about the sculptures. 
Rodin's most famous sculpture, The Thinker, is displayed in the garden, however, it was in the process of being cleaned so it was impossible to get a photo without the scaffolding intruding. Emma was a bit annoyed as this was the one Rodin sculpture that she was already familiar with and she felt that the metal scaffolding was ruining her picture. Due to exposure to weather and pollution, the sculptures all have to be cleaned regularly and treated so that they retain their original patina, however, The Thinker appeared to be the only sculpture having work done while we were there.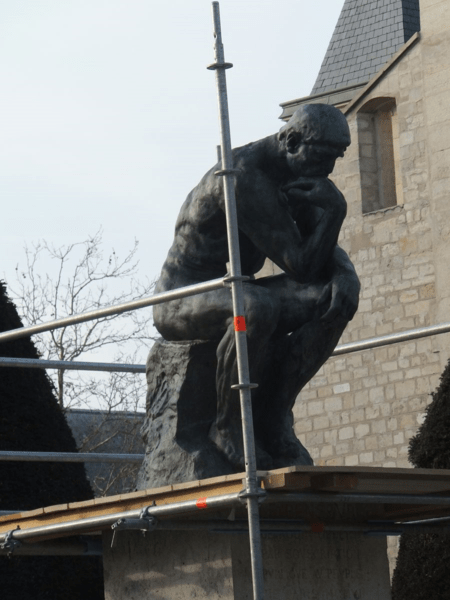 The Thinker – under restoration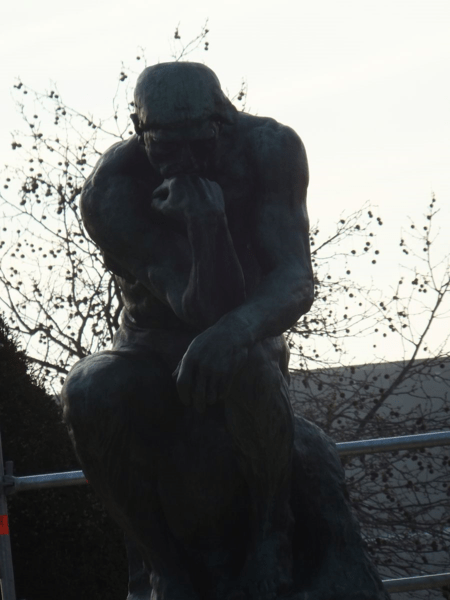 From another angle – trying for a shot without scaffolding
We strolled the gardens for more than half an hour, admiring the sculptures and taking photos with a number of other late-arriving visitors and museum staff didn't seem to be in any great hurry to ask us to leave.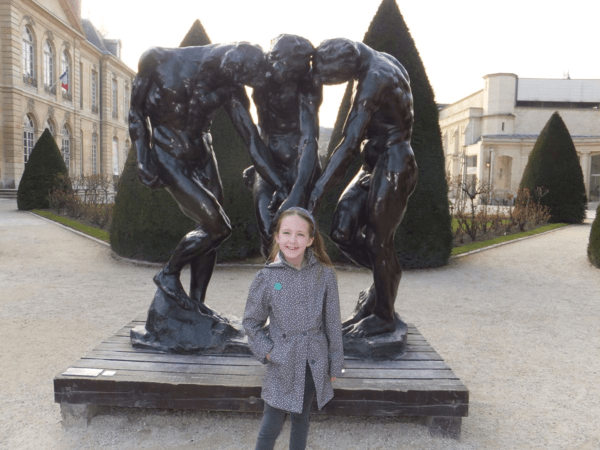 Emma in front of The Three Shades at Musée Rodin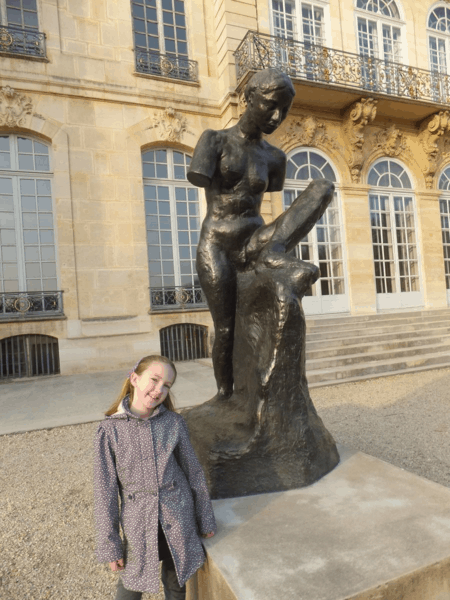 Monument to James McNeil Whistler
Emma did finally get her unobstructed shot of The Thinker – in the gift shop on the way out.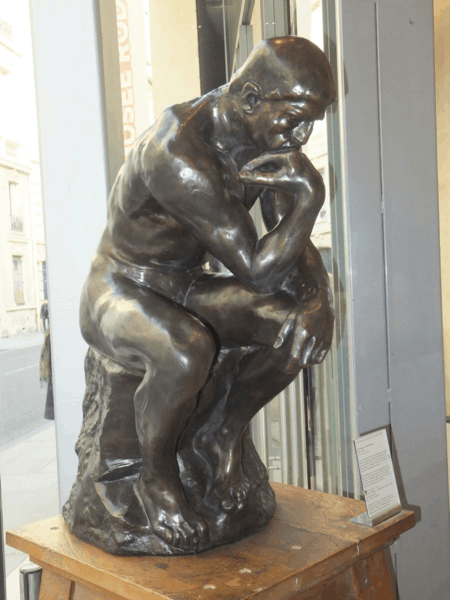 The Thinker – in the gift shop
What You Need To Know
The Musée Rodin is located at 79, rue de Varenne, 75007 Paris and is accessible by metro
Open daily (except Mondays) from 10am – 5:45pm (Last tickets sold at 5:15pm).  Closed January 1, May 1 and December 25.
The full admission rate for access to the Permanent Collections is 6 Euro.  The Family Rate is 10 Euro.  Children under the age of 18 are admitted free of charge as are 18-25 year olds from European Union countries.  Admission is free to all on the first Sunday of each month.  The admission fee for entrance to the gardens only is 1 Euro. 
Tickets may be purchased online or at the museum.
Audio-guides are available for a fee including a guide that is designed specifically for families with children.
Related Links
Paris with Kids? Mais, Bien Sûr!
Enjoying a Spring Day in Paris' Jardin des Tuileries
Le Prince Régent Résidence & Spa
9 Tips For Visiting an Art Museum With Kids

Cruising the Seine: A Photo Essay
Visiting the Palace of Versailles with Kids
Love Locks on a Parisian Bridge
A D-Day Tour of Normandy with Kids
This article may contain affiliate links which help support this site at no additional cost to you.
Have you liked our Facebook page yet? I post articles from the blog there as well as photo albums from our travels and other travel news. Or, if you prefer, you can subscribe to the free RSS feed or sign up for an email subscription to keep up-to-date on our travel adventures.
Pin this for later