Le Prince Régent Résidence & Spa is ideally located for exploring Paris and the spacious suites provide families with apartment-style accommodations without sacrificing hotel amenities.
On a recent visit to Paris we stayed at Le Prince Régent Résidence & Spa located at 28 rue Monsieur Le Prince in the 6th arrondissement near Luxembourg Gardens, the Pantheon, and the Sorbonne.  Le Prince  is located in an 18th century building which has been restored as an apartment/hotel. (Read reviews of Le Prince Régent on TripAdvisor)

This article may contain affiliate links. If you click an affiliate link and make a purchase then Gone with the Family may receive a small commission at no additional cost to you.
This Latin Quarter/St. Germain-des-Près neighbourhood is perfectly located for sightseeing in Paris.  We were delighted with the neighbourhood as we were able to walk to nearly all of the attractions that we wanted to visit, métro and RER stops were close by and there were numerous cafés all in close proximity to the hotel.
We arrived at the hotel in the morning after an overnight flight and the friendly staff member working in the reception area held our luggage for us so that we could go for a walk while waiting for our suite to be prepared.  The small office/reception area inside the front door is staffed each day from 7am – midnight.  The front doors are locked after midnight and guests need to use their electronic room key in order to gain entrance to the building.  All the staff members who we encountered were friendly and helpful and switched quickly to English if we were having trouble communicating a request in French.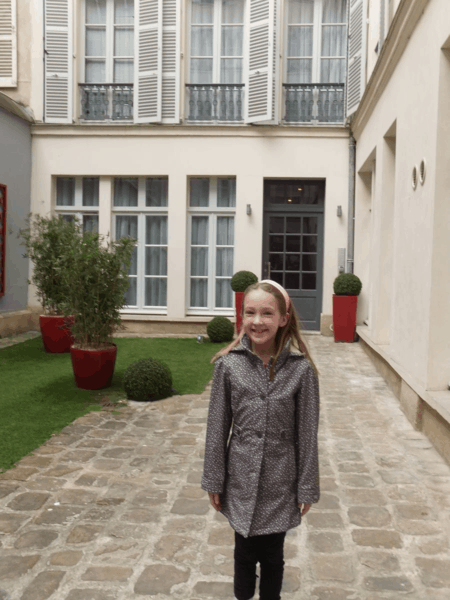 Emma in the inner courtyard at Le Prince Régent
We chose a two bedroom (three room) suite (called L'Élegant) at Le Prince Régent which was perfect for our family's needs.  We loved the set-up of the spacious suite which appeared to have been recently renovated. It was decorated in a contemporary style with gorgeous dark hardwood floors and simple yet stylish furnishings.  The suite consisted of a master bedroom facing the hotel's courtyard, a second bedroom with two twin beds, a kitchen, a large living/dining area, a full bath and a 1/2 bath located off the living area.
As our kids have grown older we have found that apartment-style accommodations work best for us.  Katie and Emma won't sleep together as Emma is a terribly restless sleeper so it's necessary for us to have 3 beds which is difficult to find in a typical hotel room.  It's also nice for my husband, Katie and me to be able to watch TV, surf the net, or read after Emma has gone to bed for the evening.  Mornings are also easier as Katie, who is 15 and not a morning person, can sleep in while the rest of us get up and get ready for the day.  While we stayed at Le Prince Régent, my husband would go out for a run in the morning while Emma and I slowly got organized for the day.  He would return with fresh croissants or baguettes from one of several neighbourhood boulangeries (as well as with my Starbucks latté) and we could have our breakfast while continuing to get ready to head out.  
The Master Bedroom in our suite overlooked the inner courtyard of the hotel and was furnished with a large bed that I would think was equivalent in size to a North American Queen or King as well as a dresser and two bedside tables.  Cupboard and closet space in the room was plentiful.  Each bedroom had a LCD flat screen TV in addition to the one that was located in the suite's living area.  A clock radio with an alarm came in handy when we had an early morning scheduled.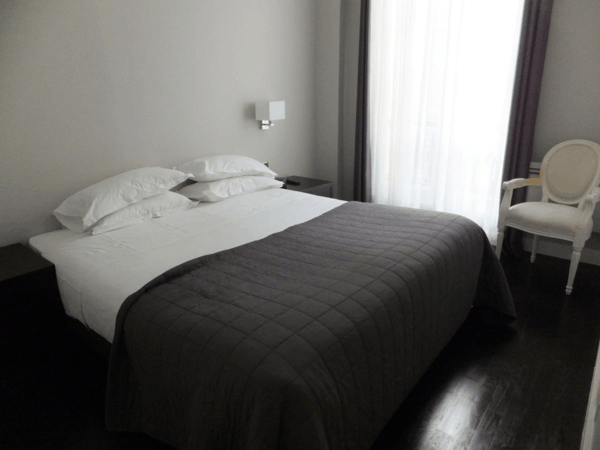 Master Bedroom at Le Prince Régent
The second bedroom, which Katie and Emma shared, had two twin beds and each had their own bedside table.  Their room was also furnished with a desk and a dresser.  The windows had sheer coverings as well as heavy drapes which kept out the light in the morning and ensured that Katie was able to sleep until I insisted that she needed to get up.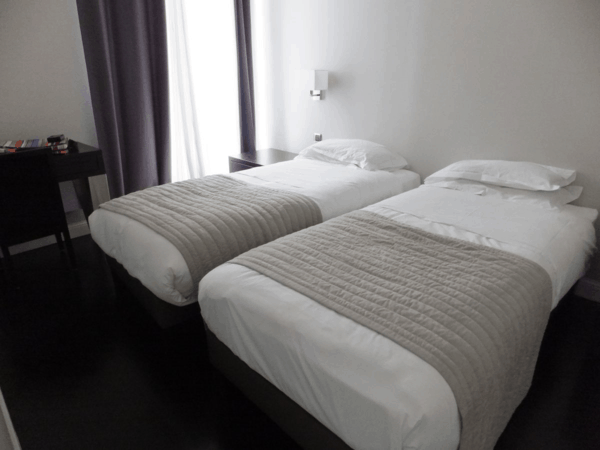 Second bedroom at Le Prince Régent
We didn't make extensive use of the kitchen but it was well-equipped and large enough that one could easily have prepared meals here.  The kitchen had a refrigerator/freezer; a dishwasher; a microwave; a small combination washer & dryer; a small bistro-style table with two chairs; and anything we could possibly have needed to prepare meals in the apartment. There was a continental breakfast available on the spa level each morning, however, we never made use of it.  We had our breakfast in the apartment each day, brought home takeaway dinners on two occasions and had evening snacks. During the day we ate on the go and, for the most part, we ate dinner out at neighbourhood restaurants.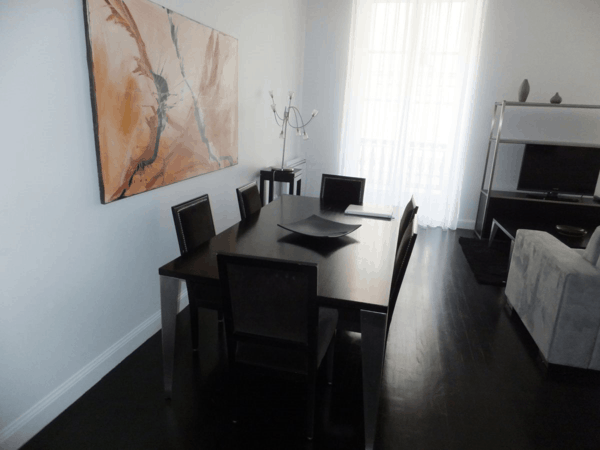 Dining area at Le Prince Régent
The living area was a very comfortable place to relax at the end of the day – so much so that Katie announced that she would really like to have the same sectional sofa in our basement at home for lounging around and watching television.  There was satellite television service, however,  the only English language channels were news stations.  This didn't bother Emma, however, as she watched French cartoons while we were there.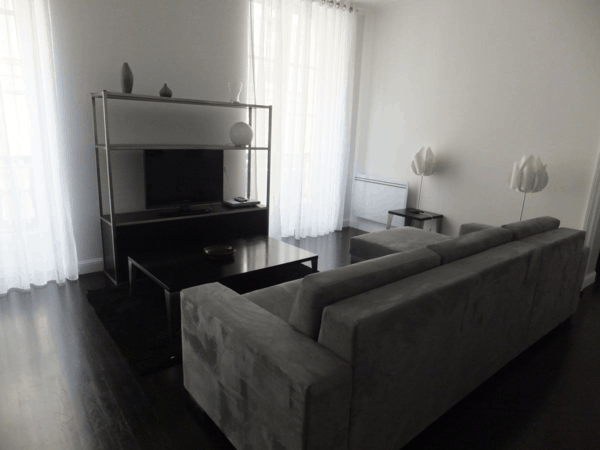 Living room at Le Prince Régent
The apartment contained a full bath (with the toilet in a separate room from the sink and shower) as well as a powder room (with a sink and toilet) in the front entrance.  As in most European accommodations, the shower consisted of a tub with a hand-held shower head.  This one was about 4 feet off the bottom of the tub which meant that Emma was the only one who could shower easily but these types of differences are just something that North Americans have to adjust to when traveling in Europe.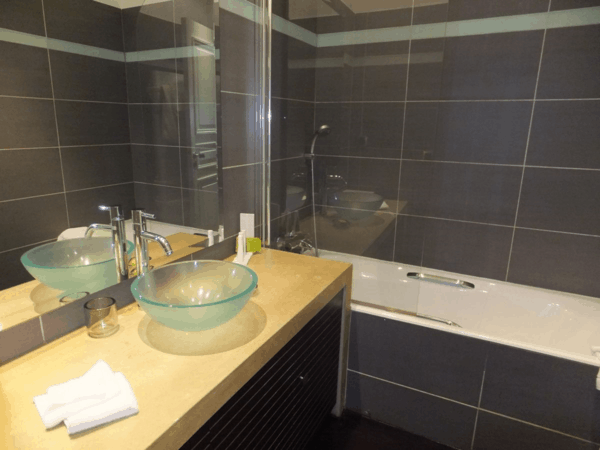 Main bathroom at le Prince Régent
The only negative thing that I have to say about our apartment is that noise from outside made it difficult to sleep in the bedroom facing the street.  There was a bar located directly opposite the front door of the hotel (and our suite) and the noise level was considerable every night of the week, primarily because groups of people congregated outside of the bar either waiting to get in or talking after they had left.  It was so loud that Katie chose to wear ear plugs in order to fall asleep.  We were, however, only on the 2nd floor (from a North American perspective) of the building and I'm fairly certain that if we had been on a higher floor that the noise wouldn't have been as noticeable.  We discussed the noise with staff and were informed that the glass in the windows is to be replaced as part of the ongoing renovation project.  Another potential downside is that the pool in the spa cannot be used by anyone under the age of 16 under any circumstances.  This didn't become an issue for us because we avoided the area so that Emma wouldn't realize that there was a pool.  If she had discovered that there was a pool then she would have been very upset about the prohibition.
I wouldn't hesitate to recommend this property to others and would probably stay here on a future trip to Paris.  The location of the hotel is ideal – I can't imagine wanting to stay in any other neighbourhood in Paris.  We loved having the convenience of staying in a spacious apartment while still having the luxury of hotel services such as daily housekeeping and a front desk that was willing to help with any issues or arrangements.  Free WIFI is a very important amenity for us as well.  My husband and I both appreciate the service, however, Katie has been known to get absolutely miserable if she isn't able to check in on Facebook to see what her friends are up to at least once a day.  Any hotel that provides free WIFI and thus manages to keep the family peace gets a very big plus in my rating system.  And if you love sushi then this is definitely the hotel for you – much to the amusement of my children, we counted more than a dozen small Restaurants Japonais on our street.
What You Need To Know: 
The hotel is located at 28 rue Monsieur le Prince in the 6th arrondissement just a short walk from the Luxembourg Gardens.

Check-in: 3pm; Check-out: noon.

WIFI internet access is available free of charge.

Continental breakfast is available in the breakfast room on the spa level daily from 7am-10am.

There is a small elevator in the building although we never used it as it was simple enough to take the stairs to our 2nd floor suite.

There is daily housekeeping included in the room prices, however, this doesn't include cleaning the kitchen – it can be cleaned daily for an extra fee.

Non-smoking rooms are available on request.

Extra beds are available in 2 or 3 bedroom apartments for a charge of 50 Euros.

The spa/pool is for the exclusive use of guests aged 16 and over.  The Spa is open Tuesday – Sunday from 10am – 8pm.  Hotel guests aged 16 and over have access to the spa each day from 10am-2pm without an appointment.  After 2pm an appointment is necessary.

There were three Starbucks within walking distance of the hotel (for those of you who, like me, need their morning fix).
Related Links
Paris With Kids? Mais Bien Sûr!
Enjoying a Spring Day in Paris' Jardin des Tuileries 
Cruising on the Seine: A Photo Essay

Visiting the Palace of Versailles with Kids
A Whirlwind Visit to Musée Rodin
Love Locks on a Parisian Bridge
Eyewitness Travel's Family Guide Paris
A D-Day Tour of Normandy with Kids
Have you liked our Facebook page yet? I post articles from the blog there as well as photo albums from our travels and other travel news. Or, if you prefer, you can subscribe to the free RSS feed or sign up for an email subscription to keep up-to-date on our travel adventures.