Planning a trip to Kingston, Ontario? Here's our list of the 21 best things to do in Kingston whether you are visiting for a few days or just a weekend getaway.
The city of Kingston was historically of strategic importance due to its location where the St. Lawrence River meets Lake Ontario and the Rideau Canal (a UNESCO World Heritage Site). It was also the first capital of a united Canada and home to the first Canadian Prime Minister, Sir John A. Macdonald. Today visitors to the "Limestone City" can enjoy a range of cultural and historic attractions, outdoor activities, festivals, great food and shopping in a vibrant 21st century community.
My teen daughter and I visited Kingston this summer for a university tour and decided to stay for two nights and fit in as much sightseeing as we possibly could while we were there. I attended Queen's University in the early '90s but had only returned twice since so I was excited for an opportunity to explore the city again.
Our list of favourites includes top Kingston attractions plus tips on what to eat and where to stay and should help you plan what to do in Kingston on your visit.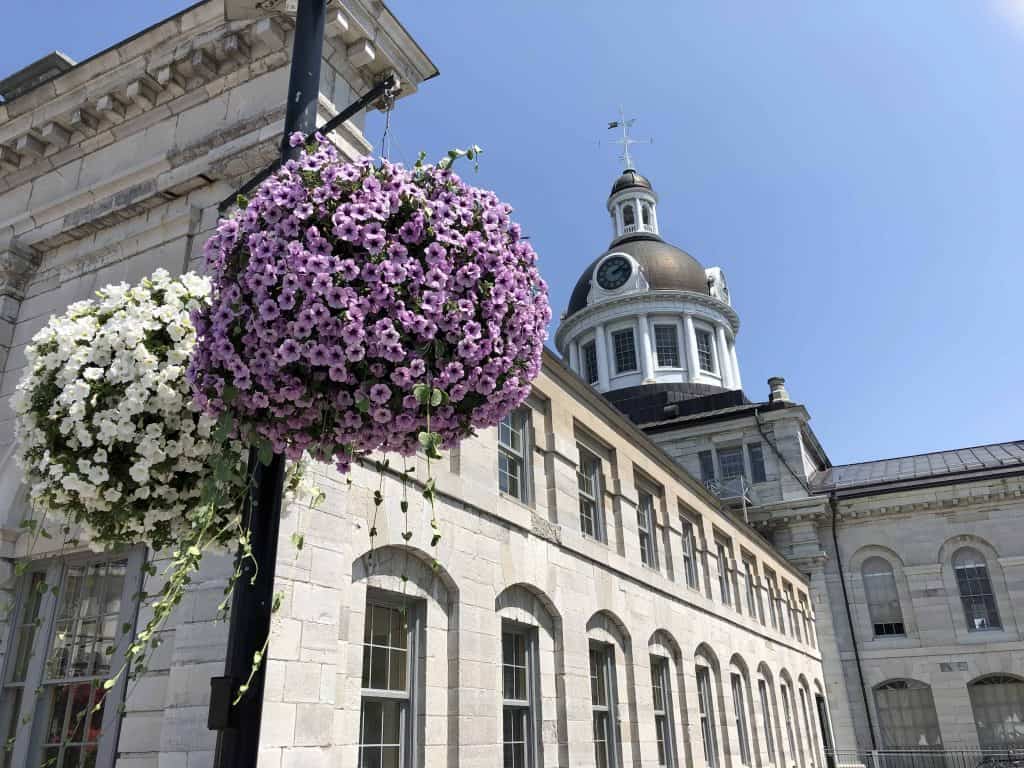 This post may contain affiliate links. If you click an affiliate link and make a purchase then Gone with the Family will receive a small commission at no additional cost to you.
Getting to Kingston
Kingston is located along the shores of Lake Ontario in Eastern Ontario about midway between Toronto, Ontario and Montreal, Quebec. The driving time from our home west of Toronto to Kingston is generally around three hours, however, I decided that it would be less stressful to take the train. A VIA Rail train from Toronto Union Station to Kingston takes 2-2.5 hours, is comfortable and includes free WIFI so it was the best choice for us!
1. Take a Walk Along the Waterfront
Whether you are a first-time or return visitor to Kingston, you will enjoy spending time on the city's beautiful waterfront. When I was a student in Kingston, this was my favourite place in the city. Sitting by the lake was the perfect escape whenever school became too intense.
It's fun to wander the downtown area along the waterfront and check out any events taking place in Confederation Park. If you prefer a longer stroll, then you will enjoy the Waterfront Pathway – an 8km marked public trail that extends from downtown along the Lake Ontario waterfront with a number of interesting sites to see and visit en route. It would take approximately 2 hours to complete the entire trail at an average walking speed without accounting for stops.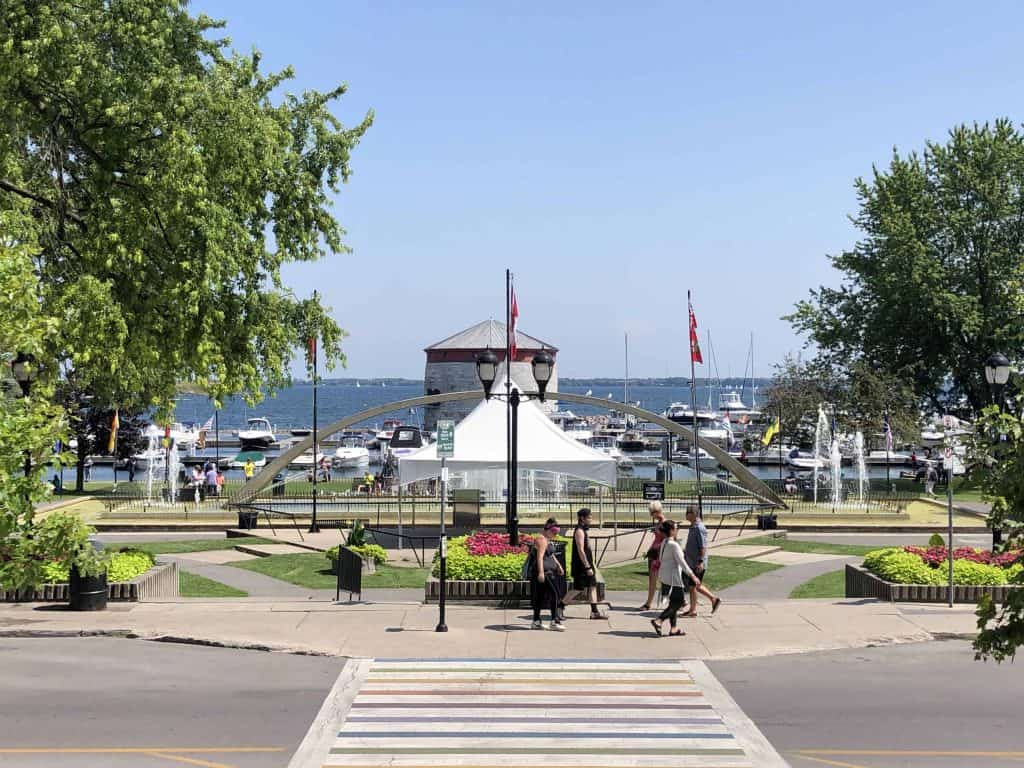 2. Enjoy Music in the Park
If you are visiting Kingston from mid-June until September then you can enjoy Music in the Park – a free outdoor concert series that features many different genres of music. Since Confederation Park was only steps from our hotel, we were able to enjoy both a lunch-time and an evening concert during our short stay. Check the Downtown Kingston website for a schedule prior to your visit.
Located on Ontario Street at Brock, Kingston
3. Movies in the Square
Another fun event that was taking place while we were visiting Kingston this summer was Movies in the Square. Springer Market Square (behind City Hall) is transformed into an outdoor movie theatre by projecting films onto an inflatable screen. The movies begin at dusk most Thursdays in the summer and are completely free – just bring your own chair! The schedule for movies can also be found on the Downtown Kingston website.
Located at 216 Ontario Street, Kingston
4. Tour Kingston City Hall
I lived in Kingston for three years, visited twice since and had not yet taken a tour of historic Kingston City Hall so it was top of my list this summer. Kingston's landmark neo-classical City Hall, designed by architect George Browne and completed in 1844, is a National Historic Site.
Free guided tours are available during the summer months (from mid-May to Mid-October) and free self-guided tours year-round. Guided tours include the former police station and the Victoria Dome whereas self-guided tours include only the first and second floors. A highlight of the tours is Memorial Hall's 12 stunning stained glass windows commemorating battles in which Canadians fought.
Kingston City Hall is located at 216 Ontario Street.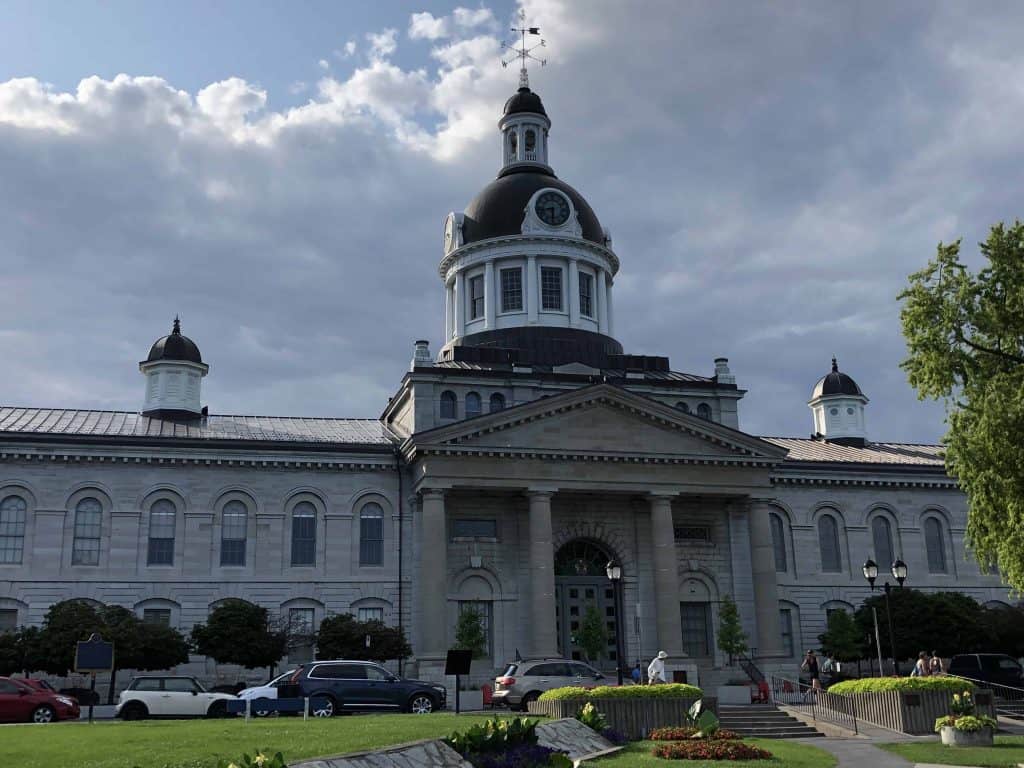 5. Visit Martello Alley
Inspired by La Rue de Tresor in Quebec City, Martello Alley is a whimsical collective of local artists located in one of downtown Kingston's historic alleyways. Original works of art and prints decorate the walls of the alleyway and courtyard and the artists are often there to chat with visitors.
Martello Alley is located on Wellington Street off of Princess Street (and just around the corner from Starbucks). Martello Alley has become so popular that there is now a second location Martello on Brock and online shopping is available on their website.
Located at 203 B Wellington Street, Kingston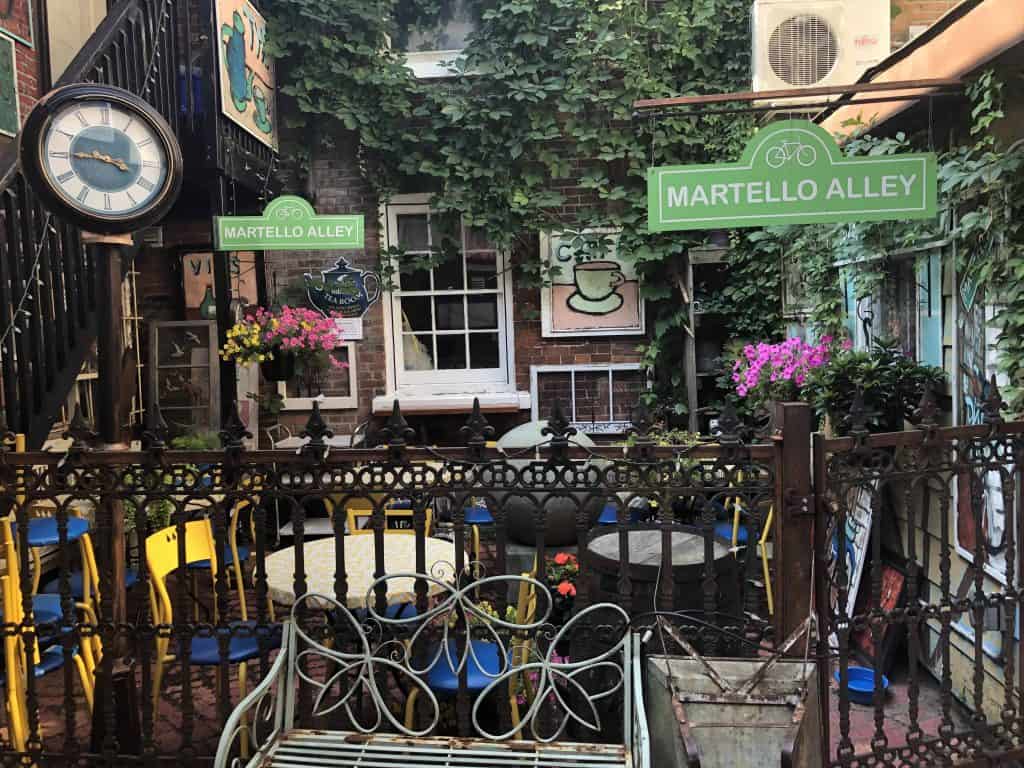 6. Shop on Princess Street
If you enjoy shopping on your travels then you will want to allot some time to shopping on Kingston's main retail street – Princess Street. From boutiques to brands – there's something to appeal to everyone on Princess Street!
7. Walk Through Rochleau Court
Rochleau Court, a historic carriageway off Princess Street, is another of Kingston's interesting little alleyways that you must see. We first walked through in the evening on a Haunted Walk tour (the alleyway is said to be haunted by the ghost of Theresa Beam) when the court is a bit spooky but it's quite charming in the light of day. The court is also home to popular restaurants Chez Piggy and The Toucan.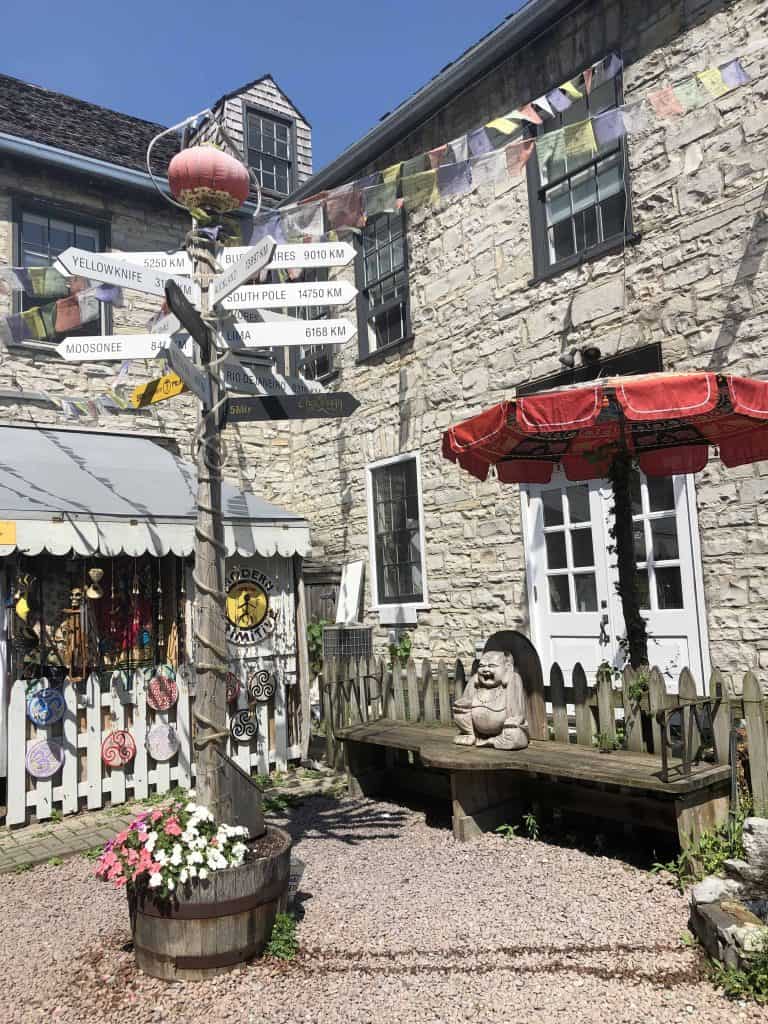 8. Relax on a 1000 Islands Cruise
If you're like me and believe that sightseeing from the water is always a good idea then you will want to take one of the Kingston 1000 Islands Cruises that depart from the waterfront.
There are both 90 minute and 3 hour cruises that leave from Kingston on three types of vessels – a Bateau-Mouche style catamaran, a triple-decked paddlewheeler and a replica St. Lawrence steamer. There are also options for dining and sunset cruises as well as themed cruises at various times of the year.
If you wish to visit Boldt Castle, however, then you will have to head to Gananoque (34km east of Kingston) for a Gananoque Boat Line five hour cruise that includes a two hour stop at Boldt Castle. (Boldt Castle is in the U.S. so be sure to bring your passport if this cruise is in your plans.)
Boarding pier for Kingston 100 Islands Cruises is located in downtown Kingston at 1 Brock Street. Tickets may be purchased online or at the storefront location at 248 Ontario Street. Passengers should arrive 30 minutes prior to departure. Reservations are highly recommended. Included in K-Pass. Gananoque cruises leave from Gananoque Port, 280 Main Street, Gananonque.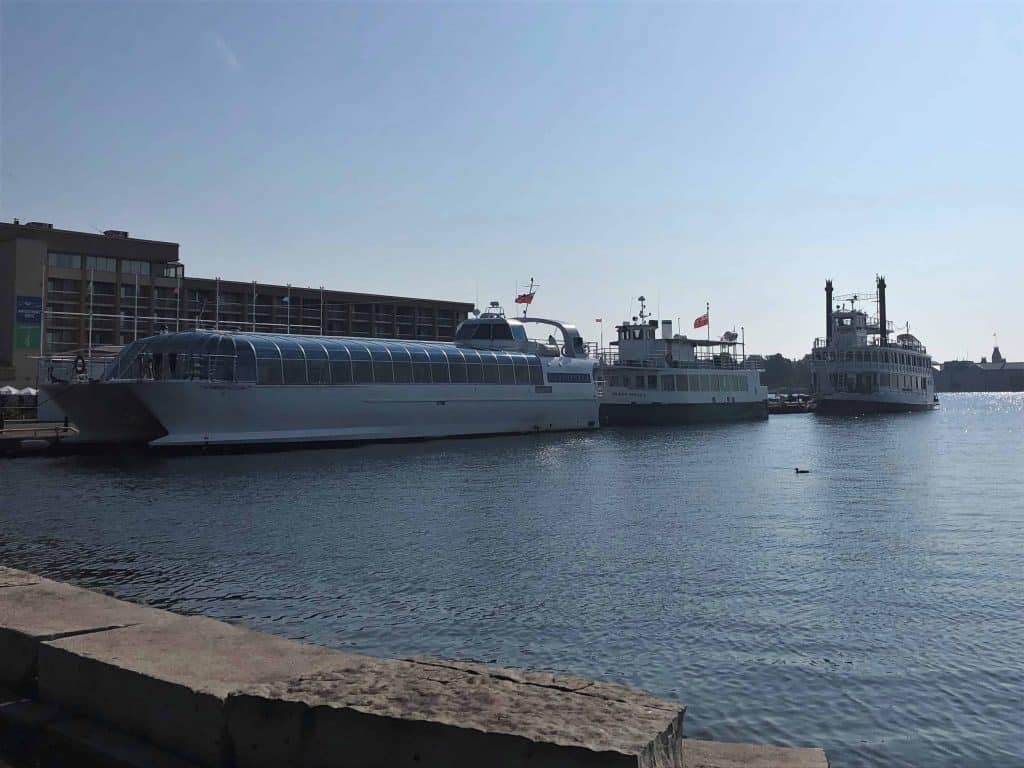 9. Take a Walking Tour
A walking tour is a great way to explore historic Kingston. We enjoyed the Original Haunted Walk of Kingston tour through Kingston's Old Sydenham Ward which features haunted hotels, hangings at the old courthouse and Rochelau Court, the city's famous haunted courtyard.
The 90 minute tour leaves from The Prince George Hotel on Ontario Street and is available from February – November. (This tour is rated 3/5 on the Spookiness Scale which was perfect for us! See the website for details on other tours available.)
The Visit Kingston website has a great round-up of available walking tours (either self-guided or with an experienced guide) including Kingston Food Tours which combines tastings at local restaurants with an informative tour led by a local guide.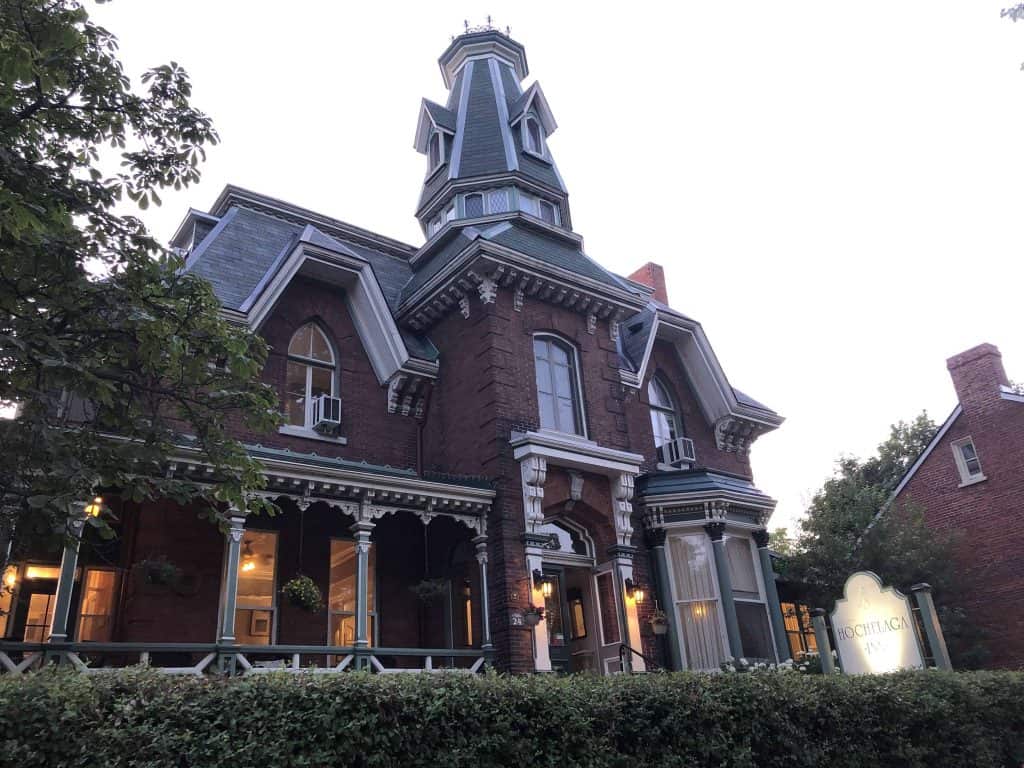 10. Get Around Town with Kingston Trolley Tours
A hop-on, hop-off tour can be a great way to get your bearings in an unfamiliar city, see the highlights and get from place to place efficiently. Since we were visiting Kingston without a car, our time was limited and the weather was hot and humid, we opted to buy passes for Kingston Trolley Tours which stops at all of the city's top attractions while providing informative commentary about the city and its history. If we had explored only on foot then we would not have made it to all of the attractions in the limited time we had available.
Trolleys follow a figure-8 route every 30 minutes with stops at City Hall, Fort Henry, Springer Market Square, Pumphouse Museum, Bellevue House, Canada's Penitentiary Museum, Queen's University, and the Entertainment and Retail District. A trolley tour is included in Kingston's all-inclusive attractions pass – K-Pass.
Hop on, hop off tours run daily every 30 minutes from 9:30am – 4:30pm May – October departing from the Kingston Visitor Information Centre at 209 Ontario Street. 24 hour, 48 hour and 72 hour passes are available. 2019 pricing starts at $32 adult and $21 child. Included in K-Pass.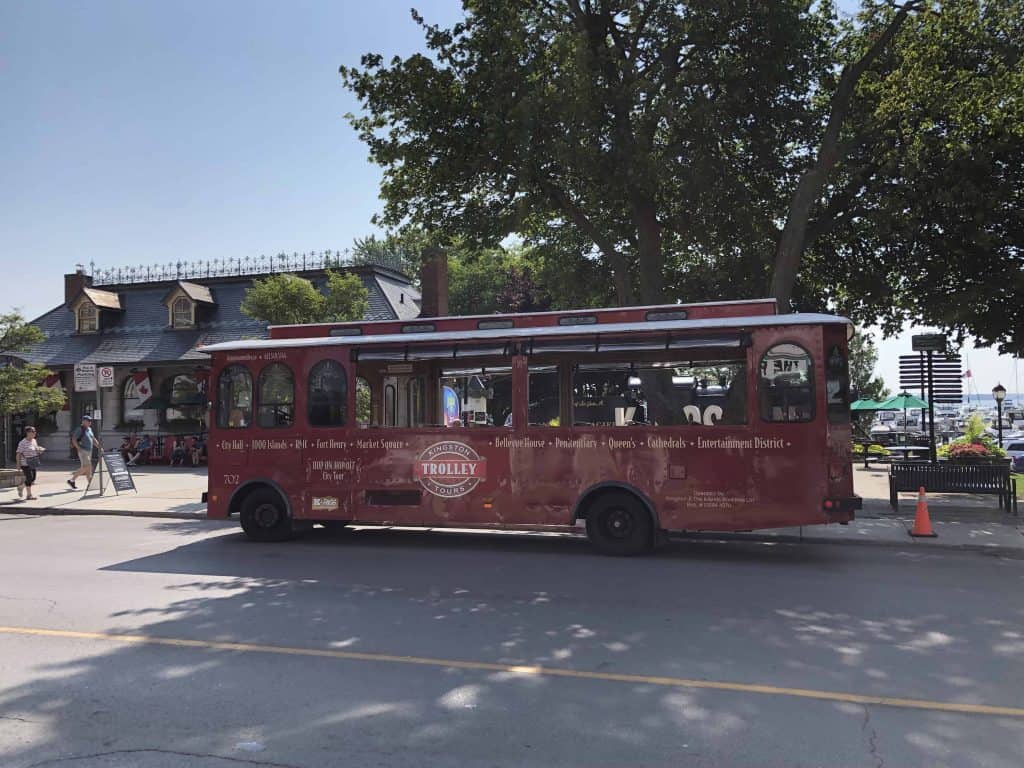 11. Photo Op at the Visitor Information Centre
If you're stopping by the Kingston Visitor Information Centre in Confederation Park then be sure to take advantage of photo opportunities with the Spirit of Sir John A. engine and the Kingston sign.
The Spirit of Sir John A. has been on this site for more than 40 years as a reminder that the park was once a train yard and the Visitor Information Centre the railway station. The Kingston sign is a more recent installation as these signs have become ubiquitous photo ops around the world but this one has a bit of a twist – you have to be the 'I' in Kingston.
The Visitor Information Centre is located at 209 Ontario Street. Open daily year-round with the exception of December 25, December 26 and January 1. Hours vary.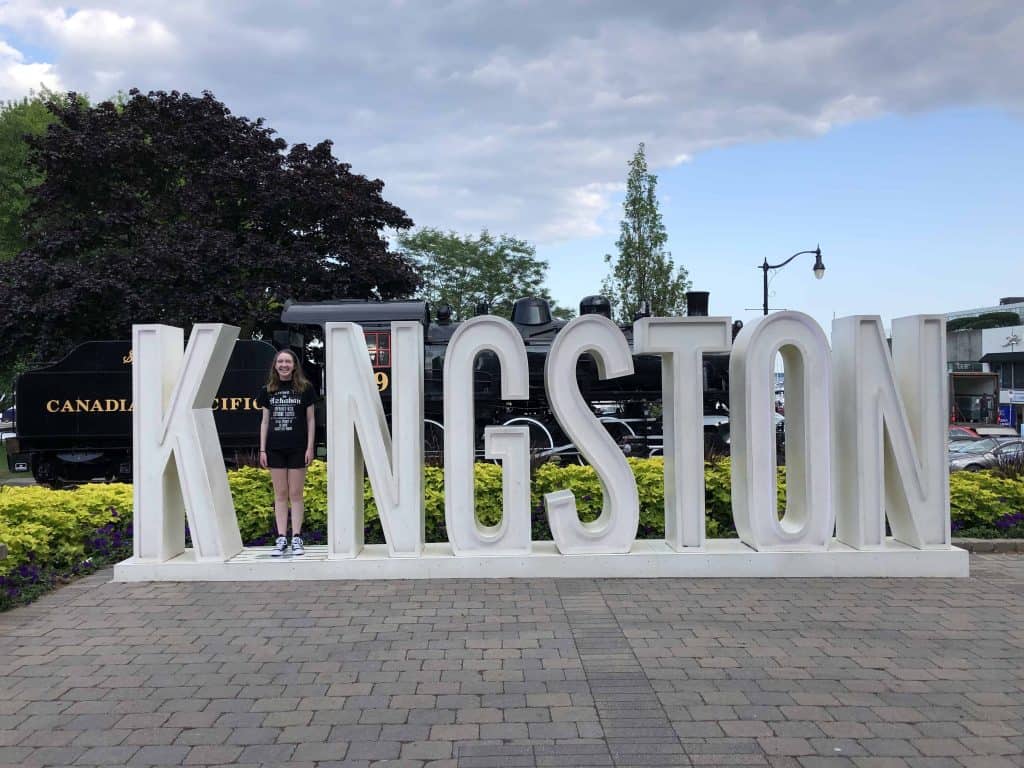 12. Shop at the Kingston Public Market
The Kingston Public Market, behind City Hall, is the oldest market in Ontario as it has been operating in Kingston's historic downtown since 1801. An interesting historical tidbit is that the proclamation of Confederation and formation of the Dominion of Canada took place here in Kingston's Market Square.
The market is open Tuesday, Thursday and Saturday from 9am – 6pm April through November and is a great option to shop for fresh produce and local handmade crafts.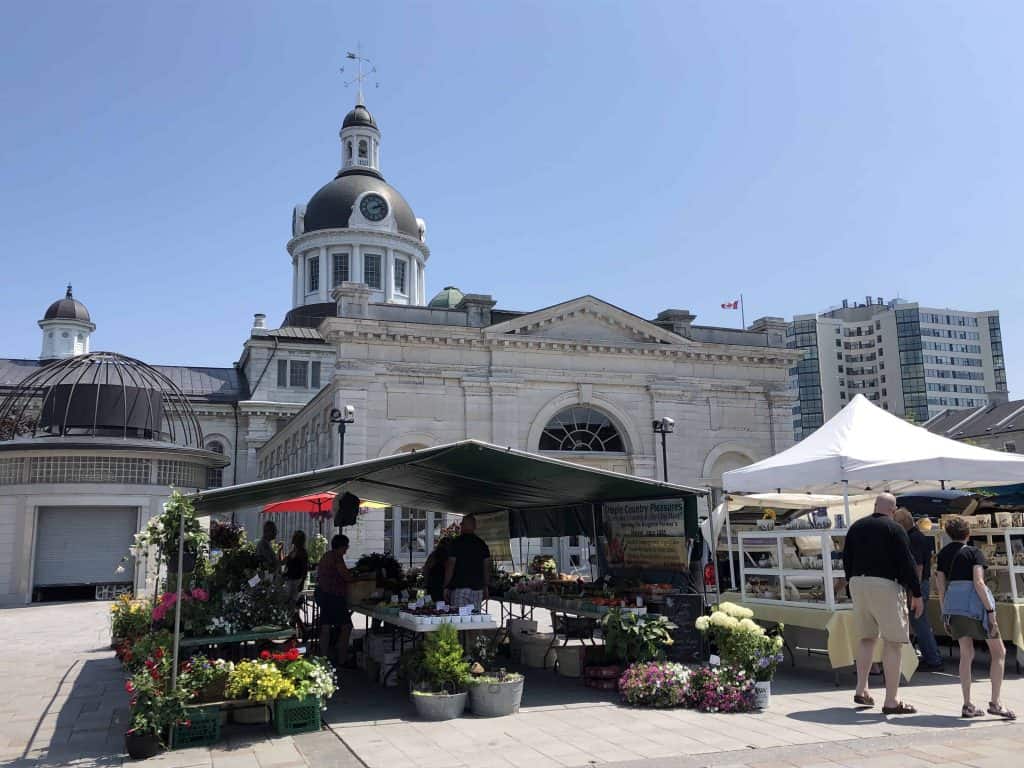 13. Tour Queen's University Campus
If you either are or have a prospective student then you will enjoy one of the official Queen's University campus tours – otherwise be sure to at least have a walk around the beautiful and historic campus. Campus maps can be downloaded from the Queen's website or you can stop by the Queen's Visitor Information Centre located at the Union Street entrance to the John Deutsch University Centre.
Emma and I went on one of the official tours of campus and university buildings to learn about the school and the program that she's interested in and later returned to walk around on our own and visit the Agnes Etherington Art Centre. I always enjoy a return visit to my alma mater to see how much has changed and what has remained the same since I graduated in 1992!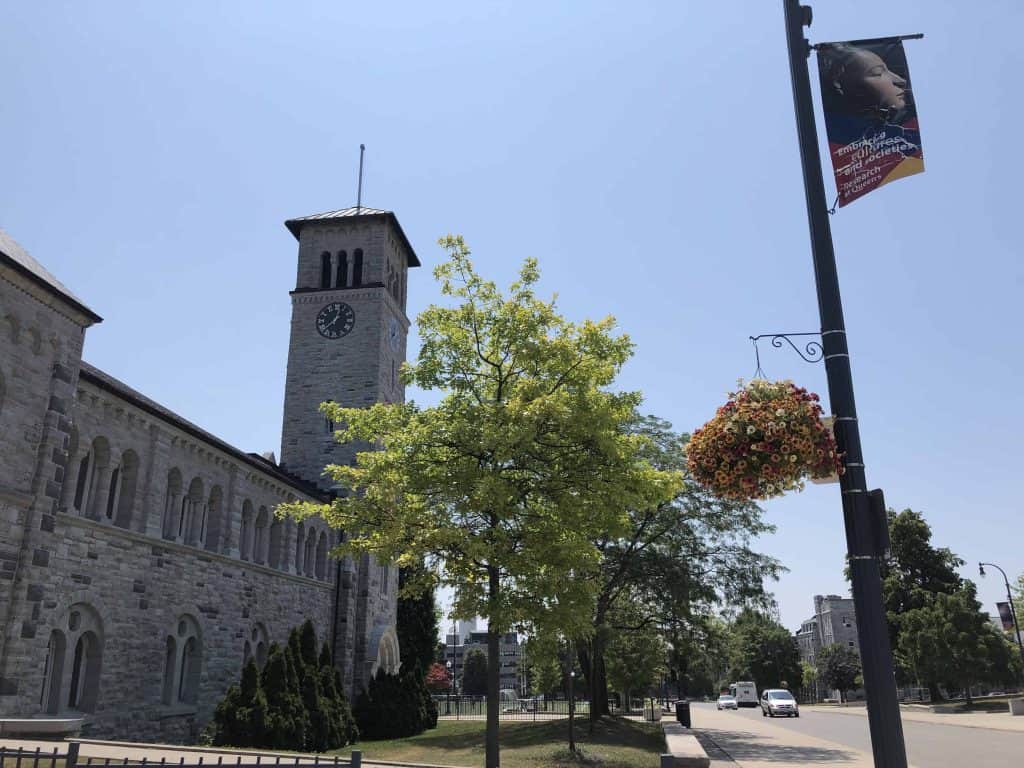 14. Visit Historic Bellevue House
Bellevue House National Historic Site, built in the 1840s in the style of an Italianate villa, was home to Sir John A. Macdonald, Canada's first Prime Minister, and his family from 1848-1849. Generally guided tours of the house led by costumed interpreters are available. Unfortunately, the house was closed for restoration during our visit so we only had access to the garden and the exhibits in the visitor centre.
Located at 35 Centre Street, Kingston. Open May – October. Bellevue House is a stop on the Kingston Trolley Tours route. Regular fees are $3.90 Adult and $3.40 Senior. Admission to Parks Canada places for youth 17 and under is free. Regular admission fees will not apply during the restoration.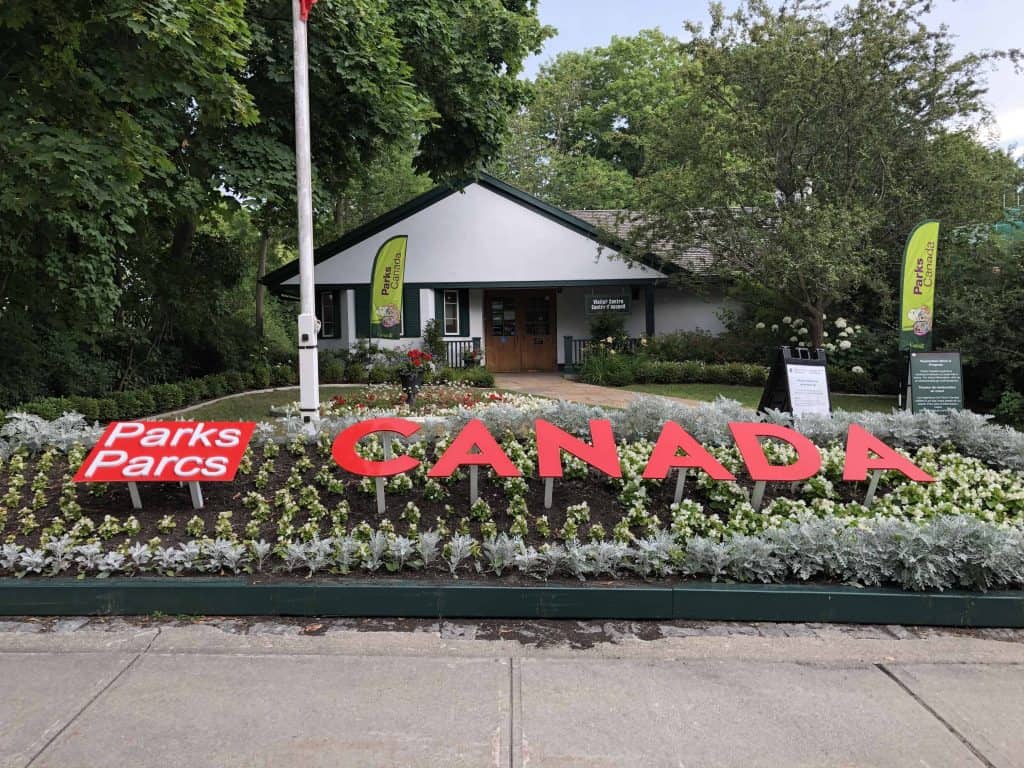 15. Take a Walk Around City Park
If you are interested in Sir John A. Macdonald then be sure to walk through City Park (approximately 10 minute walk from City Hall) and see the statue of him there at the corner of King and West Streets.
The park has a nice walking path, two playgrounds, a splash pad in the summer and two outdoor skating rinks in the winter. Nearby you will also find Frontenac County Courthouse – a domed limestone building with a large stone fountain out front – originally built in 1858 and rebuilt in 1874 after a fire.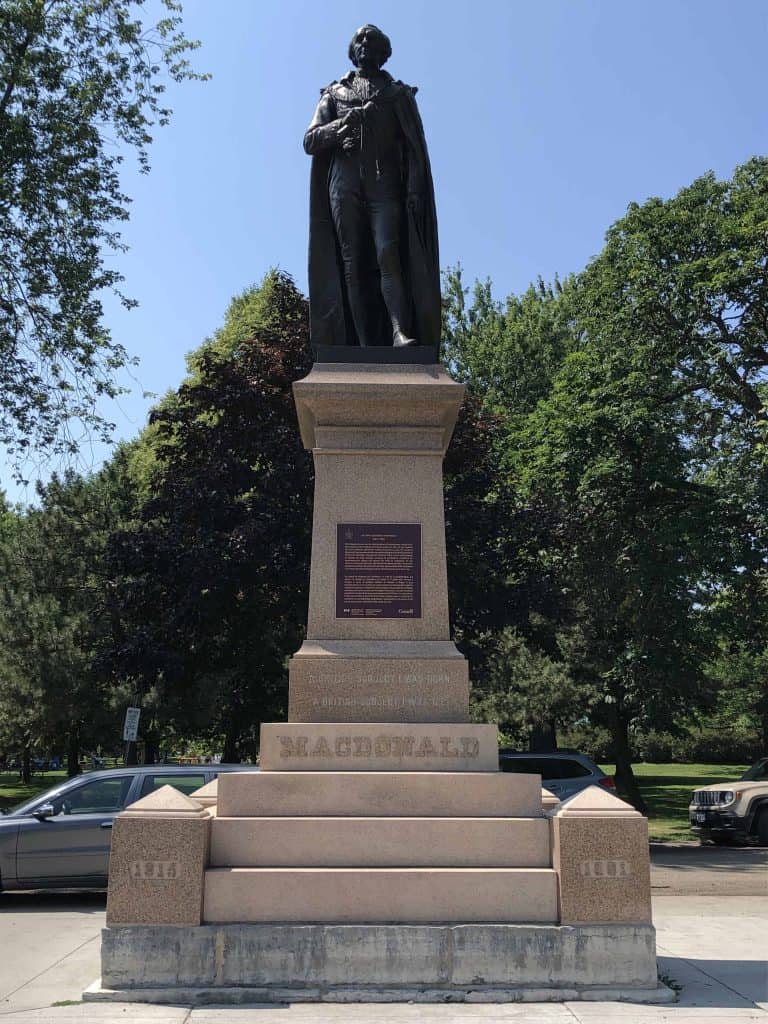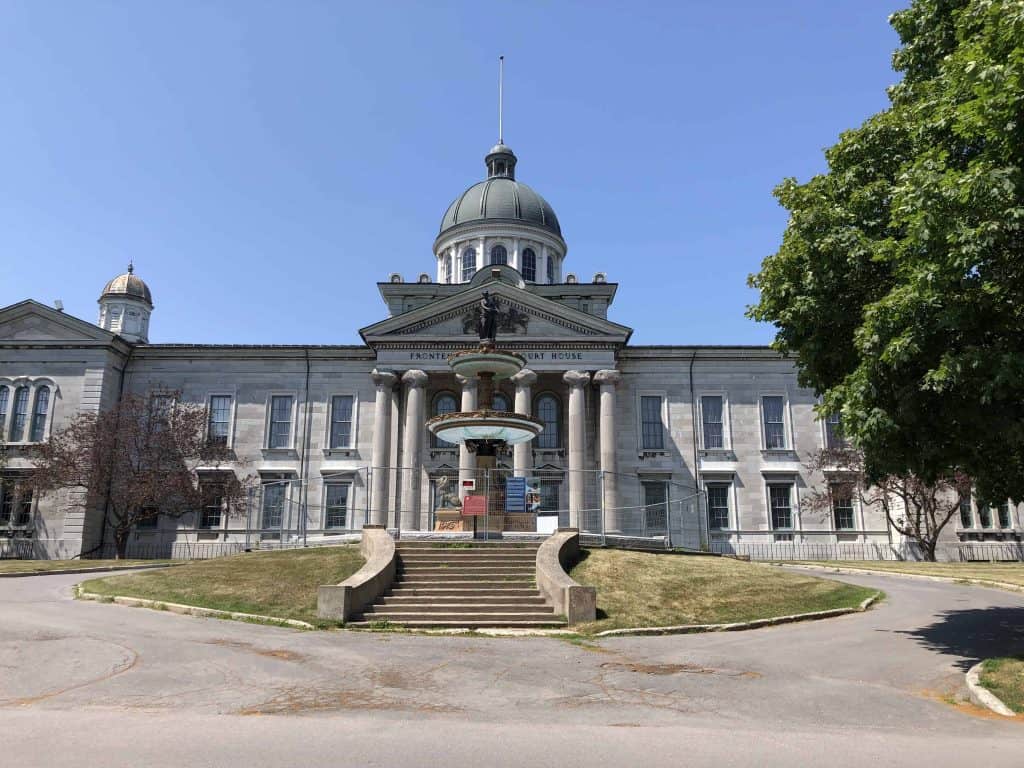 16. Visit Fort Henry National Historic Site
At Fort Henry National Historic Site (also a UNESCO World Heritage Site), you will have the opportunity to travel back in time with a tour of this 19th century British military fort. Visitors can take a guided tour or look around the fort on their own and enjoy the daily programming which includes flag raising and lowering, muster parades, cannon firing, musical performances and more.
During July and August, there is a special Sunset Ceremony on Wednesday evenings which includes precision drill movements, military music, and artillery firings and concludes with a spectacular fireworks display.
Located at 1 Fort Henry Drive. Open mid-May to mid-October with reduced hours in May and October. 2019 Admission prices: Adult $20; Seniors $20; Student (13-18) $16; Youth 5-12 $13; and Children 4 years and younger Free.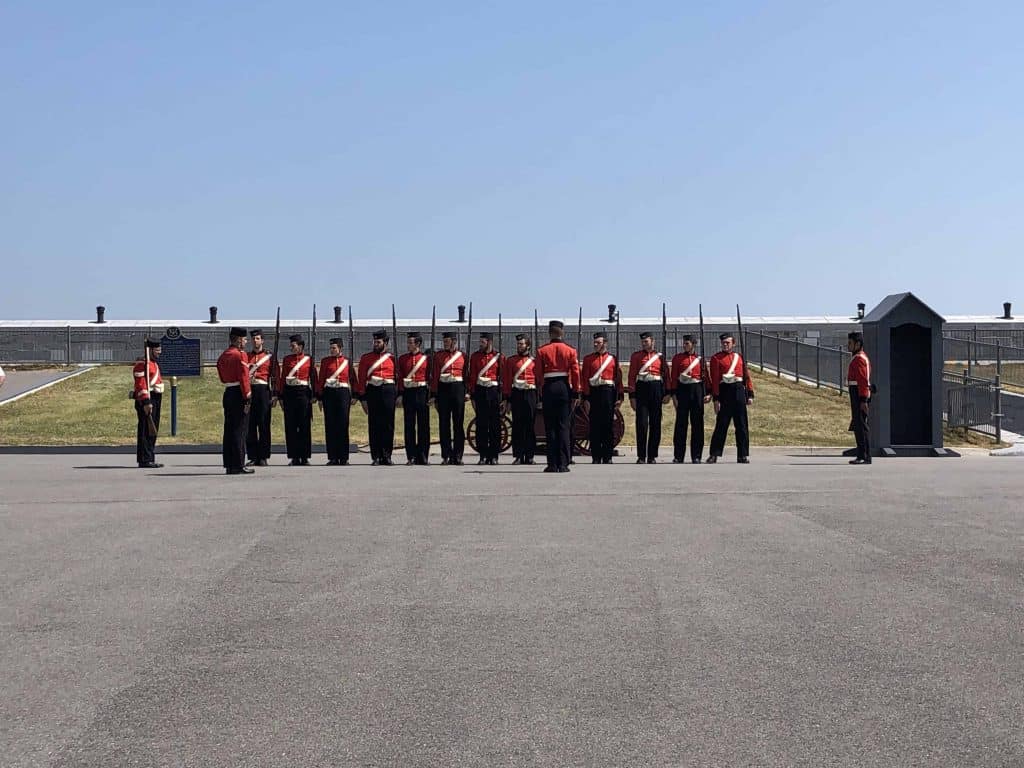 17. Visit Canada's Penitentiary Museum
Canada' Penitentiary Museum, is a unique museum, located across from the Kingston Penitentiary, dedicated to the preservation and interpretation of the history of our federal penitentiaries. The museum is in the building which once housed the wardens of the Kingston Penitentiary. I wasn't sure about visiting this museum, however, it was a stop on the Kingston Trolley Tours route so we decided to have a look and were surprised at just how interesting the exhibits were.
Located at 555 King Street West, Kingston. Admission is by donation. There is parking available on site.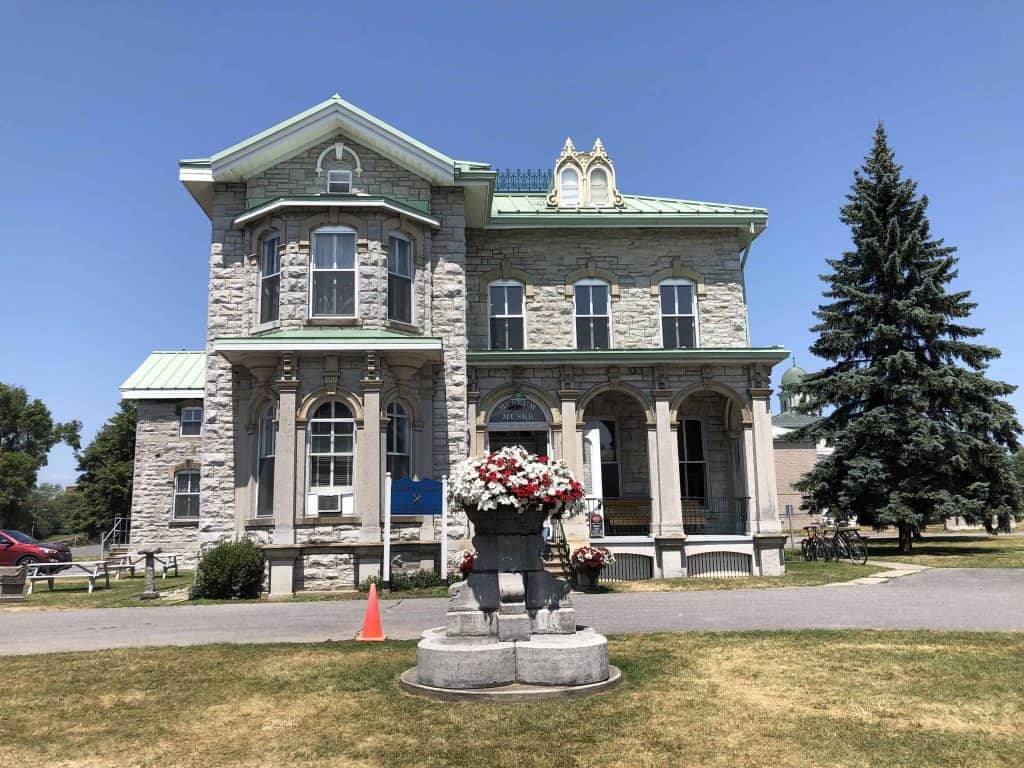 18. Tour Kingston Penitentiary
The Kingston Penitentiary, Canada's oldest and most notorious maximum security prison, is a National Historic Site pre-dating Confederation. The prison closed in 2013 and guided tours are now available to take visitors behind the walls of this historic building.
The standard tour is 1.5 hours and visits various areas of the penitentiary including cell and segregation ranges, Indigenous Grounds, the Regional Treatment Centre's Gymnasium, the cell dome and more. An extended tour of 2.5 hours takes a smaller group of visitors on a more in-depth tour of the facilities.
If you're planning to tour the Kingston Penitentiary on your visit to Kingston then you must book your tickets online ahead of time as they sell out quickly. We didn't and there were no tickets available at times that worked for us while we were in Kingston so it has been added to our list of things to do the next time we visit.
Located at 560 King Street West, Kingston. Open early May to early November – check website for details. Standard Tour General Admission (age 19+) $35; Student/Youth (age 5-18) $25; Children 4 years and under FREE.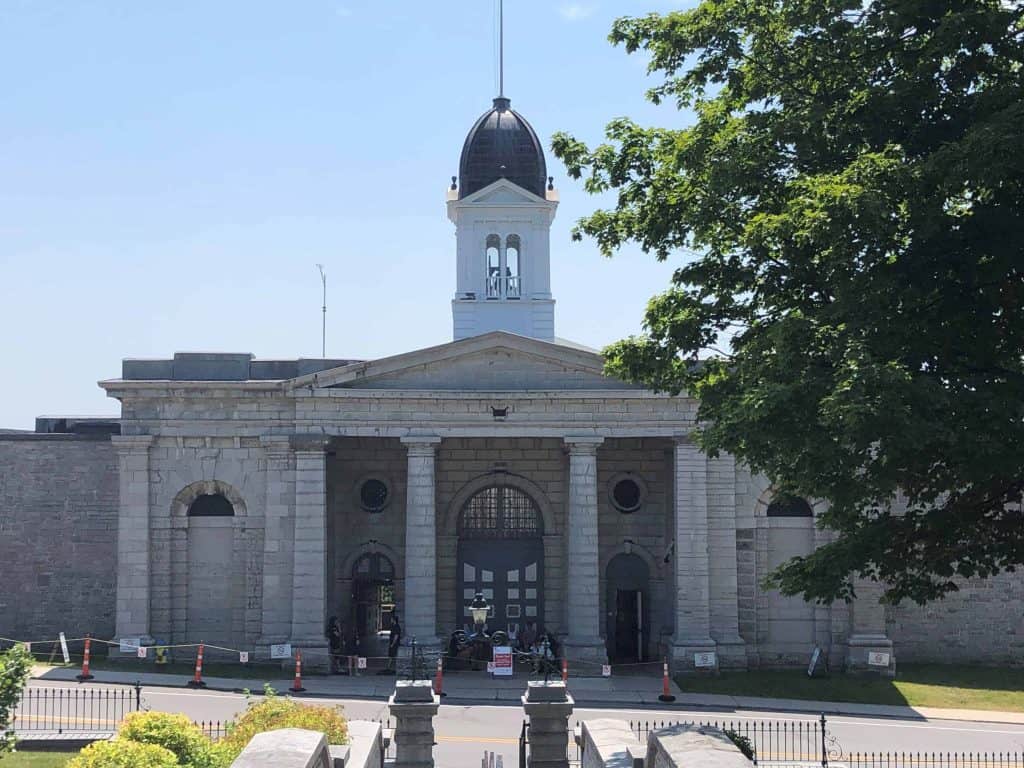 19. Visit Agnes Etherington Art Centre
If you're on Queen's campus then stop by the Agnes Etherington Art Centre. The art museum which is free to the public features a year-round program of exhibitions across eight galleries and also access to the period rooms of the historic Etherington House.
Located at 36 University Avenue, Kingston. Admission is free.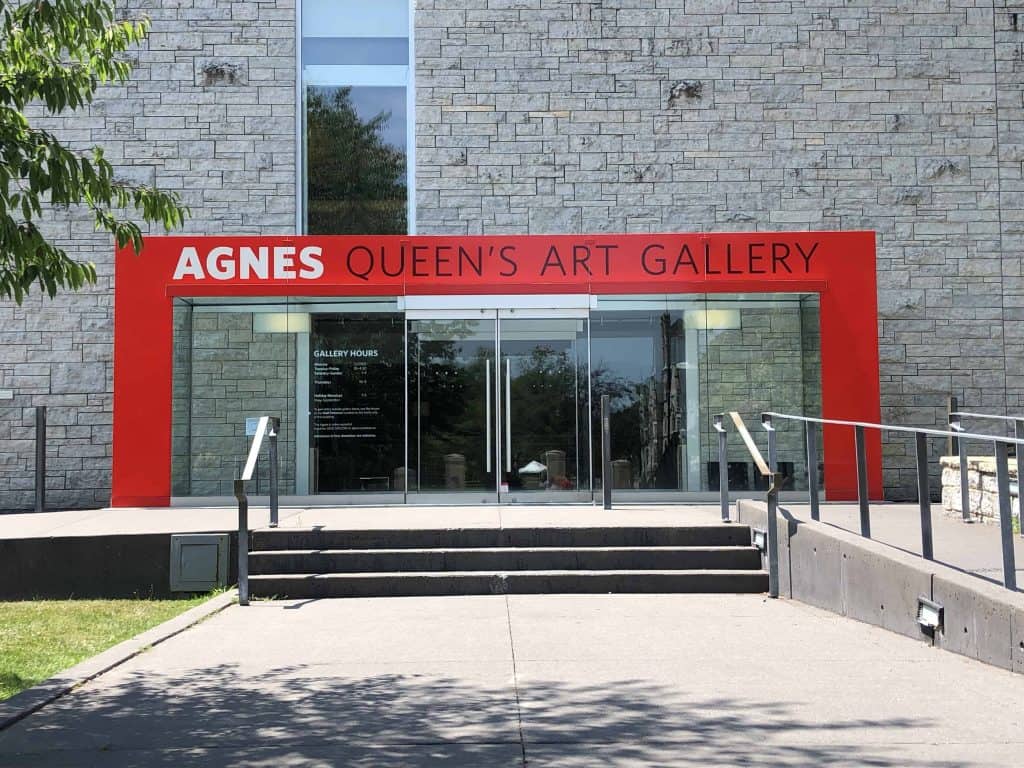 20. Treat Yourself to an Ice Cream
One of my favourite memories from my time living in Kingston was walking downtown with friends to White Mountain to treat ourselves to a cone of all natural homemade ice cream. It was every bit as good as I remembered!!
Located at 176 Ontario Street, Kingston.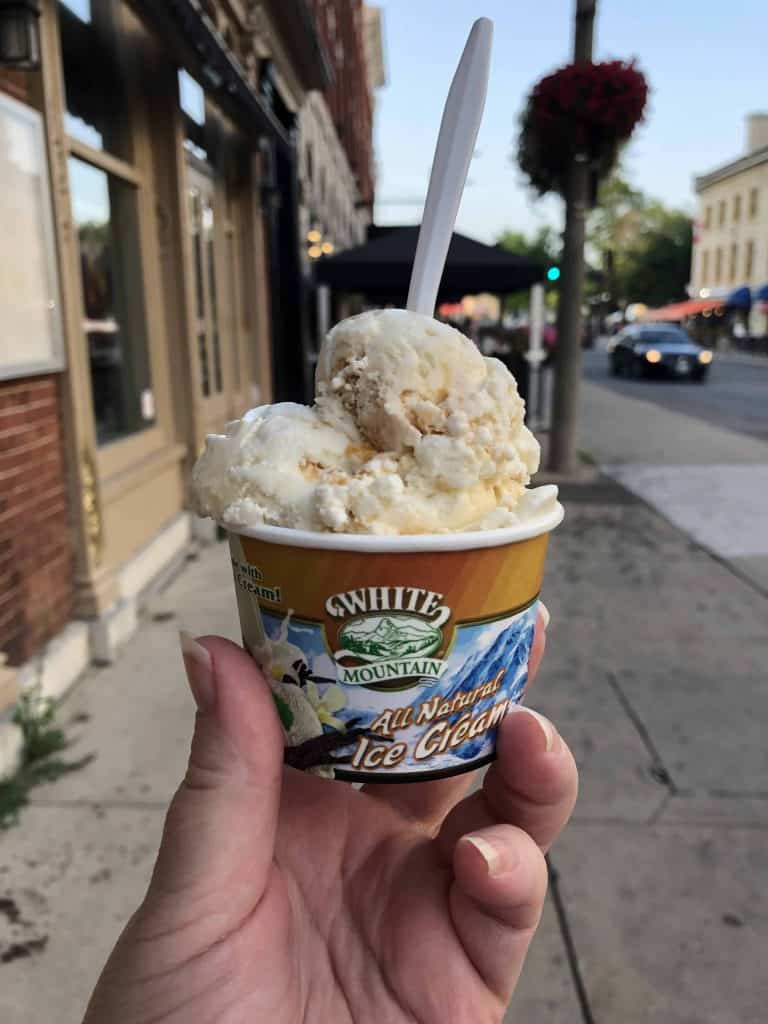 21. Admire the Martello Towers
Martello towers are distinctive round defensive forts that were built across the British Empire during the 19th century. There are four of these towers in Kingston – Murney Tower, Fort Frederick, Shoal Tower and Cathcart Tower.
These towers were built to protect Kingston's harbour and the entrance to the Rideau Canal from military attack and are now part of the Rideau Canal and Kingston Fortifications World Heritage Site. Murney Tower and Fort Frederick (on the campus of the Royal Military College) are both now museums that are open during the summer months.
Murney Tower National Historic Site is located on King Street West at Barrie Street. The museum is open 10am – 5pm daily from Victoria Day to Labour Day. Adult admission is $5; Students and Seniors $4; Children Under 12 are free. The museum is a stop on the Kingston Trolley Tour.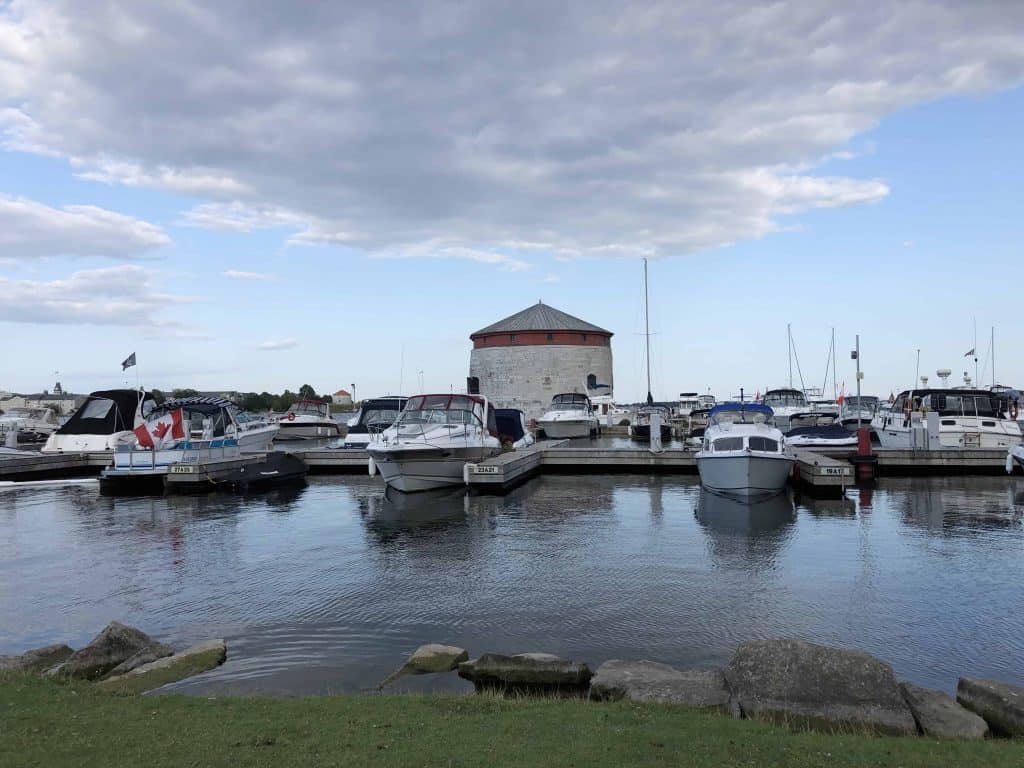 Where to Stay in Kingston
We stayed at the Delta Hotels by Marriott Kingston Waterfront which has a great waterfront location next to Confederation Park. All rooms have views of Lake Ontario and complimentary WIFI. There is an award-winning restaurant on-site, AquaTerra, which also has waterfront views and a number of restaurants close by.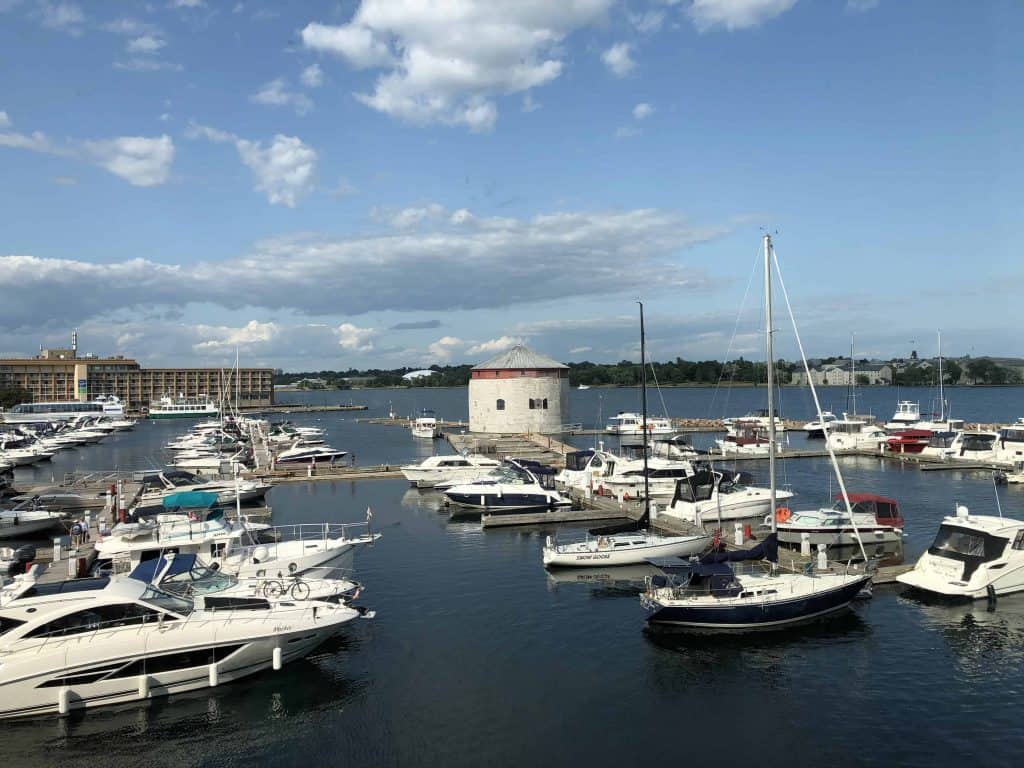 Where to Eat in Kingston
During our brief visit we had dinner at AquaTerra at our hotel on the first night enjoying a delicious meal with a lovely view of the harbour.
On our second evening we ate at Dianne's Fish Shack & Smokehouse which features Mexican-inspired seafood and BBQ fare – we loved it!
If you're looking for an upscale dining option, Chez Piggy has been a favourite for foodies since I was a Queen's student.
For something more casual, try the Kingston Brewing Company (Kingston Brew Pub) which is Ontario's oldest brew pub and has two patios which can't be beat on a summer evening.
If you're looking for a bakery/cafe for a quick bite, a sweet treat or a coffee then try Pan Chancho, a European style bakery and dine-in cafe on Princess Street or The Common Market on Ontario Street serving fresh-baked goods and locally-roasted coffees. There's a Starbucks on Princess Street as well if you can't survive without your regular brew.
Explore Kingston with a K-Pass
Using a K-Pass can be a money saver if you plan to see and do as much as possible while visiting Kingston. The all-inclusive passes are available for 24, 48 or 72 hours and include a Kingston 1000 Islands cruise, the Kingston Trolley Tour, admission to numerous museums and attractions plus discounts at some local restaurants. Some included attractions require advance reservations – check the website for details.
The official Tourism Kingston website is a good source for the latest events, stories, and business profiles in Kingston.
We are a participant in the Amazon Services LLC Associates Program, an affiliate advertising program designed to provide a means for us to earn fees by linking to Amazon.com and affiliated sites.
You Might Also Like
Pin This For Later