Spring break in Montreal – 10 things to do in Montreal, Quebec, Canada with kids or without – plus tips to help with planning a trip to Montreal.
Beaches and theme parks might be the first places that come to mind when planning a family spring break trip but they are by no means the only option. City breaks, including the most recent when my 13 year-old daughter and I spent spring break in Montréal, Québec, have been some of our most memorable spring break travel destinations.
We are a participant in the Amazon Services LLC Associates Program, an affiliate advertising program designed to provide a means for us to earn fees by linking to Amazon.com and affiliated sites. As an Amazon affiliate I earn from qualifying purchases.
This article includes affiliate links. If you click an affiliate link and make a purchase then we receive a small commission at no additional cost to you.
Montréal, located on an island in the St. Lawrence River, is the largest city in the province of Québec and one of the largest French speaking cities in the world with a rich history dating back to the 17th century. Jacques Cartier first reached the area in 1635 but it wasn't until 1642 when the colony of Ville-Marie was founded by Paul de Chomedey, sieur de Maisonneuve which means the city is celebrating its 375th anniversary in 2017 with many special events.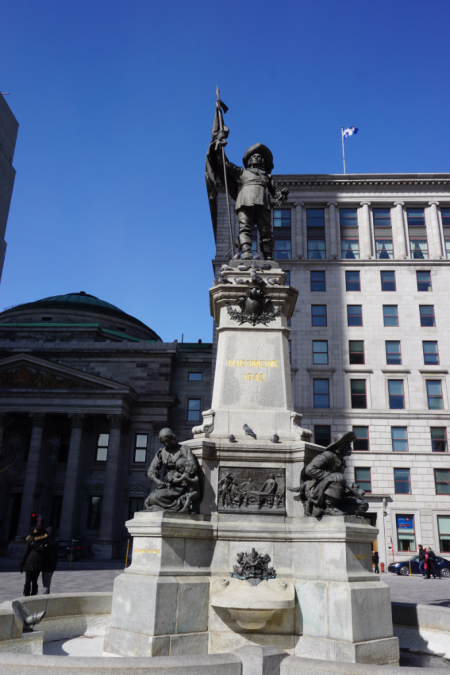 There is far more to do in Montréal than can easily be fit into a few days so you might find yourself planning a return trip before the first one is over! We had three full days in the city and only managed to scratch the surface of what the city has to offer. As it was particularly cold during our visit, we focused on indoor activities so we missed some of the highlights of the city such as visiting Mont Royal which will be top of our must-do list the next time we are in Montréal. 
Here are 10 things to do in Montréal (and most of these are suitable for a visit any time of the year and will appeal to visitors of all ages).
Celebrate Winter at Montréal en Lumière
Depending on the dates of your family's spring break then you might be lucky enough to be in the city during the annual Montréal en Lumière festival (February 22-March 4, 2018 if you want to plan ahead). The festival first launched in 2000 with the intention of revitalizing the city mid-winter and is now one of the largest winter festivals in the world. Montréal en Lumière is a unique festival that combines performing arts, gourmet food, and free outdoor family activities as well as a full night of activities on Nuit Blanche. This year also marked the first edition of Illuminart – a circuit of 25 illuminated artworks spread over a 3.6km route in the Quartier des Spectacles.
Our spring break takes place mid-March and we arrived in the city on the final day of the festival so were able to get just a small taste of it. We walked to Quartier des Spectacles to check out the outdoor activities which included a slide, ziplining, a ferris wheel, curling and live music. It all looked like so much fun but it was bitterly cold and we didn't last long even with regular stops at the fire pit/warming stations that were set up around the area.
Travel Tip: Montreal can still be very cold in mid-March so if you are planning to spend time outdoors then you must dress properly in multiple layers. We were in a hurry to head out the night we arrived and didn't take the time to add a base layer (synthetic or wool is best) under our clothes – a decision we regretted as soon as we stepped outside! If temperatures are expected to be frigid then it wouldn't hurt to have pocket hand warmers with you as well.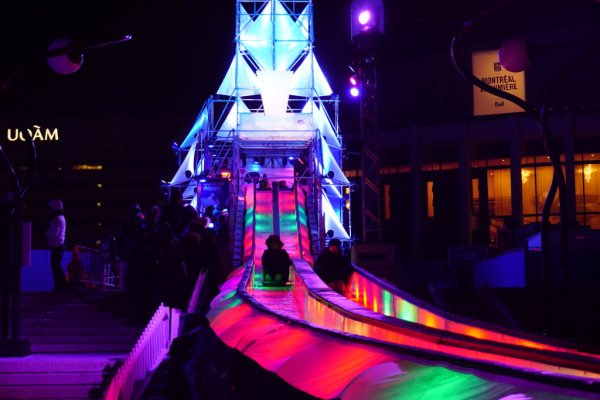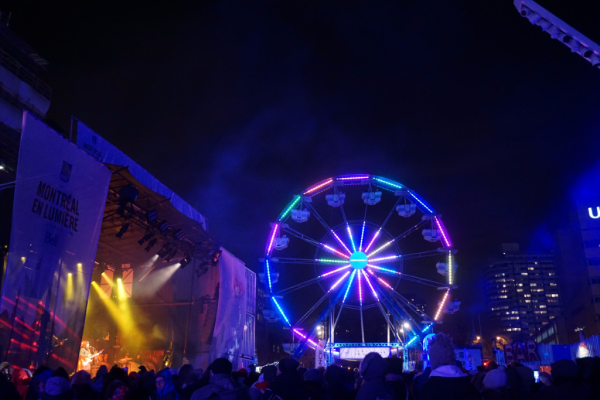 Explore the Underground City (RÉSO)
If it happens to be cold or wet during a visit to Montréal then the RÉSO (also known as the Underground City or La Ville Souterraine) is a blessing. Built during the 1960s, the Underground City is a 33km network of tunnels and corridors (parts of the network are actually above ground which I hadn't been expecting) connecting office towers, hotels, shopping centres, subways and train stations. RÉSO is the largest underground city in the world used by approximately 500,000 people a day who are able to stay warm and dry by avoiding going outside in a large section of the central business district.
We used the Underground City extensively during our visit because it was so cold outside. It can be very confusing trying to navigate the network at first and we got turned around repeatedly until our last morning when we managed to make our way from our hotel to the Central Train Station without taking a single wrong turn. The network itself is actually quite interesting to explore as the design of the various sections is unique. We visited during the annual Art Souterrain contemporary art festival which features works by more than 60 artists on display in various buildings in the Underground City. 
Travel Tip: Ask the concierge at your hotel for a map of the Underground City which shows how the buildings are connected or you will never figure out where you are going (unless your sense of direction is far better than mine!).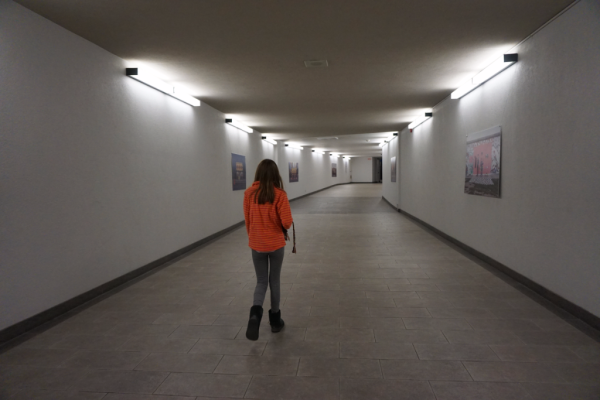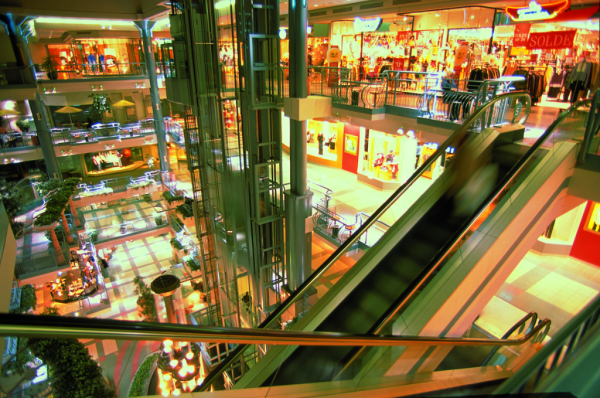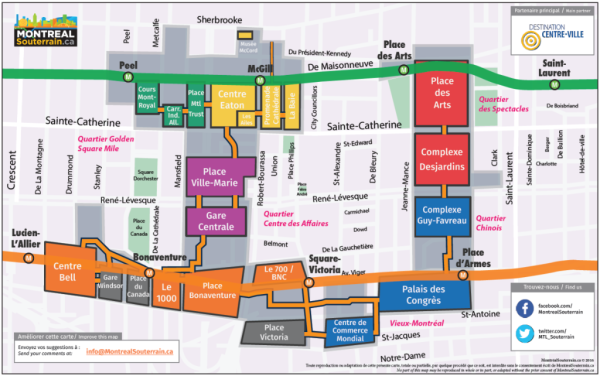 Enjoy a Birds-Eye View of Montréal at Au Sommet Observatory
The recently-opened (in 2016) Au Sommet Observatory is a 360° observation deck on the 46th floor of Place Ville Marie 185 metres (600 feet) above the ground. Place Ville Marie, designed by I.M. Pei and built in 1962, is a unique cruciform (cross-shaped) building which is the tallest of its kind in Canada. Through the floor to ceiling windows, visitors to the " target="_blank" rel="noopener noreferrer">Au Sommet Observatory can see Mount Royal, St. Joseph's Oratory, the Olympic Tower built for the 1976 summer games, Saint Lawrence River, the Biosphere and more.
There is also an innovative exhibition on the 45th floor which includes 55 interactive terminals on topics such as Downtown, Hockey, Vieux Montréal, Night Life, Les Arts, Food and more. At each terminal, you can browse video, archives, and instagram photos (use the hashtag #MTLGo) as well as missions (i.e. things to do in the city). Swiping the admission card or bracelet at the terminal records your chosen missions and at the conclusion of your visit there are printing stations where you can print a list of your missions and/or email them to yourself. If time permits, enjoy a meal at the brasserie Les Enfants Terribles on the 44th floor for the most impressive restaurant view in the city.
Travel Tip: Visit Au Sommet on your first morning in Montréal as you will find an abundance of interesting information about the city and get ideas of places to visit by using the interactive terminals.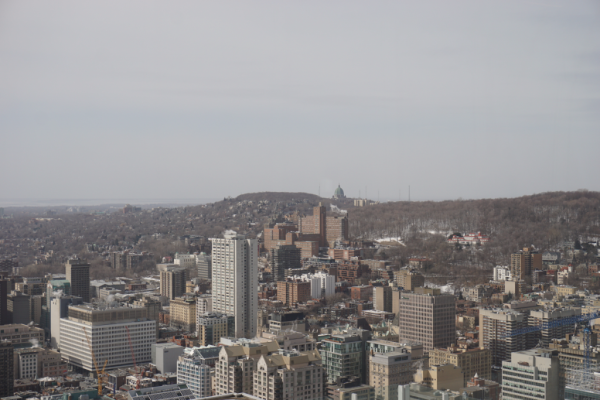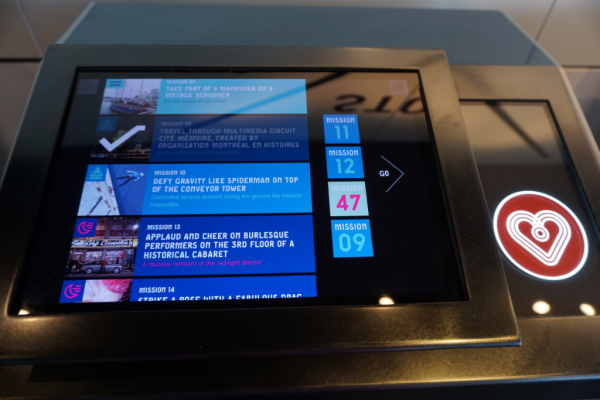 Explore the Montréal Museum of Fine Arts
If the weather outside is frightful then head indoors to the Montreal Museum of Fine Arts and spend some time exploring one of the finest art museums in North America including an outstanding collection of historical and contemporary Québec and Canadian art. The world class museum, founded in 1860, is the most-visited art museum in Canada and one of the largest in North America as it now encompasses five separate pavilions and includes a concert hall, auditorium and areas for educational, community and art therapy activities as well as a sculpture garden adjoining the museum. 
My daughter and I love visiting art museums so this was one of the highlights of our first visit to Montréal. We particularly loved the current exhibit, Chagall: Colour and Music, which is the largest Canadian exhibit ever devoted to the works of Marc Chagall. The multi-disciplinary exhibition features 340 works of art and a large selection of documentary works, including films, photographs and musical excerpts and focuses on Chagall's connection to music. (Chagall exhibition is open to the public January 28-June 11, 2017.)
(Read reviews of/book tickets in advance for the " target="_blank" rel="noopener noreferrer">Montreal Museum of Fine Arts on TripAdvisor)
Travel Tip: Of particular note to families visiting the museum – Admission to the Collections and to Major Exhibitions is free for Children 12 and under. Visitors aged 13-30 receive free admission to the Collections and Discovery Exhibitions and reduced admission to Major Exhibitions. Admission to the Collections and Discovery Exhibitions is free to everyone on the last Sunday of each month but regular fees apply to Major Exhibitions.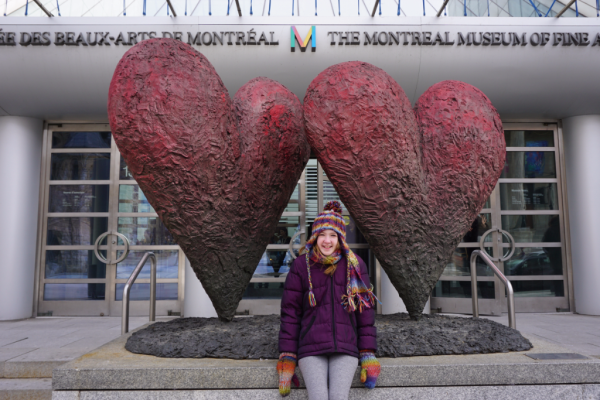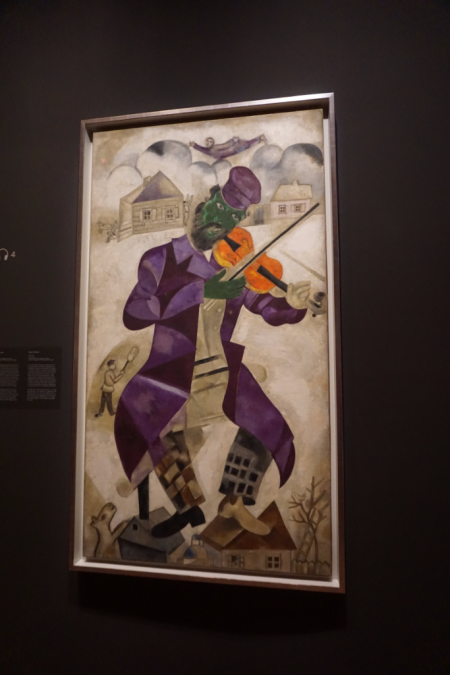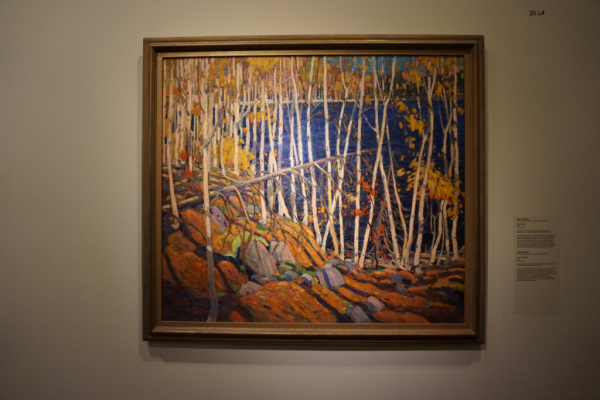 Experience Nature at Space for Life
Space for Life Montréal is a unique museum complex in the Hochelaga-Maisonneuve neighbourhood that brings together the city's four family-friendly natural science museums (Biodôme, the Rio Tinto Alcan Planetarium, the Botanical Garden and the Insectarium). The overall mission of the four institutions is to increase awareness of our planet's biodiversity and encourage people to better protect it. 
At the Biodôme which was originally the velodrome in the 1976 Summer Olympic Games held in Montréal, visitors can take a self-guided tour through reproductions of five ecosystems of the Americas (Tropical Rainforest; Laurentian Maple Forest; Gulf of St. Lawrence; Labrador Coast; and Sub-Antarctic Islands) to experience the climate, landscape, wildlife and vegetation of each ecosystem. Next door to the Biodôme, space enthusiasts can visit the Rio Tinto Alcan Planetarium to learn more about the universe through interactive exhibitions and shows screened in 360° domes.
The city was in the midst of a blizzard the day that we visited so we skipped the Botanical Gardens and Insectarium and headed back to Old Montréal so that we would be within walking distance of our hotel as the storm worsened. We were both disappointed to miss the Botanical Gardens so promised ourselves that we would return sometime in the spring or summer when we could thoroughly enjoy a walk around the gardens which have 22,000 plant species and cultivars, 10 exhibition greenhouses, and more than 20 thematic gardens spread out over 75 hectares. I'm not much of a fan of bugs but apparently children love the Insectarium which is home to some 250,000 specimens of living and naturalized insects, an anthill and many other exciting vivariums.
(Read reviews and book tickets in advance on TripAdvisor for the " target="_blank" rel="noopener noreferrer">Montréal Biôdome, the " target="_blank" rel="noopener noreferrer">Rio Tinto Alcan Planetarium, the " target="_blank" rel="noopener noreferrer">Montréal Botantical Gardens and the " target="_blank" rel="noopener noreferrer">Montréal Insectarium)
Travel Tip: If you plan to visit all four museums then it is more cost effective to purchase the Space for Life package. Family rates are also available. It is recommended to allow 5-6 hours to visit all four Space for Life museums. We took an uber back and forth from Space for Life because we were short on time but it is also easily accessible by subway (located at the Viau station).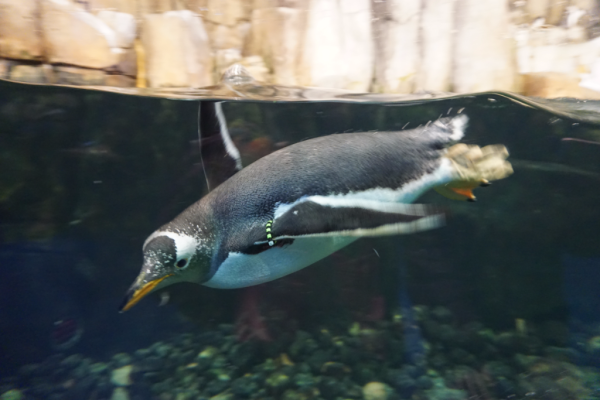 Wander the Streets of Vieux-Montréal
If there is one absolute must when visiting, it has to be spending some time walking around Vieux-Montréal (Old Montréal). This is the oldest neighbourhood of the city and it has the European feel to it and old world architecture that you have likely heard so much about. Even though it was brutally cold during our visit we still spent part of an afternoon wandering the streets with frequent breaks in shops to warm up again.
Highlights include Rue St. Paul which is the oldest street in the city, Place Jacques Cartier, Montréal's City Hall, Notre-Dame-de-Bon-Secours Chapel, the Marguerite-Bourgeoys Museum, the Sir Georges-Étienne Cartier National Historic Site, Notre-Dame Basilica, the Pointe-à-Callière Museum and the Château Ramezay Historic Site and Museum. There are many tourist shops along the streets but if you are in the mood for shopping then be sure to visit Marché Bonsecours, a heritage building that first opened as a public market in 1847 and now houses restaurants and boutiques.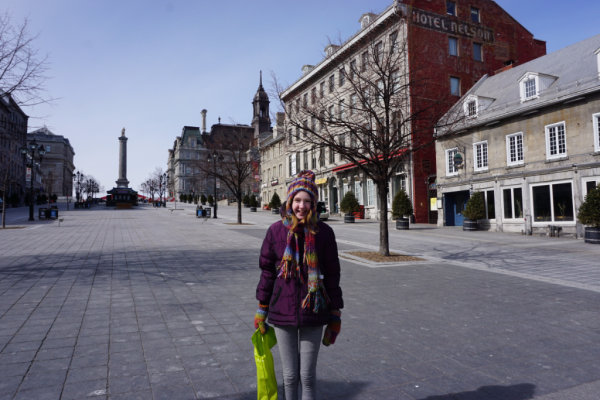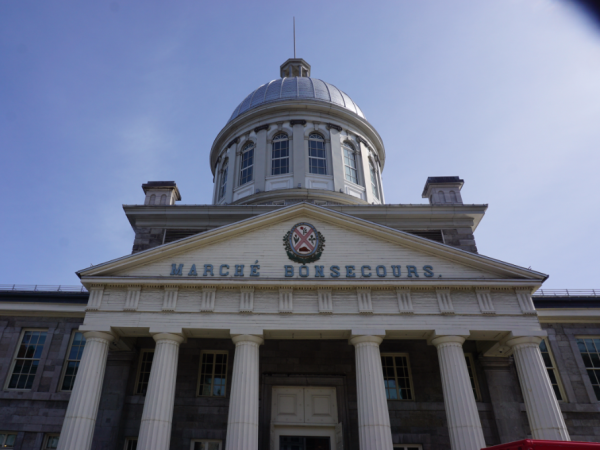 Take in the Beauty of Notre-Dame Basilica of Montréal
Another must for me was visiting Notre-Dame Basilica in Old Montreal so I was very disappointed when the concierge at our hotel told me that it was not open for tours at the moment. We decided to walk over and take photos outside anyway and discovered that it had reopened for tours just a few days earlier. An original church was built at this location late in the 17th century but when a larger church was needed the Gothic Revival style church we know today was built between 1824 and 1829. If you have visited Sainte-Chapelle in Paris then the interior will look familiar as that church served as a source of inspiration for the architect who designed Notre-Dame.
The incredible beauty of the interior of the basilica will take your breath away when you enter. Take a seat in one of the pews and appreciate the beauty that surrounds you and then spend some time walking around the church to admire the craftsmanship, paintings, sculptures and the exquisite stained glass windows which depict the religious and social life of the 17th century Ville-Marie settlement.
Travel Tip: The admission fee to Notre-Dame Basilica includes a 20 minute guided tour in English or French which provides an introduction to the history of Notre-Dame Parish, the building of the church, key architectural features and the many works of art that adorn the building. Leaflets are also available for those who wish to explore on their own and more extensive guided tours are also available for an additional fee and should be reserved in advance.
(Read reviews of/book tickets in advance for " target="_blank" rel="noopener noreferrer">Notre-Dame Basilica on TripAdvisor)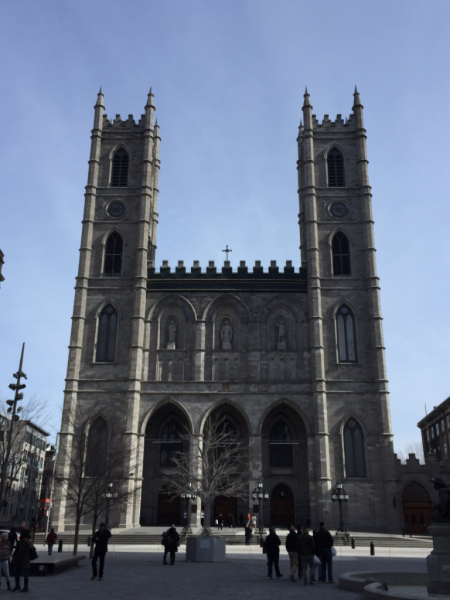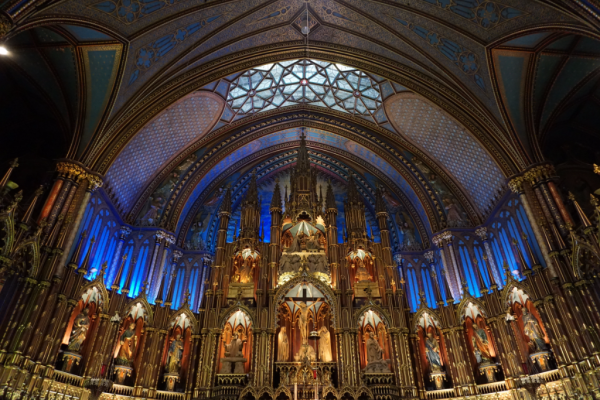 Learn the City's History at Pointe-à-Callière
The Pointe-à-Callière museum near the port of Old Montreal is one of the most interesting museums that I have ever visited. The museum is located on a national historical and archaeological site which has been recognized by the Historic Sites and Monuments Board of Canada as "the site where Montréal was born". The museum which opened in 1992 on the 350th anniversary of the founding of the city presents centuries of history from indigenous settlements until present day and is home to incredible architectural ruins. The museum has several permanent exhibitions which showcase the city's history and archaeology and also hosts a variety of temporary exhibits.
The permanent exhibition Building Montréal is a fascinating multimedia installation that explains the history of the city and the museum's archaeological crypt. We also enjoyed the permanent exhibition Crossroads Montréal on the lower level of the building which is a walk through the city's history that includes viewing the ruins of Ville-Marie's first Catholic cemetery dating from 1643, and continues to the foundations of the Royal Insurance Building (1861-1951). Families with young children will particularly enjoy the Pirates or Privateers? exhibit which is a creative area designed for kids to learn through play. We saw the temporary exhibition Hello, Montréal! which celebrates the history of the telephone and it was quite fun to see my 13 year-old daughter amazed by the "historical" phones that I remember having as a child! (Hello, Montréal is at the museum from February 17, 2017 to January 7, 2018). 
Fun Fact: To celebrate the museum turning 25 in 2017, free admission is offered to adults 25 years of age upon presentation of proper identification. This offer is valid throughout 2017. So if you were lucky enough to have been born in 1992 then you can visit the museum for free!
(Read reviews or purchase tickets in advance for the " target="_blank" rel="noopener noreferrer">Pointe-à-Callière Museum on TripAdvisor)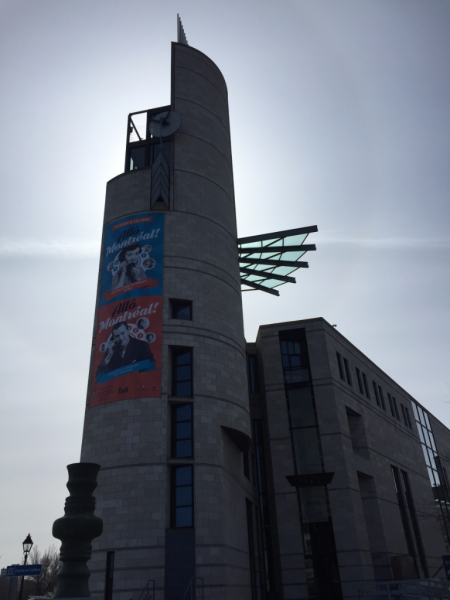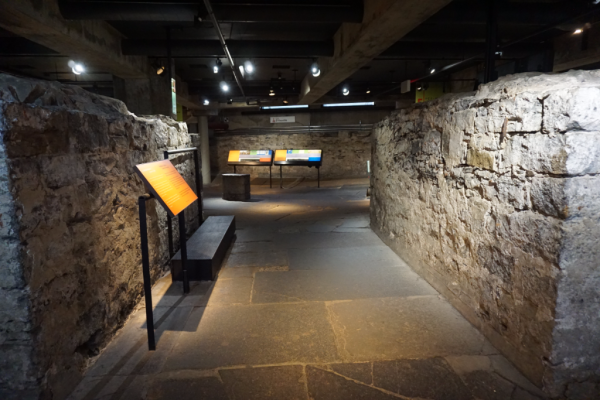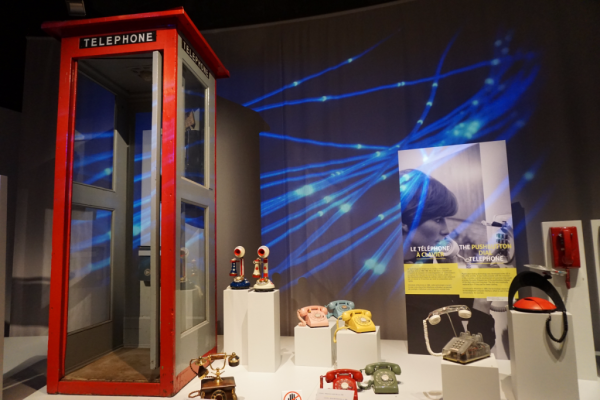 Take a Self-Guided Tour Using Cité Mémoire
My daughter and I both love history so we were looking forward to Cité Mémoire – Montréal en Histoires, a self-guided tour in the Old Montréal district that uses projections on buildings to relate the history of the city. All visitors have to do is download the free Montréal en Histoires app on their smartphone or tablet, choose and download a circuit, connect to the free WIFI network, pop in a set of earphones and go.
The app features about 60 narrated points of interest and augmented reality experiences and there are daytime and evening routes available. We didn't end up trying this because it was too cold for us to stay out in the evening for a significant time but I am recommending it anyway because it is such a unique and interesting way to learn about the city's history – and FREE. I was so disappointed that we weren't able to do this that it will be the first thing that I do the next time that I'm in Montréal!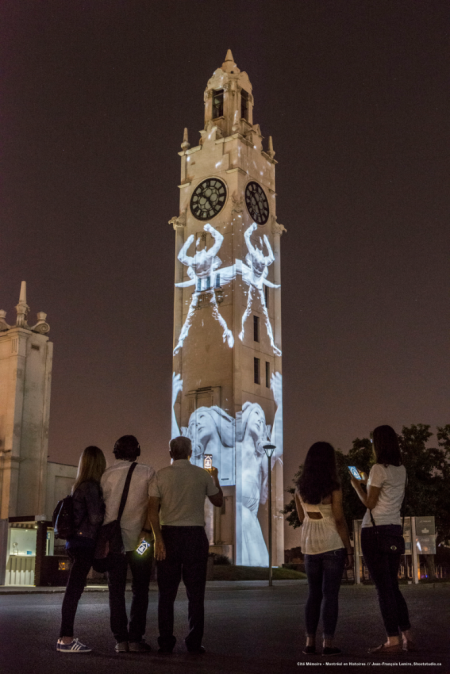 Indulge Your Sweet Tooth at Juliette & Chocolat
When it's time to take a break from sightseeing, coffee and a sweet treat usually hit the spot. I may frequent Starbucks but I also appreciate visiting local spots as well and Montréal has many charming cafés to choose from. When I was planning our trip, a friend recommended Juliette & Chocolat, a "dessert restaurant" which has several locations in the city. I had a look at their website and discovered that Juliette is an actual person and that "ever since she was small, she always thought dessert should come first!" and I knew immediately that we had to visit one of these restaurants.
After our visit to the Montréal Museum of Fine Arts, we stopped by the location on Rue St. Catherine as it was a reasonable distance walk from the museum. Juliette & Chocolat is known for decadent hot chocolate but, after perusing the extensive menu, I opted to have a latte along with Juliette's Tiramisu and my daughter enjoyed a "Brookie" (a brownie/chocolate chip combo) – all were delicious!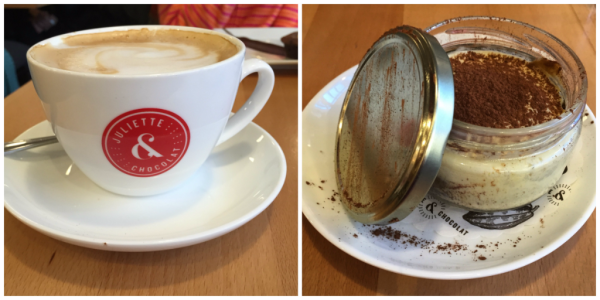 Where To Stay
We stayed at Le Westin Montréal, a luxury hotel with a convenient location on Rue St. Antoine Ouest (at the corner of Rue St. Pierre) at the edge of downtown (across from Le Palais de Congrès) and Old Montréal. The hotel is located in the building that formerly housed the Montréal Gazette newspaper and one of the unique features is a main entrance which allows cars to drive into a grand hall that once housed the printing presses of the newspaper. Guests of the hotel can also access the Underground City without going outside which is a blessing in bad weather and one for which we were truly thankful.
The Westin has 455 guest rooms and suites all featuring the Westin Heavenly Bed, an iHome radio-clock with iPod dock, complimentary high-speed Internet access, an executive working desk with cordless speaker phone, a fridge, safe and 32 inch flat panel LCD HD TV. My daughter and I stayed in a Traditional Room with two Queen beds and there was ample space for the two of us. Among the hotel's amenities are an indoor glass-bottom pool, a Westin Workout gym and an onsite restaurant. The on-site gaZette Restaurant named for the newspaper is an elegant restaurant on street level serving delicious Quebec-inspired cuisine. I wouldn't hesitate to stay here again on a return trip to Montréal – the hotel is lovely and the location can't be beat!
(This is an affiliate link which helps support this site at no additional cost to you.)
" target="_blank" rel="noopener noreferrer">

10 Tips for a Spring Break Trip to Montréal
Getting there – consider taking the train. We travelled on VIA Rail from Toronto to Gare Centrale in Montréal and were pleased with the convenience. The train station was walkable from our hotel and we didn't need to worry about driving around an unfamiliar city or in bad weather.
Dress for the weather. Depending on the time of your spring break there is a possibility of either winter or spring-like conditions. Ours was mid-March and although the snow had already melted, the weather turned extremely cold for our visit. There was even a blizzard on our last day in the city which resulted in approximately 40cm (15 inches) of snow.
Brush up on your French before visiting. Most everyone speaks English but it's fun and good practice to try getting by in French.
Consider purchasing a Metro Pass if you are planning to use public transportation while visiting Montréal. Additional information about getting around the city can be found on the Tourism Montreal website or on the STM (Société de Transport de Montréal) website.
Ubers are also popular in Montréal. We used them a couple of times for the convenience of being transported door to door.
Consider purchasing a Montreal Pass for savings. The MTL Passport can be purchased for either 48 or 72 hours and is valid for admission to 23 attractions including Au Sommet, the Biodôme, the Botanical Gardens and Insectarium, the Rio Tinto Alcan Planetarium, Pointe-à-Callière, the Montréal Museum of Fine Arts and more plus unlimited public transportation. The 48h pass is $85 + tax and the 72h pass is $99 + tax. 
Check the Montréal Tourism website for Family Package hotel deals. Until January 2018, reserve a Family package at participating hotels and receive an All-Access Family Pass to visit some of Montréal's most popular attractions! The All-Access Family Pass is valid for seven (7) days upon activation (meaning the first time you use it). With the purchase of one adult admission, enjoy FREE entrance for two children (12 years and under) at many family entertainment favourites. See the Montréal Tourism website for details.
The Montreal Tourism website is an excellent resource for information when planning your trip to Montréal.
Montréal is celebrating 375th anniversary this year with many special events. Check the website to see if there are special events while you are visiting.
Browse the hashtag #MTLMoments on Instagram to check out photos of Montréal prior to your trip. Instagram is a great source of inspiration and to find attractions to visit.
Disclosure: I received media passes to visit some of the attractions mentioned in the article. This article may contain affiliate links which help support this site at no additional cost to you.