Recently we continued our travel as a family gift tradition by heading to Montréal for a few days after Christmas spending New Year's Eve there. It was cold but we had a fabulous time exploring the city during the holidays. Whether you are visiting Montréal with kids, teens or on an adult getaway – Christmas in Montréal is a great choice!
Here's our list of 15 fun things to do in Montréal during the Christmas break including Christmas activities, indoor activities for when you need to get in out of the cold and fun outdoor activities that can be enjoyed throughout the winter months.
Updated for the 2021/22 holiday season.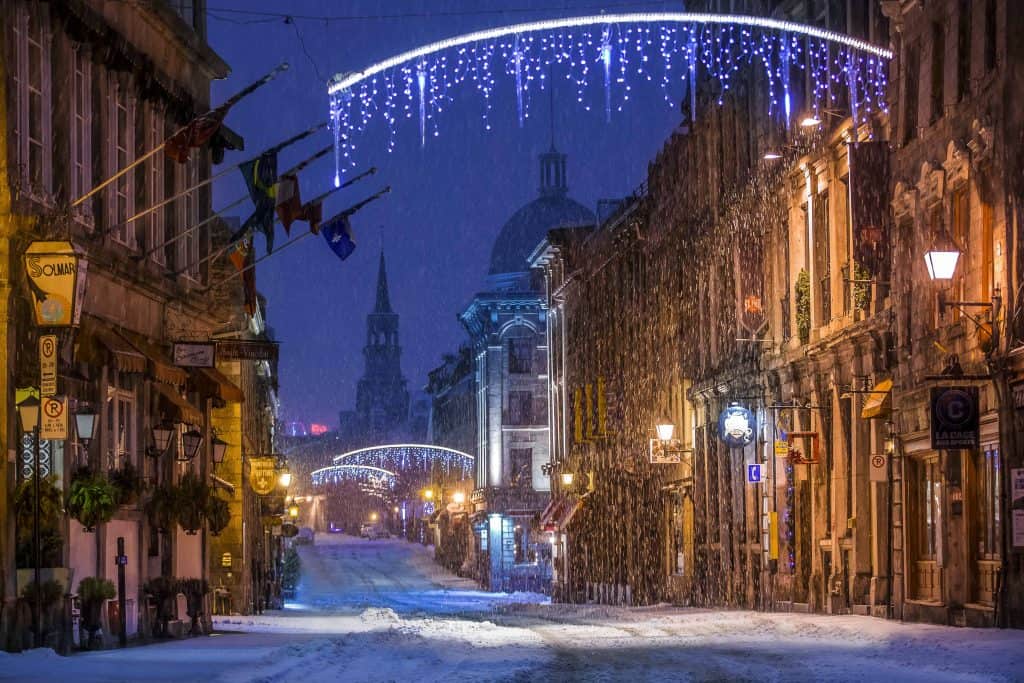 This post may contain affiliate links. If you click an affiliate link and make a purchase then we receive a small commission at no additional cost to you.
We are a participant in the Amazon Services LLC Associates Program, an affiliate advertising program designed to provide a means for us to earn fees by linking to Amazon.com and affiliated sites. As an Amazon affiliate I earn from qualifying purchases.
1. Merry Montréal in Jacques-Cartier Square
Jacques-Cartier Square in Old Montréal is transformed into Nordic Square for the holiday season as part of the Merry Montréal (Montréal en Fêtes) celebration. There are public art installations to be enjoyed, live entertainment, festive characters that the kids will love and fireplace seating so you can keep warm while enjoying the festivities. We visited during our Christmas break in Montréal and loved having an opportunity to make maple taffy on snow at the sugar shack located in the square – it was delicious!!
Free event located in Jacques-Cartier Square has been extended to Square Dorchester and Square Victoria in Old Montréal as well in order to reduce crowding in 2021. December 16-26, 2021 plus an outdoor New Year's Eve party on December 31st.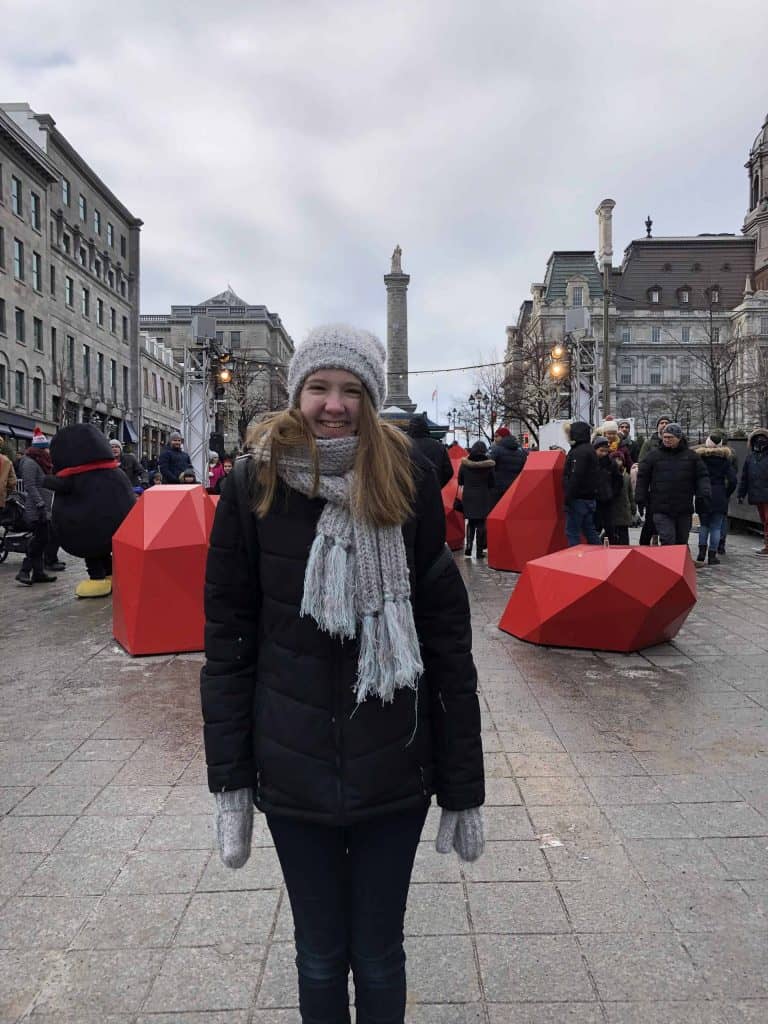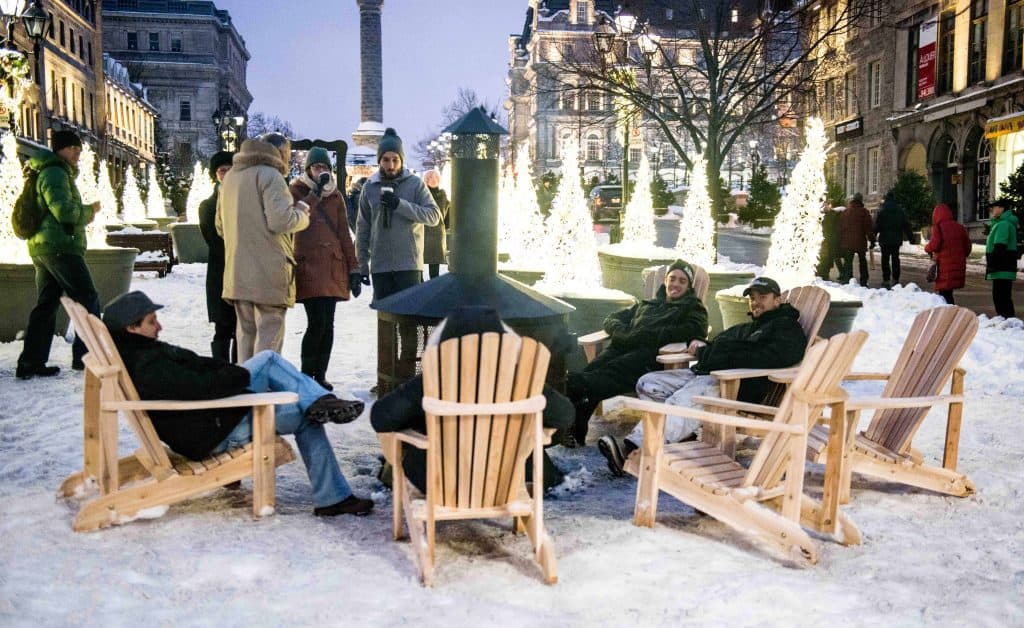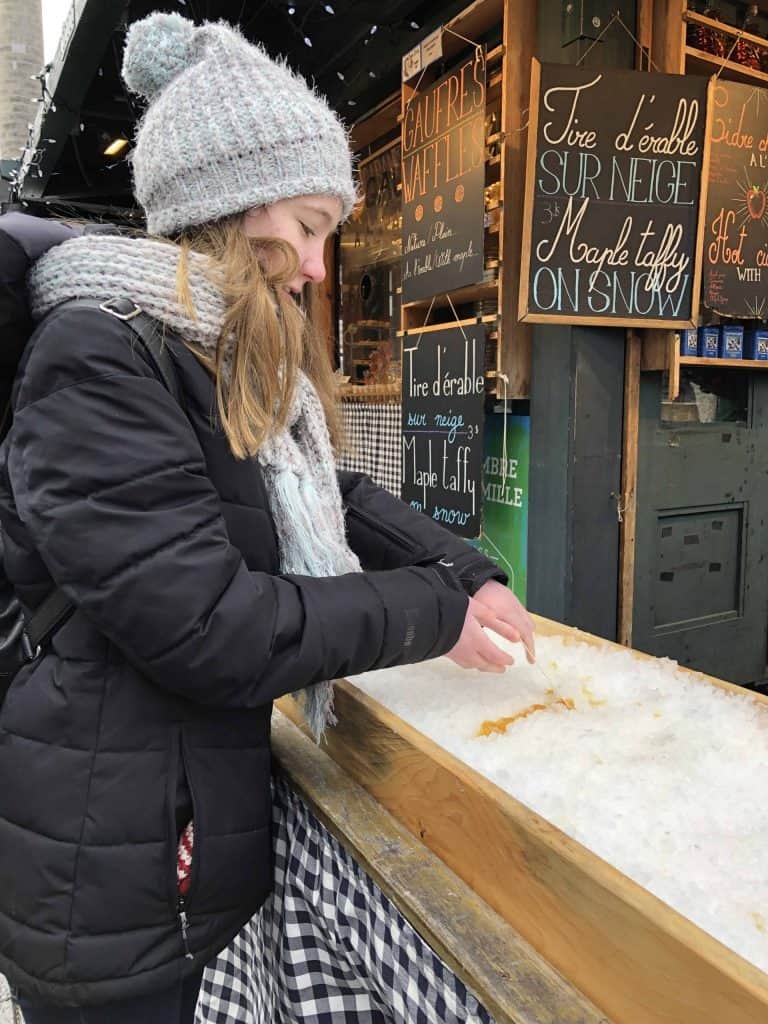 2. Skating in Old Port Montréal
The Old Port Skating Rink is the place to head for outdoor skating with great views of the city. During the holiday season, the Fire on Ice fireworks show takes place Saturday evenings at 8pm and is fun to watch even if you're not skating. (Fireworks shows will likely continue to be cancelled due to pandemic restrictions.)
The skating rinks are generally open from early December – early March. There is a fee for skating and skate rentals are also available for a fee.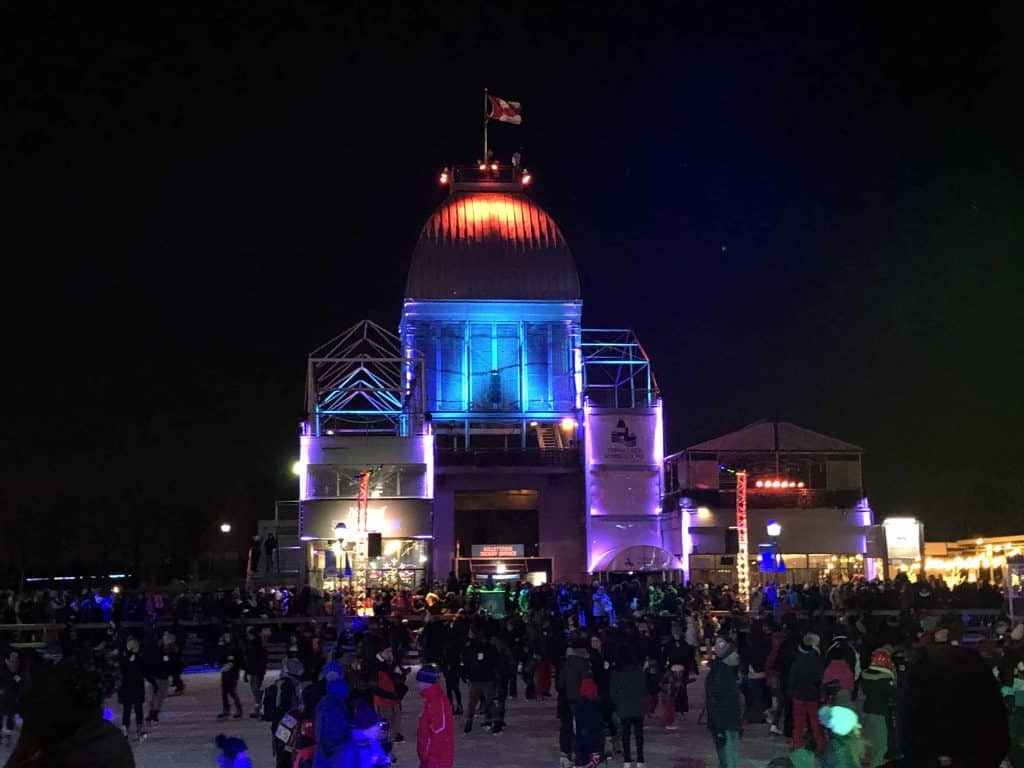 3. Visit Notre-Dame Basilica of Montréal
The stunning Gothic Revival style Notre-Dame Basilica of Montréal, built between 1824-29, is a must no matter what time of the year you are visiting the city. The incredible beauty of the interior of the basilica will take your breath away when you enter. Take a seat in one of the pews and appreciate the beauty that surrounds you and then spend some time walking around the church to admire the craftsmanship, paintings, sculptures and the exquisite stained glass windows which depict the religious and social life of the 17th century Ville-Marie settlement.
During the Christmas season, the exterior of Notre Dame is decorated with sparkling Christmas lights and there is a nativity set up inside the Basilica. Reservations will not be taken for the three Christmas Eve masses at Notre Dame in 2021 – seating will be on a first come, first served basis and capacity will be limited to 250 people.
Aura, a separately ticketed multimedia presentation, is also back in 2021.
Located at 110 Notre-Dame Street West.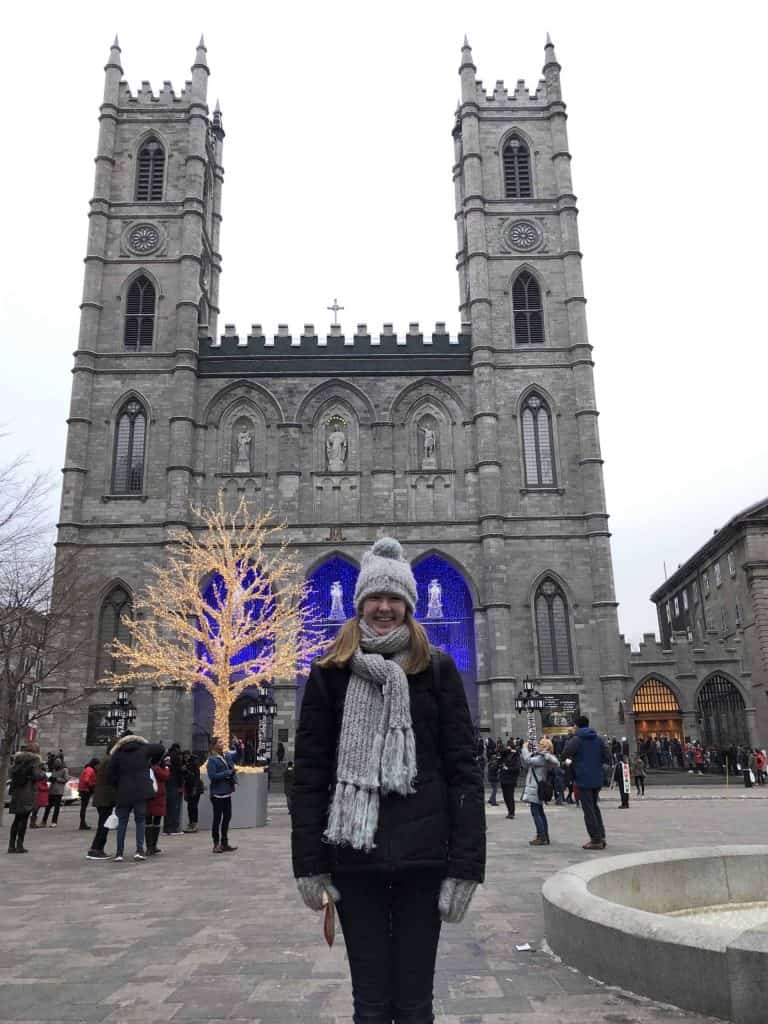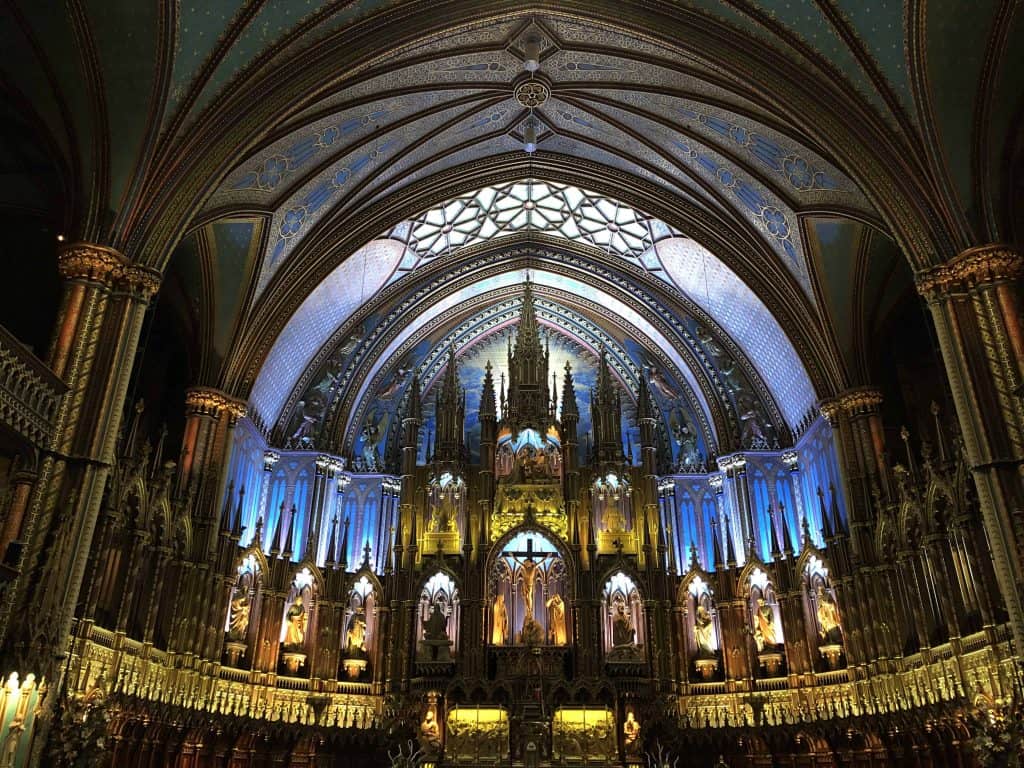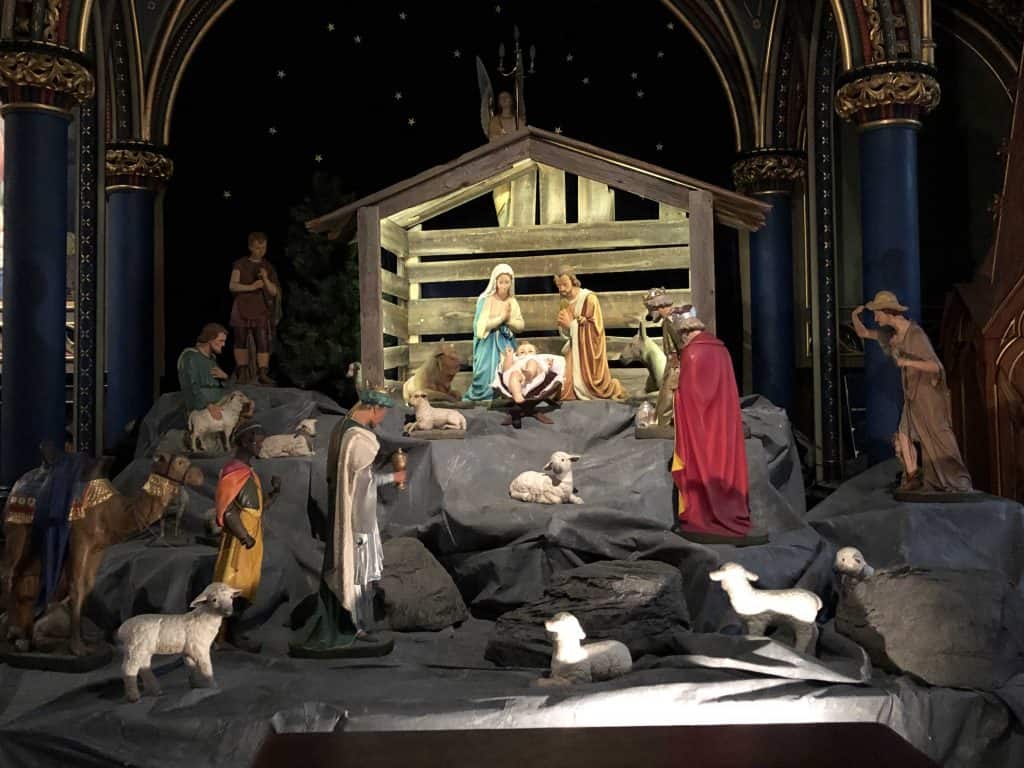 4. Admire Holiday Displays
Everywhere that you go in Montréal during the Christmas season you will find beautiful holiday displays to admire – on the streets, in the shop windows, and in hotel lobbies.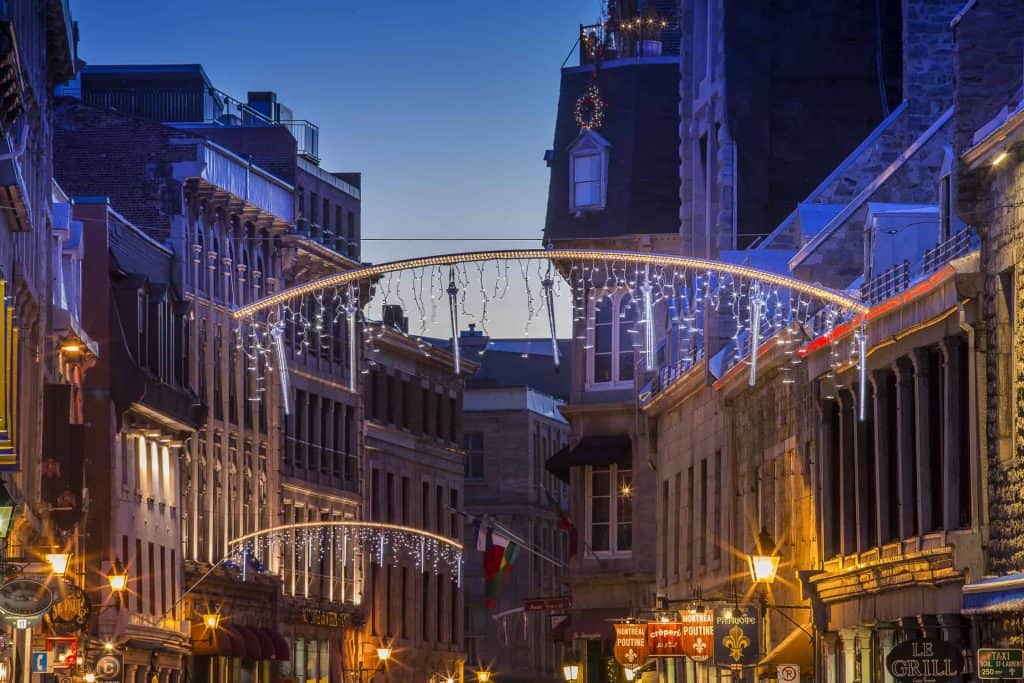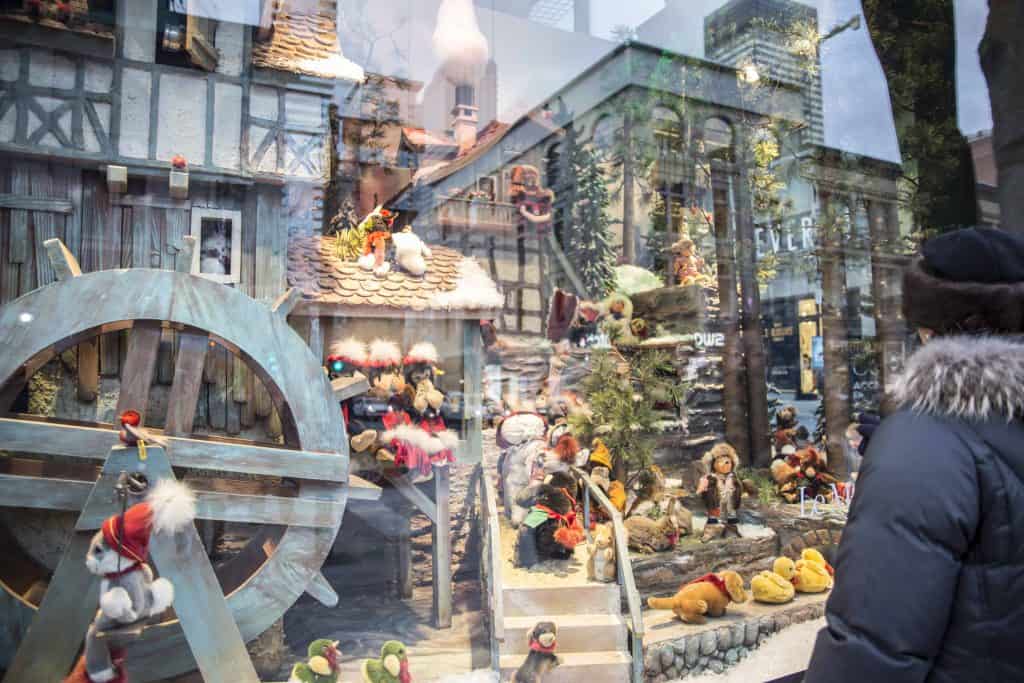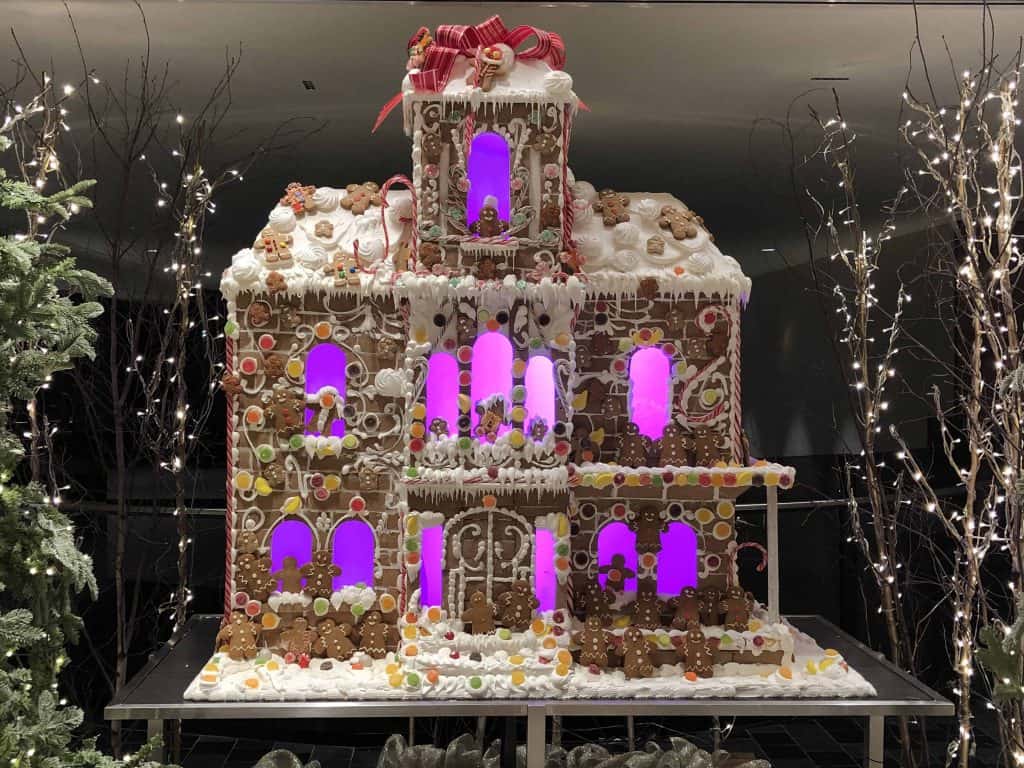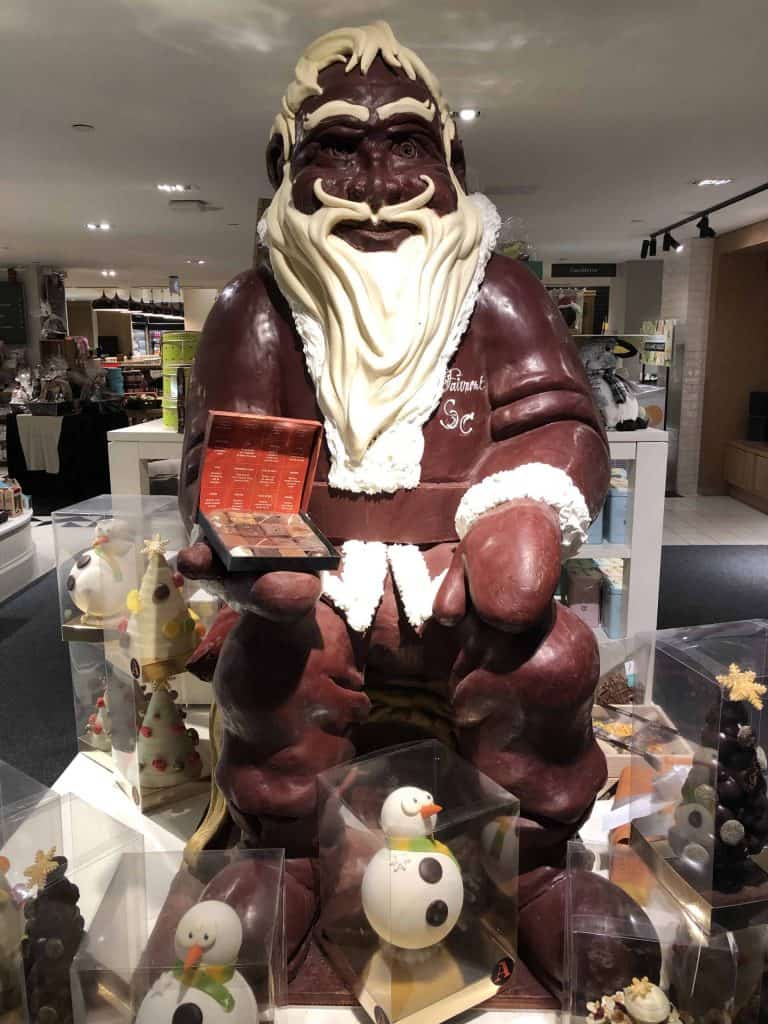 5. Learn About Christmas in Another Era at Historic Sites
One of the things that I have always enjoyed doing during the holidays is visiting historic sites to learn more about how Christmas was celebrated in the past.
In Montréal, Château Ramezay, built by the Governor of Montréal early in the 18th century, is a historic site and museum with numerous exhibits and multimedia portrayals of historic figures. During the holiday season (December 11, 2021 – January 9, 2022) as part of the temporary exhibition Around the Fireplace, five of the Château's fireplaces are decorated to explain the origin of certain Christmas traditions.
There are also bread baking workshops held during the holiday season which are included in the price of admission (and which we thoroughly enjoyed even though we were quite inept at it!). (The baking workshop is not available in 2021 due to COVID-19 restrictions.)
Another option is the Sir George-Étienne Cartier National Historic Site which celebrates A Victorian Christmas at the Cartier's during the holiday season (December 4 – 19, 2021).
Château Ramezay is located at 280 Notre-Dame Street East, Old Montréal. The Sir George-Étienne Cartier National Historic Site is located at 458 Notre-Dame Street East.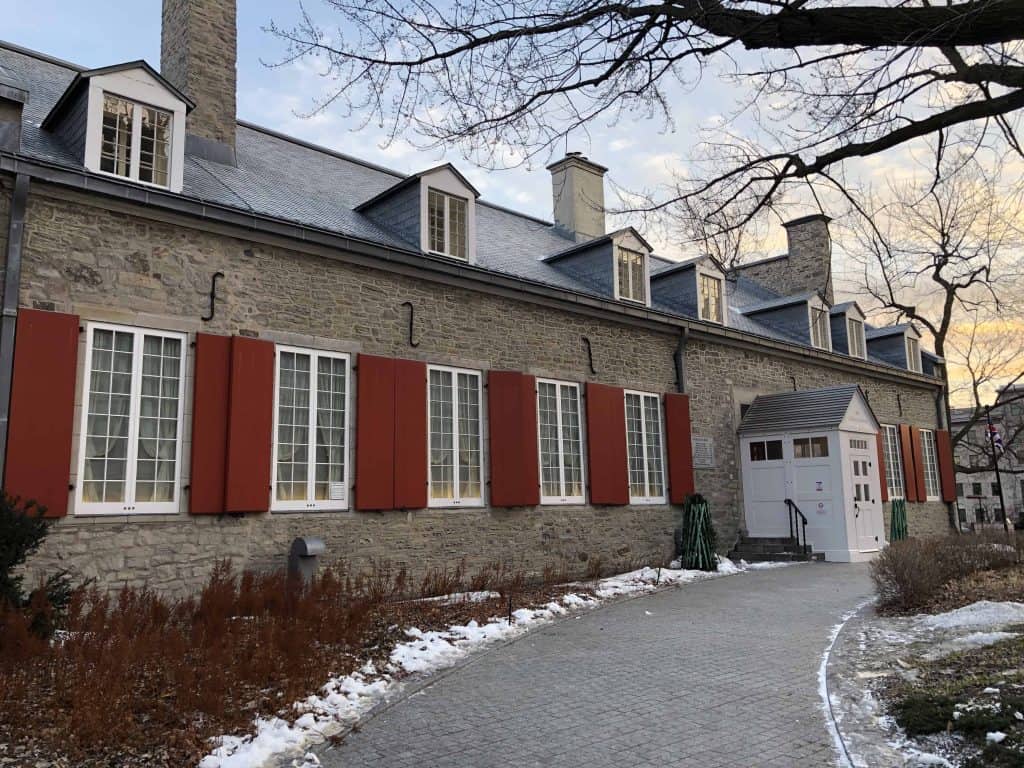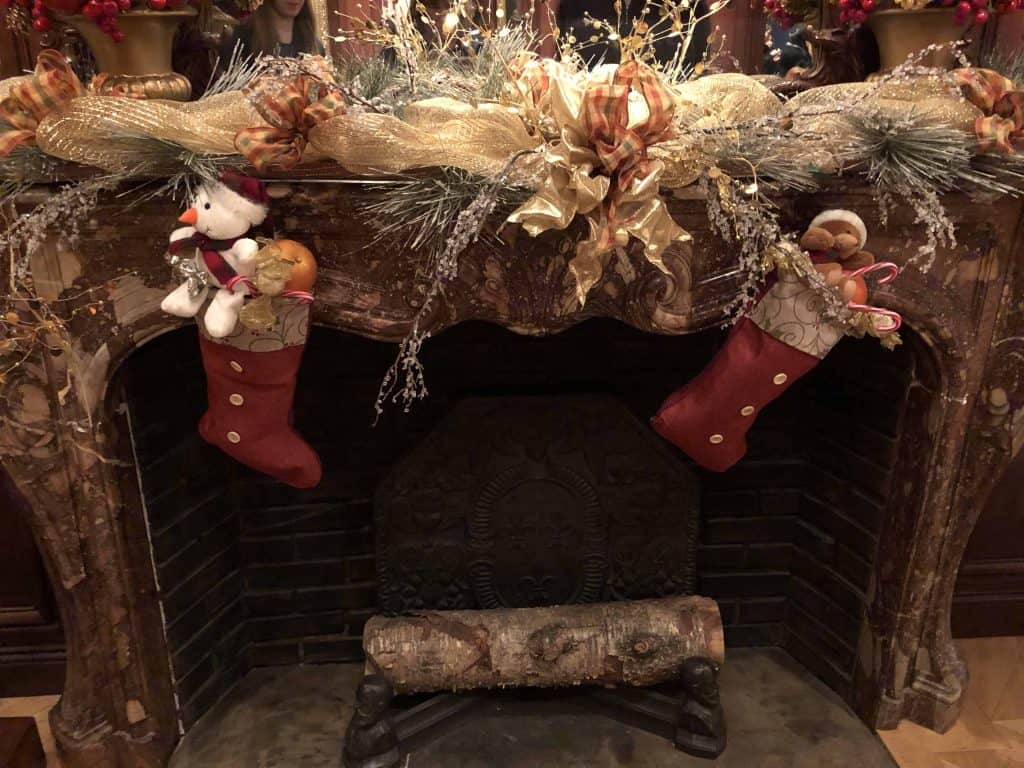 6. Luminothérapie at Place des Festivals
The 12th edition of Luminothérapie, at the Place des Festivals this year from December 2, 2021 to February 27, 2022, coincides perfectly with the Christmas holiday season. This entertaining, interactive light festival is a fun way to beat the winter blahs and is completely free!
The Place des Festivals is bordered by Sainte-Catherine, Jeanne-Mance, Balmoral and De Maisonneuve Streets.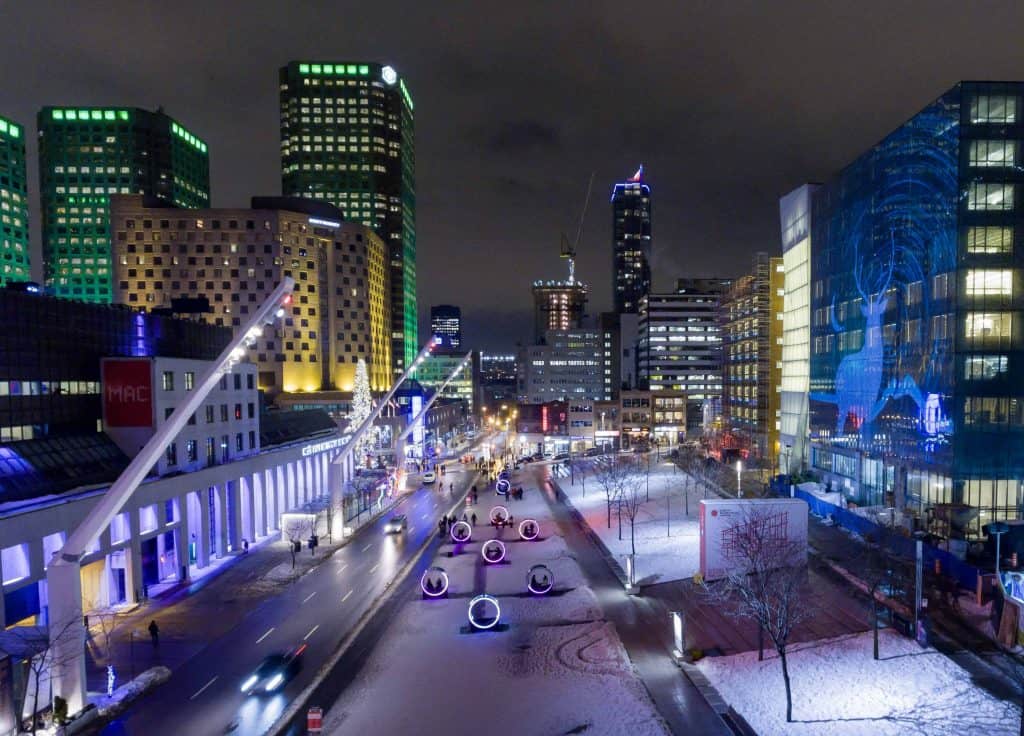 7. Enjoy a Show
We love to see shows while we're travelling and there are many choices from theatre to ballet to concerts in Montréal during the holiday season. During our visit last year we attended an exhilarating performance of Corteo by Cirque de Soleil at the Bell Centre.
Unfortunately, there are no Cirque de Soleil performances in Montréal during the 2021 holiday season. Other options include The Nutcracker Ballet, Handel's Messiah, A Charlie Brown Christmas concert at the Montréal Museum of Fine Arts and more.
If you need ideas then check out the Montréal Tourism blog for a list of Montreal Christmas shows.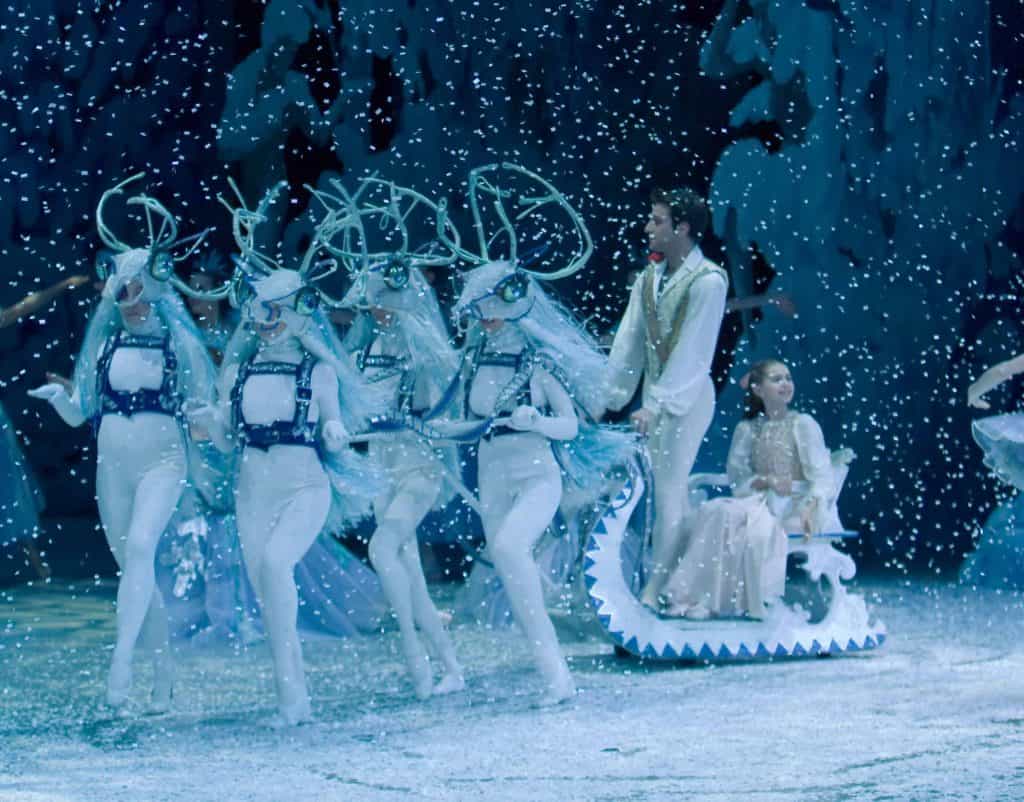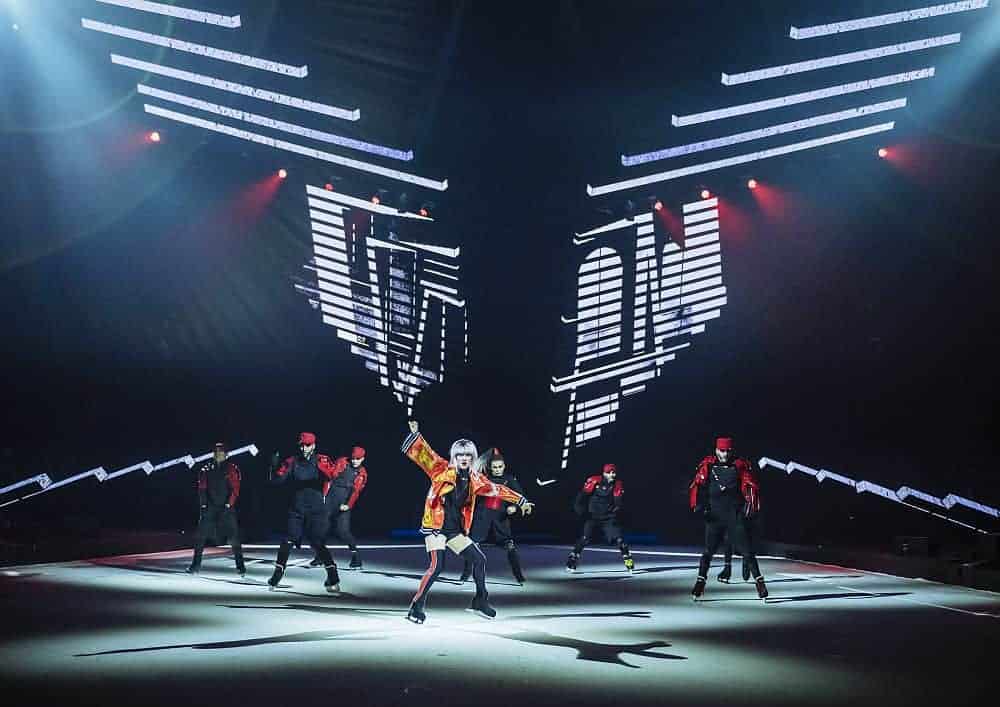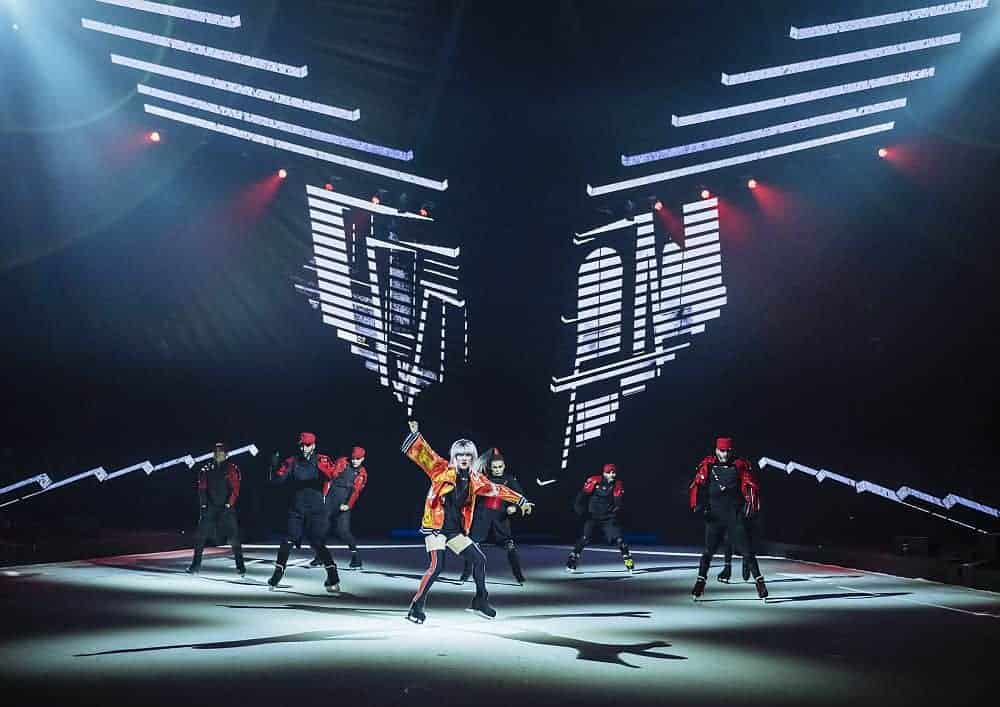 8. Montreal Museum of Fine Arts
If the weather outside is frightful then you will need some indoor activities on your itinerary. My favourite refuge from the cold is the Montréal Museum of Fine Arts which is one of the finest art museums in North America and includes an outstanding collection of historical and contemporary Québec and Canadian art.
The world class museum, founded in 1860, is the most-visited art museum in Canada and one of the largest in North America as it now encompasses five separate pavilions and includes a concert hall, auditorium and areas for educational, community and art therapy activities as well as a sculpture garden adjoining the museum.
As part of the Museum's Gift of the Holidays, access to the collections will be free December 1 to 24, 2021. Reservations can be made online and are mandatory. Proof of vaccination is not required, masks/face coverings are mandatory.
Located at 1380 Sherbrooke Street West. Closed on Mondays and also closed Christmas Day and New Year's Day. Free to anyone under the age of 21. Reduced rate for ages 21-30.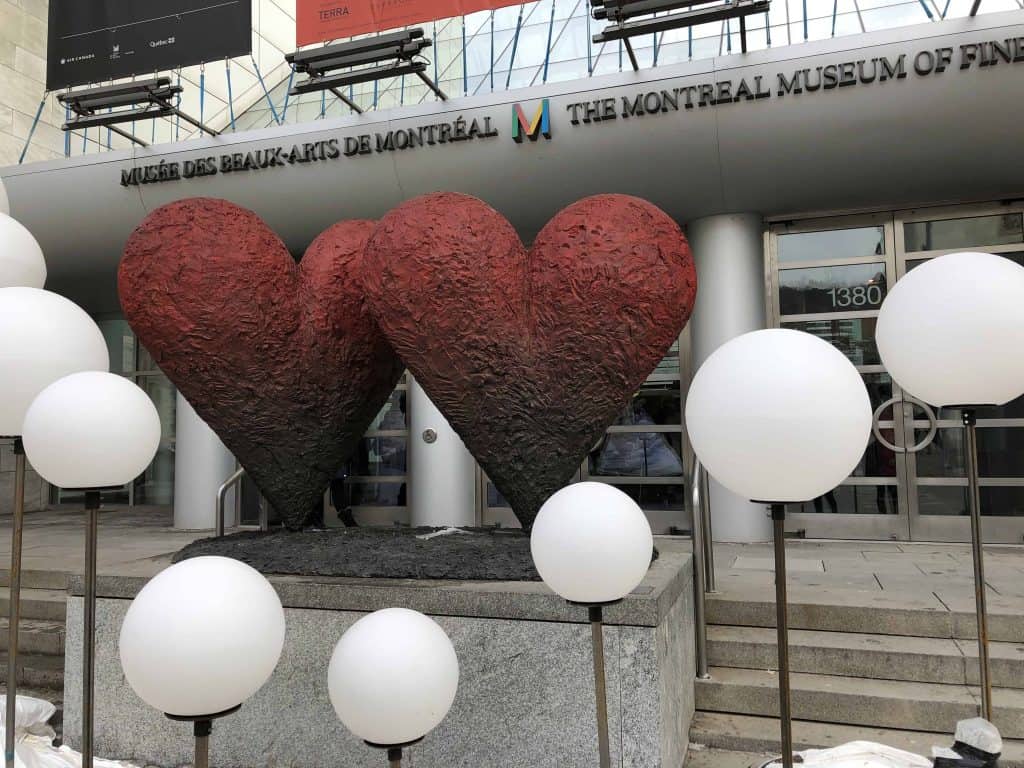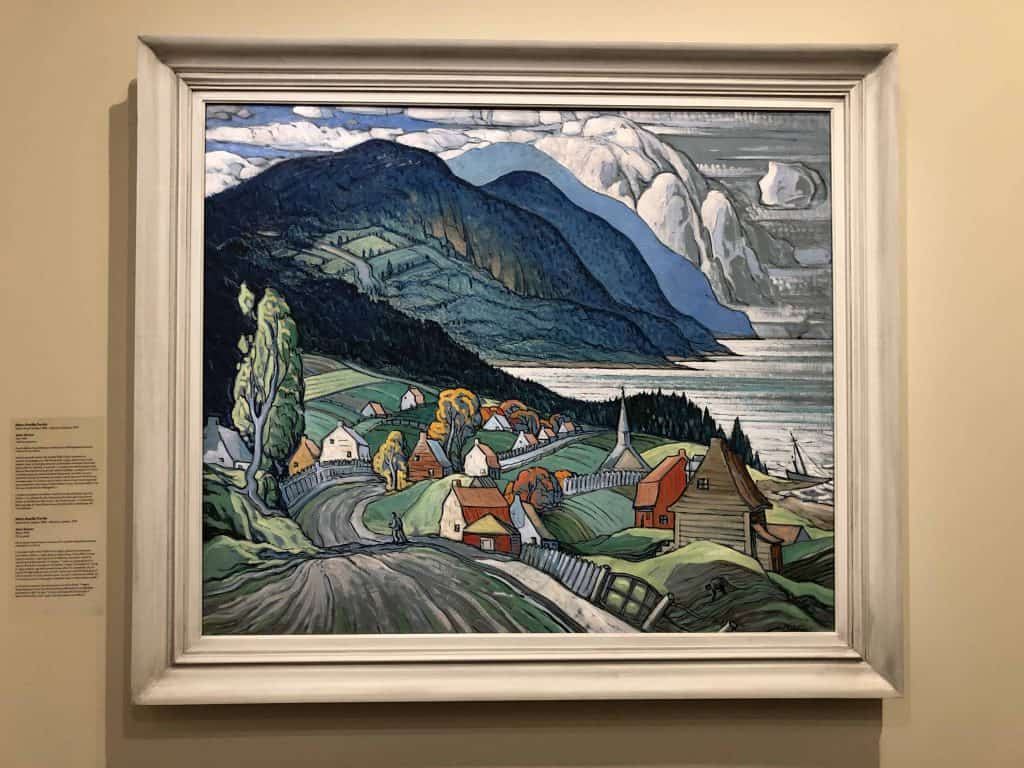 9. Montréal Science Centre
Another indoor activity that's both fun and educational, particularly if you are visiting Montréal with kids, is the Montréal Science Centre. The centre has both permanent and temporary hands-on interactive science and technology exhibits as well as an IMAX theatre screening 3D films.
Our group consisted of two adults and a teenager and we spent a fun couple of hours exploring the centre and watching an IMAX film so if you enjoy learning about STEM then you might want to visit even without kids!
2021 – Tickets are only available online. All visitors over the age of 12 must show their vaccine passport and valid identification. Wearing a mask/face covering is mandatory.
Located in the Old Port at 2 rue de la Commune Ouest (at the foot of St. Laurent Blvd).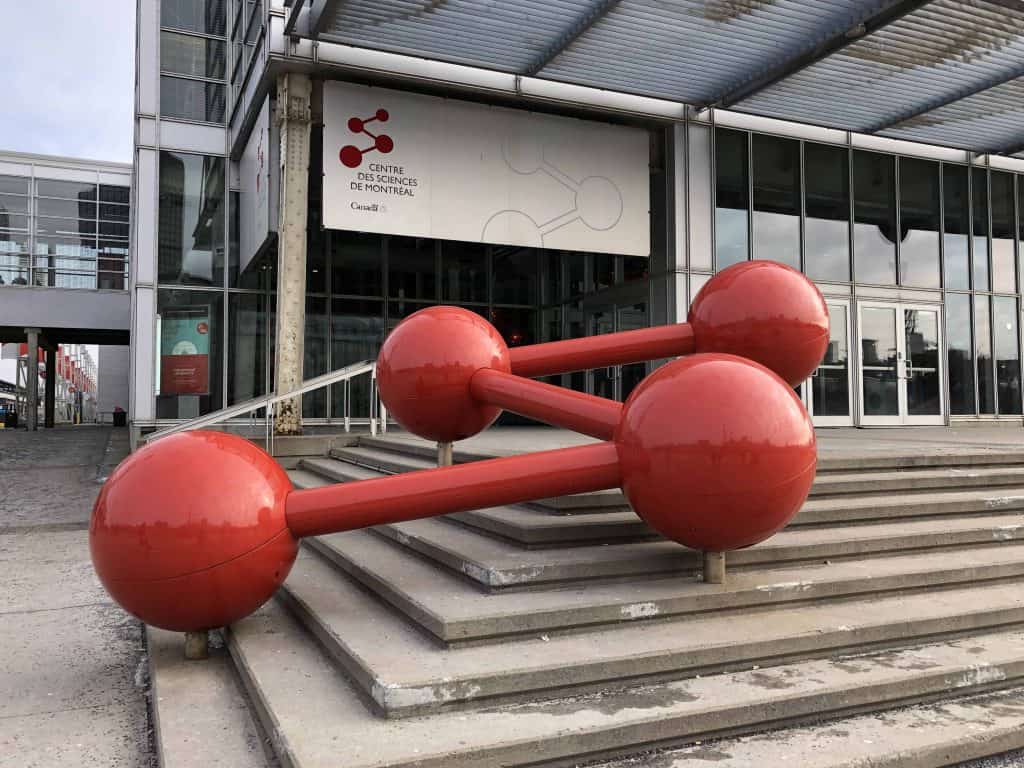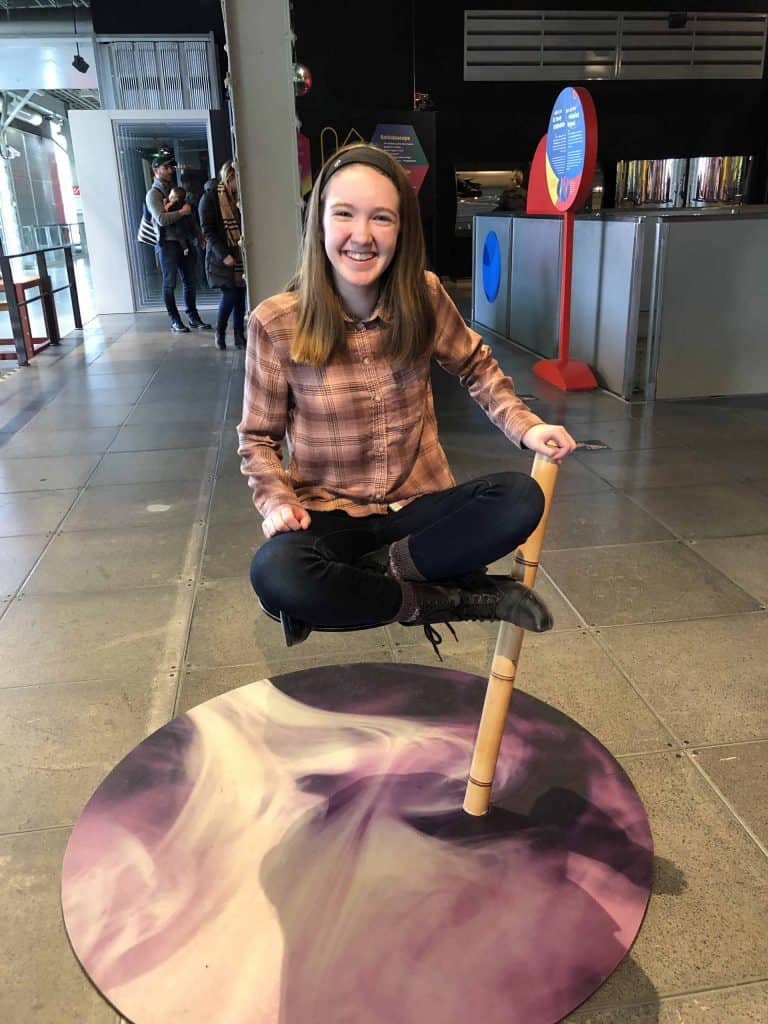 10. Visit the Space for Life Museum Complex
Space for Life Montréal is a unique museum complex in the Hochelaga-Maisonneuve neighbourhood that brings together the city's four family-friendly natural science museums (Biodôme, the Rio Tinto Alcan Planetarium, the Botanical Garden and the Insectarium). The overall mission of the four institutions is to increase awareness of our planet's biodiversity and encourage people to better protect it.
We didn't have a chance to visit these during our Christmas vacation, however, we did visit when we spent spring break in Montréal and they are great fun particularly if you are in Montréal with kids. Check the Space for Life website for fun holiday programming at the museums.
2021 – Purchasing fixed time tickets online is highly recommended. Public health authorities are making a vaccine passport mandatory for visitors 13 and over to the Biodôme, the Biosphère, the Jardin botanique and the Planétarium Rio Tinto Alcan. The Insectarium is currently closed. Wearing of a mask is mandatory indoors for people aged 10 and over. Its wearing is strongly recommended for children under 10 years old.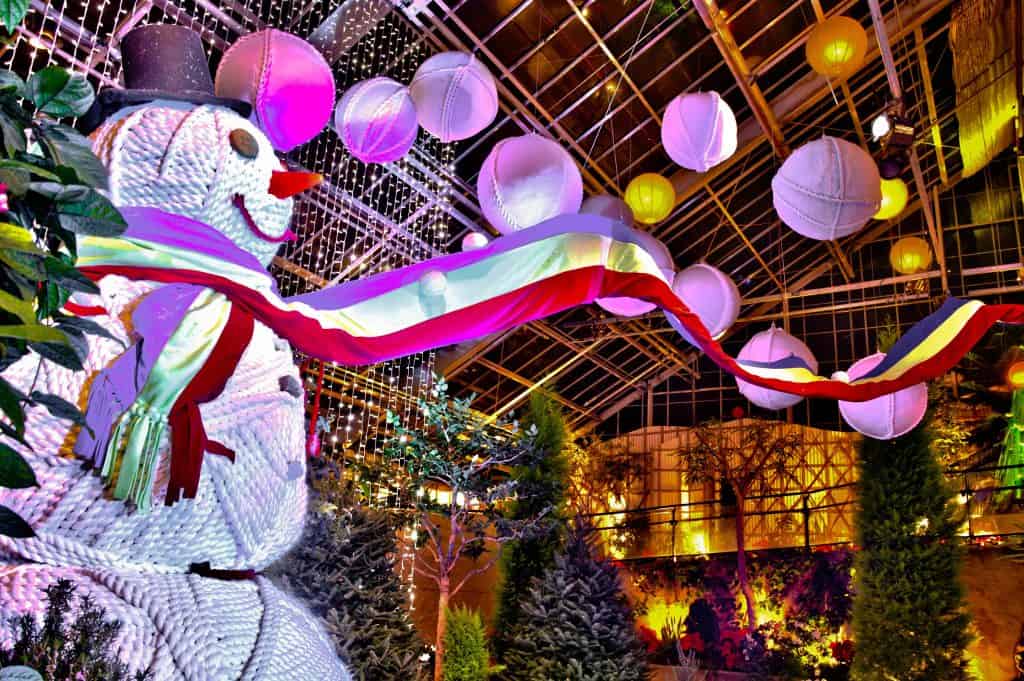 11. Visit the Pointe-à-Callière Museum
The Pointe-à-Callière museum near the port of Old Montreal is one of the most interesting museums that I have ever visited. The museum is located on a national historical and archaeological site which has been recognized by the Historic Sites and Monuments Board of Canada as "the site where Montréal was born". The museum has several permanent exhibitions which showcase the city's history and archaeology and also hosts a variety of temporary exhibits.
From December 11, 2021 to January 3, 2022, the Museum has scheduled an array of activities, both indoors and out, for fun times with family or friends! During the holiday season, Place Royale outside the museum will become a relaxation zone decked out for the holidays with Adirondack chairs and illuminated trees. On Saturdays and Sundays (December 11, 12, 18 and 19) on Place Royale, children will have an opportunity to learn about Christmas around the world as Befana, St. Nicolas, Little Lucy and Santa Claus tell their stories.
Tickets are for a set time slot and visitors are encouraged to purchase online in advance. Wearing a mask is mandatory for everyone age 6 and up. Vaccine passport is not required.
Located at 350 Place Royale, Old Montreal. Closed on Mondays. Closed December 25, January 1 and January 3. Children 4 and under are free.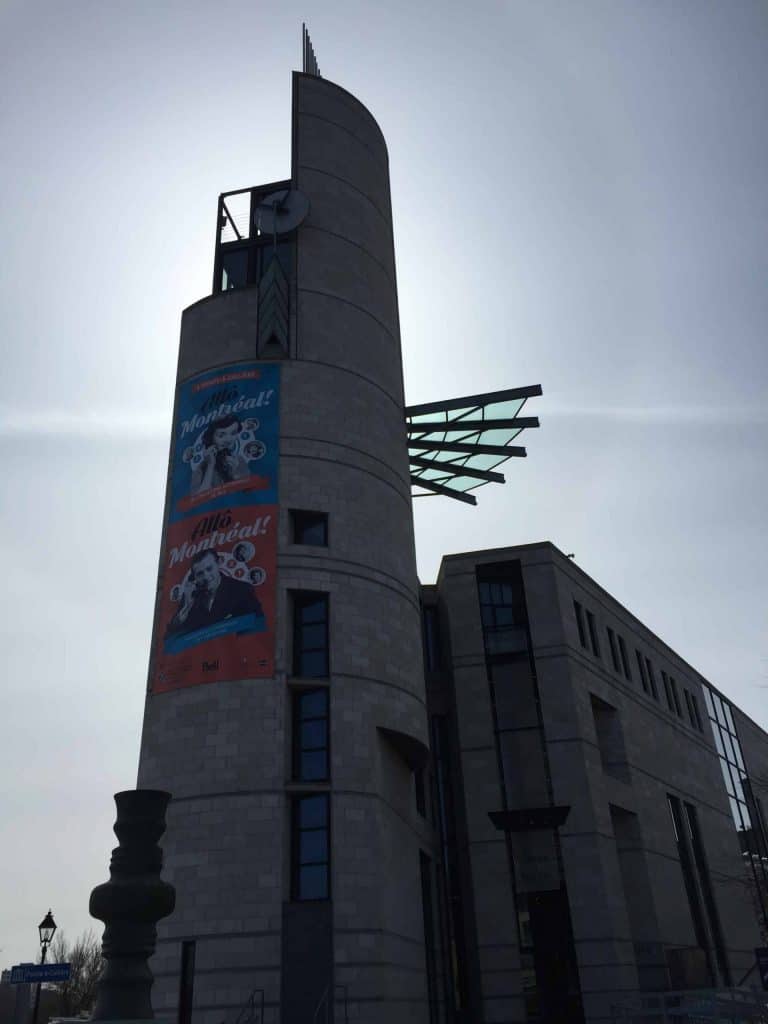 12. Enjoy a Delicious Cup of Hot Chocolate
When it's cold outside there's nothing like a cup of hot chocolate to warm you up before hitting the streets to explore some more. Our favourite spot in Montréal is Juliette et Chocolat where the hot chocolate and desserts are to die for! I had a cup of Marshmallow Madness (white chocolate, milk chocolate, and dark chocolate topped with homemade fluffy vanilla marshmallows) as a birthday treat and it was so incredibly decadent and worth every calorie!!
There are six locations of Juliette et Chocolat in Montréal – check the website to find the one that's most convenient for you.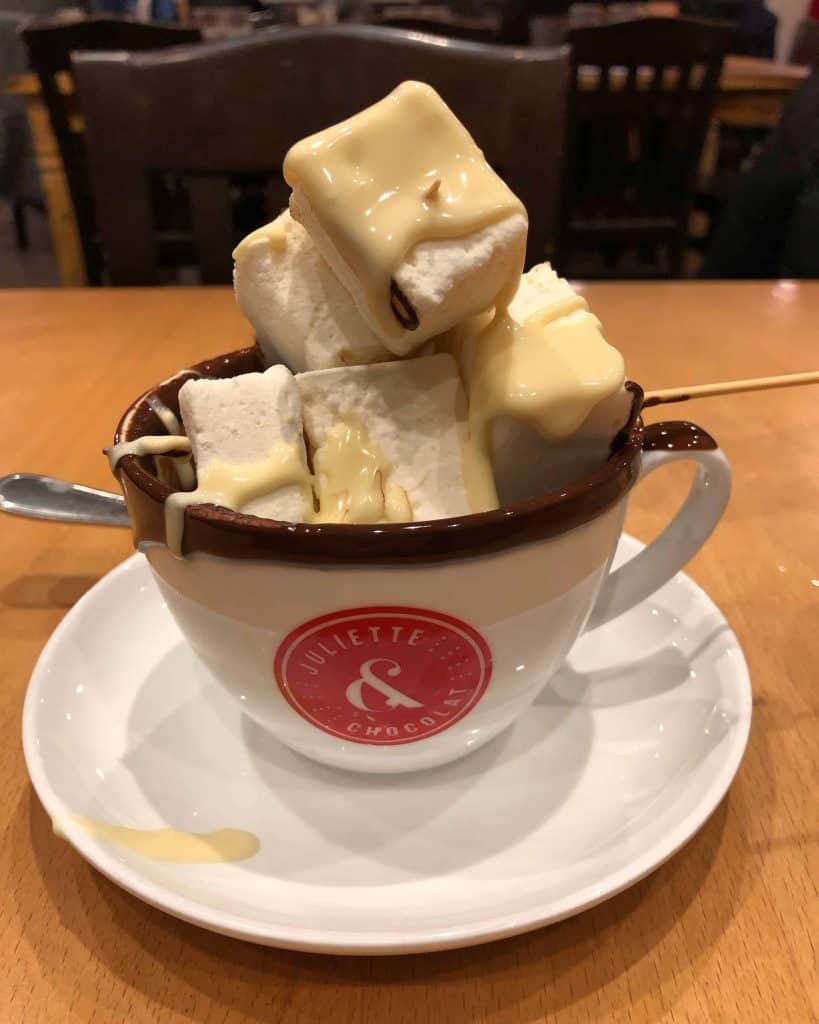 13. Discover Holiday Magic at Railway Christmas
If you have train lovers in your family then a visit to Exporail – the Canadian Railway Museum should be on your itinerary while visiting Montréal during the Christmas season. During Railway Christmas, the Grand Gallery and vehicles will be decorated for Christmas, there will be Christmas activities available for families including crafts and cookie decorating, rides on a miniature railway and more. There will also be visits with Santa if you are visiting prior to Christmas. (Vaccination passports are required for participants age 13+ for the cookie decorating activity.)
Located at 110, Saint-Pierre Street, Saint-Constant about a 30 minute drive from downtown Montréal. Railway Christmas takes place November 19, 2021 – January 3, 2022.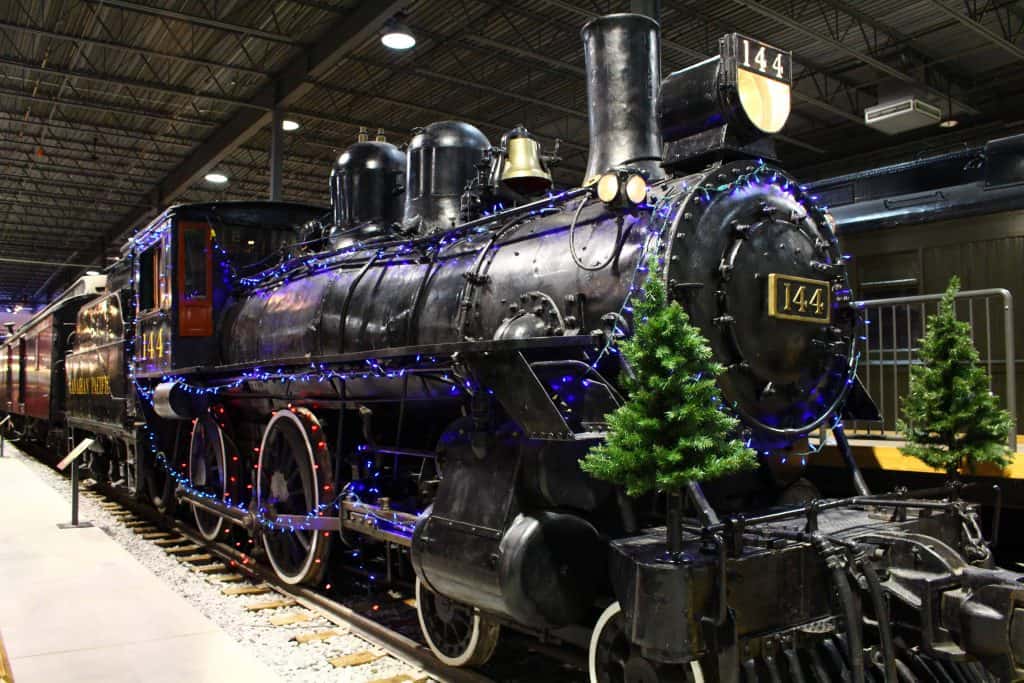 14. See the City Sparkle From On High
The views of the city are never better than when it's sparkling with decorations during the holiday season. Options for the best views include the Montréal Tower at Olympic Park (closed for an indefinite period) which provides a 360 degree view from the top of the highest inclined tower in the world and La Grande Roue de Montréal, a climate-controlled gondola in the Old Port which is the largest observation wheel in Canada.
Entrance to the Olympic Stadium is located at 4545 Pierre-De Coubertin Avenue. La Grande Roue is located at 362 de la Commune Street East on the shores of the St. Lawrence. Check websites for the holiday schedule.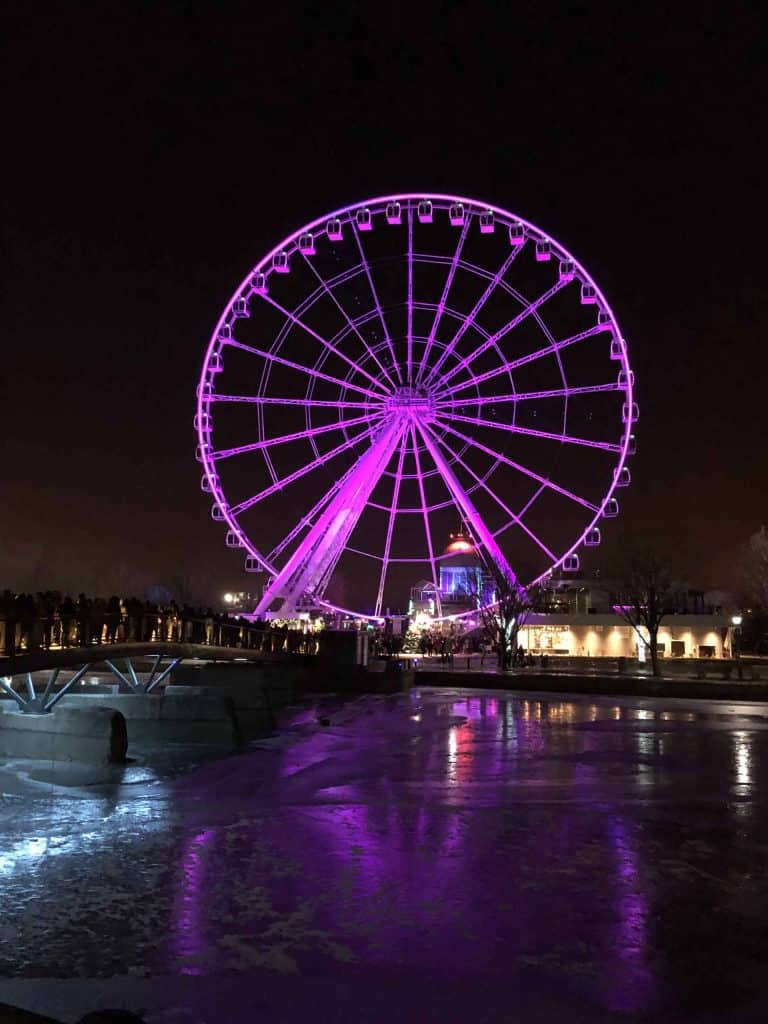 15. Ring in the New Year Outdoors
For a memorable night, bundle up and celebrate New Year's Eve outside in the Old Port of Montréal. Traditionally the free event includes a concert, a New Year's countdown, and fireworks at midnight followed by a dance party until 2 am.
December 31, 2021 8 pm to 1 am – Merry Montréal will present two outdoor New Year's Eve parties in Square Dorchester and Square Victoria. Each location will host a musical evening with some of Quebec's best artists to celebrate the city's unique cultural landscape and resilience. The events are free, however, tickets must be reserved in advance to control numbers.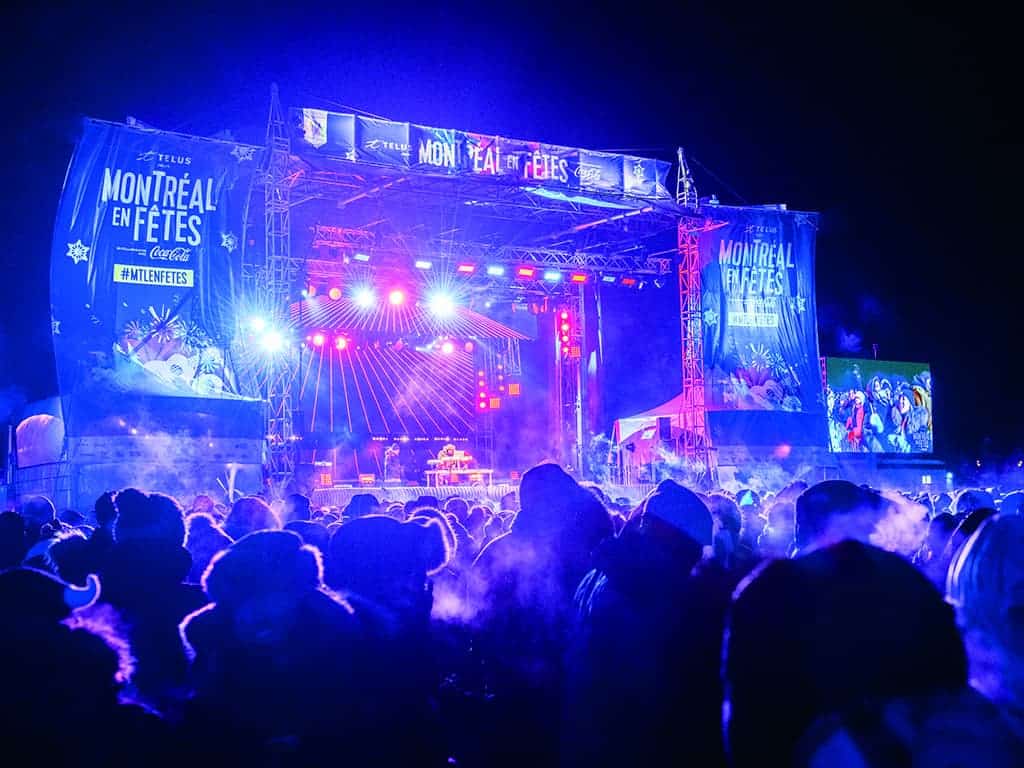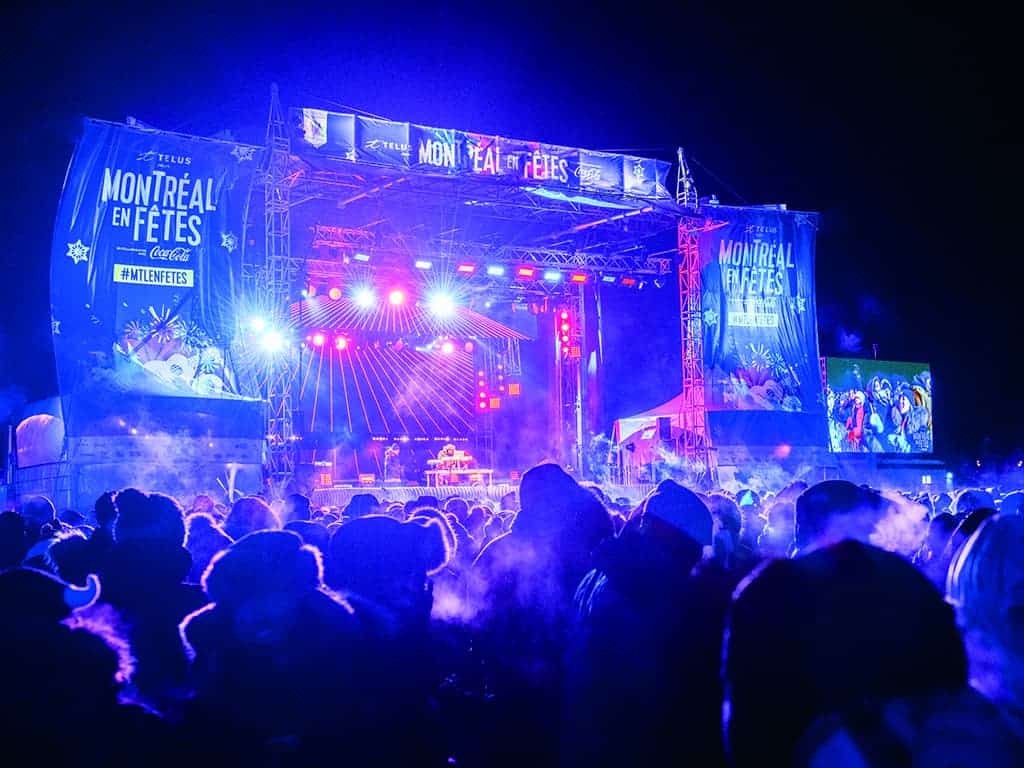 Where to Stay in Montréal
Fairmont The Queen Elizabeth
During our holiday season visit, we stayed at Fairmont The Queen Elizabeth – a luxury hotel conveniently located in the heart of downtown Montréal. The hotel first opened its doors in 1958 and has hosted royalty, world leaders and celebrities including John Lennon and Yoko Ono who stayed here in 1969 holding their famous "bed-in for peace" and composing "Give Peace a Chance".
The hotel is connected to the Underground City which is very convenient during inclement weather. If you are arriving and departing by train you will appreciate that The Queen Elizabeth is located above Central Station and is just a few minutes walk indoors to the hotel.
All of the hotel's rooms have been recently renovated and are bright, modern and reasonably spacious. There is an elegant restaurant on site, a cafe and Marché Artisans – a lovely gourmet shop which showcases artisanal products. The holiday decorations in the lobby were fabulous during our stay and included a stunning gingerbread house!
Find the best deal, compare prices, and read what other travelers have to say at TripAdvisor
Le Westin Montréal
We have also stayed at the Westin, a luxury hotel with a convenient location on Rue St. Antoine Ouest (at the corner of Rue St. Pierre) at the edge of downtown (across from Le Palais de Congrès) and Old Montréal. The hotel is located in the building that formerly housed the Montréal Gazette newspaper and one of the unique features is a main entrance which allows cars to drive into a grand hall that once housed the printing presses of the newspaper. The hotel is lovely and the location can't be beat!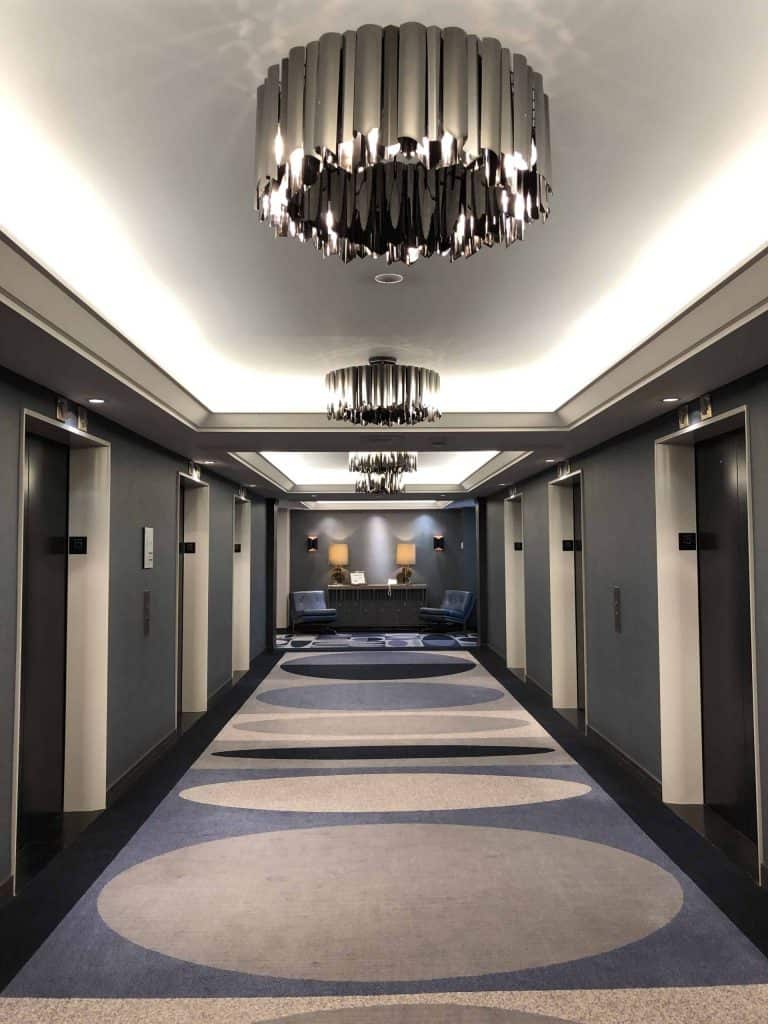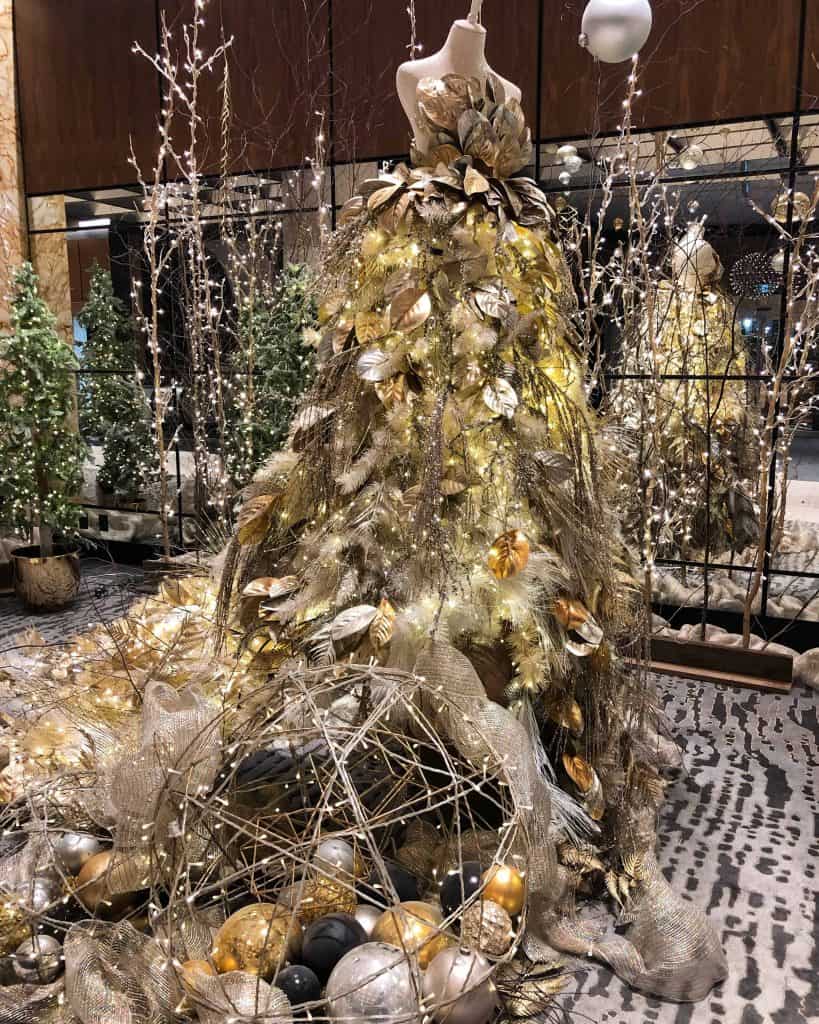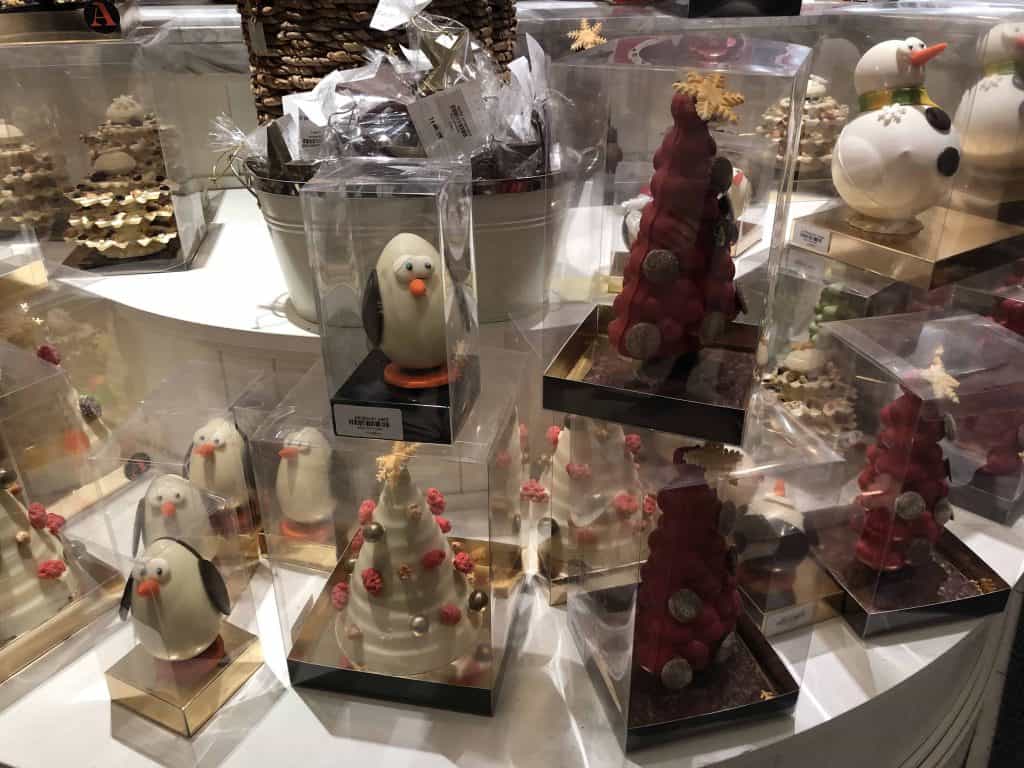 Pin This For Later