Fun things to do at the Quebec Winter Carnival in Quebec City, Canada.
Winter can be quite cold and snowy in Québéc City but that doesn't mean staying indoors. Residents of Québec embrace winter and that is never more apparent than during the Québec Winter Carnival (Carnaval de Québec). The annual celebration of winter, held during February each year, is one of the world's largest winter festivals and draws thousands of tourists to the city to join in the winter fun.
Updated for the 2023 Carnival
Now that COVID public health restrictions have been lifted, there are a number of new activities and some old favourites returning for the 69th Carnival February 3-12, 2023. New activities include an Urban sliding course, a silent disco, aquafit in a ball-pit swimming pool under an igloo and the all-new Videotron Bonhomme's Campground! Two parades, the Loto-Québec Zone, the Scotiabank Sculptures Snow Route, canoe racing and St-Hubert Snow Bath will also be back this year!
Read 10 of Canada's Best Winter Festivals to Celebrate the Season
Visiting in Summer? Read 20 of the Best Things To Do in Quebec City on a Summer Visit
We are a participant in the Amazon Services LLC Associates Program, an affiliate advertising program designed to provide a means for us to earn fees by linking to Amazon.com and affiliated sites. As an Amazon affiliate I earn from qualifying purchases.
This article may contain affiliate links which help support the site. If you click an affiliate link and make a purchase then we receive a small commission at no additional cost to you.
History of the Québec Winter Carnival
The Québec Winter Carnival, which began officially in 1955, is the largest winter carnival in the world. The carnival tradition actually originated much earlier though, dating back to a time when the early inhabitants of New France got together just before Lent from the end of January through mid-February to celebrate.
From late in the 19th century through 1954, a carnival was held sporadically until a group of business people decided that organized festivities could provide a winter boost for the tourism industry.
The official Winter Carnival was launched in 1955 and has continued to grow and increase in popularity year upon year becoming an event that Québec is known for around the world.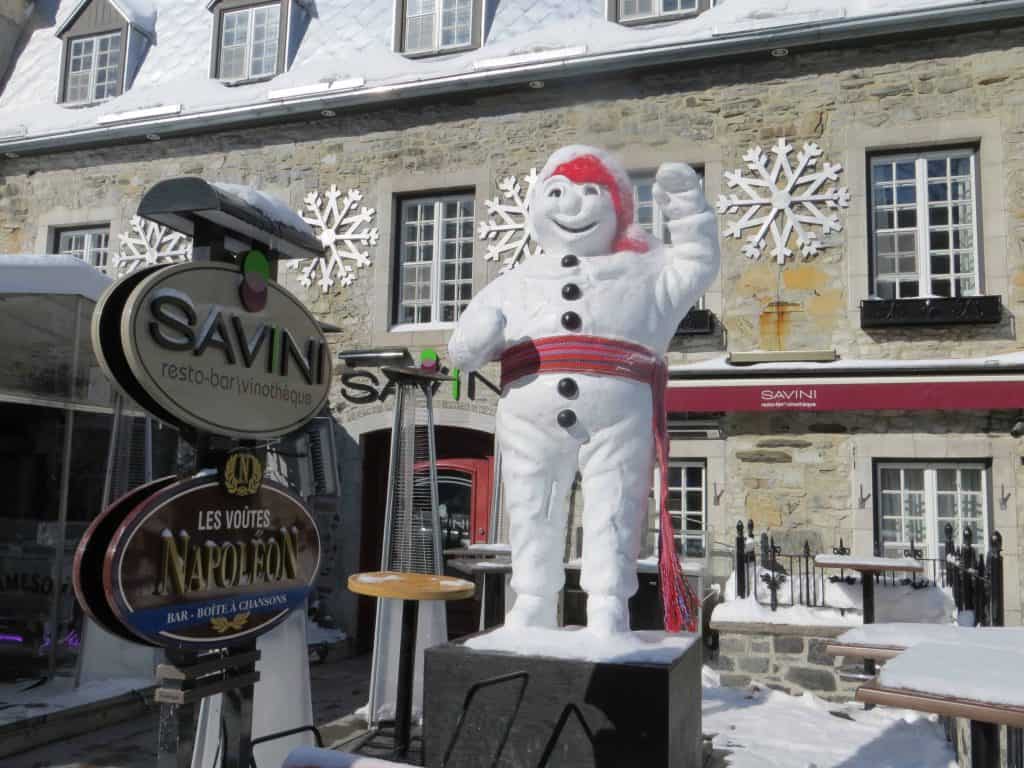 The Winter Carnival in Québec is fun for everyone with a diverse program of activities each year that will appeal to all ages. Québec City is also an ideal destination for a girlfriend getaway.
Here are my picks for 10 things you must do at the Québec Winter Carnival.
1. Meet Bonhomme and Visit His Palace
The first time I attended the Winter Carnival in Québec, my number one priority was meeting Bonhomme Carnaval, a jovial snowman wearing a red toque and an arrow sash who acts as the carnival's official representative. Each year on the opening night of the carnival, the mayor of Québec presents Bonhomme with the key to the city to symbolize his role as King of the festivities.
I had learned all about the Québec Winter Carnival and Bonhomme in my French classes as a kid so he had bona fide celebrity status as far as I was concerned. Fortunately, it didn't take long to find him as Bonhomme spends his days visiting carnival sites.
Bonhomme's Ice Palace (Palais Bonhomme) in Zone Loto-Québec, near the Parliament Building at Place de l'Assemblée Nationale, which is designed and built for Bonhomme each year and open for tours is a must for anyone attending Carnival. The theme for this year's palace is "Bonhomme's Laboratory" and it will be divided into several experiential rooms that lead to an enormous backyard where a dome will be set up to host music shows at night.
Bonhomme visits the Zone Loto-Québec site during the carnival to meet visitors and pose for photos. Be sure to check the schedule so you don't miss the chance to take a photo with the king of the carnival!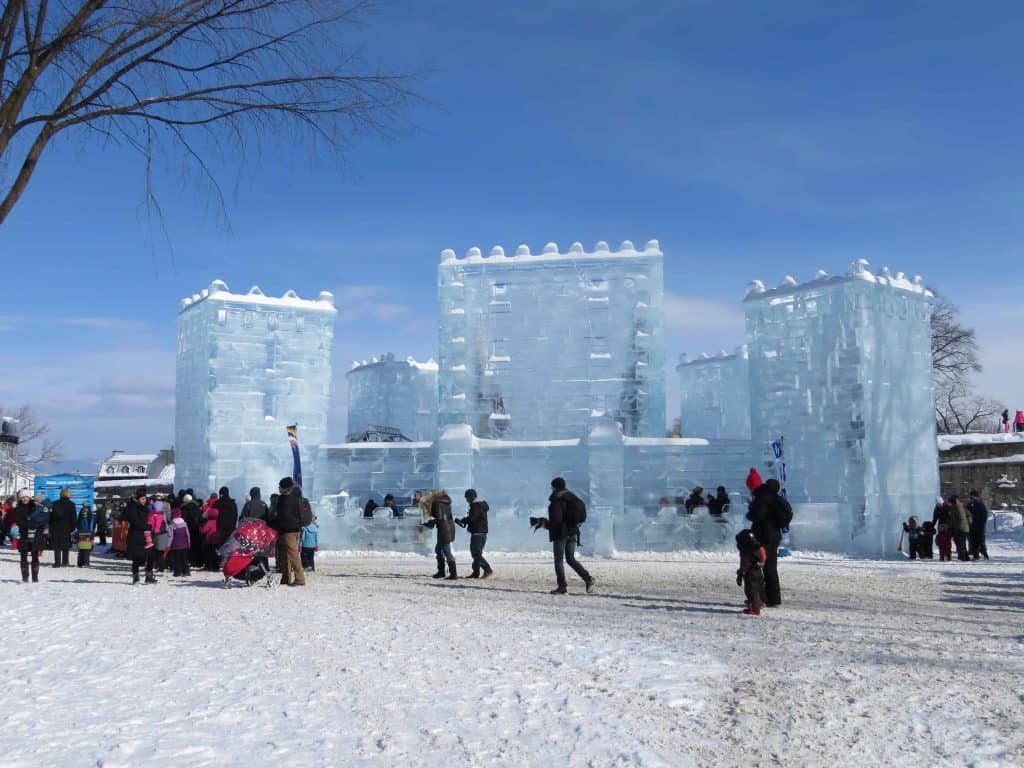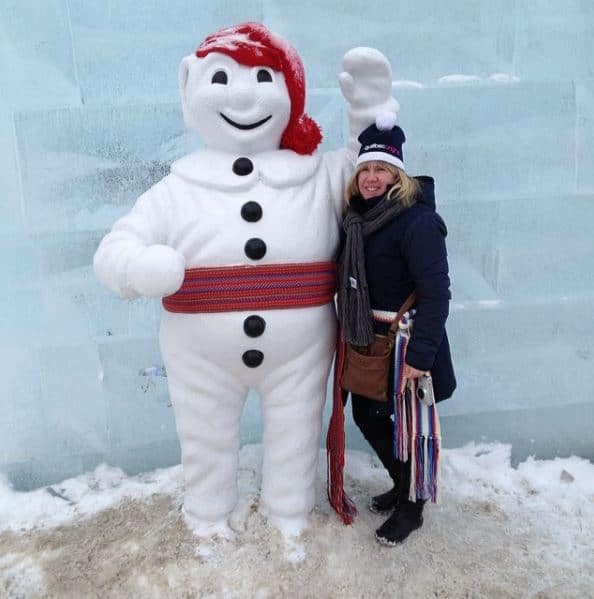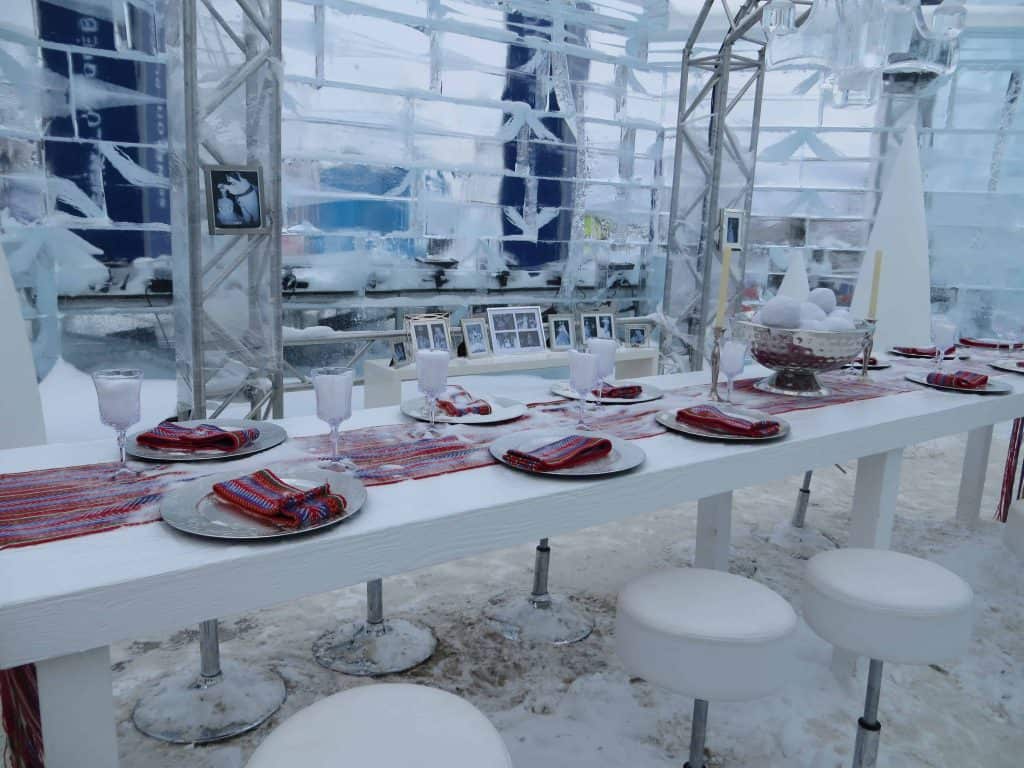 2. Bundle Up and Attend a Night Parade
Night parades are back in 2023! The night parades that take place during Carnival are among the festival's most anticipated events. Be sure to dress warmly for the parade as Québec is one of the coldest cities in North America and and you will be out in the colder night air for some time.
There will be two routes for the night parades in 2023 – one in Upper Town and one in Lower Town. More than 300 artists, dancers and musicians will perform during these two major events.
If you're over 18 then a cane filled with caribou, the traditional festival alcoholic drink made from a secret recipe which includes red wine and hard liquor, will help keep you warm. The parades are free for anyone to attend – no Effigy required.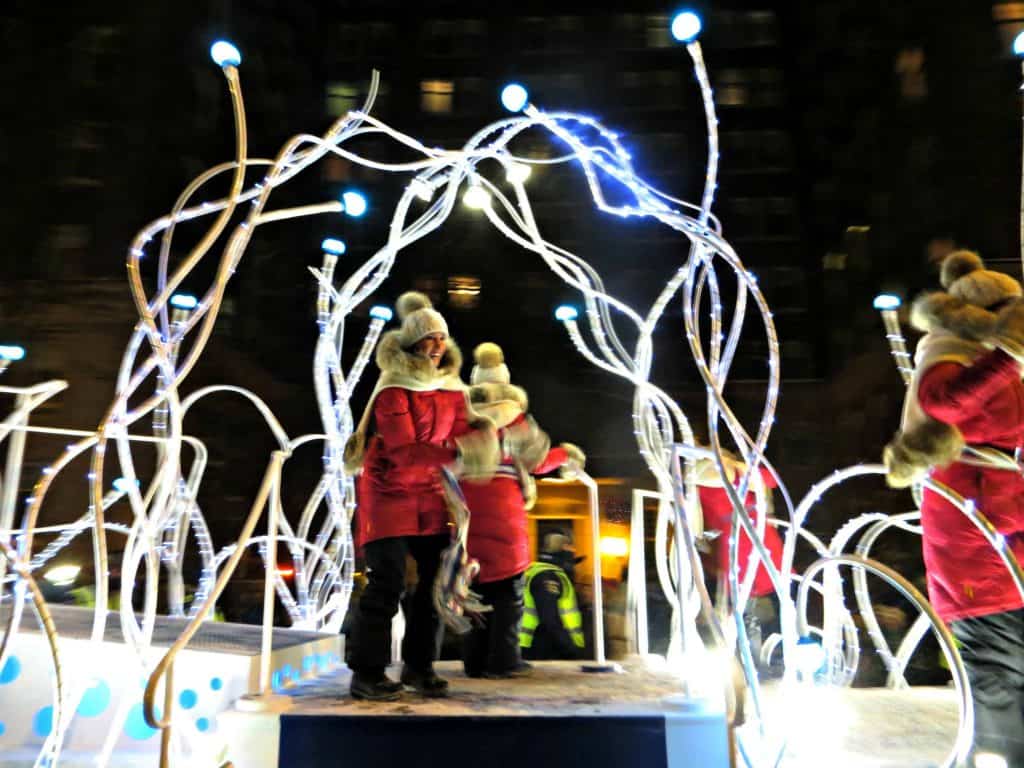 3. Eat Maple Taffy
Trust me – you will be very sorry if you visit the carnival and don't sample some maple taffy. This tasty winter treat is made by spreading maple syrup on blocks of snow and the delicious sweetness will make you forget about the cold for awhile at least. Visit a cabane à sucre (sugar shack) to get your fix.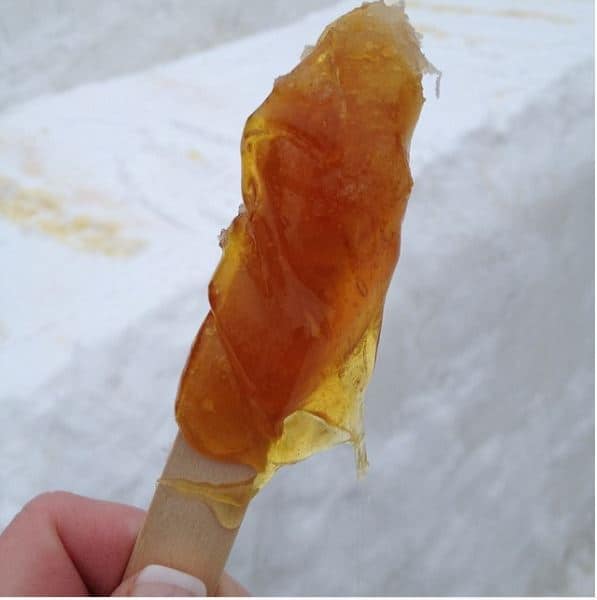 4. Watch a Canoe Race on the Frozen St. Lawrence River
One of the highlights of the carnival is the traditional canoe races which take place on the frigid waters of the St. Lawrence River. Spectators cheer on elite athletes who race their canoes across the river to Lévis and back again multiple times through a mixture of ice, slush and water. When the St. Lawrence is partially frozen the competitors have to alternate between rowing and jumping out of their canoes to push it across the ice floes.
Historically, canoes were the only method of transportation across the St. Lawrence but once other viable methods of transportation became available ice canoeing transformed into an extreme sport unique to Québec and a popular event in each year's winter carnival.
The ice canoe races are also back in 2023 and visitors can watch for free at wharves 19 and 21 of the Port of Québec.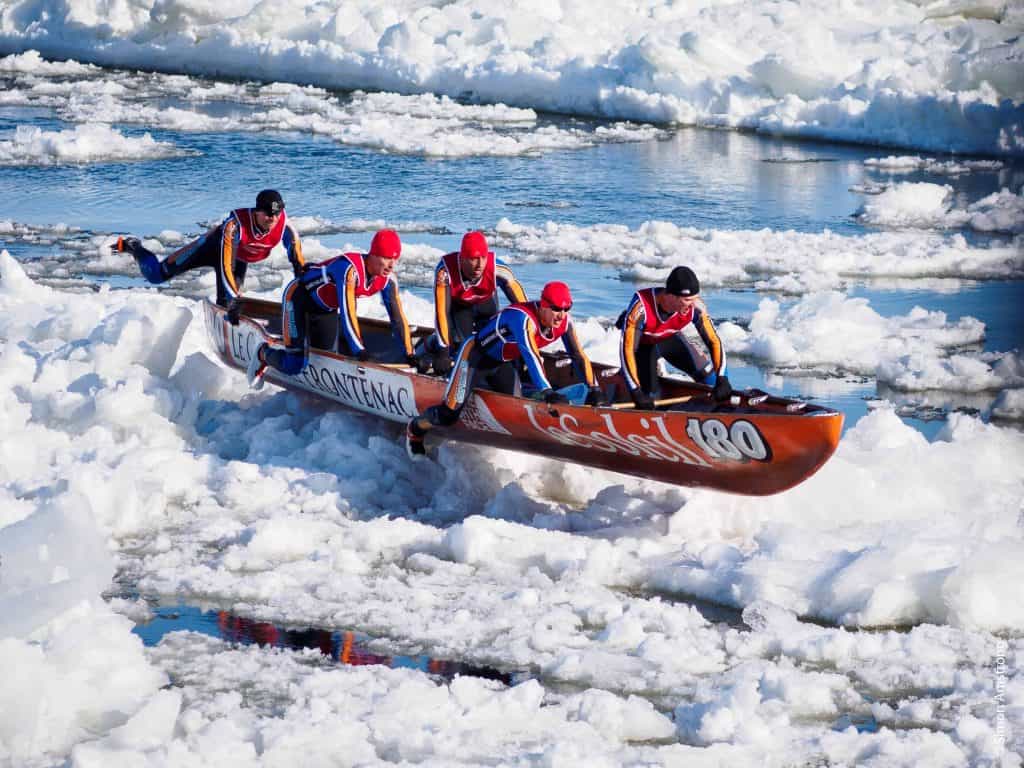 5. Check out the Ice Sculptures
One of the things that I love most about winter carnivals is seeing incredible snow and ice sculptures created by artists. Michel Lepire's team have created frosty sculptures for Carnival again this year for the Scotiabank Sculptures Snow Route along Québec City's main roads. This year there will be 100 artworks made of snow and ice, inspired by the history of French-canadian music.
6. Witness a Snow Bath
Without a doubt, the craziest thing that I have ever witnessed is the Bain de Neige (Snow Bath) which is one of the carnival's most popular annual events. I wasn't brave enough to participate (and have no regrets) but it was fun to watch! Participants don bathing suits to frolic in the snow with Bonhomme for a few minutes at a time, return inside to warm up and repeat.
As much as I love Bonhomme, there is no way that I could be convinced to do this polar dip. Believe it or not, this event requires advance registration and sells out well in advance so if you have always dreamed of playing in the snow in your bathing suit then plan ahead! The St-Hubert Snow Bath will take place in the backyard of the Ice Palace in 2023.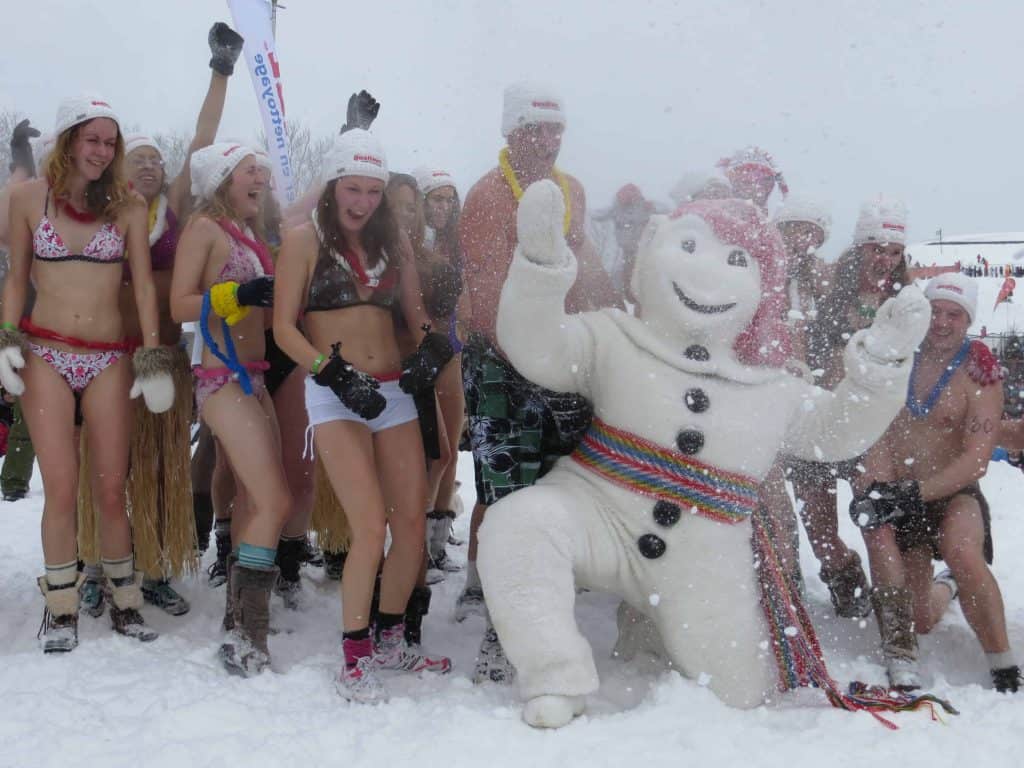 7. Go Skating Outdoors
There are a few locations where carnival goers can skate outdoors in the city but one of the loveliest is Place d'Youville in Old Québec across from Porte Saint-Jean and Capitole de Québec. Bonhomme, the carnival's ambassador, skates with the public on specific days and times at the Place d'Youville site and a few other neighbourhoods have been added for 2023 (check the website for details on ice skating with Bonhomme).
The Québec Region website also lists locations for outdoor ice skating in the city.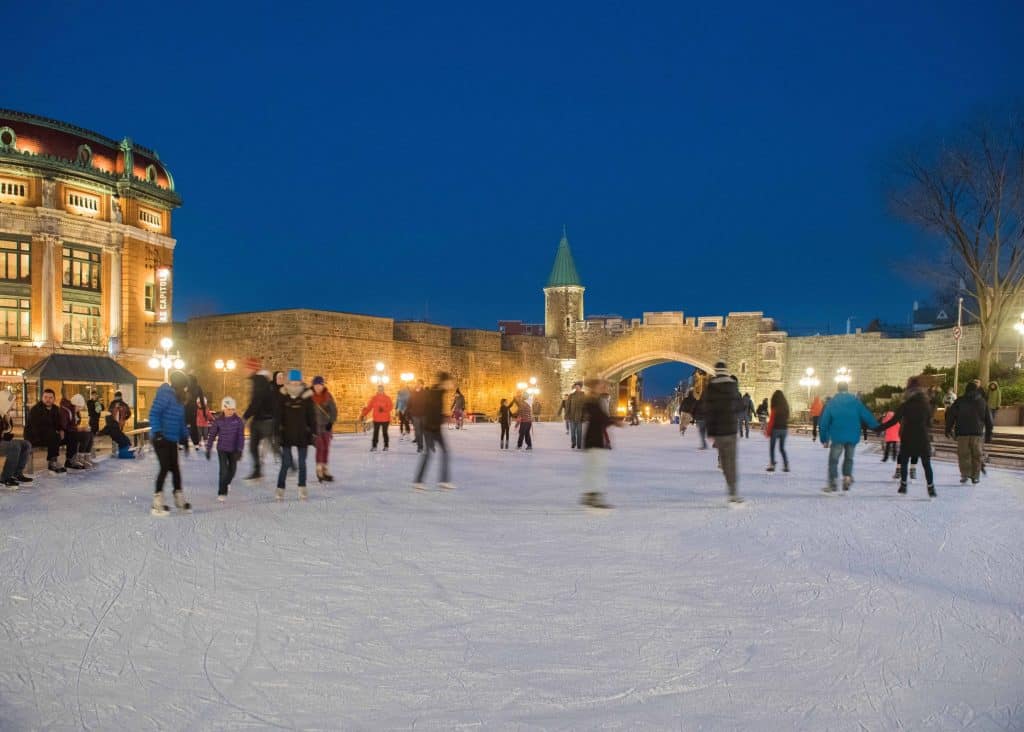 8. Enjoy Fun Outdoor Games and Activities
There's always fun to be had outdoors during the Winter Carnival – activities at past carnivals have included tubing, a ferris wheel, giant foosball, ice fishing, cross-country skiing, dog sledding, sleigh rides and more. Available activities change year-to-year but are always fun for the family so dress in layers an head out to the carnival sites – this is your chance to have fun playing in the snow.
New activities in 2023 include: silent disco, a ball-pit pool, ice-mountain climbing, introduction to fat tire biking, Kart adventure video games and more – there's something for everyhone to enjoy!!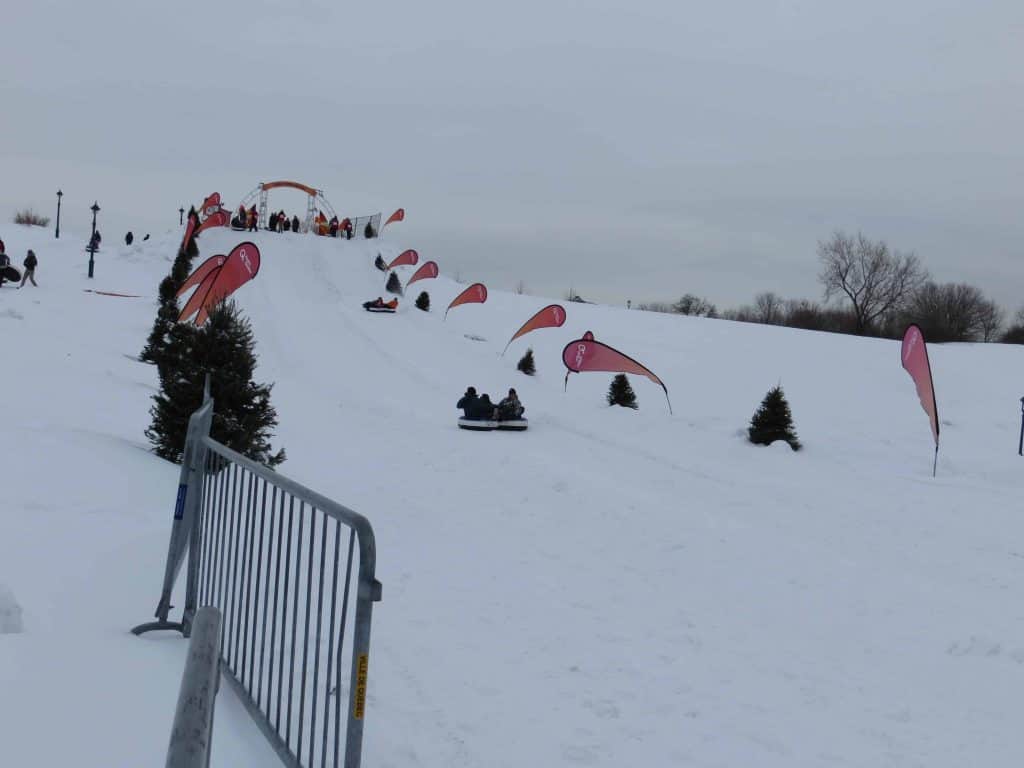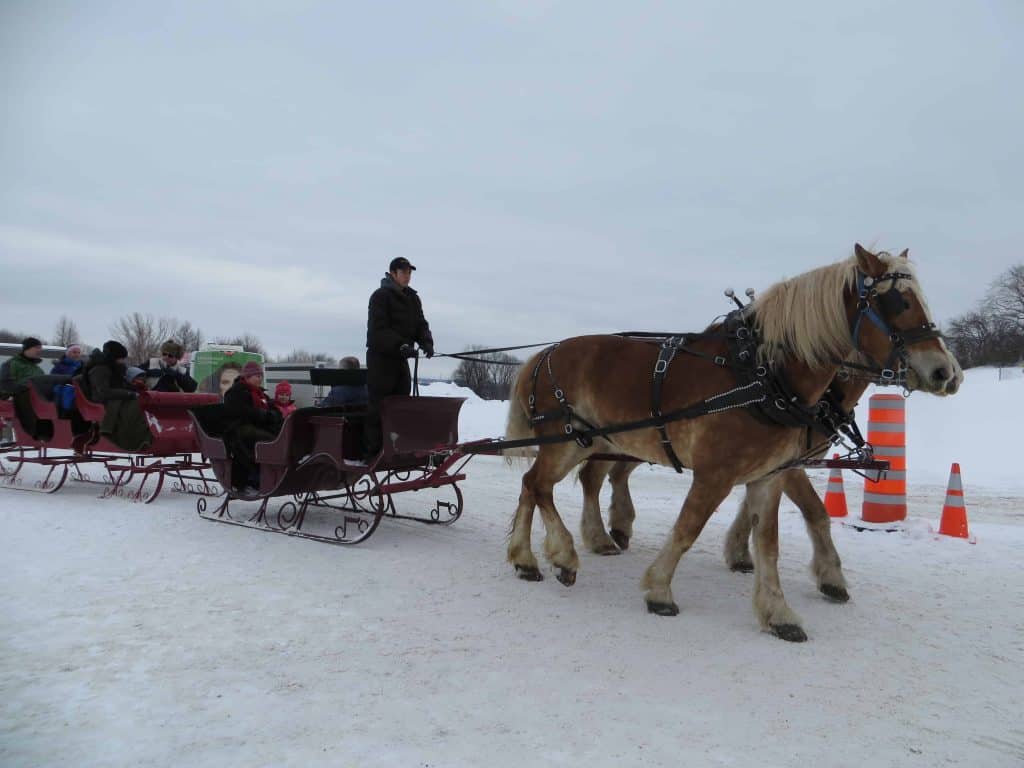 9. Take a Thrilling Toboggan Ride
Take a thrilling ride on the Dufferin Terrace toboggan slide located on the boardwalk by the historic Fairmont Château Frontenac. A toboggan slide first appeared on this spot late in the 19th century before construction of the Château Frontenac. It was closed in 1981 but reopened in 1992 and has operated every winter since.
There are three toboggan lanes that riders race down at up to at speeds up to 70km/hour (43 miles/hour) for just $3 a ride and hot chocolate nearby to enjoy after your run. Weather permitting, the slide is open mid-December through mid-March so can be enjoyed when visiting Québec anytime during the winter season.
New to the Carnival in 2023 is Urban Sliding from the top of the fortified walls of Québec City! Sitting comfortably on an inner tube, you'll slide at top speed from Porte Kent to Place d'Youville while enjoying music and lights – guaranteed fun!!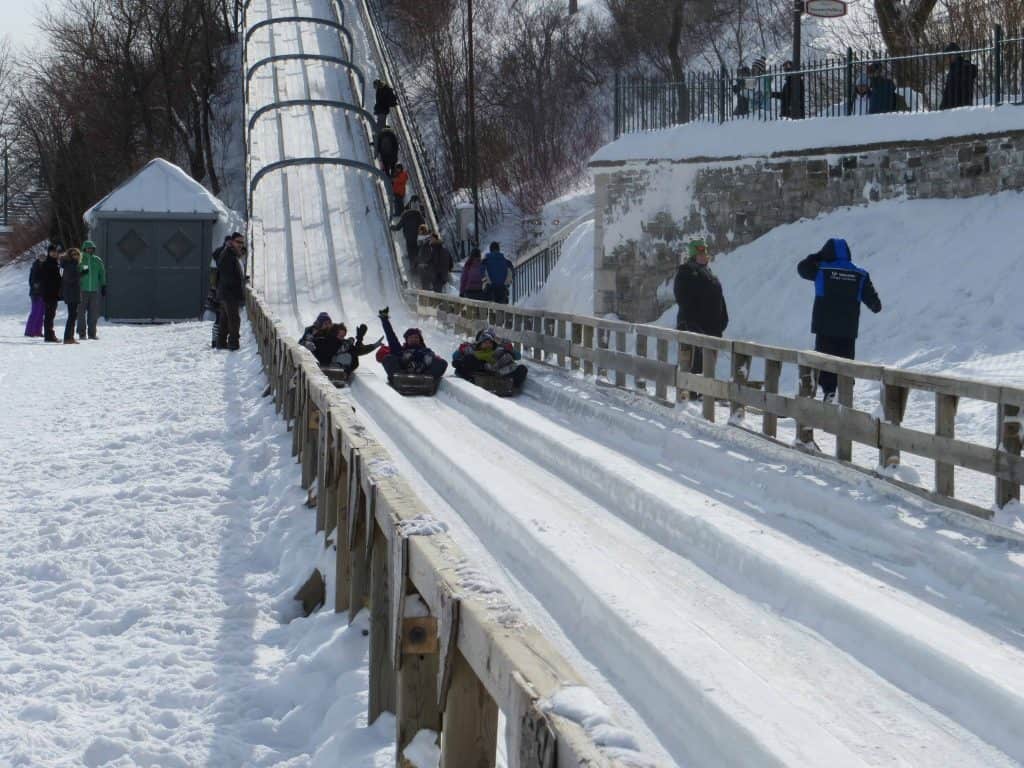 10. Explore the City and Region
As much fun as all of the Carnival activities are, you should take the time to do some sightseeing around the city as well. The provincial capital of Québec was founded more than 400 years ago by Samuel de Champlain in 1608 and the historic district of Old Québec (Vieux Québec), surrounded by the only fortified city walls remaining in the Americas north of Mexico, is a UNESCO World Heritage Site.
At the very least, plan to visit Quartier Petit Champlain and Place Royale in Basse Ville (Lower Town). Quartier Petit Champlain is a neighbourhood of quaint boutiques and bistros with a decidedly European atmosphere and twinkling decorative lights combined with a fresh winter snowfall will make you feel like you are walking through a scene taken from a postcard.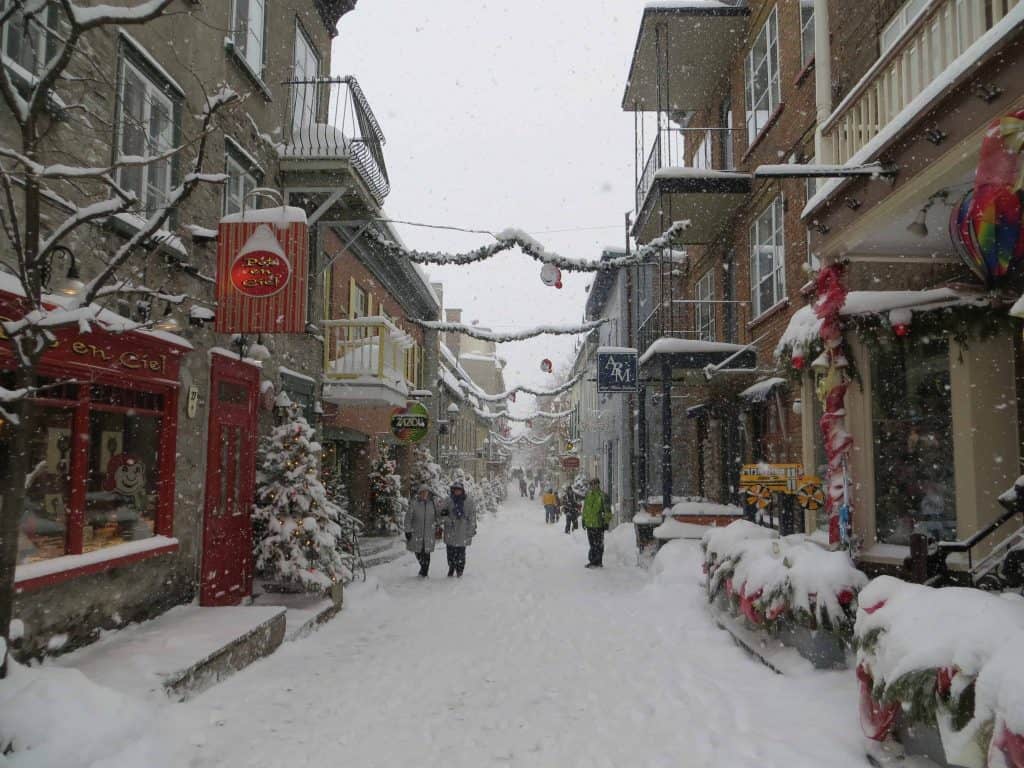 Anyone who is curious about ice hotels but isn't sure they want to book a stay can take a tour of Québec's Ice Hotel (Hôtel de Glace) which is located a short distance outside the city. The hotel is reconstructed each winter with a new theme and the craftsmanship involved in creating a hotel out of ice is an incredible thing to see.
Other nearby options include the winter playground at Valcartier Village Vacances which includes snow slides, skating paths, snow rafting and more; Wendake, a self-governing territory in the midst of Québec City where visitors can learn more about the Huron-Wendat nation's culture and history; and Montmorency Falls which is the highest waterfall in Québec and one of the highest in Canada.
Read: 8 of the Best Day Trips from Québec City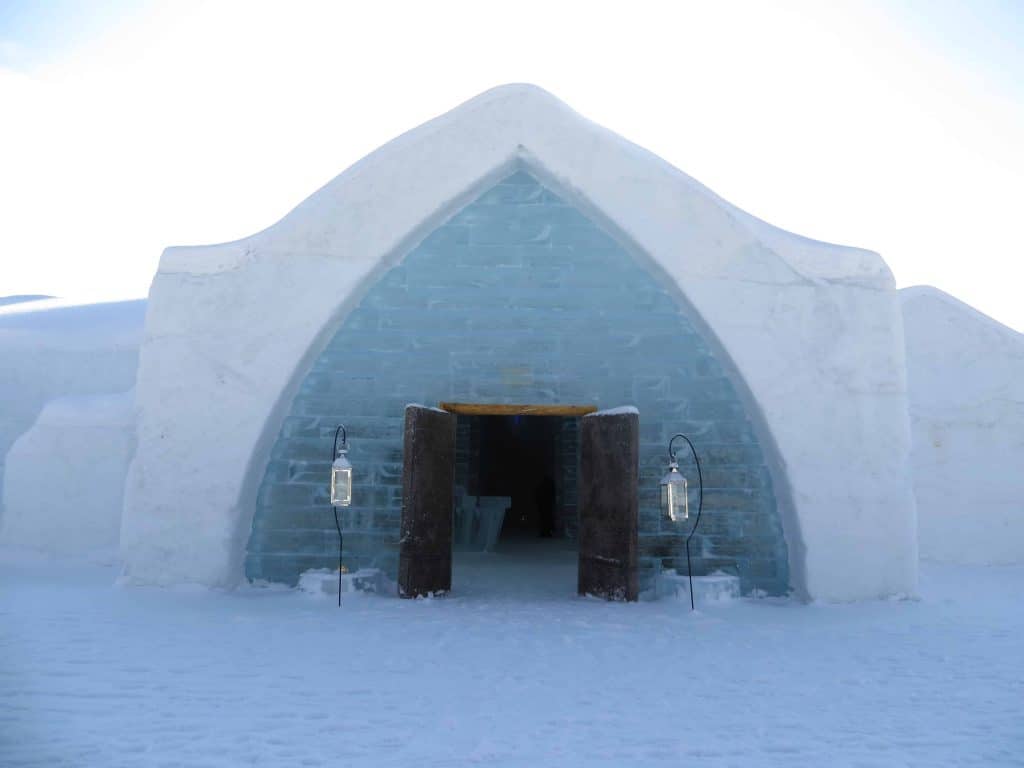 Visit the official Québec Winter Carnival website for a full list of events and activities for this year's celebration.
Need to Know When Visiting the Québec Winter Carnival
The upcoming Carnival will be held February 3 – February 12, 2023.
The main sites for the 2023 Carnival are Parc de la Francophonie, Place de l'Assemblée-Nationale and Place D'Youville in the heart of Old Quebec City but some activities take place elsewhere.
The Carnival Effigy is your pass for 10 days of celebration at the main sites. The Effigy is a little plastic figurine of Bonhomme Carnival that you hang to your coat. Sales of this figurine are the Carnival's main source of funding. There are some events such as the parades which can be enjoyed without an Effigy but most events require one for admission. Visitors 13 years of age and over require an Effigy to enter Carnival events.
The regular price of an Effigy for 2023 is $25 + tax. (They are available at the discount price of $15 until January 15, 2023.) If you haven't purchased one beforehand, you can do so at the entrance to any carnival events.
Dressing for the weather is the key to enjoying carnival activities as it can be bitterly cold and windy and the vast majority of events are outdoors. Layers are important and the first layer should be a wicking material (not cotton) because if you get sweaty then you will be cold. Fleece makes a good top layer. A thermal layer on your legs will help keep you warmer as well. Snow pants are also a good idea if you have them and a winter coat that will keep you warm and dry. Warm, comfortable boots are essential as you will be doing a fair bit of walking. A hat, mittens and scarf are essential. You might want to bring along pocket warmers as well.
Where to Stay in Québec City
The Hilton Québec is conveniently location located in Upper Town (Haute Ville) on Boulevard Réné-Lévesque East across from Parliament Hill just outside the walls of the old city. It is only a short walk from the Hilton to the historic Old Town, the restaurants and cafés of the Grande Allée and the Plains of Abraham urban park.
We have stayed at this hotel twice (once during Winter Carnival and once during the summer) and both times have been pleased with the convenient location and the stylish, comfortable rooms. The hotel features rooms with floor to ceiling windows and breathtaking views over the city, a modern fitness centre, a heated indoor/outdoor pool which is open year-round, two restaurants on site and complimentary WiFi for Hilton Honors members.
Find the best deal, compare prices, and read what other travelers have to say at TripAdvisor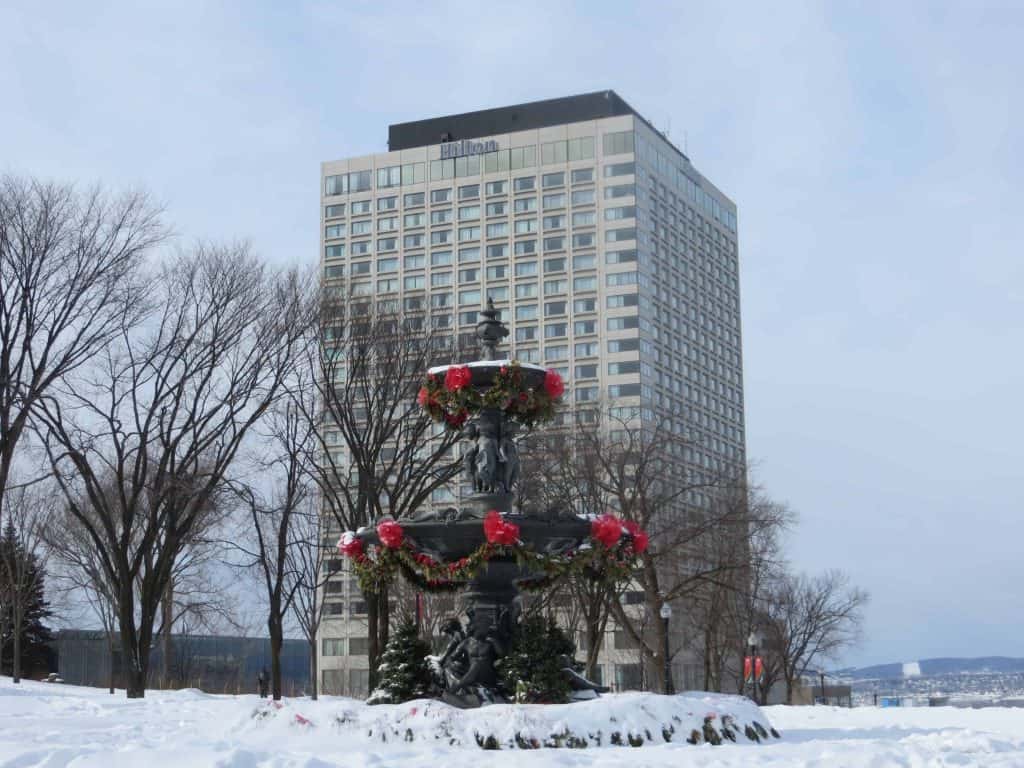 The historic Fairmont Le Château Frontenac is a great choice for anyone looking for luxury accommodations in the city. The stunning landmark hotel which is celebrating its 125th birthday in 2018 is reportedly the most photographed hotel in the world. The hotel is located inside the walls of the old city and sits high on a bluff in Haute-Ville overlooking the St. Lawrence River. The hotel was first built to serve railroad passengers who were on the forefront of a developing tourism industry and is one of several former Canadian Pacific luxury hotels.
The pedestrian-only boardwalk called Terasse Dufferin runs in front of the Château and bustles with crowds of tourists and street performers. The hotel has recently undergone a multi-million dollar restoration to blend the hotel's historic charm with the modern innovations expected by guests.
Find the best deal, compare prices, and read what other travelers have to say at TripAdvisor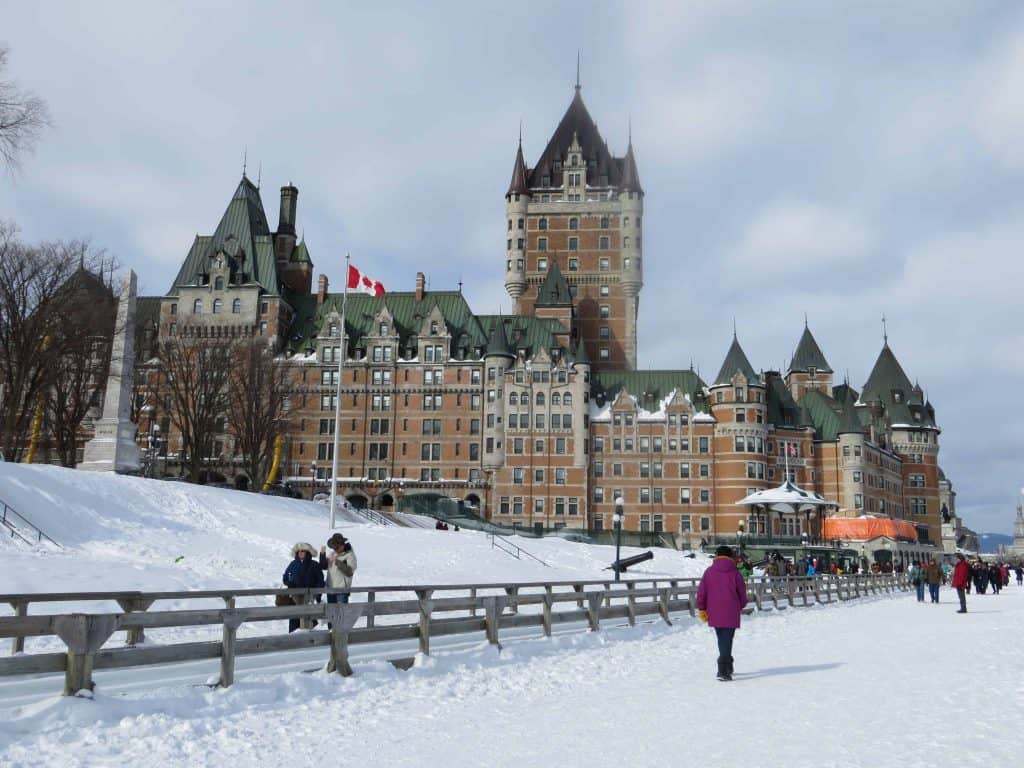 Disclosure: I visited the Quebec Winter Carnival as a media guest of Tourism Quebec and Carnival de Quebec.
Pin This For Later