Hibernation might seem like a good idea once the cold and snow have arrived but Canadians from coast to coast know that it can be much more fun to embrace winter instead. So get out your snow pants, mittens and toque and celebrate winter at one of these winter festivals across Canada and discover just how much fun winter can be!
Tips for Enjoying Winter This Year Instead of Dreading It
1. Québec Winter Carnival (Québec City)
February 3-12, 2023
Winter can be quite cold and snowy in Québéc City but that doesn't mean staying indoors. Residents of Québec embrace winter all season but especially during the Québec Winter Carnival (Carnaval de Québec). This annual celebration of winter, held during February each year, is one of the world's largest winter festivals and draws thousands of tourists to the city to join in the winter fun.
Dress warmly and you won't even notice the cold while enjoying the festival's fun outdoor activities including ice skating, an inner tube slide, musical performances and night parades. Be sure to visit Bonhomme's Palace, check out the snow sculptures and cheer on the athletes who race their canoes across the slush and ice of the St. Lawrence River. The Snow Bath with Bonhomme is not to be missed – pre-register if you're brave enough but it's possibly even more fun for spectators!
Read 10 Things To Do at the Québec Winter Carnival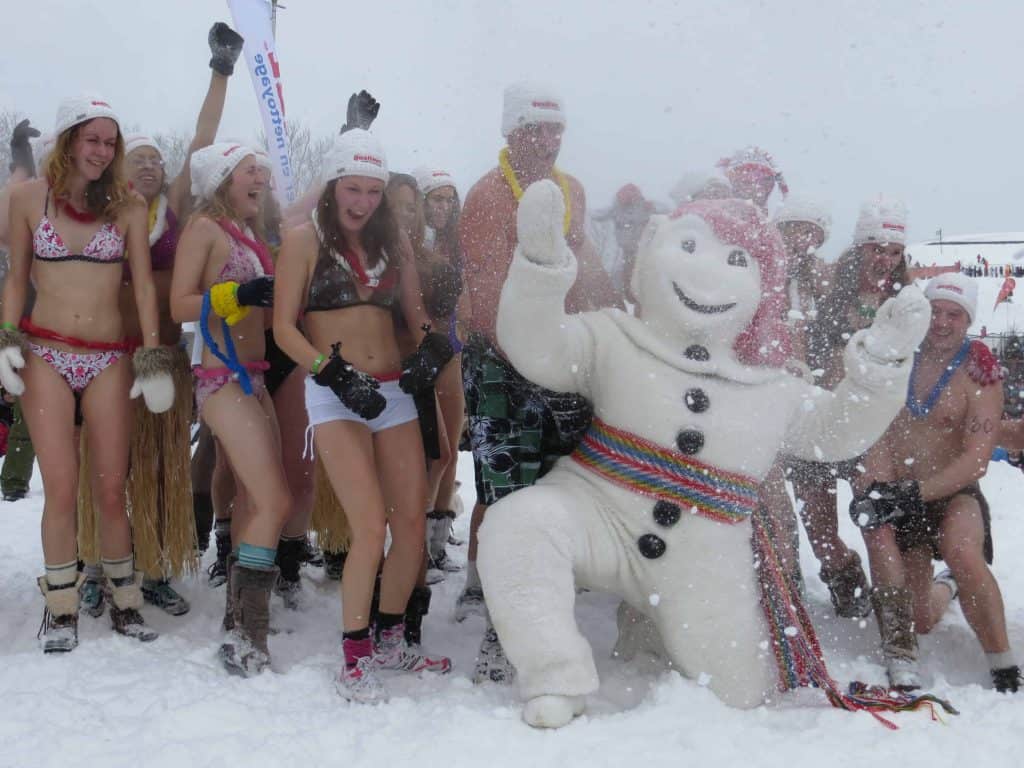 2. Winterlude (Ottawa)
February 3-20, 2023
Since 1979, the Ottawa-Gatineau region has celebrated winter at the annual Winterlude festival with favourite festival activities including the ice dragon boat festival, ice carving competition, skating on the Rideau Canal, and horse-drawn sleigh rides in ByWard Market.
There are fun, family-friendly activities in Jacques-Cartier Park including a zip line, snow tubing, a labyrinth, snowball fights (with foam balls so nobody gets hurt!), selfie stations, tug of war competitions and more. Winterlude is a great way to celebrate winter in the nation's capital with family and friends!
Read 10 Fantastic Free Things to do in Ottawa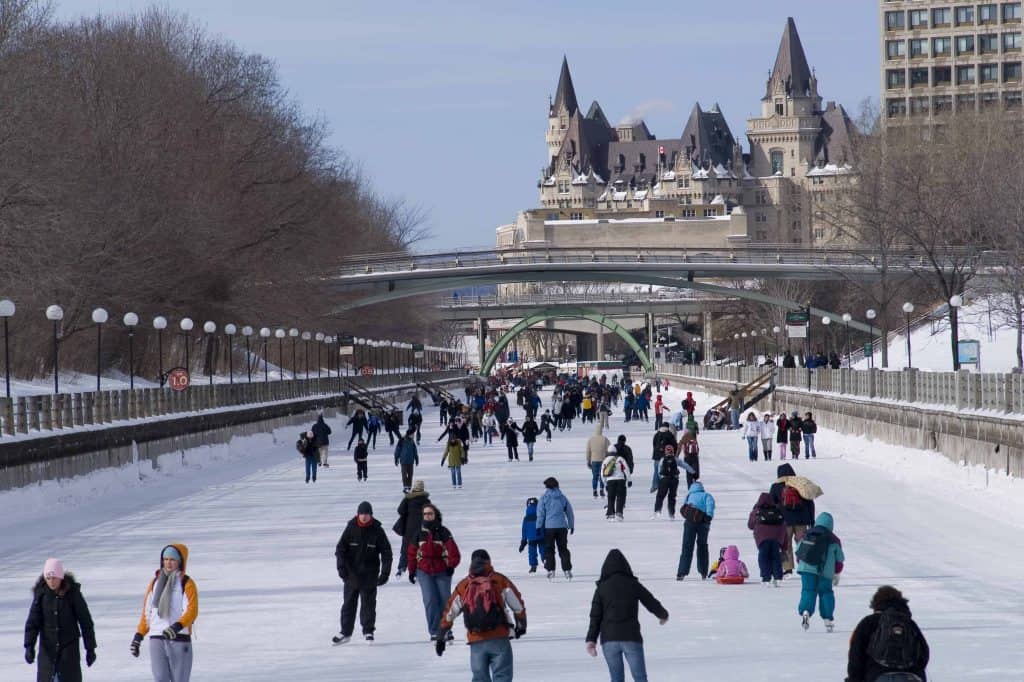 3. Winter Festival of Lights (Niagara Falls)
November 12, 2022 – February 20, 2023
The annual Ontario Power Generation Winter Festival of Lights is Canada's largest free outdoor light festival celebrating the winter season. Visitors can experience the spectacular displays with millions of lights on an 8km route along the Niagara Parkway and across the tourism district of Niagara Falls either on foot or from the comfort of a vehicle.
In addition to lighting up Niagara Falls, the festival also features family entertainment and fireworks on many nights. New in 2022/23 is the self-guided Niagara Falls Winter Festival of Lights Hot Chocolate Trail which will lead to delicious stops of chocolatey concoctions created by chocolatiers, chefs and mixologists at some of the area's excellent restaurants and bake shops across Niagara Falls.
4. Chinook Blast – (Calgary)
January 27 – February 12, 2023
Of course the winter fun isn't limited to Ontario and Québec. Head west to Calgary, Alberta to enjoy Chinook Blast – a two week long celebration of the best of the city's art, music, theatre, and winter sports. There's Snow Rodeo (a World Cup snowboard event), family skating at Olympic Plaza, live music, dance and theatre performances, light displays, delicious food and more. So much fun in the snow for everyone in the family – not to be missed!
5. Festival du Voyageur (Winnipeg)
February 17-26, 2023
Winnipeg, Manitoba might be known for its harsh winters but that doesn't stop residents from getting outside and celebrating the season! The annual Festival du Voyageur which takes place for 10 days in February in the city's French-speaking Saint Boniface quarter is Western Canada's largest celebration of French-Canadian culture and the region's voyageur fur trading heritage.
The Festival features Francophone and Aboriginal artists in the areas of music, dance, sculpture and visual arts plus there are fun outdoor activities including toboggan rides, snowshoeing, sleigh rides and snow sculptures. There's also a unique and popular beard growing competion which raises money for charity and has several categories of competitors vying to have their beard named the best. Be sure to dress warmly and head out to enjoy the best of Winnipeg in winter!
6. Montréal en Lumière
February 16 – March 5, 2023
Montréal en Lumière was originally launched in 2000 with the goal of getting people out of the house in winter and it worked! This unique festival combines performing arts, gourmet food, spectacular light installations and free outdoor family activities as well as a full night of activities on Nuit Blanche (White Night – February 25, 2023). Festival-goers can enjoy light installations, music, a Ferris Wheel as well as other activities and there's even a magnificent skating trail overlooking the Place des Festivals. This is a winter celebration that you don't want to miss!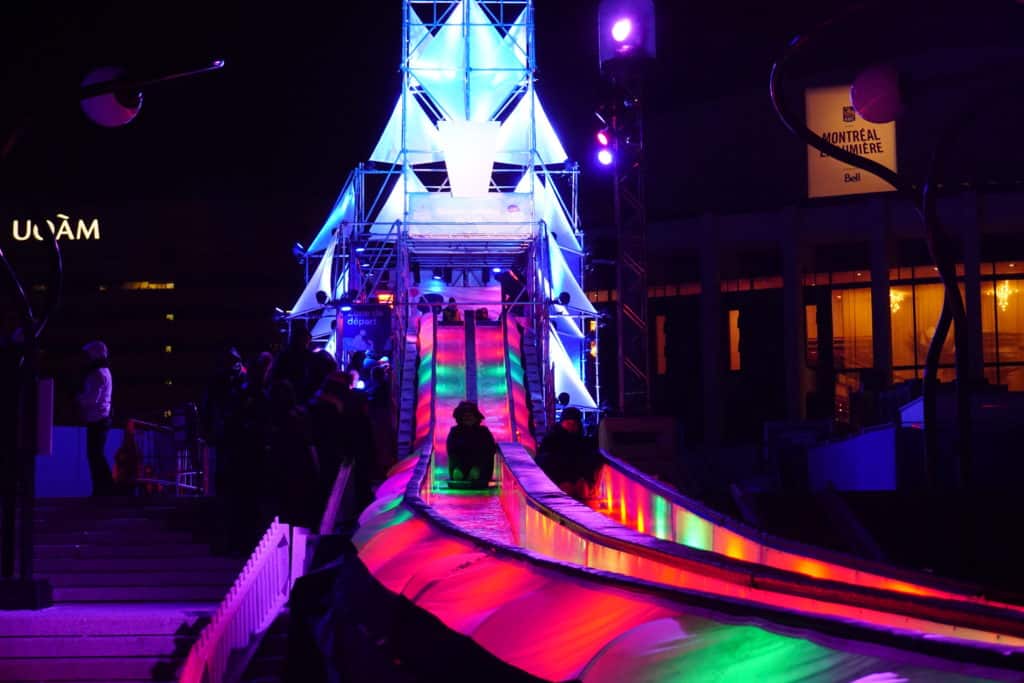 7. FROSTival (Fredericton)
January 19 – February 5, 2023
There is plenty of wintertime fun to be found at one of Atlantic Canada's largest winter celebrations! The annual FROSTival festival in Fredericton, New Brunswick takes place over three weekends in January and February and features snowy outdoor activities, live performances, sleigh rides, artist-led workshops, a family photo scavenger hunt and delicious food and drink. At Mactaquac Provincial Park there's a new skating trail as well as other fun activities such as fat bike, snowshoe, cross country ski, and inner tube rentals.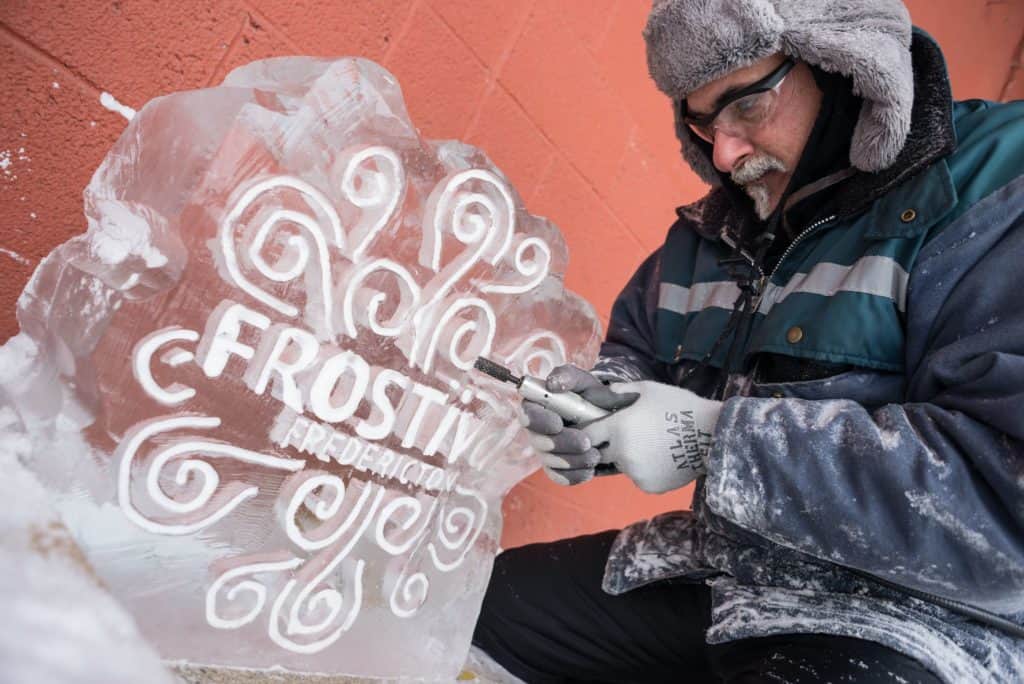 8. Ice City Festival (Charlottetown, PEI)
January 27 – March 5, 2023
Charlottetown's Ice City Festival is a season-long celebration of winter with the streets decked in ice sculptures, art installations and other wintery decor and Sugar Shacks each weekend at various outdoor patios. There's also a slate of fun winter activities including horse and wagon rides, Flow in the Snow yoga, snowshoeing, and an evening disco skate at Founder's Hall. Snowshoes can be rented free at City Hall so there are zero excuses for not trying this fun snowy sport!
9. Yukon Rendezvous – Whitehorse
February 10-26, 2023
The Yukon Rendezvous festival in Whitehorse which started in 1945 as a celebration of the province's frontier spirit has a great mix of family fun and sporting events. Rendezvous has the activities you would expect at a winter festival like dog sledding, snow sculpting, snow play for the kids and a parade but it also has some activities that you're not likely to find elsewhere such as flour packing, chainsaw chucking, axe throwing, log tossing, a family wilderness challenge, a pet parade and performances by Can Can dancers!
10. Snow Days Festival – Banff and Lake Louise
January 18-29, 2023
Snow Days is an annual winter celebration with events and activities taking place in both Banff and Lake Louise, Alberta. Impressive giant snow sculptures, dog sledding, sleigh rides, ice skating on Lake Louise, curling and toboggan sledding are just a few of the fun activities to be enjoyed during Snow Days. There's also entertainment on Bear Street in Banff during the festival including live music, circus, street performers, stilt walkers, and more. The must-see of the festival is skijoring – a breathtaking exhibition in Banff of horse-riding, trick-riding and ski stunts!
Pin This For Later