Thinking about a visit to New York City during the winter months and wondering what there is to do if the weather is less than ideal? This round-up of 30+ fun things to do in NYC in the winter will help with your planning.
Are you considering a visit but wondering what there is to do in New York in winter? There's no need to worry – we have found fun things to do in NYC in the winter on each time that we have visited between December and April (6 of our 10 trips to New York)!
There are so many indoor attractions that are ideal for bad weather days plus there are activities that you will want to try that are only available In New York during the winter. These are our recommendations for 30+ fun things to do in New York City during the winter season.
We are a participant in the Amazon Services LLC Associates Program, an affiliate advertising program designed to provide a means for us to earn fees by linking to Amazon.com and affiliated sites. As an Amazon affiliate I earn from qualifying purchases.
This post may contain affiliate links. If you click an affiliate link and make a purchase then Gone with the Family will receive a small commission at no additional cost to you.
Visit a New York City Museum
If the weather outside is frightful during your winter visit to New York, then escape indoors and explore some of the city's fabulous museums.  A museum visit is one of the best things to do in NYC in winter whether you are travelling with kids or not.  
1. American Museum of Natural History
The American Museum of Natural History on Manhattan's Upper West Side is one of the largest museums in the world and has something to interest everyone in the family.
Our favourite exhibits are the dinosaurs in the Fossil Halls and the Human Origins and Cultural Halls especially the Margaret Mead Hall of Pacific Peoples which includes a cast of a Rapa Nui (Easter Island) moai statue.
If you will be visiting with children they might enjoy watching The Night at the Museum beforehand but be advised that Sacagawea cannot be found in the museum. We made the mistake of assuming that she would be there since she was in the movie when my younger daughter was 7 years old and we narrowly avoided a disaster of epic proportions as a result!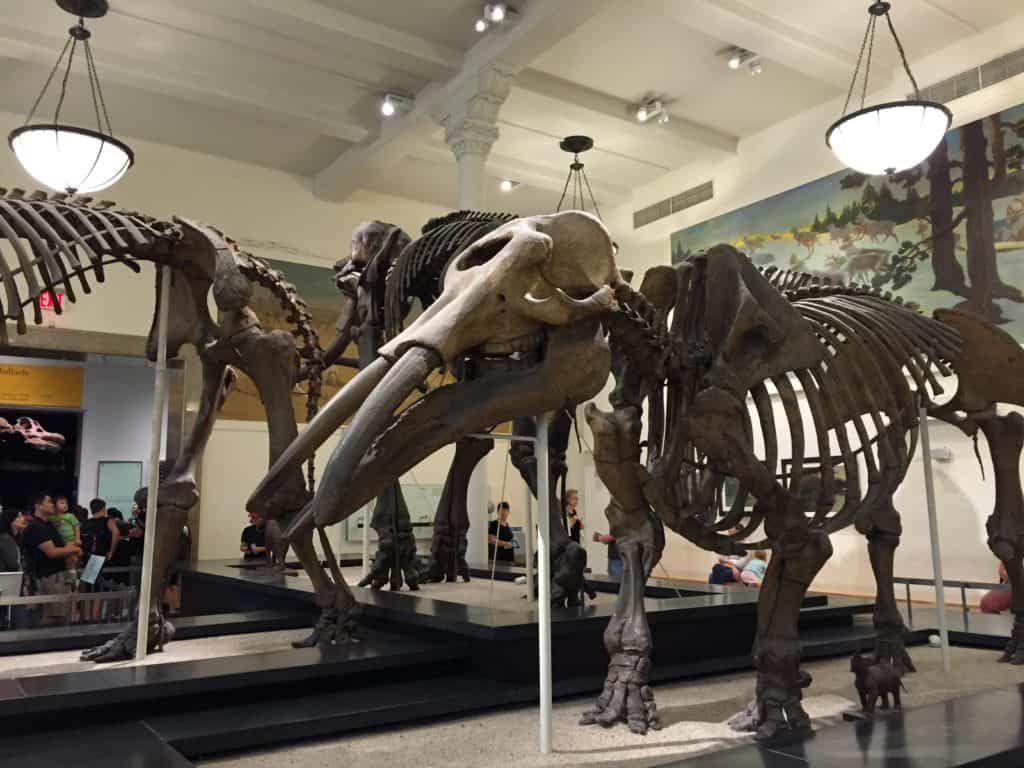 2. Museum of Modern Art
The Museum of Modern Art (MoMA), located in midtown Manhattan on 53rd Street between 5th and 6th Avenues, has one of the best collections of modern and contemporary art in the world.
I love this museum because it has some of my favourite works of art including Claude Monet's Water Lilies, and Vincent Van Gogh's The Starry Night as well as works by Picasso, Chagall, Matisse, Dali and Cezanne.
MoMA has a number of programs for families so if you will be visiting with children then be sure to check out the information for families on the MoMA website.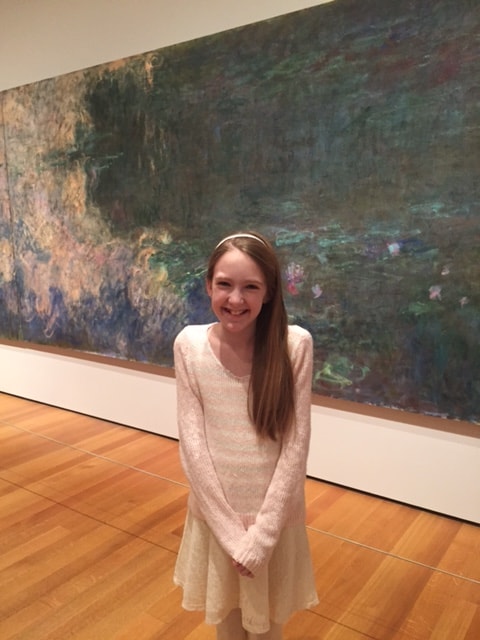 3. Metropolitan Museum of Art
The Metropolitan Museum of Art ("the Met") is one of the world's largest art museums with a collection of more than two million works of art. With a museum the size of The Met, you are never going to see everything in one visit so decide what you want to focus on and plan to return another time.
If you're visiting with kids then you might be interested in my tips for taking kids to an art museum that will help make the visit a fun experience for everyone in the family.
The Met also has many family guides (including one on Percy Jackson and the Olympians) available at the Information Desk near the entrance so be sure to stop by at the start of your visit to find one that appeals to the kids.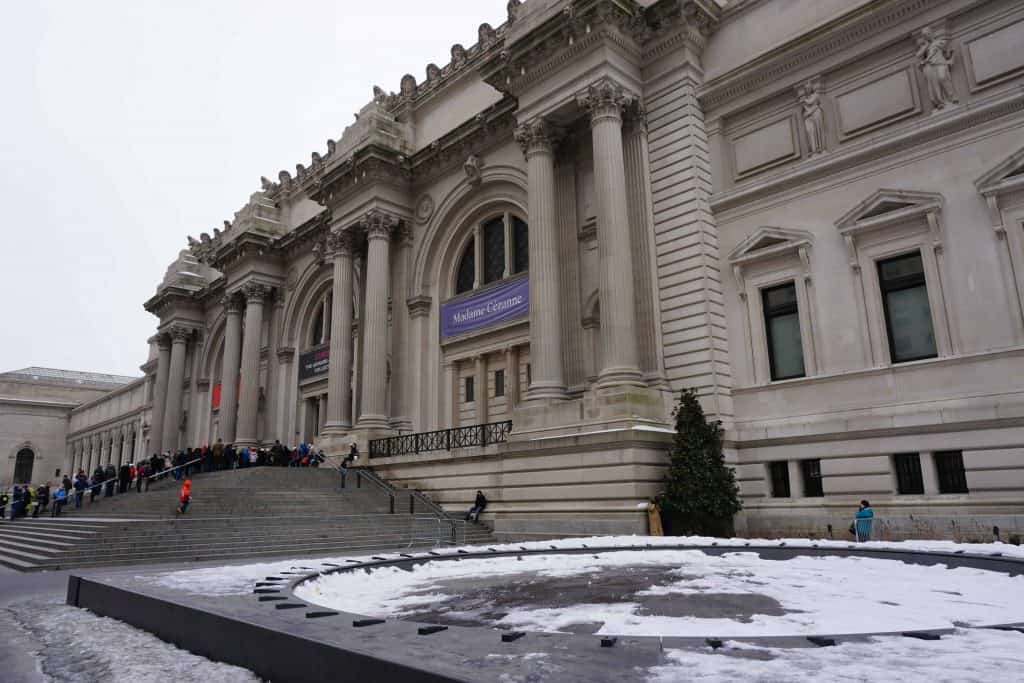 4. Intrepid Sea, Air and Space Museum
Have you always wanted to explore an aircraft carrier? At the Intrepid Sea, Air and Space Museum you can do just that plus much more!
The museum includes Aircraft Carrier Intrepid which is a National Historic Landmark, the Space Shuttle Pavilion, Submarine Growler, and the British Airways Concorde.
There are simulators and a 4-D film experience, interactive exhibits, guided tours and family-friendly activities and programs all year-long that are both fun and educational.
5. The Solomon R. Guggenheim Museum
It's worth visiting the The Guggenheim on the Upper East Side of Manhattan just for the unique architecture but its modern and contemporary art collections are also among the best in the world.
The building, which is now a National Historic Landmark, was designed by Frank Lloyd Wright and opened in 1959 but neither Wright nor Guggenheim lived to see the completion of the museum.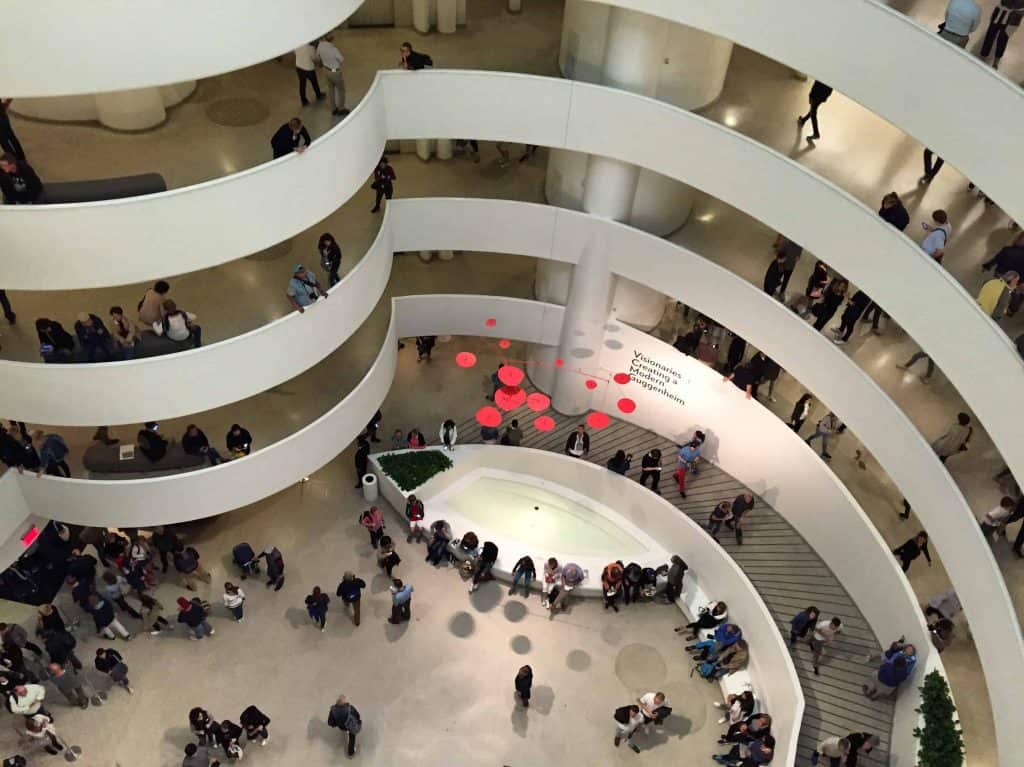 6. 9/11 Memorial and Museum
The 9/11 Memorial and Museum explores the implications of the events of 9/11, documents the impact of those events and explores 9/11's continuing significance. The 9/11 Memorial which honours the lives of those lost is free of charge and open to the public daily from 7:30 am – 9:30 pm.
There is an entry fee for the museum and guided tours are available. Admission is free on Tuesdays on a first-come, first-served basis starting at 4pm.
7. Tenement Museum
The Tenement Museum on the Lower East Side of Manhattan focuses on America's urban immigrant history. The Museum is a National Historic Site that includes two historical tenement buildings that were home to an estimated 15,000 people from over 20 different nations between the years of 1863 and 2011.
The museum can only be seen by guided tour of the apartments that recreate immigrant life in the 19th and 20th centuries. There are also neighbourhood walking tours available that explore how life was for immigrants on the Lower East Side and how the neighborhood changed.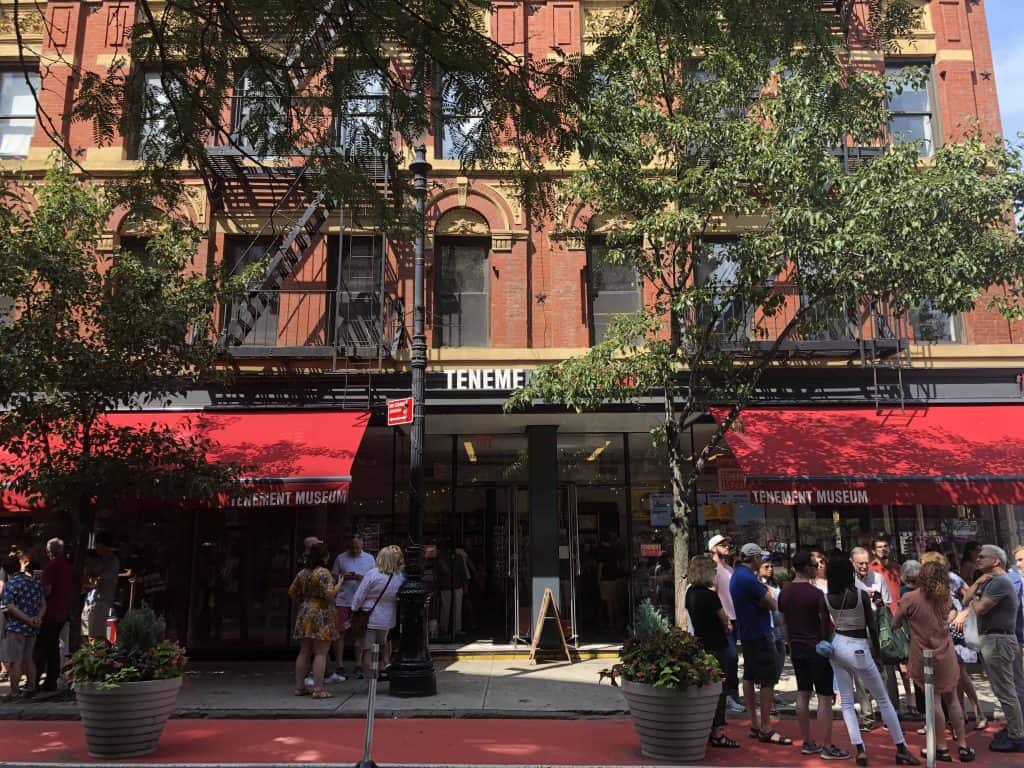 As an Amazon affiliate, I earn from qualifying purchases.
Check Out the View
The views of the New York skyline are just as spectacular in the winter as they are any other season – and chances are the lines to get to the top will be shorter.
8. Top of the Rock Observation Deck
We visited the Top of the Rock Observation Deck at the Rockefeller Center on our very first trip to New York City during the holiday season because we didn't want to subject young children to the long lines at the Empire State Building.
From the observation decks, you can enjoy breathtaking views of the city including midtown, Central Park, and downtown. The added bonus is that you can see the Empire State Building from this vantage point.
The Top of the Rock uses a timed ticketing system which is ideal for planning your visit with minimal waiting. Top of the Rock is open 7 days a week, 365 days a year regardless of weather conditions, however, in the case of inclement weather, portions of the deck may be closed for safety reasons.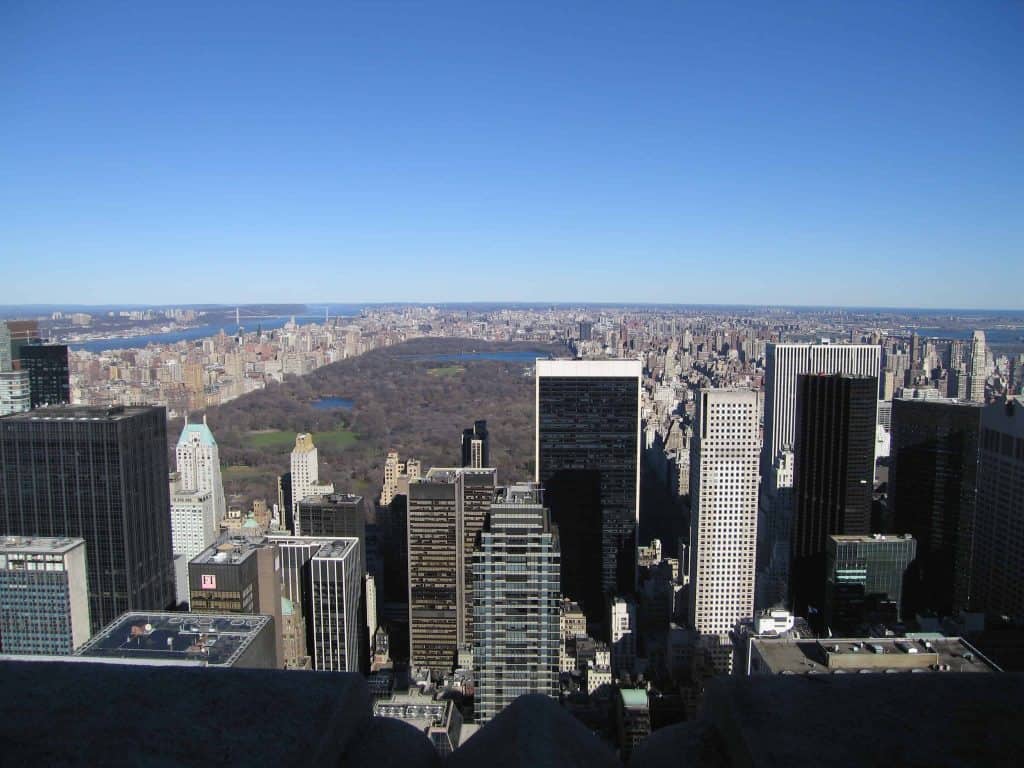 9. Empire State Building Observation Deck
We visited the Empire State Building on an extremely cold winter weekend in New York City a few years ago. The weekend we visited was one of the coldest on record in the city with frigid temperatures and face-numbing windchill but we wanted to visit the Empire State Building anyway since it was included in our CityPASS.
There weren't many other people willing to brave the cold the morning that we visited and as a result there was no queue whatsoever and we made it up to the 80th floor elevators without pausing at all.
We took the stairs up to the open-air 86th floor observatory and had the briefest of walks outside as it was so cold and my daughter could barely walk against the blowing wind. (It's apparently 15 degrees colder on that level than it is on the ground!)
Purchasing the upgrade to visit the 102nd floor indoor observatory is a wise investment in the winter because you will be able to enjoy the views in out of the cold.
Save 42% or more on New York's 6 best attractions with CityPASS – Shop Now!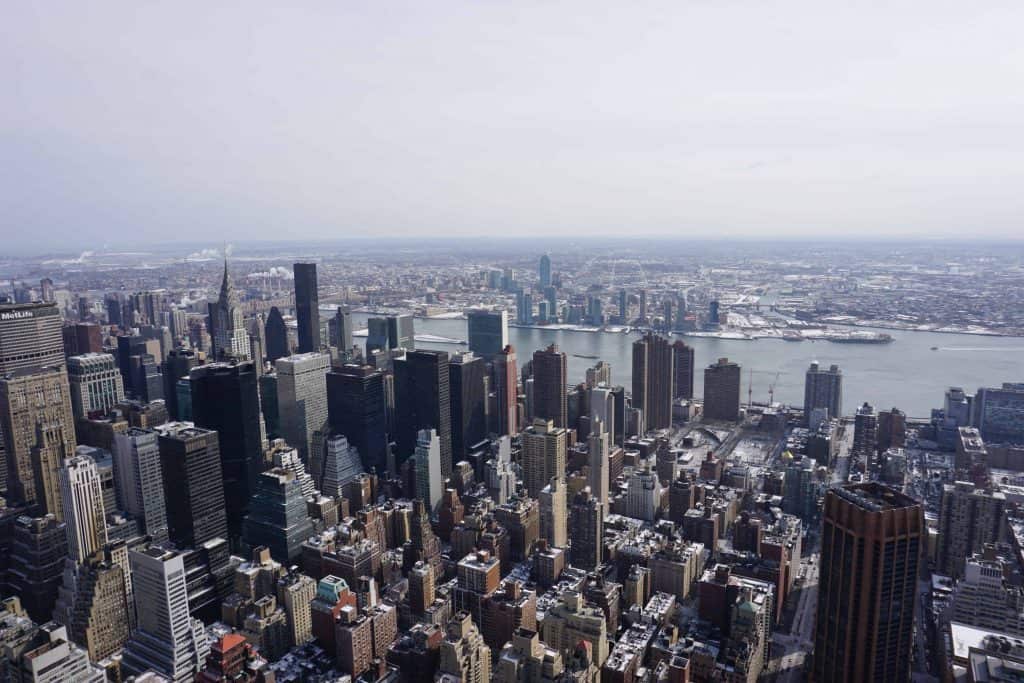 10. One World Observatory
One World Observatory is located at One World Trade Center, also known as the Freedom Tower, in downtown Manhattan. The Observatory is located on floors 100, 101 and 102 of the tallest building in the Western Hemisphere providing visitors with unparalleled panoramic views of New York City and surrounding waters.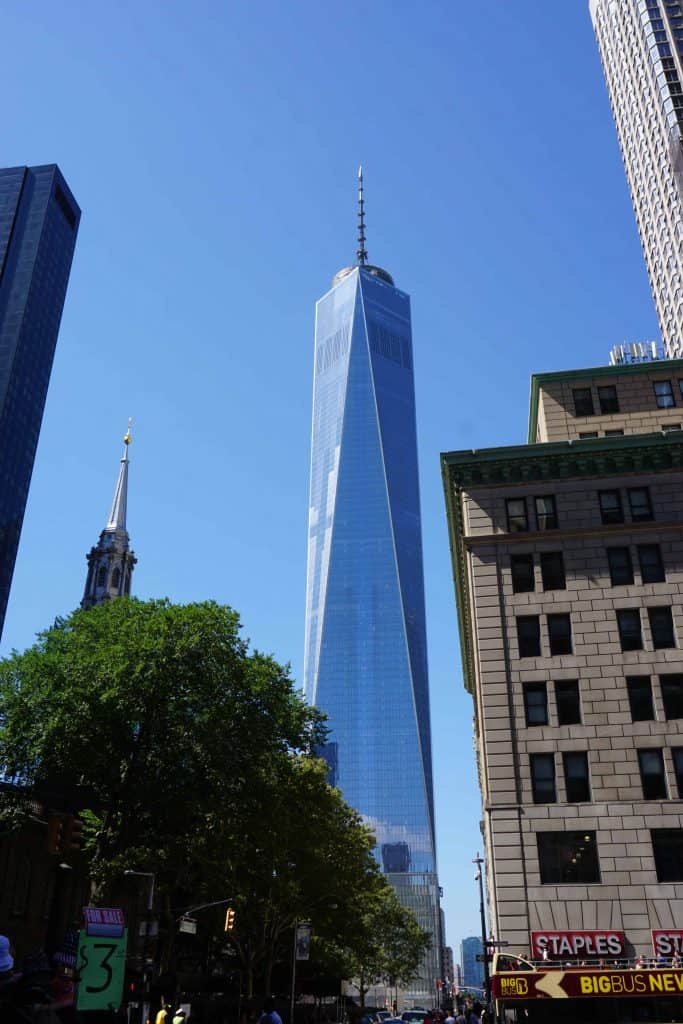 The Bright Lights of Broadway
We're a family of theatre geeks, so Broadway is the primary reason we make frequent trips to New York City. 
11. See a Broadway Show
It doesn't matter what season that you are visiting New York, a Broadway show (or 2 or 3) should be on your itinerary! There are 41 Broadway theatres so there's bound to be a show that appeals to everyone in your family.
If there's a particular show that you have to see then I recommend purchasing tickets beforehand for best selection. If you just want to see a Broadway show then check out one of the TKTS booths for same day discounts or the TodayTix app.
Read our Guide to New York City for Theatre Lovers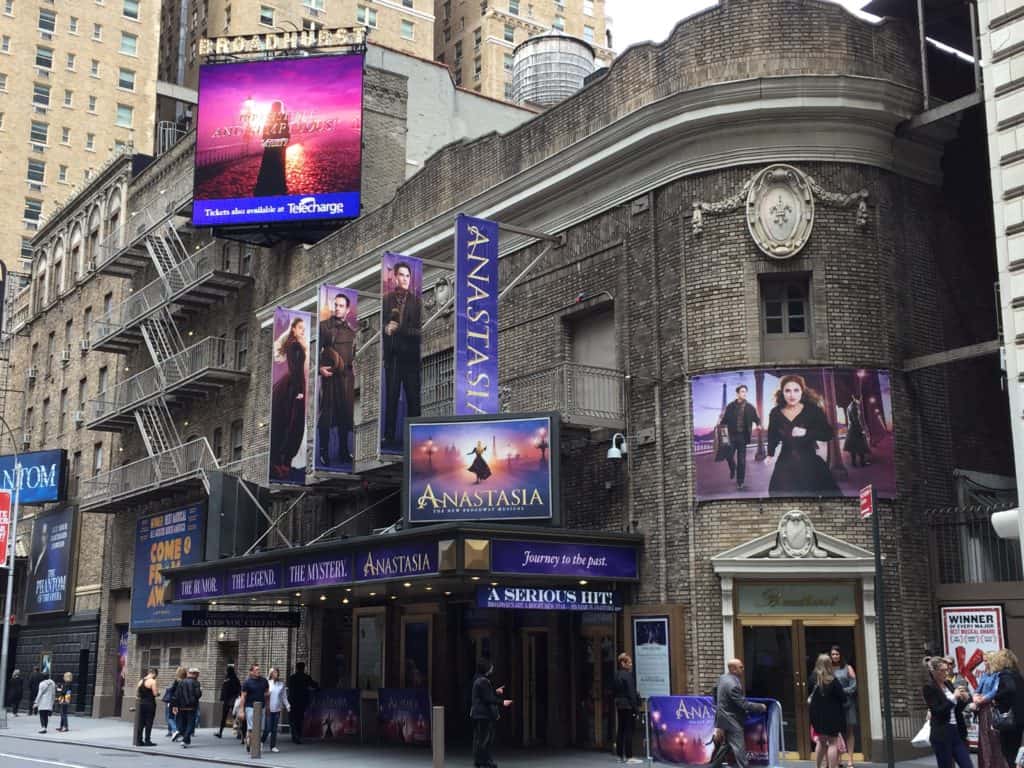 12. Eat at Ellen's Stardust Diner
As part of our Broadway experience, my kids always insist on eating at Ellen's Stardust Diner on the corner of 51st and Broadway in Times Square. This 1950s-themed diner with singing waitstaff has been entertaining crowds since it first opened in 1987.
Many of the waiters are aspiring Broadway performers or actors who are in between shows so the talent on display is incredible. The food is fine (diner style/comfort food) but you dine here for the entertainment.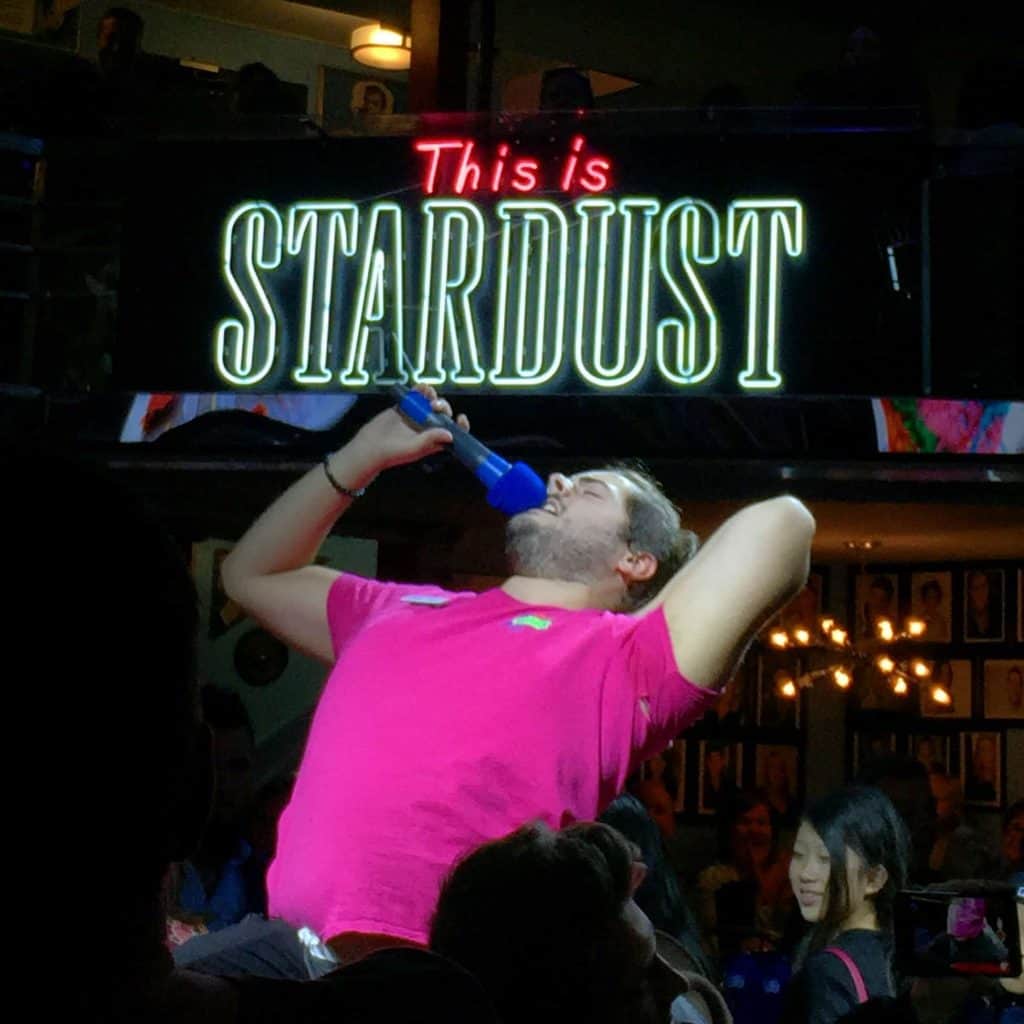 Times Square Attractions
No matter how cold and/or snowy it is you will likely find yourself in Times Square at some point during your visit to New York especially if it's your first time in the city. Once you have taken in the atmosphere and snapped the photos you need then you might want to find an indoor attraction to take a break from the cold.
13. Madame Tussaud's
At Madame Tussauds New York, located in the heart of Times Square, you can pose with wax figures of all your favourite celebrities – musicians, actors, sports stars and world leaders. Tickets can be purchased online in advance at a discount to walk up prices.
14. Gulliver's Gate
Gulliver's Gate, which opened in Times Square in 2017, is a 50,000 square foot interactive display of miniature scale models representing more than 25 cities on 5 continents and includes many famous landmarks.
There's also a full body scanner and 3D printer on site so that visitors can make a miniature version of themselves to take home as a souvenir. Tickets may be purchased online in advance.
15. M&M's World New York
It seems we can't visit New York without popping into M&M's World Times Square! The 25,000 square foot shop offers three levels of M&M's chocolates and merchandise including specially-designed New York-themed products. My daughter loves the extensive variety of M&M's available while I enjoy seeing the large New York-themed M&M's character sculptures.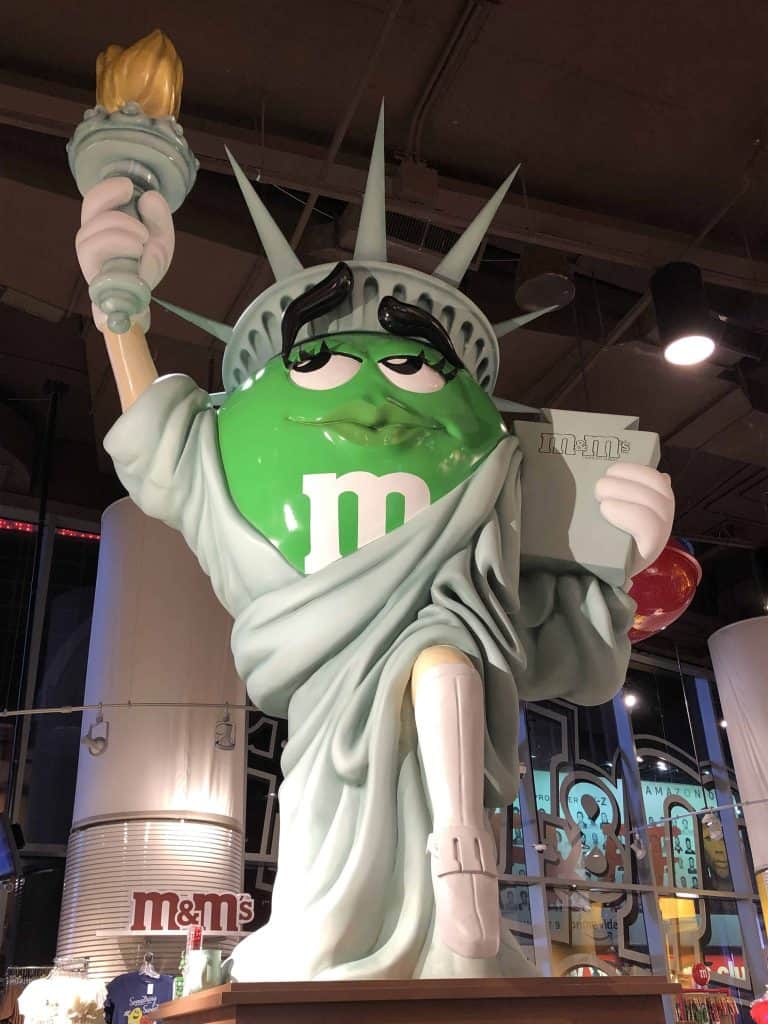 16. Ripley's Believe it or Not!
If you're fascinated by bizarre artifacts then Ripley's Believe it or Not! Times Square is for you! This location is the largest Ripley's museum attraction in North America and features a collection of over 500 unusual artifacts from all over the world as well as interactive exhibits. Discounted tickets are available online.
17. Hershey's Chocolate World Times Square
If you didn't get your fill of candy at the M&M's store then pop into the Hershey's Chocolate World Times Square location to stock up on Hershey's Kisses, Reese's products and more. You can purchase New York-themed products for souvenirs here as well.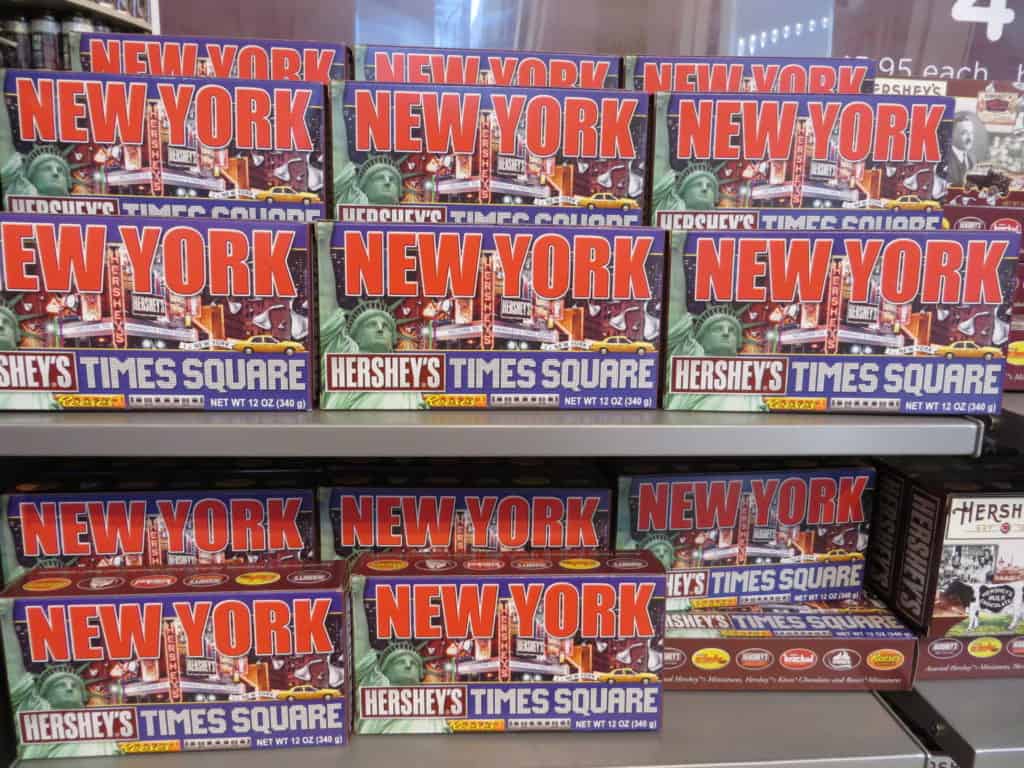 18. Times Square Disney
If you're a Disney fan then you won't want to miss the Times Square Disney Store. There's a great selection of merchandise on two floors including some New York-themed Disney products that make great souvenirs but it's also fun to browse even if you aren't planning to purchase anything.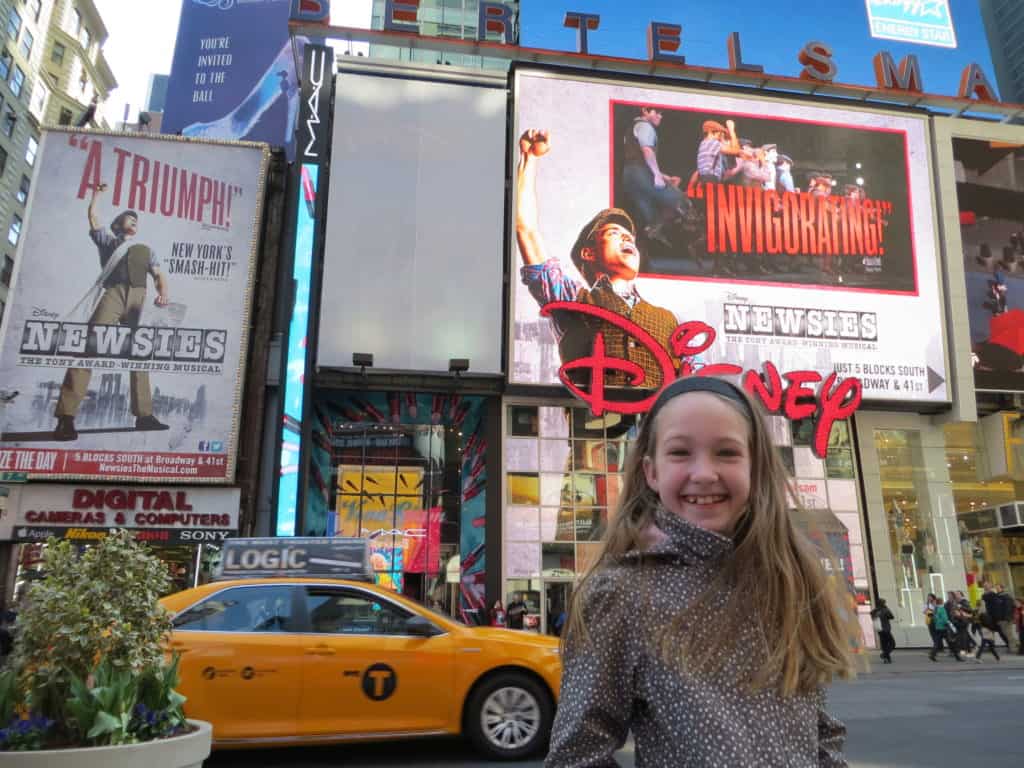 19. Explore Central Park
If the temperatures aren't too frigid then you can enjoy a walk in Central Park in the winter too. On our very first trip to New York City during the holidays several years ago we opted for a carriage ride through the park because we didn't think our youngest would be able to walk very far and it was a decent introduction to what there is to see in the park.
I'm hoping that one day I'll get the opportunity to walk in a snowy Central Park but the one time that there was snow on the ground during our visit it was far too cold to be walking any distance.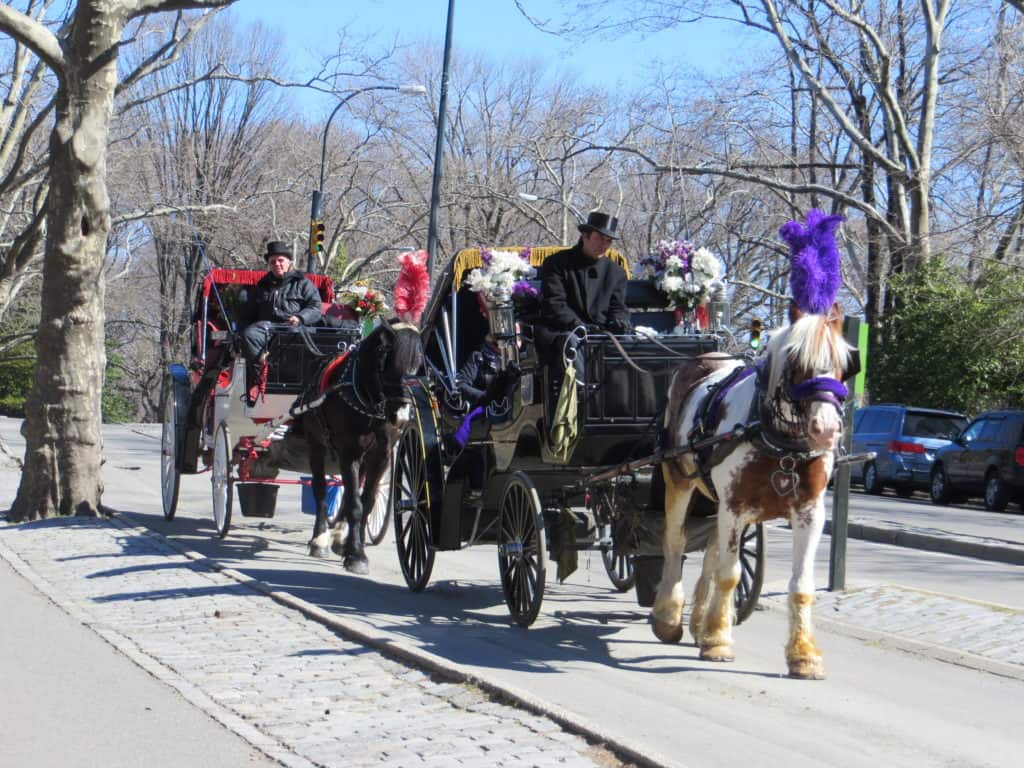 20. New York Public Library (Stephen A. Schwarzman Building)
The historic beaux-arts style New York Public Library, located at 42nd Street and 5th Avenue, is a must for visitors to New York anytime of the year and a great indoor activity during the winter.
Outside the building, a pair of marble lions named Patience and Fortitude stand guard on either side of the stairs and inside the library there are many treasured objects including an original copy of the Declaration of Independence and a Gutenburg Bible.
In the library's Children's Center you will find a small exhibit on the original Winnie-the-Pooh as well as Mary Poppins' parrot-headed umbrella donated by P.L. Travers on display.
The highlight of a visit to the library for me though is the Rose Main Reading Room and it took several trips to New York before I finally had an opportunity to see it due to a two year long $12 million restoration project and visits that coincided with holiday closures. It was well worth the wait to see this majestic room! The Rose Main Reading Room is roughly 78 feet by 297 feet with 52-foot-tall ceilings displaying a breathtaking mural of a sky with billowing clouds.
Free guided tours of the library are available.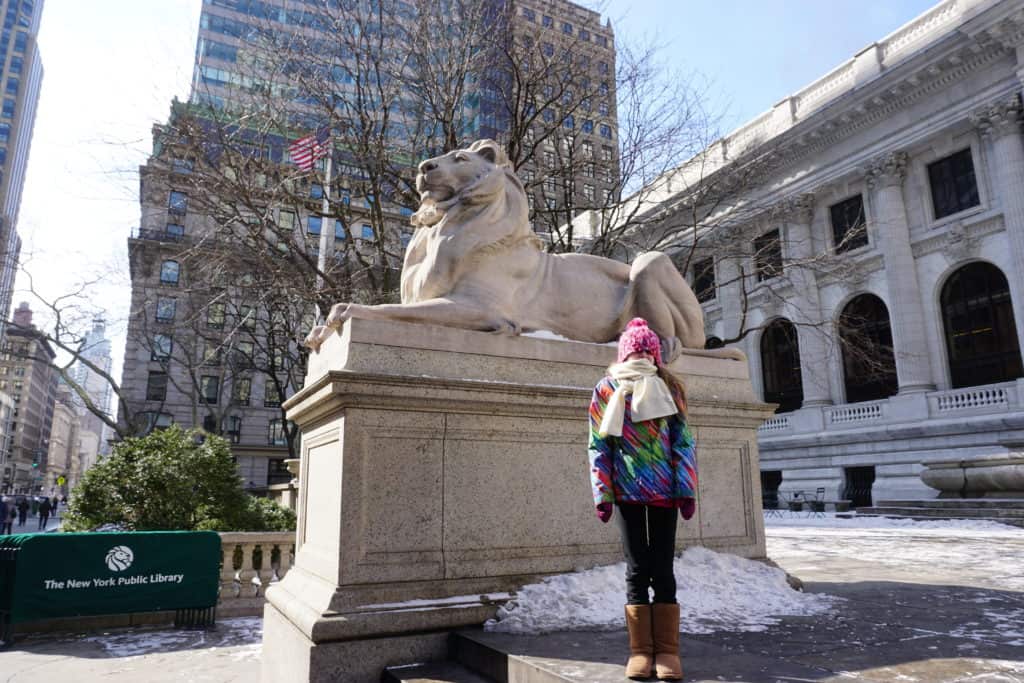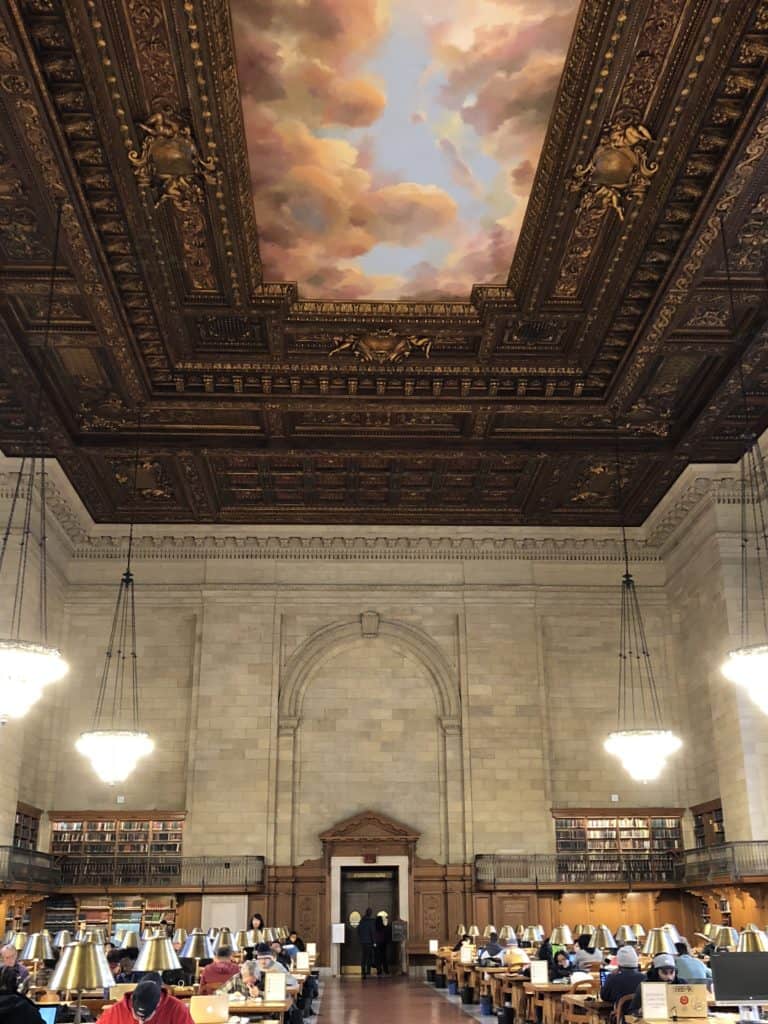 21. Visit Grand Central Terminal
New York City's historic Grand Central Terminal is familiar to anyone who has every watched a film or television show set in New York and that contributes toward making it one of the most-visited destinations in the city.
While passing through you will want to be sure to see the ceiling in the Main Concourse, the Information Booth Clock, the Whispering Gallery, Grand Central Market and the Tiffany Clock & Park Avenue Viaduct (at 42nd Street and Park Avenue).
The New York Transit Museum also has an annex with rotating exhibits and a shop at Grand Central.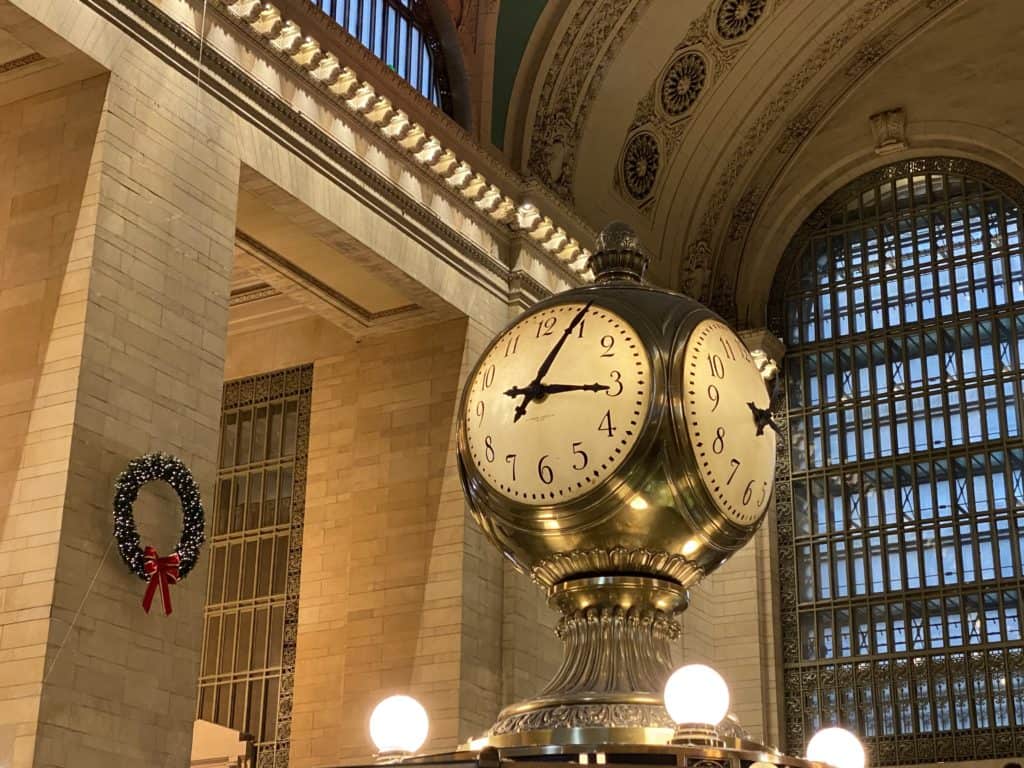 22. St. Patrick's Cathedral
St. Patrick's Cathedral in midtown Manhattan (on 5th Avenue between 50th and 51st Streets) is another must-see on a trip to New York City. The neo-gothic church which first opened its doors in 1879 after a 21 year construction period is among the city's most visited attractions welcoming 5 million people a year.
Inside the church named for the patron saint of Ireland you can see a giant organ with more than 7,000 pipes, stunning stained-glass windows, more than 20 altars and a replica of Michelangelo's Pietà. Public tours are available with a suggested donation of $5.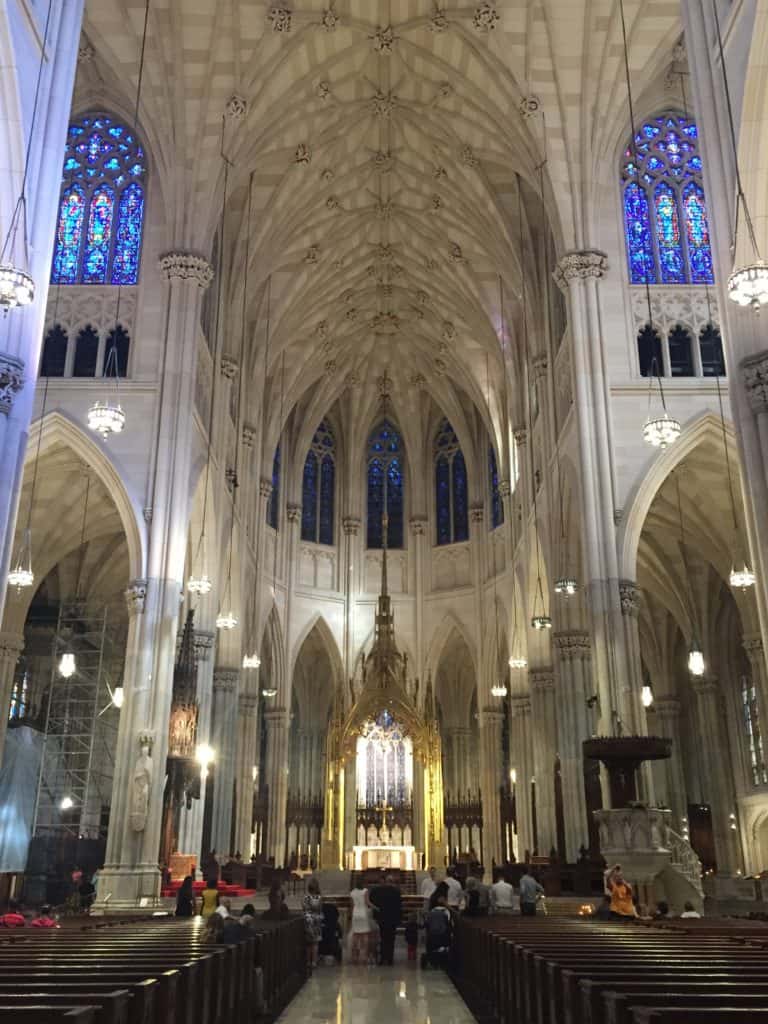 Tour a Classic New York Venue
A tour of one of New York City's classic venues is a great way to get in out of the cold for a spell. 
23. Radio City Music Hall Stage Door Tour
We recently took the Radio City Music Hall Stage Door Tour which is offered multiple times each day. This guided tour of the theatre starts in the grand foyer of the art deco building which is home to the Radio City Rockettes Christmas Spectacular and takes visitors through various public and back stage areas finishing with a Q&A session with a current Rockette.
One of the highlights of the tour is standing on the stage where you can see the elevators and turntable that are used in the shows and look out into the audience for the view on-stage performers get of the 5,931 seat theatre.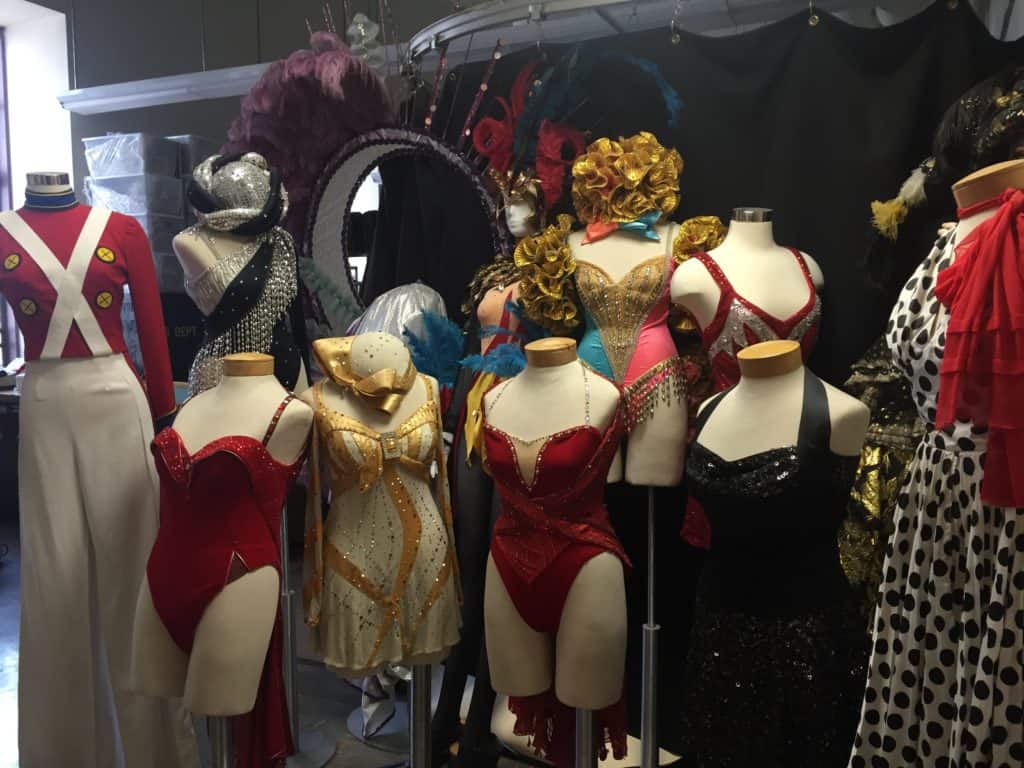 24. Madison Square Garden
The Madison Square Garden All-Access Tour is a 75 minute guided tour of exclusive, behind-the-scenes parts of the Garden with an expert guide who shares stories about the history of the building. Tickets are available online in advance from Ticketmaster or same day at the venue.
Tours run year-round but there are days when they don't run and the hours that they run are reduced on game days so be sure to check the schedule online before heading to the arena.
25. Yankee Stadium
Baseball fans will love a tour of Yankee Stadium where they will have a chance to get up close to historic baseball artifacts and visit exclusive locations while accompanied by a knowledgeable guide.
Tours generally run daily throughout the year but there are exceptions so be sure to check online (in 2019, for example, tours are not running between February 2nd and March 28th). 
26. Carnegie Hall
If you would like to learn more about the 125 year history of historic Carnegie Hall then consider taking one of their guided tours. During the 60-75 minute tours of the landmark building, visitors will see the famous Stern Auditorium / Perelman Stage from various points of view, walk through Composers Alley, hear the stories behind many of the famous signed photographs of performers hanging on the walls, and visit the Rose Museum, where more than 400 Carnegie Hall artifacts are on display.
Tours run from September through June but availability is subject to the hall's performance and rehearsal schedule.
27. Lincoln Center
Daily 75 minute guided tours of the Lincoln Center are available that explore the 16 acre campus that is home to 11 prestigious cultural organizations including the New York Philharmonic, New York City Ballet, Metropolitan Opera and Lincoln Center Theater.
Each tour is unique because the venues seen will depend on what is happening on the campus on any given day. There is also a tour that focuses on Art and Architecture of the Lincoln Center. Tours depart from the David Rubenstein Atrium on Broadway between 62nd and 63rd Streets.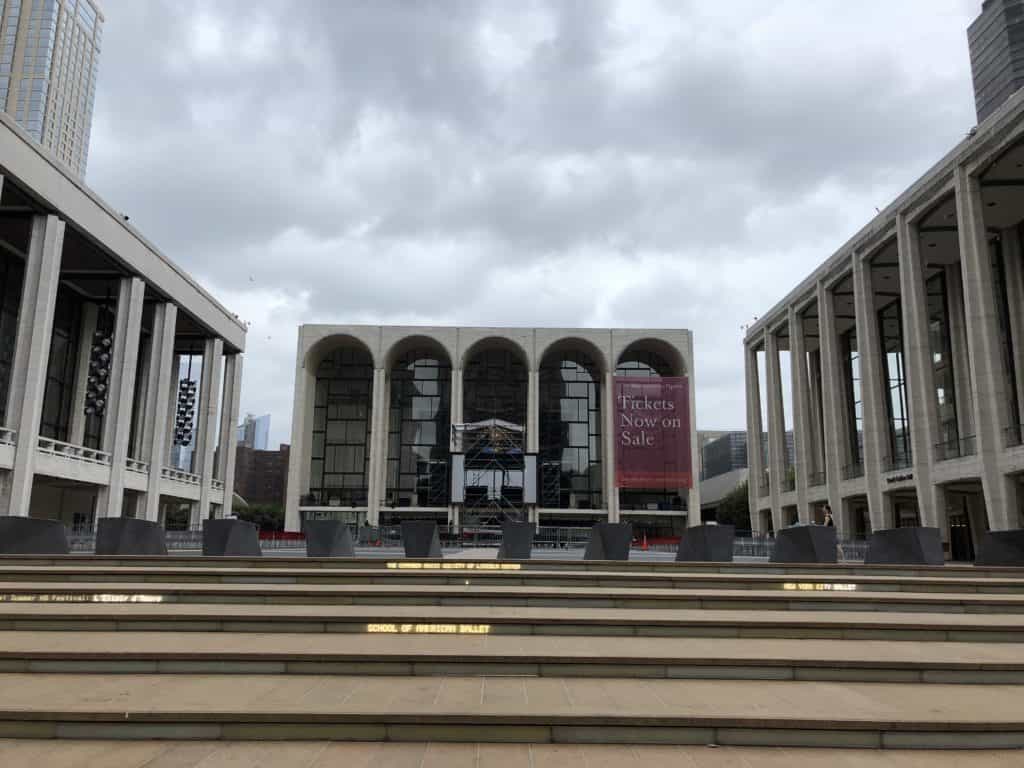 28. Visit the United Nations Headquarters
We visited UN Headquarters with our kids several years ago and then again more recently with our younger daughter is a teenager. The guided tours are 45-60 minutes long and generally include a visit to the General Assembly Hall, the Security Council Chamber, the Trusteeship Council Chamber and the Economic and Social Council Chamber.
On the tour you will also learn from your guide about how the United Nations addresses issues such as disarmament, peace and security, human rights, and how you can support sustainable development goals. For security reasons, children under 5 years of age are not permitted on the tour. The UN Headquarters are located along the East River in Manhattan at 45th Street and 1st Avenue.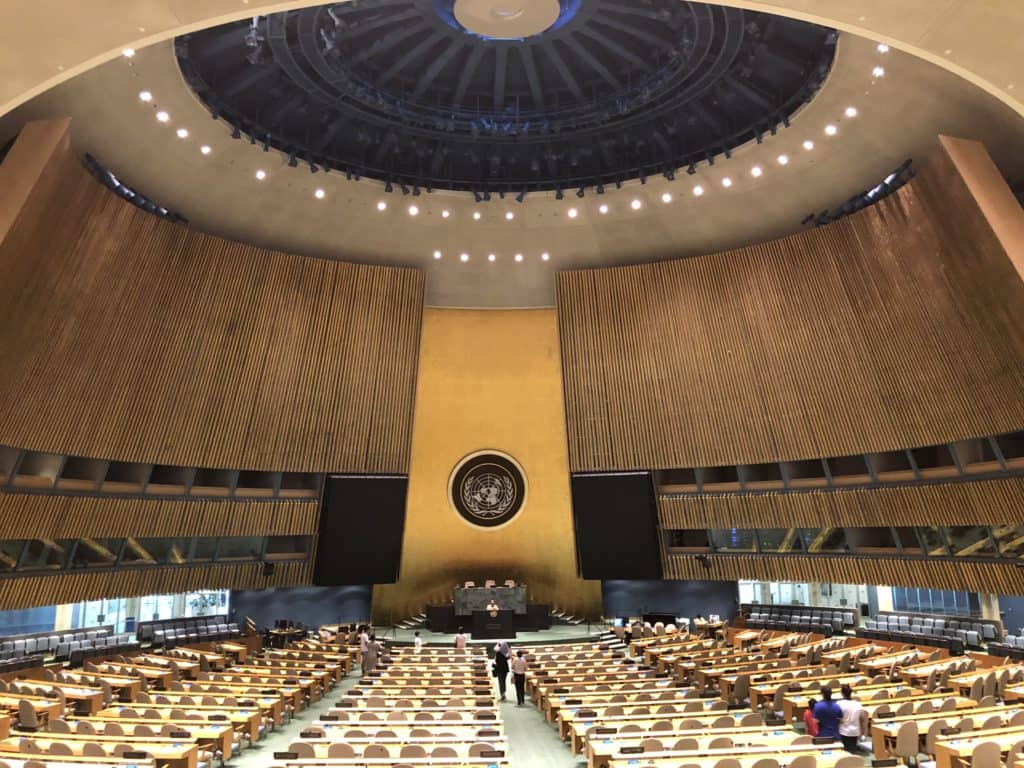 Ice Skating in New York
Skating outdoors in New York City is a dream for many visitors to the city and it can only come true in the winter!
29. Ice Skating at Rockefeller Plaza
The best-known skating rink is the one at Rockefeller Plaza in the heart of midtown Manhattan (just off 5th Avenue between 49th and 50th Streets) and many visitors want to partake of this New York tradition.
If your trip wouldn't be complete without skating at the Rockefeller Rink then be prepared to wait up to an hour outdoors or you can pay for the VIP experience to avoid waiting in the general admission queue.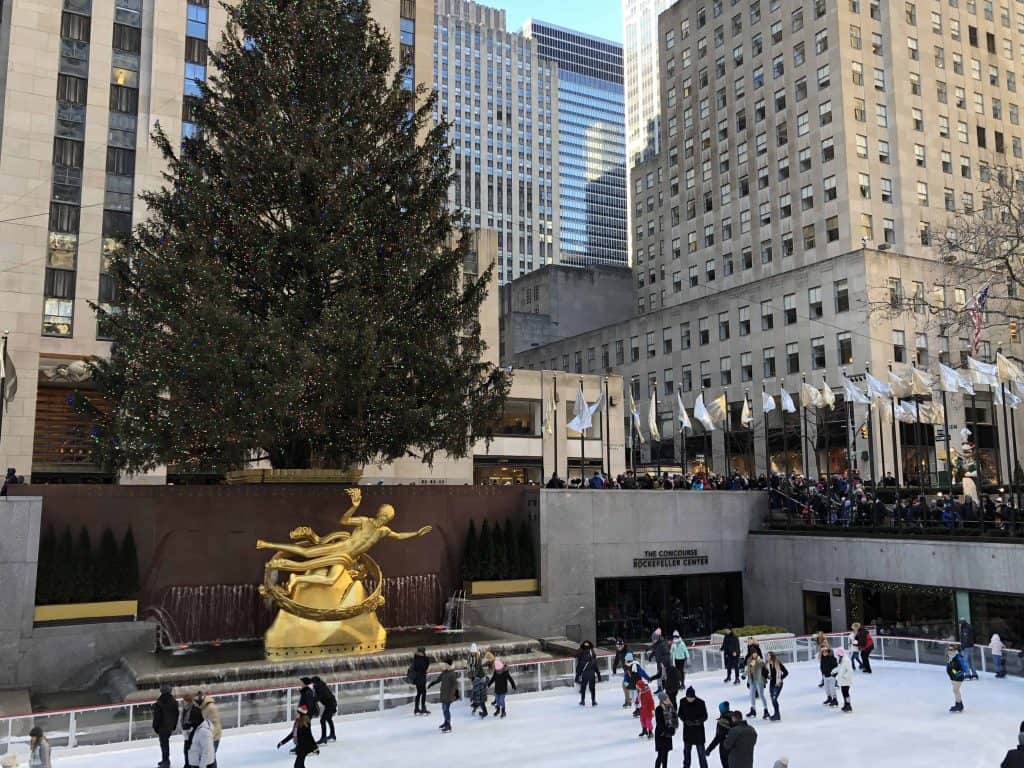 30. Ice Skating in Central Park
If you don't have your heart set on skating at Rockefeller Plaza then you might want to consider skating at Central Park's Wollman Rink (around 5th Avenue and 59th Street). It's another popular outdoor skating venue and while there is a fee to skate at this rink, it is less expensive than the Rockefeller Center rink.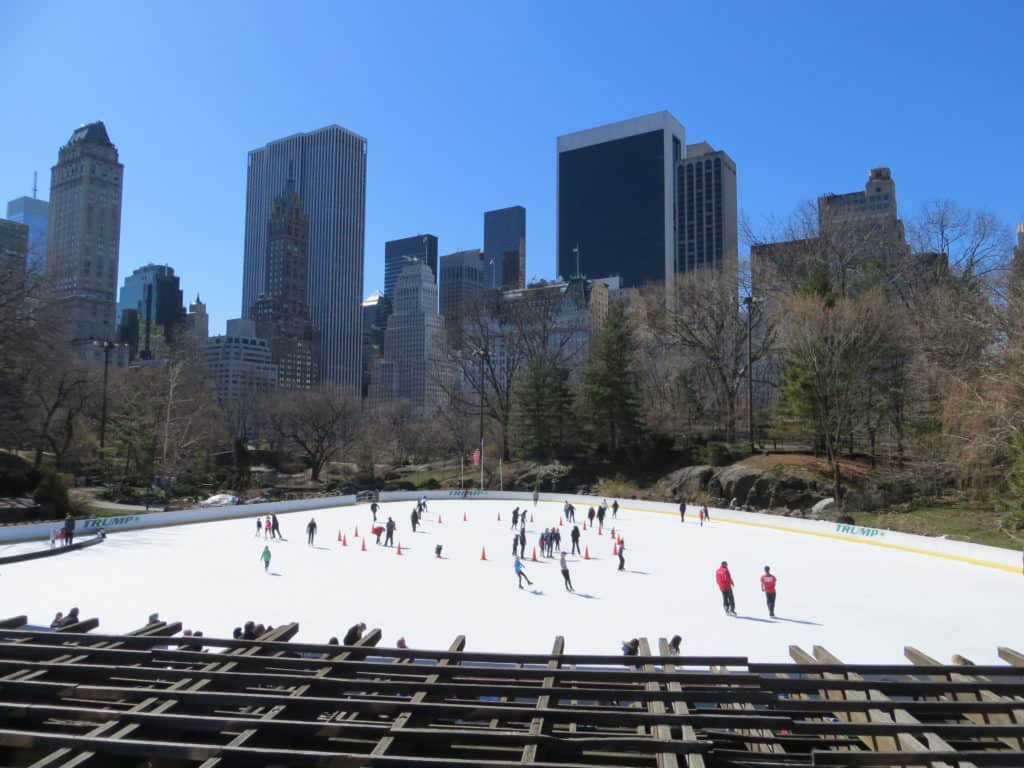 31. Ice Skating at Bryant Park
Another option where you can rent skates and hit the ice just a few blocks south of the Rockefeller Center is Bryant Park rink (at 5th Avenue and 42nd Street) which is the only free admission ice skating rink in New York City.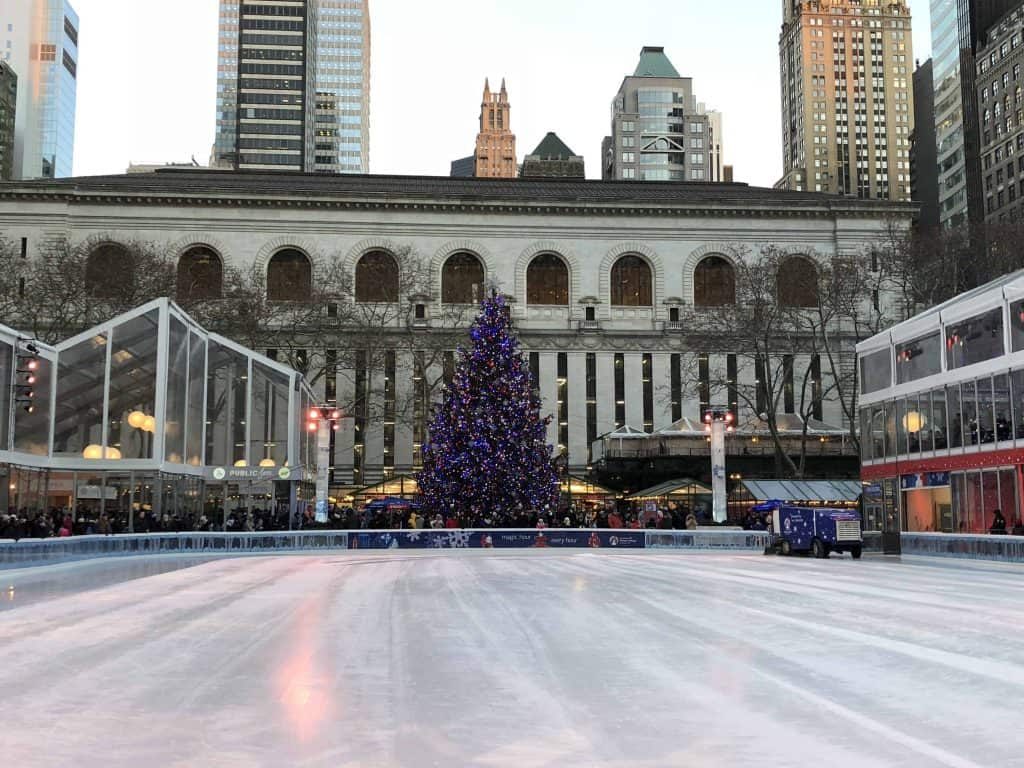 32. Shopping in New York City
If you're a shopper then there's no place like New York City and shopping is a great way to avoid the cold!
33. Indulge in a Decadent Treat
If you're dealing with less than ideal winter weather then you most definitely deserve to indulge in something decadent and New York is home to some of the most irresistible treats.
I'm partial to Serendipity 3's delicious frozen hot chocolate or the exquisite macarons at Ladurée while my teen daughter loves the cupcakes and cookies at Magnolia Bakery as well as Dō (edible cookie dough).
If you're looking for further inspiration then check out this article about Must Try Sweets – you could think of it as a to-do list!!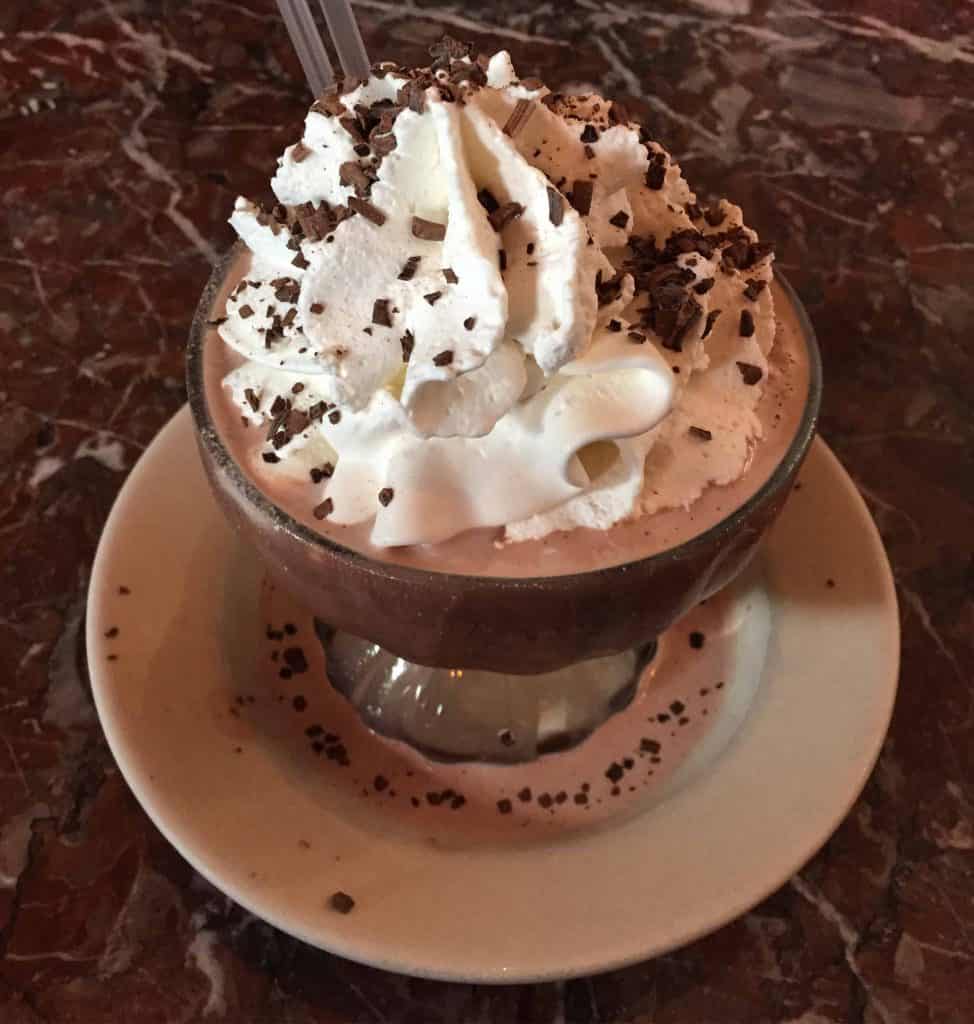 Holiday Season in New York City
If you are visiting during the holiday season then there are seasonal activities that you will want to add to your list as well including shows such as the Radio City Christmas Spectacular, Christmas markets, visits with Santa Claus and browsing the holiday window displays.  
Read our Guide to New York City During the Holidays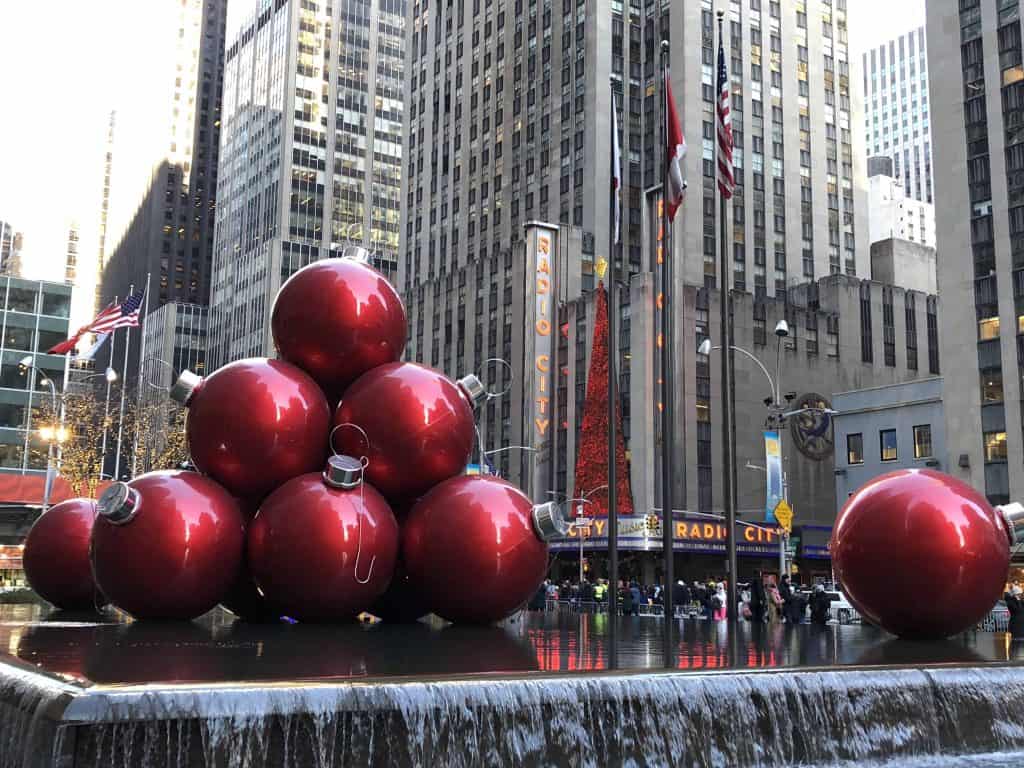 Where to Stay in New York City
Looking for a hotel in New York City? We have stayed at:
Do you have a favourite thing to do in New York City during the winter that we haven't mentioned? Let us know in the comments below!
You Might Also Like
Pin This For Later