As huge Broadway fans, we were beyond excited to visit the Museum of Broadway on our most recent trip to New York City. Located at 145 West 45th Street in the heart of the Times Square theatre district, the Museum of Broadway is a fun, interactive walk-through museum with three floors of exhibits – an absolute dream for theatre fans!
According to the Museum of Broadway website, most visitors spend between 1-3 hours at the museum. We spent almost exactly 2 hours including time browsing the shop at the end of our visit and loved every minute!
Read: New York City for Theatre Lovers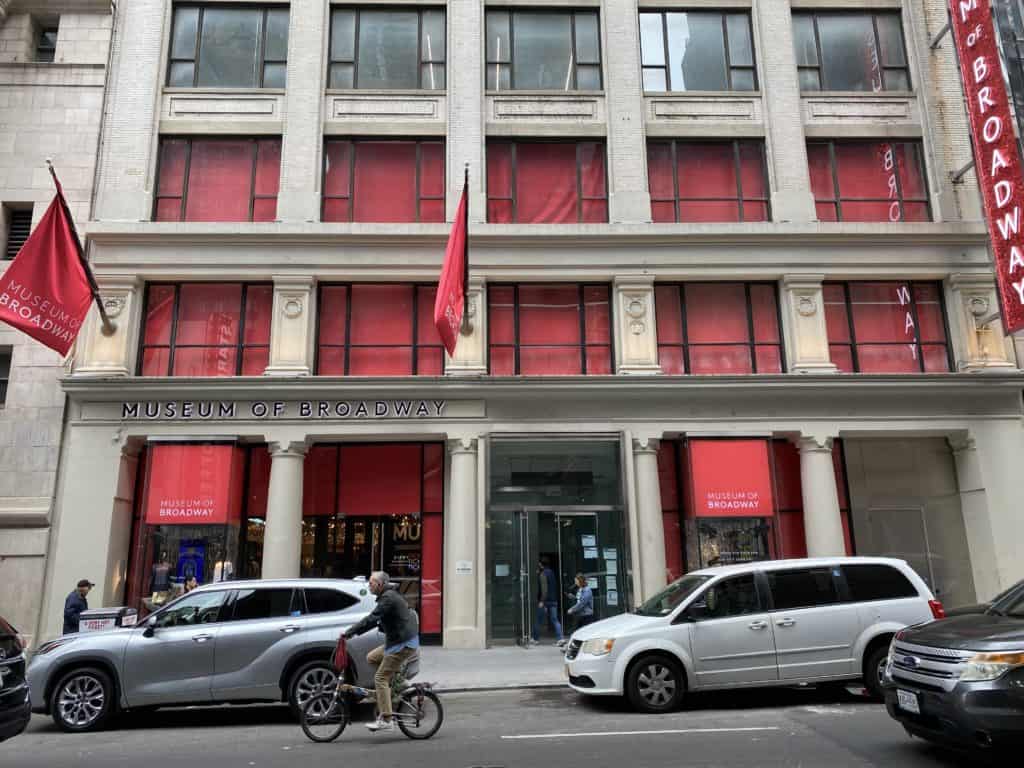 This post may contain affiliate links. If you click an affiliate link and make a purchase then we receive a small commission at no additional cost to you.
We are a participant in the Amazon Services LLC Associates Program, an affiliate advertising program designed to provide a means for us to earn fees by linking to Amazon.com and affiliated sites. As an Amazon affiliate I earn from qualifying purchases.
About the Museum of Broadway
Broadway theatre is one of the main reasons that visitors come to New York yet there has never been a permanent museum dedicated to Broadway. Museum of Broadway founders Julie Boardman (a Tony Award winning producer) and Diane Nicoletti decided to change that by creating a one-of-a-kind museum that celebrates Broadway's history.
Designed by a team of internationally renowned artists, designers and historians, the goal was to create a museum that was historical and educational but also fun and contemporary. The Museum of Broadway opened its doors on November 15, 2022 with displays of hundreds of rare costumes, props and artifacts and is now a must for Broadway fans visiting New York City.
Tours of the museum are self-guided and one way only. Be sure to take your time with each exhibit on the way through since there's no going back to see exhibits that you have already seen – nobody is going to rush you through your visit! The museum has "Brand Ambassadors" available who are happy to answer questions and to take photos of your group.
The Playbill Room and The Map Room
After checking in on the ground level, visitors head to the 3rd floor for the start of their Museum of Broadway experience. The Playbill Room with its bright yellow walls has mounted playbill covers of all of the current Broadway Shows that visitors can peruse while waiting for their turn to watch the introductory film.
A short introductory film on the history of Broadway covers the migration of New York City's theaters from the financial district to Union Square and Herald Square to modern-day Times Square. Once the film has finished then you're free to tour the museum at your own speed.
An interesting fact that we learned from the film was that four Broadway theatres were demolished to build the hotel where we stayed this trip (the Marriott Marquis)!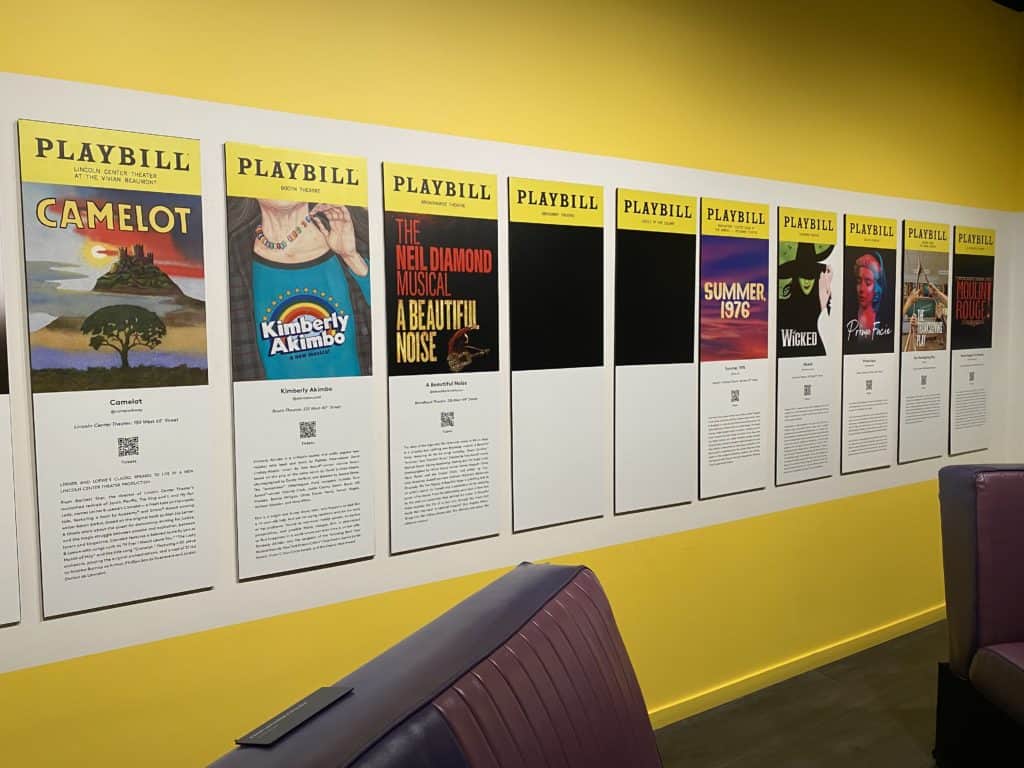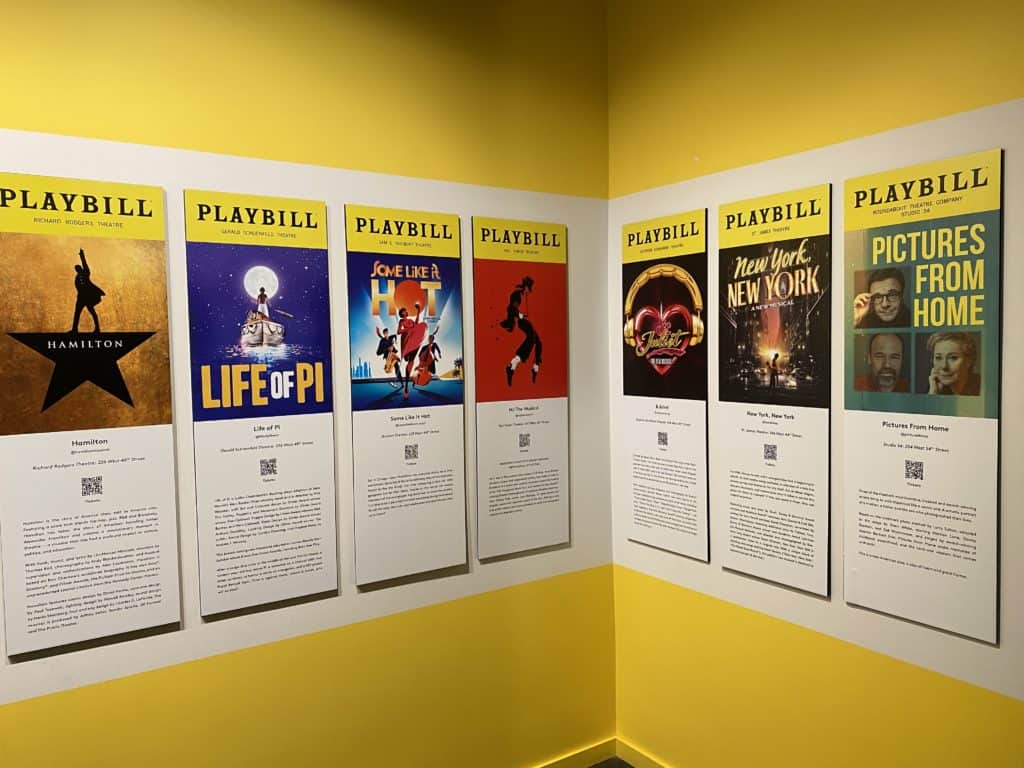 The Broadway Timeline
After watching the film, visitors start their journey through the Broadway timeline. These installations were designed by leading contemporary visual artists and Broadway designers to highlight theatre pioneers, significant moments in Broadway history and some of the most beloved plays and musicals of all time beginning with the birth of Broadway through to present day.
The Broadway Timeline begins with a display that includes original costumes and other items from Ziegfeld's Follies (early 1900s) and then continues through all of the eras displayed on the third floor and then the timeline continues downstairs on the second floor.
There is so much information on display here as well as costumes, props, and some set pieces – which means an abundance of great photo opportunities! Each of the time periods has display boards with information about Broadway plays and Broadway musicals but it really isn't possible to read it all unless you want to spend several hours at the museum. We skim read the boards and I took photos of some of them so that I could read later.
We had so much fun wandering through the exhibits and took so many photos – I'm sharing my favourites but it was very hard to narrow it down!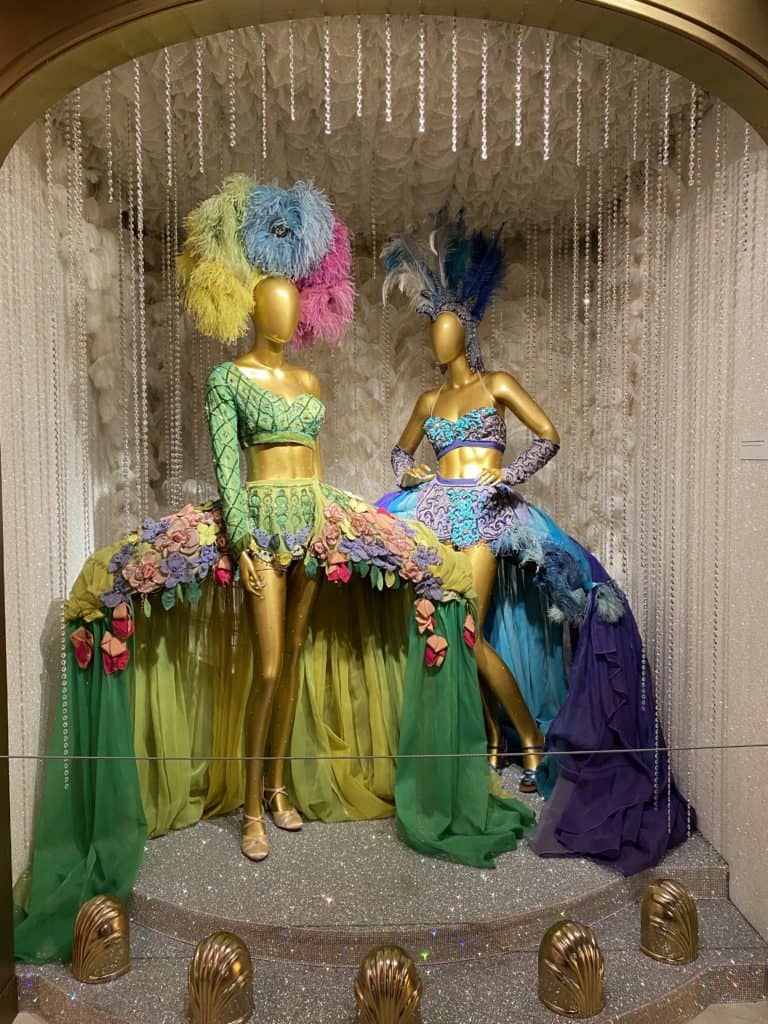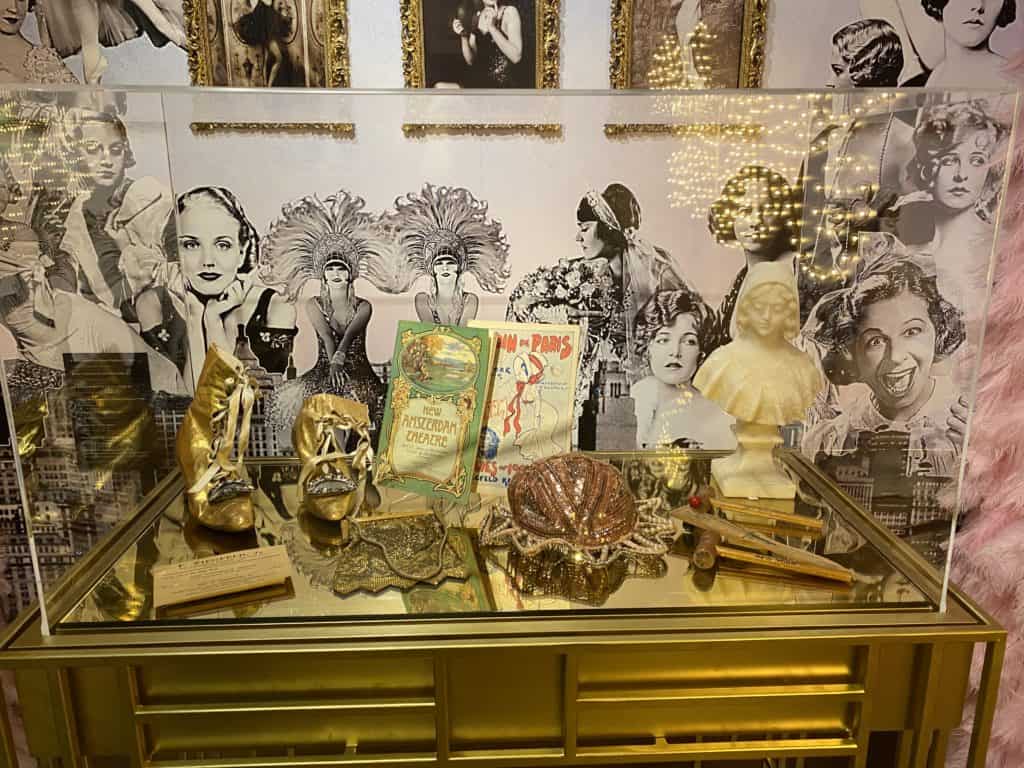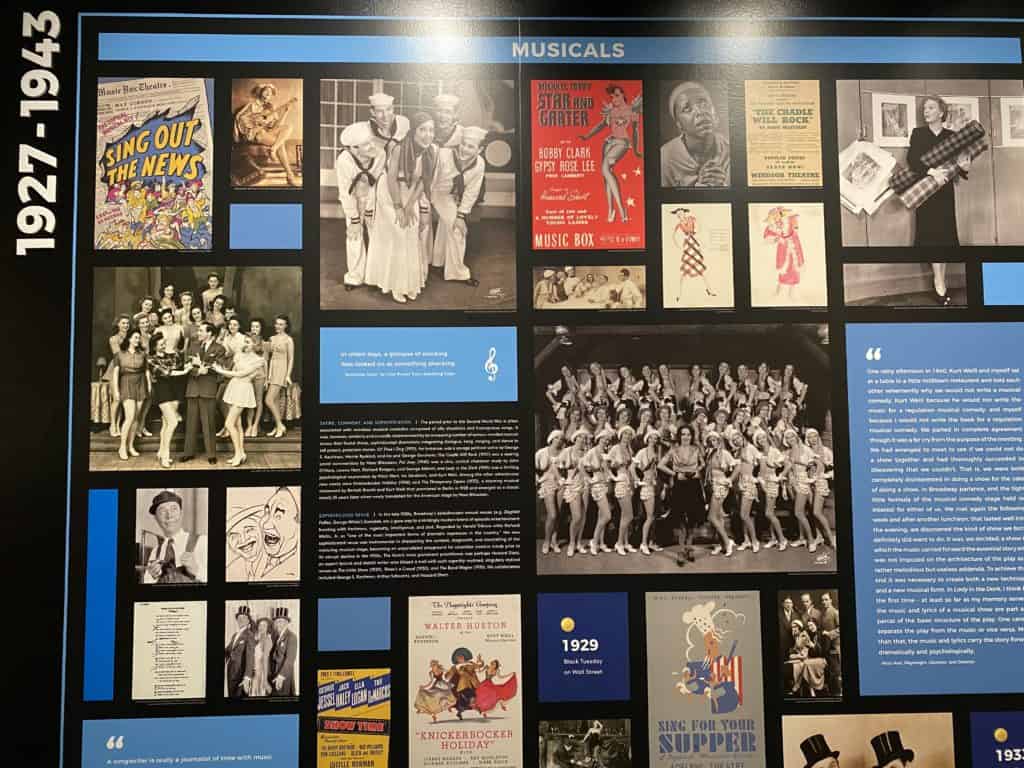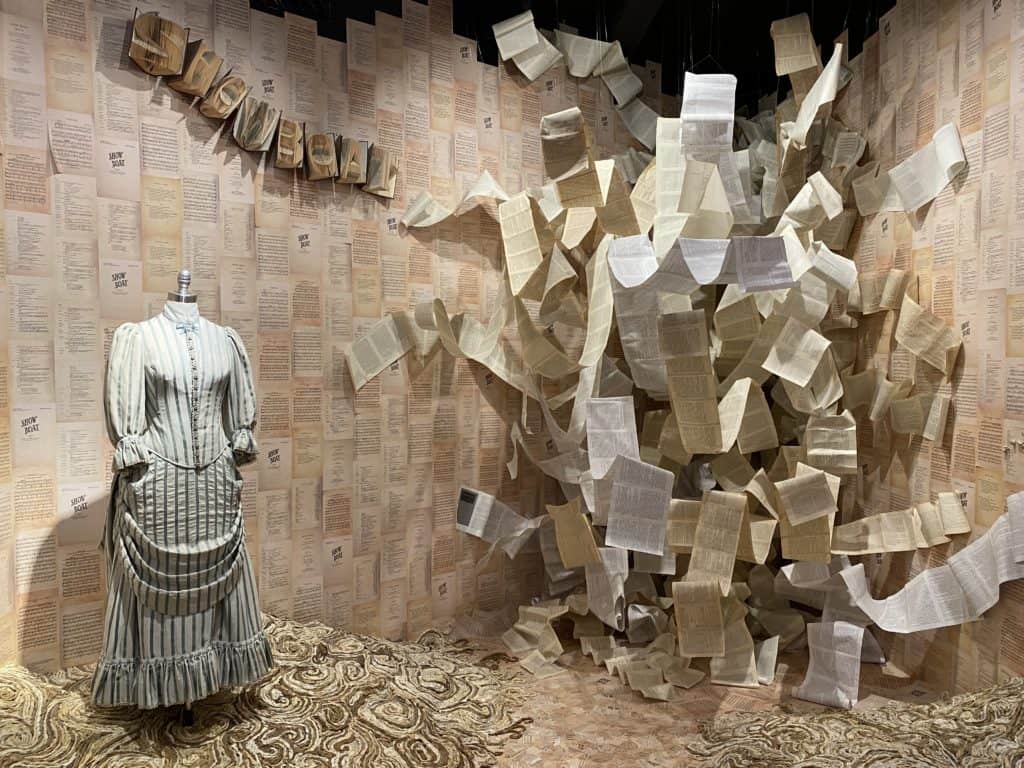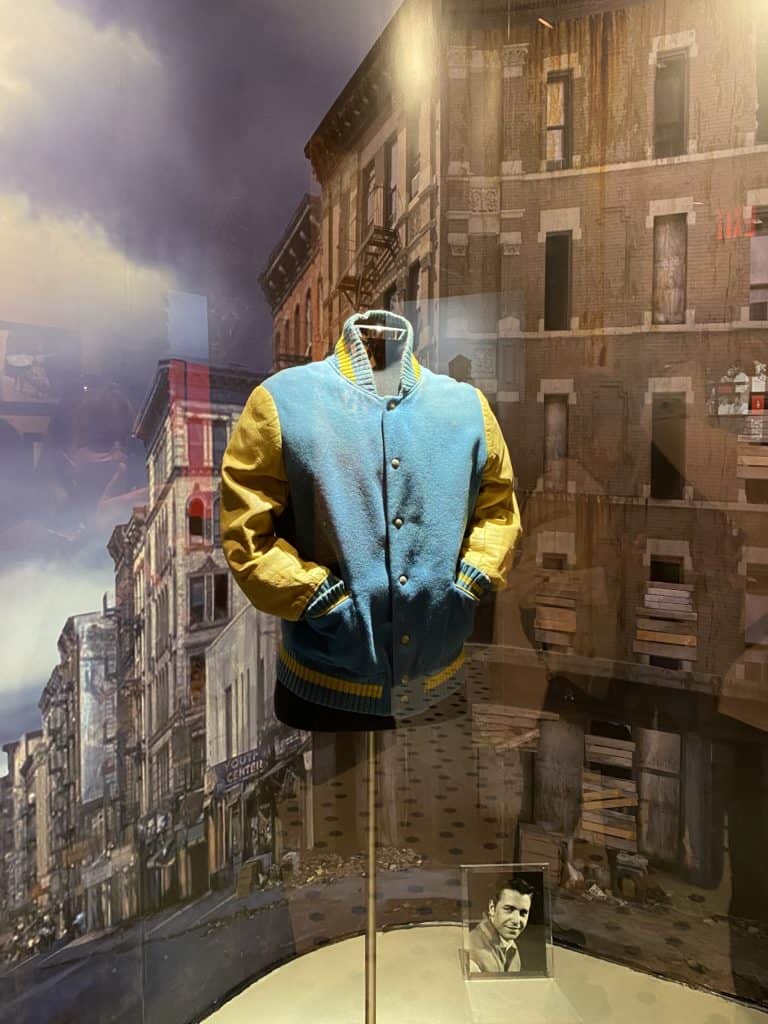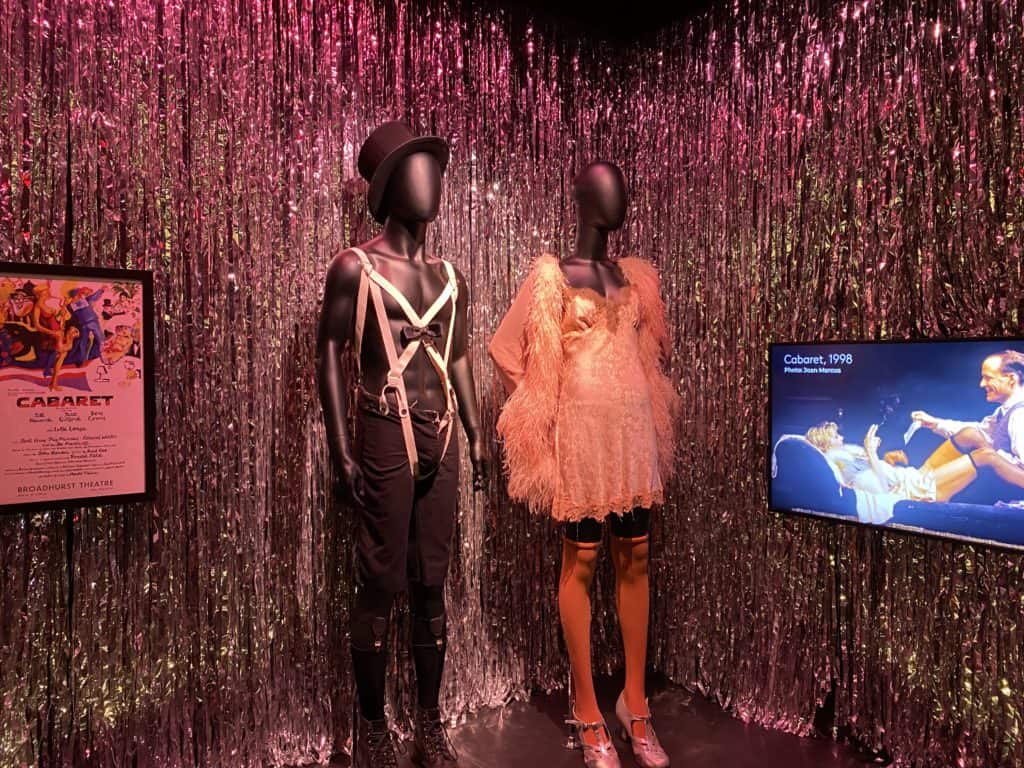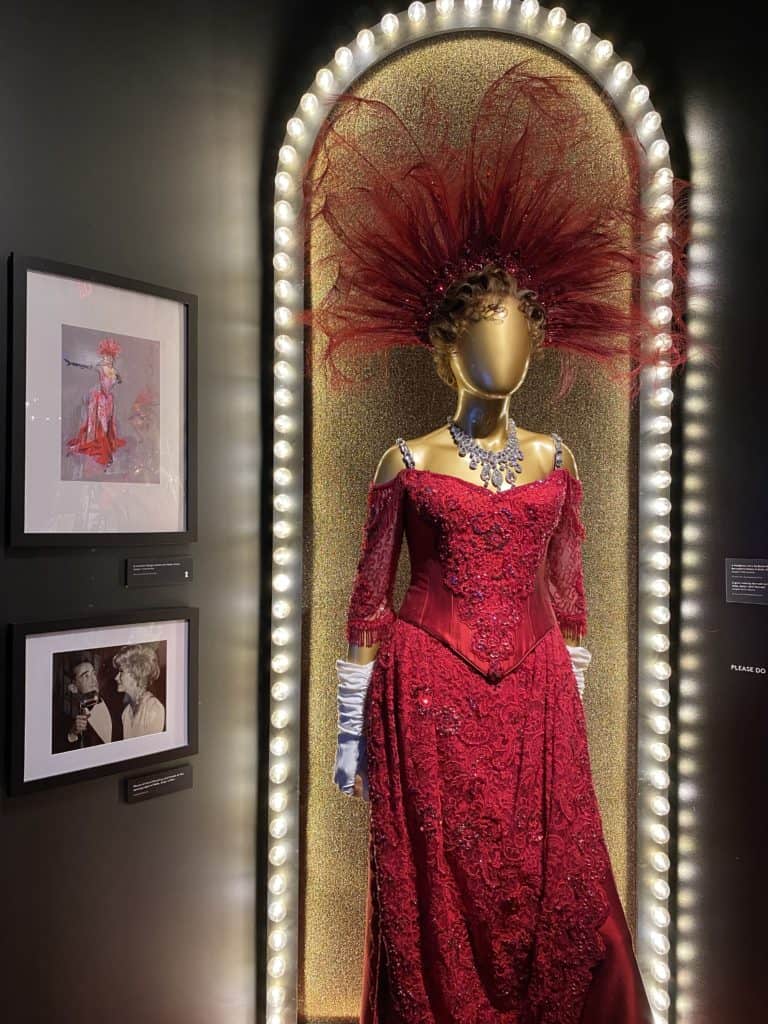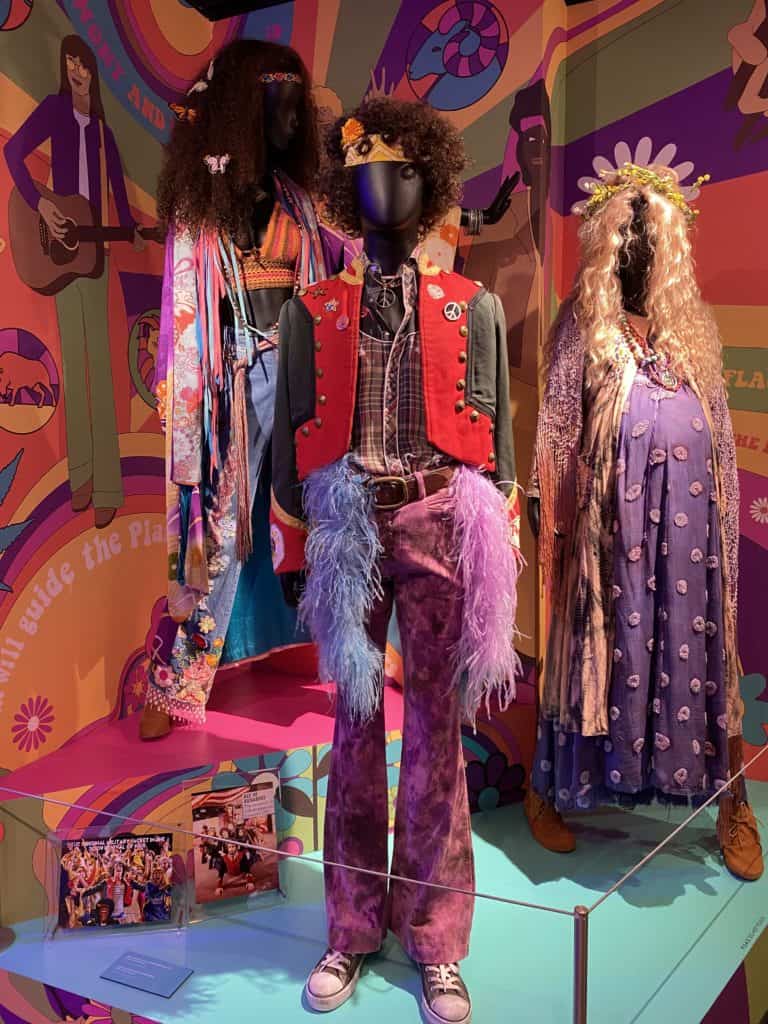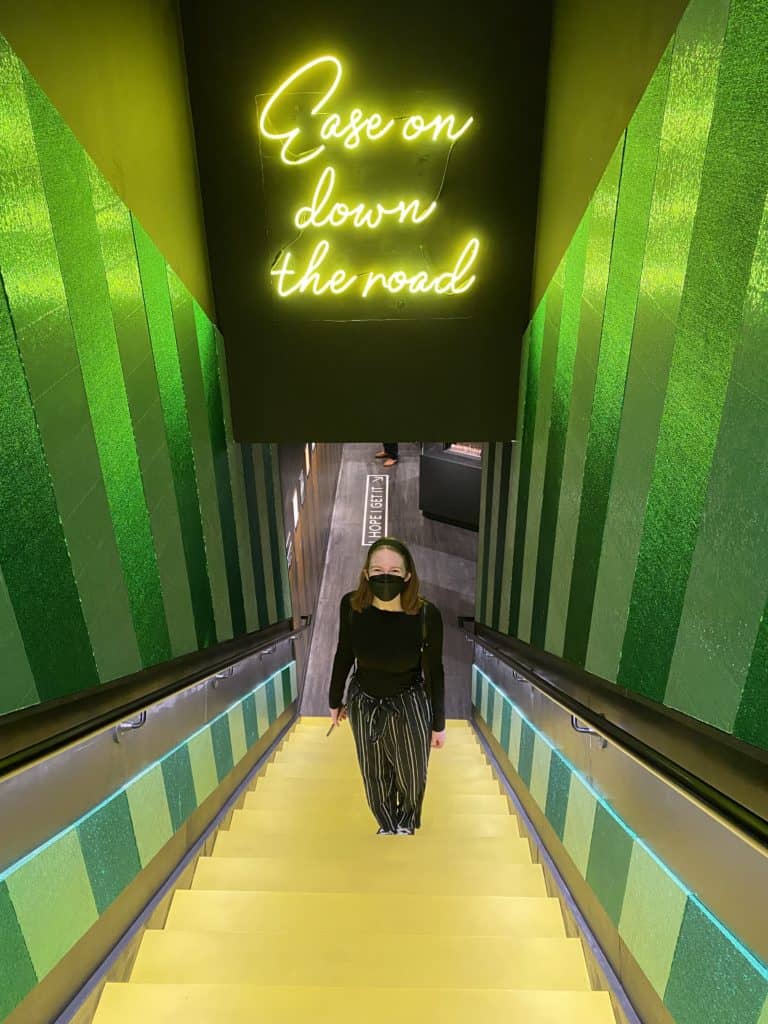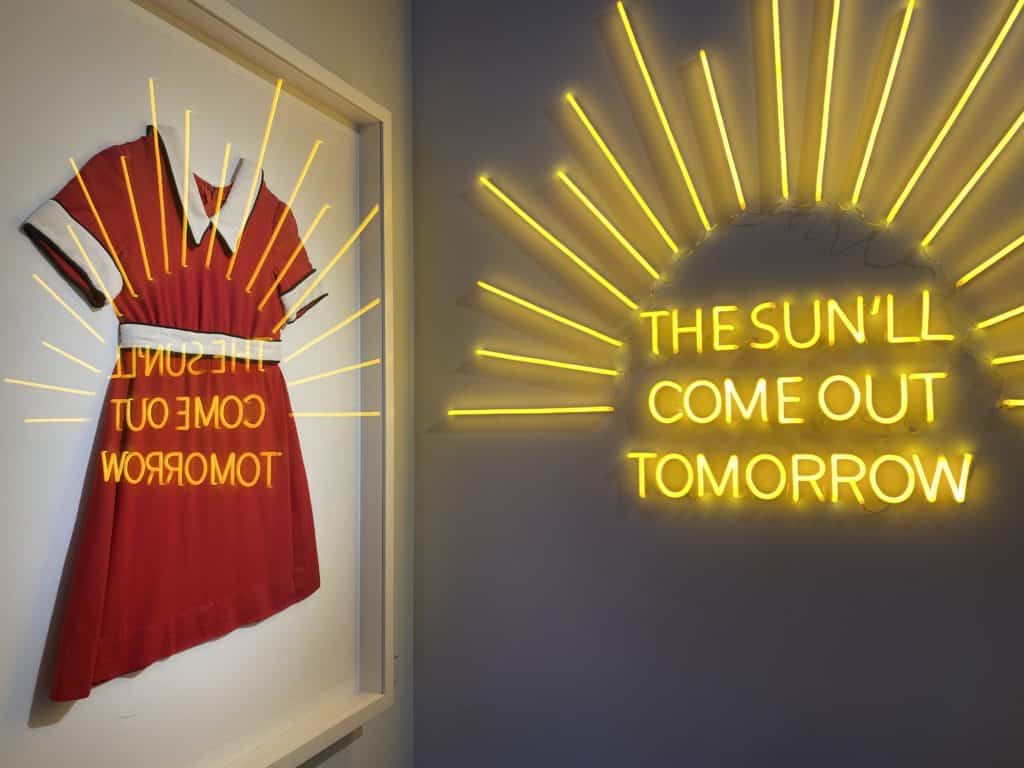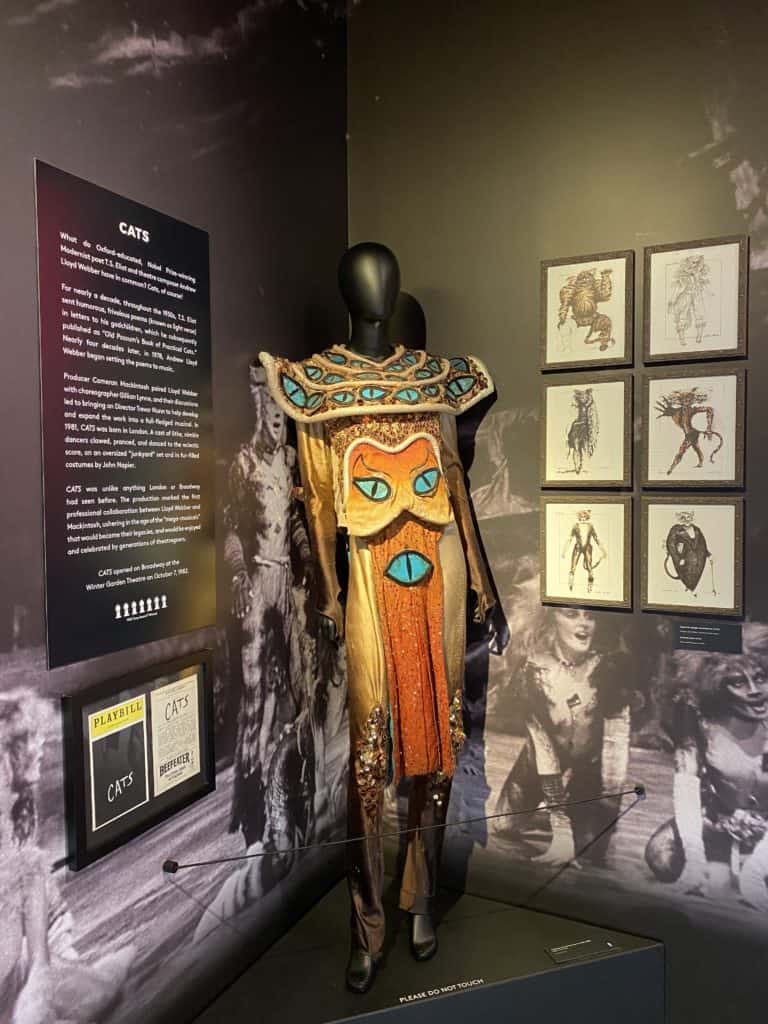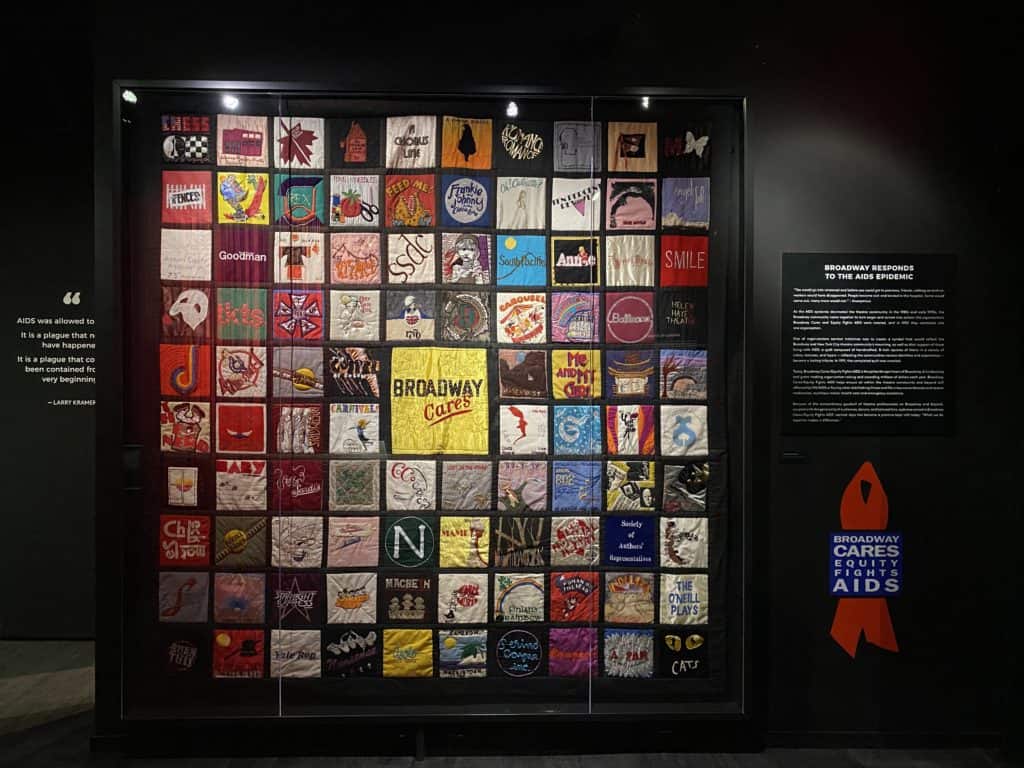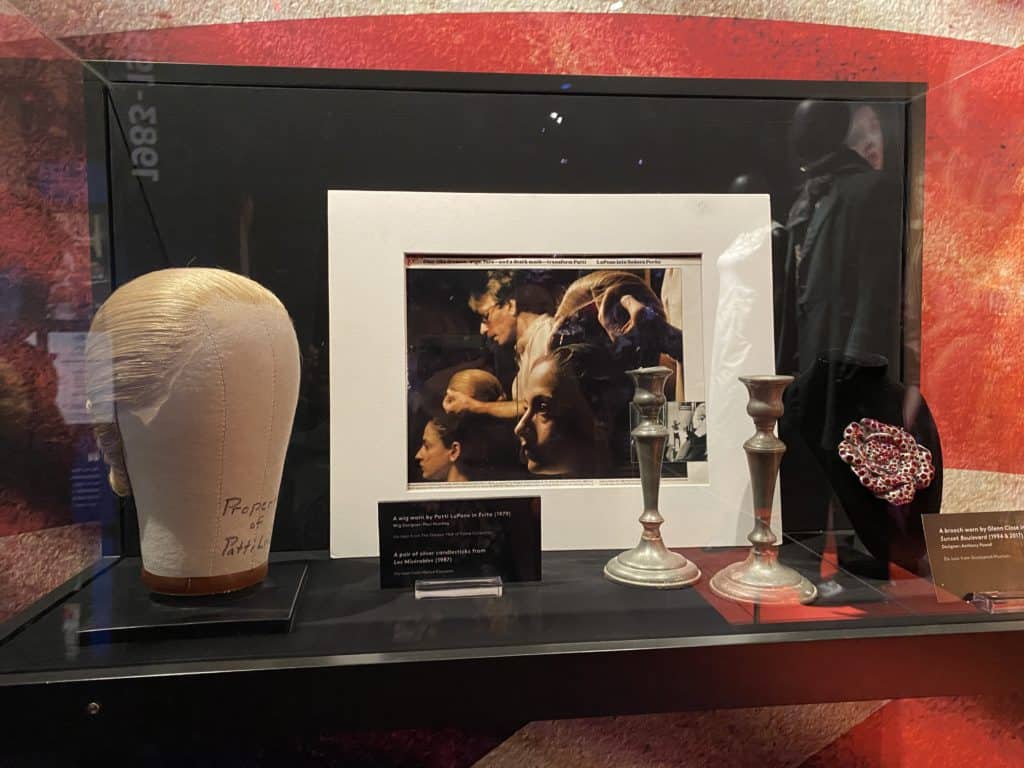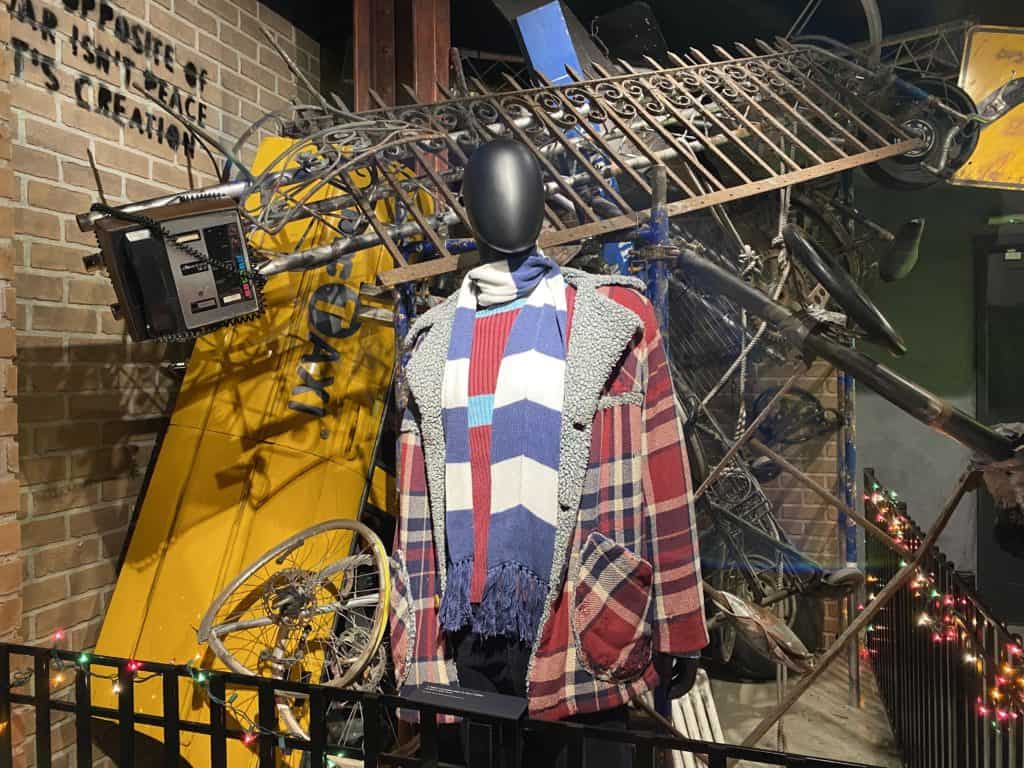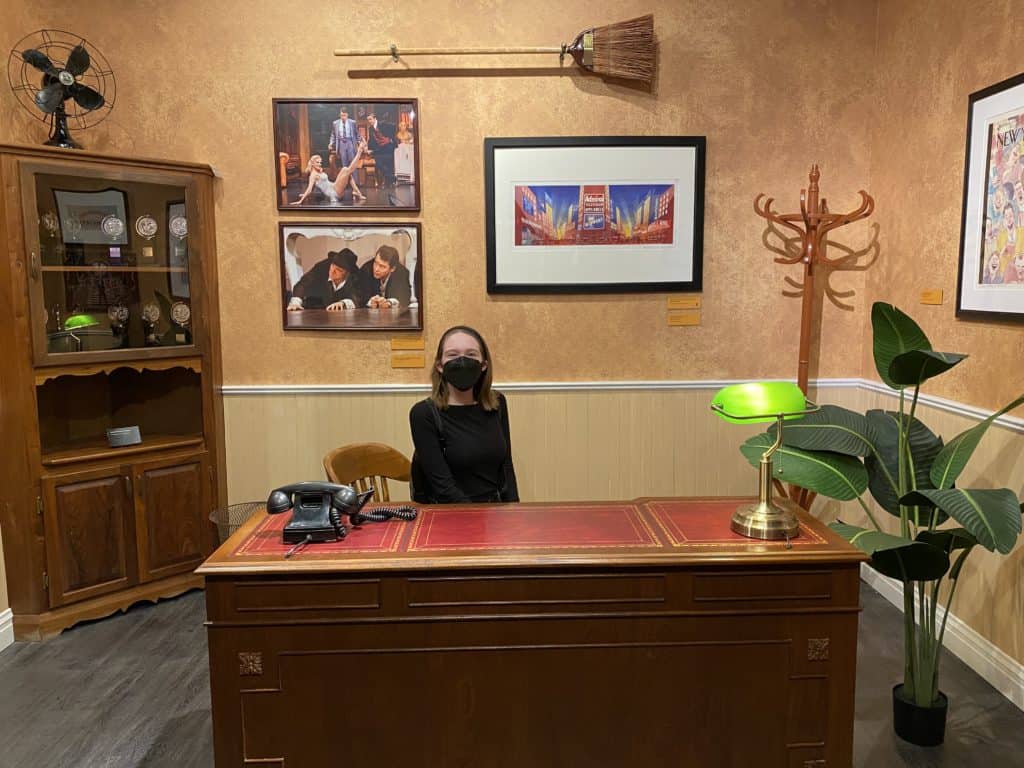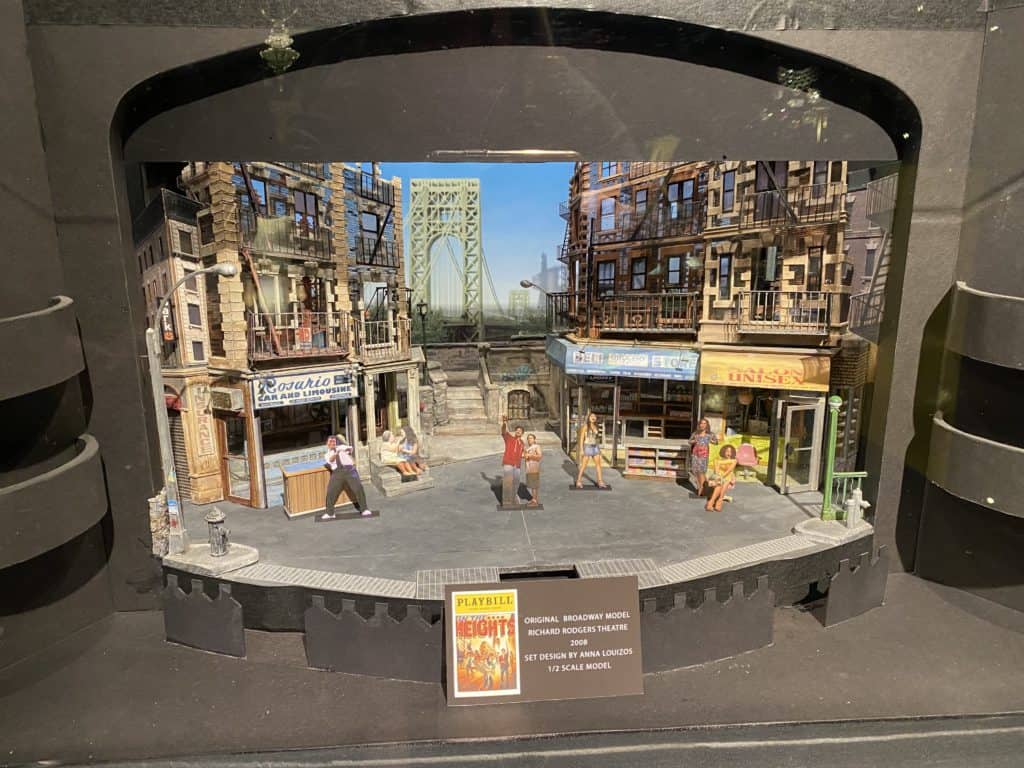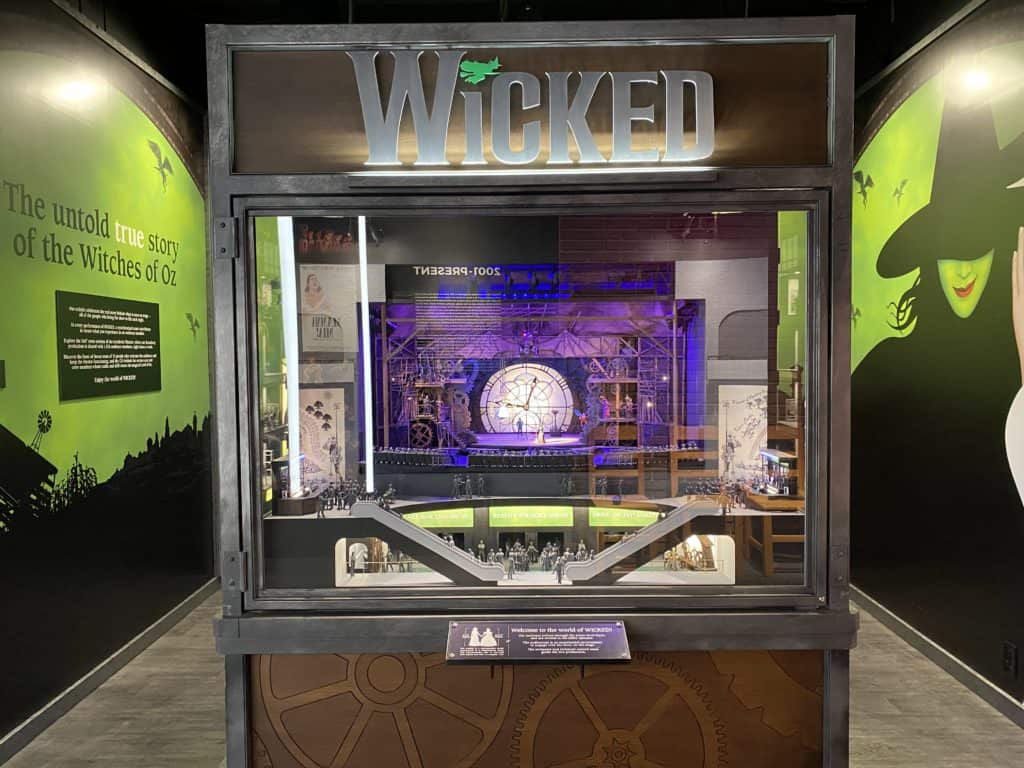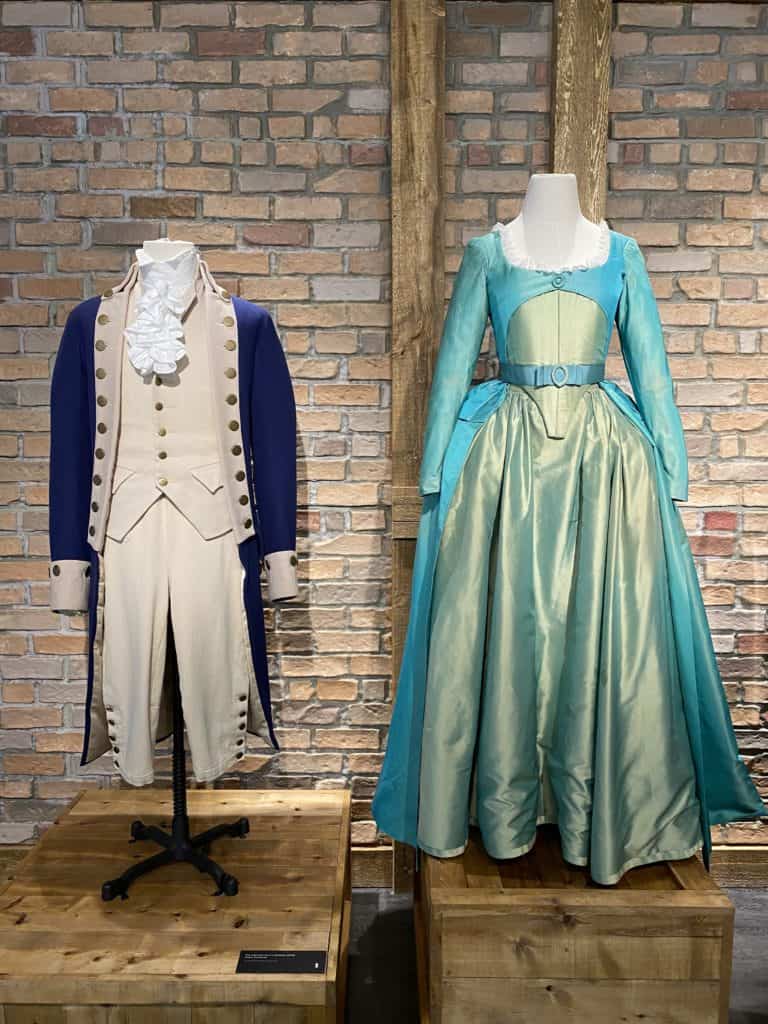 The Making of a Broadway Show
Visitors descend to the first floor for a behind the curtain look at the making of a Broadway show that features all of the jobs that go into putting a Broadway show on the stage – writing, costumes, make-up and hair, set-building, lighting, sound etc.
This exhibit which features costumes, miniature set models and much more honors the community of talented professionals who bring Broadway plays and musicals to life every night.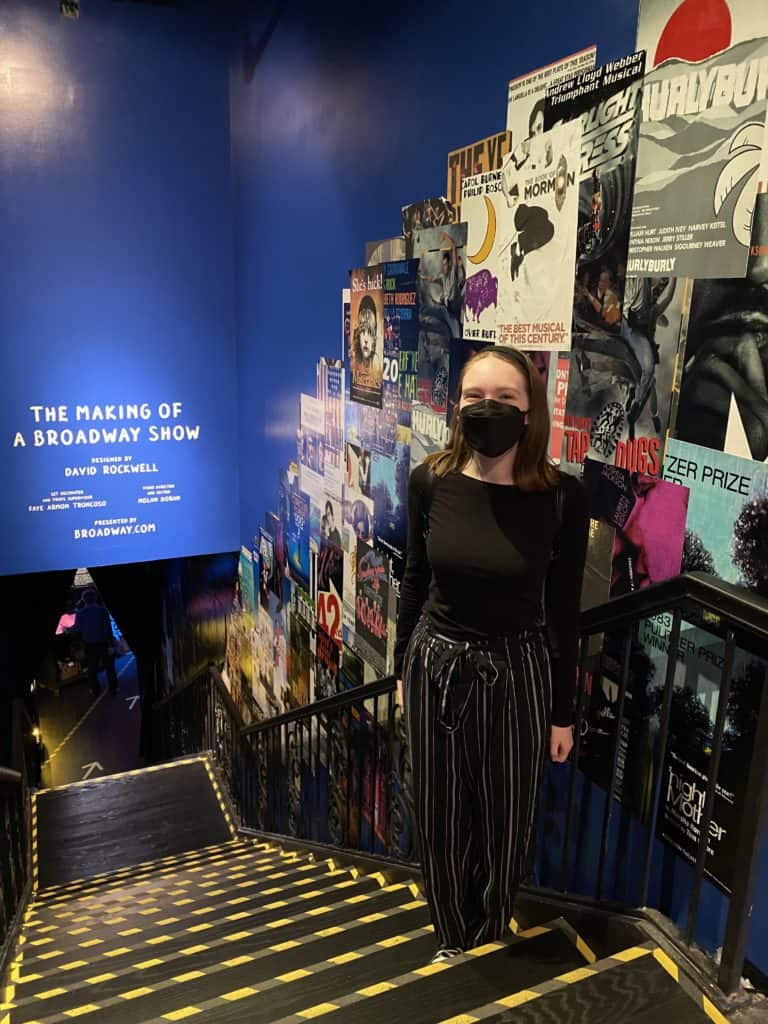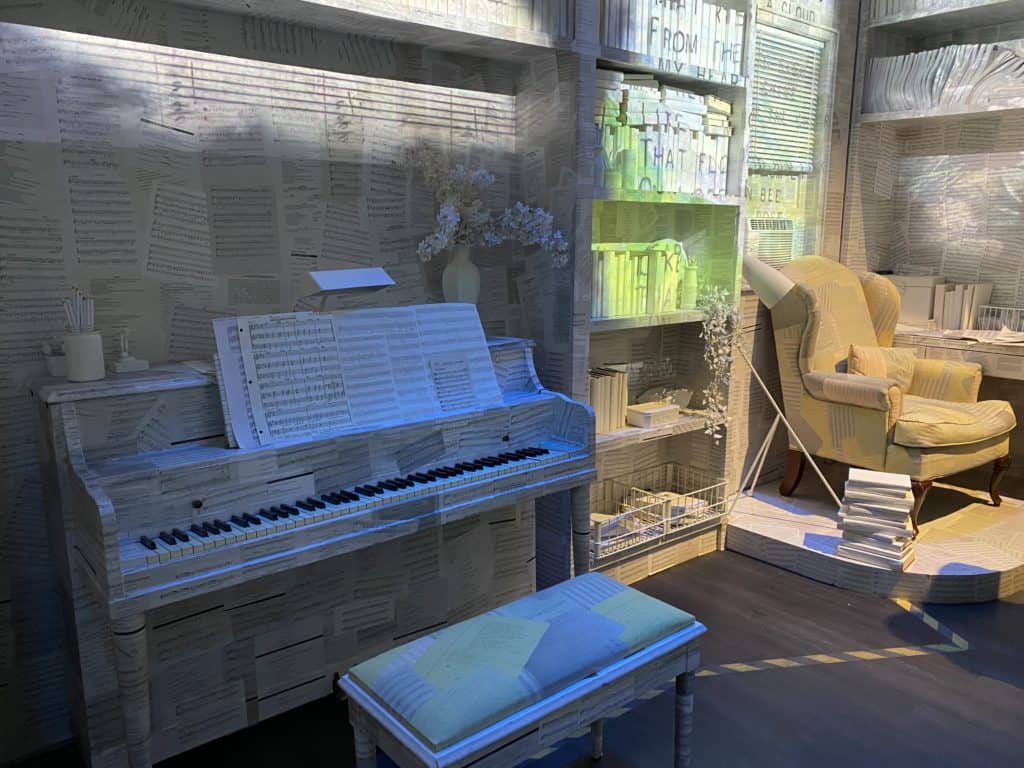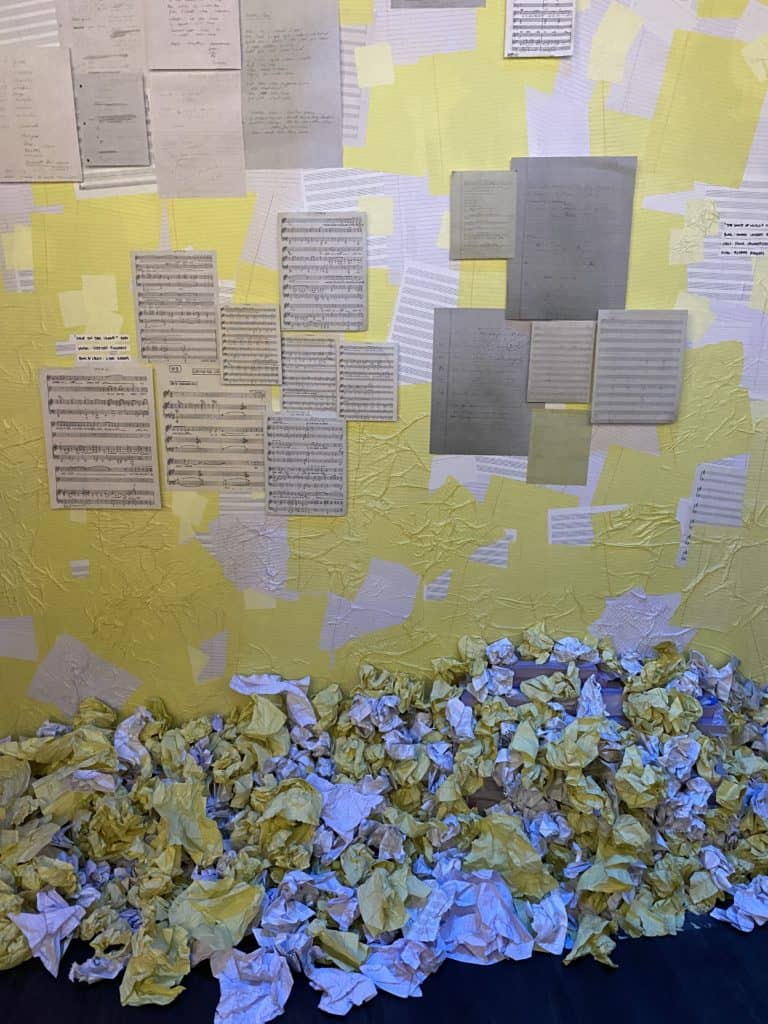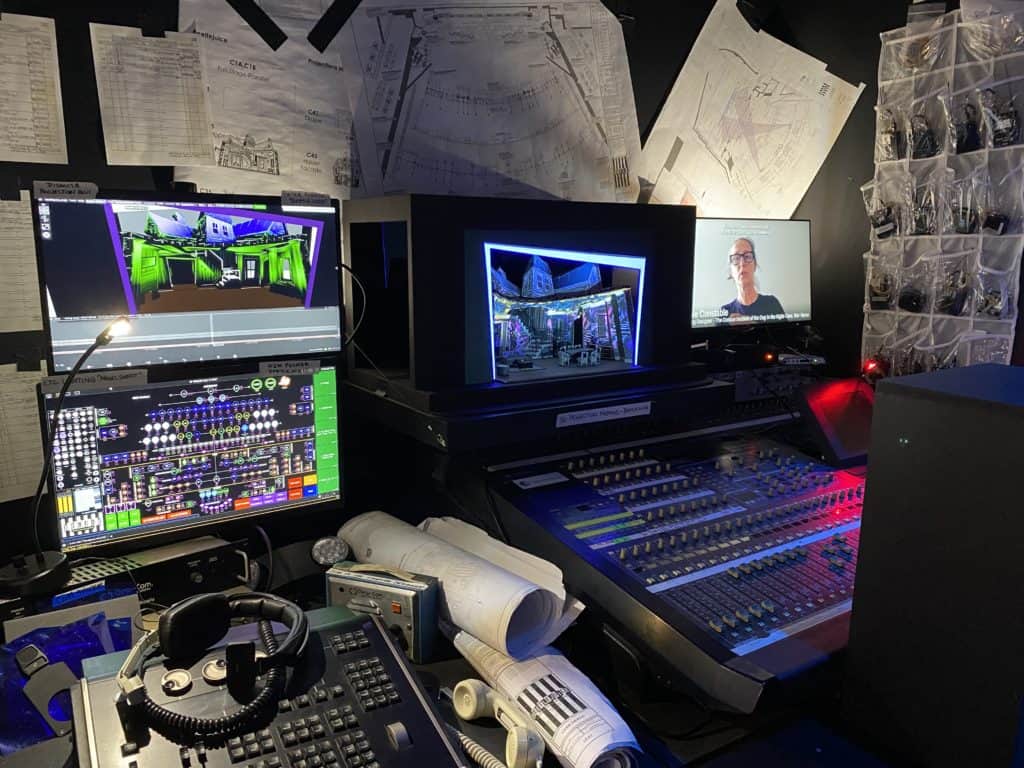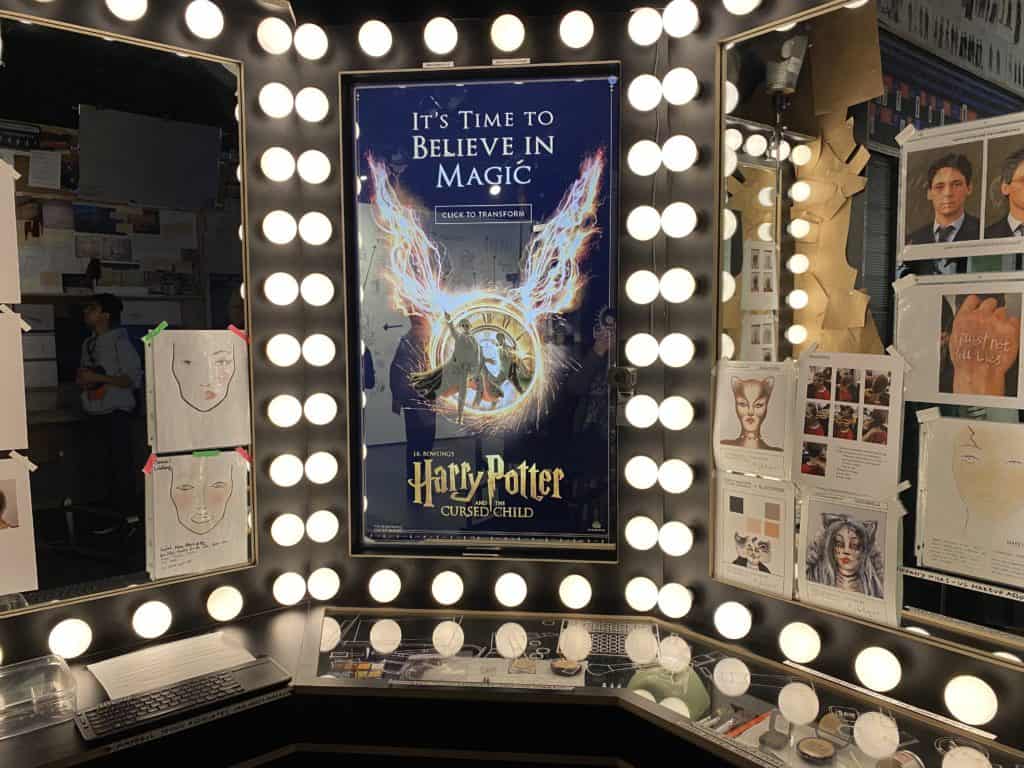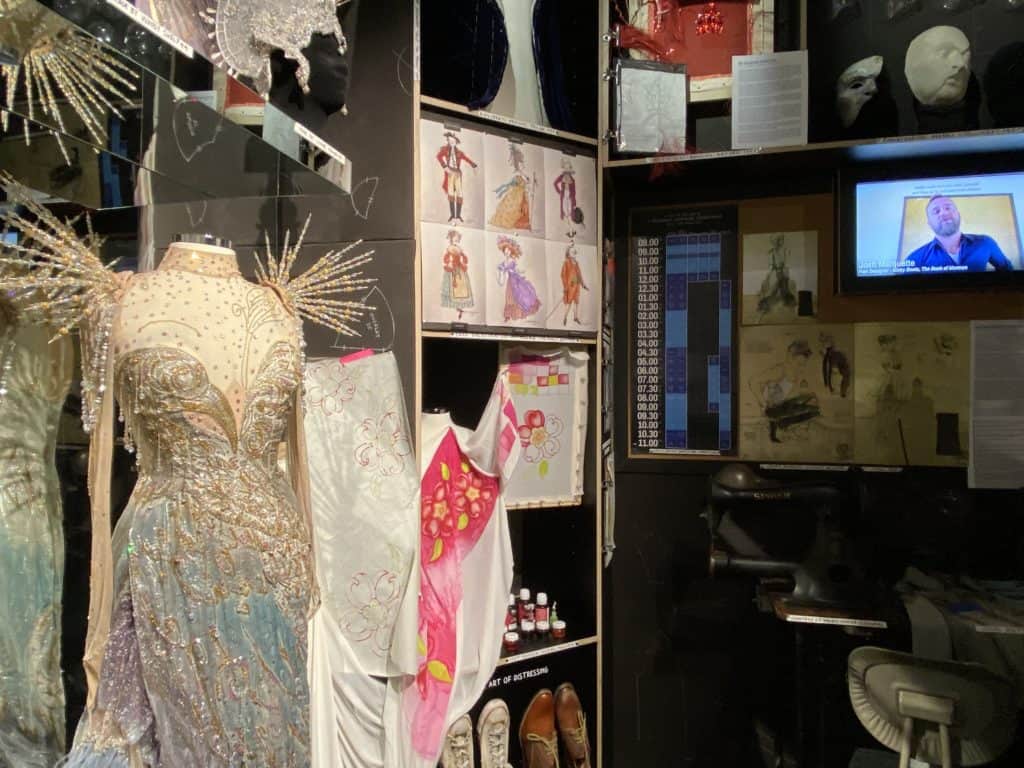 Special Exhibits at the Museum of Broadway
The inaugural temporary exhibit at the museum "The American Theatre As Seen By Hirschfeld", dedicated to the work of caricaturist Al Hirschfeld, is also on the first floor of the museum.
Curated by David Leopold, Creative Director of the Al Hirschfeld Foundation, this exhibit which features nine decades of iconic images of theatre was created exclusively for the Museum of Broadway and originally opened in November 2022. The exhibit includes twenty-five drawings and prints from 1928 to 2002, theatre posters and programs, a replica of the barber chair where Hirschfeld did his drawing, portraits that he sketched and also an app that allows visitors to create a "Hirschfeld sketch" of themselves.
This special exhibit has recently been extended and will now run through June 21, 2023 (Hirschfeld's 120th birthday). There is also a series of free Hirschfeld events presented in collaboration with the Al Hirschfeld Foundation prior to the closing of the special exhibit (RSVP required).
The next special exhibit has yet to be announced.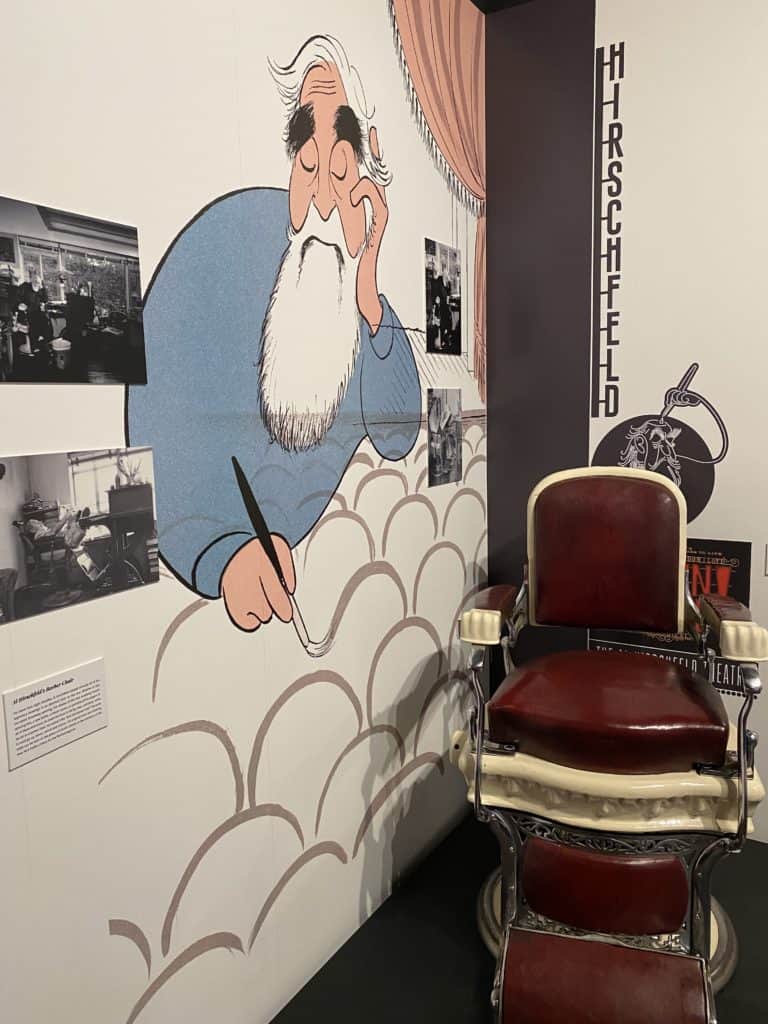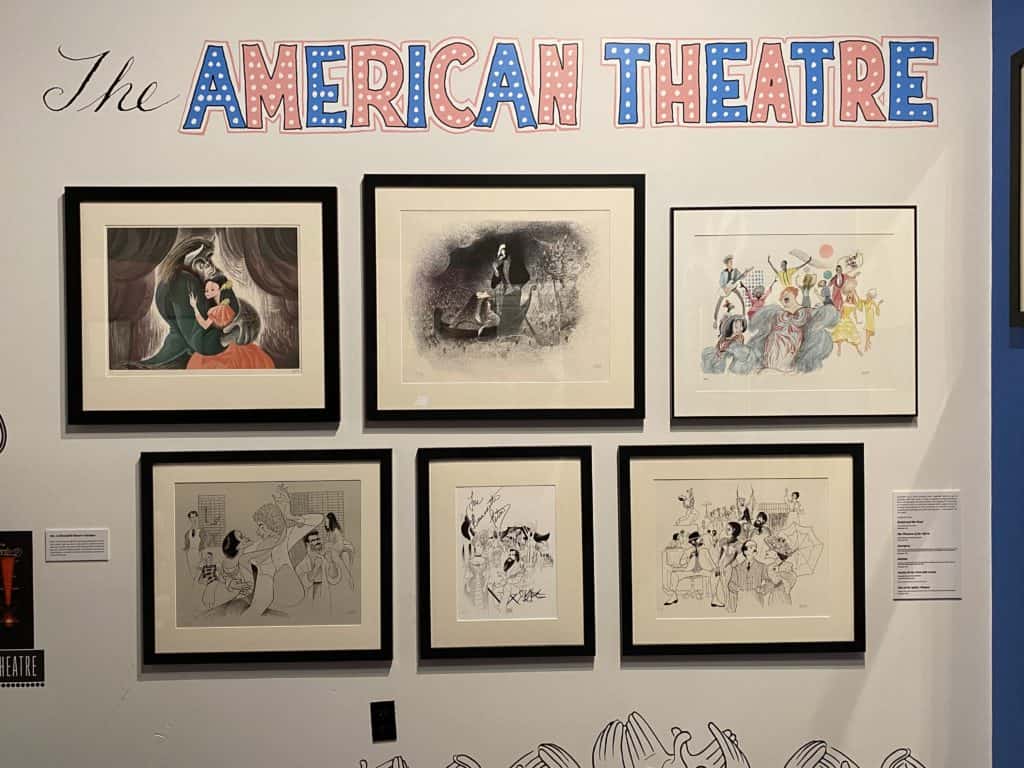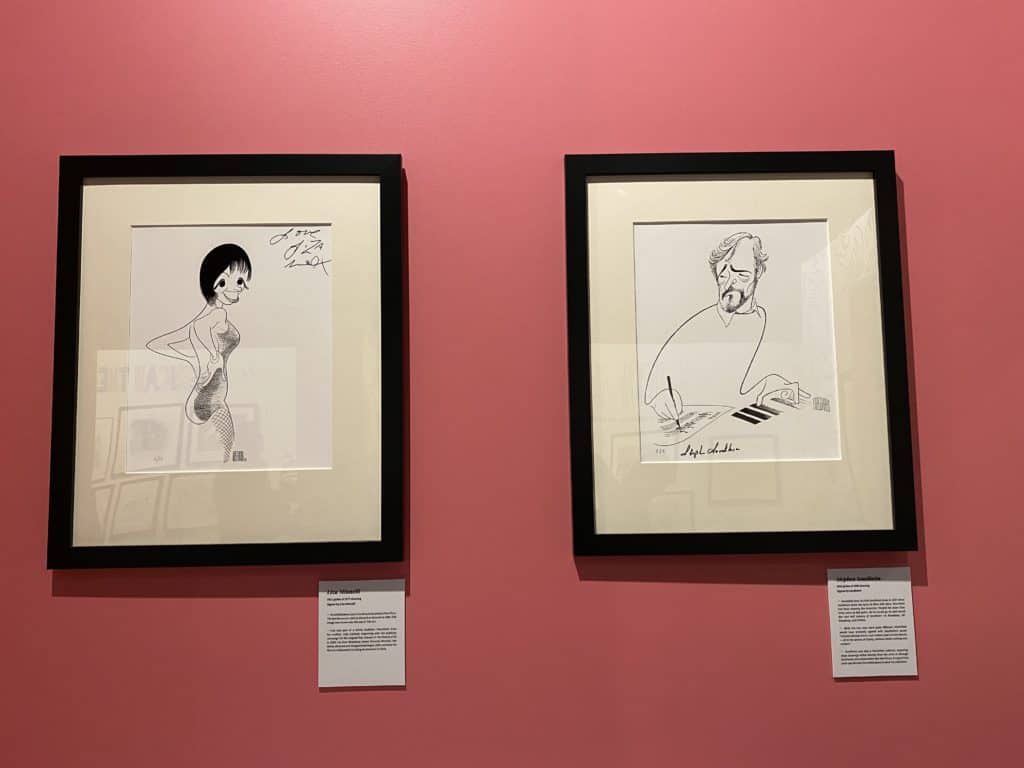 Your visit comes to an end in the special exhibition space and you will then exit into the gift shop.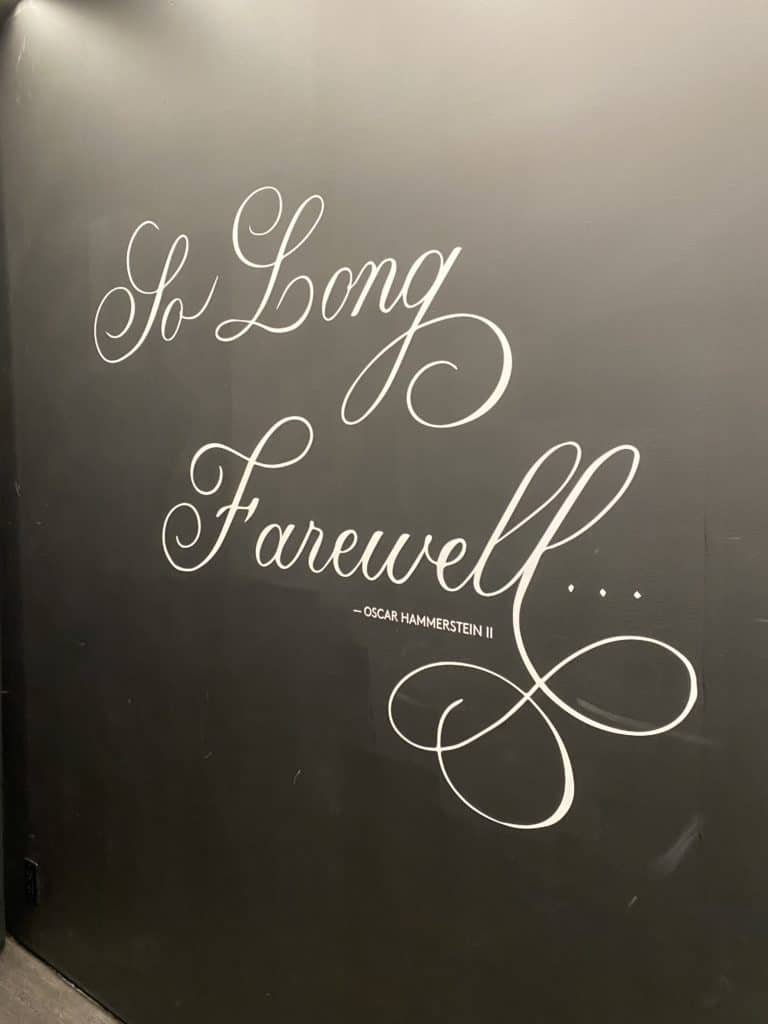 Shop at the Museum of Broadway
The gift shop on the ground floor of the museum is open to the public and merchandise is also available to purchase online. The shop carries an exclusive line of Museum of Broadway branded merchandise (I couldn't resist picking up a tote bag!) as well as merchandise from current Broadway shows and special exhibit merchandise. At the time of our visit, the shop was carrying an exclusive line of Hirschfeld merchandise and Hirschfeld prints.
There's also a rehearsal studio space located on the ground floor used for masterclasses, panel discussions, launch events and more.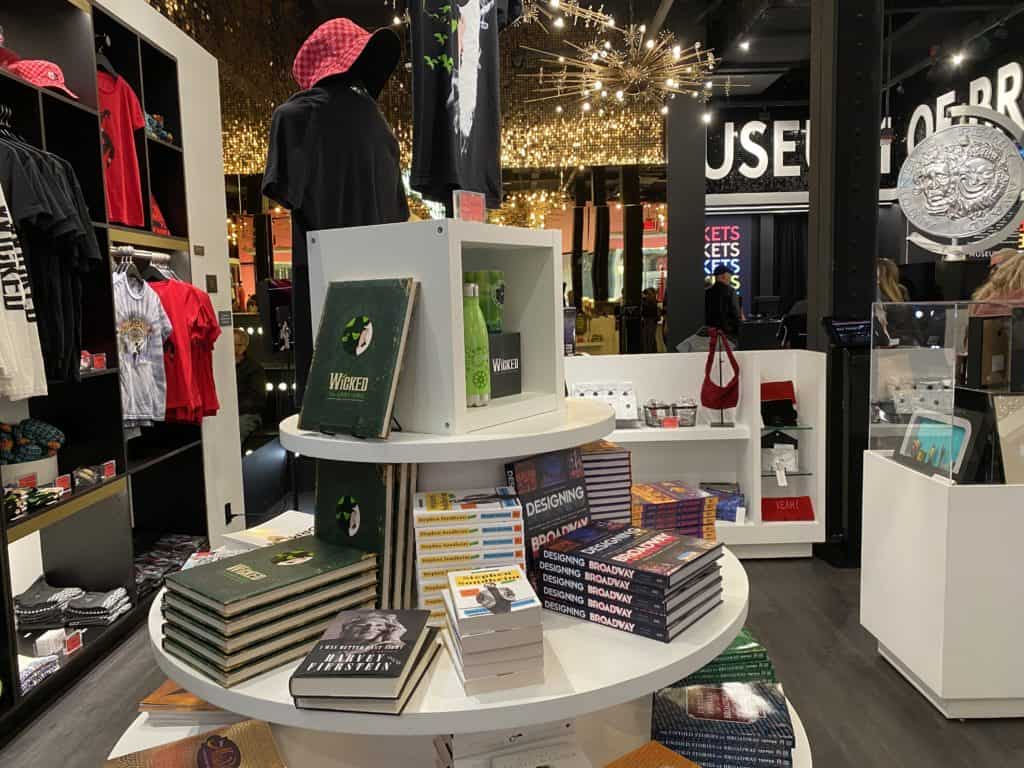 Tickets and Additional Information
The Museum of Broadway is located at 145 W. 45th Street.
Opening hours vary by season but typically the museum opens at 9:30 am and closes at 6:30 pm with extended hours on Saturday. The museum is closed on Mondays until summer hours begin on May 15th. Last entry is 90 minutes prior to closing.
The museum is wheelchair accessible.
All ages are welcome. Kids 4 and under may visit free of charge, however, strollers must be checked upon arrival.
Museum of Broadway Tickets
Tickets to the Museum of Broadway are expensive but we felt that it was worth it for the one-of-a-kind experience. We were in New York only for three days this trip and hadn't planned ahead so we ended up buying Flex tickets in order to fit a visit to the museum in before a Broadway matinee performance. The first Tuesday of the month discount is the best deal if it works with your schedule but be sure to book well in advance as those time slots get snapped up quickly.
Single Timed Tickets are $34-39. Student tickets at $29 and Senior tickets (for ages 65+) at $32 are available on Mondays through Thursdays. Students must present current student ID to gain entry.  Seniors must present ID with proof of age in order to gain entry. A portion of each ticket will be donated to Broadway Cares/Equity Fights AIDS.
Timed tickets are available every 15 minutes from opening until the final entry time. If you prefer some flexibility, you may purchase a Morning, Early Afternoon, or Late Afternoon "Flex" ticket which allows you to arrive anytime within a specified window. For maximum flexibility, there is also a daily "Anytime" ticket, which provides entry anytime on the day for which it is purchased (no re-entry). Flexible Tickets are $49 and Anytime Tickets are $69.
Museum of Broadway Discount Tickets – discounted tickets are available the first Tuesday of each month ($25 timed, $35 flexible).
Tickets can be purchased on-site but it is recommended to buy in advance to ensure your preferred entry time.
Pin This For Later