Planning to visit New York with teenagers? While travelling with teenagers can be stressful, you can rest assured that New York City will be a surefire hit. There's so much to do that even the hardest to impress teens can't help but have fun in New York City!
We have been visiting New York City at least once a year for several years (for a total of 11 visits with another coming up during the holiday season this year). Since my daughters are 7 years apart all but one of those trips was with a teenager along. These are our recommendations for 25 fun things to do with teens in NYC. Unless you're staying in the city for a couple of weeks though you won't be able to fit all of these into one visit so just pick what appeals to your family and have fun!
This post may contain affiliate links. If you click an affiliate link and make a purchase then we receive a small commission at no additional cost to you.
We are a participant in the Amazon Services LLC Associates Program, an affiliate advertising program designed to provide a means for us to earn fees by linking to Amazon.com and affiliated sites. As an Amazon affiliate I earn from qualifying purchases.
Check out the Views of Manhattan
Visiting one of the observatories with teens is a sure-fire hit – those views of Manhattan make great Instagram photos! Plan to head to one of these during your visit to NYC and enjoy the iconic views from the top!
1. Top of the Rock Observation Deck
The Top of the Rock Observation Deck at the Rockefeller Center is a great choice since it's generally a shorter wait than the Empire State Building. From the observation decks, you can enjoy sweeping views of the city including midtown, Central Park, and the skyscrapers downtown with the added bonus of seeing the Empire State Building from this vantage point.
The Top of the Rock uses a timed ticketing system which is ideal for planning your visit with minimal waiting. Top of the Rock is open 7 days a week, 365 days a year regardless of weather conditions, however, in the case of inclement weather, portions of the deck may be closed for safety reasons.
Top of the Rock is located at 30 Rockefeller Plaza and is open 8am – midnight. Last elevator up is at 11pm.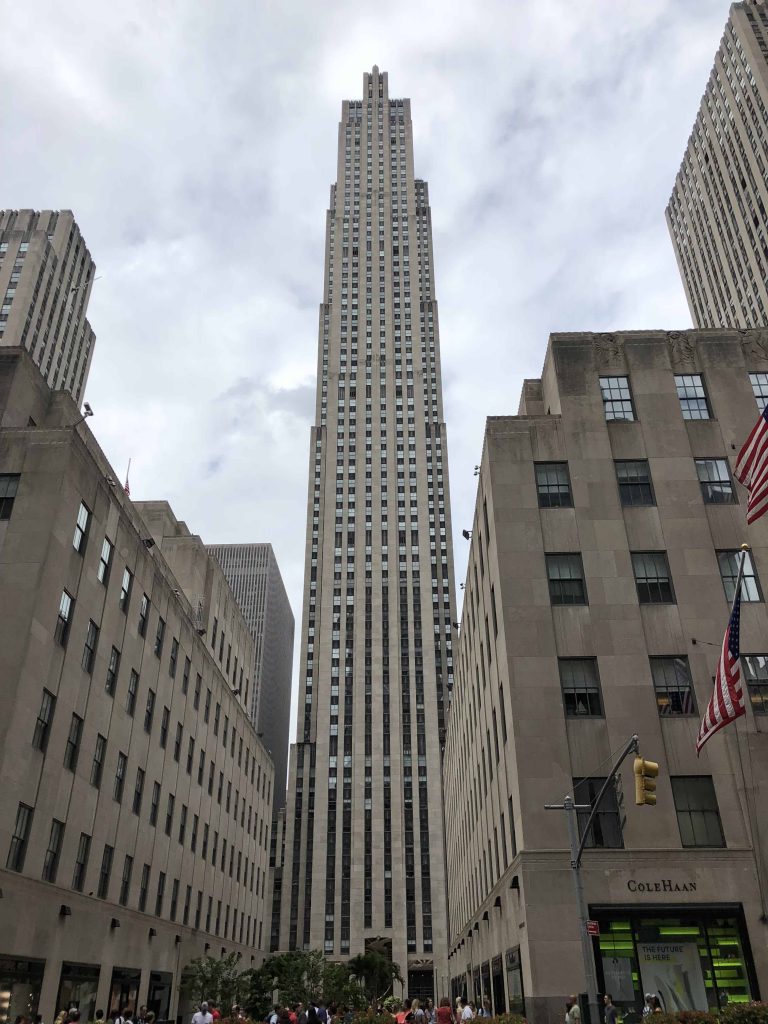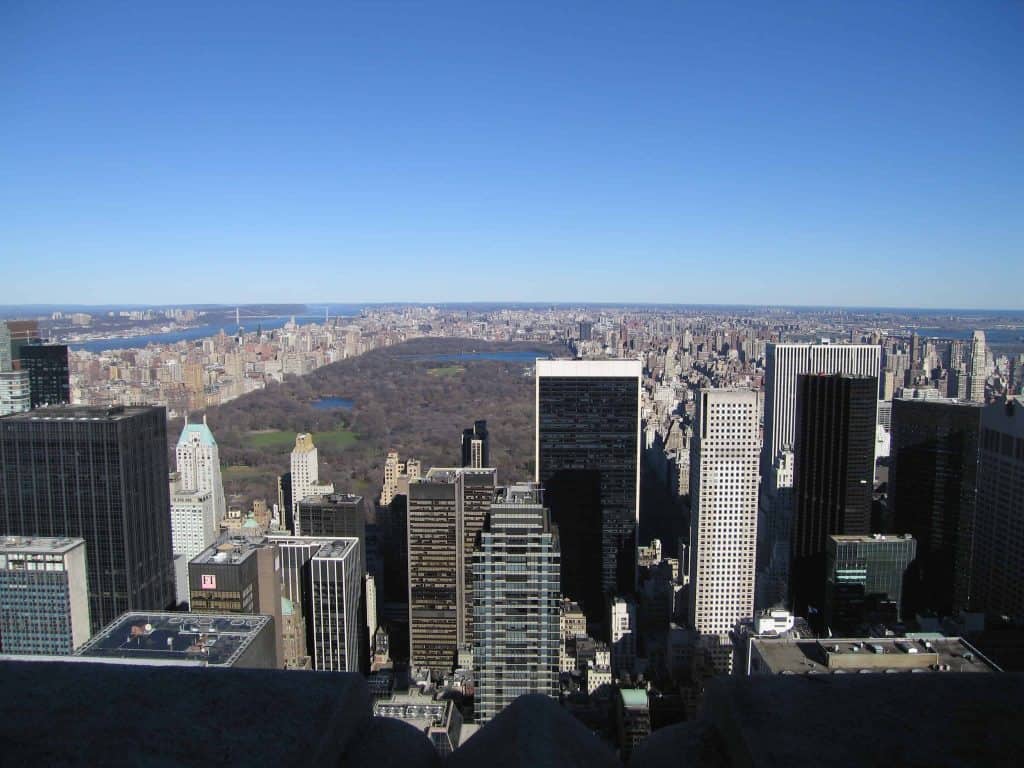 2. Empire State Building Observation Deck
You might discover that a trip to the top of the Empire State Building is on your teen's wish list for their visit to New York City – after all it's a world-famous landmark for a reason! There are two observation decks at the Empire State Building – an open-air observatory on the 86th floor and an indoor observatory on the 102nd floor.
If you're visiting New York City during the winter then I would recommend buying the more expensive ticket that includes the indoor observatory as temperatures can be frigid at that height (apparently 15 degrees colder than street level). You will enjoy unforgettable views of New York and beyond from both decks. If you're able to get your teen out of bed, wait times are generally shortest in the morning between 8am and 11am.
The Empire State Building is located at 20 W. 34th Street and is open 365 days a year rain or shine from 8am – 2am. Tickets may be purchased online in advance but you will still have to wait in line. VIP Express Passes to skip the lines are available. Admission to the Empire State Building 86th floor observatory is included with a CityPASS and upgrades to the 102nd floor observatory may be purchased.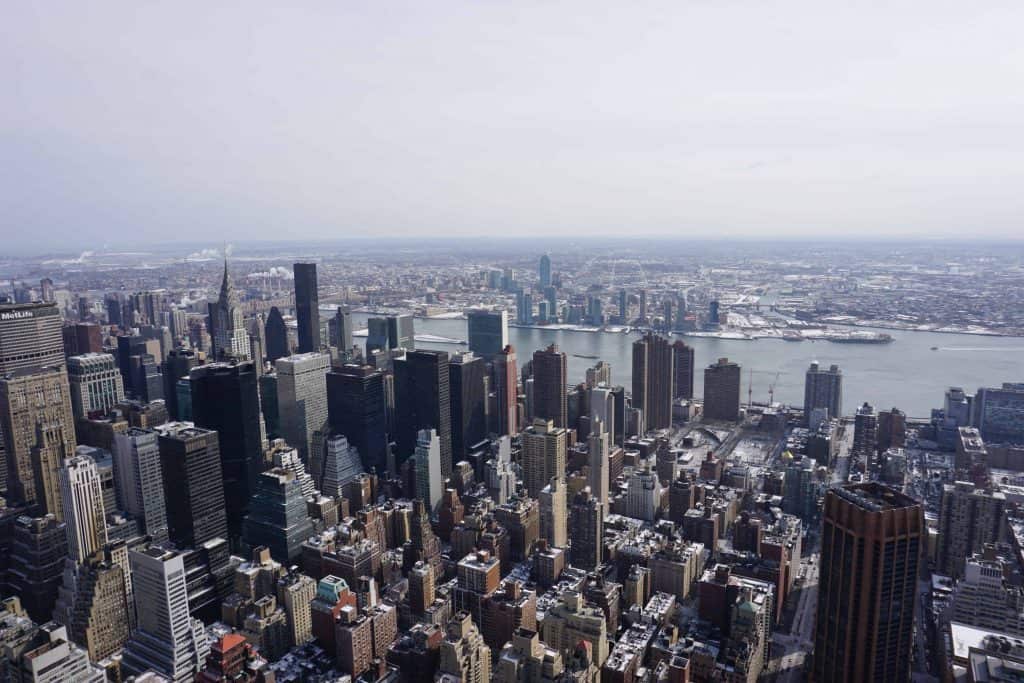 3. One World Observatory
One World Observatory is at the top of One World Trade Center, also known as Freedom Tower, in downtown Manhattan. The Observatory is located on floors 100, 101 and 102 of the tallest building in the Western Hemisphere providing visitors with unparalleled panoramic views of New York City and surrounding waters.
One World Observatory is located at 117 West Street at the corner of West and Vesey Streets in Downtown Manhattan and is easily reached by public transportation. Hours vary so check the website for details.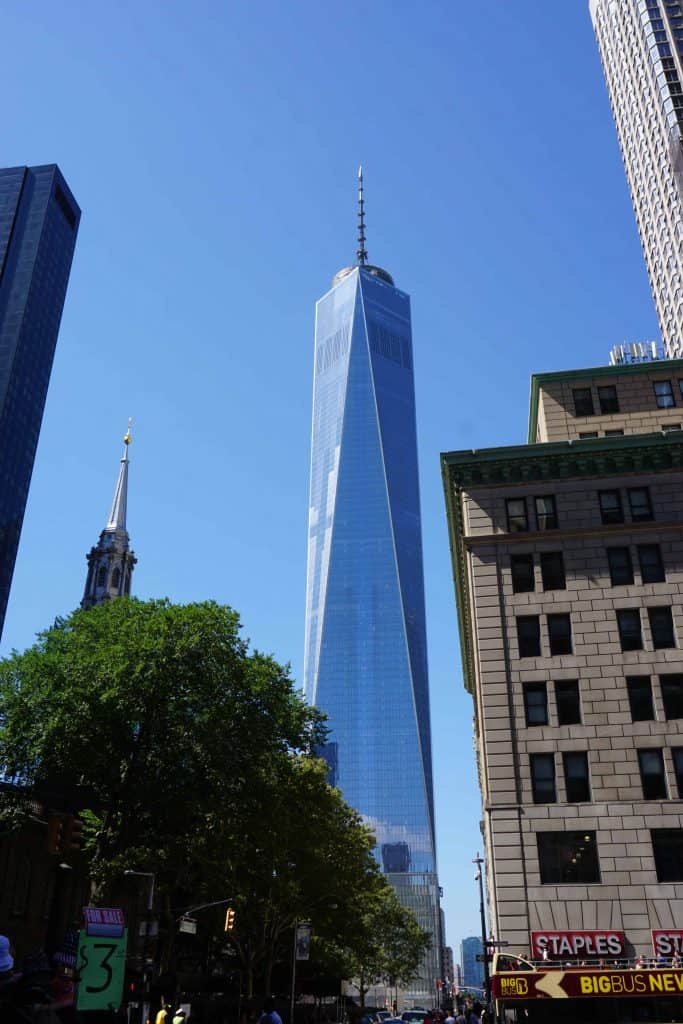 4. The Excitement of Times Square
If this is the first time in New York City for your teens then Times Square is a must. Even if it's the 10th time though you will likely find yourself there at some point because nothing compares to the excitement of Times Square. There are also a number of shops and indoor attractions around Times Square that will appeal to teens including Madame Tussaud's, Ripley's Believe It or Not!, M&M's World New York, Hershey's Chocolate World Times Square and Times Square Disney.
Times Square is at the junction of Broadway and Seventh Avenue and stretches from West 42nd to West 47th Streets.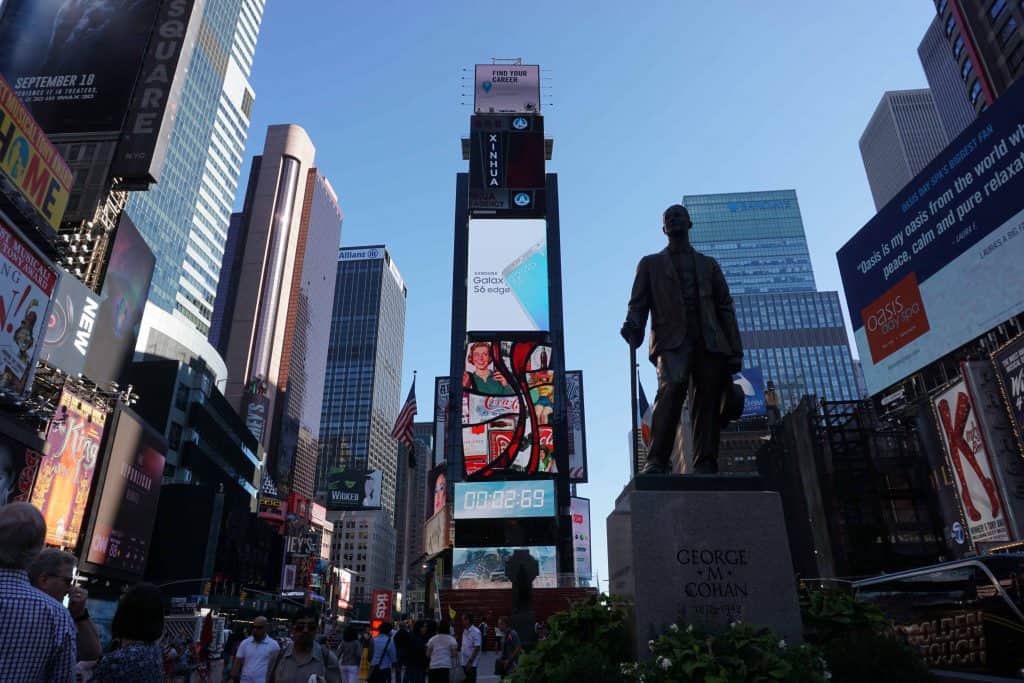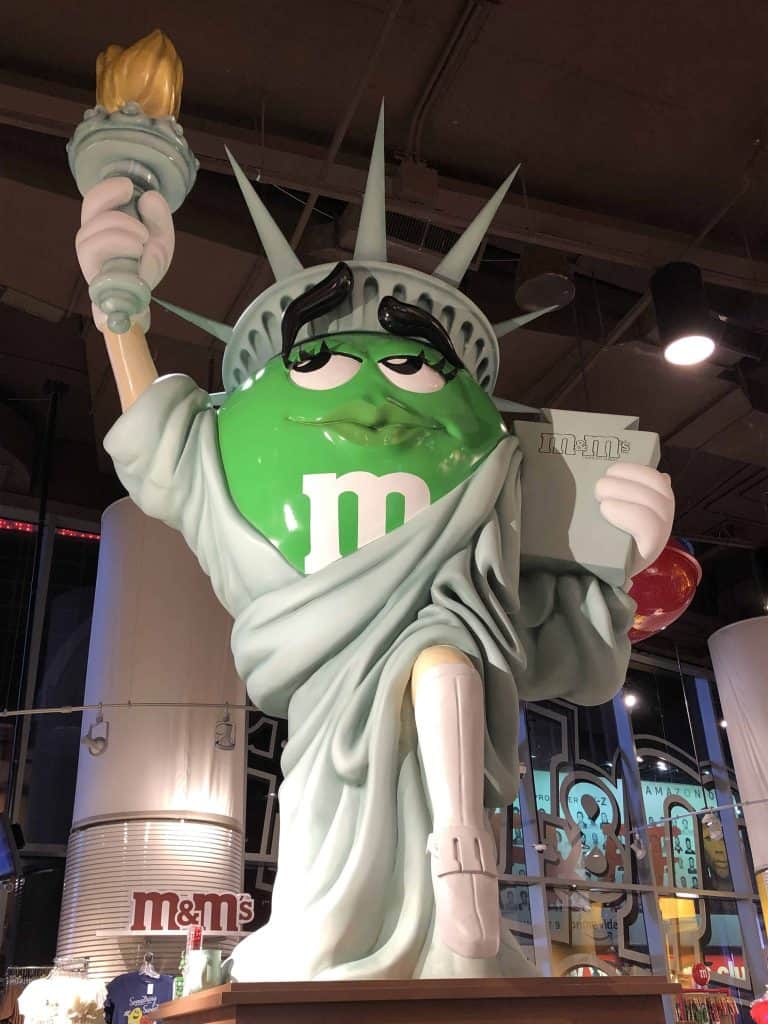 5. Climb the Vessel at Hudson Yards
On our most recent trip to New York City we visited Hudson Yards, a newly developed neighbourhood in a formerly industrial area of Manhattan that includes residences, a hotel, shopping, restaurants and public plazas. While there visitors can enjoy The Shed which is a new center for art, take in the views from The Edge – the highest outdoor skydeck in the Western Hemisphere, or climb Vessel which is the centerpiece of Hudson Yards.
The Edge wasn't open yet when we visited so we decided to climb Vessel. My teen was a bit skeptical but we talked her into it and she loved the experience. Vessel is comprised of 154 intricately interconnecting flights of stairs — almost 2,500 individual steps and 80 landings. As you make your way to the top of the structure you will appreciate the remarkable views of the city, the river and beyond – and you will get great Instagram photos!
Hudson Yards is located between 10th and 12th Avenues from West 30th to West 34th Street. Climbing Vessel is free, however, you have to book a timed entry ticket. Free same day tickets are available on-site on a first-come, first-served basis and a limited number are available within a 14 day window online. A Flex Pass is also available for $10 a person which allows you to enter anytime during operating hours on a specified date.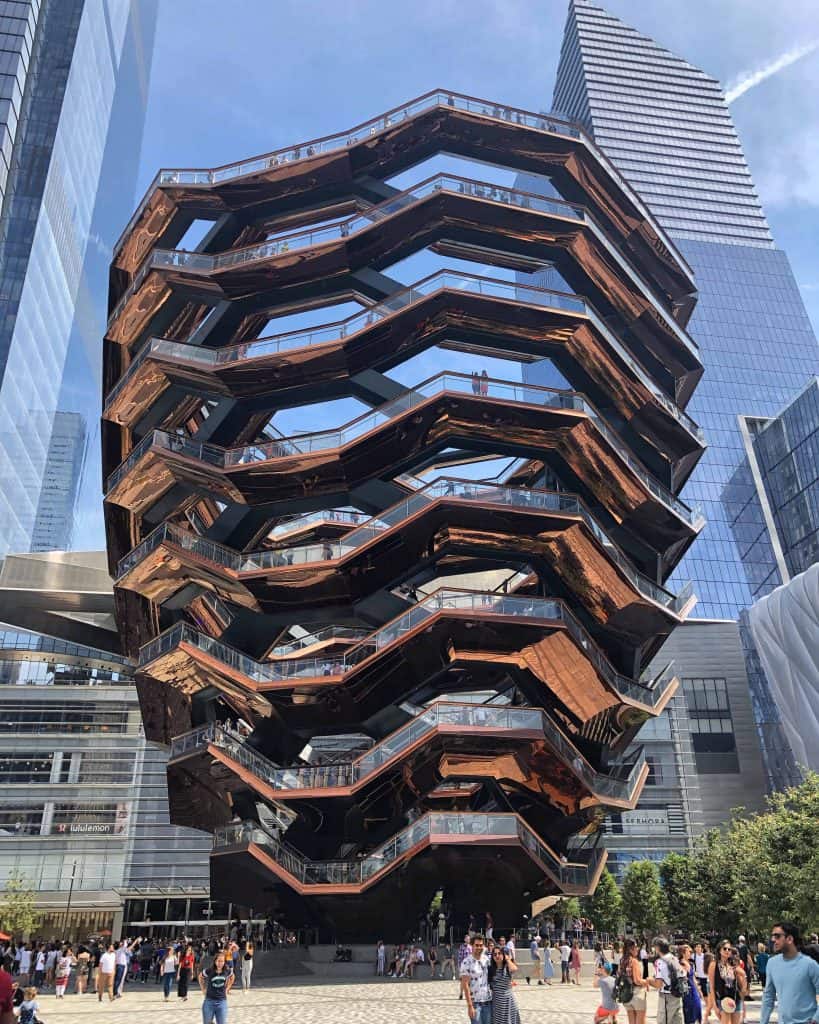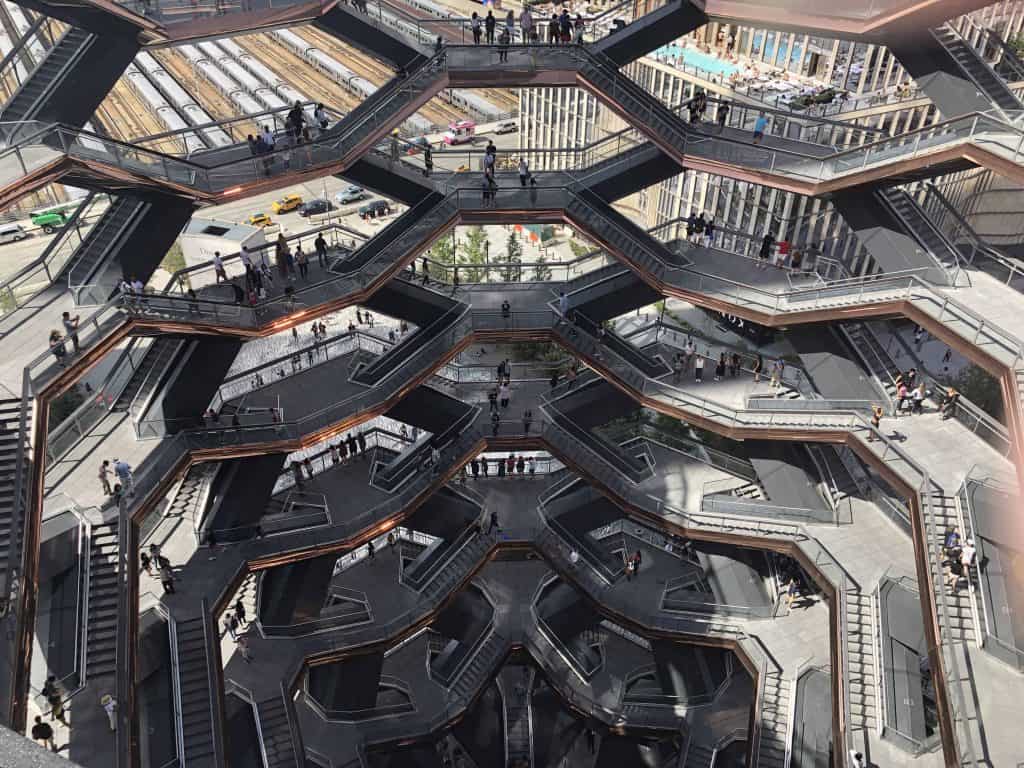 As an Amazon affiliate I earn from qualifying purchases.
6. Explore Central Park
Central Park was the first major landscaped urban park in the United States when it was designed in the 19th century and the 843 acre park is now a National Historic Landmark and one of the premier public urban parks in the world. It's also on every must-see list of attractions in New York City. In fact, there are so many things to do in Central Park that there's a good chance that you will return every time you visit the city.
We enjoy going for walks in Central Park to see all the various sites (many of which are familiar from movies and television) including the Mall and the Literary Walk, Bethesda Fountain, the Conservatory Water, Belvedere Castle and Strawberry Fields. There are also a wide variety of activities to enjoy including park tours and carriage rides year-round, skating in the winter, and renting a rowboat or attending a Shakespeare in the Park performance in the summer.
The boundaries of Central Park are: 59th Street on the South; 110th Street on the North; Central Park West on the West; and 5th Avenue on the East. Central Park is open daily from 6:00 am until 1:00 am 365 days a year.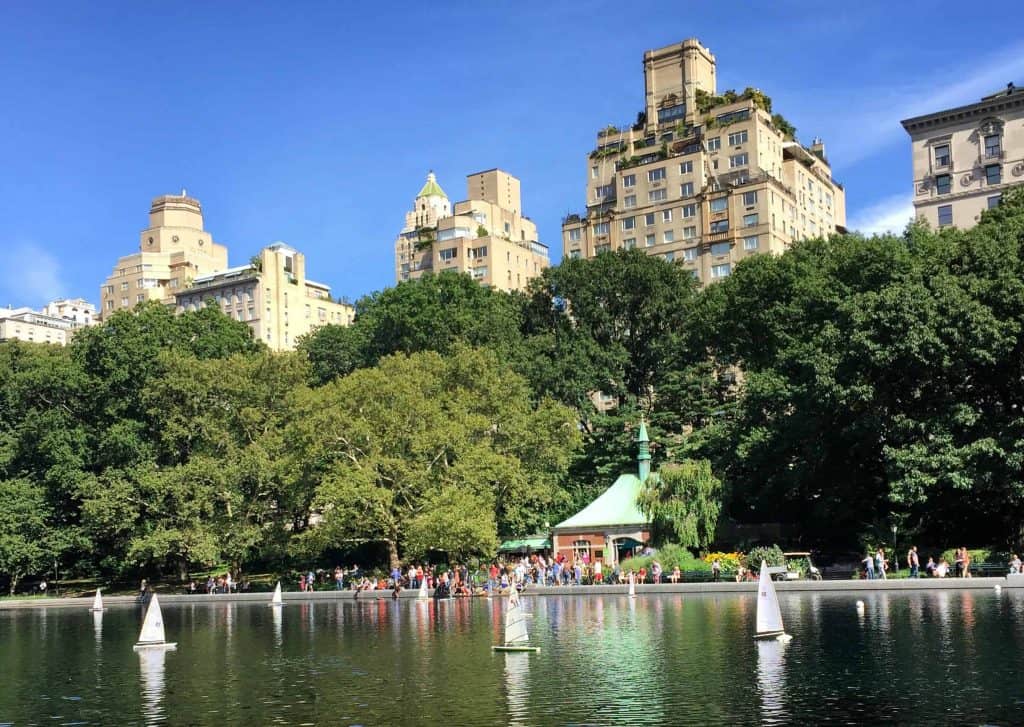 7. Take in a Broadway Show
We're a family of theatre geeks so our absolute favourite thing to do in New York City is seeing a Broadway show – in fact, that's the primary reason that we visit NYC so often. There are 41 Broadway theatres so there's bound to be a show that appeals to everyone in your family. If there's a particular show that your teen must see then I recommend purchasing tickets beforehand for best selection. If you just want to see a Broadway show then check out one of the TKTS booths for same day discounts or the TodayTix app.
Read our Guide to New York City for Theatre Lovers and feel free to get in touch if you have questions about a particular show or have general questions about attending a Broadway show.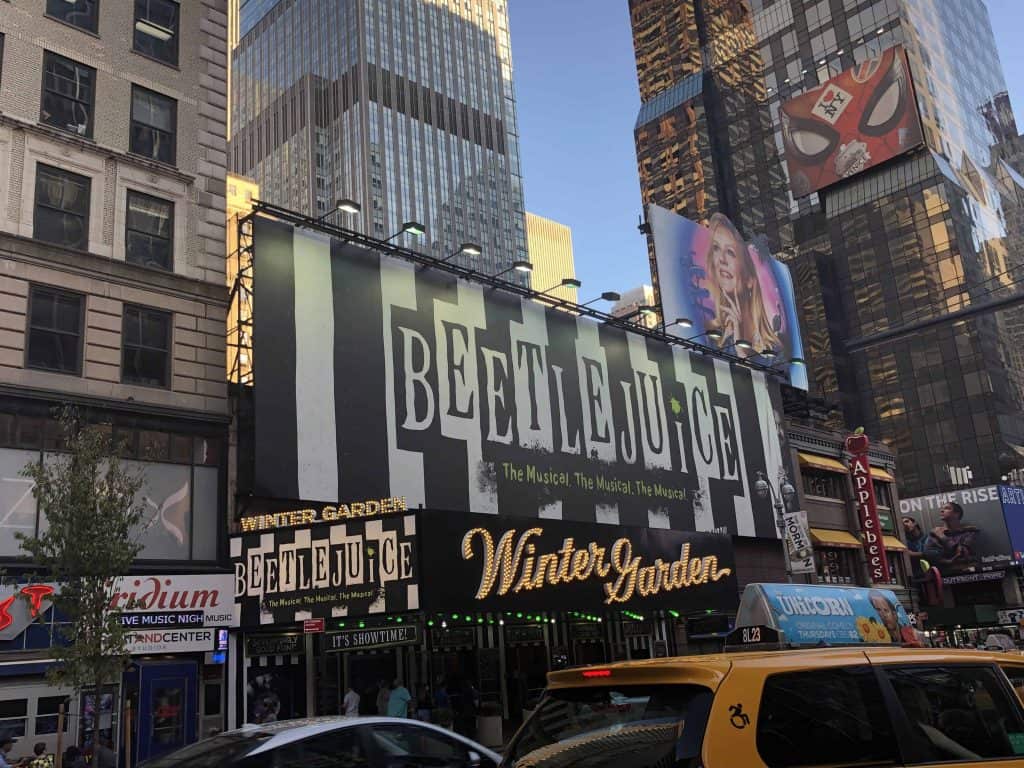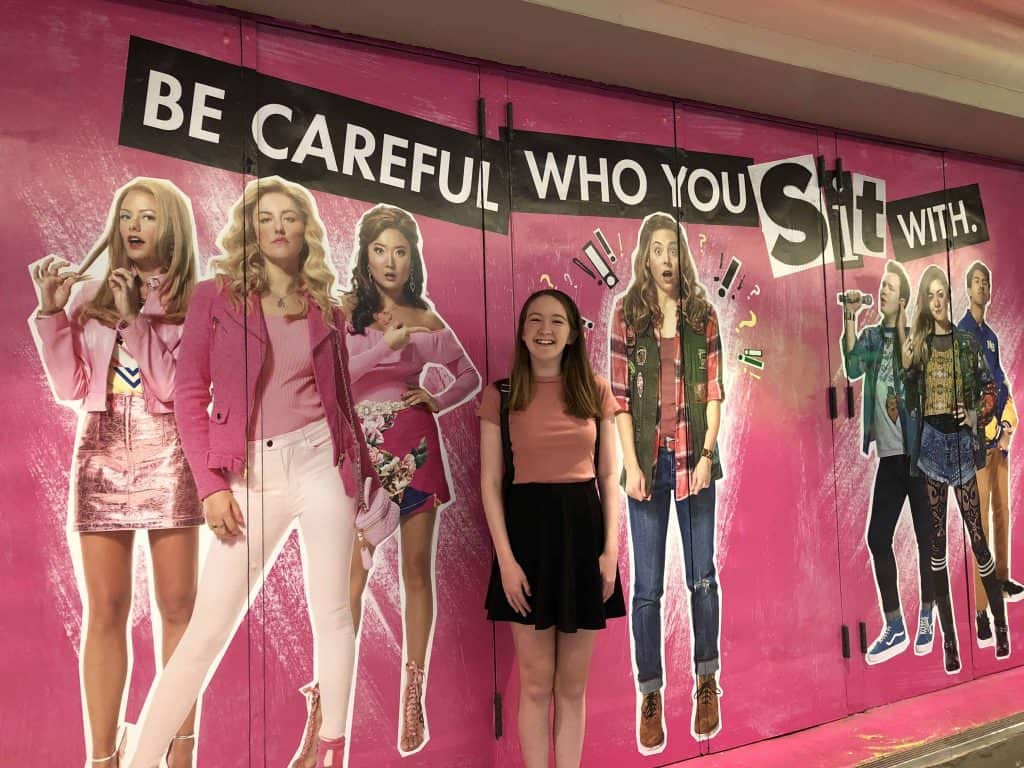 8. Visit the 9/11 Memorial
The 9/11 Memorial and Museum explores the implications of the events of 9/11, documents the impact of those events and explores 9/11's continuing significance.
Located at 180 Greenwich Street. The 9/11 Memorial which honours the lives of those lost is free of charge and open to the public daily from 7:30 am – 9:00 pm. There is an entry fee for the museum and guided tours are available. Admission is free on Tuesdays on a first-come, first-served basis starting at 5pm.
9. Statue of Liberty
The Statue of Liberty, is another iconic New York City landmark that is a must for visiting families. Officially known as The Statue of Liberty Enlightening the World, the colossal copper statue was a gift from the people of France to the United States. The statue was dedicated in 1886 and was designated a National Monument in 1924.
If your family just wants to get a good view of the statue then you can take the free Staten Island Ferry (see Free Tours by Foot for tips on doing this). If you want to visit Liberty Island, however, then you would be wise to do some advance planning.
Access to Liberty and Ellis Islands is by Statue Cruises ferry only – tickets may be purchased in advance to minimize wait time. If you plan to visit both islands then you should get an early start as it will take the better part of the day. We failed on this front so wasted several hours in line and had to forego visiting Ellis Island as a result. This is one of those times that teenagers just have to get out of bed in the morning!!
Information about visiting the Statue of Liberty can be found on the National Parks website. Statue Cruises departs from The Battery in New York or Liberty State Park in New Jersey. Visitors must go through a mandatory airport grade screening prior to boarding the vessel. Advanced reservations are necessary to visit the crown and pedestal and may be sold out far in advance so it pays to plan ahead.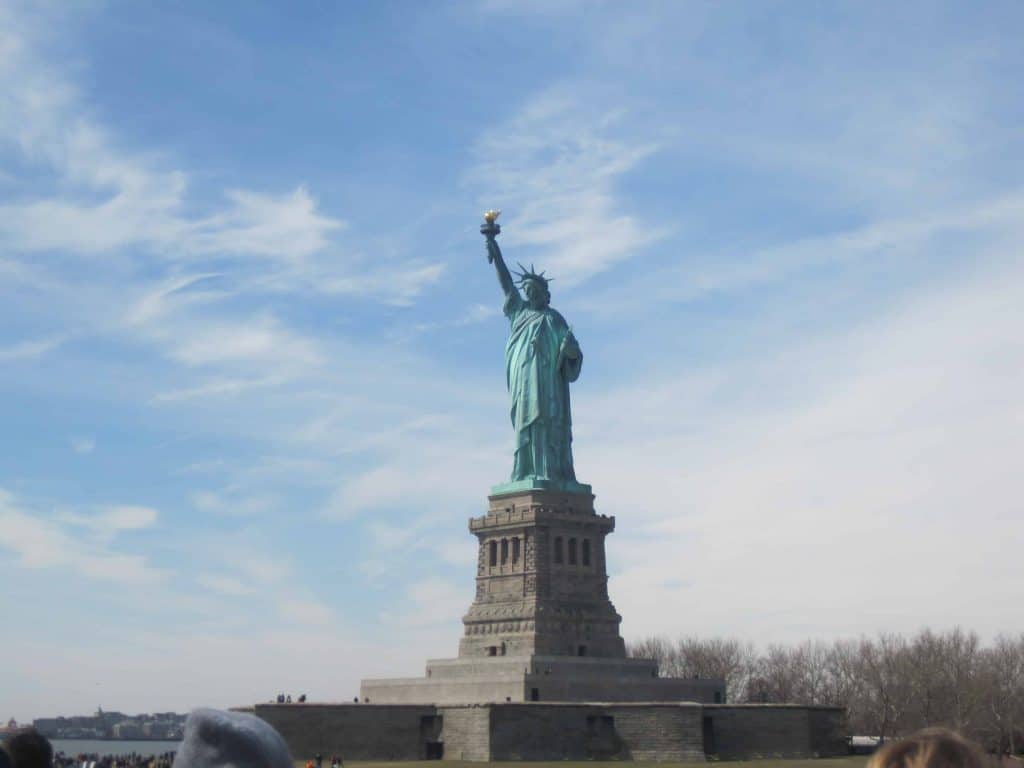 10. Take a Tour
Tours are a fun way to see New York and there are so many available that you will be able to choose one that appeals to your teen. Options include general hop-on hop-off sightseeing bus tours, studio tours, venue tours, themed tours and walking tours of all sorts.
We have enjoyed the hop-on hop-off tours (this Big Bus New York tour is one option) a couple of times as they are a great way to get round the city to a number of sites in one day. We also have taken a fabulous Disney on Broadway walking tour which is excellent for fans of Disney and/or Broadway, a tour of Radio City Music Hall and A Marvelous Mrs. Maisel Tour of New York with On Location Tours which is a lot of fun for fans of the show.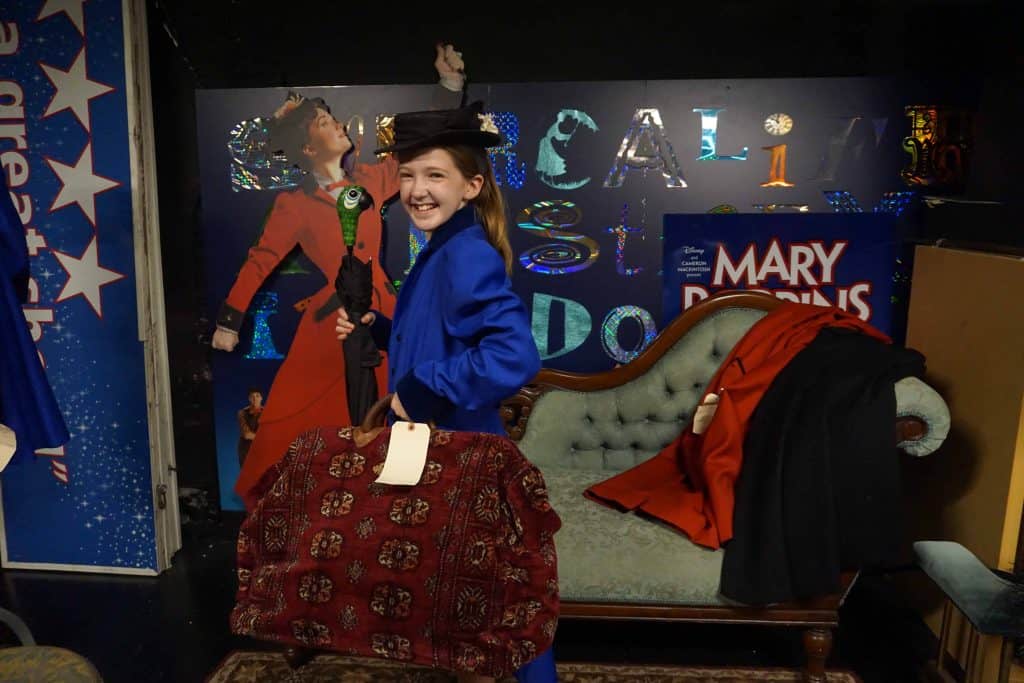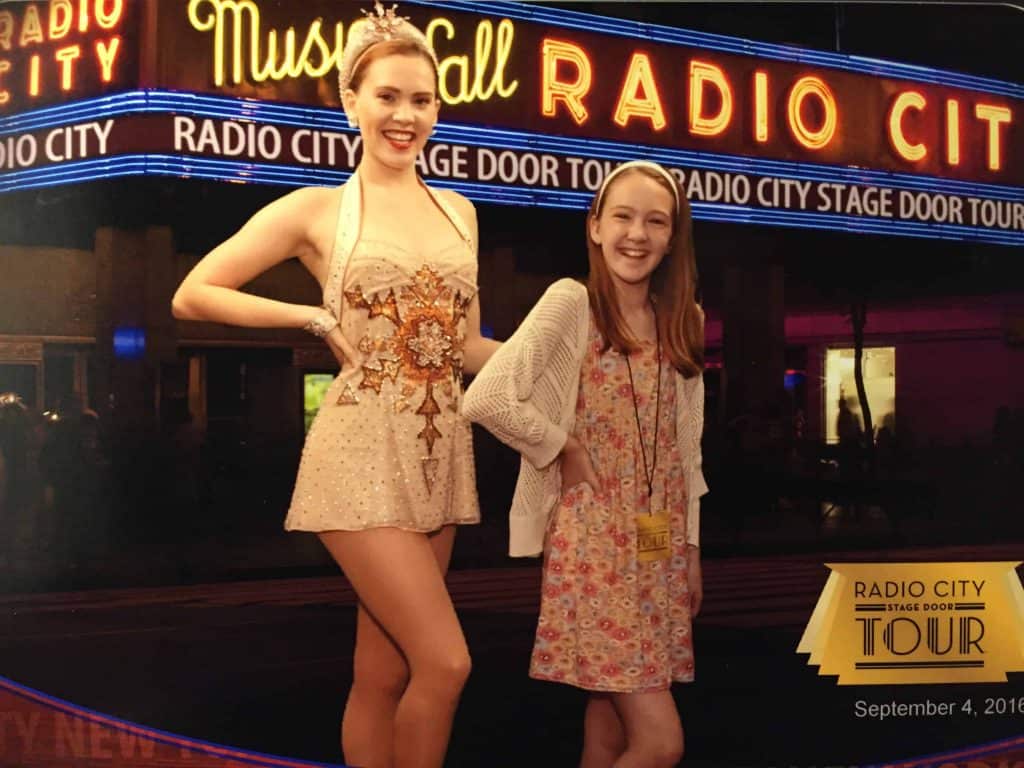 Visit a Museum
It seems to be a fact of life that some teens enjoy museums and some don't. I have had one of each but there are so many great museums to choose from in New York City that it's quite possible to visit one that even the fussiest of teens will enjoy. These are our favourites.
11. The Metropolitan Museum of Art
The Metropolitan Museum of Art ("The Met") is one of the world's largest art museums with a collection of more than two million works of art. With a museum this size, you are never going to see everything in one visit so let your teen decide what they want to focus on and plan to return another time.
The Met also has classes, workshops and special events designed specifically for teens so check out the website to see if there is anything your teen is interested in during the time of your visit.
The Metropolitan Museum of Art is located at 1000 5th Avenue on Manhattan's Upper East Side and is open 7 days a week. General Admission is currently $25 for Adults and $12 for Students. Public group tours are available every 15 minutes all day and are free with admission. Admission to The Met is included in several combination sightseeing passes including CityPASS and The New York Pass.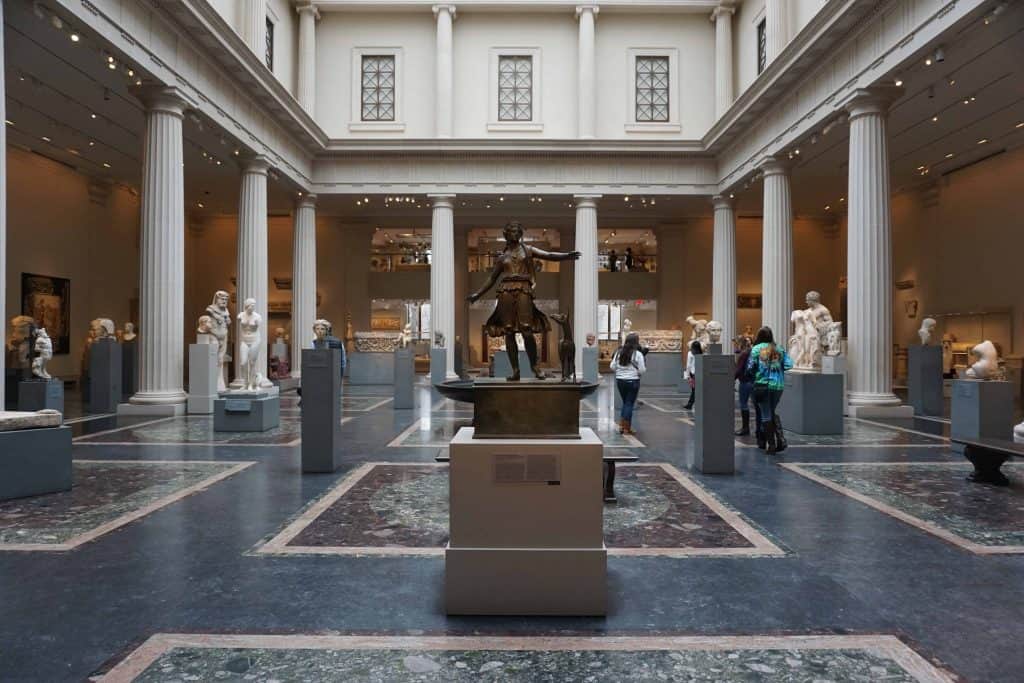 12. Museum of Modern Art (MOMA)
The Museum of Modern Art (MOMA) in midtown Manhattan is a favourite of mine and of my 16 year-old daughter. The museum has one of the best collections of modern and contemporary art in the world including some of our favourites such as Claude Monet's Water Lilies, and Vincent Van Gogh's The Starry Night as well as works by Picasso, Chagall, Matisse, Dali and Cezanne.
The Museum of Modern Art is located at 11 W. 53rd Street (between 5th and 6th Avenues). The museum is open 7 days a week 10:00am – 5:30pm with extended hours until 9:00 pm on Fridays and the first Thursday of each month. Closed Thanksgiving and Christmas. Current admission is Adult $25 and Students with valid ID $12.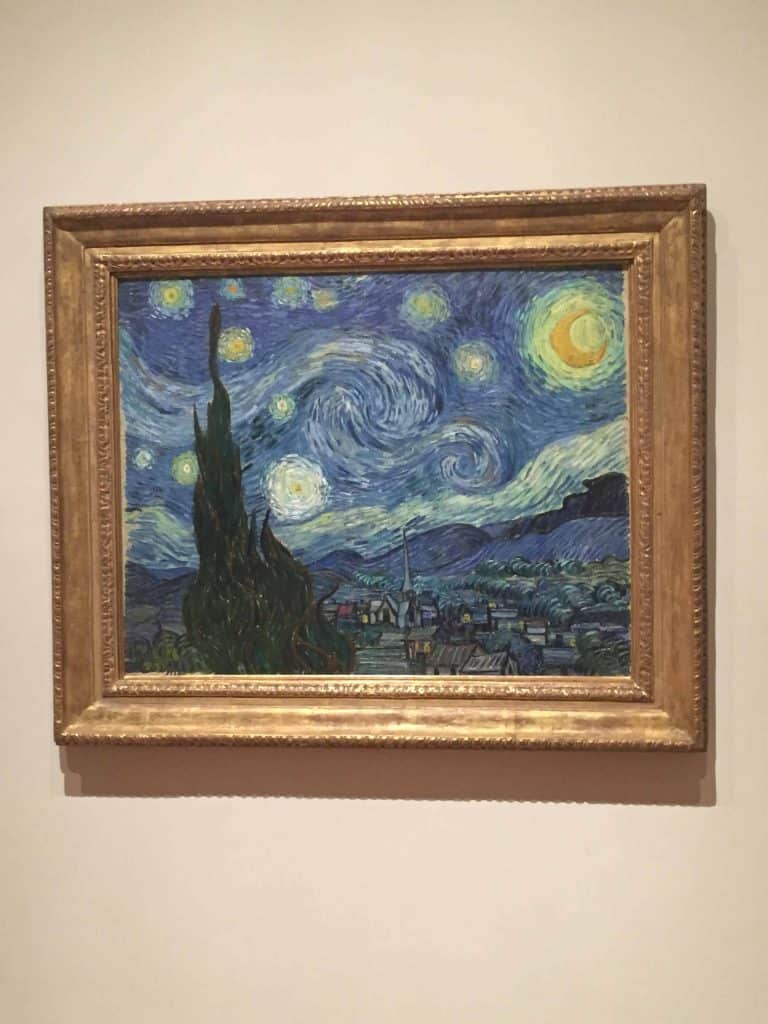 13. Guggenheim
It's worth visiting the The Guggenheim on the Upper East Side of Manhattan just for the unique architecture but its modern and contemporary art collections are also among the best in the world. The building, which is now a National Historic Landmark, was designed by Frank Lloyd Wright and opened in 1959 but neither Wright nor Guggenheim lived to see the completion of the museum. 
Located at 1071 5th Avenue. Hours vary so check the website for details. Current admission is Adult $25 and Student with valid ID $18. Saturday evening from 5-8pm is pay as you wish.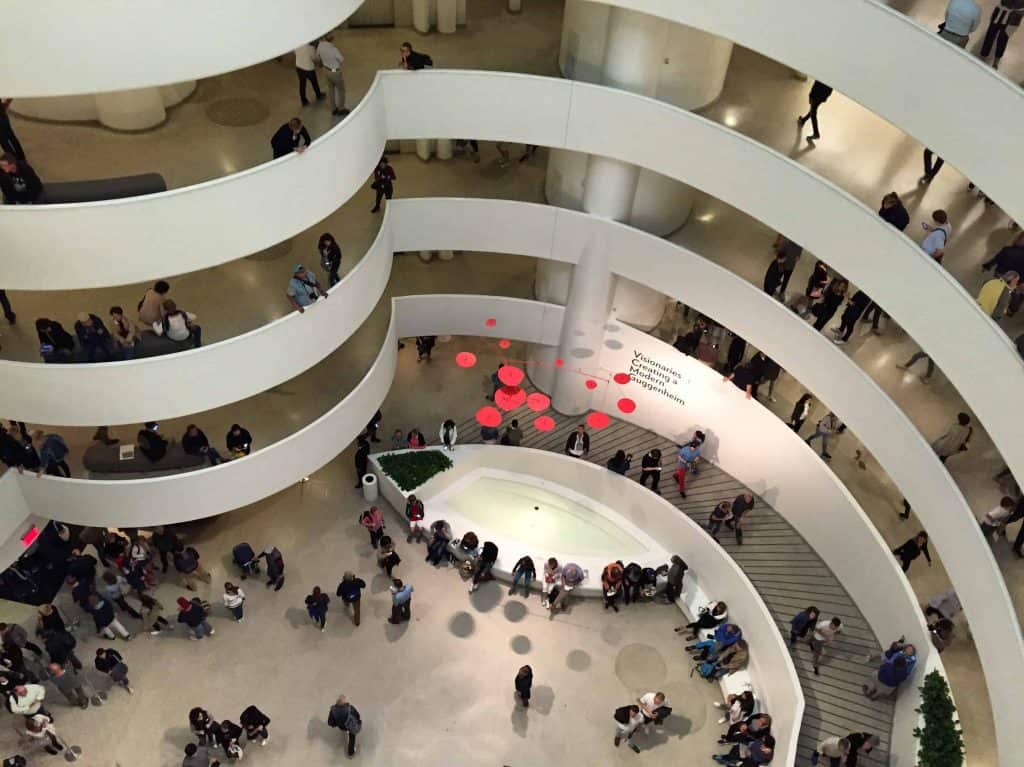 14. The American Museum of Natural History
The American Museum of Natural History on Manhattan's Upper West Side is the largest natural history museum in the world and has something to interest everyone in the family. Our favourite exhibits are the dinosaurs in the Fossil Halls and the Human Origins and Cultural Halls especially the Margaret Mead Hall of Pacific Peoples which includes a cast of a Rapa Nui (Easter Island) moai statue. 
Located at Central Park West and 79th Street. Open daily from 10 am until 5:45 pm every day except Thanksgiving and Christmas Day. Tickets are available onsite or online. General Admission is currently $23 Adults and $18 Students. Included in CityPASS.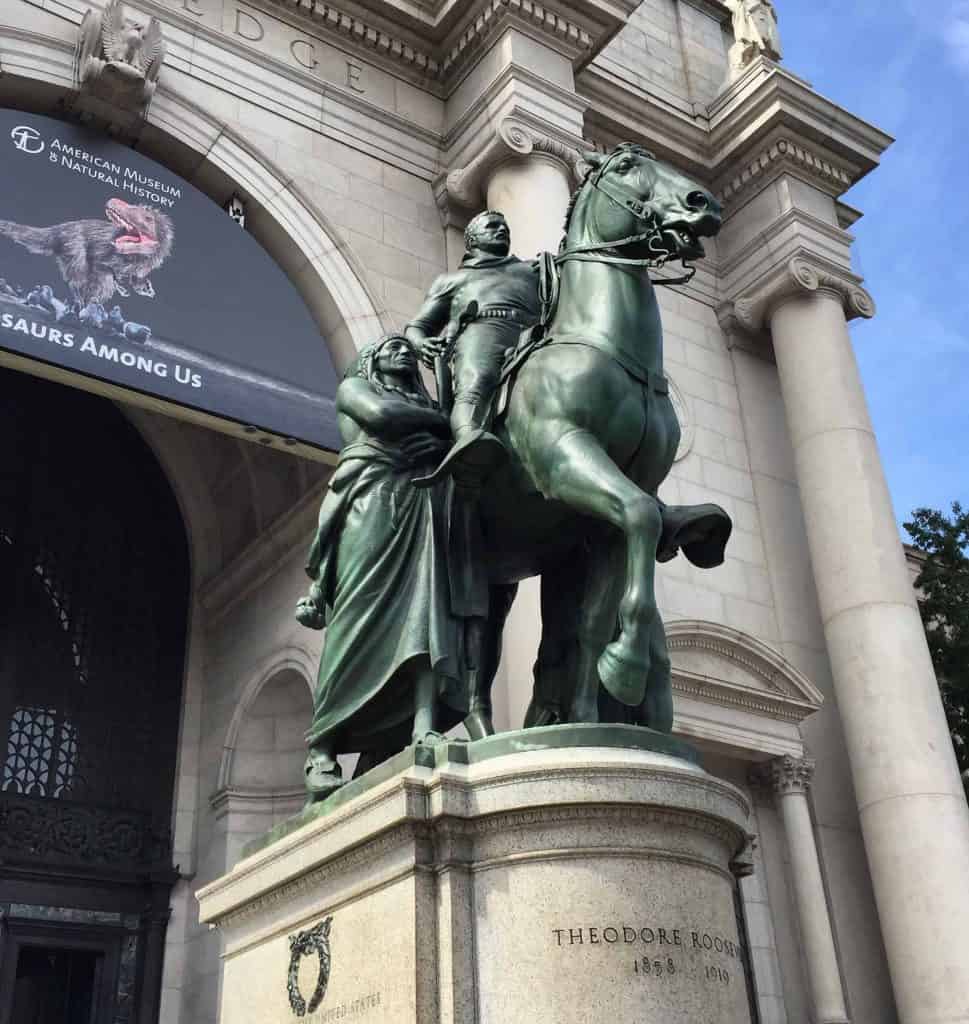 15. The Tenement Museum
The Tenement Museum was founded in 1988 after historian Ruth Abram and social activist Anita Jacobsen discovered 97 Orchard Street – a dilapidated tenement building which had been shuttered for more than 50 years. The museum's mission is to foster a society that embraces and values the role of immigration in the evolving American identity. They accomplish this by offering neighbourhood walking tours as well as guided tours of the apartments in two tenement buildings to provide a glimpse into the lives of the people who lived there.
We visited the Tenement Museum for the first time on our most recent family trip to New York City earlier this fall. We had a difficult time choosing which tour to take but eventually decided on the Irish Outsiders tour. This tour focuses on Joseph and Bridget Moore, an immigrant family that arrived in America from Ireland in the mid-1860s and lived with three children at 97 Orchard Street at a time when many New Yorkers didn't welcome newcomers. My teenager enjoyed the informative tour and would like to return the next time we are in New York to take another.
The Tenement Museum is located at 103 Orchard Street (at the corner of Delancey Street) on the Lower East Side and can only be visited by guided tour. It is highly recommended that tickets be purchased online in advance as tours regularly sell out. Daily tour scheduled are posted online 6 weeks in advance. Current admission pricing is Adult $27 and Student $22.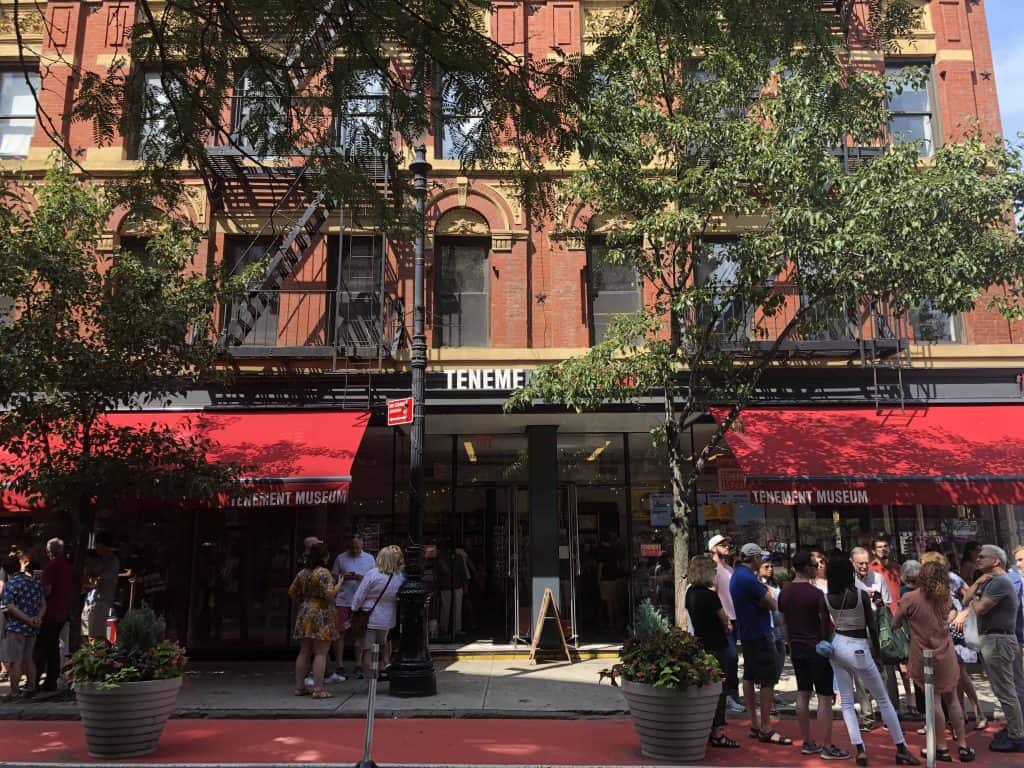 16. Ellis Island
The Ellis Island National Museum of Immigration explores the history of immigration in the United States and tells the story of 12 million immigrants who entered America via Ellis Island from 1892 to 1954. The National Park Service took over Ellis Island in 1965 and it was opened for public tours in 1976. The museum is located in the Main Building of the former immigration station complex.
To visit Ellis Island, you will have to buy a Statue Cruises ticket for the ferry that stops at Liberty Island and Ellis Island. Visitors can explore the museum by using a self-guided audio tour or by taking a Park Ranger guided tour. If you're planning to visit both Ellis Island and Liberty Island then you need to expect that it will take the better part of a day and plan accordingly.
Ellis Island is open every day except Christmas Day. Hours vary seasonally.
17. Walk The High Line
The High Line is a 1.45 mile long elevated parkway through the Meatpacking District and Chelsea on the west side of Manhattan. The park was converted from an abandoned freight line as part of an urban renewal project and is an enjoyable place to go for a stroll on a pleasant day. The public park opened in 2009 and is intended to be a space where visitors can experience nature, art and design.
The High Line runs from Gansevoort Street to 34th Street on Manhattan's West Side. There are a number of access points along the route of the park. The park is open daily and hours vary by season. Hudson Yards is accessible from the High Line so it's easy to combine a visit to both.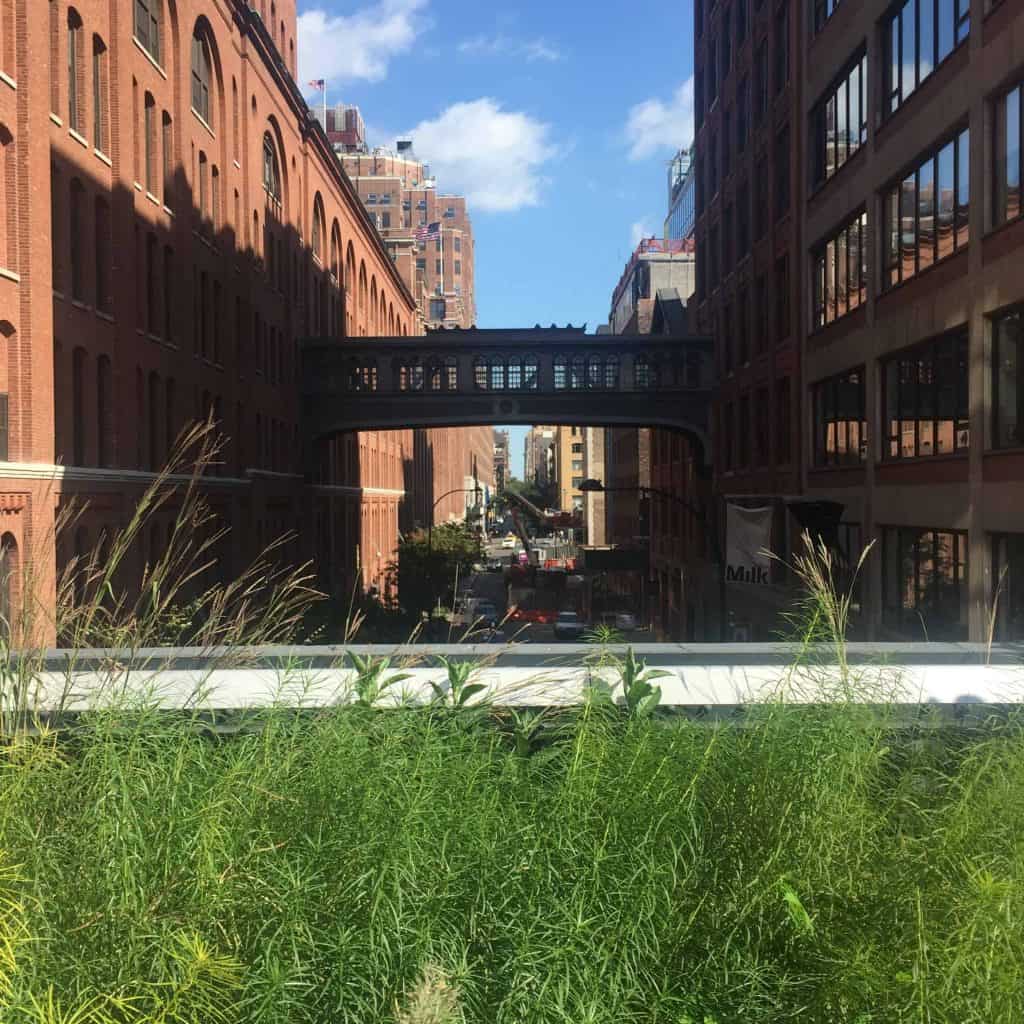 18. Dine at Ellen's Stardust Diner
We have never visited NYC without having a meal at Ellen's Stardust Diner. This 1950s-themed diner with singing waitstaff has been entertaining crowds since it first opened in 1987. Many of the waiters are aspiring Broadway performers or actors who are in between shows so the talent on display is incredible.
The food is fine (diner style/comfort food) but you dine here for the entertainment. If you have a teen who is a Broadway fan then they will love Ellen's and, even if they aren't, you're guaranteed to have a great time!
Ellen's Stardust Diner is located at the corner of 51st and Broadway in Times Square.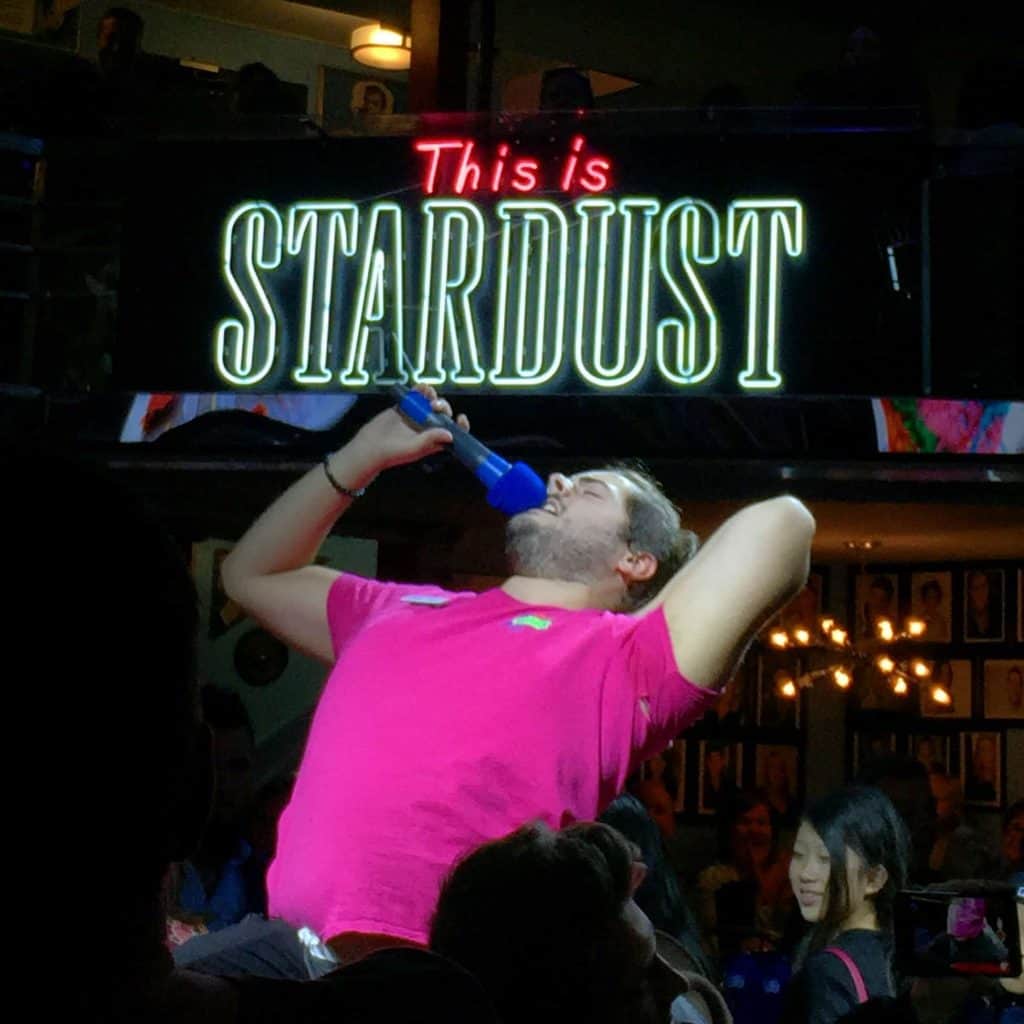 19. Walk the Brooklyn Bridge
Walking the iconic Brooklyn Bridge might well be a must on your teen's wish list for your trip to New York. The bridge which spans the East River connects the boroughs of Manhattan and Brooklyn and is one of the most recognizable parts of the New York skyline as it is featured often in movies and television shows set in the city.
Teens love to see the landmarks that they recognize from film and TV in real life. We have only walked the bridge once and it was incredibly crowded (and hot) on a Labour Day weekend afternoon so I'm hoping to return at a less busy time.
It will generally take 30-60 minutes to cross the bridge depending on how crowded it is and how often you stop for photos.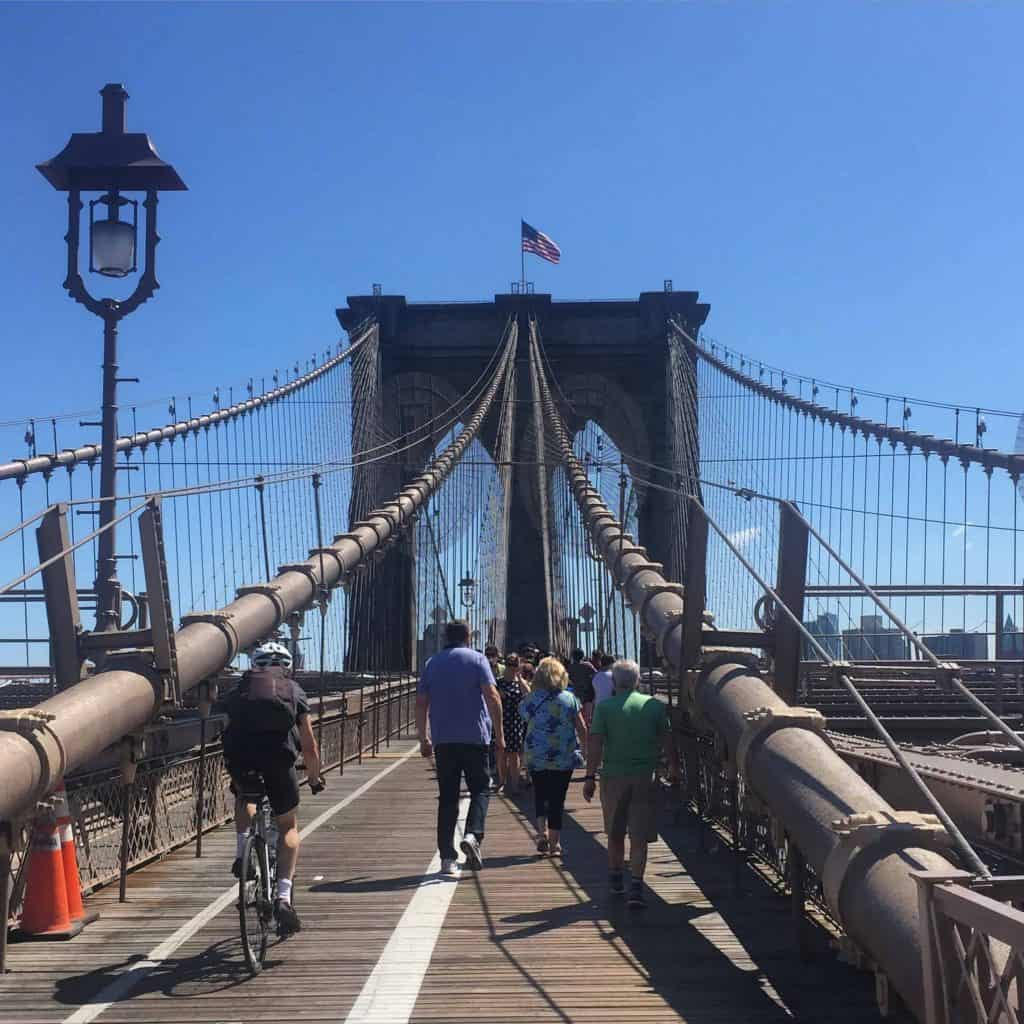 20. Go Shopping
Perhaps it goes without saying but New York City is a great destination for teens that love to shop. From the shops of 5th Avenue to large department stores like Bloomingdale's to trendy downtown shops, there's so much available that your teen shopper won't be able to get at home that they will be in retail heaven!
Even teens who aren't crazy about shopping for clothes will get excited about visiting shops such as Dylan's Candy Bar and M&Ms World. They might even surprise you by wanting to have a look around F.A.O. Schwarz. We popped in to the newly opened location at Rockefeller Plaza on our last trip and nostalgia still draws us to American Girl Place for a quick peek when we're in the city.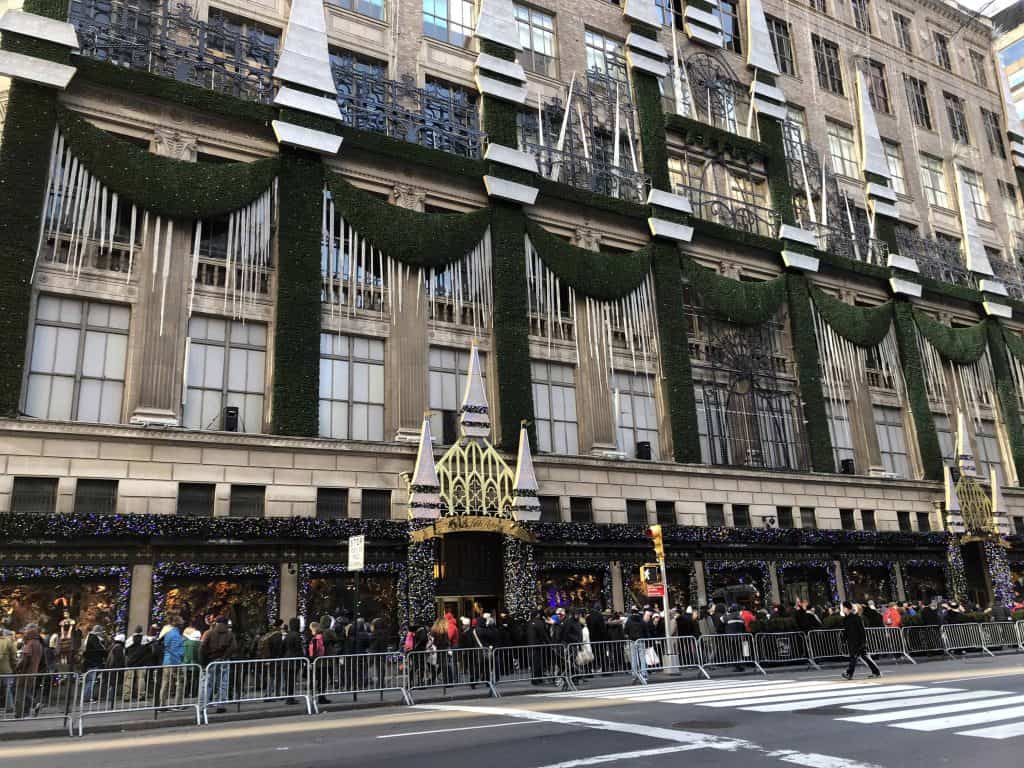 21. Enjoy a Decadent Treat
New York is home to some of the most decadent and irresistible treats – many of which seemed to have been designed to look good on Instagram! I'm partial to Serendipity 3's delicious frozen hot chocolate, the exquisite macarons at Ladurée and the scrumptious milkshakes at Dylan's Candy Bar while my teen daughter loves the cupcakes and cookies at Magnolia Bakery as well as Dō (edible cookie dough).
We're starting a bucket list for NYC treats for upcoming visits and a Crazyshake at Black Tap NYC is at the top of our list – we'll let you know how they are!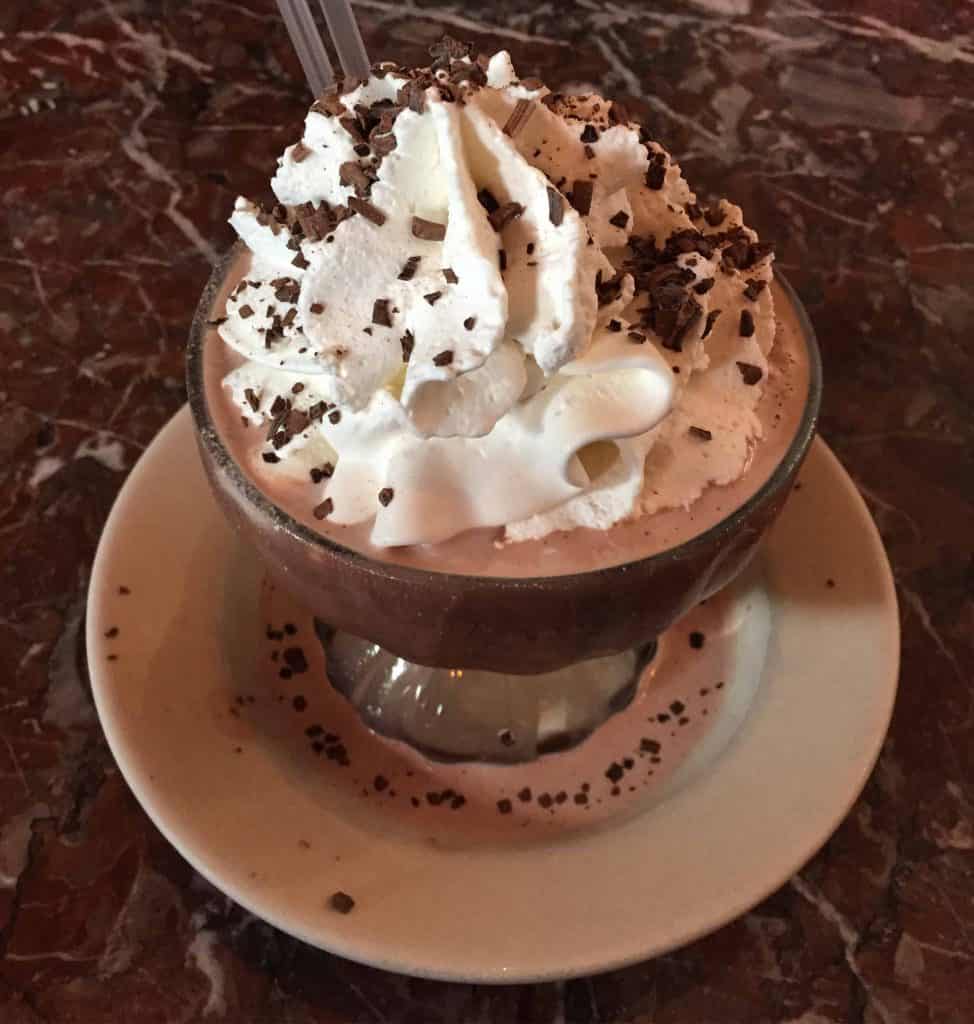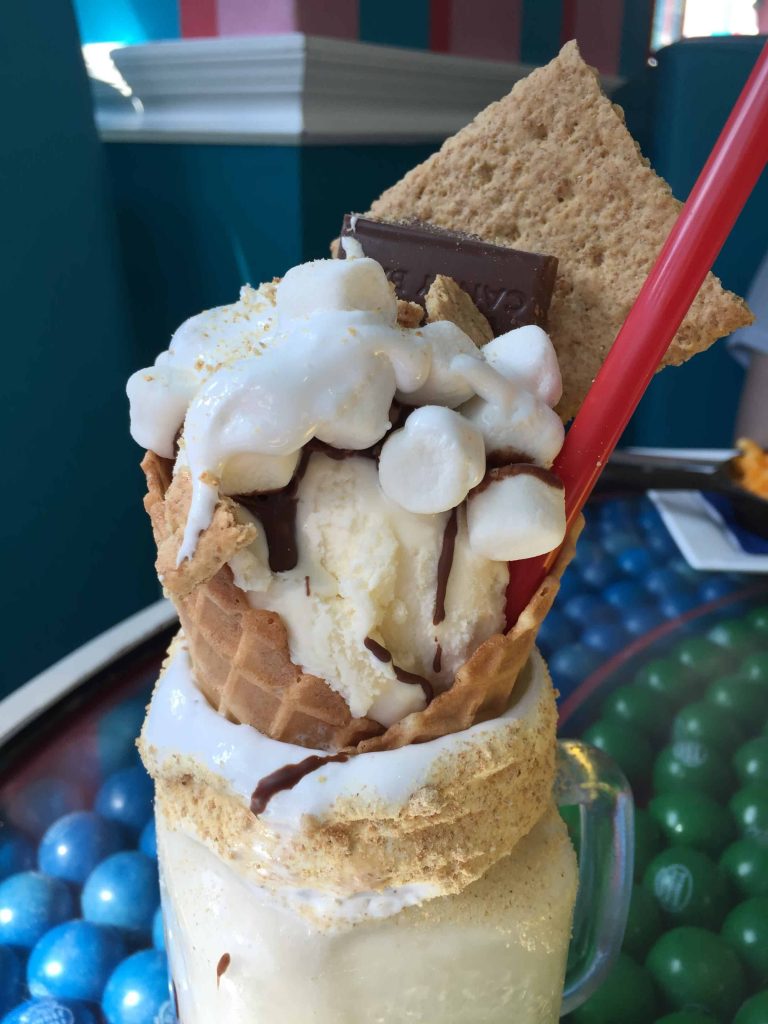 22. Grand Central Terminal
New York City's historic Grand Central Terminal is familiar to anyone who has ever watched a film or television show set in New York which is part of the reason that it is one of the most-visited destinations in the city.
While passing through you will want to be sure to see the ceiling in the Main Concourse, the Information Booth Clock, the Whispering Gallery, Grand Central Market and the Tiffany Clock & Park Avenue Viaduct (at 42nd Street and Park Avenue).
Time your visit for snack time and you can pick up something at the Grand Central Market to tide you over. We also bought fresh fruit here to keep in our hotel room on our last visit.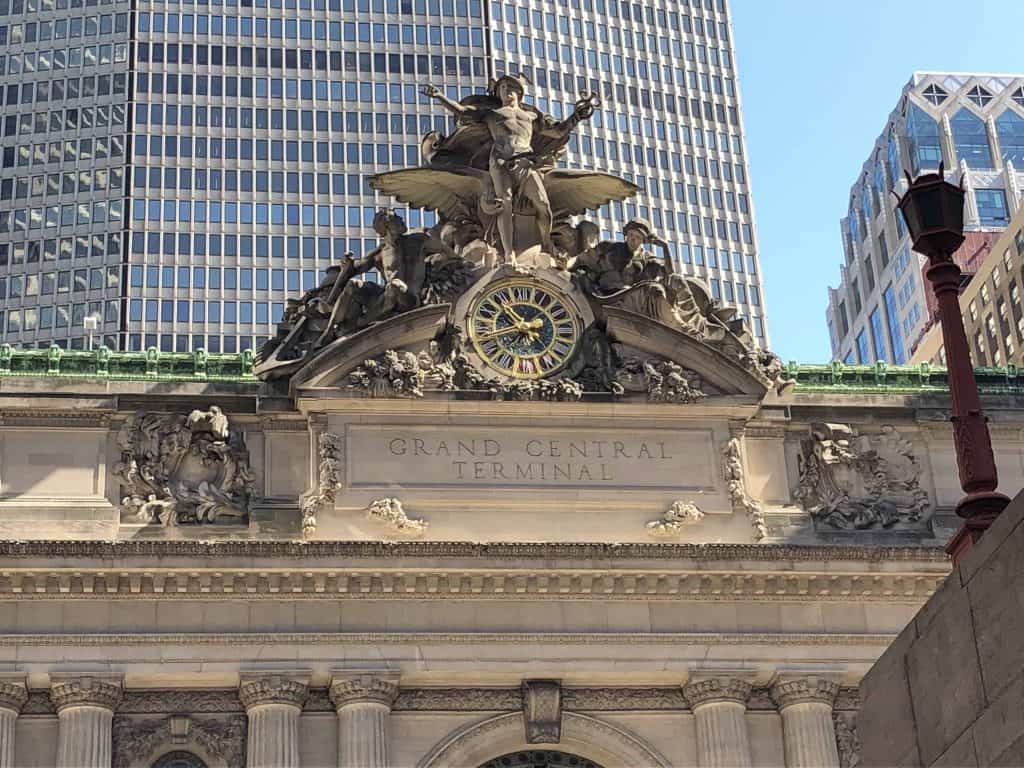 23. Visit UN Headquarters
We visited UN Headquarters with our kids several years ago and returned on our most recent visit with our younger daughter who is now 16 years old. The guided tours are 60 minutes long and generally include a visit to the General Assembly Hall, the Security Council Chamber, the Trusteeship Council Chamber and the Economic and Social Council Chamber.
On the tour you will also learn from your guide about how the United Nations addresses issues such as disarmament, peace and security, human rights, and how you can support sustainable development goals.
We thoroughly enjoyed our tour – so much so that our daughter has added working at the United Nations to her list of possible career paths – and will likely return again. As an added bonus, we were at the UN the same day that climate change activist Greta Thunberg was there. She walked past us in the lobby surrounded by a throng of journalists and photographers rendering at least two of us completely starstruck.
The UN Headquarters are located along the East River in Manhattan at 46th Street and 1st Avenue. Guided tours are available Monday – Friday only. Tours are offered in all six official languages of the United Nations (Arabic, Chinese, English, French, Spanish, Russian), as well as in additional languages in high demand. Current pricing for a guided tour is Adult $20 and Student Age 13+ $13.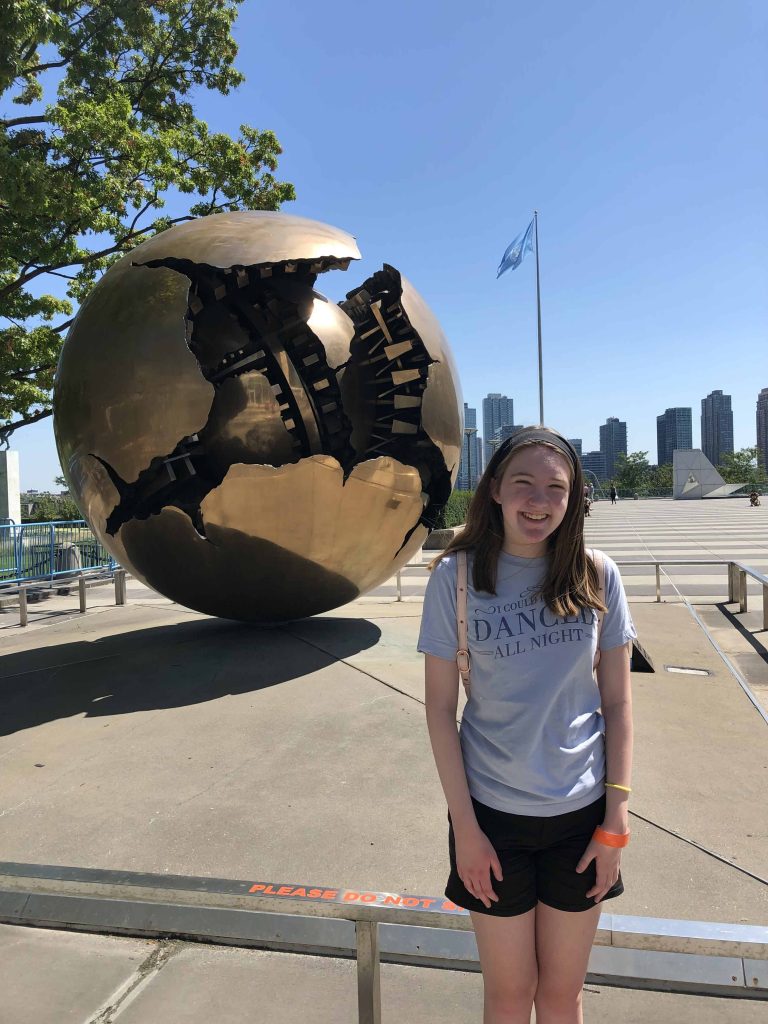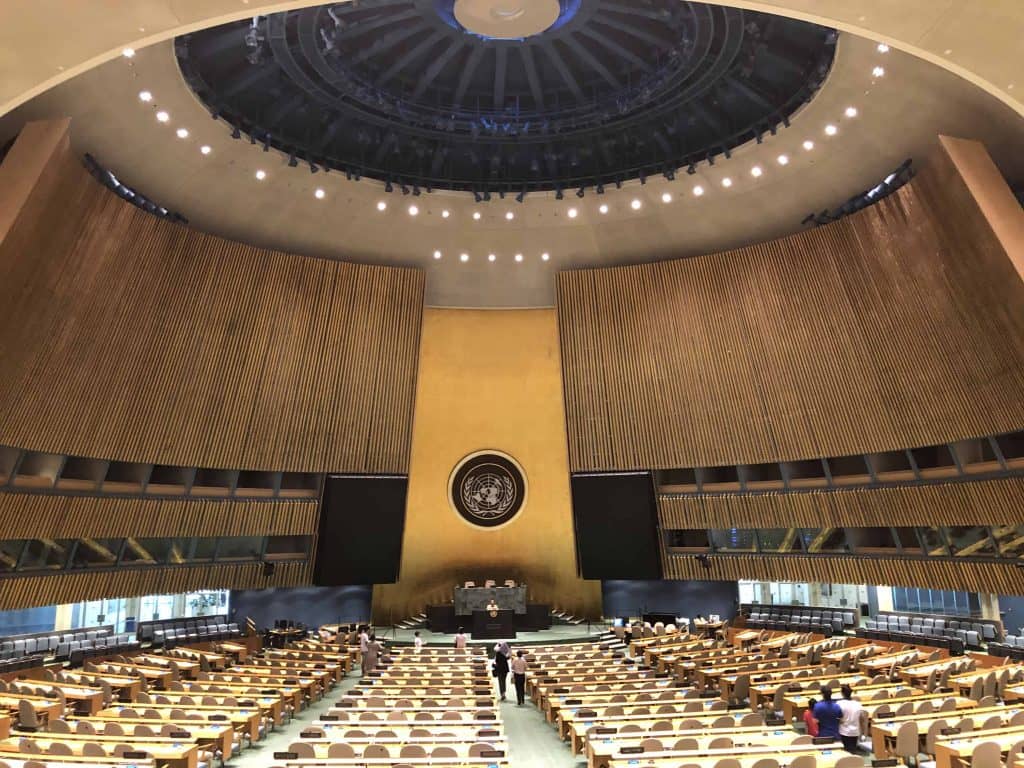 24. Rockefeller Plaza
Rockefeller Plaza is one of our favourite places in New York City (even when it's really crowded!) and one of the first places we head once we have checked into our hotel and dropped off our bags. I particularly enjoy the Channel Gardens which changes by season – Christmas is my favourite with seasonal decorations and the famous Christmas tree in the background. I'm not sure if my teen loves it as much as I do but she is always quite willing to pose for photos here!
We have yet to try skating at the Rockefeller skating rink but we do always stop to watch others enjoying their ice time when we visit during the winter.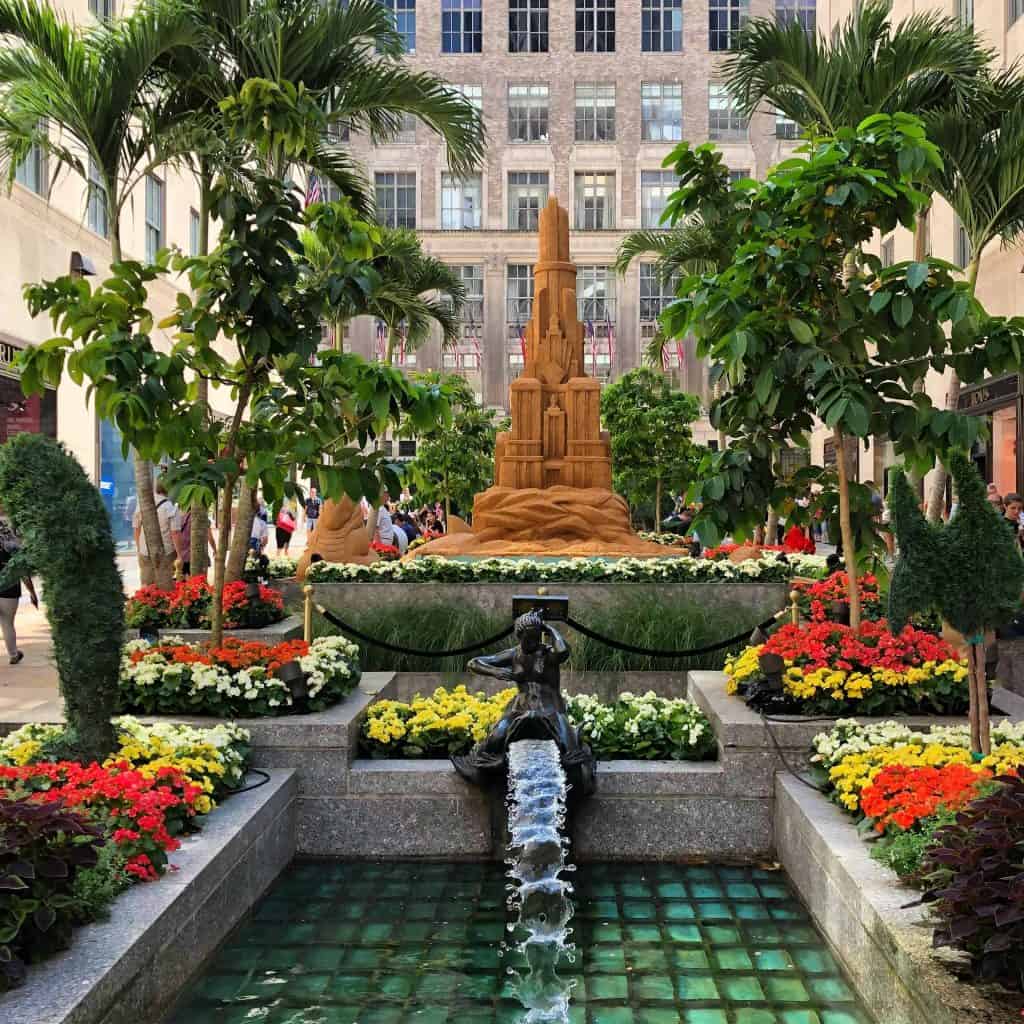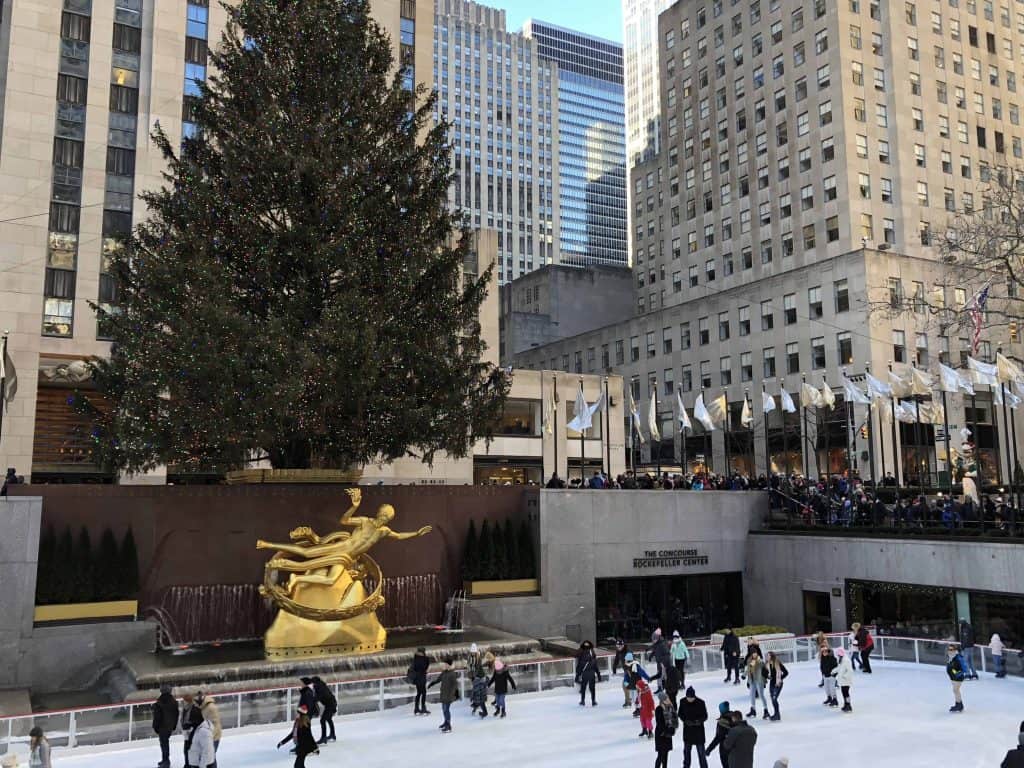 25. Bryant Park
We didn't discover Bryant Park until after we had visited New York City several times but now we always make a point of heading there regardless of what time of the year we're visiting. During the summer, there are lots of activities taking place, free movie nights, Shakespeare performances and more. It's also a beautiful spot to sit outside and eat.
In the winter, Bryant Park has the only free admission skating rink in New York City as well as Bryant Park Winter Village – a European-style holiday market featuring unique gifts as well as delicious eats.
Bryant Park is located between 5th and 6th Avenues & 40th and 42nd Streets behind the New York Public Library. Check the website for details on events and activities.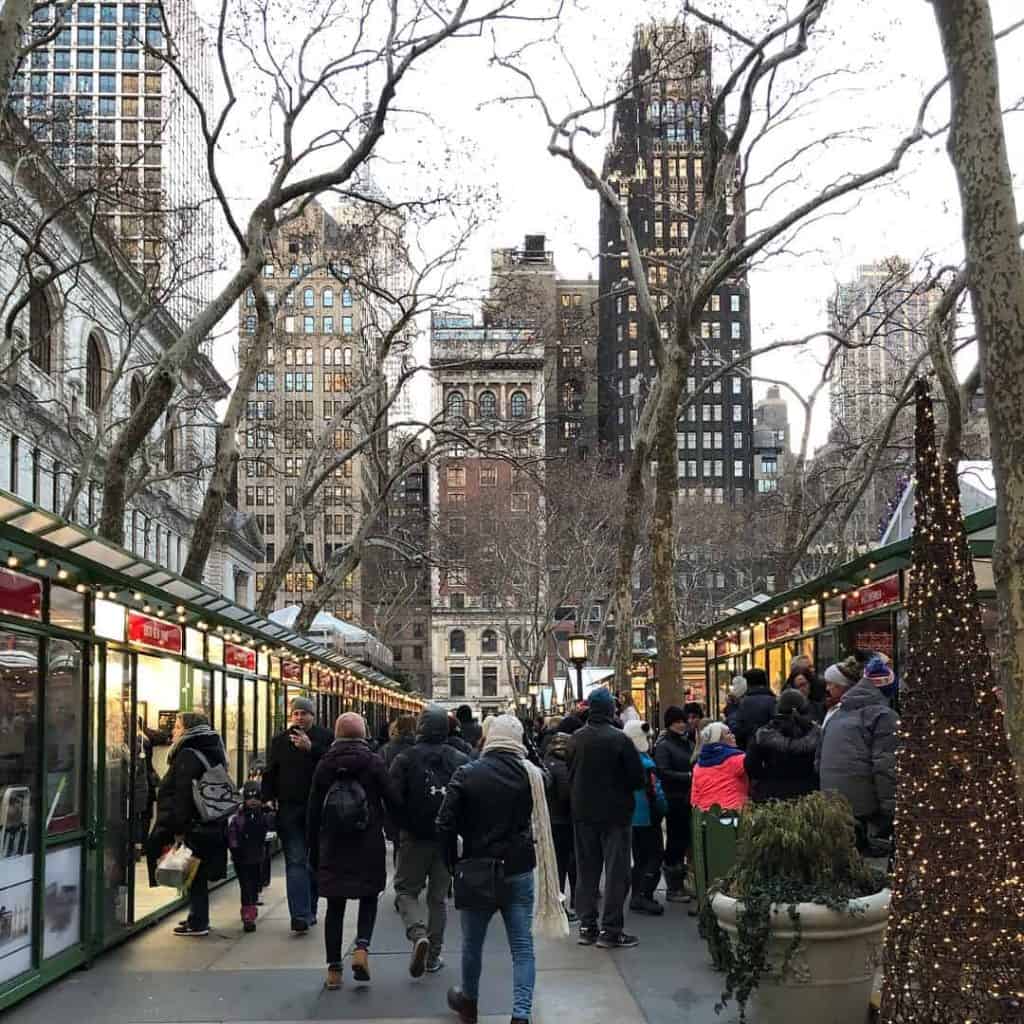 Where to Stay in NYC with Teens
My current favourite Manhattan hotel is The Benjamin which we have stayed at multiple times, however, we have stayed at each of the hotels listed below and they all were great – we just really appreciate the location and the extra space at The Benjamin.
We are a participant in the Amazon Services LLC Associates Program, an affiliate advertising program designed to provide a means for us to earn fees by linking to Amazon.com and affiliated sites.
Pin This For Later