We are a family of theatre geeks so it's hardly surprising that New York City is one of our favourite cities to visit! We recently returned from our thirteenth trip to New York and, like most of our visits, this one revolved around Broadway. It was very exciting because it was our first trip back to the city post-COVID and we had missed our regular visits!
These are a few of the activities that we recommend for theatre lovers visiting New York City – including Broadway theatre and much more.
Most Recently Updated September 2023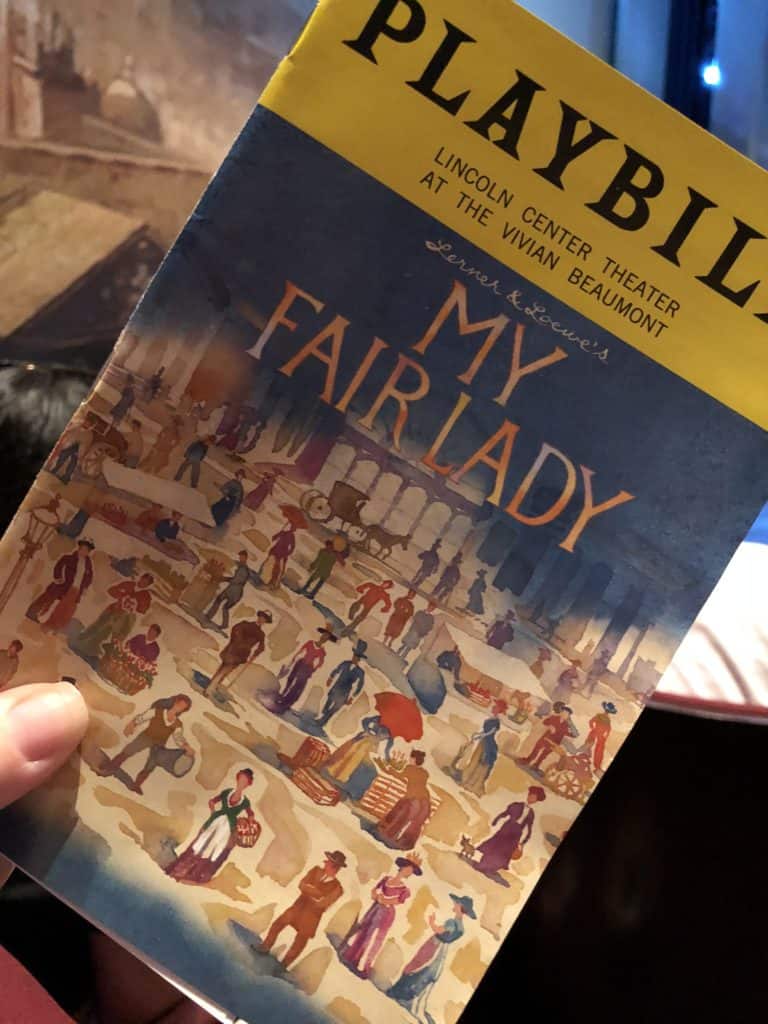 We are a participant in the Amazon Services LLC Associates Program, an affiliate advertising program designed to provide a means for us to earn fees by linking to Amazon.com and affiliated sites. As an Amazon affiliate I earn from qualifying purchases.
This post may contain affiliate links. If you click an affiliate link and make a purchase then Gone with the Family will receive a small commission at no additional cost to you.
Attending a Broadway Show
A highlight of each and every one of our thirteen trips to New York City has been attending performances of Broadway shows. We see a lot of theatre at home and when we are travelling but there is just something special about seeing a show on Broadway – and there are so many great shows to choose from! Each time we visit New York, we start with a long list of shows that we want to see and have to painstakingly narrow it down to our top choices.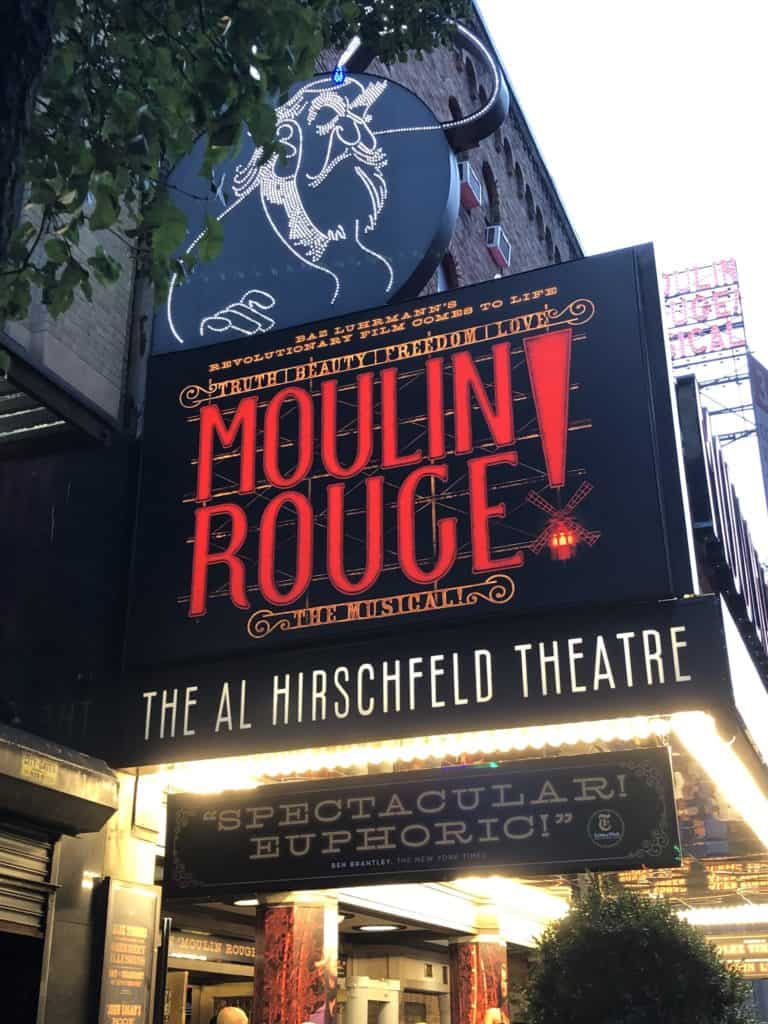 Broadway with Kids
If you are visiting New York with children and aren't sure what would be appropriate for the family then check the show's official website as age recommendations will be listed.
When my daughters were young, I would take the age recommendation into consideration, however, my girls have enjoyed many productions when they were younger than the recommended age.
Parents needs to make their own assessment based on the age of their children, their attention span, how much theatre they have been exposed to in the past and whether the parents think the subject matter is inappropriate. Be sure to note if the theatre won't admit children under a specified age though!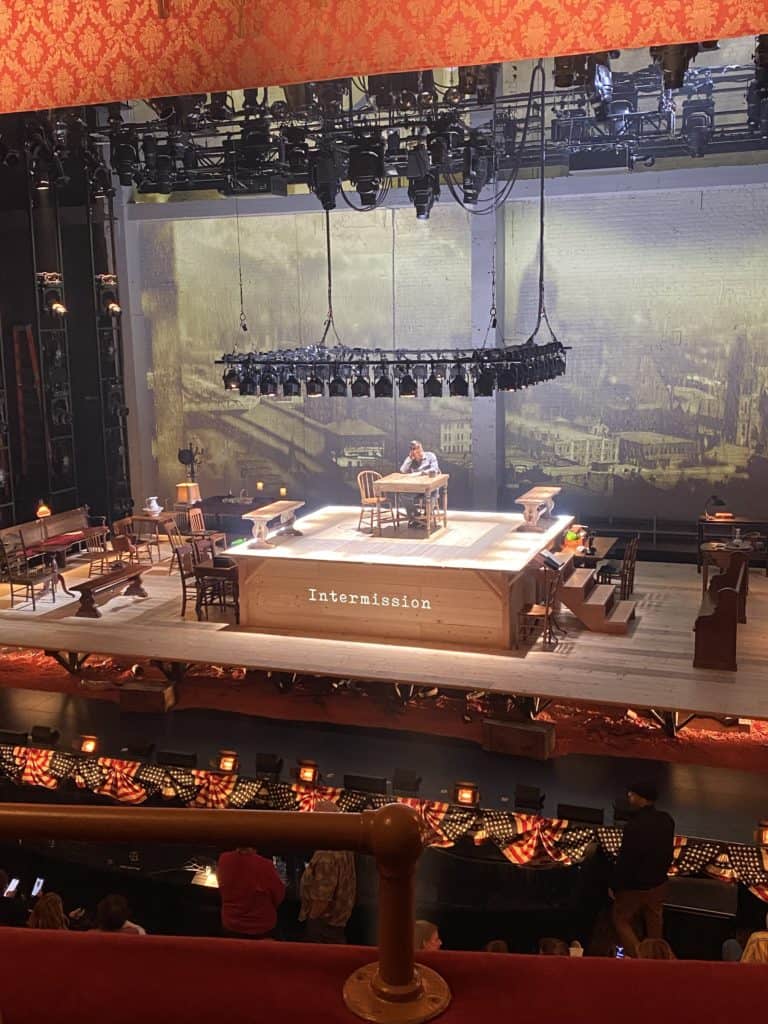 These are the Broadway shows we have seen on our New York trips:
December 2006: Mary Poppins
January 2010: Shrek the Musical
March 2011: Mamma Mia; Wicked; How to Succeed in Business Without Really Trying
April 2013: Newsies; Annie
February 2015: Aladdin; On the 20th Century; A Gentleman's Guide to Love and Murder
September 2015: Something Rotten; The King & I; Chicago
September 2016: Fiddler on the Roof; An American in Paris; Holiday Inn; The Phantom of the Opera
September 2017: Natasha, Pierre & the Great Comet of 1812; Bandstand; Anastasia; Waitress; Miss Saigon
December 2017: Kinky Boots; The Band's Visit; Once on This Island
September 2018: Pretty Woman; Mean Girls; Frozen; My Fair Lady
September 2019: Beetlejuice, Hadestown, Oklahoma, Moulin Rouge
December 2019: Jagged Little Pill; West Side Story; Little Shop of Horrors; Harry Connick Jr.
April 2023: Camelot; Parade; Sweeney Todd and New York, New York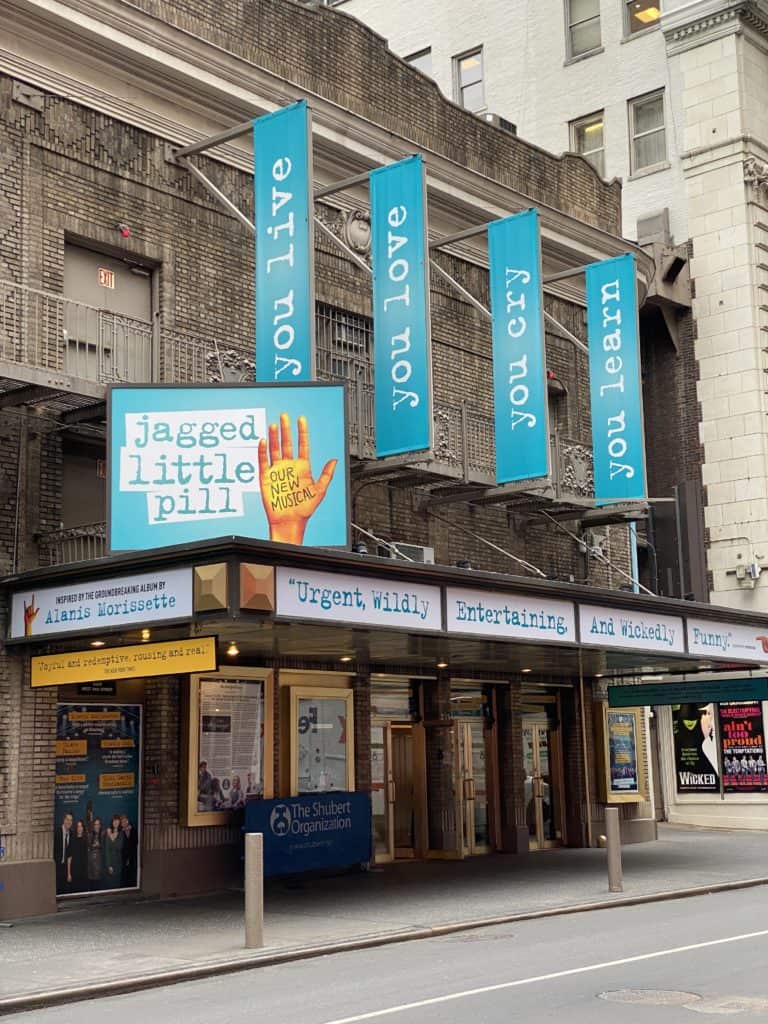 Buying Tickets for a Broadway Show
The first decision you will have to make when it comes to purchasing tickets for a Broadway show is whether to purchase them ahead of time or once you are in the city.
We purchase tickets ahead of time for any show that we feel we absolutely must see or when we want the best tickets possible. For a show that it would be nice to see but we won't be devastated if we don't, we buy the tickets once we are there.
If we are purchasing tickets ahead of time then I prefer to buy from the official website but there are other options available.
Broadway Show Website
Each Broadway show's website has a link for purchasing full price tickets.
Hotel Concierge
The concierge at most hotels can generally arrange tickets but you will pay a premium for the service.
TKTS Booth
The best way to purchase discounted same-day or sometimes next-day theatre tickets (Broadway and Off-Broadway) is at one of the TKTS booth locations (Times Square and Lincoln Center). It's advisable to visit one of the booths early in the day for the best selection and you can even check availability ahead of time on their website or using the TKTS app on a mobile device. The app will also give you an estimated wait time.
TodayTix App
Another option is the TodayTix website or app for last-minute tickets to Broadway and Off-Broadway shows, concerts and more.
Broadway Box Discount Codes
We have also used BroadwayBox.com to obtain discount codes and order tickets to shows in advance of our trips. You can sign up to receive discount alerts from BroadwayBox.com as well as Playbill.com and other sites but bear in mind that the best discounts available for advance purchases are for shows that aren't extremely popular and for less expensive seats.
Rush Tickets
You can also check at the box office in person to find out if there are Rush tickets available for a show. Rush tickets are day-of, first-come-first-served tickets sold at theatre box offices. These tickets are generally released as soon as the box office opens for the day so you will want to be up early and in line for popular shows.
Lotteries
Some Broadway productions run daily lotteries for a limited number of tickets at discount prices – you just might get lucky! Lotteries typically occur daily 2-3 hours before showtime. Hamilton, for example, has a very popular digital lottery with $10 tickets available for all performances. Some current lotteries are also listed on Broadway Direct.
Broadway Week Promotion
It's also good to be aware that there are certain times of year when discounted tickets are made available for a number of shows. On our recent trip in September we stayed through Labour Day and as Monday was the start of Broadway Week we were able to purchase 2-for-1 tickets for a show we wanted to see.
Broadway Week is a semi-annual promotion that is presented by NYC & Company (New York City's official marketing, tourism and partnership organization) in the fall and again in the winter (mid-January to early February).
Kids' Night on Broadway
There is also Kids' Night on Broadway which is a program presented by the New York Times when young people age 18 and under can see a participating Broadway show for free when accompanied by a full-paying adult. Check the website and join the Broadway Fan Club to be the first to know when tickets go on sale for future events.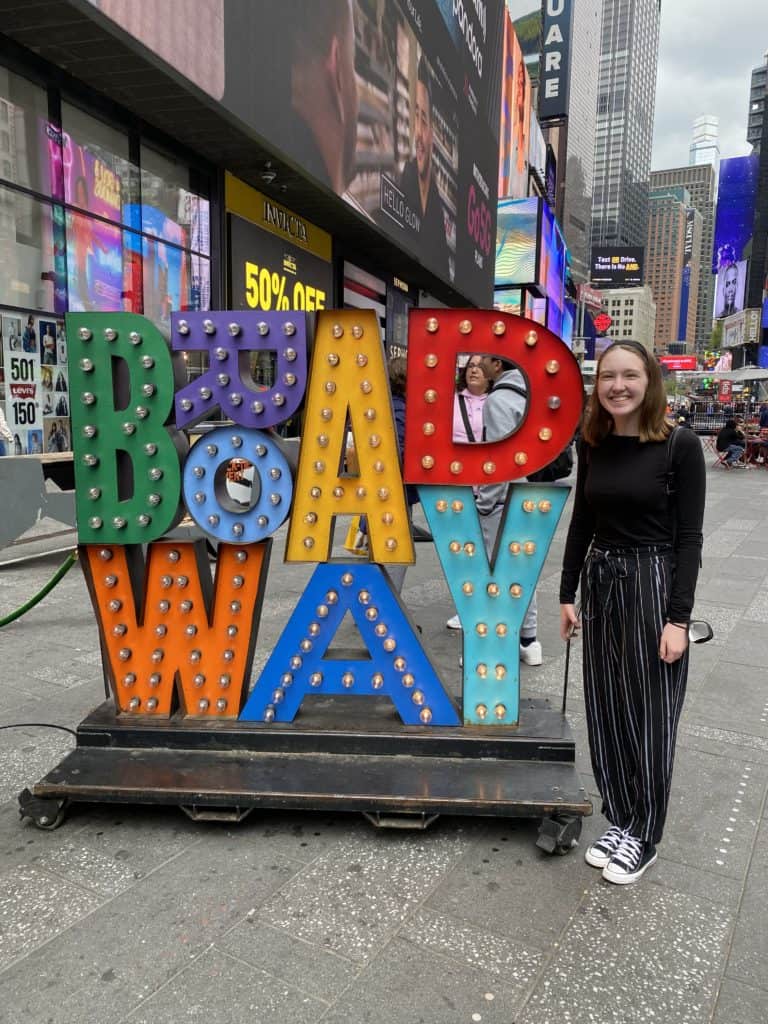 Visiting the Museum of Broadway
As huge Broadway fans, we were beyond excited to visit the Museum of Broadway (opened in November 2022) on our most recent trip to New York City. Located at 145 West 45th Street in the heart of the Times Square theatre district, the Museum of Broadway is a fun, interactive walk-through museum with three floors of exhibits – an absolute dream for theatre fans!
Tours of the museum are self-guided and one way only. Be sure to take your time with each exhibit on the way through since there's no going back to see exhibits that you have already seen – nobody is going to rush you through your visit! 
There is so much to see that you might feel giddy with excitement! There are loads of photos and information about shows, interactive exhibits, sets, costumes and props on display and so many opportunities for cute photos!
Read Visiting the Museum of Broadway: A Dream for Theatre Fans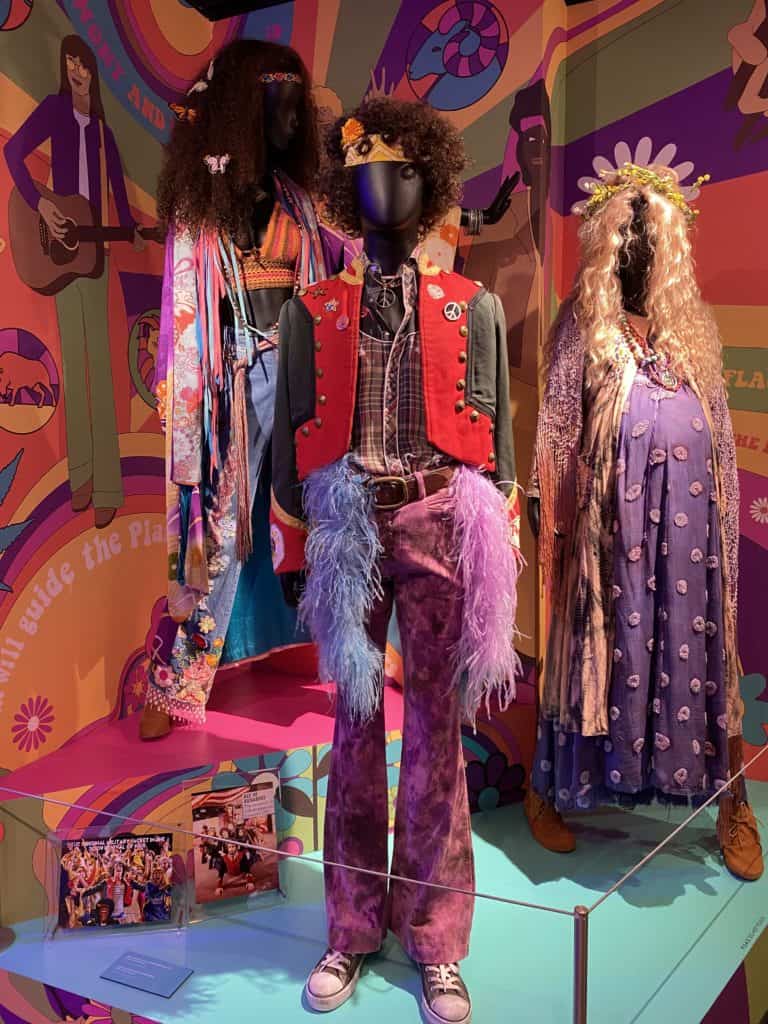 Stage Dooring on Broadway
A few years ago we discovered that it's possible to meet the stars of Broadway shows at the stage door post-performance and it's now one of our favourite things to do. We have chatted with Kristin Chenoweth, Peter Gallagher, Christian Borle, Brian D'Arcy James, Kelli O'Hara, Eva Noblezada and Jonathan Groff just to name a few. Meeting these actors, getting a playbill signed and taking a photograph are some of our best Broadway memories.
One of the most memorable was waiting outside the stage door on a frigid February evening after seeing Kristin Chenoweth perform in a preview of the Broadway revival On the 20th Century. We had been warned by a security guard that she wouldn't be speaking because she was on post-show vocal rest but when a bundled-up Kristin appeared, she graciously signed playbills, posed for photos and had whispered conversations with the fans waiting for her. My daughter will never forget those few moments with an actor that she idolizes and it was well worth the wait in the cold and snow!
We try to check the location of the stage door before entering the theatre for a show so we don't waste time looking for it after the performance concludes. It's generally, but not always, to one side of the main entrance. Head there as quickly as you can after the show has ended as some actors are super-quick getting changed and leaving the theatre while others you may wait some time for.
The actors are almost always carrying Sharpies for signing programs but make sure you have a pen of some sort handy just in case and be ready to snap a photo when it's your turn. If you happen to be attending a matinee performance on a two show day then it's unlikely that many of the actors will exit the theatre in between the two shows.
Always be respectful of the performers – they are under no obligation to take the time to sign programs and pose for photos.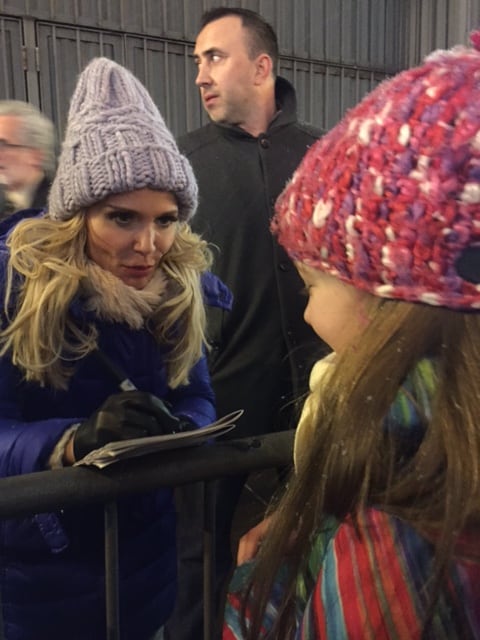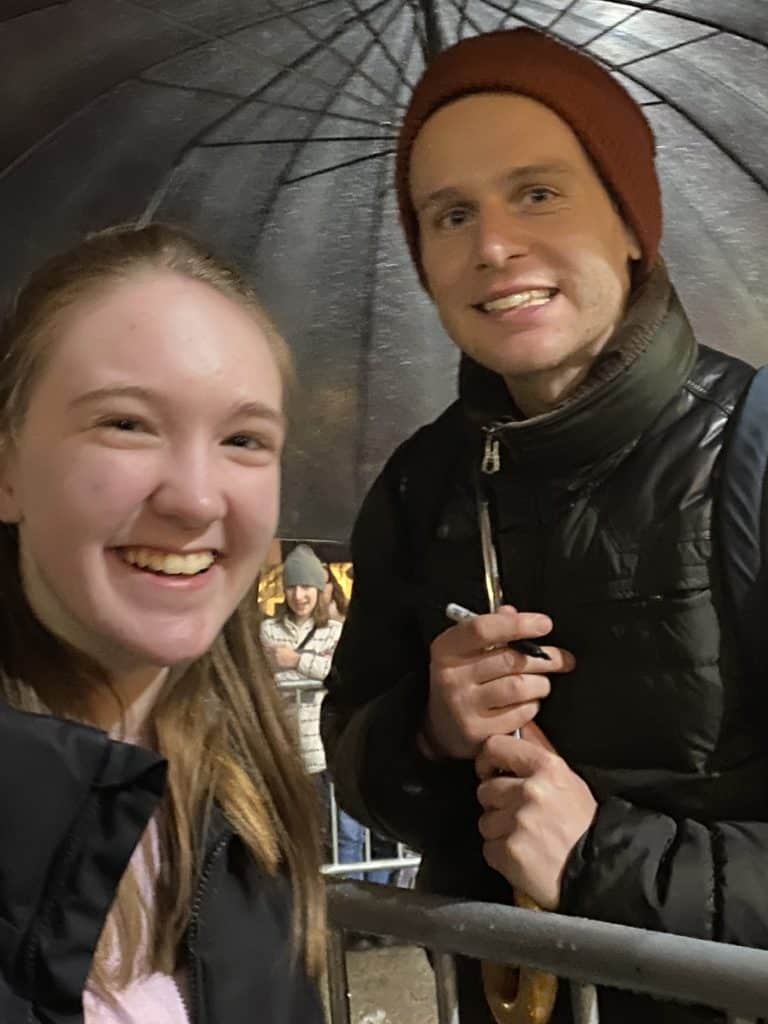 Broadway and Theatre Tours
If seeing a Broadway show or two isn't enough then there are a number of tours available in Manhattan that will appeal to the theatre lovers in your family. We have been on two – the Exclusive Disney on Broadway tour offered by Walks and the Radio City Music Hall Stage Door Tour.
Exclusive Disney on Broadway Tour
Walks has a fabulous 2.5 hour Disney on Broadway tour which consists of a guided walking tour of the theatre district led by a Broadway insider and an exclusive tour of the New Amsterdam Theatre that includes a visit to Disney's Prop Studios to see original props, costumes and set pieces up close.
The highlight of the tour for us was visiting the Costumes and Props Studio at the theatre and having an opportunity to exam authentic props and try on costumes from popular Disney Broadway shows such as Mary Poppins, Lion King and The Little Mermaid. It's best to book this tour ahead of time to avoid disappointment as space is limited.
Read about our tour at A Disney on Broadway Tour with Walks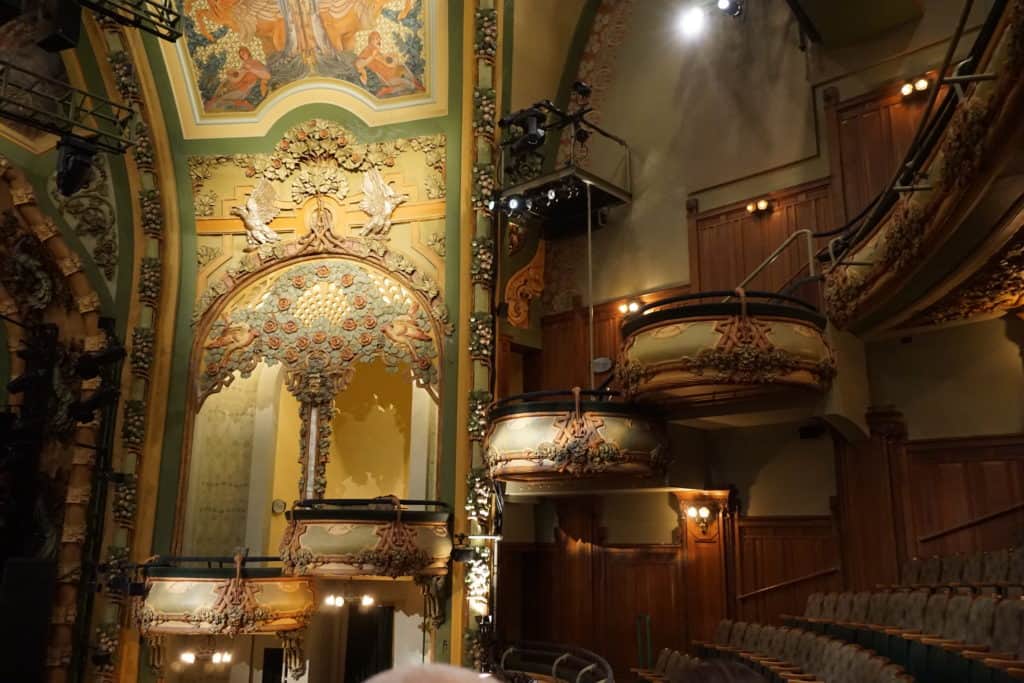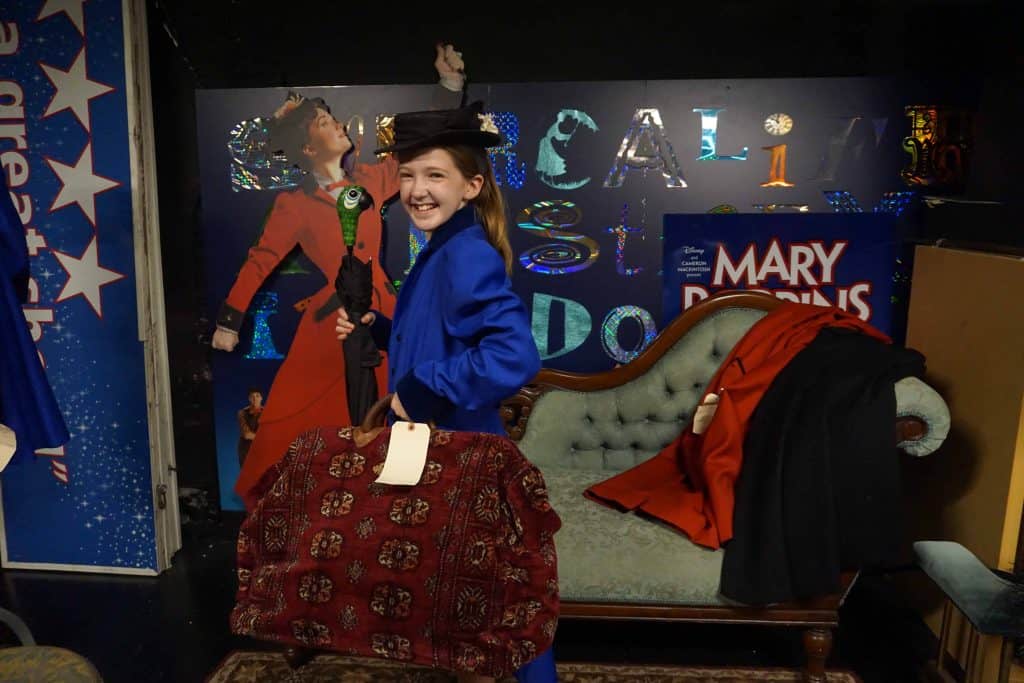 Radio City Music Hall Stage Door Tour
We have also had an opportunity to take the Radio City Music Hall Stage Door Tour. This tour is offered multiple times each day so you can book online ahead of time (from the venue or Viator – both currently priced at $42 USD) or purchase tickets at the theatre. We purchased ahead of time because our busy schedule meant the only time we could take the tour was Sunday morning and we needed to be finished prior to a matinee.
This guided tour of the theatre starts in the 60 foot high grand foyer of the art deco building which opened December 27, 1932 and has been home to the Radio City Rockettes Christmas Spectacular every year since 1933. The tour takes visitors through various public and back stage areas of the theatre including the Grand Lounge and the Roxy Suite.
One of the highlights is standing on the stage where you can see the elevators and turntable that are used in the shows and look out into the audience for the view on-stage performers get of the 5,931 seat theatre.
The tour includes an opportunity to attend a Q&A session with a current Rockette and learn more about what it's like to be part of this iconic dance troupe. Our group met with Emily and one of the bits of trivia we learned was that Rockettes have a minimum height of 5'6″. This dashed my petite daughter's dreams of ever being a Rockette so she'll have to continue to aspire to perform on Broadway instead!
Visitors on the tour will pose with the Rockette in front of a green screen and photos will be available for purchase at the tour's conclusion.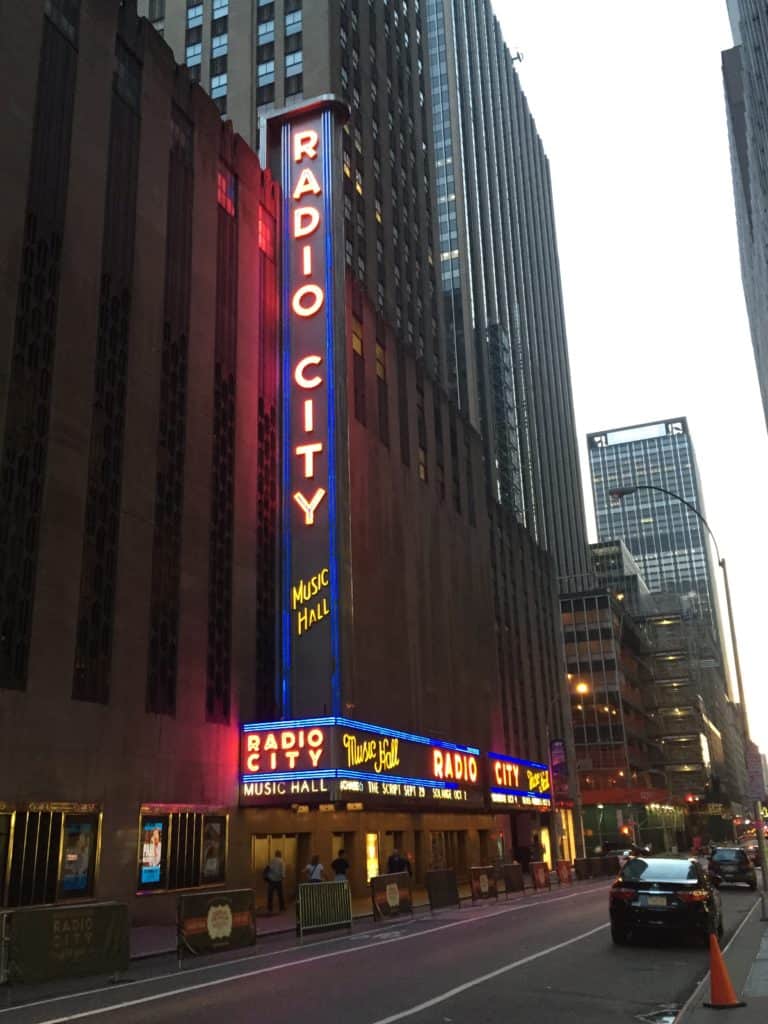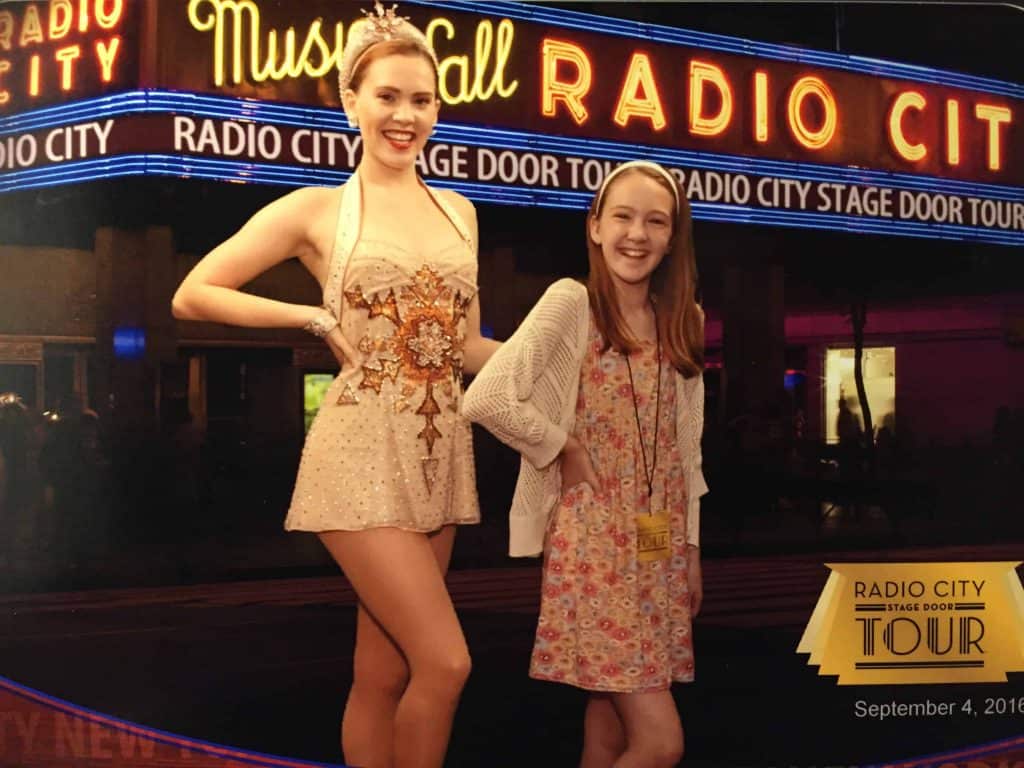 Additional Tours
Viator offers several tours that are perfect for Broadway fans including: Broadway Theatres and Times Square with a Theatre Professional; Hamilton Live! Walking Tour in Lower Manhattan; Explore the Off Broadway Theatres; and Private Theater District Tour.
New York Public Library for the Performing Arts
The New York Public Library for the Performing Arts, located on Lincoln Center Plaza, has one of the world's most extensive collections of materials relating to the performing arts available for on-site research. The library also hosts exhibitions related to the performing arts that are open to the public at no cost.
When we visited in September 2018, we were able to view an exhibit Celebrating 75 Years of the Rodgers & Hammerstein Musical which was quite interesting. Check the library's website for information on upcoming events.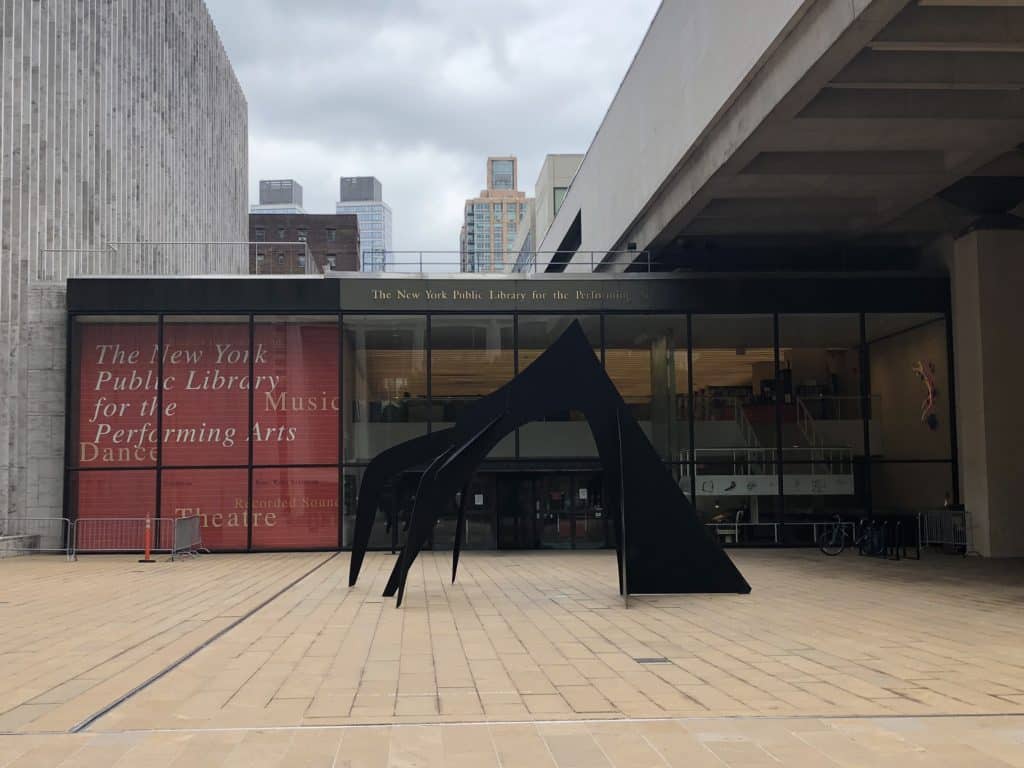 Dining with a Broadway Theme
My kids insist on visiting Ellen's Stardust Diner on the corner of 51st and Broadway in Times Square every time that we are in New York City. This 1950s-themed diner with singing waitstaff has been entertaining crowds since it first opened in 1987. Many of the waiters are aspiring Broadway performers or actors who are in between shows so the talent on display is incredible.
The food is fine (diner style/comfort food) but you dine here for the entertainment. Chances are that you will be having so much fun listening to the Stardusters perform (and singing along) that you won't be paying much attention to what you're eating anyway.
There is often a queue outside Ellen's but we have found that it generally moves fairly quickly so as long as the weather isn't too bad then it's worth the wait to enjoy this quintessential Broadway dining experience.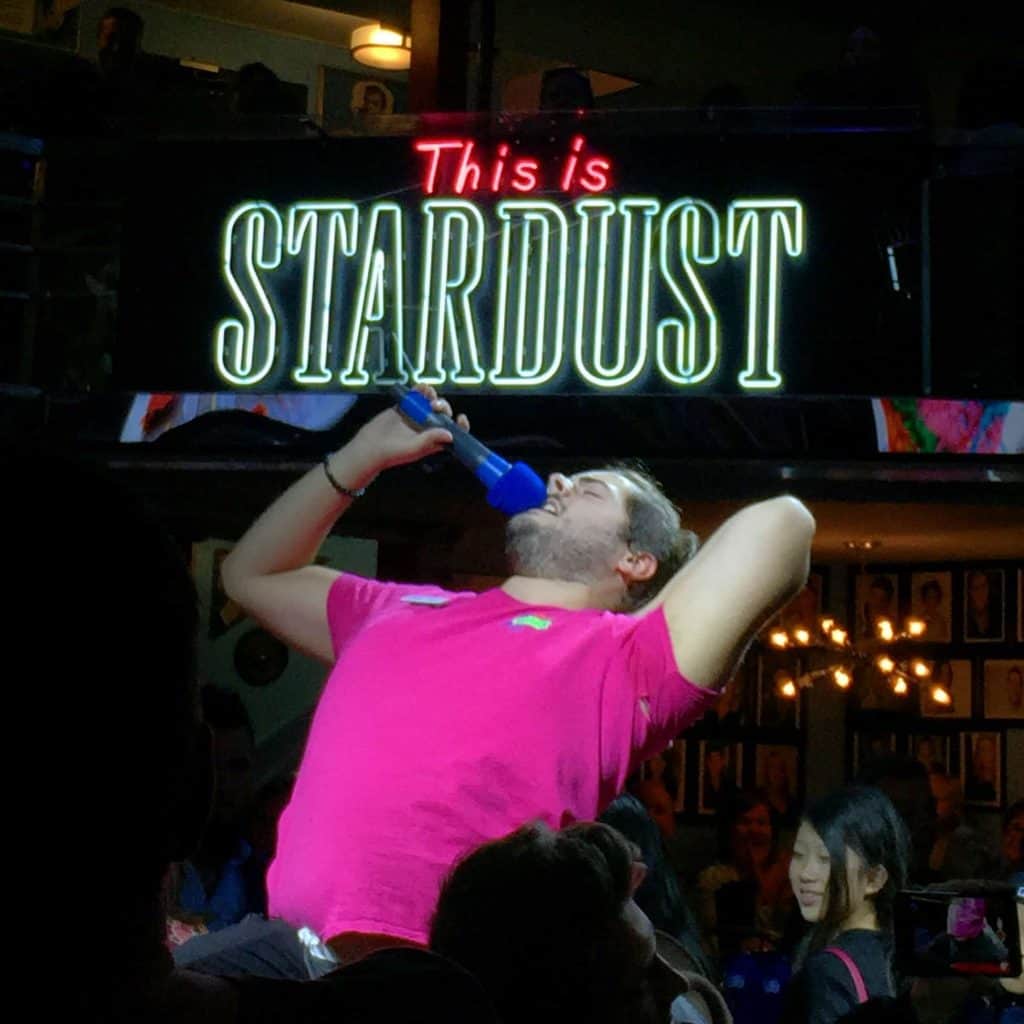 Another fun place to dine for theatre fans is Sardi's Restaurant which is also located in the heart of New York's Theatre District (at 234 West 44th). The restaurant which has been operating at this location since 1927 is a Broadway institution known for the caricatures of show business celebrities that decorate the walls.
The restaurant is also considered to be the birthplace of the Tony's as a group of Antoinette Perry's friends gathered there after her death and came up with the idea of holding the Tony Awards to honour her. The restaurant has been the site of many opening night parties and other Broadway events and you never know if you might bump into a famous actor dining there.
We had a great time looking for the portraits of our favourite actors on the wall and my daughter was particularly excited to find that Christian Borle had just recently been added before we dined there last year.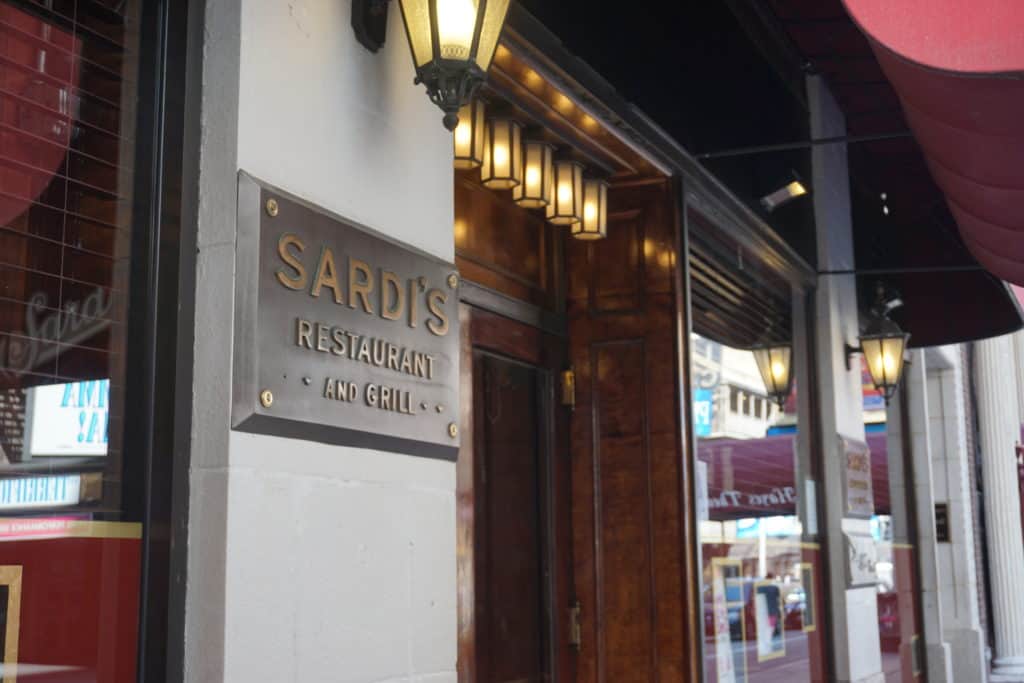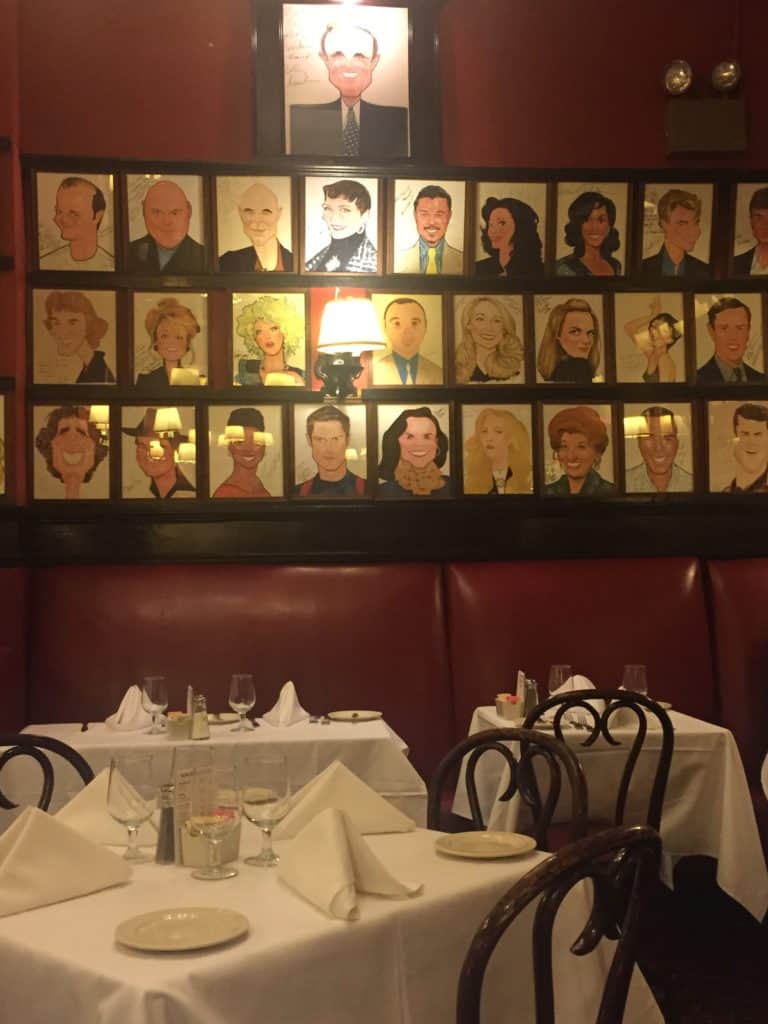 We have also dined at Joe Allen Restaurant which has quite a unique Broadway theme. Joe Allen opened the restaurant in 1965 and that same year the cast of Kelly gave him a show poster. The show only ran one performance and a Joe Allen tradition was born – the walls of the restaurant are decorated with posters from all of the Broadway flops. As they say at Joe Allen, "everyone remembers the hits, but we revel in the flops".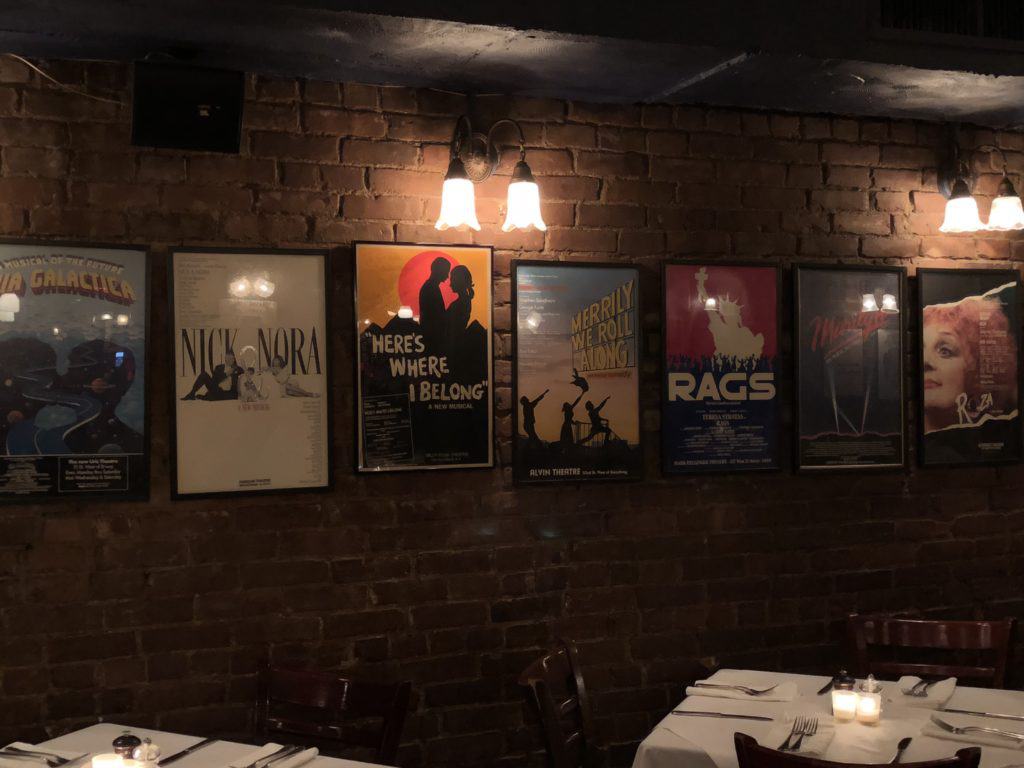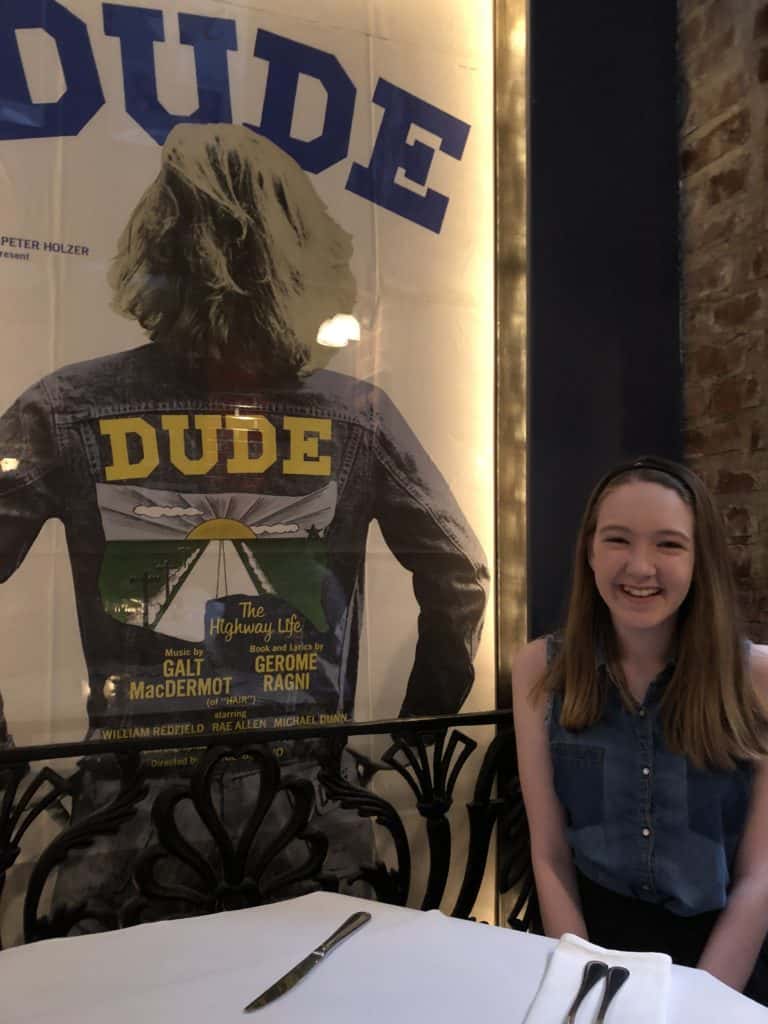 The Drama Book Shop
We loved the original The Drama Book Shop but the new shop is even better! The Drama Book Shop is an independent bookstore in the theatre district founded in 1917 by the Drama League that had to shutter in 2019 due to rising rents.
The theatre community, led by Lin-Manuel Miranda who wrote the music for In the Heights in the basement of the shop, rallied to help them raise funds to save the shop. Mr. Miranda and several Hamilton collaborators subsequently purchased the shop and reopened the shop at 266 West 39th Street. 
The shop has an incredible selection of scripts for plays and musicals, biographies and other books relating to theatre, a café and cozy seating areas – my daughter could literally spend hours here! There are also regular theatre-related events scheduled at the shop – check the website for details. The store has even won a Tony for "excellence in theatre"!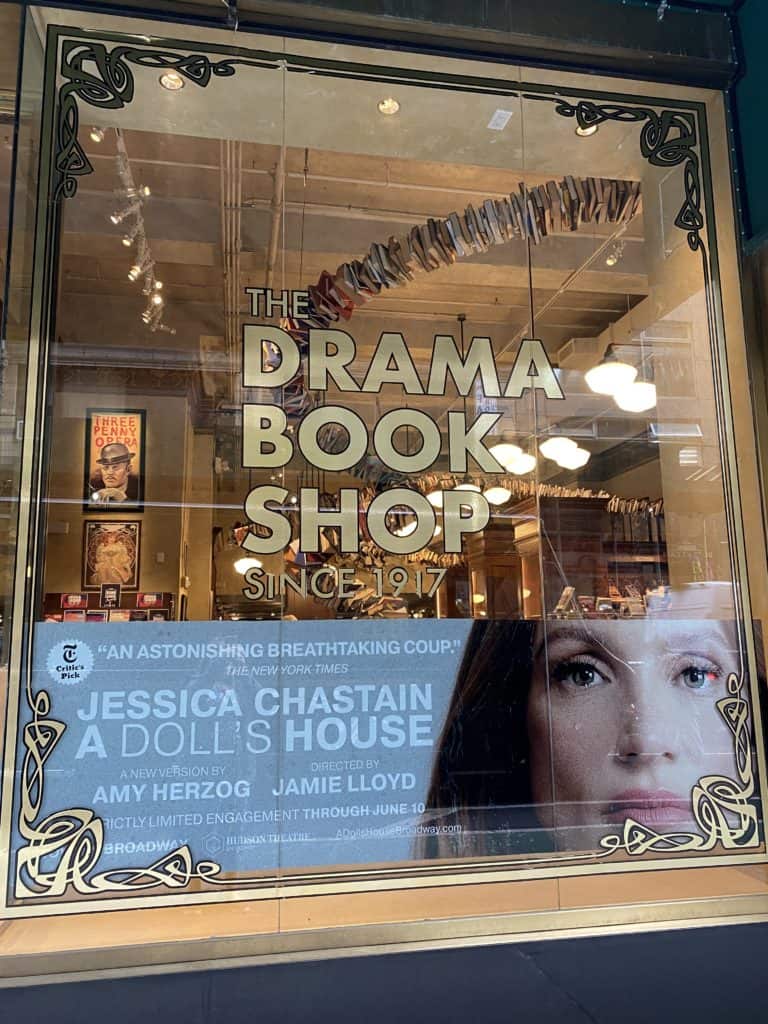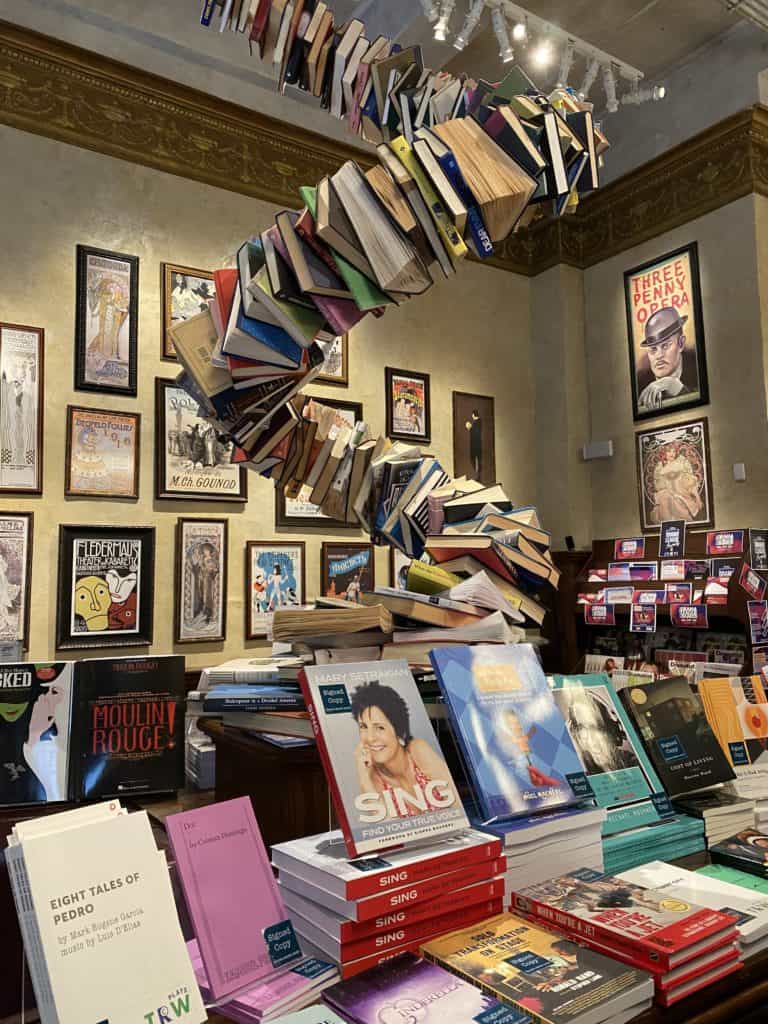 Shopping for Broadway Souvenirs
Broadway fans can't leave the city without a few show souvenirs. There is, of course, show merchandise available at each theatre but there are also a few specialty shops in the theatre district that carry a wide selection of items from various shows past and present as well as general Broadway-themed memorabilia.
We spend a fair bit of time browsing our favourites – Theatre Circle (on West 44th west of Broadway) and One Shubert Alley (between 44th and 45th west of Broadway). Theatre Circle is the larger of the two shops but both carry Broadway posters, t-shirts, sheet music, souvenir programs, CDs and DVDs and much more. It's pretty much impossible for Broadway fans to visit either of these shops and leave without making a purchase.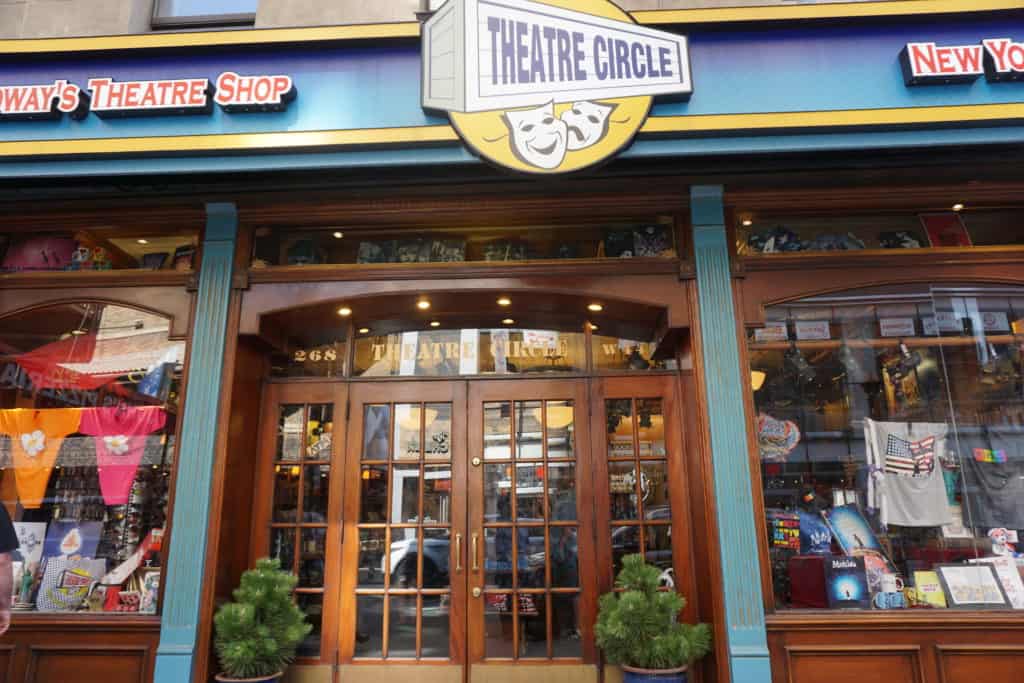 Have you experienced Broadway? Any tips to share? Let us know in the comments below.
Where To Stay in New York City
Looking for a hotel in New York City? We have stayed at:
Pin This For Later