5 reasons to stay at The Benjamin Hotel on your next visit to New York City. The Benjamin's location in midtown Manhattan is perfect for exploring the city and the spacious suites are ideal for families.
One of the most difficult decisions when planning a trip to New York City is where to stay. There are a lot of hotels to choose from and narrowing down that choice isn't easy. We have stayed at quite a few hotels in New York with our kids over the years and one of our favourites is The Benjamin. We have stayed here three of our past four trips to New York City and have already booked for our annual Labour Day weekend trip to the city this year. These are five of the reasons that I believe The Benjamin is a great hotel choice for families visiting New York.
We are a participant in the Amazon Services LLC Associates Program, an affiliate advertising program designed to provide a means for us to earn fees by linking to Amazon.com and affiliated sites. As an Amazon affiliate I earn from qualifying purchases.
This article may contain affiliate links. If you click an affiliate link and make a purchase then Gone with the Family may receive a small commission at no additional cost to you.
About The Benjamin
The Benjamin, originally established in 1927 as the Beverley Hotel, was designed by renowned architect, Emery Roth who was responsible for many of New York's most distinctive buildings from that era. The building was also the subject of a well-known work by artist Georgia O'Keefe called New York – Night. The hotel was purchased in 1997, renamed The Benjamin and completely redesigned in 2012 by architect Lauren Rottet. The redesign was intended to give the hotel the residential feel of a pied-à-terre. The building was awarded NYC Landmark status as it is recognized as one of the premiere hotels built in the 1920's and represents the early evolution of skyscraper design in New York City.
" rel="noopener noreferrer" target="_blank" title="The Benjamin on TripAdvisor">

Location, Location, Location
The Benjamin's midtown east location at East 50th and Lexington is ideal for exploring the city. We prefer to do most of our sightseeing on foot and this location makes a great home base for walking all over the city. We walk from here to 5th Avenue and Rockefeller Center, the Times Square district for Broadway shows, to Central Park and even to some of the museums farther uptown. I also prefer staying here as opposed to one of the many hotels near Times Square because it is quieter and feels more like a New York neighbourhood than a tourist district.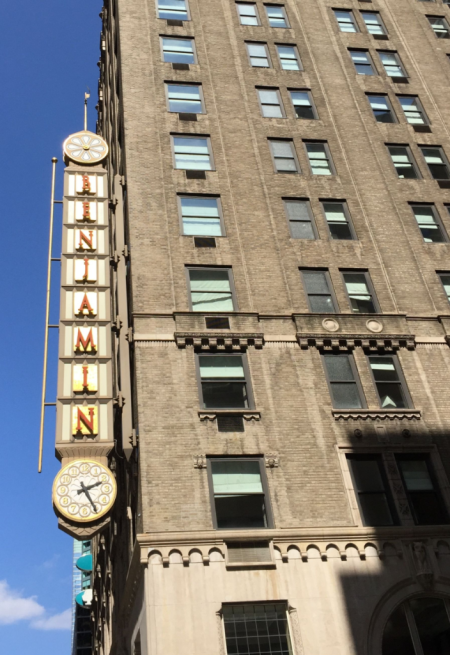 Luxury Boutique Style Plus Family-Friendly
Just because you have kids it doesn't mean that you can't stay at a stylish hotel. The Benjamin is a luxurious boutique hotel that will appeal to anyone looking for stylish contemporary accommodations and it's family-friendly as well. The hotel has a complimentary children's program for children aged two to ten called Winks' Kidzzz Club which provides young guests with a child-sized pillow and bathrobe and a library of family bedtime books. The hotel also offers an American Girl Place® Pyjama Sleepover package which includes an exclusive American Girl doll-sized travel bed, pillow and blanket as well as milk and cookies at bedtime.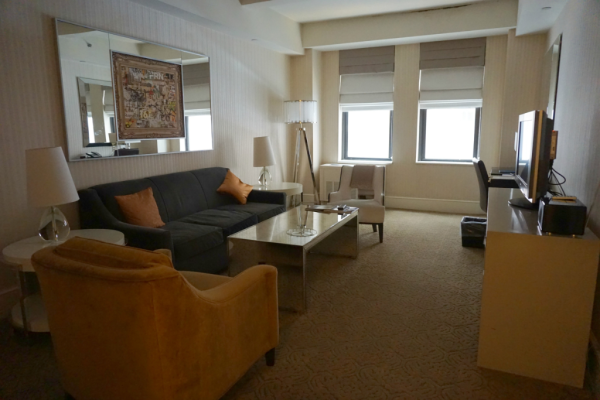 Spacious Suites
When travelling with kids, spacious hotel accommodations are so important especially as the kids get older. It's not always easy to find roomy hotel rooms in cities like New York though which is why we love the residential style of The Benjamin. The hotel has Guest Rooms, Deluxe Studios, and One-Bedroom Suites as well as the larger and more expensive Balcony Suites, Terrace Suites and The Benjamin Suite.
We always book a One-Bedroom Suite which averages 450-550 square feet and is plenty big enough for 3 or 4 people. The suite has a separate bedroom with either a king or queen sized bed, a luxurious white marble bathroom and a living area with a comfortable queen sleeper sofa. All rooms and suites at The Benjamin have a kitchenette equipped with a small refrigerator and microwave which we appreciate for preparing a quick breakfast and evening snacks. The suites are large enough that everyone isn't tripping over each other which makes it the ideal home-away-from-home in the city.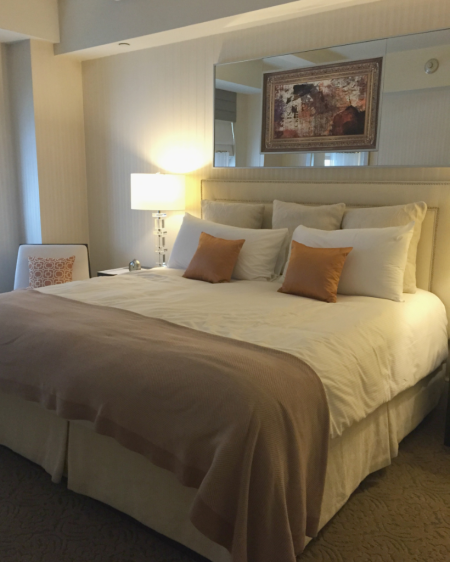 The National Restaurant
There's no shortage of great restaurants to try in New York City but sometimes it's just more convenient to eat at the hotel. The National Restaurant located on street level at The Benjamin is a contemporary style grand café serving Modern American cuisine by internationally acclaimed chef Geoffrey Zakarian. The restaurant is open 7 days a week for breakfast, lunch and dinner as well as brunch on the weekends. We always have dinner here once each time we visit and every meal that I have had has been delicious. The hotel charges a daily Facilities Fee which includes a $10 daily credit to use at The National.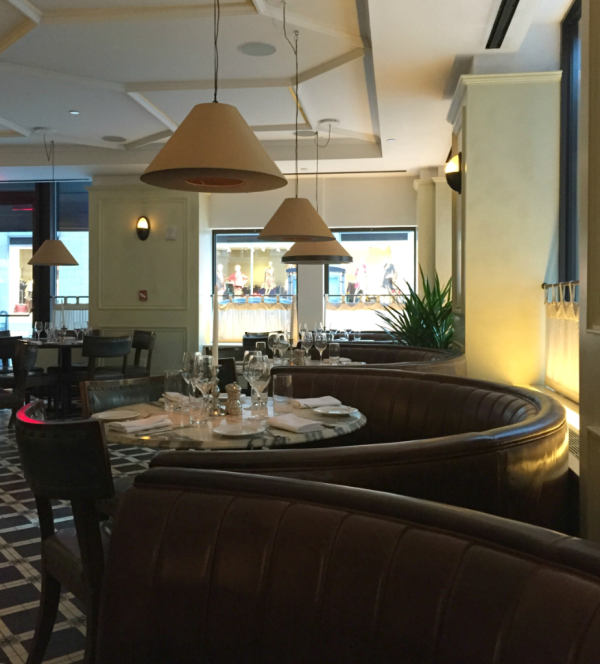 What You Need To Know
The Benjamin is located at 125 East 50th Street (at Lexington), a short walk from 5th Avenue
The Boutique Hotel features 209 room accommodations including 50 studios and 98 One-Bedroom Suites.
smoke-free environment
Signature Rest & Renew program by Sleep Medicine Expert Dr. Rebecca Robbins
Kid-friendly Winks' Kidzzz Club Program
24-hour gym, business center and front desk
Pet-friendly hotel
Curbside valet parking available for a fee
Check website for special offers – we generally book for our annual trip to New York when the lowest rates of the year promotion takes place early in the new year
The hotel charges a Facilities Fee (currently $30 per room per night) which includes $10 daily credit at The National, wireless internet on all devices throughout stay, and unlimited local and domestic calls.
We are a participant in the Amazon Services LLC Associates Program, an affiliate advertising program designed to provide a means for us to earn fees by linking to Amazon.com and affiliated sites.
You Might Also Like
New York City for Theatre Lovers
Revisiting the World of Downton at Downton Abbey: The Exhibition