A tour of United Nations Headquarters in New York City is a great educational experience for school-aged kids.
As an undergraduate, I studied International Relations and, accordingly, was a firm believer in the role of the UN in international governance. I had always wanted to tour United Nations Headquarters in New York City and, to be quite honest, my absolute dream career would have been at the United Nations working on international environmental law issues.
Life had different plans for me, however, and I quit practicing law when Katie was a baby and didn't even set foot in New York City until many years later.  As much as I wanted to tour the UN, it wasn't even a possibility on our first couple of family trips to New York because of Emma's age but I always knew that someday I was going to see the General Assembly Hall.

On a spring break trip to New York City, I decided that it was time for our family to pay a visit to the UN.  Emma was 7.5 and I rationalized that even if she didn't enjoy the tour per se that I could count on her not to be disruptive.  Also in my favour was the fact that Emma is fascinated by geographical facts about countries and recognizes far more national flags than I ever could.  I felt fairly certain that I could pique her interest by playing up the fact that so many of the countries of the world that she is fascinated by were members of the United Nations.
As is so often the case when traveling with a teenager, we didn't get as early a start as we had intended on the morning that we were to visit the United Nations and it was nearly 11:30 when we arrived at UN headquarters located along the East River (at 1st Avenue and E. 46th Street).  It was a blustery day and the flags of the member states were flying outside the building.  Emma was very impressed by the sheer number of flags and we had to pause for her to identify as many as she could.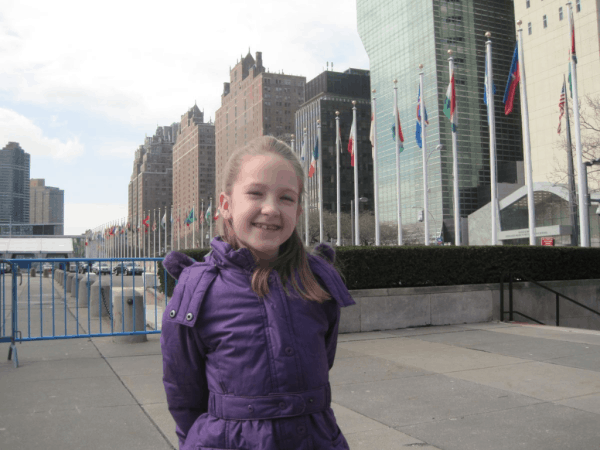 Emma outside United Nations Headquarters in New York City
After lining up to clear security, we entered the lobby of the UN building and proceeded to the ticket desk only to learn that, unfortunately, due to our delayed start, the next available tour wasn't until 1:40pm.  We purchased our tickets anyway, however, this meant that we had a fair bit of time to kill.
We were able to pass the time without much difficulty despite a bit of initial grumbling about having to wait. There are free exhibits in the Visitors Lobby featuring photographic and multi-media presentations by world-renowned photographers and artists on a diverse range of topics.  (The Visitors Centre website provides information on the exhibits which are currently in place.)  We browsed exhibits on the Arctic and the Antarctic, Slavery and Landmines which were educational and thought-provoking.  The exhibits on slavery and landmines, in particular, prompted a great deal of discussion with Emma, who may well have inherited my idealism, as she could not understand how any person could support something that seemed so clearly wrong. 
On the lower level of the lobby there is a number of retail outlets where we spent some time browsing the UN merchandise.  We quite liked the UN Bookshop which carries a wide range of children's books as well as titles published by the UN and other international publishers.  Emma was very excited to find a sticker book of flags that she was able to purchase there.  The UN Gift Shop is also fun to browse with its wide selection of UN souvenirs as well as unique items from around the world.  The miniature flags of the UN and those of all its member states are quite popular.  A UNICEF Gift Shop sells greeting cards and handcrafted items in order to raise money to support UNICEF's work on behalf of children around the world and there is also a Coffee Shop if you need to have a quick bite to eat either before or after your tour. 
We even spent some time at the post office on the lower level.  The UN issues its own stamps which are available for purchase at this outlet.  The stamps are denominated in US currency but are only valid for postage if they are mailed from UN Headquarters.  Katie and Emma purchased UN stamps, wrote postcards to themselves and mailed them home so that they would receive a souvenir of their visit in the mail upon our return.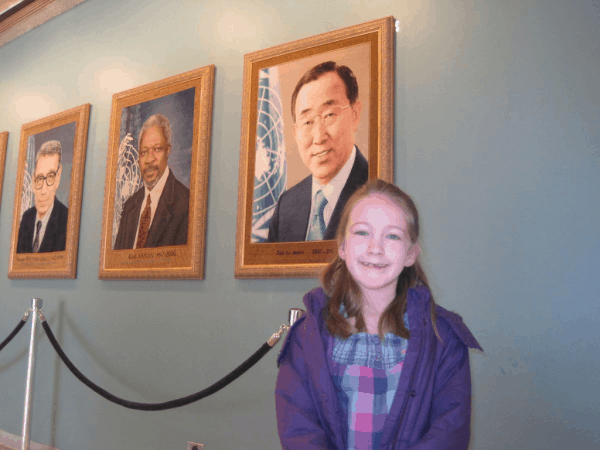 Emma with portraits of Secretaries General of United Nations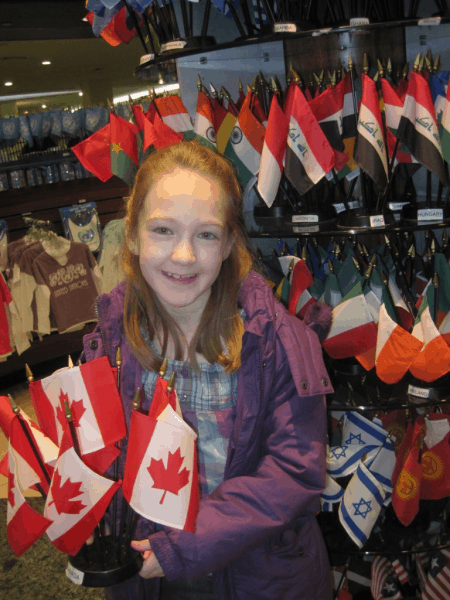 Shopping for flags at the UN gift shop
We opted for a guided tour and were provided with headsets as well to make it easier to hear the guide who was wearing a microphone.  Our 45 minute tour was conducted by a very well-informed young guide but was curtailed somewhat by the fact that the building is in the midst of extensive renovations.  Many of the rooms (including Security Council Chambers) were off limits as a result.  Most of the information provided was a very introductory lesson in the role and operation of the UN but I thought that it was worth it just for the opportunity to stand in the General Assembly Hall.  While we were there the Security Council was meeting in its interim chambers to discuss the situation in Libya so we did not have access to that room either.
I was satisfied with the tour and it was brief enough that the kids didn't have a chance to get bored.  The guide made a point of engaging Emma and she was, in fact, quite interested in the information about how the UN helps get food to kids who are living in extreme poverty and how they are helping to ensure that girls are given access to education.  The guide suggested that she check out the Free Rice website, to help provide food for undernourished kids in developing countries, which we did after returning home.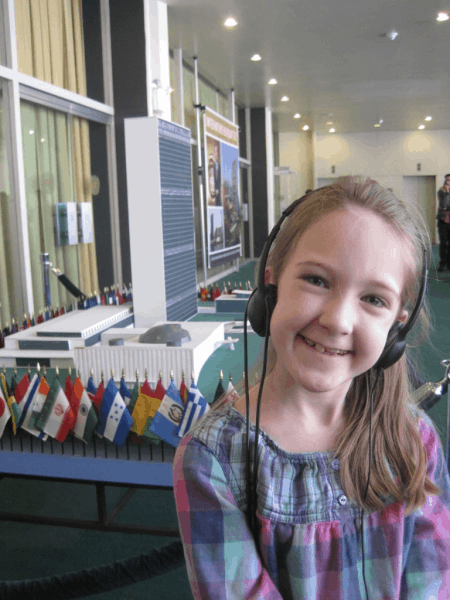 Emma on tour at the United Nations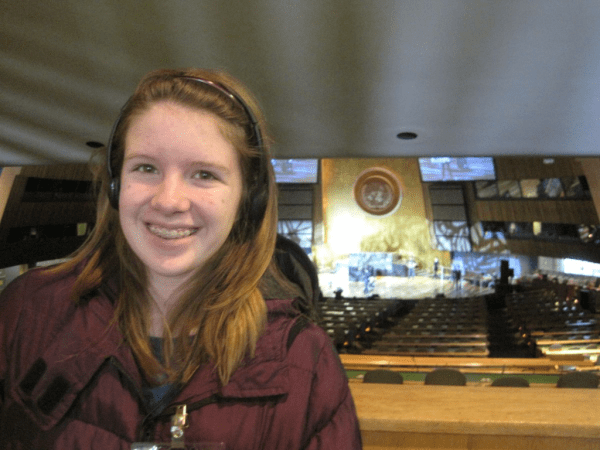 Katie in UN General Assembly Hall
It is important for young people, in my opinion, to understand the role that the United Nations plays in the world and a tour of the UN Headquarters provides a solid framework for the development of that understanding.  There were no other children on our tour, however, I didn't feel uncomfortable having Emma along and our guide made her feel most welcome.  She was well-behaved and seemed genuinely interested in what she was hearing even though most of it was beyond her comprehension. 
Generally, I would recommend the tour for ages 10 and up as children of that age are more likely to understand the information presented.  The tour can, however, be fine for younger children depending on individual temperament, bearing in mind that the UN does not allow children under 5 years of age on any of its tours.  Our family enjoyed our educational visit to the United Nations Headquarters even if it would be safe to say that we all gained something different from the experience.     
What You Need To Know
United Nations Headquarters is located along the East River in New York City, on 1st Avenue between 45th and 46th Street.
UN Headquarters is an international location and you are no longer considered to be on US soil when you enter.
Due to high level meetings of Heads of State and Governments the UN Headquarters may close to the public on very short notice.
Guided Tours and Audio Tours are conducted Monday through Friday from 9:45am to 4:45pm and last approximately 45 minutes. (opening hours are subject to change)
Audio Tours are available on the weekends from 10:00am to 4:15pm except during January and February.
Guided Tours are offered in the United Nation's official languages (Arabic, English, Chinese, French, Spanish and Russian).  Some other languages are available on request.
Audio Tours are available in the official languages plus American Sign Language.  For security reasons, Audio Tours are dispatched in groups of 20 with a group leader.  There are adult and children's audio tours available.
The UN Headquarters is accessible to people with disabilities.
Tickets may be purchased online or at the Cashier's Desk in the Visitor's Lobby.
Children under 5 years of age are NOT permitted on the tours.
Admission prices are the same for Guided or Audio Tours.  Adults – $16; Senior Citizens (age 60 and older) – $11; Students – $11; and Children Ages 5-12 – $9.
 
Related Links
Shopping in New York City: Emma Style
My Goldilocks Weekend at the JW Marriott Essex House

Pin This For Later