The cooler weather and shorter days of winter make it the perfect time to find a cozy corner and curl up with a hot drink and a good book. Generally at this time of year I start thinking about warm weather getaways and my book list reflects that but this year I'm attempting to embrace winter so I'm focused on books set in winter and in cold and snowy places.
As always my list includes both recently published books and old favourites that I have either read already or have on my "to be read" list. All of them will transport you to another place or time and may even convince you that a snowy getaway should be at the top of your travel wish list.
We are a participant in the Amazon Services LLC Associates Program, an affiliate advertising program designed to provide a means for us to earn fees by linking to Amazon.com and affiliated sites. As an Amazon affiliate I earn from qualifying purchases.
This post may contain affiliate links. If you click an affiliate link and make a purchase then we receive a small commission at no additional cost to you.
1. A Week in Winter by Maeve Binchy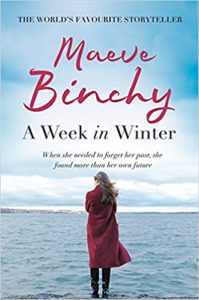 Setting: Ireland's Atlantic coast
Stoneybridge is a small town on the west coast of Ireland where all the families know each other. When Chicky Starr decides to take an old, decaying mansion set high on the cliffs overlooking the windswept Atlantic Ocean and turn it into a restful place for a holiday by the sea, everyone thinks she is crazy. Helped by Rigger (a bad boy turned good who is handy around the house) and Orla, her niece (a whiz at business), Stone House is finally ready to welcome its first guests to the big warm kitchen, log fires, and understated elegant bedrooms.
Laugh and cry with this unlikely group as they share their secrets and – maybe – even see some of their dreams come true. Full of Maeve's trademark warmth and humor, once again, she embraces us with her grand storytelling.
It was in the early '90s when I first fell in love with Maeve Binchy's heartwarming novels set in Ireland and I have read every novel that she wrote including this last one which was published after her death. Set on the wild Atlantic coast of Ireland one winter, this book reads like a series of novellas about the various characters connected to a hotel on the first week of its opening.
2. Winter Garden by Kristin Hannah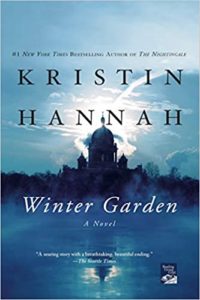 Setting: Leningrad, Russia and Alaska
1941. Leningrad, a once magical city besieged by war, cut off from aid, buried in snow. A city full of women desperate to save their children and themselves…
2000. Loss and old age have taken a terrible toll on Anya Whitson. At last, she will reach out to her estranged daughters. In a halting, uncertain voice, she begins to weave a fable about a beautiful Russian girl who lived in Leningrad a lifetime ago…
Nina and Meredith sit spellbound at their mother's bedside, listening to a story that spans more than sixty years and moves from the terrors of war-torn Leningrad under siege to modern-day Alaska.
In a quest to uncover the truth behind the story, Nina and Meredith discover a secret so shocking, so impossible to believe, it shakes the foundation of their family and changes who they believe they are.
I read Kristin Hannah's The Nightingale a couple of years ago and it is one of my favourite historical novels so I'm looking forward to reading another. This one is set in two cold and snowy destinations – Russia and Alaska – so seems like the perfect read for winter.
3. Snow Falling on Cedars by David Guterson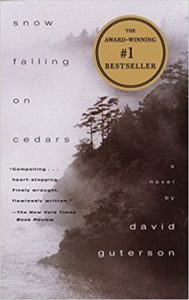 Setting: Near Puget Sound, Washington State
San Piedro Island, north of Puget Sound, is a place so isolated that no one who lives there can afford to make enemies. But in 1954 a local fisherman is found suspiciously drowned, and a Japanese American named Kabuo Miyamoto is charged with his murder.
In the course of the ensuing trial, it becomes clear that what is at stake is more than a man's guilt. For on San Pedro, memory grows as thickly as cedar trees and the fields of ripe strawberries – memories of a charmed love affair between a white boy and the Japanese girl who grew up to become Kabuo's wife; memories of land desired, paid for, and lost.
Above all, San Piedro is haunted by the memory of what happened to its Japanese residents during World War II, when an entire community was sent into exile while its neighbors watched. Gripping, tragic, and densely atmospheric, Snow Falling on Cedars is a masterpiece of suspense – one that leaves us shaken and changed.
It has been 25 years since this award-winning novel was published yet it remains one of my favourites. The atmospheric novel is historical fiction, romance, courtroom drama and suspense all rolled into one. There's a film adaptation starring Ethan Hawke as well.
4. Beartown by Fredrik Backman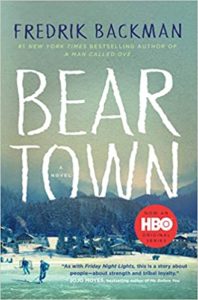 Setting: Northern Sweden
By the lake in Beartown is an old ice rink, and in that ice rink Kevin, Amat, Benji, and the rest of the town's junior ice hockey team are about to compete in the national semi-finals – and they actually have a shot at winning. All the hopes and dreams of this place now rest on the shoulders of a handful of teenage boys.
Under that heavy burden, the match becomes the catalyst for a violent act that will leave a young girl traumatized and a town in turmoil. Accusations are made and, like ripples on a pond, they travel through all of Beartown.
This is a story about a town and a game, but even more about loyalty, commitment, and the responsibilities of friendship; the people we disappoint even though we love them; and the decisions we make every day that come to define us. In this story of a small forest town, Fredrik Backman has found the entire world.
A beautiful book by a masterful writer – one of the best I have ever read! Set in an isolated town in Northern Sweden, Beartown is about hockey culture but it's also about community, family, friendships, loyalty, loneliness, privilege and what it means to know right from wrong and of having the courage to do the right thing.
Backman has a way of writing that is beautiful in its simplicity and full of compassion – he'll make you laugh, he'll make you cry, he'll break your heart but he'll put it back together again and he'll make you ponder what it means to be human. Beartown is the first book in a trilogy so if you enjoy it then you must read Us Against You and The Winners as well. The critically acclaimed novel has also now been adapted into an HBO limited series.
5. Mr. Dickens and His Carol by Samantha Silva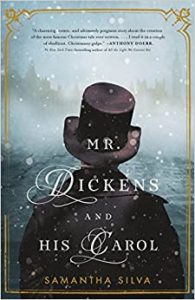 Setting: London, England
Charles Dickens is not feeling the Christmas spirit. His newest book is an utter flop, the critics have turned against him, relatives near and far hound him for money. While his wife plans a lavish holiday party for their ever-expanding family and circle of friends, Dickens has visions of the poor house. But when his publishers try to blackmail him into writing a Christmas book to save them all from financial ruin, he refuses. And a serious bout of writer's block sets in.
Frazzled and filled with self-doubt, Dickens seeks solace in his great palace of thinking, the city of London itself. On one of his long night walks, in a once-beloved square, he meets the mysterious Eleanor Lovejoy, who might be just the muse he needs. As Dickens' deadlines close in, Eleanor propels him on a Scrooge-like journey that tests everything he believes about generosity, friendship, ambition, and love. The story he writes will change Christmas forever.
I also had this on my list of Christmas books to read but didn't get around to reading it until January. I thoroughly enjoyed this fictional account of how Charles Dickens came to write his classic novel and decided to include it on this list as well. The book is set in December in the weeks leading up to Christmas and perfectly captures the atmosphere of winter in mid-19th century London.
6. One by One by Ruth Ware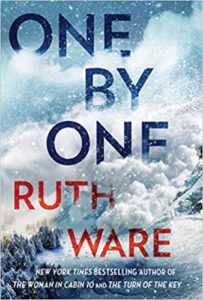 Setting: The French Alps
Getting snowed in at a luxurious, rustic ski chalet high in the French Alps doesn't sound like the worst problem in the world. Especially when there's a breathtaking vista, a full-service chef and housekeeper, a cozy fire to keep you warm, and others to keep you company. Unless that company happens to be eight coworkers…each with something to gain, something to lose, and something to hide.
This thriller was also on my Fall 2020 Reading List but the setting is such a perfect snowy destination that I had to include it here as well. I don't often read thrillers but I liked the sound of this one and couldn't put it down – in fact, stayed up until the middle of the night finishing it!
7. In the Midst of Winter by Isabel Allende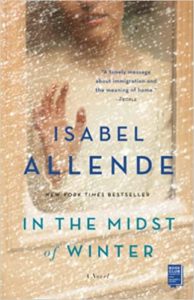 Setting: Brooklyn, New York
During the biggest Brooklyn snowstorm in living memory, Richard Bowmaster, a lonely university professor in his sixties, hits the car of Evelyn Ortega, a young undocumented immigrant from Guatemala, and what at first seems an inconvenience takes a more serious turn when Evelyn comes to his house, seeking help. At a loss, the professor asks his tenant, Lucia Maraz, a fellow academic from Chile, for her advice.
As these three lives intertwine, each will discover truths about how they have been shaped by the tragedies they witnessed, and Richard and Lucia will find unexpected, long overdue love. Allende returns here to themes that have propelled some of her finest work: political injustice, the art of survival, and the essential nature of – and our need for – love.
This sweeping novel, written by worldwide bestselling author Isabel Allende, brings three characters together in Brooklyn during a massive snowstorm. It sounds perfect for curling up in a cozy chair with a hot drink on a blustery winter afternoon.
8. How the Penguins Saved Veronica by Hazel Prior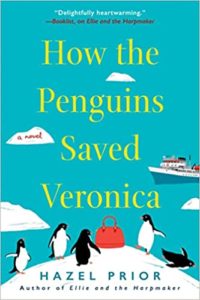 Setting: Antarctica
Eighty-five-year-old Veronica McCreedy is estranged from her family and wants to find a worthwhile cause to leave her fortune to. When she sees a documentary about penguins being studied in Antarctica, she tells the scientists she's coming to visit—and won't take no for an answer. Shortly after arriving, she convinces the reluctant team to rescue an orphaned baby penguin. He becomes part of life at the base, and Veronica's closed heart starts to open.
I received this novel as a Christmas gift and started reading it immediately. It's the story of an 85 year-old curmudgeon who sets off on a trip from her home in Scotland to Antarctica after seeing a documentary about penguins. Veronica is concerned that she hasn't made much of a difference in her life and would like to change that by bequeathing her estate to save the penguins. The book is an absolute delight – and how often do you get to read a novel set in Antarctica?!? The follow-up book Call of the Penguins in which Veronica travels to the Falkland Islands is charming as well!
9. Winter by Ali Smith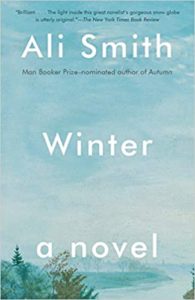 Setting: Cornwall, England
Winter. Bleak. Frosty wind, earth as iron, water as stone, so the old song goes. And now Art's mother is seeing things. Come to think of it, Art's seeing things himself.

When four people, strangers and family, converge on a fifteen-bedroom house in Cornwall for Christmas, will there be enough room for everyone?

Winter. It makes things visible. Ali Smith's shapeshifting Winter casts a warm, wise, merry and uncompromising eye over a post-truth era in a story rooted in history and memory and with a taproot deep in the evergreens, art and love.
This second novel in a seasonal quartet by Ali Smith, a Man Booker Prize finalist, was named one of the Best Books of the Year by New York Public Library.
10. The Great Alone by Kristin Hannah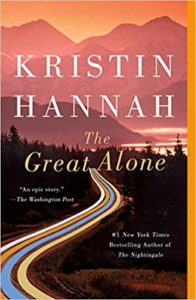 Setting: Alaska
Alaska, 1974. Ernt Allbright came home from the Vietnam War a changed and volatile man. When he loses yet another job, he makes the impulsive decision to move his wife and daughter north where they will live off the grid in America's last true frontier.
Cora will do anything for the man she loves, even if means following him into the unknown. Thirteen-year-old Leni, caught in the riptide of her parents' passionate, stormy relationship, has little choice but to go along, daring to hope this new land promises her family a better future.
In a wild, remote corner of Alaska, the Allbrights find a fiercely independent community of strong men and even stronger women. The long, sunlit days and the generosity of the locals make up for the newcomers' lack of preparation and dwindling resources.
But as winter approaches and darkness descends, Ernt's fragile mental state deteriorates. Soon the perils outside pale in comparison to threats from within. In their small cabin, covered in snow, blanketed in eighteen hours of night, Leni and her mother learn the terrible truth: they are on their own.
Set in Alaska in the dead of winter, this is sure to be another page-turner from Kristin Hannah. I haven't read it yet but it carries a warning about domestic violence so bear that in mind before deciding to read it.
11. The Tourist Attraction by Sarah Morgenthaler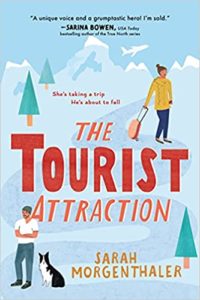 Setting: Alaska
This story of Alaska marries together all the things you didn't realize you needed: a whirlwind vacation, a friendly moose, a grumpy diner owner, a quirky tourist, plenty of restaurant humor, and a happy ending that'll take you away from it all.
This small town Alaskan rom-com (which made an appearance on my Summer 2020 reading list) is the first in the Moose Springs series. I included it on this list even though it's not set in winter because it's Alaska (so cold destination) and the follow-up books take place in winter and at the top of a mountain under winter-like conditions. The second Mistletoe & Mr. Right was on my Christmas reading list and the third Enjoy the View has just been released.
If you like a well-written romantic comedy set in a great destination then you'll enjoy this series where each book focuses on a different couple in Moose Springs. I loved all three!!
12. The Children's Blizzard by Melanie Benjamin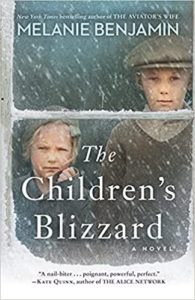 Setting: The Dakota Territory
The morning of January 12, 1888, was unusually mild, following a punishing cold spell. It was warm enough for the homesteaders of the Dakota Territory to venture out again, and for their children to return to school without their heavy coats – leaving them unprepared when disaster struck.
At the hour when most prairie schools were letting out for the day, a terrifying, fast-moving blizzard blew in without warning. Schoolteachers as young as sixteen were suddenly faced with life and death decisions: Keep the children inside, to risk freezing to death when fuel ran out, or send them home, praying they wouldn't get lost in the storm?
At its heart, this is a story of courage, of children forced to grow up too soon, tied to the land because of their parents' choices. It is a story of love taking root in the hard prairie ground, and of families being torn asunder by a ferocious storm that is little remembered today – because so many of its victims were immigrants to this country.
This historical novel by New York Times bestselling author Melanie Benjamin tells the tragic story of a freak blizzard that hit the Great Plains in 1888. At least 235 people, many of whom were children on their way home from school, died in the storm also known as The Schoolhouse Blizzard. Benjamin's novel is based on actual oral histories of survivors of the deadly storm.
13. Bury Your Dead by Louise Penny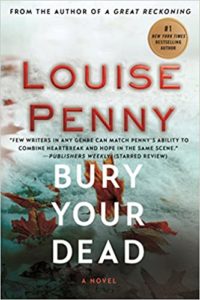 Setting: Quebec City and the fictional village of Three Pines, Quebec, Canada
It is Winter Carnival in Quebec City, bitterly cold and surpassingly beautiful. Chief Inspector Armand Gamache has come not to join the revels but to recover from an investigation gone hauntingly wrong.
But violent death is inescapable, even in the apparent sanctuary of the Literary and Historical Society – where an obsessive historian's quest for the remains of the founder of Quebec, Samuel de Champlain, ends in murder. Could a secret buried with Champlain for nearly four hundred years be so dreadful that someone would kill to protect it?
If crime novels are your favourite genre then you will love the award-winning Inspector Gamache series by Louise Penny. I picked up Bury Your Dead not realizing that it was #6 in the popular series (primarily set in Quebec). It was entertaining as a stand-alone and I loved the snowy setting of Quebec City during the Winter Carnival but I will likely go back and start the series properly with book #1 Still Life.
Read 10 Things To Do at the Quebec Winter Carnival because you know you're going to want to visit Quebec during carnival season after reading this book!
14. First Snow, Last Light by Wayne Johnston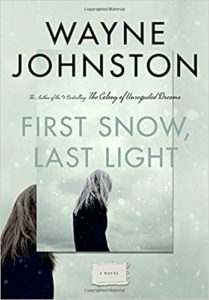 Setting: Newfoundland
From the author of the critically acclaimed, prizewinning and internationally bestselling The Colony of Unrequited Dreams comes an epic family mystery with a powerful, surprise ending, which features the return of the ever-fascinating Sheilagh Fielding, one of the most memorable characters in fiction.
This book takes place in Newfoundland over several decades so isn't entirely set in winter, however, a snowstorm is central to the story. Johnston is a masterful storyteller and I have enjoyed several of his books. This novel stands alone, however, it also features a character, Sheilagh Fielding, from two earlier books – The Colony of Unrequited Dreams and The Custodian of Paradise.
15. Snow by Orhan Pamuk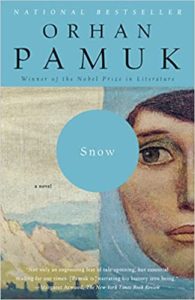 Setting: Turkey
An exiled poet named Ka returns to Turkey and travels to the forlorn city of Kars. His ostensible purpose is to report on a wave of suicides among religious girls forbidden to wear their head-scarves. But Ka is also drawn by his memories of the radiant Ipek, now recently divorced.
Amid blanketing snowfall and universal suspicion, Ka finds himself pursued by figures ranging from Ipek's ex-husband to a charismatic terrorist. A lost gift returns with ecstatic suddenness. A theatrical evening climaxes in a massacre. And finding god may be the prelude to losing everything else. Touching, slyly comic, and humming with cerebral suspense, Snow is of immense relevance to our present moment.
This novel by Pamuk, a Nobel Laureate, has long been on my list of books that I must read. The English translation was first published in 2004.
16. Moon of the Crusted Snow by Waubgeshig Rice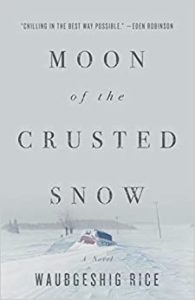 Setting: Northern Canada
With winter looming, a small northern Anishinaabe community goes dark. Cut off, people become passive and confused. Panic builds as the food supply dwindles. While the band council and a pocket of community members struggle to maintain order, an unexpected visitor arrives, escaping the crumbling society to the south. Soon after, others follow.
Post-apocalyptic novels aren't generally a genre that I'm interested in but this one set in a small Anishinaabe community in northern Canada appeals to me.
17. Between Shades of Gray by Ruta Sepetys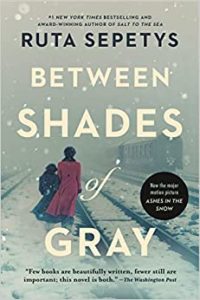 Setting: Siberian work camp
Fifteen-year-old Lina is a Lithuanian girl living an ordinary life – until Soviet officers invade her home and tear her family apart. Separated from her father and forced onto a crowded train, Lina, her mother, and her young brother make their way to a Siberian work camp, where they are forced to fight for their lives.
Lina finds solace in her art, documenting these events by drawing. Risking everything, she imbeds clues in her drawings of their location and secretly passes them along, hoping her drawings will make their way to her father's prison camp. But will strength, love, and hope be enough for Lina and her family to survive?
This sounds like another compelling story from award-winning historical fiction writer Ruta Sepetys. It's a story about the cruelty of World War II, however, it's about an aspect of the war that most of know little – Eastern Europeans removed from their homes by the Soviets and forced to labour in Siberian work camps. Not a happy story but one we need to hear. The film Ashes in the Snow (2018) is based on the novel.
18. The Arctic Fury by Greer Macallister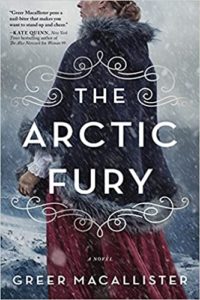 Setting: An Arctic expedition
Eccentric Lady Jane Franklin makes an outlandish offer to adventurer Virginia Reeve: take a dozen women, trek into the Arctic, and find her husband's lost expedition. Four parties have failed to find him, and Lady Franklin wants a radical new approach: put the women in charge.
A year later, Virginia stands trial for murder. Survivors of the expedition willing to publicly support her sit in the front row. There are only five. What happened out there on the ice?
Set against the unforgiving backdrop of one of the world's most inhospitable locations, USA Today bestselling author Greer Macallister uses the true story of Lady Jane Franklin's tireless attempts to find her husband's lost expedition as a jumping-off point to spin a tale of bravery, intrigue, perseverance and hope.
A recently published work of historical fiction, based on the true story of Lady Jane Franklin, about a group of women trekking to the Arctic in search of Sir John Franklin's lost expedition. A year later, the woman who headed the expedition is on trial for murder and the narrative bounces back and forth between the journey to the Arctic and the trial.
19. Snowblind by Ragnar Jonasson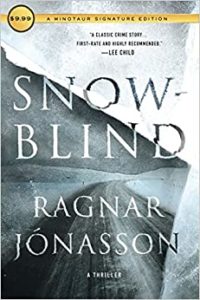 Setting: Northern Iceland
Where: An isolated fishing village in the fjords of northern Iceland, where no one locks their doors.
Who: Ari Thór is a rookie policeman on his first posting, far from his girlfriend in Reykjavík.
What: A young woman is found lying half naked in the snow, bleeding and unconscious, and a highly esteemed elderly writer falls to his death. Ari is dragged straight into the heart of a community where he can trust no one, and secrets and lies are a way of life.
There seem to be a fair number of crime and suspense novels set in cold, inhospitable environments and I suppose I can see why! Snowblind is book 1 (translated into English) in the Dark Iceland series and is set in a quiet fishing village in Northern Iceland with an avalanche, snowstorms and 24 hour darkness contributing to the atmosphere.
20. Road Ends by Mary Lawson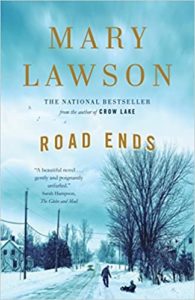 Setting: Fictional Northern Ontario town
Mary Lawson's beloved novels, Crow Lake and The Other Side of the Bridge, have delighted legions of readers around the world. The fictional, northern Ontario town of Struan, buried in the winter snows, is the vivid backdrop to her breathtaking new novel.

Roads End brings us a family unravelling in the aftermath of tragedy: Edward Cartwright, struggling to escape the legacy of a violent past; Emily, his wife, cloistered in her room with yet another new baby, increasingly unaware of events outside the bedroom door; Tom, their eldest son, twenty-five years old but home again, unable to come to terms with the death of a friend; and capable, formidable Megan, the sole daughter in a household of eight sons, who for years held the family together but has finally broken free and gone to England, to try to make a life of her own.
This book was published in 2014 and that's how long I have had it in my "to be read" pile. I'm not sure why I waited so long to read it because I loved Crow Lake. This is another bleak yet beautiful read from Mary Lawson partially set in a fictional northern Ontario town very much like the one where I grew up.
21. Into Thin Air by Jon Krakauer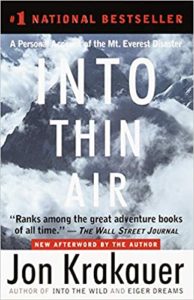 Setting: Mount Everest
A bank of clouds was assembling on the not-so-distant horizon, but journalist-mountaineer Jon Krakauer, standing on the summit of Mt. Everest, saw nothing that "suggested that a murderous storm was bearing down."
He was wrong. The storm, which claimed five lives and left countless more – including Krakauer's – in guilt-ridden disarray, would also provide the impetus for Into Thin Air, Krakauer's epic account of the May 1996 disaster.
It has been more than 20 years since Into Thin Air was first published, however, if you haven't read it yet and are looking for a good non-fiction book that takes place in a snowy destination then you should find this account of the 1996 tragedy on Mount Everest compelling.
Pin This For Later