Now that the holidays are over it's the perfect time to curl up with a good book (and if it's in front of a fireplace – even better)! The cold weather has settled in here, the days are short and I'm daydreaming about getaways to warm and sunny places. As a result, most of the books on my winter reading list seem to be set in some decidedly non-wintery locales!
This travel-inspired reading list for winter will fuel your wanderlust and might even prompt you to book a winter getaway!
You might also enjoy 21 of the Best Books to Read This Winter (2023), 25 Christmas Books To Get You in the Holiday Spirit (2020) 21 Books Set in Cold and Snowy Destinations To Read This Winter or 22 Books to Cozy Up With This Winter (2022)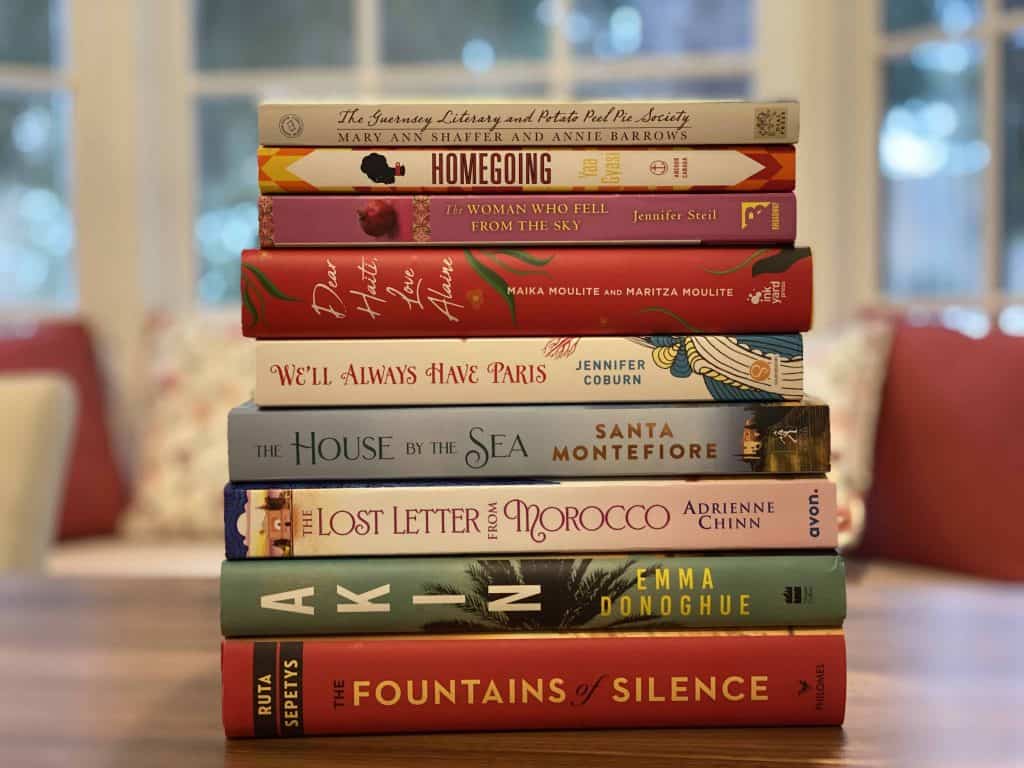 This post may contain affiliate links. If you click an affiliate link and make a purchase then we receive a small commission at no additional cost to you.
We are a participant in the Amazon Services LLC Associates Program, an affiliate advertising program designed to provide a means for us to earn fees by linking to Amazon.com and affiliated sites. As an Amazon affiliate I earn from qualifying purchases.
1. A Gentleman in Moscow by Amor Towles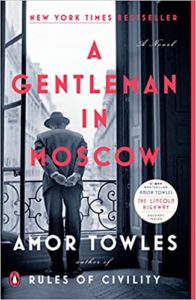 Setting: Moscow, Russia
In 1922, Count Alexander Rostov is deemed an unrepentant aristocrat by a Bolshevik tribunal, and is sentenced to house arrest in the Metropol, a grand hotel across the street from the Kremlin. Rostov, an indomitable man of erudition and wit, has never worked a day in his life, and must now live in an attic room while some of the most tumultuous decades in Russian history are unfolding outside the hotel's doors. Unexpectedly, his reduced circumstances provide him entry into a much larger world of emotional discovery.
Brimming with humor, a glittering cast of characters, and one beautifully rendered scene after another, this singular novel casts a spell as it relates the count's endeavor to gain a deeper understanding of what it means to be a man of purpose.
This is a fascinating story – I can't even imagine being sentenced to house arrest for the rest of my life – and incredibly well written. Apparently this story is being made into a television series starring Kenneth Branagh so read it first!
2. My Twenty-Five Years in Provence by Peter Mayle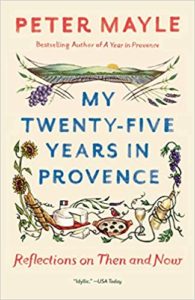 Setting: Provence, France
The beloved author Peter Mayle, champion of all things Provence, here in a final volume of all-new writing, offers vivid recollections from his twenty-five years in the South of France: lessons learned, culinary delights enjoyed, and changes observed.
I am so looking forward to this final volume of Mayle's stories about living in the South of France. Mayle's previous books have been among my favourite and, while I'm sad that this is the final collection, I'm delighted that I have a new volume of stories about Provence to savour this winter.
3. The High Mountains of Portugal by Yann Martel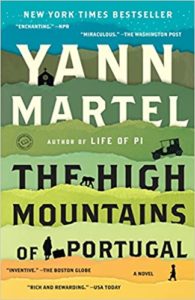 Setting: Portugal
The High Mountains of Portugal is a suspenseful, mesmerizing story of a great quest for meaning, told in three intersecting narratives touching the lives of three different people and their families, and taking us on an extraordinary journey through the last century.
We begin in the early 1900s, when Tomás discovers an ancient journal and sets out from Lisbon in one of the very first motor cars in Portugal in search of the strange treasure the journal describes.
Thirty-five years later, a pathologist devoted to the novels of Agatha Christie, whose wife has possibly been murdered, finds himself drawn into the consequences of Tomás's quest.
Fifty years later, Senator Peter Tovy of Ottawa, grieving the death of his own beloved wife, rescues a chimpanzee from an Oklahoma research facility and takes it to live with him in his ancestral village in northern Portugal, where the strands of all three stories miraculously mesh together.
Beautiful, witty and engaging, Yann Martel's new novel offers us the same tender exploration of the impact and significance of great love and great loss, belief and unbelief, that has marked all his brilliant, unexpected novels.
This novel by the award-winning author of Life of Pi is set in Portugal – another country on my travel wish list. I have also been a fan of Agatha Christie since I was a young teenager devouring her mysteries and I'm intrigued to discover how Martel weaves her into this story.
4. To the Land of Long Lost Friends: No. Ladies' Detective Agency by Alexander McCall Smith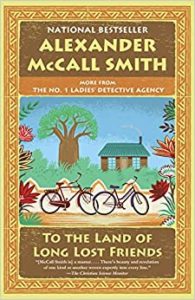 Setting: Botswana
In the latest book in the widely beloved No. 1 Ladies' Detective Agency series, Precious Ramotswe takes on a case for a childhood acquaintance and finds that family relationships are always a tricky proposition—even for Botswana's premier female detective.
I started reading the No. 1 Ladies' Detective Agency series by Alexander McCall Smith when the first installment was published back in 1998 and have read all but a few volumes in the series which is now up to 20 novels.
This charming series is set in Gaborone, Botswana and chronicles the adventures of Precious Ramotswe, her erstwhile assistant, Grace Makutsi and an assortment of other characters who are part of their lives and community. I haven't read one in the past couple of years so I'm looking forward to catching up with Precious and daydreaming about planning a trip to Botswana.
5. The Guernsey Literary and Potato Peel Society by Mary Ann Shaffer and Annie Barrows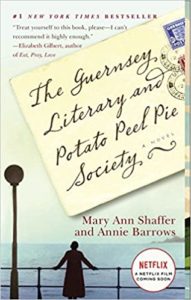 Setting: Guernsey (Channel Islands)
January 1946: London is emerging from the shadow of the Second World War, and writer Juliet Ashton is looking for her next book subject. Who could imagine that she would find it in a letter from a man she's never met, a native of the island of Guernsey, who has come across her name written inside a book by Charles Lamb….
As Juliet and her new correspondent exchange letters, Juliet is drawn into the world of this man and his friends—and what a wonderfully eccentric world it is. The Guernsey Literary and Potato Peel Pie Society—born as a spur-of-the-moment alibi when its members were discovered breaking curfew by the Germans occupying their island—boasts a charming, funny, deeply human cast of characters, from pig farmers to phrenologists, literature lovers all.
Juliet begins a remarkable correspondence with the society's members, learning about their island, their taste in books, and the impact the recent German occupation has had on their lives. Captivated by their stories, she sets sail for Guernsey, and what she finds will change her forever.
Written with warmth and humor as a series of letters, this novel is a celebration of the written word in all its guises, and of finding connection in the most surprising ways.
I first read this bestseller years ago but it has been on my mind a lot lately since the film based on the novel is now available on Netflix. A friend of mine also recently visited and her description of the island has stoked my wanderlust sufficiently that Guernsey now has a place on my travel wish list. I have held off on watching the film because I want to read the novel again first so it now has returned from the shelf to my bedside stack of books to read this winter!
6. The Woman Who Fell From The Sky by Jennifer Steil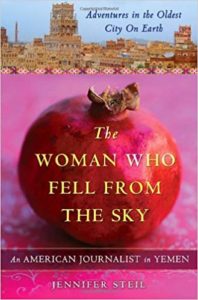 Setting: Yemen
Restless in her career and her life, Jennifer, a gregarious, liberal New Yorker, initially accepts a short-term opportunity in 2006 to teach a journalism class to the staff of The Yemen Observer in Sana'a, the beautiful, ancient, and very conservative capital of Yemen.
Seduced by the eager reporters and the challenging prospect of teaching a free speech model of journalism there, she extends her stay to a year as the paper's editor-in-chief. But she is quickly confronted with the realities of Yemen–and their surprising advantages.
In teaching the basics of fair and balanced journalism to a staff that included plagiarists and polemicists, she falls in love with her career again. In confronting the blatant mistreatment and strict governance of women by their male counterparts, she learns to appreciate the strength of Arab women in the workplace.
And in forging surprisingly deep friendships with women and men whose traditions and beliefs are in total opposition to her own, she learns a cultural appreciation she never could have predicted. What's more, she just so happens to meet the love of her life.

With exuberance and bravery, The Woman Who Fell from the Sky offers a rare, intimate, and often surprising look at the role of the media in Muslim culture and a fascinating cultural tour of Yemen, one of the most enigmatic countries in the world.
I have just finished reading this memoir and found the insight into Yemen, a country I know incredibly little about, quite fascinating. Ms. Steil is a great storyteller and her vivid descriptions of the city of Sana'a and the other regions that she visits during her sojourn in Yemen piqued my desire to learn more about the country.
7. The Lost Letter from Morocco by Adrienne Chin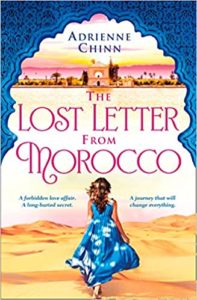 Setting: Morocco
A forbidden love affair. A long-buried secret. A journey that will change everything.
Morocco, 1984. High in the Atlas Mountains, Hanane's love for Irishman Gus is forbidden. Forced to flee her home with the man she loves, Hanane is certain she's running towards her destiny. But she has made a decision that will haunt her family for years to come.
London, 2009. When Addy discovers a mysterious letter in her late father's belongings, she journeys to Morocco in search of answers. But instead, she finds secrets – and is quickly pulled into a world that she doesn't understand.
And when history starts to repeat itself, it seems her journey might just change the person she is forever…
This is another book that I read just prior to the Christmas break. It's a quick and easy read but I enjoyed it for the descriptions of Morocco – a country which I have wanted to visit for many years.
8. Dear Haiti, Love Alaine by Maika Moulite and Maritza Moulite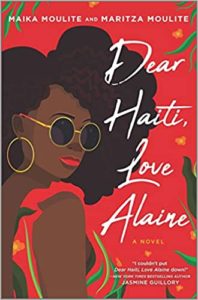 Setting: Haiti
Alaine Beauparlant has heard about Haiti all her life…
But the stories were always passed down from her dad—and her mom, when she wasn't too busy with her high-profile newscaster gig. But when Alaine's life goes a bit sideways, it's time to finally visit Haiti herself.
What she learns about Haiti's proud history as the world's first black republic (with its even prouder people) is one thing, but what she learns about her own family is another. Suddenly, the secrets Alaine's mom has been keeping, including a family curse that has spanned generations, can no longer be avoided.
Technically, this is a Teen/Young Adult book but I enjoyed it immensely despite being well beyond the target age group!
I loved the main character, Alaine, who is the daughter of Haitian immigrants and a sassy, ambitious, intelligent teen. On an extended visit to Haiti, Alaine learns about the culture and history of her parent's homeland while also working on her relationship with her mother who hasn't always been present for her.
The novel introduces the reader to a Haiti that is beautiful and proud in contrast to how we often see the country portrayed in the news media.
9. The House by the Sea by Santa Montefiore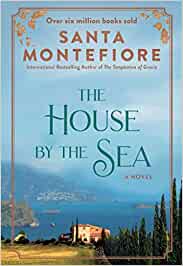 Setting: Tuscany and Devon Coast, England
Ten-year-old Floriana is captivated by the beauty of the magnificent Tuscan villa that overlooks the sea just outside her small village. She likes to spy from the crumbling wall into the gardens and imagine that one day she'll escape her meager existence and live there surrounded by its otherworldly splendor.
Then one day Dante, the son of the villa's powerful industrialist owner, invites her inside and shows her the enchanting Mermaid Garden. From that moment, Floriana knows that the only destiny for her is there, in that garden, with Dante. But as they grow up and fall in love, their romance causes a crisis, jeopardizing the very thing they hold most dear.
Decades later and hundreds of miles away, a beautiful old country house hotel on England's Devon coast has fallen on hard times after the financial crash of 2008. Its owner, Marina, advertises for an artist to stay the summer and teach the guests how to paint.
The man she hires is charismatic and wise and soon begins to pacify the discord in her family and transform the fortunes of the hotel. However, he has his own agenda. Is it to destroy, to seduce, or to heal? Whatever his intentions, he is certain to change Marina's life forever.
I added this novel to my reading list for this winter after completing Montefiore's Temptation of Gracie which was an enjoyable read. This one is also partly set in beautiful Tuscany as well as the Devon coast of England so I'm sure to be planning trips to both by the time I turn the last page!
10. We'll Always Have Paris by Jennifer Coburn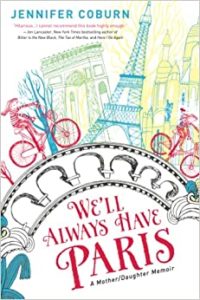 Setting: Paris and other European cities
Jennifer Coburn has always been terrified of dying young. So she decides to save up and drop everything to travel with her daughter, Katie, on a whirlwind European adventure before it's too late.
Even though her husband can't join them, even though she's nervous about the journey, and even though she's perfectly healthy, Jennifer is determined to jam her daughter's mental photo album with memories―just in case.
From the cafés of Paris to the top of the Leaning Tower of Pisa, Jennifer and Katie take on Europe one city at a time, united by their desire to see the world and spend precious time together. In this heartwarming generational love story, Jennifer reveals how their adventures helped vanquish her fear of dying…for the sake of living.
We'll Always Have Paris is a memoir that I read and reviewed several years ago and I was intrigued by this mother's tale of taking her daughter to Europe to create special memories – just in case. Jennifer's story is captivating from the first page and in less than 24 hours I had devoured this entertaining book. I'm sure you'll enjoy it too!
11. The Fountains of Silence by Ruta Sepetys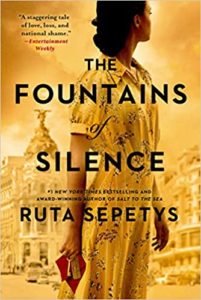 Setting: Madrid, Spain
From the #1 New York Times bestselling author of Salt to the Sea and Between Shades of Gray comes a gripping, extraordinary portrait of love, silence, and secrets under a Spanish dictatorship.
Madrid, 1957. Under the fascist dictatorship of General Francisco Franco, Spain is hiding a dark secret. Meanwhile, tourists and foreign businessmen flood into Spain under the welcoming promise of sunshine and wine.
Among them is eighteen-year-old Daniel Matheson, the son of an oil tycoon, who arrives in Madrid with his parents hoping to connect with the country of his mother's birth through the lens of his camera.
Photography–and fate–introduce him to Ana, whose family's interweaving obstacles reveal the lingering grasp of the Spanish Civil War–as well as chilling definitions of fortune and fear. Daniel's photographs leave him with uncomfortable questions amidst shadows of danger. He is backed into a corner of difficult decisions to protect those he loves. Lives and hearts collide, revealing an incredibly dark side to the sunny Spanish city.
Historical fiction is probably my favourite genre and this was an exceptional read about life in Spain after the Civil War and under the fascist dictatorship of General Franco. Ruta Sepetys' books are technically YA but I have read several and found them all to be exceptionally well-researched, well-written and she does an excellent job of bringing history to life for readers of all ages.
12. Akin: A Novel by Emma Donoghue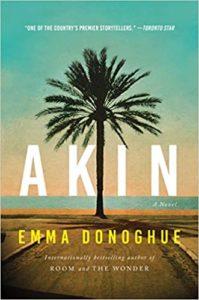 Setting: Nice, France
Noah Selvaggio is a retired chemistry professor and widower living on the Upper West Side, but born in the South of France. He is days away from his first visit back to Nice since he was a child, bringing with him a handful of puzzling photos he's discovered from his mother's wartime years.
But he receives a call from social services: Noah is the closest available relative of an eleven-year-old great-nephew he's never met, who urgently needs someone to look after him. Out of a feeling of obligation, Noah agrees to take Michael along on his trip.
Much has changed in this famously charming seaside mecca, still haunted by memories of the Nazi occupation. The unlikely duo, suffering from jet lag and culture shock, bicker about everything from steak frites to screen time.
But Noah gradually comes to appreciate the boy's truculent wit, and Michael's ease with tech and sharp eye help Noah unearth troubling details about their family's past. Both come to grasp with the risks people in all eras have run for their loved ones, and find they are more akin than they knew.
Written with all the tenderness and psychological intensity that made Room an international bestseller, Akin is a funny, heart-wrenching tale of an old man and a boy, born two generations apart, who unpick their painful story and start to write a new one together.
I received this novel by New York Times best-selling author, Emma Donoghue, as a Christmas gift and enjoyed it immensely. It's set in the beautiful south of France (a place I fell in love with when we first visited on our honeymoon), includes WWII history of the Nazi occupation of France and revolves around the developing relationship between an elderly man and a young boy who are strangers despite being related.
13. Homegoing by Yaa Gyasi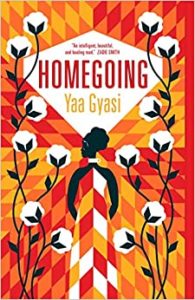 Setting: Ghana, United States
Ghana, eighteenth century: two half sisters are born into different villages, each unaware of the other. One will marry an Englishman and lead a life of comfort in the palatial rooms of the Cape Coast Castle. The other will be captured in a raid on her village, imprisoned in the very same castle, and sold into slavery.

Homegoing follows the parallel paths of these sisters and their descendants through eight generations: from the Gold Coast to the plantations of Mississippi, from the American Civil War to Jazz Age Harlem.
Yaa Gyasi's extraordinary novel illuminates slavery's troubled legacy both for those who were taken and those who stayed—and shows how the memory of captivity has been inscribed on the soul of our nation.
I couldn't resist buying this award-winning novel for myself while Christmas shopping for my family. There's nothing I love better than an epic family saga spanning generations and this one is set in some interesting locations to boot.
14. From Scratch: A Memoir of Love, Sicily, and Finding Home by Tembi Locke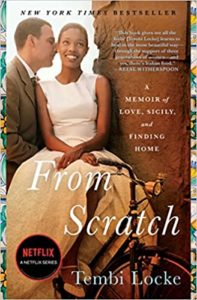 Setting: Sicily, Italy
A poignant and transporting cross-cultural love story set against the lush backdrop of the Sicilian countryside, where one woman discovers the healing powers of food, family, and unexpected grace in her darkest hour.
It was love at first sight when Tembi met professional chef, Saro, on a street in Florence. There was just one problem: Saro's traditional Sicilian family did not approve of him marrying a black American woman, an actress no less.
However, the couple, heartbroken but undeterred, forges on. They build a happy life in Los Angeles, with fulfilling careers, deep friendships and the love of their lives: a baby girl they adopt at birth. Eventually, they reconcile with Saro's family just as he faces a formidable cancer that will consume all their dreams.
From Scratch chronicles three summers Tembi spends in Sicily with her daughter, Zoela, as she begins to piece together a life without her husband in his tiny hometown hamlet of farmers. Where once Tembi was estranged from Saro's family and his origins, now she finds solace and nourishment—literally and spiritually—at her mother in law's table.
In the Sicilian countryside, she discovers the healing gifts of simple fresh food, the embrace of a close knit community, and timeless traditions and wisdom that light a path forward. All along the way she reflects on her and Saro's incredible romance—an indelible love story that leaps off the pages.
In Sicily, it is said that every story begins with a marriage or a death—in Tembi Locke's case, it is both. Her story is about loss, but it's really about love found. Her story is about travel, but it's really about finding a home. It is about food, but it's really about chasing flavor as an act of remembrance. From Scratch is for anyone who has dared to reach for big love, fought for what mattered most, and needed a powerful reminder that life is…delicious.
This memoir was published last spring but I only just heard about it this week and immediately ordered it from Amazon. From Scratch is both a New York Times Bestseller and a Reese Witherspoon Book Club Pick and promises to be both heart breaking and uplifting. I can't wait to read it!
15. Rediscovering Travel: A Guide for the Globally Curious by Seth Kugel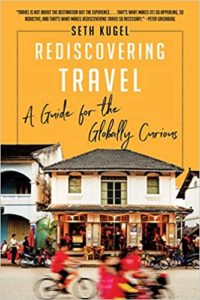 In a book with widespread cultural reverberations, Kugel takes the modern travel industry to task, determined to reignite humanity's age-old sense of adventure that has virtually been vanquished by the spontaneity-obliterating likes of Google Maps, TripAdvisor, and Starwood points.
Woven throughout with vivid tales of his perfectly imperfect adventures, Rediscovering Travel explains―often hilariously―how to make the most of new digital technologies without being shackled to them. For the tight-belted tourist and the first-class flyer, the eager student and the comfort-seeking retiree, Kugel shows how we too can rediscover the joy of discovery.
I always enjoyed Kugel's Frugal Traveler columns in the New York Times so I'm looking forward to his insight on how we can embrace the technology that often simplifies travel without it having a negative impact on the travel experience itself.
What are you reading this winter? Let us know in the comments below!
We are a participant in the Amazon Services LLC Associates Program, an affiliate advertising program designed to provide a means for us to earn fees by linking to Amazon.com and affiliated sites.
Pin This For Later