Now that the holidays are over there's no better time to cozy up with a good book and a hot drink and make some progress on your 2023 reading goal! My recommendations include serious reads as well as guilty pleasures from a variety of genres so there's something for everyone to read this winter! I have personally read and can recommend all of the books listed.
This post may contain affiliate links. If you click an affiliate link and make a purchase then we receive a small commission at no additional cost to you.
We are a participant in the Amazon Services LLC Associates Program, an affiliate advertising program designed to provide a means for us to earn fees by linking to Amazon.com and affiliated sites. As an Amazon affiliate I earn from qualifying purchases.
1. An Italian Girl in Brooklyn by Santa Montefiore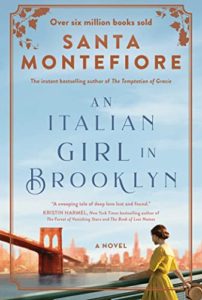 Setting: Northern Italy and New York City
New York, 1979.
It is Thanksgiving and Evelina has her close family and beloved friends gathered around, her heart weighted with gratitude for what she has and regret for what she has given up. She has lived in America for over thirty years, but she is still Italian in her soul.
Northern Italy, 1934.
Evelina leads a sheltered life with her parents and siblings in a villa of fading grandeur. When her elder sister Benedetta marries a banker, to suit her father's wishes rather than her own, Evelina swears that she will never marry out of duty. She knows nothing of romantic love, but when she meets Ezra, son of the local dressmaker, her heart recognises it like an old friend.
Evelina wants these carefree days to last forever. She wants to bask in sunshine, beauty, and love, and pay no heed to the grey clouds gathering on the horizon. But nothing lasts forever. The shadows of war are darkening over Europe and precious lives are under threat…
A touching story about a young woman who immigrates to New York City from Italy after devastating losses in World War II. Santa Montefiore is always a good choice for epic decade-spanning stories of familes and it was interesting in this instance to learn more about the Italian experience in WWII.
2. The Key to My Heart by Lia Louis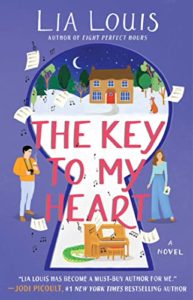 Setting: London, England
Sparkly and charming Natalie Fincher has it all—a handsome new husband, a fixer-upper cottage of her dreams, and the opportunity to tour with the musical she's spent years writing. But when her husband suddenly dies, all her hopes and dreams instantly disappear.
Two and a half years later, Natalie is still lost. She works, sleeps (well, as much as the sexually frustrated village foxes will allow), and sees friends just often enough to allay their worries, but her life is empty. And she can only bring herself to play music at a London train station's public piano where she can be anonymous. She's lost motivation, faith in love, in happiness…in everything.
But when someone begins to mysteriously leave the sheet music for her husband's favorite songs at the station's piano, Natalie begins to feel a sense of hope and excitement for the first time. As she investigates just who could be doing this, Natalie finds herself on an unexpected journey toward newfound love for herself, for life, and maybe, for a special someone.
A sweet, uplifting story about a young woman struggling with grief. Two and a half years after the death of her husband, Natalie feels empty despite the efforts of well-meaning family and friends and the only place that she can find a sense of peace is at a public piano in St. Pancras Station. When someone starts to mysteriously leave sheet music there for songs that were meaningful to her and Russ, it provides the spark she needs to open herself up to new friendships, a new life, possibly new love and most of all hope for the future. A heartwarming story about hope after loss and the healing power of music!
3. The Villa by Rachel Hawkins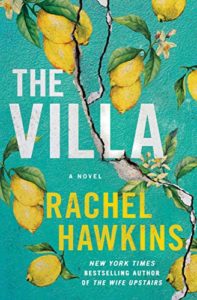 Setting: Orvieto, Italy
As kids, Emily and Chess were inseparable. But by their 30s, their bond has been strained by the demands of their adult lives. So when Chess suggests a girls trip to Italy, Emily jumps at the chance to reconnect with her best friend.
Villa Aestas in Orvieto is a high-end holiday home now, but in 1974, it was known as Villa Rosato, and rented for the summer by a notorious rock star, Noel Gordon. In an attempt to reignite his creative spark, Noel invites up-and-coming musician, Pierce Sheldon to join him, as well as Pierce's girlfriend, Mari, and her stepsister, Lara. But he also sets in motion a chain of events that leads to Mari writing one of the greatest horror novels of all time, Lara composing a platinum album––and ends in Pierce's brutal murder.
As Emily digs into the villa's complicated history, she begins to think there might be more to the story of that fateful summer in 1974. That perhaps Pierce's murder wasn't just a tale of sex, drugs, and rock & roll gone wrong, but that something more sinister might have occurred––and that there might be clues hidden in the now-iconic works that Mari and Lara left behind.
Yet the closer that Emily gets to the truth, the more tension she feels developing between her and Chess. As secrets from the past come to light, equally dangerous betrayals from the present also emerge––and it begins to look like the villa will claim another victim before the summer ends.
I would describe The Villa as more drama/suspense than thriller. It's an entertaining read but there are some plot holes and I was a bit disappointed by the ending – I thought I had it figured out and my ending would have been much more shocking!
4. Maame by Jessica George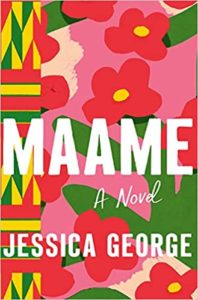 Setting: London, England
It's fair to say that Maddie's life in London is far from rewarding. With a mother who spends most of her time in Ghana (yet still somehow manages to be overbearing), Maddie is the primary caretaker for her father, who suffers from advanced stage Parkinson's. At work, her boss is a nightmare and Maddie is tired of always being the only Black person in every meeting.
When her mum returns from her latest trip to Ghana, Maddie leaps at the chance to get out of the family home and finally start living. A self-acknowledged late bloomer, she's ready to experience some important "firsts": She finds a flat share, says yes to after-work drinks, pushes for more recognition in her career, and throws herself into the bewildering world of internet dating. But it's not long before tragedy strikes, forcing Maddie to face the true nature of her unconventional family, and the perils––and rewards––of putting her heart on the line.
A touching debut novel about a young woman struggling to figure out who she is and where she belongs in the world. Maddie is a naive but relatable character learning to navigate young adulthood (with the help of friends and Google).
Like any young person, Maddie is dealing with friendships, flatmates, dating/relationships, and finding the right career path, however, she also deals with racism and microagressions at work, mental health issues, loss and grief and balancing her family's Ghanaian traditions with her life as a Londoner.
Maame is a well-written, enjoyable read about a young adult coming of age and "finding herself" – a story as beautiful as the book's cover!
Thank you to NetGalley for the digital ARC (Advance Review Copy)
5. Lost Souls of Leningrad by Suzanne Parry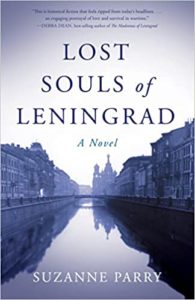 Setting: Leningrad (now St. Petersburg), Russia
June 1941. Hitler's armies race toward vulnerable Leningrad. In a matter of weeks, the Nazis surround the city, cut off the food supply, and launch a vicious bombardment. Widowed violinist Sofya Karavayeva and her teenage granddaughter, Yelena, are cornered in the crumbling city.
On Leningrad's outskirts, Admiral Vasili Antonov defends his homeland and fights for a future with Sofya. Meanwhile, Yelena's soldier fiancé transports food across the Ice Road—part of the desperate effort to save Leningrad. With their help, the two women inch toward survival, but the war still exacts a steep personal price, even as Sofya's reckoning with a family secret threatens to finish what Hitler started.
Lost Souls of Leningrad is a rare historical novel in that it focuses on the Russian experience in World War II particularly the brutal siege of Leningrad (now St. Petersburg) which lasted for nearly 900 days and claimed the lives of 800,000 civilians. It's a heartbreaking story of love, family, courage, and incredible endurance set amidst the despair and brutality of war.
A character-driven novel which focuses on the personal experience of the people of Leningrad rather than the military aspects of the siege with sometimes difficult to read details of the horror that the civilians in Leningrad faced during the siege – the scarcity of food, water, power and how it forced desperate people into brutal acts in order to survive particularly during the long, cold winter of 1941-2.
This is a well-written and well-researched novel by a scholar of Russian history who is a former European security specialist who studied Russian in Moscow and worked at the Pentagon where she helped negotiate the first security agreement of the Gorbachev era. I had only a superficial understanding of the Siege of Leningrad and this novel filled in many gaps in my knowledge of the brutality faced by the Russian people during WWII.
Thank you to NetGalley for the ARC.
6. Code Name Sapphire by Pam Jenoff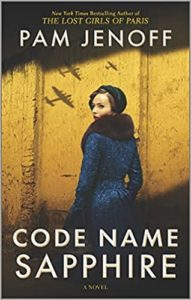 Setting: Belgium
1942. Hannah Martel has narrowly escaped Nazi Germany after her fiancé was killed in a pogrom. When her ship bound for America is turned away at port, she has nowhere to go but to her cousin Lily, who lives with her family in Brussels. Fearful for her life, Hannah is desperate to get out of occupied Europe. But with no safe way to leave, she must return to the dangerous underground work she thought she had left behind.

Seeking help, Hannah joins the Sapphire Line, a secret resistance network led by a mysterious woman named Micheline and her enigmatic brother Matteo. But when a grave mistake causes Lily's family to be arrested and slated for deportation to Auschwitz, Hannah finds herself torn between her loyalties. How much is Hannah willing to sacrifice to save the people she loves?
A World War II historical novel that is unique in that it takes place in Nazi-occupied Belgium and is based on a little-known real-life event involving members of the Belgian resistance stopping a train bound for the Auschwitz concentration camp and rescuing a number of Jewish prisoners. I appreciated learning more about little-known WWII events in this novel but I didn't feel a strong emotional connection to the characters – still an enjoyable read though.
7. The Night Travelers by Armando Lucas Correa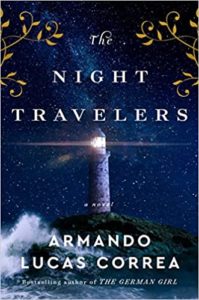 Setting: Berlin, Germany and Havana, Cuba
Berlin, 1931: Ally Keller, a talented young poet, is alone and scared when she gives birth to a mixed-race daughter she names Lilith. As the Nazis rise to power, Ally knows she must keep her baby in the shadows to protect her against Hitler's deadly ideology of Aryan purity. But as she grows, it becomes more and more difficult to keep Lilith hidden so Ally sets in motion a dangerous and desperate plan to send her daughter across the ocean to safety.
Havana, 1958: Now an adult, Lilith has few memories of her mother or her childhood in Germany. Besides, she's too excited for her future with her beloved Martin, a Cuban pilot with strong ties to the Batista government. But as the flames of revolution ignite, Lilith and her newborn daughter, Nadine, find themselves at a terrifying crossroads.
Berlin, 1988: As a scientist in Berlin, Nadine is dedicated to ensuring the dignity of the remains of all those who were murdered by the Nazis. Yet she has spent her entire lifetime avoiding the truth about her own family's history. It takes her daughter, Luna, to encourage Nadine to uncover the truth about the choices her mother and grandmother made to ensure the survival of their children. And it will fall to Luna to come to terms with a shocking betrayal that changes everything she thought she knew about her family's past.
A beautifully-written and deeply moving multigenerational story that spans the lives of four women against a backdrop of war and revolution beginning in 1930s Germany during the rise of fascism then moving to Cuba in the years leading up to the Revolution and then back to modern day Germany for the fall of the Berlin Wall. Through the four main characters (mother, daughter, grand-daughter and great-grand-daughter), the author explores love, war, loss, betrayal and the sacrifices that mothers will endure to protect their daughters.
8. The House of Eve by Sadeqa Johnson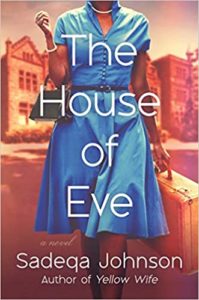 Setting: Philadelphia, Washington DC
1950s Philadelphia: fifteen-year-old Ruby Pearsall is on track to becoming the first in her family to attend college, in spite of having a mother more interested in keeping a man than raising a daughter. But a taboo love affair threatens to pull her back down into the poverty and desperation that has been passed on to her like a birthright.
Eleanor Quarles arrives in Washington, DC, with ambition and secrets. When she meets the handsome William Pride at Howard University, they fall madly in love. But William hails from one of DC's elite wealthy Black families, and his par­ents don't let just anyone into their fold. Eleanor hopes that a baby will make her finally feel at home in William's family and grant her the life she's been searching for. But having a baby—and fitting in—is easier said than done.
With their stories colliding in the most unexpected of ways, Ruby and Eleanor will both make decisions that shape the trajectory of their lives.
A captivating historical novel set in the late '40s/early '50s that delves into issues relating to motherhood, marriage, pregnancy loss, teen pregnancy and homes for unwed mothers from the perspective of two young black women.
The House of Eve is a beautifully written, thoroughly researched and empathetic look at the difficult choices relating to motherhood faced by young women in the 1950s and the impact that racism had on these choices. A memorable historical novel inspired by the author's own family history – emotional and enlightening!
Thank you to NetGalley for the ARC.
9. The Porcelain Moon by Janie Chang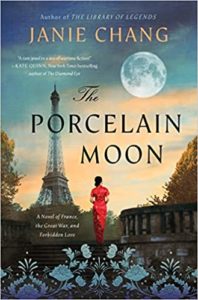 Setting: France
France, 1918. In the final days of the First World War, a young Chinese woman, Pauline Deng, runs away from her uncle's home in Paris to evade a marriage being arranged for her in Shanghai. To prevent the union, she needs the help of her cousin Theo, who is working as a translator for the Chinese Labour Corps in the French countryside.
In the town of Noyelles-sur-Mer, Camille Roussel is planning her escape from an abusive marriage, and to end a love affair that can no longer continue. When Camille offers Pauline a room for her stay, the two women become friends. But it's not long before Pauline uncovers a perilous secret that Camille has been hiding from her. As their dangerous situation escalates, the two women are forced to make a terrible decision that will bind them together for the rest of their lives.
As an avid reader of historical fiction, I often wonder if there's anything left to say about World Wars I or II but then I pick up a book like The Porcelain Moon and realize that there are many stories still to be told. Janie Chang's meticulously researched book revolves around a group that I knew nothing about – the Chinese Labour Corps (140,000 Chinese workers brought to Europe as non-combatant labour during WWI).
The story is beautifully-written and enlightening with respect to the use of Chinese labour during the war and the conditions these men endured. This is a slowly building/character driven story so not for anyone who likes a fast-paced plot. There are also serious issues addressed including racism and domestic abuse. Be sure to read the Author's Note as well for additional information about the Chinese Labour Corps that served in Europe during World War I.
10. Picture in the Sand by Peter Blaine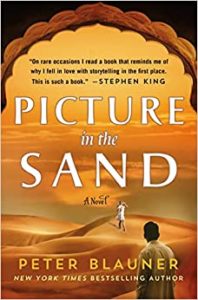 Setting: Egypt
When Alex Hassan gets accepted to an Ivy League university, his middle-class Egyptian-American family is filled with pride and excitement. But that joy turns to shock when they discover that he's run off to the Middle East to join a holy war instead. When he refuses to communicate with everyone else, his loving grandfather Ali emails him one last plea. If Alex will stay in touch, his grandfather will share with Alex – and only Alex – a manuscript containing the secret story of his own life that he's kept hidden from his family, until now.

It's the tale of his romantic and heartbreaking past rooted in Hollywood and the post-revolutionary Egypt of the 1950s, when young Ali was a movie fanatic who attained a dream job working for the legendary director Cecil B. DeMille on the set of his epic film, The Ten Commandments. But Ali's vision of a golden future as an American movie mogul gets upended when he is unwittingly caught up in a web of politics, espionage, and real-life events that change the course of history.

It's a narrative he's told no one for more than a half-century. But now he's forced to unearth the past to save a young man who's about to make the same tragic mistakes he made so long ago.
It took a little while to get into this story but once I did, I couldn't put it down! an incredible story set against the backdrop of political upheaval and the filming of Cecil B. DeMille's The Ten Commandments in Egypt in 1954. Well-written and well-researched, this gripping story takes place post-revolution and amidst continued conflict with the newly-formed state of Israel when Gamal Abdel Nasser is coming to power in Egypt.
It's a story about family, romance, espionage, political intrigue and the birth of modern day Islamic terrorism as well as a fascinating look at the making of movies. The suspense-filled narrative kept me reading into the night wanting to know what happened in 1954 as well as whether Ali's emails could bring his grandson home to family or whether he would be forever lost to jihad. Both entertaining and educational – a very worthwhile read!
11. The Seven Moons of Maali Almeida by Shehan Karunatilaka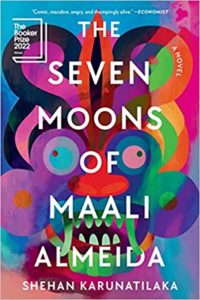 Setting: Sri Lanka
Colombo, 1990. Maali Almeida―war photographer, gambler, and closet queen―has woken up dead in what seems like a celestial visa office. His dismembered body is sinking in the serene Beira Lake and he has no idea who killed him. In a country where scores are settled by death squads, suicide bombers, and hired goons, the list of suspects is depressingly long, as the ghouls and ghosts with grudges who cluster round can attest. But even in the afterlife, time is running out for Maali. He has seven moons to contact the man and woman he loves most and lead them to the photos that will rock Sri Lanka.
The 2022 Booker Prize winner is a well-written, inventive, character-driven work of historical fiction told in the second person but not an easy read and not for everyone. It's magic realism and it's a murder mystery but it's also historical fiction exposing the carnage and corruption of Sri Lanka's civil war. There's graphic violence but it's tempered a bit by the dark humour. Not sure I can say that I enjoyed it but it was definitely an interesting, worthwhile read.
12. Age of Vice by Deepti Kapoor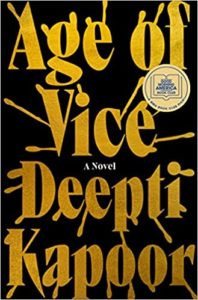 Setting: India
New Delhi, 3 a.m. A speeding Mercedes jumps the curb and in the blink of an eye, five people are dead. It's a rich man's car, but when the dust settles there is no rich man at all, just a shell-shocked servant who cannot explain the strange series of events that led to this crime. Nor can he foresee the dark drama that is about to unfold.

Deftly shifting through time and perspective in contemporary India, Age of Vice is an epic, action-packed story propelled by the seductive wealth, startling corruption, and bloodthirsty violence of the Wadia family — loved by some, loathed by others, feared by all.

In the shadow of lavish estates, extravagant parties, predatory business deals and calculated political influence, three lives become dangerously intertwined: Ajay is the watchful servant, born into poverty, who rises through the family's ranks. Sunny is the playboy heir who dreams of outshining his father, whatever the cost. And Neda is the curious journalist caught between morality and desire. Against a sweeping plot fueled by loss, pleasure, greed, yearning, violence and revenge, will these characters' connections become a path to escape, or a trigger of further destruction?
Buckle up because Age of Vice is a madcap and sometimes shocking ride through the underbelly of modern day India from the villages of Uttar Pradesh to New Delhi with a couple of side trips to Goa! It's a gripping story of ruthless power, political and moral corruption and organized crime in modern India – India's 'age of vice'. The ending is explosive yet leaves a fair bit unresolved as this is apparently the first book in a planned trilogy. It's not perfect and it's a bit too long but overall a riveting read by a talented writer.
13. The Last Resort by Sarah Stodola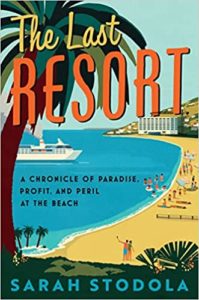 With its promise of escape from the strains of everyday life, the beach has a hold on the popular imagination as the ultimate paradise. In The Last Resort, Sarah Stodola dives into the psyche of the beachgoer and gets to the heart of what drives humans to seek out the sand. At the same time, she grapples with the darker realities of resort culture: strangleholds on local economies, reckless construction, erosion of beaches, weighty carbon footprints, and the inevitable overdevelopment and decline that comes with a soaring demand for popular shorelines.
The Last Resort weaves Stodola's firsthand travel notes with her exacting journalism in an enthralling report on the past, present, and future of coastal travel.She takes us from Monte Carlo, where the pursuit of pleasure first became part of the beach resort experience, to a village in Fiji that was changed irrevocably by the opening of a single resort; from the overdevelopment that stripped Acapulco of its reputation for exclusivity to Miami Beach, where extreme measures are underway to prevent the barrier island from vanishing into the ocean.
An interesting, well-researched look at the history of the beach resort and beach culture including the problems associated with overdevelopment as well as climate change. I expected more information on solutions but only the final two chapters briefly discuss the changes that need to be made to save the industry and what the future might look like for beach resorts.
14. The Sleeping Car Porter by Suzette Mayr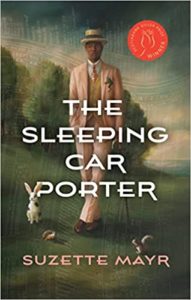 Setting: Train from Montreal to Vancouver
Baxter's name isn't George. But it's 1929, and Baxter is lucky enough, as a Black man, to have a job as a sleeping car porter on a train that crisscrosses the country. So when the passengers call him George, he has to just smile and nod and act invisible. What he really wants is to go to dentistry school, but he'll have to save up a lot of nickel and dime tips to get there, so he puts up with "George."
On this particular trip out west, the passengers are more unruly than usual, especially when the train is stalled for two extra days; their secrets start to leak out and blur with the sleep-deprivation hallucinations Baxter is having. When he finds a naughty postcard of two queer men, Baxter's memories and longings are reawakened; keeping it puts his job in peril, but he can't part with the postcard or his thoughts of Edwin Drew, Porter Instructor.
Winner of the 2022 Scotiabank Giller Prize for Canadian literature, The Sleeping Car Porter is a compelling historical novel that shines a light on an unfamiliar aspect of Canadian history. A very well-written novel with an undercurrent of sadness that brings to life the story of someone who traditionally would have been a background character in history – a gay, black man working in the service industry – and provides a glimpse of the prejudicial treatment he endured.
15. Typecast by Andrea J. Stein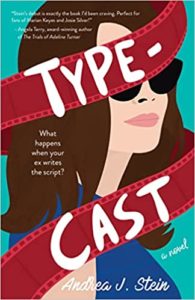 Setting: New Jersey
At thirty-one, Callie Dressler is finally comfortable in her own skin. She loves her job as a preschool teacher, and although living in her vacant childhood home isn't necessarily what dreams are made of, the space is something she never could have afforded if she'd stayed in New York City. She knows her well-ordered life will be upended when her type A, pregnant sister, Nina; adorable four-year-old niece; and workaholic brother-in-law move in, but how could she say no when they needed a place to crash during their remodel? As Nina pointed out, it's still their parents' house, even if their mom and dad have relocated.
As if adjusting to this new living situation isn't enough, the universe sends Callie another wrinkle: her college boyfriend—who Callie dumped ten years earlier for reasons known only to her—has a film coming out, and the screenplay is based on their real-life breakup. While the movie consumes her thoughts, Callie can't help wondering if Nina and her friends are right that she hasn't moved on. When a complication with Nina's pregnancy brings Callie in close contact with Nina's smart and funny architect, Callie realizes she'd better figure out whether she wants to open the door to the past—or risk missing out on her future.
Typecast is as much about family dynamics, friendship and Callie's growth as a person and in her career as it is about romance. Callie has been a bit stuck for years and Ethan's movie is the nudge she needs to contemplate what she wants in her life and to take control and make it happen. While there's the question of whether she might rekindle her relationship with Ethan, there is also a romantic storyline with her sister's architect but it's a very slow burn. An enjoyable read about a woman in her '30s figuring out life and finding happiness!
I received a review copy of Typecast.
16. River Sing Me Home by Eleanor Shearer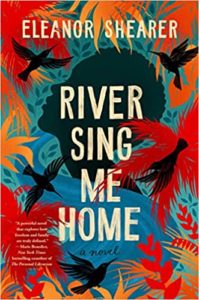 Setting: Barbados, British Guiana, and Trinidad
The master of the Providence plantation in Barbados gathers his slaves and announces the king has decreed an end to slavery. As of the following day, the Emancipation Act of 1834 will come into effect. The cries of joy fall silent when he announces that they are no longer his slaves; they are now his apprentices. No one can leave. They must work for him for another six years. Freedom is just another name for the life they have always lived. So Rachel runs.

Away from Providence, she begins a desperate search to find her children—the five who survived birth and were sold. Are any of them still alive? Rachel has to know. The grueling, dangerous journey takes her from Barbados then, by river, deep into the forest of British Guiana and finally across the sea to Trinidad. She is driven on by the certainty that a mother cannot be truly free without knowing what has become of her children, even if the answer is more than she can bear. These are the stories of Mary Grace, Micah, Thomas Augustus, Cherry Jane and Mercy. But above all this is the story of Rachel and the extraordinary lengths to which a mother will go to find her children…and her freedom.
A moving debut novel about motherhood, loss, resilience and what it means to be free. Throughout Rachel's perilous journey, Rachel is steadfast in her belief that a mother cannot be free until she knows what happened to each of her children even if that means facing devastating loss. River Sing Me Home is both heartbreaking and hopeful and also a powerful history lesson based on the stories of many women who travelled the islands in the aftermath of slavery searching for the children taken from them.
17. The Other Daughter by Caroline Bishop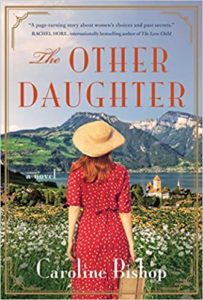 Setting: London, UK and Switzerland
2016. Jess is at a crossroads in life. In her late thirties, all she has to show for it is a broken marriage and a job teaching a bunch of uninterested kids. But when she discovers a shocking secret about her late mother, Sylvia, Jess begins to question all she's ever known. Her search for answers leads to a 1970s article about women's rights in Switzerland that Sylvia wrote when she was a young journalist. But to uncover the real story of what happened all those years ago, Jess will have to go to Switzerland and find someone who knew her mother…

1976. Sylvia's life is on track. She has a loving fiancé and her dream job as a features writer in a busy London newsroom—if only her editor would give her the chance to write about something important instead of relegating her to fashion, flowers, and celebrities. When Sylvia learns about the growing women's liberation movement in Switzerland, where women only recently got the right to vote, she knows the story could be her big break. There's just one wrinkle: she's pregnant.

Determined to put her career first, Sylvia travels to Switzerland, and as she meets the courageous band of women fighting for their rights, she stumbles across an even bigger scoop, one that would make her male colleagues take her seriously. But telling the story will change her—and her baby's—life forever.
A well-written and educational historical fiction novel about the women's rights movement in Switzerland, mother/daughter relationships and decisions about becoming a mother. I was drawn to this book because of the setting – it's the first historical novel that I've come across set in Switzerland. It was quite interesting to learn some of the history and political issues relating to the fight for women's rights in 1970s Switzerland and the obstacles faced by working women who wanted to have careers at that time.
18. Reasonable Adults by Robin Lefler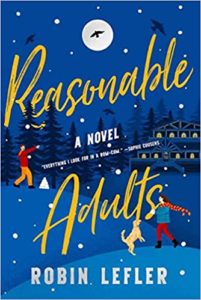 Setting: Muskoka, Ontario, Canada
Everything has fallen apart for Kate Rigsby: she is freshly single—separated from an ex she never really liked—and freshly fired—from a job she never really liked, either. Somehow, she's reached the age of thirty-one and the only things she truly cares about are her goldendoodle, Eric, her two best friends, and proving to her parents (and, if she's honest, to herself) that she made the right choice moving to the city. Except, instead of thriving, she finds that her life has taken a nose-dive.
So when a job at Treetops Creative Retreat suddenly lands in her lap, she's thrilled. Three months at a glorified arts and crafts workshop for grown-ups that boasts five-star cuisine and a helipad, and she'll be well paid? The perfect escape. So what if her contract spans the depths of winter? Neat! A charming life experience! She can learn to snowshoe.
But when Kate arrives at the retreat, nothing is as she imagined. She didn't read the fine print, her targets are impossible, her boss seems committed to seeing her fail and there happens to be an extremely off-limits fellow staffer who has no business being so gorgeous.
An enjoyable debut that's part rom-com and part journey to self-discovery for a woman in her '30s. This is a cute read – I loved the Muskoka cottage country setting plus there's an adorable dog!!
19. Maureen by Rachel Joyce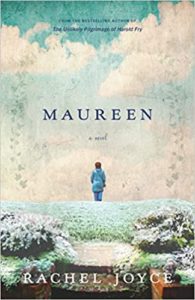 Setting: England
Ten years ago, Harold Fry set off on a six-hundred-mile walk to save a friend. But the story doesn't end there. Now his wife, Maureen, has her own pilgrimage to make.

Only she can finish the journey her husband started.

Maureen and Harold Fry have settled into a quiet life, but when an unexpected message from the North disturbs their peaceful equilibrium, Maureen realizes that it's now her turn to make a journey. But she is not like her affable, easygoing husband. By turns outspoken, then vulnerable, she struggles to form bonds with the people she meets—and the landscape she crosses has radically changed. Maureen has no sense of what she will find at the end of the road. All she knows is that she has to get there.
A moving conclusion to the Harold Fry trilogy in which his wife, Maureen, finally comes to terms with all that has happened in the past 30 years. Ten years after Harold's pilgrimage, Maureen takes a journey of her own to the north of England to see Queenie's garden and learns to rely on the kindness of strangers along the way. A life-affirming, empathetic novella about motherhood and grief that can be read in one sitting.
20. The Bandit Queens by Parini Shroff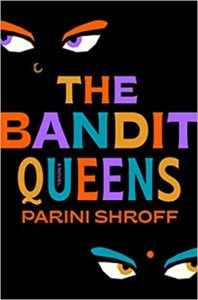 Setting: India
Five years ago, Geeta lost her no-good husband. As in, she actually lost him—he walked out on her and she has no idea where he is. But in her remote village in India, rumor has it that Geeta killed him. And it's a rumor that just won't die.

It turns out that being known as a "self-made" widow comes with some perks. No one messes with her, harasses her, or tries to control (ahem, marry) her. It's even been good for business; no one dares to not buy her jewelry.

Freedom must look good on Geeta, because now other women are asking for her"expertise," making her an unwitting consultant for husband disposal.

And not all of them are asking nicely.

With Geeta's dangerous reputation becoming a double-edged sword, she has to find a way to protect the life she's built—but even the best-laid plans of would-be widows tend to go awry. What happens next sets in motion a chain of events that will change everything, not just for Geeta, but for all the women in their village.
This is quite an enjoyable debut novel about a group of women living in a small village in India. The plot in The Bandit Queens touches on a number of serious issues in modern day India including poverty, alcoholism, domestic abuse, sexual assault, the caste system, and women's rights but it's told with a dark humour that tempers the sadness of the storylines. The result is a feel-good story of empowerment as the women take charge of their lives and discover that female friendship will provide the strength they need to deal with difficult circumstances.
21. Factory Girls by Michelle Gallen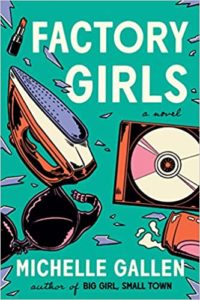 Setting: Northern Ireland
It's the summer of 1994, and all smart-mouthed Maeve Murray wants are good final exam results so she can earn her ticket out of the wee Northern Irish town she has grown up in during the Troubles. She hopes she will soon be in London studying journalism—away from her crowded home, the silence and sadness surrounding her sister's death, and most of all, away from the violence of her divided community.
As a first step, Maeve's taken a job in a shirt factory working alongside Protestants with her best friends. But getting the right exam results is only part of Maeve's problem—she's got to survive a tit-for-tat paramilitary campaign, iron 100 shirts an hour all day every day, and deal with the attentions of Handy Andy Strawbridge, her slick and untrustworthy English boss.
Then, as the British loyalist marching season raises tensions among the Catholic and Protestant workforce, Maeve realizes something is going on behind the scenes at the factory. What seems to be a great opportunity to earn money turns out to be a crucible in which Maeve faces the test of a lifetime. Seeking justice for herself and her fellow workers may just be Maeve's one-way ticket out of town.
I've read several books that take place during The Troubles but this is the first written from the point of view of a teenager who has grown up knowing nothing else – a world where bombings and murder are commonplace. It was that perspective that I enjoyed most about this novel.
I received a digital ARC (Advance Review Copy) from NetGalley.
Pin This For Later