The days are shorter, the weather is cooler and it's time to cozy up with a good book for some post-holiday reading and to chip away at our 2022 reading lists. This list includes historical fiction, romance, cozy mysteries and thrillers, general fiction and a memoir and all are books that I have personally read and can recommend.
21 of the Best Books to Read This Winter (2023)
21 Books Set in Cold and Snowy Destinations To Read This Winter
15 Books To Read Winter 2020 – A Travel Inspired List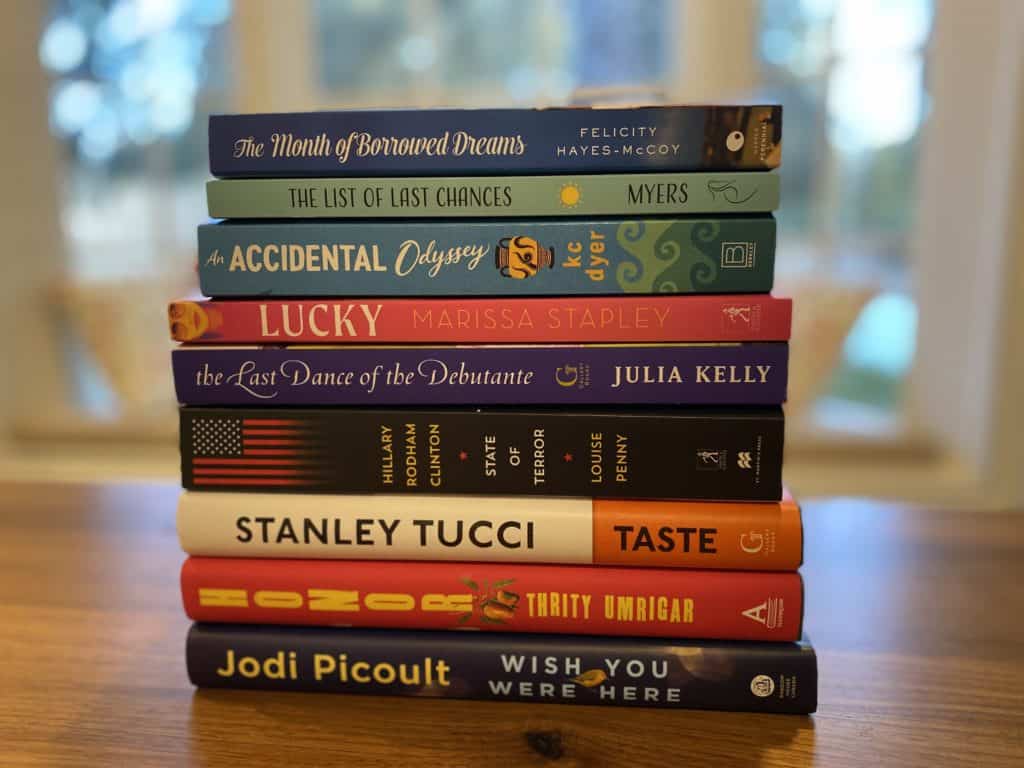 This post may contain affiliate links. If you click an affiliate link and make a purchase then we receive a small commission at no additional cost to you.
We are a participant in the Amazon Services LLC Associates Program, an affiliate advertising program designed to provide a means for us to earn fees by linking to Amazon.com and affiliated sites. As an Amazon affiliate I earn from qualifying purchases.
1. The Postmistress of Paris by Meg Waite Clayton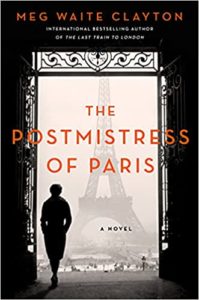 Setting: Paris, France
Wealthy, beautiful Naneé was born with a spirit of adventure. For her, learning to fly is freedom. When German tanks roll across the border and into Paris, this woman with an adorable dog and a generous heart joins the resistance. Known as the Postmistress because she delivers information to those in hiding, Naneé uses her charms and skill to house the hunted and deliver them to safety.
Photographer Edouard Moss has escaped Germany with his young daughter only to be interned in a French labor camp. His life collides with Nanée's in this sweeping tale of romance and danger set in a world aflame with personal and political passion.
Inspired by the real life Chicago heiress Mary Jayne Gold, who worked with American journalist Varian Fry to smuggle artists and intellectuals out of France, The Postmistress of Paris is the haunting story of an indomitable woman whose strength, bravery, and love is a beacon of hope in a time of terror.
A fascinating and suspenseful WWII historical novel about a wealthy young American woman helping artists escape from France following the Nazi occupation in 1940. This is the sort of novel where I love reading the author's notes at the end of the book as they invariably send me down a rabbit hole of Google searches to learn more about some of the real life people involved.
2. The Month of Borrowed Dreams by Felicity Hayes-McCoy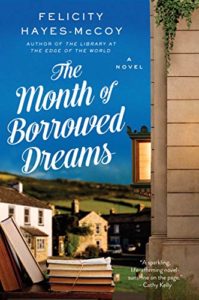 Setting: A fictional location on Ireland's West Coast
On the Finfarran Peninsula on Ireland's west coast, the blue skies and warmer days of summer are almost here. At the Lissbeg Library, Hanna Casey has big plans for the long days ahead. Beginning with the film adaptation of Brooklyn, she's starting a cinema club, showing movies based on popular novels her friends and neighbors love.
But the drama that soon unfolds in this close-knit seaside village rivals any on the screen.
As the club prepares for the first meeting of the summer, they'll all face difficult choices. But will they get the happy endings they deserve?
Another charming addition to Felicity Hayes-McCoy's Finfarran Peninsula series about a small community on the west coast of Ireland. The author is brilliant at describing the landscape of western Ireland and bringing the people of the community to life and, although Finfarran is fictional, this series will definitely make you want to visit.
It's possible to read this book as a standalone but it will be much more satisfying to begin with the first in the series, The Library at the Edge of the World, as the storylines of the main characters progress from book to book. I'm already looking forward to the next in the series which will be published in North America this summer!
3. An Accidental Odyssey by KC Dyer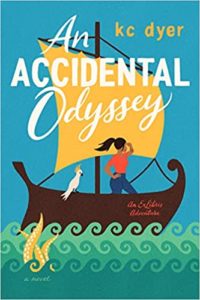 Setting: Greece and Italy
Gianna Kostas is on the cusp of a fairy-tale life. Sure, she's just lost her job, but she's about to marry one of New York's most eligible bachelors. On her way to taste wedding cakes, though, things go sideways. Shocking news sends Gia off on a wild journey halfway around the world in pursuit of her ailing—and nearly estranged—father.
In Athens, she learns Dr. Kostas, a classics professor, is determined to retrace Odysseus's famous voyage. This is a journey her father is in no condition to take alone, so Gia faces a tough decision. When an unexpected job offer helps seal the deal and quash the guilt Gia feels from her disapproving groom-to-be, the journey is on. But as Gia adventures—and eats—her way around the Mediterranean, she discovers that confronting epic storms and ripped surfer dudes might be the easy part.
Along the way, as she uncovers family secrets, finds heartbreak, and learns more about a certain archaeologist with a mysterious past of his own, Gia discovers that fairy-tale endings might be messy and complicated, but they can happen anywhere.
A fun read for anyone in the mood for some armchair travel! This is the second in K.C. Dyer's rom-com series "An Ex Libris Adventure" centred around a company that organizes literary travel adventures. (The first is Eighty Days to Elsewhere.) While retracing Odysseus's famous voyage with her father, Gia also lands an assignment for a magazine writing a series about food in the Mediterranean so there's an abundance of mouthwatering descriptions of meals as she and her father travel through Greece and Italy. Reading about Gia's accidental odyssey will inspire you to pack bags and book flights!!
4. Violeta by Isabel Allende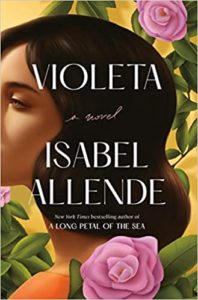 Setting: South America (Chile but not explicitly stated)
Violeta comes into the world on a stormy day in 1920, the first girl in a family with five boisterous sons. From the start, her life is marked by extraordinary events, for the ripples of the Great War are still being felt, even as the Spanish flu arrives on the shores of her South American homeland almost at the moment of her birth.
Through her father's prescience, the family will come through that crisis unscathed, only to face a new one as the Great Depression transforms the genteel city life she has known. Her family loses everything and is forced to retreat to a wild and beautiful but remote part of the country. There, she will come of age, and her first suitor will come calling.
She tells her story in the form of a letter to someone she loves above all others, recounting times of devastating heartbreak and passionate affairs, poverty and wealth, terrible loss and immense joy. Her life is shaped by some of the most important events of history: the fight for women's rights, the rise and fall of tyrants, and ultimately not one, but two pandemics.
A beautifully-written novel by Isabel Allende telling the epic story of 100 year-old Violeta Del Valle. Told as a letter written to her grandson, Violeta weaves together her personal history of love and loss with the historical events that shaped her life including the depression, the fight for women's rights, a military coup and the eventual fall of a dictator as well as the two pandemics that bookended her life. The South American country is not specified but it's clearly Chile from the geographical description and historical events that take place over the century.
5. Just Haven't Met You Yet by Sophie Cousens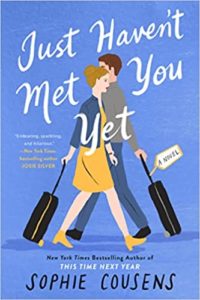 Setting: Jersey, Channel Islands
Hopeless romantic and lifestyle reporter Laura's business trip to the Channel Islands isn't off to a great start. After an embarrassing encounter with the most attractive man she's ever seen in real life, she arrives at her hotel and realizes she's grabbed the wrong suitcase from the airport. Her only consolation is its irresistible contents, each of which intrigues her more and more. The owner of this suitcase is clearly Laura's dream man. Now, all she has to do is find him.

Besides, what are the odds that she'd find The One on the same island where her parents first met and fell in love, especially as she sets out to write an article about their romance? Commissioning surly cab driver Ted to ferry her around seems like her best bet in both tracking down the mystery suitcase owner and retracing her parents' footsteps. But as Laura's mystery man proves difficult to find—and as she uncovers family secrets—she may have to reimagine the life, and love, she always thought she wanted.
I picked this book because it takes place on Jersey in the Channel Islands and it sounded like a fun rom-com with an interesting premise. It is a sweet romance that's laugh-out-loud funny in places and I'm still keen to visit the Channel Islands after reading it but it's also a much deeper heartfelt story about grief and family memories that left me in tears as often as it had me laughing.
And I absolutely loved the sentiment from the last line of the book: "I have no illusions about happily ever afters – I know life will bring its challenges and nothing is forever – but I hope we might be happy today, and for as many todays as we are lucky enough to have".
6. Last Dance of the Debutante by Julia Kelly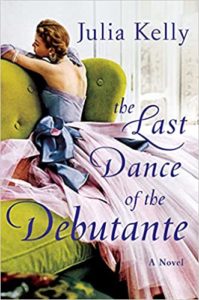 Setting: London, England
When it's announced that 1958 will be the last year debutantes are to be presented at court, thousands of eager mothers and hopeful daughters flood the palace with letters seeking the year's most coveted invitation: a chance for their daughters to curtsey to the young Queen Elizabeth and officially come out into society.
In an effort to appease her traditional mother, aspiring university student Lily Nichols agrees to become a debutante and do the Season, a glittering and grueling string of countless balls and cocktail parties. In doing so, she befriends two very different women: the cool and aloof Leana Hartford whose apparent perfection hides a darker side and the ambitious Katherine Norman who dreams of a career once she helps her parents find their place among the elite.
But the glorious effervescence of the Season evaporates once Lily learns a devastating secret that threatens to destroy her entire family. Faced with a dark past, she's forced to ask herself what really matters: her family legacy or her own happiness.
Another well-researched and entertaining historical novel from Julia Kelly that looks at the lives of young women during a time when society is undergoing significant change. This time she takes us into the world of debutantes in London during the 1958 "Season" – the last when debs were presented to the Queen.
The Last Dance of the Debutante is a story about glamorous parties, exquisite gowns, and handsome escorts as well as the flip side of the debutante's life – exhaustion, gossip and pressure. It's a story of female friendship and of romance but also a story about the changes that started taking place in society in the late 1950s. As Lily and her debutante friends progress from presentations to cocktail parties to grand balls, the societal conflict between a traditional and a more modern way of life for young women becomes apparent and some dare to ask themselves what they want in their lives and whether personal happiness or family legacy matters most.
7. Reckless Girls by Rachel Hawkins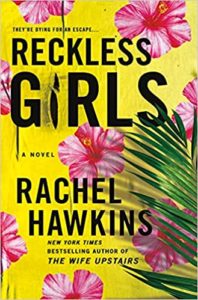 Setting: An isolated Pacific island
Beautiful, wild, and strange-Meroe Island is a desolate spot in the middle of the Pacific Ocean with a mysterious history of shipwrecks, cannibalism, and even rumors of murder. It"s the perfect destination for the most adventurous traveler to escape everything… except the truth.
Six stunning twentysomethings are about to embark on a blissful, free-spirited journey-one filled with sun-drenched days and intoxicating nights. But as it becomes clear that the group is even more cut off from civilization than they initially thought, it starts to feel like the island itself is closing in, sending them on a dangerous spiral of discovery.
When one person goes missing and another turns up dead, the remaining friends wonder what dark currents lie beneath this impenetrable paradise-and who else will be swept under its secluded chaos. With its island gothic sensibility, sexy suspense, and spine-tingling reimagining of an Agatha Christie classic, Reckless Girls will wreck you.
A bunch of twenty-somethings are vacationing on a remote, deserted island in the South Pacific when things take a sinister turn. This is a quick, easy read and I binged it in one evening because I knew I wouldn't sleep if I didn't know how it turned out. I was able to predict the plot twist several chapters before it happened and the ending of the book is preposterous but still an entertaining read.
8. State of Terror by Louise Penny and Hillary Rodham Clinton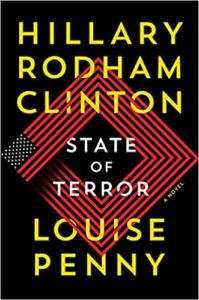 Setting: Washington, DC and other locations
State of Terror follows a novice Secretary of State who has joined the administration of her rival, a president inaugurated after four years of American leadership that shrank from the world stage. A series of terrorist attacks throws the global order into disarray, and the secretary is tasked with assembling a team to unravel the deadly conspiracy, a scheme carefully designed to take advantage of an American government dangerously out of touch and out of power in the places where it counts the most.
This high-stakes thriller of international intrigue features behind-the-scenes global drama informed by details only an insider could know.
I loved this political thriller about Secretary of State Ellen Adams, her life-long friend Betsy and several others who are in a race to thwart a devastating terror attack on the U.S! It's a riveting page-turner with strong female characters and an all too plausible terrorist plot.
I raced through the book (even though it's nearly 500 pages in length) as I was completely absorbed in the twists and turns of the story. Woven into the plot is a reminder that democracy can never be taken for granted and towards the end there's even a little nod to the Quebec village of Three Pines from Louise Penny's best-selling Inspector Gamache crime series. I would definitely read a sequel if these two ladies decide to collaborate on another novel!
9. Greenwich Park by Katherine Faulkner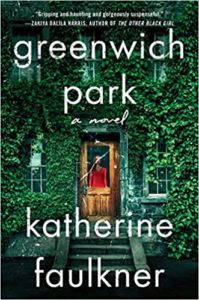 Setting: Greenwich (London), England
Helen's idyllic life—handsome architect husband, gorgeous Victorian house, and cherished baby on the way (after years of trying)—begins to change the day she attends her first prenatal class and meets Rachel, an unpredictable single mother-to-be. Rachel doesn't seem very maternal: she smokes, drinks, and professes little interest in parenthood. Still, Helen is drawn to her. Maybe Rachel just needs a friend. And to be honest, Helen's a bit lonely herself. At least Rachel is fun to be with. She makes Helen laugh, invites her confidences, and distracts her from her fears.
But her increasingly erratic behavior is unsettling. And Helen's not the only one who's noticed. Her friends and family begin to suspect that her strange new friend may be linked to their shared history in unexpected ways. When Rachel threatens to expose a past crime that could destroy all of their lives, it becomes clear that there are more than a few secrets laying beneath the broad-leaved trees and warm lamplight of Greenwich Park.
Greenwich Park is a gripping, thrilling read that I found impossible to put down because of the constant sense that I had that something bad was about to happen! I anticipated most of the plot twists but was taken completely by surprise by aspects of the ending. This was an impressive debut – can't wait for Faulkner's next novel!
Thank you to NetGalley for the digital ARC (Advanced Review Copy) of this book.
10. Call of the Penguins by Hazel Prior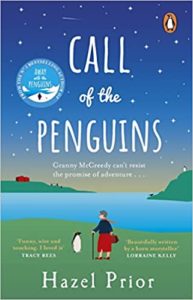 Setting: Scotland, Australia, Antarctica and Falkland Islands
Nine-year-old Daisy and nearly ninety-year-old Veronica make an unlikely pair of friends.
Fiercely independent and impeccably dressed, Veronica has lived an incredible 87 years. Most of them alone, in her huge house by the sea. But with the arrival of brave and resilient Daisy into her life, Veronica finds she has a renewed thirst for adventure – and that they both share a passion for penguins!
So when Veronica and Daisy are invited to travel to the other side of the world together and visit the penguins of the southern hemisphere, they both jump at the chance.
I thoroughly enjoyed catching up with Veronica, a Scottish curmudgeon in her 80s who travelled to Antarctica after watching a documentary on penguins in How the Penguins Saved Veronica. Call of the Penguins is another uplifting story about making the most of every moment of your life with a strong message about the importance of acting to protect the environment now for future generations but you do need to have read the first book to fully enjoy this follow-up.
11. Freckles by Cecilia Ahern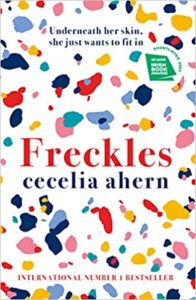 Setting: Ireland
Sometimes the people who have the power to change your life are the ones who have been there all along….
Like stars in the dark skies above the tiny island where she grew up, freckles scatter Allegra Bird's arms, a link to her beloved father. She's never known her mother.
In a quest to find the one thing she's missing she's begun a new life in Dublin.
But she's left a lot behind.
So when a stranger tells her she's the sum of five people – the five people she spends the most time with – she's suddenly no longer seeking one person. She's looking for five. And the truth lies in unexpected places….
Allegra (aka Freckles) is a socially awkward young woman from a small island off Ireland's Atlantic coast trying to find her way in the world while working as a parking warden in the suburbs of Dublin. After a stranger comments that everyone is the average of the five people they spend the most time with, Freckles realizes her father might be her only person and becomes obsessed with finding four more people who will improve her life. At times, heartbreaking, funny and thought-provoking, Freckles is ultimately an uplifting/feel-good coming of age story about loneliness and the importance that connections to people play in all of our lives.
12. Hotel Portofino by J.P. O'Connell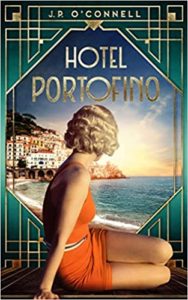 Setting: Italian Riviera
Hotel Portofino has been open for only a few weeks, but already the problems are mounting for its owner Bella Ainsworth. Her high-class guests are demanding and hard to please. And she's being targeted by a scheming and corrupt local politician, who threatens to drag her into the red-hot cauldron of Mussolini's Italy.
To make matters worse, her marriage is in trouble, and her children are still struggling to recover from the repercussions of the Great War. All eyes are on the arrival of a potential love match for her son Lucian, but events don't go to plan, which will have far reaching consequences for the whole family.
An enjoyable, character-driven historical drama set at a small luxury hotel owned by a British family in the glamorous Italian Riviera of the 1920's. Drama, romance and intrigue set against a backdrop of the rise of fascism in Mussolini's Italy with an extensive cast of characters including the family, staff, guests of the hotel and various residents of Portofino including a corrupt local politician. A 6 episode series based on the book has been released on PBS and I fully expect it to be visually stunning!
13. The Way We Weren't by Phoebe Fox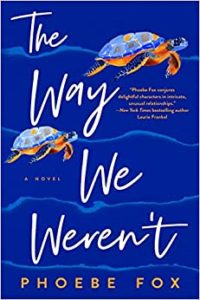 Setting: Florida
"You trying to kill yourself, or are you just stupid?"

Marcie Malone didn't think she was either, but when she drives from Georgia to the southwestern shore of Florida without a plan and wakes up in a stranger's home, she doesn't seem to know anymore. Despondent and heartbroken over an unexpected loss and the man she thought she could count on, Marcie leaves him behind, along with her job and her whole life, and finds she has nowhere to go.

Herman Flint has seen just about everything in his seventy years living in a fading, blue-collar Florida town, but the body collapsed on the beach outside his window is something new. The woman is clearly in some kind of trouble and Flint wants no part of it—he's learned to live on his own just fine, without the hassle of worrying about others. But against his better judgment he takes Marcie in and lets her stay until she's on her feet on the condition she keeps out of his way.

As the unlikely pair slowly copes with the damage life has wrought, Marcie and Flint have to decide whether to face up to the past they've each been running from, and find a way to move forward with the people they care about most.
I love a story about a grumpy old man who's hiding from the world to avoid his feelings! The Way We Weren't is a sweet story of the unlikely friendship that develops between the two, making peace with the past and finding hope for the future. Plus there's sea turtles!!
14. Honor by Thrity Umrigar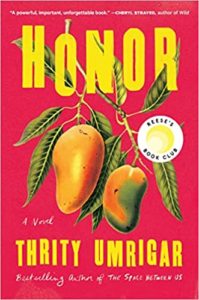 Setting: India
Indian American journalist Smita has returned to India to cover a story, but reluctantly: long ago she and her family left the country with no intention of ever coming back. As she follows the case of Meena—a Hindu woman attacked by members of her own village and her own family for marrying a Muslim man—Smita comes face to face with a society where tradition carries more weight than one's own heart, and a story that threatens to unearth the painful secrets of Smita's own past.
While Meena's fate hangs in the balance, Smita tries in every way she can to right the scales. She also finds herself increasingly drawn to Mohan, an Indian man she meets while on assignment. But the dual love stories of Honor are as different as the cultures of Meena and Smita themselves: Smita realizes she has the freedom to enter into a casual affair, knowing she can decide later how much it means to her.
Honor is a sad and beautifully written story about the injustices suffered by women and girls in rural Indian villages in the name of tradition and a distorted sense of honor but it's also a story of love and of hope. As I was reading, I couldn't help thinking of Rohinton Mistry's great novel and the idea that it's a fine balance between hope and despair – in this case, despair at the brutal treatment of Meena for loving someone her brothers and community deemed unsuitable and hope that bringing attention to the injustice will mean a brighter future for Meena's daughter and girls like her.
15. Lucky by Marissa Stapley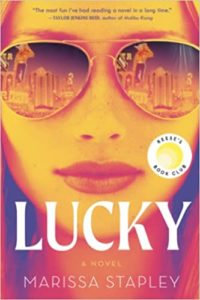 Setting: Various locations in the U.S.
Lucky Armstrong is a tough, talented grifter who has just pulled off a million-dollar heist with her boyfriend, Cary. She's ready to start a brand-new life, with a new identity—when things go sideways. Lucky finds herself alone for the first time, navigating the world without the help of either her father or her boyfriend, the two figures from whom she's learned the art of the scam.
When she discovers that a lottery ticket she bought on a whim is worth millions, her elation is tempered by one big problem: cashing in the winning ticket means she'll be arrested for her crimes. She'll go to prison, with no chance to redeem her fortune.
As Lucky tries to avoid capture and make a future for herself, she must confront her past by reconciling with her father; finding her mother, who abandoned her when she was just a baby; and coming to terms with the man she thought she loved—whose dark past is catching up with her, too.
An entertaining read about a young woman raised by a grifter father who now finds herself alone after pulling off a million dollar heist with her boyfriend. Lucky discovers that she has a lottery ticket worth millions but needs a plan to cash in the ticket without getting arrested for her crimes. The story alternates between two converging timelines – present day and Lucky's life from birth until the crime that landed her in her current predicament.
One can't help but root for Lucky to find her way out of this mess despite the fact that she's a criminal who takes advantage of people. Lucky is not a bad person and all she has ever wanted is to put down roots someplace and live a normal life. From the moment that she was found abandoned on the steps of a church in New York City, Lucky never really stood a chance and, as a reader, you'll want her to find a way to turn her life around and start anew.
16. Taste: My Life Through Food by Stanley Tucci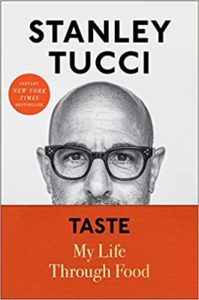 Stanley Tucci grew up in an Italian American family that spent every night around the kitchen table. He shared the magic of those meals with us in The Tucci Cookbook and The Tucci Table, and now he takes us beyond the savory recipes and into the compelling stories behind them.​
Taste is a reflection on the intersection of food and life, filled with anecdotes about his growing up in Westchester, New York; preparing for and shooting the foodie films Big Night and Julie & Julia; falling in love over dinner; and teaming up with his wife to create meals for a multitude of children. Each morsel of this gastronomic journey through good times and bad, five-star meals and burned dishes, is as heartfelt and delicious as the last.
Taste is an entertaining read which is essentially Tucci's musings about his life and food with his favourite recipes thrown in for good measure. There's a charming conversational tone to the book and his passion for food comes across on every page. I don't generally listen to audibooks, but as I was reading Taste I could hear Tucci's voice in my head and I found myself wishing that I had listened to this on audio as I'm sure it would have been even better hearing him tell his stories.
17. The Maid by Nita Prose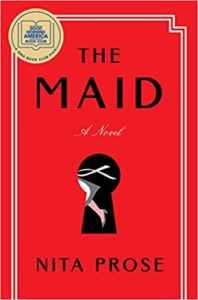 Setting: An upscale hotel in an unspecified city
Molly Gray is not like everyone else. She struggles with social skills and misreads the intentions of others. Her gran used to interpret the world for her, codifying it into simple rules that Molly could live by.
Since Gran died a few months ago, twenty-five-year-old Molly has been navigating life's complexities all by herself. No matter—she throws herself with gusto into her work as a hotel maid. Her unique character, along with her obsessive love of cleaning and proper etiquette, make her an ideal fit for the job. She delights in donning her crisp uniform each morning, stocking her cart with miniature soaps and bottles, and returning guest rooms at the Regency Grand Hotel to a state of perfection.
But Molly's orderly life is upended the day she enters the suite of the infamous and wealthy Charles Black, only to find it in a state of disarray and Mr. Black himself dead in his bed. Before she knows what's happening, Molly's unusual demeanor has the police targeting her as their lead suspect. She quickly finds herself caught in a web of deception, one she has no idea how to untangle. Fortunately for Molly, friends she never knew she had unite with her in a search for clues to what really happened to Mr. Black—but will they be able to find the real killer before it's too late?
I reviewed a digital ARC (Advanced Review Copy) of this book from NetGalley.
An original, easy-to-read and entertaining mystery about a quirky, young woman working as a maid in a posh boutique hotel who finds herself caught up in a murder investigation. The mystery itself is fairly simple with a few twists but the story works (even though it's not flawless) because Molly is a likable, delightful (to use one of her favourite words) narrator who endears herself to the reader.
Nita Prose has created much more than a mystery though and that's what I liked best about it. The Maid combines the cozy mystery genre with feel-good fiction creating a heartwarming story with an underlying theme of acceptance about a lonely young woman who finds a group of people who appreciate her for who she is. Looking forward to the movie adaptation!
18. Black Cake by Charmaine Wilkerson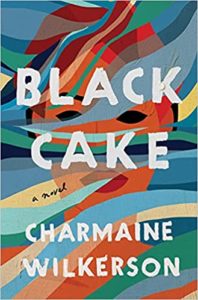 Setting: California, Caribbean, London
In present-day California, Eleanor Bennett's death leaves behind a puzzling inheritance for her two children, Byron and Benny: a traditional Caribbean black cake, made from a family recipe with a long history, and a voice recording. In her message, Eleanor shares a tumultuous story about a headstrong young swimmer who escapes her island home under suspicion of murder. The heartbreaking tale Eleanor unfolds, the secrets she still holds back, and the mystery of a long-lost child, challenge everything the siblings thought they knew about their lineage, and themselves.
Can Byron and Benny reclaim their once-close relationship, piece together Eleanor's true history, and fulfill her final request to "share the black cake when the time is right"? Will their mother's revelations bring them back together or leave them feeling more lost than ever?
Black Cake is a beautifully written debut novel that is equal parts family drama and historical fiction. From the Caribbean island where Eleanor grew up to London in the late '60s/early '70s to present day Southern California, the novel addresses issues related to the times and the impact they had on Eleanor and her family including the treatment of black immigrants from the islands in the UK, sexual assault, forced adoption, and discrimination faced by black men in the U.S. today. There's a lot going on but Wilkerson weaves it all into a moving story about families and secrets.
19. Yinka, Where is Your Huzband? by Lizzie Damilola Blackburn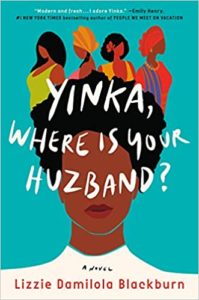 Setting: London, England
Yinka's Nigerian aunties frequently pray for her delivery from singledom, her work friends think she's too traditional (she's saving herself for marriage!), her girlfriends think she needs to get over her ex already, and the men in her life…well, that's a whole other story. But Yinka herself has always believed that true love will find her when the time is right.
Still, when her cousin gets engaged, Yinka commences Operation Find-A-Date for Rachel's Wedding. Aided by a spreadsheet and her best friend, Yinka is determined to succeed. Will Yinka find herself a huzband? And what if the thing she really needs to find is herself?
This was an enjoyable read because Yinka is such a likeable character that it's impossible not to want everything to work out for her and her downward spiral of self-doubt about whether she's enough and deserving of love is very relatable. Not your standard rom-com as Yinka starts out searching for romantic love but discovers that what she really needs is to learn to love herself first. And I absolutely loved the gorgeous cover art for this novel!!
20. The List of Last Chances by Christina Myers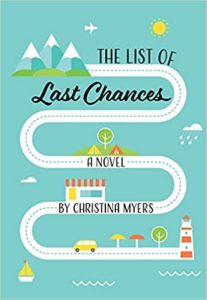 Setting: Road Trip from PEI to Vancouver
At thirty-eight years old, Ruthie finds herself newly unemployed, freshly single, sleeping on a friend's couch and downing a bottle of wine each night. Having overstayed her welcome and desperate for a job, Ruthie responds to David's ad: he's looking for someone to drive his aging mother, Kay, and her belongings from PEI to Vancouver.
Ruthie thinks it's the perfect chance for a brief escape and a much-needed boost for her empty bank account. But once they're on the road, Kay reveals that she's got a list of stops along the way that's equal parts sightseeing tour, sexual bucket-list, and trip down memory lane.
As David prods for updates and a speedy arrival to his home in Vancouver, Kay begins to share details about a long-lost love and Ruthie takes a detour to play matchmaker, but finds herself caught up in a web of well-intentioned lies. With the road ahead uncertain, and the past and present colliding, will Ruthie be able to forge a new path?
21. Meet Me in the Margins by Melissa Ferguson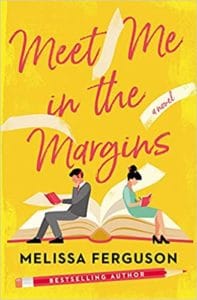 Setting: Nashville
Savannah Cade is a low-level editor at Pennington Publishing, a prestigious publisher producing only the highest of highbrow titles. And while editing the latest edition of The Anthology of Medieval Didactic Poetry may be her day job, she has two secrets she's hiding.
One: She's writing a romance novel.
Two: She's discovered the Book Nook—a secret room in the publishing house where she finds inspiration for her "lowbrow" hobby.
After leaving her manuscript behind one afternoon, she returns to the nook only to discover someone has written notes in the margins. Savannah's first response to the criticism is defensive, but events transpire that force her to admit that she needs the help of this shadowy editor after all. As the notes take a turn for the romantic, and as Savannah's madcap life gets more complicated than ever, she uses the process of elimination to identify her mysterious editor—only to discover that what she truly wants and what she should want just might not be the same.
A cute, if predictable, romance set in a book publishing company in Nashville. I thoroughly enjoyed this bookish romance with You've Got Mail/She Loves Me/Shop Around the Corner vibes and a main character you can't help but root for!
I reviewed a digital ARC (Advance Review Copy) of this book from NetGalley.
22. The Christie Affair by Nina de Gramont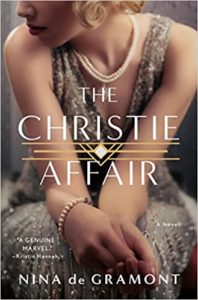 Setting: England
The greatest mystery wasn't Agatha Christie's disappearance in those eleven infamous days, it's what she discovered.
London, 1925: In a world of townhomes and tennis matches, socialites and shooting parties, Miss Nan O'Dea became Archie Christie's mistress, luring him away from his devoted and well-known wife, Agatha Christie.
The question is, why? Why destroy another woman's marriage, why hatch a plot years in the making, and why murder? How was Nan O'Dea so intricately tied to those eleven mysterious days that Agatha Christie went missing?
I really enjoyed this fictionalized account of one of the great unsolved mysteries of the 20th century. The narrative is in the first person from the point of view of Archie Christie's younger mistress, Nan O'Dea, and this is very much her story with Agatha Christie appearing as a character in it. With the Agatha Christie connection, it seems quite appropriate that there's a murder mystery that's integral to the plot as well. I figured out the plot twist/mystery about half way through the book but still thought that it was quite clever and enjoyed reading how it all played out.
Which book are you most looking forward to reading this winter? Let us know in the comments below!
Pin This For Later