Books are a great way to get to know a destination or understand the people that live there and that's especially true of a country that is as large and diverse as Canada. As a Canadian, I have been reading books that take place in Canada for as long as I have been reading so it was fun to put together this list of books set in Canada that I have personally read and enjoyed over the years.
Most of my choices would be classified as literary fiction, however, I have included a book that's appropriate for kids, a rom-com, and a crime/mystery novel as well for anyone who prefers lighter reads. A number of the authors have multiple books set in Canada that could have been on the list but I chose my favourite and made a note of some of the others that you might enjoy.
Whether you're a fellow Canadian or someone who has visited or is planning to visit our country, these 21 books set in Canada will give you a deeper appreciation for the country's history, landscape and culture.
You Might Also Enjoy Reading:
36 Books Set in Paris: A Literary Escape to the City of Light
35 Books Set in India: A Literary Journey
50 Books Set in London: A Literary Escape to London Town
We are a participant in the Amazon Services LLC Associates Program, an affiliate advertising program designed to provide a means for us to earn fees by linking to Amazon.com and affiliated sites. As an Amazon affiliate I earn from qualifying purchases.
This post may contain affiliate links. If you click an affiliate link and make a purchase then we receive a small commission at no additional cost to you.
1. Anne of Green Gables by Lucy Maud Montgomery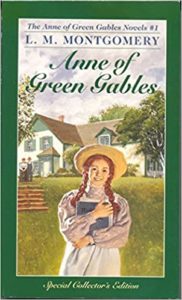 Setting: Prince Edward Island
Eleven-year-old Anne Shirley has never known a real home. Since her parents' deaths, she's bounced around to foster homes and orphanages. When she is sent by mistake to live with Matthew and Marilla Cuthbert at the snug white farmhouse called Green Gables, she wants to stay forever. But Anne is not the sturdy boy Matthew and Marilla were expecting.

She's a mischievous, talkative redheaded girl with a fierce temper, who tumbles into one scrape after another. Anne is not like anybody else, the Cuthberts agree; she is special, a girl with an enormous imagination. All she's ever wanted is to belong somewhere. And the longer she stays at Green Gables, the harder it is for anyone to imagine life without her.
This beloved Canadian classic set in Prince Edward Island is one of my favourite books of all time. Although now considered a children's book, it's an enjoyable read for adults as well. If you're planning a vacation in Prince Edward Island then this should be on your reading list as Anne-related attractions are a huge tourism draw on the island.
Read The Ultimate Guide to Prince Edward Island for Fans of Anne of Green Gables
2. The Colony of Unrequited Dreams by Wayne Johnston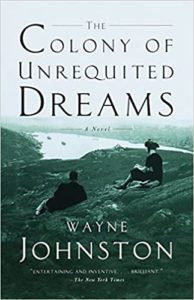 Setting: Newfoundland
A mystery and a love story spanning five decades, The Colony of Unrequited Dreams is an epic portrait of passion and ambition, set against the beautiful, brutal landscape of Newfoundland. In this widely acclaimed novel, Johnston has created two of the most memorable characters in recent fiction: Joey Smallwood, who claws his way up from poverty to become Newfoundland's first premier; and Sheilagh Fielding, who renounces her father's wealth to become a popular columnist and writer, a gifted satirist who casts a haunting shadow on Smallwood's life and career.
The Colony of Unrequited Dreams is an incredible work of historical fiction that takes place during the time period leading up to Newfoundland joining Confederation in 1949. It's one of my all-time favourites and I recommend it to everyone! Johnston has also written two follow-up novels which feature Sheilagh Fielding as a character – The Custodian of Paradise and First Snow, Last Light – both which are also excellent reads.
3. Crow Lake by Mary Lawson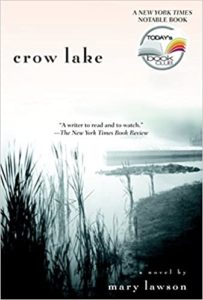 Setting: Fictional town in Northern Ontario
Here is a gorgeous, slow-burning story set in the rural "badlands" of northern Ontario, where heartbreak and hardship are mirrored in the landscape. For the farming Pye family, life is a Greek tragedy where the sins of the fathers are visited on the sons, and terrible events occur – offstage.
Centerstage are the Morrisons, whose tragedy looks more immediate if less brutal, but is, in reality, insidious and divisive. Orphaned young, Kate Morrison was her older brother Matt's protegee, her fascination for pond life fed by his passionate interest in the natural world. Now a zoologist, she can identify organisms under a microscope but seems blind to the state of her own emotional life. And she thinks she's outgrown her siblings – Luke, Matt, and Bo – who were once her entire world.
Mary Lawson is an immensely talented writer whose subtle and unassuming storytelling gets to the heart of her character's emotional lives. I loved Crow Lake when I first read it after it was published in 2002 partly because it's set in a fictional Northern Ontario town very similar to the one where I grew up. Lawson's additional critically acclaimed novels are: The Other Side of the Bridge (2006), Road Ends (2013) and A Town Called Solace (2021). She doesn't publish a new book very often but when she does I know that it's going to be a very good read.
4. The Shipping News by Annie Proulx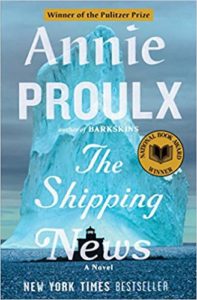 Setting: Newfoundland
Quoyle, a third-rate newspaper hack, with a "head shaped like a crenshaw, no neck, reddish hair…features as bunched as kissed fingertips," is wrenched violently out of his workaday life when his two-timing wife meets her just desserts. An aunt convinces Quoyle and his two emotionally disturbed daughters to return with her to the starkly beautiful coastal landscape of their ancestral home in Newfoundland. Here, on desolate Quoyle's Point, in a house empty except for a few mementos of the family's unsavory past, the battered members of three generations try to cobble up new lives.
The Shipping News, published in 1994, takes place in a remote outport community in Newfoundland and was the start of my obsession with books that take place in the Atlantic provinces. Proulx's novel won the Pulitzer Prize and is the subject of a movie adaptation starring Judi Dench, Kevin Spacey and Julianne Moore.
5. No Great Mischief by Alistair MacLeod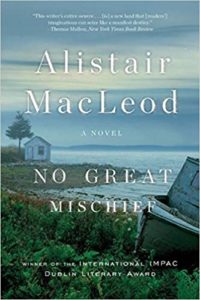 Setting: Primarily Cape Breton Island
Generations after their forebears went into exile, the MacDonalds still face seemingly unmitigated hardships and cruelties of life. Alexander, orphaned as a child by a horrific tragedy, has nevertheless gained some success in the world. Even his older brother, Calum, a nearly destitute alcoholic living on Toronto's skid row, has been scarred by another tragedy.
But, like all his clansman, Alexander is sustained by a family history that seems to run through his veins. And through these lovingly recounted stories – wildly comic or heartbreakingly tragic – we discover the hope against hope upon which every family must sometimes rely.
Alastair MacLeod is considered to be one of Canada's great writers despite not having published a great deal prior to his death in 2014. Renowned for his short stories, No Great Mischief (1999) was the only novel that he published and it won the International IMPAC Dublin Literary Award in 2001. I also enjoyed Island, his award-winning collection of 16 short stories set on Cape Breton Island.
6. Mercy Among the Children by David Adams Richards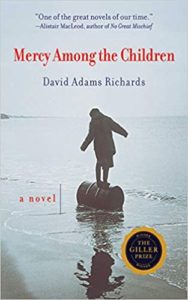 Setting: New Brunswick's Miramichi Valley
At the age of twelve, Sidney Henderson, in a moment of anger, pushes his friend Connie Devlin off the roof of a local church. Looking down on Connie's motionless body, Sidney believes he is dead. Let Connie live and I will never harm another soul, Sidney vows. At that moment, Connie stands up and, laughing, walks away.
In the years that follow, the brilliant, self-educated, ever-gentle Sidney keeps his promise, even in the face of the hatred and persecution of his insular, rural community, which sees his pacifism as an opportunity to exploit and abuse him. Sidney's son Lyle, however, witnessing his family's suffering with growing resentment and anger, comes to reject both God and his father and assumes an increasingly aggressive stance in defense of his family.
David Adams Richards is one of my favourite Canadian authors and I feel like I have come to know the Miramichi Valley in New Brunswick through his novels despite not having yet visited the area. Mercy Among the Children was nominated for the Governor General's Award and won the Giller Prize. Other favourites include: Nights Below Station Street, River of the Brokenhearted, The Friends of Meager Fortune and Incidents in the Life of Markus Paul.
7. Three Day Road by Joseph Boyden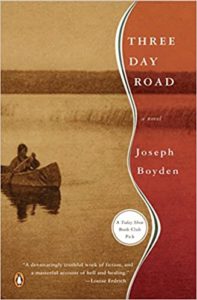 Setting: Northern Ontario as well as battlefields of France and Belgium
It is 1919, and Niska, the last Oji-Cree woman to live off the land, has received word that one of the two boys she saw off to the Great War has returned. Xavier Bird, her sole living relation, is gravely wounded and addicted to morphine. As Niska slowly paddles her canoe on the three-day journey to bring Xavier home, travelling through the stark but stunning landscape of Northern Ontario, their respective stories emerge – stories of Niska's life among her kin and of Xavier's horrifying experiences in the killing fields of Ypres and the Somme.
Boyden's debut novel is partly inspired by Ojibwa Francis Pegahmagabow, the legendary First World War sniper. His additional award-winning books include Through Black Spruce, a story of contemporary aboriginal life which won the Scotiabank Giller Prize, and The Orenda, the story of a Jesuit missionary, a young Iroquois girl, and a great warrior and elder statesman of the Huron Nation in 17th century North America which was a finalist for the Governor General's Literary Awards.
8. Annabel by Kathleen Winter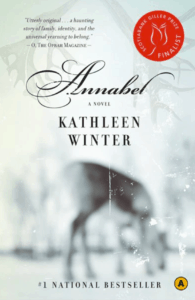 Setting: Rural Labrador
In 1968, into the devastating, spare atmosphere of the remote coastal town of Labrador, Canada, a child is born: a baby who appears to be neither fully boy nor fully girl, but both at once. Only three people are privy to the secret – the baby's parents, Jacinta and Treadway, and a trusted neighbor and midwife, Thomasina.
Though Treadway makes the difficult decision to raise the child as a boy named Wayne, the women continue to quietly nurture the boy's female side. And as Wayne grows into adulthood within the hyper-masculine hunting society of his father, his shadow-self, a girl he thinks of as "Annabel," is never entirely extinguished.
Winter's beautiful debut novel about the struggle of an intersex child in a rural Labrador community in the 1960's growing up and coming to terms with their dual identity was shortlisted for the Scotiabank Giller Prize and the Governor General"s Award for Fiction.
9. Clara Callan by Richard B. Wright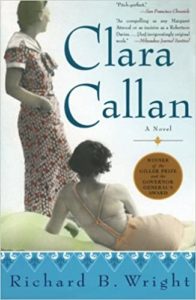 Setting: Small town in Ontario
Underneath the seemingly ordinary lives of Wright"s characters are entire worlds of emotion that, once entered, become wildy unpredictable. Clara Callan has that capacity to surprise, to draw the reader below the smooth surface of convention into a world of passion, where secrets percolate and sudden, unexpected violence erupts.
Clara Callan is set in the middle of the Great Depression, chronicling the lives of two sisters.Clara is a spinsterish school teacher whose quiet life in a small Ontario town masks a passion for love and adventure.Nora, her flighty and very pretty sister, travels to New York where she lands a starring role in a radio soap opera.
Clara Callan is a beautiful novel, written in diary and letter form revealing the inner lives of these two ordinary women, which won three major Canadian literary awards – The Giller Prize, the Trillium Book Award and the Governor General's Award. You might also enjoy Wright's novel October, a meditation on mortality and memory about a man in the autumn of his life whose daughter is gravely ill, which was named a Globe and Mail Book of the Year.
10. River Thieves by Michael Crummey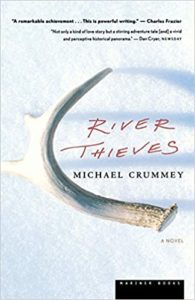 Setting: Newfoundland
At the turn of the nineteenth century, naval officer David Buchan arrives in the Bay of Exploits with orders to establish contact with the Beothuk or "Red Indians," the aboriginal inhabitants of Newfoundland facing extinction. When Buchan approaches the area's most influential white settlers, the Peytons, for advice and assistance, he enters a shadowy world of allegiances and old grudges that he can only dimly apprehend.
Years later, a second expedition leads to the kidnapping of an Indian woman and the murder of her husband and Buchan returns to investigate. As the officer attempts to uncover what really happened on the Red Indians' lake, a delicate web of obligation and debt slowly unravels.
This incredible debut novel by award-winning Canadian writer Michael Crummey tells the story of the last Beothuk woman living in Newfoundland. I have also read and enjoyed two other novels by Crummey (The Wreckage and Sweetland) and have his most recent novel, The Innocents which was a finalist for several literary prizes, in my "To Read" stack of books. All take place in Newfoundland.
11. A Student of Weather by Elizabeth Hay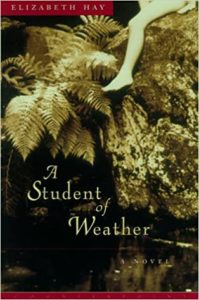 Setting: Saskatchewan, Ottawa and New York City
From some accidents of love and weather we never quite recover. At the worst of the Prairie dust bowl of the 1930s, a young man appears out of a blizzard and forever alters the lives of two sisters. There is the beautiful, fastidious Lucinda, and the tricky and tenacious Norma Joyce, at first a strange, self-possessed child, later a woman who learns something of self-forgiveness and of the redemptive nature of art.
Their rivalry sets the stage for all that follows in a narrative spanning over thirty years, beginning in Saskatchewan and moving, in the decades following the war, to Ottawa and New York City. Disarming, vividly told, unforgettable, this is a story about the mistakes we make that never go away, about how the things we want to keep vanish and the things we want to lose return to haunt us.
A Student of Weather, published in 2000, was Elizabeth Hay's first novel and a finalist for the Giller Prize which she later won in 2007 for Late Nights on Air. She has also been a finalist for the Governor General's Award twice – for a short story collection and for her novel, Garbo Laughs (2003).
12. Cape Breton Road by D.R. MacDonald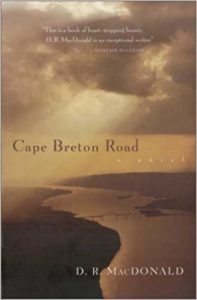 Setting: Cape Breton Island
Innis Corbett, a young man born into a highlander community in Cape Breton, Nova Scotia, left his native country as a child to live with his parents in Boston. Emotionally troubled by his father's death and his mother's weakness for men and drinking, Innis gets involved in a series of car thefts and is deported back to Canada which seems worse to him than going to prison.
Living with bachelor Uncle Starr in rural Cape Breton, a harsh yet beautiful place that has shaped his family and that absorbs and challenges him, Innis takes refuge in the wild, dense woods where he devises a plan to grow marijuana. This venture assuages his loneliness, giving him something to care for, a secret of his own. But, just as Innis is coming to terms with his situation, Claire, an attractive former flight attendant nearing forty, enters the Starr household and an entanglement begins that leads to suspicion, jealousy, and ultimately to an unpredictable climax.
D.R. MacDonald is a Canadian-American writer who was born in Canada, grew up in the U.S. and spends his summers in Nova Scotia on Cape Breton Island. His first novel, Cape Breton Road is a coming of age story and, like his other works, is set on Cape Breton. One of his later novels, Lauchlin of the Bad Heart, was longlisted for the Scotiabank Giller Prize.
13. The Stone Diaries by Carol Shields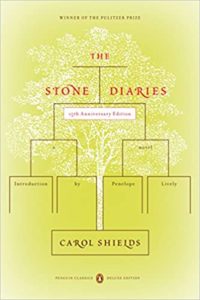 Setting: Various locations including Winnipeg and Ottawa
One of the most successful and acclaimed novels of our time, this fictionalized autobiography of Daisy Goodwill Flett is a subtle but affecting portrait of an everywoman reflecting on an unconventional life. What transforms this seemingly ordinary tale is the richness of Daisy's vividly described inner life – from her earliest memories of her adoptive mother to her awareness of impending death.
Carol Shields, one of Canada's most celebrated writers, was best known for The Stone Diaries which won the U.S. Pulitzer Prize for Fiction (she was eligible as she was American-born) as well as the Governor General's Award in Canada and was shortlisted for the Booker Prize.
Her additional novels include Larry's Party which won the Orange Prize and was nominated for the Giller and Unless which was shortlisted for the Man Booker Prize, Giller Prize and Orange Prize. Ms. Shields also won the Charles Taylor Prize for Literary Non-Fiction for a biography Jane Austen: A Life. It was announced in 2020 that a new North American literary award named the Carol Shields Prize for Fiction had been created to honour literature by Canadian and American women to be presented for the first time in 2022.
14. The Break by Katherena Vermette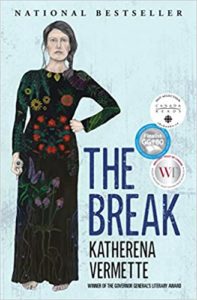 Setting: Winnipeg, Manitoba
When Stella, a young Métis mother, looks out her window one evening and spots someone in trouble on the Break ― a barren field on an isolated strip of land outside her house ― she calls the police to alert them to a possible crime.
In a series of shifting narratives, people who are connected, both directly and indirectly, with the victim ― police, family, and friends ― tell their personal stories leading up to that fateful night. Lou, a social worker, grapples with the departure of her live-in boyfriend. Cheryl, an artist, mourns the premature death of her sister Rain. Paulina, a single mother, struggles to trust her new partner. Phoenix, a homeless teenager, is released from a youth detention centre. Officer Scott, a Métis policeman, feels caught between two worlds as he patrols the city. Through their various perspectives a larger, more comprehensive story about lives of the residents in Winnipeg's North End is exposed.
This bestselling Canadian novel by Métis writer, Katherena Vermette, about the lives of several people living in a troubled neighbourhood in Winnipeg, Manitoba won several awards including the 2017 Amazon.ca First Novel Award. Vermette, who lives in Winnipeg, also won the Governor General's Award for English-language poetry in 2013 for her collection North End Love Songs.
15. New Girl in Little Cove by Damhnait Monaghan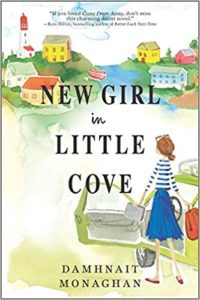 Setting: A small fishing village in Newfoundland
It's 1985. Rachel O'Brien arrives in Little Cove seeking a fresh start after her father dies and her relationship ends. As a new teacher at the local Catholic high school, Rachel chafes against the small community, where everyone seems to know her business. The anonymous notes that keep appearing on her car, telling her to go home, don't make her feel welcome either.
Still, Rachel is quickly drawn into the island's distinctive music and culture, as well as the lives of her students and fellow teacher, Doug Bishop. As Rachel begins to bond with her students, her feelings for Doug also begin to grow. Rachel tries to ignore her emotions because Doug is in a long-distance relationship with his high school sweetheart. Or is he?
Eventually, Rachel's beliefs clash with church and community, and she makes a decision that throws her career into jeopardy. In trying to help a student, has she gone too far? Only the intervention of the 'Holy Dusters,' local women who hook rugs and clean the church, can salvage Rachel's job as well as her chance at a future with Doug.
A charming debut novel about a recent graduate from Toronto who takes her first teaching position in a small fishing village in Newfoundland in 1985. I was delighted to discover New Girl in Little Cove when it was published earlier this year because it's a rom-com set in Canada – I think perhaps the first that I have come across. Based in part on the author's own teaching experiences, this book conveys the culture and warmth of islanders so well that you will want to book the next flight to Newfoundland!
16. Bury Your Dead (Inspector Gamache Series) by Louise Penny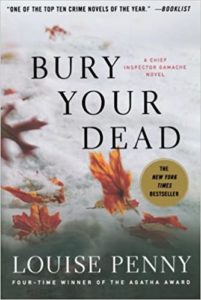 Setting: Quebec City and fictional village of Three Pines, Quebec
It is Winter Carnival in Quebec City, bitterly cold and surpassingly beautiful. Chief Inspector Armand Gamache has come not to join the revels but to recover from an investigation gone hauntingly wrong.
But violent death is inescapable, even in the apparent sanctuary of the Literary and Historical Society – where an obsessive historian's quest for the remains of the founder of Quebec, Samuel de Champlain, ends in murder. Could a secret buried with Champlain for nearly four hundred years be so dreadful that someone would kill to protect it?
If crime novels are your favourite genre then you will love the award-winning Inspector Gamache series by Louise Penny. I picked up Bury Your Dead not realizing that it was #6 in the popular series (primarily set in Quebec). It was entertaining as a stand-alone but there was background information from the earlier books which would have been helpful so I will likely go back and start the series properly with book #1 Still Life. Book #17 will be published summer 2021 so you can keep busy for quite some time reading the back list!
Read 10 Things To Do at the Quebec Winter Carnival because you know you're going to want to visit Quebec during carnival season after reading this book!
17. The Book of Negroes by Lawrence Hill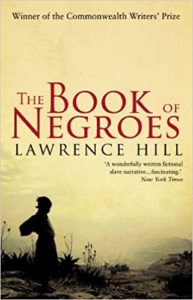 Setting: Partially set in Nova Scotia
Abducted as an 11-year-old child from her village in West Africa and forced to walk for months to the sea in a coffle-a string of slaves- Aminata Diallo is sent to live as a slave in South Carolina. But years later, she forges her way to freedom, serving the British in the Revolutionary War and registering her name in the historic "Book of Negroes." This book, an actual document, provides a short but immensely revealing record of freed Loyalist slaves who requested permission to leave the US for resettlement in Nova Scotia, only to find that the haven they sought was steeped in an oppression all of its own.
Aminata"s eventual return to Sierra Leone-passing ships carrying thousands of slaves bound for America-is an engrossing account of an obscure but important chapter in history that saw 1,200 former slaves embark on a harrowing back-to-Africa odyssey.
I included this book even though it's only partially set in Canada because, in my opinion, Lawrence Hill is an incredibly talented Canadian writer and The Book of Negroes is one of the best Canadian books of all time.
18. Good to a Fault by Marina Endicott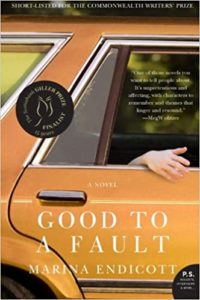 Setting: Saskatchewan
In a moment of self-absorption, Clara Purdy's life takes a sharp left turn when she crashes into a beat-up car carrying an itinerant family of six. The Gage family had been travelling to a new life in Fort McMurray, but bruises on the mother, Lorraine, prove to be late-stage cancer rather than remnants of the accident. Recognizing their need as her responsibility, Clara tries to do the right thing and moves the children, husband, and horrible grandmother into her own house–then has to cope with the consequences of practical goodness.
What, exactly, does it mean to be good? When is sacrifice merely selfishness? What do we owe in this life and what do we deserve? Marina Endicott looks at life and death through the compassionate lens of a born novelist: being good, being at fault, and finding some balance on the precipice.
This novel which was shortlisted for Canada's prestigious Scotiabank Giller Prize in 2008 raises some very interesting questions – great for a book club discussion!
19. A Recipe for Bees by Gail Anderson-Dargatz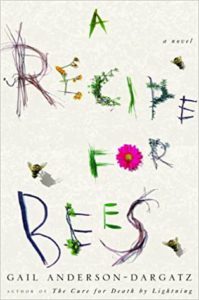 Setting: Rural British Columbia
In A Recipe for Bees, Gail Anderson-Dargatz gives readers a remarkable woman to stand beside Hagar Shipley and Daisy Goodwin — but Augusta Olsen also has attitude, a wicked funny bone, and the dubious gift of second sight.
At home in Courtenay, B.C., Augusta anxiously awaits news of her dearly loved son-in-law Gabe, who is undergoing brain surgery miles away in Victoria. Her best friend Rose is waiting for Augusta to call as soon as she hears. Through Rose, we begin to learn the story of Augusta"s sometimes harsh, sometimes magical life: the startling vision of her mother"s early death; the loneliness of her marriage to Karl and her battle with Karl"s detestable father, Olaf. We are told of her gentle, platonic affair with a church minister, of her not-so-platonic affair with a man from the town, and the birth of her only child. We also learn of the special affinity between Rose and Augusta, who share the delights and exasperations of old age.
Gail Anderson-Dargatz has written several novels that have been national and international bestsellers and two have been shortlisted for the Giller Prize – A Recipe for Bees and The Cure for Death by Lightning.
20. Lives of Girls and Women by Alice Munro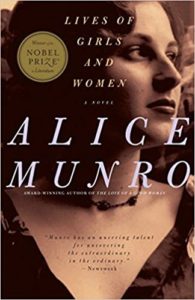 Setting: Rural Southwestern Ontario
"There is a change coming in the lives of girls and women." Del Jordan and her mother long for more outside of their small home town of Jubilee, though they cannot say so, at the risk of inviting the ire of the town. In her distinctive literary style, Munro presents a thought-provoking cycle on two women coping with the claustrophobic habits and norms of small town life competing with their greater ambitions and desires to leave. But do all roads ultimately lead back home?
Alice Munro, winner of the Nobel Prize in Literature in 2013, is one of Canada's most celebrated writers of short stories. Lives of Girls and Women is often referred to as Munro's only novel although it's actually written as a series of short stories about the same characters.
21. The Stone Angel by Margaret Laurence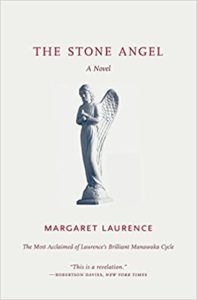 Setting: Fictional town of Manawaka, Manitoba
Margaret Laurence"s most celebrated novel introduced readers to one of the most memorable characters in Canadian fiction. Hagar Shipley is stubborn, querulous, self-reliant, and, at ninety, with her life nearly behind her, she makes a bold last step towards freedom and independence.
As her story unfolds, we are drawn into her past. We meet Hagar as a young girl growing up in a black prairie town; as the wife of a virile but unsuccessful farmer with whom her marriage was stormy; as a mother who dominates her younger son; and, finally, as an old woman isolated by an uncompromising pride and by the stern virtues she has inherited from her pioneer ancestors.
Margaret Laurence is one of Canada's most esteemed authors who twice won the Governor General's Award and was invested as a Companion of the Order of Canada. First published in 1964, The Stone Angel is considered to be one of the greatest Canadian novels ever written and Hagar Shipley one of the most memorable female characters. I read it as well as A Jest of God in high school English classes in the 1980s. Those two novels along with The Diviners, A Bird in the House, and The Fire-Dwellers make up Laurence's renowned Manawaka series.
Pin This For Later