Prince Edward Island may be Canada's smallest province but that doesn't mean that there aren't plenty of things to do in PEI. Our family has visited the island 9 times and haven't found ourselves bored yet! Top things to do in PEI include outdoor activities, family-friendly attractions, historic sites, arts and culture and much more. Whether your ideal holiday is jam-packed with activities or involves taking it easy and enjoying a slower pace you will find that a Prince Edward Island vacation meets all of your needs.
Here's our list of 25 fun things to do in Prince Edward Island to help you start planning your dream PEI vacation!!
This post may contain affiliate links. If you click an affiliate link and make a purchase then we receive a small commission at no additional cost to you.
1. Play in Prince Edward Island National Park
Prince Edward Island National Park, located along the north shore of the island, extends approximately 40 km from Cavendish to Dalvay and is home to sandstone cliffs, beaches, sand dunes, wetlands and forests. The park is known for its sandy beaches but you can also enjoy hiking and biking trails, historic sites and activities, or just admire the stunning landscapes. Our family has vacationed on PEI 9 times and I don't think we will ever grow tired of visiting this beautiful national park which is one of PEI's top attractions.
You can see a few more of my favourite photos in this article – Prince Edward Island National Park in Photos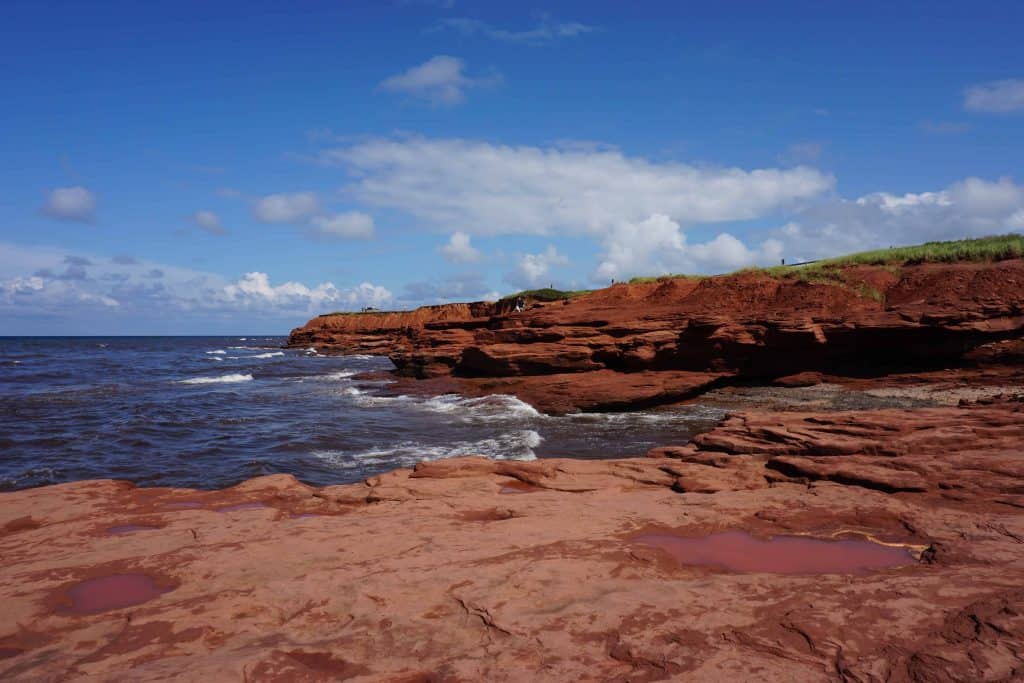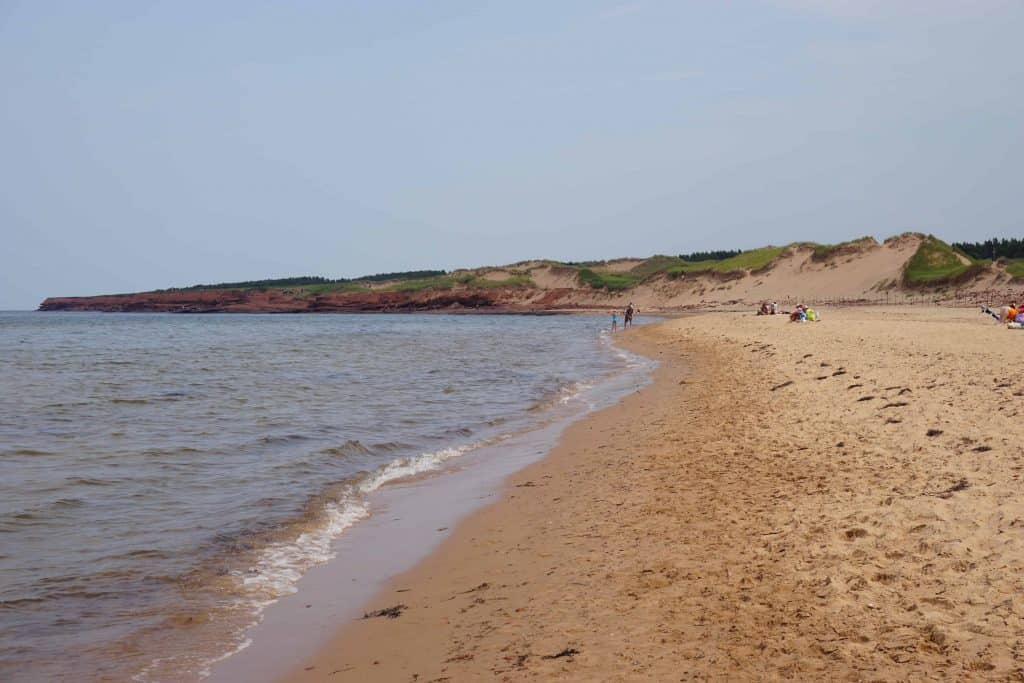 2. Explore the Provincial Capital – Charlottetown
Each of the 9 times that we have vacationed in Prince Edward Island, we have spent time in the charming provincial capital located on the island's south shore. Charlottetown, known as the Birthplace of Confederation, is a walkable city with historic sites, arts and culture, outdoor activities and fun festivals that make it a great destination with lots of fun things to do for everyone.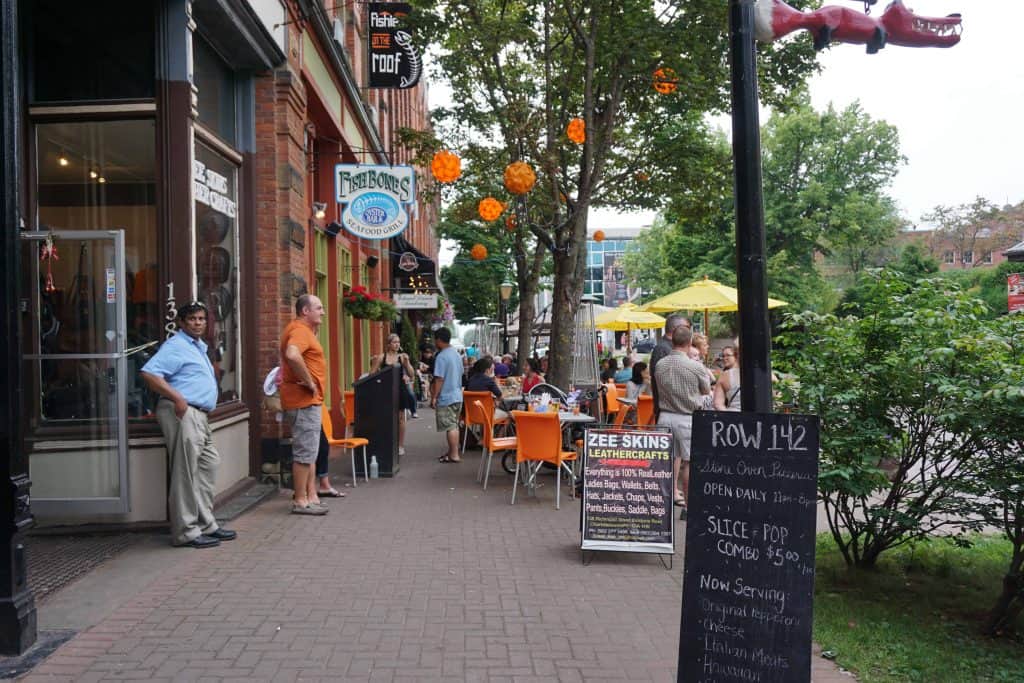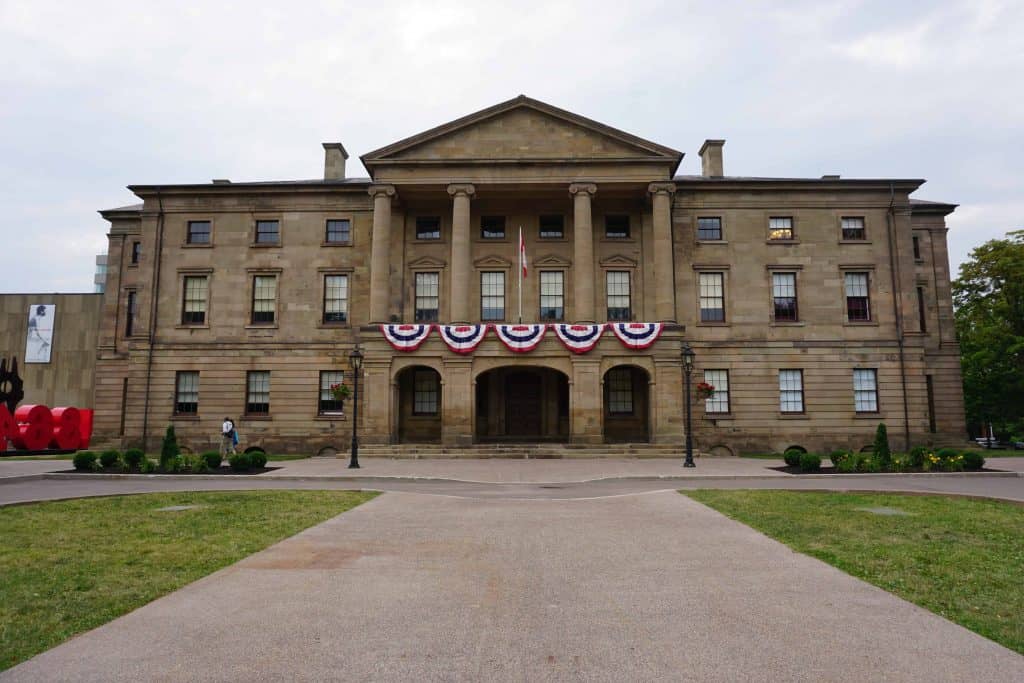 3. Visit Green Gables
Green Gables Heritage Place , a National Historic Site operated by Parks Canada, is a must for fans of Anne of Green Gables (and still fun to visit for those not familiar with the books)! The green-gabled farmhouse which served as inspiration for the Anne novels was owned by relatives of the author and is now part of Lucy Maud Montgomery's Cavendish National Historic Site.
Visitors to the site can take a self-guided tour of the farmhouse which has been restored and furnished with authentic pieces from the time period and decorated to look like the rooms occupied by Anne and the Cuthberts. There are also a number of interpretive programs on site which will immerse visitors of all ages into the world of Anne of Green Gables, walking trails named after places in the books and a new Visitor Centre with exhibits (opened in 2019).
Located on Route 6 in Cavendish.
Read our Ultimate Guide to Prince Edward Island for Fans of Anne of Green Gables for additional information on Anne attractions on the island.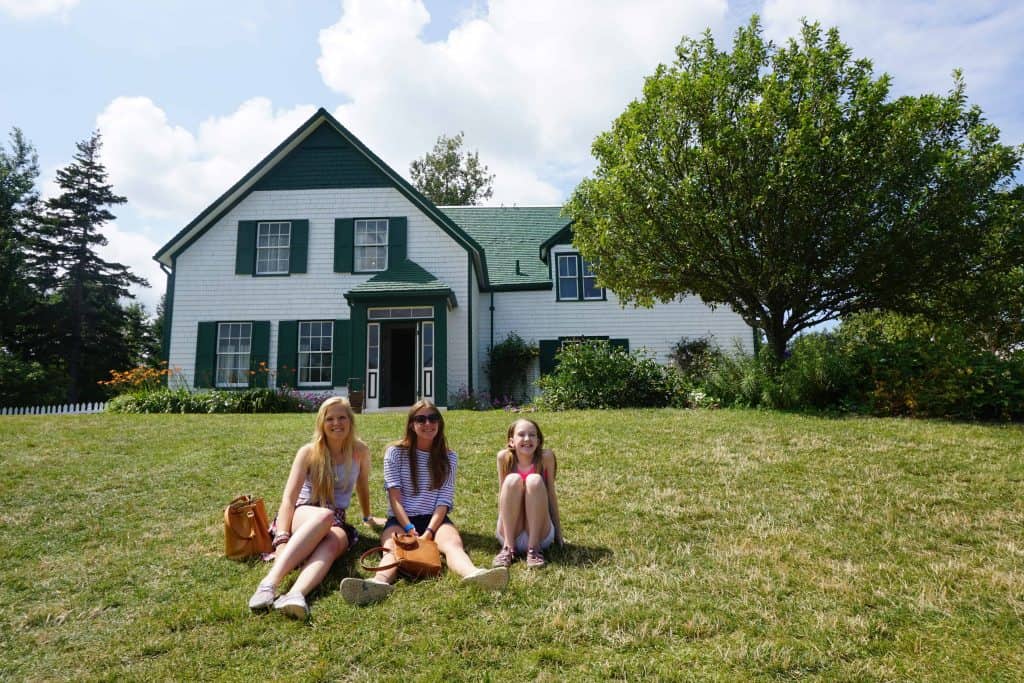 4. Enjoy a Delicious Lobster Supper
PEI is a great destination for foodies and you will find fresh seafood on the menu nearly everywhere you eat but you should also try a traditional lobster supper while you're on the island. One of the best known is New Glasgow Lobster Suppers which has been serving up supper since 1958. The meal includes appetizers, salad, dinner rolls and dessert (they're famous for their mile-high lemon meringue pie) along with the entree and there are meat and vegetarian options available as well.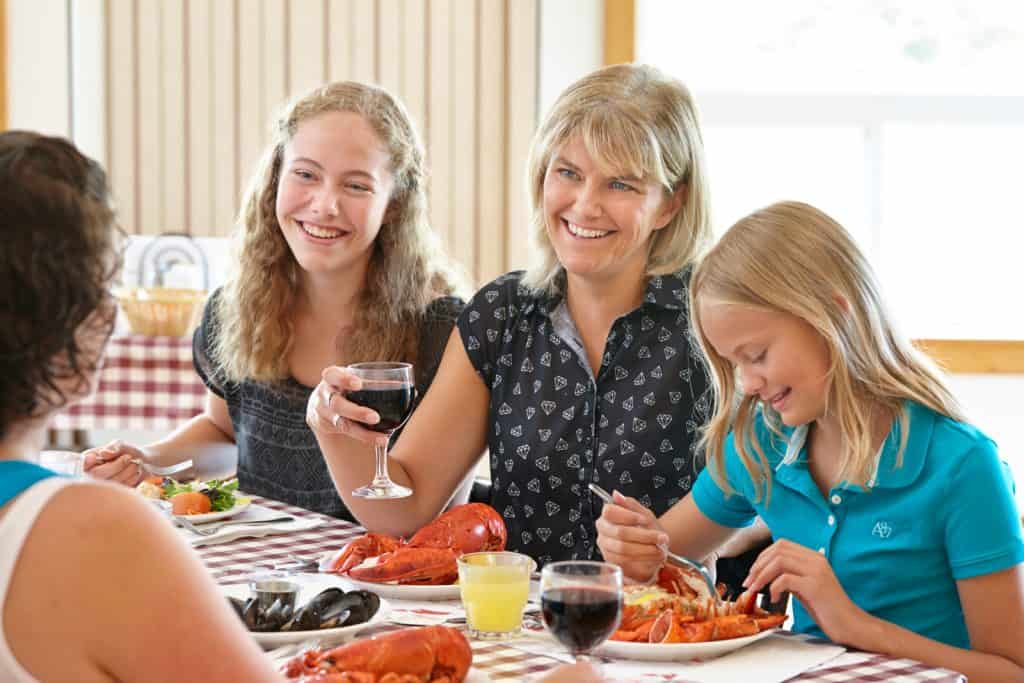 5. Admire the Island's Lighthouses
There's something about a lighthouse that I just can't resist and I don't think I'm alone in my admiration of these beautiful landmarks that dot coastal areas. They may have been rendered obsolete by modern electronic navigation but they remain important symbols and many that are no longer operational have been transformed into small museums sharing our country's maritime history.
Two of my favourites on Prince Edward Island are West Point Lighthouse on the North Cape Coastal Drive and Covehead Harbour Lighthouse in PEI National Park but there are still several that I have yet to see. You can't drive far on the island without seeing one but you can also find a map and additional information on the sites listed below and make it your mission to visit as many as possible on your PEI vacation.
Read 9 Beautiful Must-See Lighthouses on Prince Edward Island and learn more about the island's lighthouses on the Tourism PEI website or on the PEI Lighthouse Society website.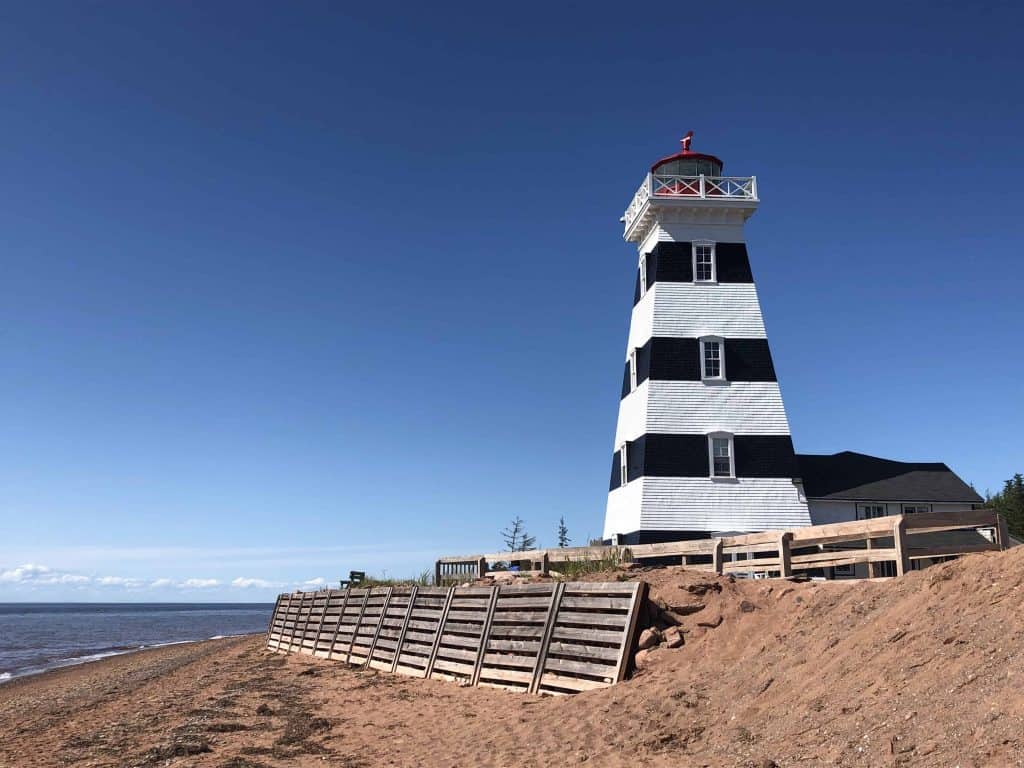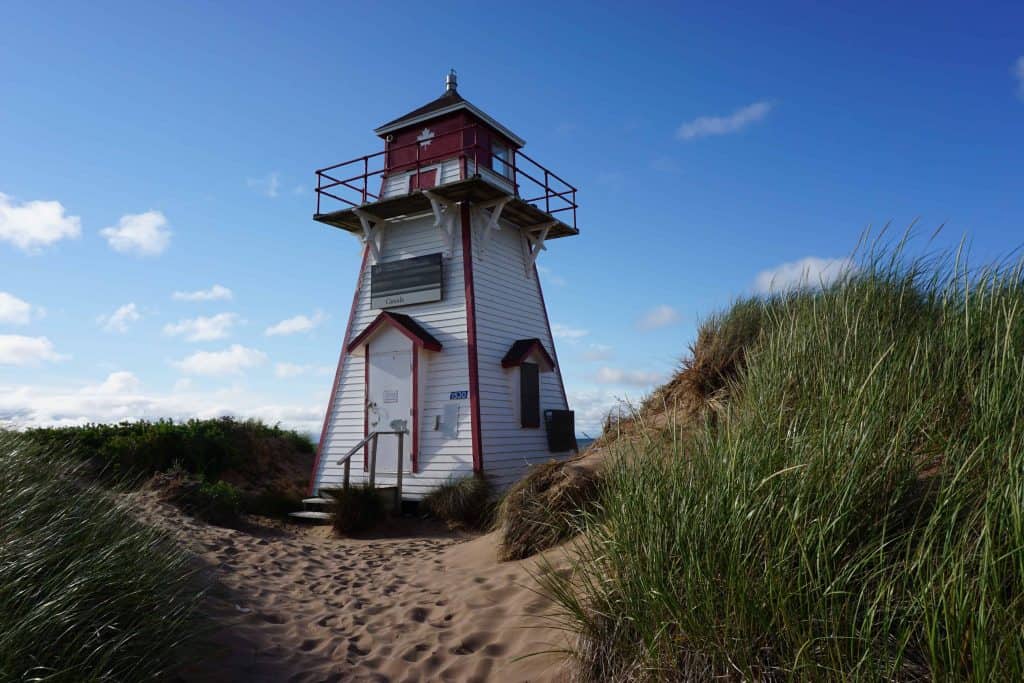 6. Visit a Potato Museum
Prince Edward Island is known for its potatoes so, of course, there's a museum to celebrate the humble spud. The Canadian Potato Museum, found in O'Leary along the North Cape Coastal Drive, is one of the top 11 food museums in the world. Highlights include the world's largest exhibits of potato-related farm machinery, agricultural and community artifacts and the world's largest potato sculpture. There is also a restaurant on site which features island-inspired potato dishes.
Located at 1 Dewar Lane, O'Leary, PEI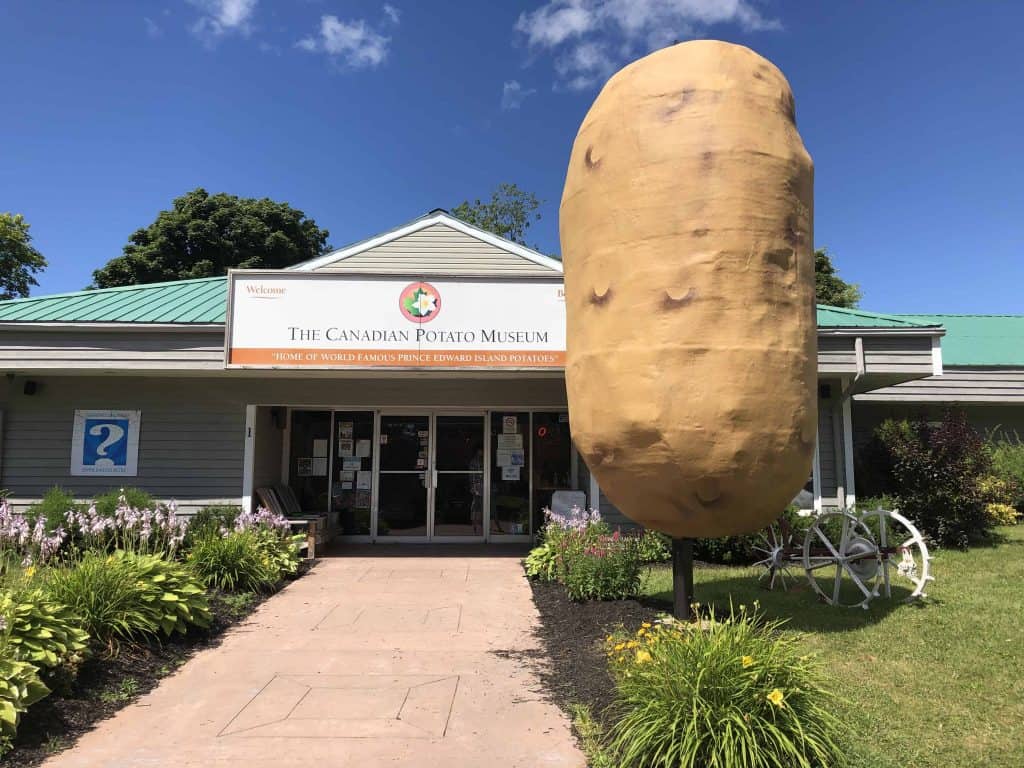 7. Play in Cavendish
Cavendish, located on the north shore of Prince Edward Island, is very popular with families for good reason. In addition to the beautiful beaches of PEI National Park and Anne of Green Gables, there are also an abundance of family-friendly attractions that make it easy to keep the kids busy on vacation rain or shine including Sandspit Amusement Park, Shining Waters Family Fun Park, Black Magic Indoor Black Light Mini Golf, Ripley's Believe It Or Not! Odditorium, Jurassic Bart's Dinosaur Museum and Petting Farm and more. Cavendish Boardwalk also features a number of shops, dining outlets and Cows Ice Cream.
Read our guide to Cavendish with Kids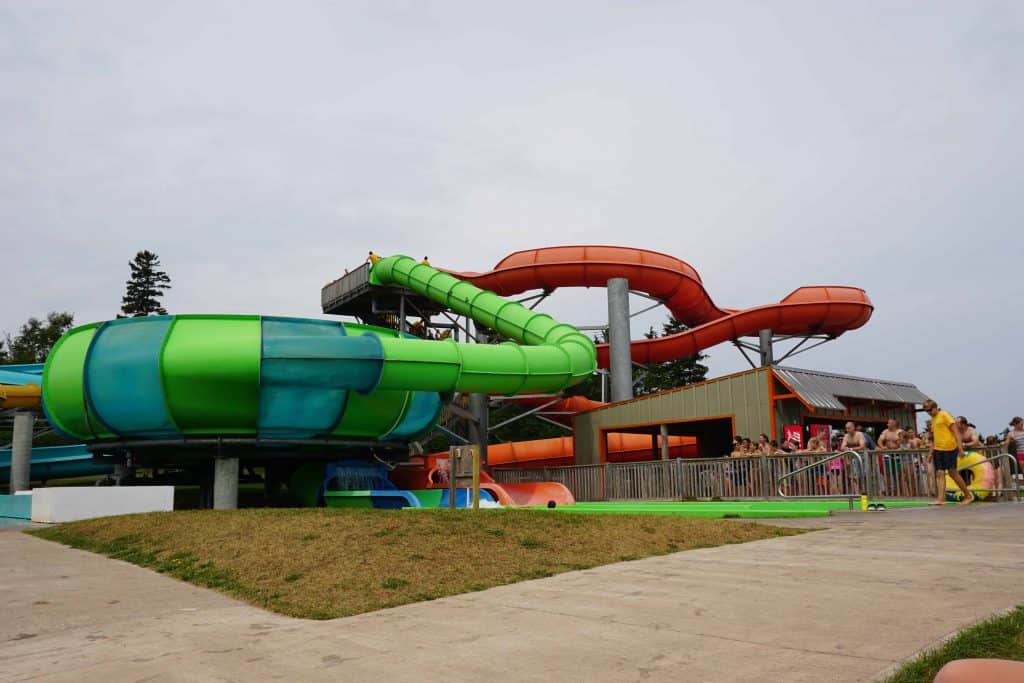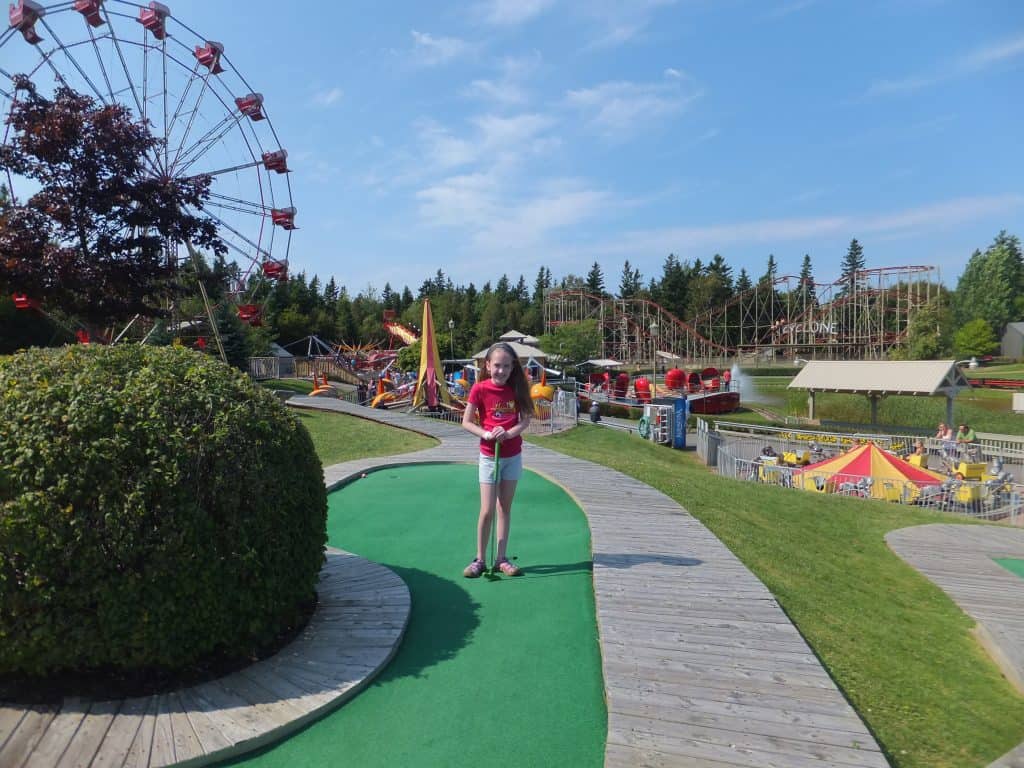 8. Shop and Dine in Avonlea Village
At one time Avonlea Village was an Anne of Green Gables themed attraction with activities for visitors but in recent years the admission fee and activities have been dropped and there are only shops and restaurants open. It is still set up like a quaint turn of the century village and there are some interesting shops and good dining options for anyone staying in or visiting Cavendish.
On our most recent visit, we had a delicious meal at Piatto Pizzeria, yummy PEI lobster rolls at Dave's Lobster, and gooey sandwiches at Moo Moo Grilled Cheese. There's also a Cows Ice Cream location here which wasn't quite as busy as the Boardwalk location. I was also thrilled that we were able to walk to Samuel's Coffee House for my latte every morning as I had to make do without on previous stays in Cavendish.
Located on Route 6, Cavendish. Open mid-June to Labour Day weekend in September only.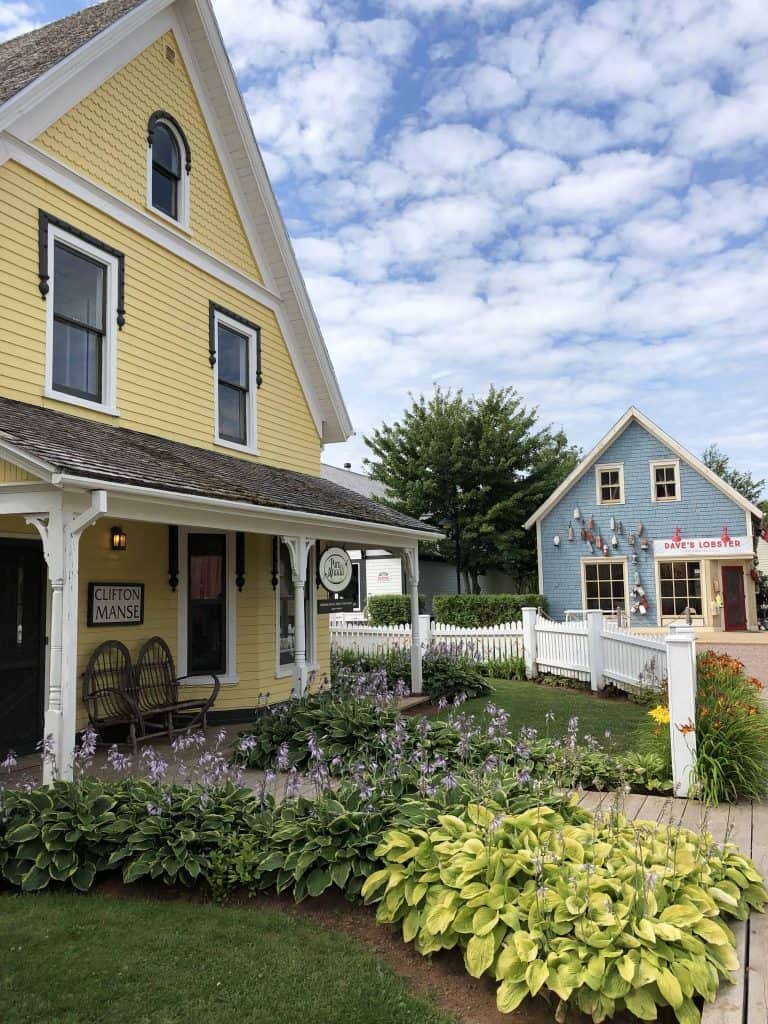 9. Get Active Outside
There are plenty of opportunities to get active and enjoy an outdoor vacation on Prince Edward Island. The 435 kilometre Confederation Trail is PEI's portion of the Trans Canada Trail and runs tip-to-tip from Tignish to Elmira. The shared use walking and cycling trail has gentle gradients making it ideal for visitors of all fitness levels. (Check out the Tourism PEI website for more information and a map of the Confederation Trail.)
There are also plentiful opportunities to try watersports on the island including kayaking, canoeing, parasailing, and more. We planned on trying sea kayaking with Malpeque Bay Kayak Tours on our last visit and ran out of time so it's top of our list for the next trip. They offer both kayak tours and rentals as well as paddleboard lessons and rentals and are located about a 30 minute drive from Cavendish.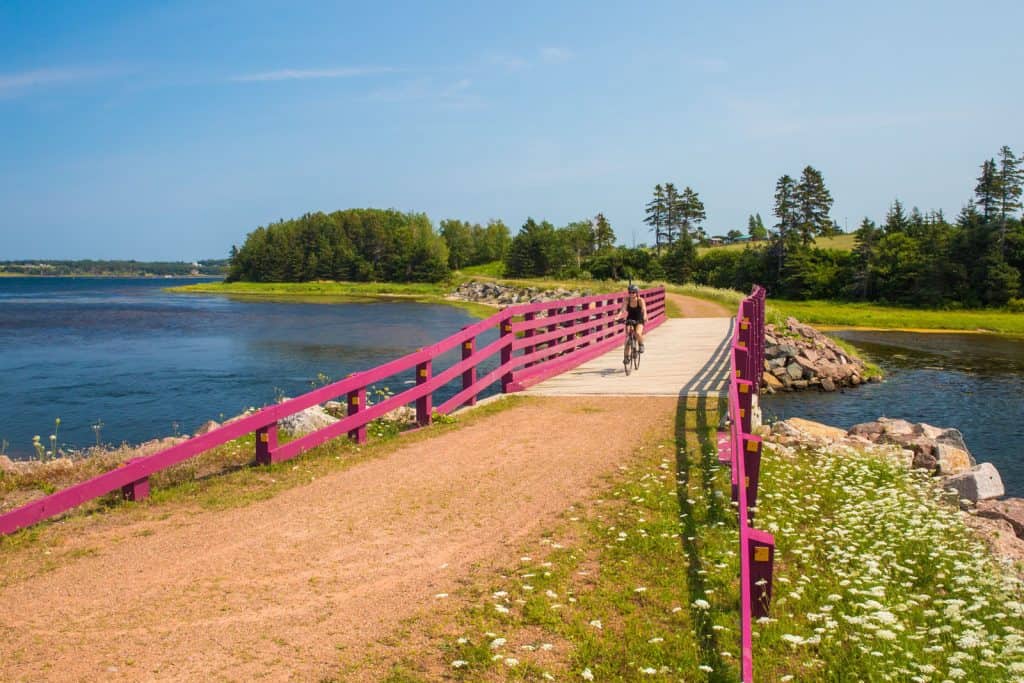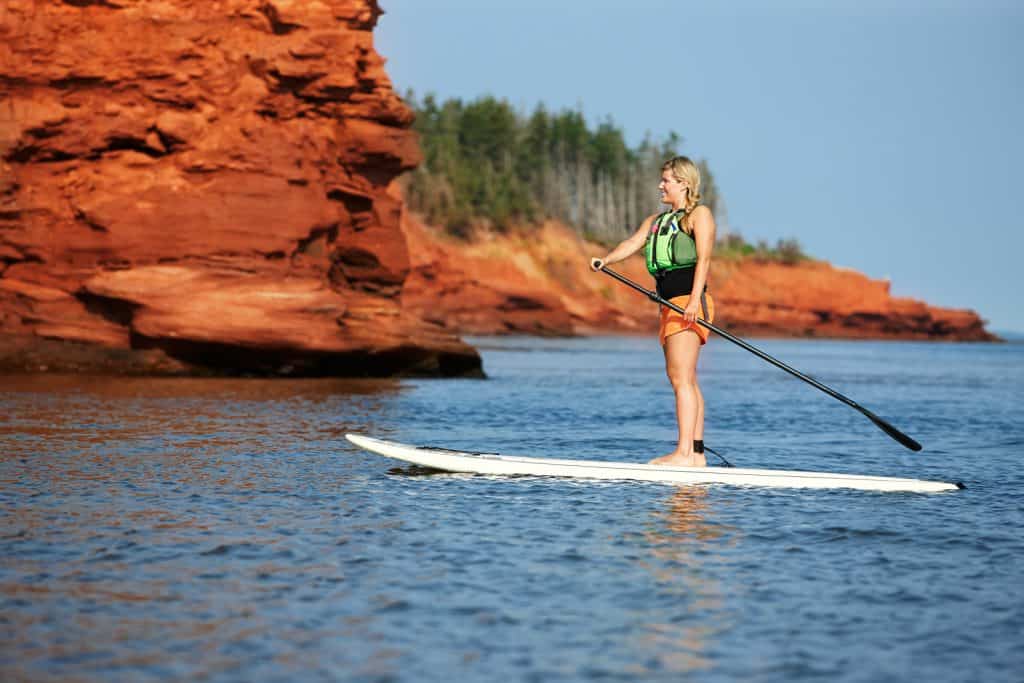 10. Walk on the Singing Sands Beach
Have you heard that there's a beach in Prince Edward Island where the sand sings? The popular Basin Head Beach has miles of sandy beach that makes a squeaky sound when you walk on it due to a high amount of silica and quartz in the sand. How fun would that be?!?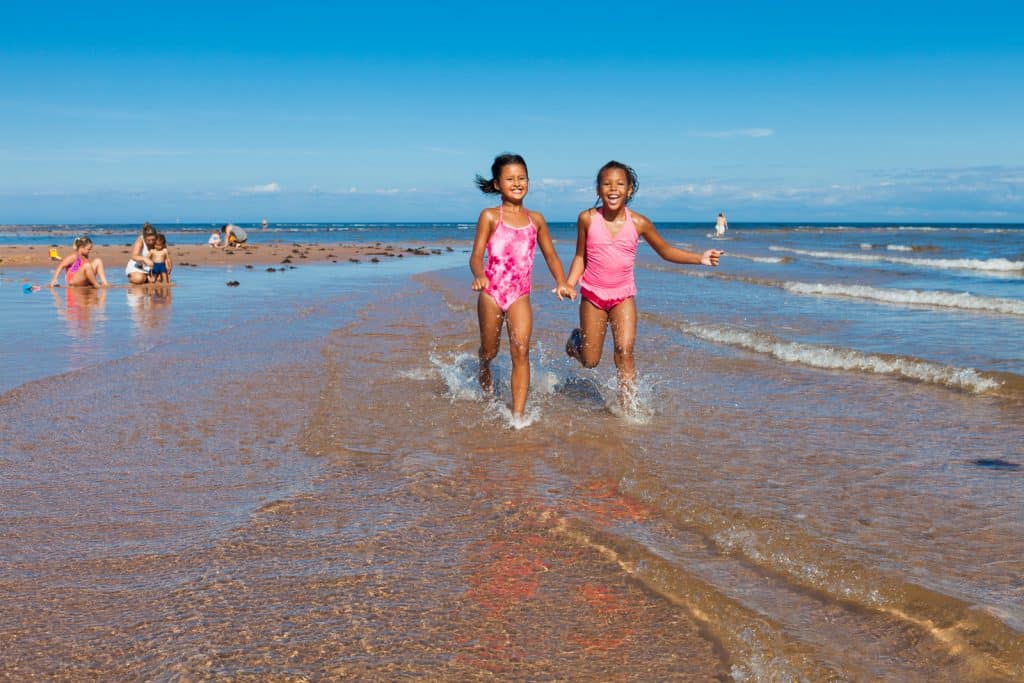 11. Watch a Drive-In Movie
Another great summer tradition on the island is seeing a movie at Brackley Drive-In – PEI's only drive-in theatre and one of the few remaining in the Maritimes. The drive-in has been lovingly restored to its original 1950s condition and plays first-run Hollywood blockbusters on a 5 story tall, 72 foot wide screen. It's a must for a summer evening on the island!
Located at 3164 Brackley Point Rd, Brackley Beach
As an Amazon Affiliate I earn from qualifying purchases.
12. Visit Victoria-by-the-Sea
Victoria-by-the-Sea is a charming historic village that you should visit while on the island. Located on the south shore of the island, halfway between Charlottetown and Summerside, Victoria was established in the 19th century and has remained a charming small town. While here you should visit the operating lighthouse which also houses the Victoria Seaport Museum and pop into Island Chocolates for some delicious handmade chocolates and a coffee. If time allows, be sure to see a play at The Victoria Playhouse – PEI's "longest running little theatre" which the New York Times has called a hidden gem.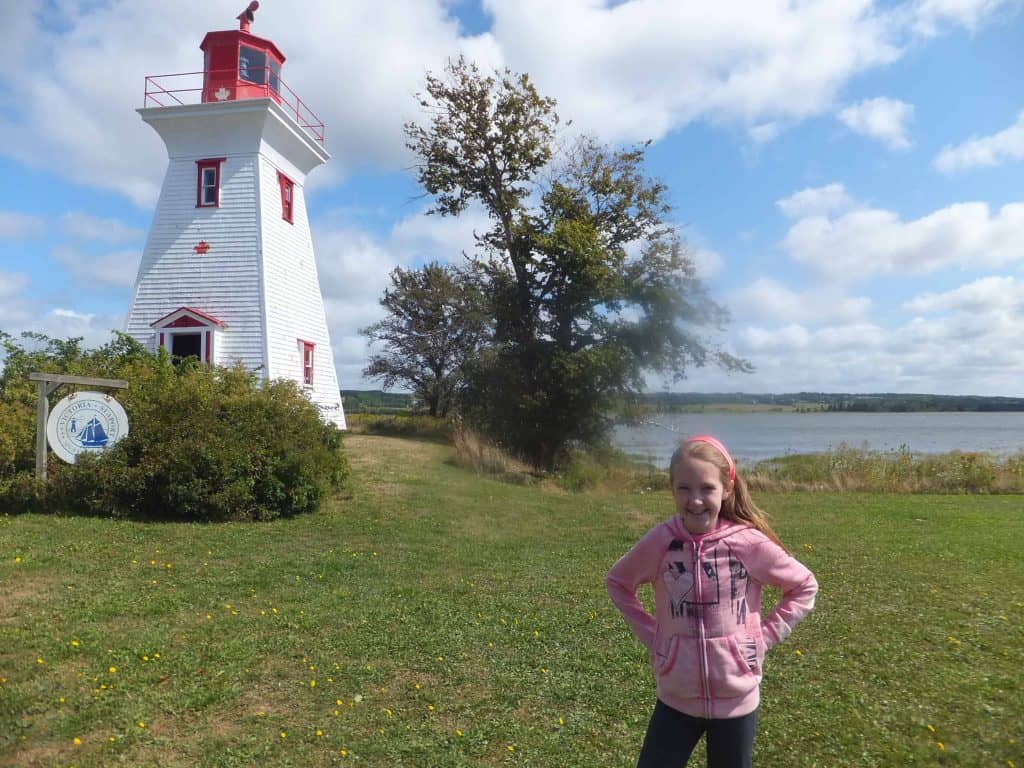 13. Attend a Ceilidh
One of the best entertainment options on the island is a ceilidh (also known as a "kitchen party", a ceilidh is the Celtic word for a musical gathering). You will likely see flyers posted advertising the various local ceilidhs or you can refer to this website which has an extensive list. A ceilidh is a great opportunity to experience local culture and fun for the entire family!
We had a great time at a ceilidh held at the Women's Institute in Stanley Bridge last summer which was hosted by Mike Pendergast and Tom McSwiggan along with Leon Gallant and Mike's son Shane Pendergast. We have seen Mike and Leon perform together many times over the years that we have visited PEI so we knew that it would be a great night of stories and island music and we were not disappointed.
14. Shop and Eat at Prince Edward Island Preserve Company
The Prince Edward Island Preserve Company has both a restaurant and a lovely location on the Clyde River. While there you must have a look around the shop and sample some of the delicious preserves – your hardest decision of the day will be deciding which ones to purchase and take home. The jars of preserves also make lovely gifts if you can bear to part with any. (Just be sure to pack them if you're flying – you wouldn't want to have them taken away at security!)
Located at 2841 New Glasgow Road, New Glasgow, PEI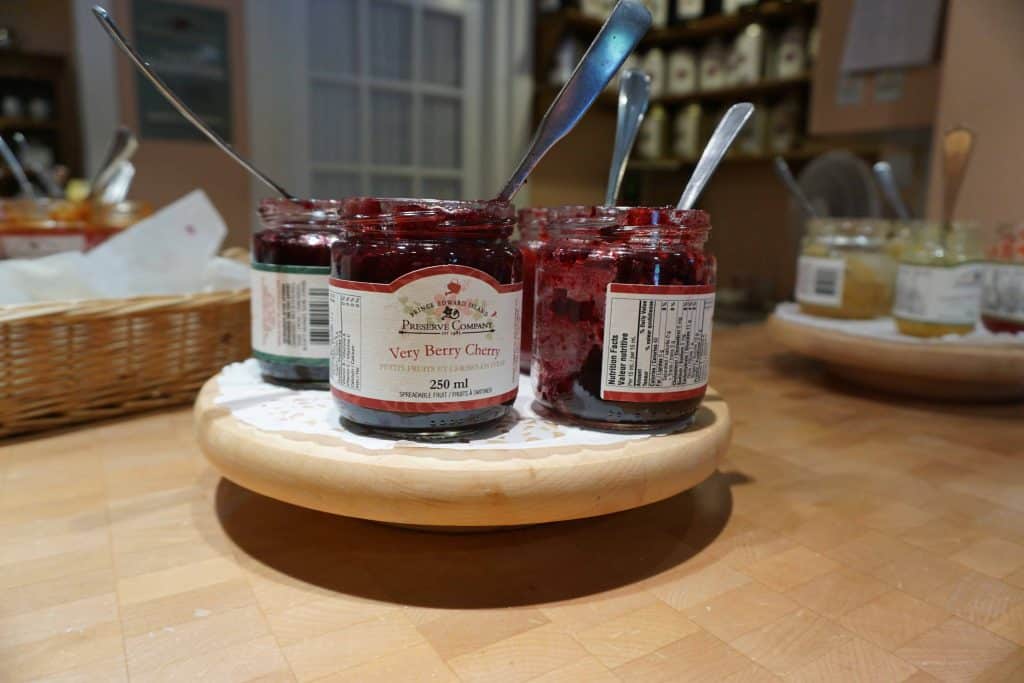 15. Play a Round of Golf
I'm not a golfer myself (unless you count mini-putt) but golf is one of the most popular activities on Prince Edward Island. Find all of the information you need about golfing on your PEI vacation including booking tee times or lessons on the Golf PEI website.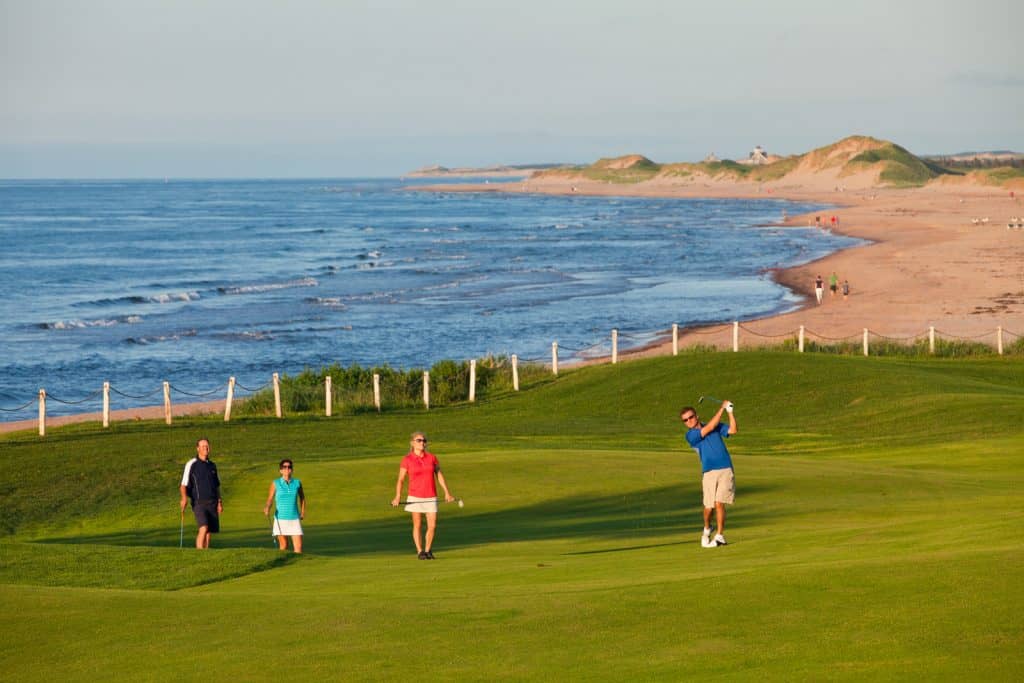 16. Learn about Acadian History and Culture
The French-speaking Acadian community on Canada's east coast, descendants of the French settlers who came to North America beginning in the 17th century, are an integral part of the history and culture of Prince Edward Island. Visitors to the island can learn more about Acadian history and culture at the Acadian Museum in Miscouche and also at the Village Musical Acadien in Abram-Village.
Read more about the Acadian culture on the Acadie of Prince Edward Island website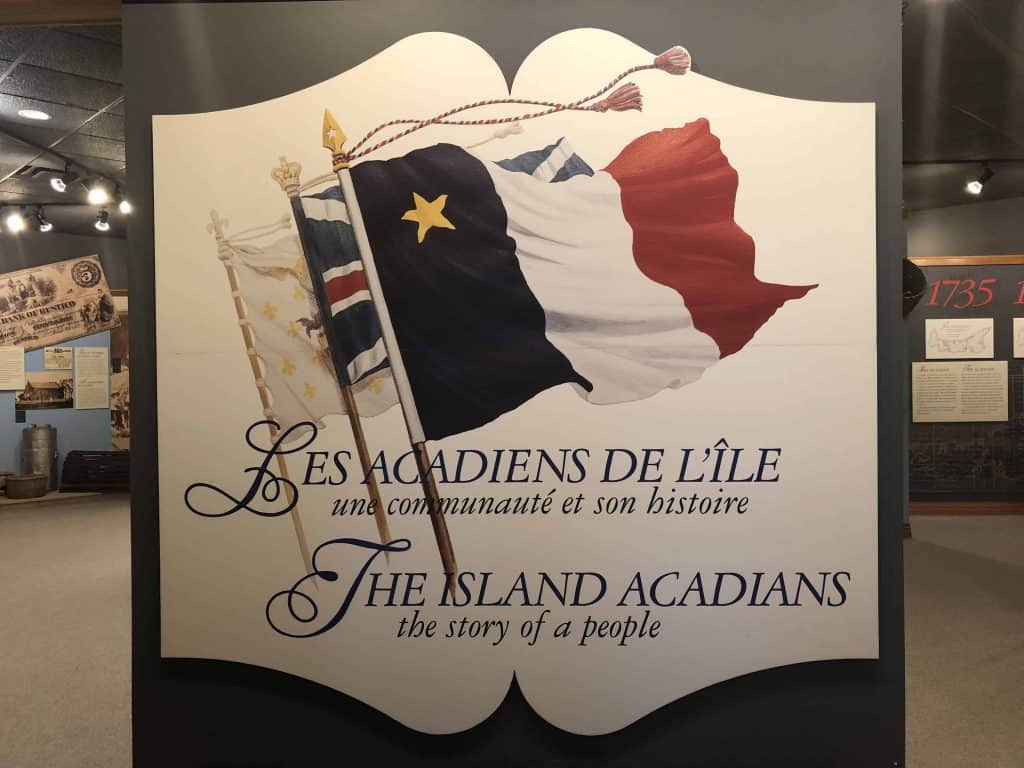 17. Visit Summerside
Summerside is the second largest city on the island and is fun to visit as a day trip. Be sure to visit Spinnakers' Landing, a recreated fishing village on the waterfront, where you will find shops, food, artist's studios and entertainment. At the nearby College of Piping, summer visitors can also attend daily performances that showcase dancing, piping and drumming skills.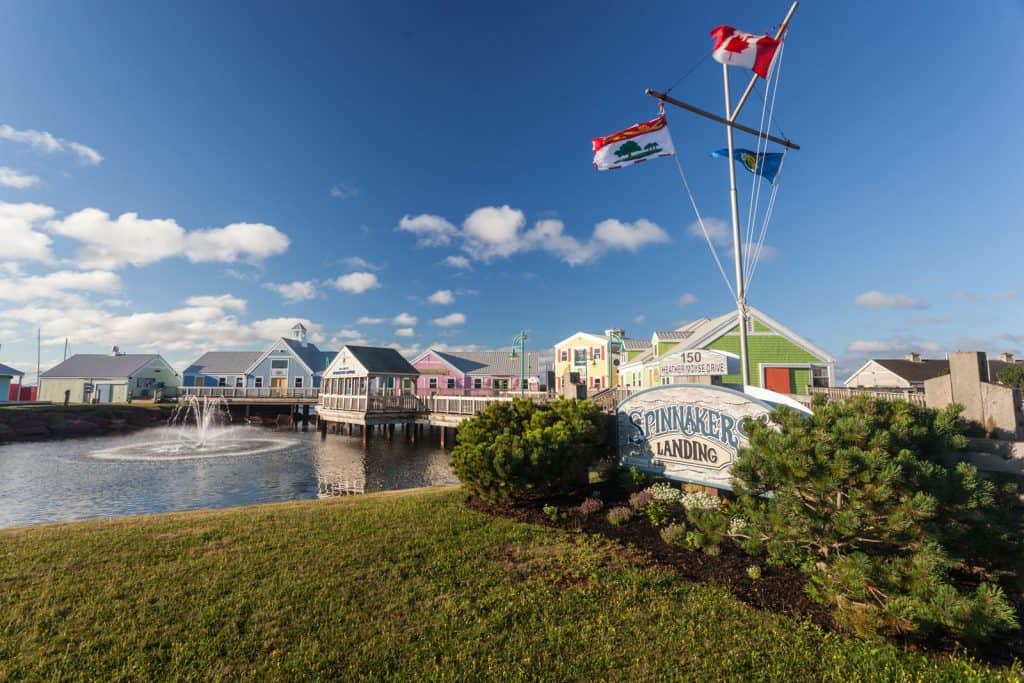 18. Attend a Musical or Two
One of our favourite things to do on vacation in Prince Edward Island is see one of the Anne musicals in Charlottetown.
Anne of Green Gables – The MusicalTM has been playing at the Confederation Centre of the Arts in Charlottetown each summer since 1965 making it the world's "longest running annual music theatre production" according to the Guinness Book of World Records. We have seen this family-friendly musical every time that we have visited the island with the exception of the very first time when our older daughter was not yet 2 and I don't think I'll ever grow tired of it. I recommend it to everyone – whether you have read the books or not. Also check out the website for the Confederation Centre to see what else is on stage during your visit.
Anne & Gilbert, The Musical, launched in 2005, is a charming sequel of sorts to the original musical which covers the romantic relationship between Anne and her childhood sweetheart, Gilbert Blythe, as young adults. We have seen this musical twice and it's a favourite as well with beautiful music by Nancy White.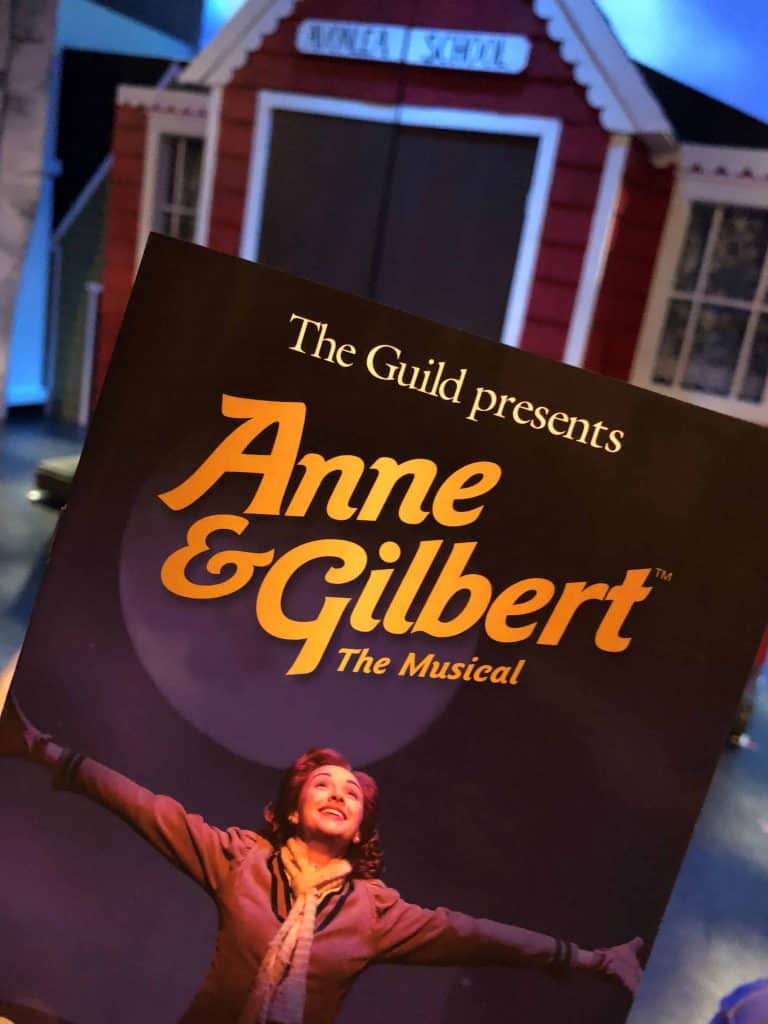 19. Visit Dalvay-by-the-Sea
Dalvay by the Sea, located within Prince Edward Island National Park, is an elegant inn built in 1895 that has been operated as a country resort since the 1930s and is now a National Historic Site of Canada. Anne fans may recognize Dalvay by the Sea as the fictional White Sands Hotel from the Anne of Green Gables movies and from the television show Road to Avonlea.
We have a family tradition of dining here on our last night on the island and every meal that we have had has been memorable – both for the setting and the cuisine. Dalvay-by-the-Sea is also an operating hotel with rooms and cottages if you would like to stay on site.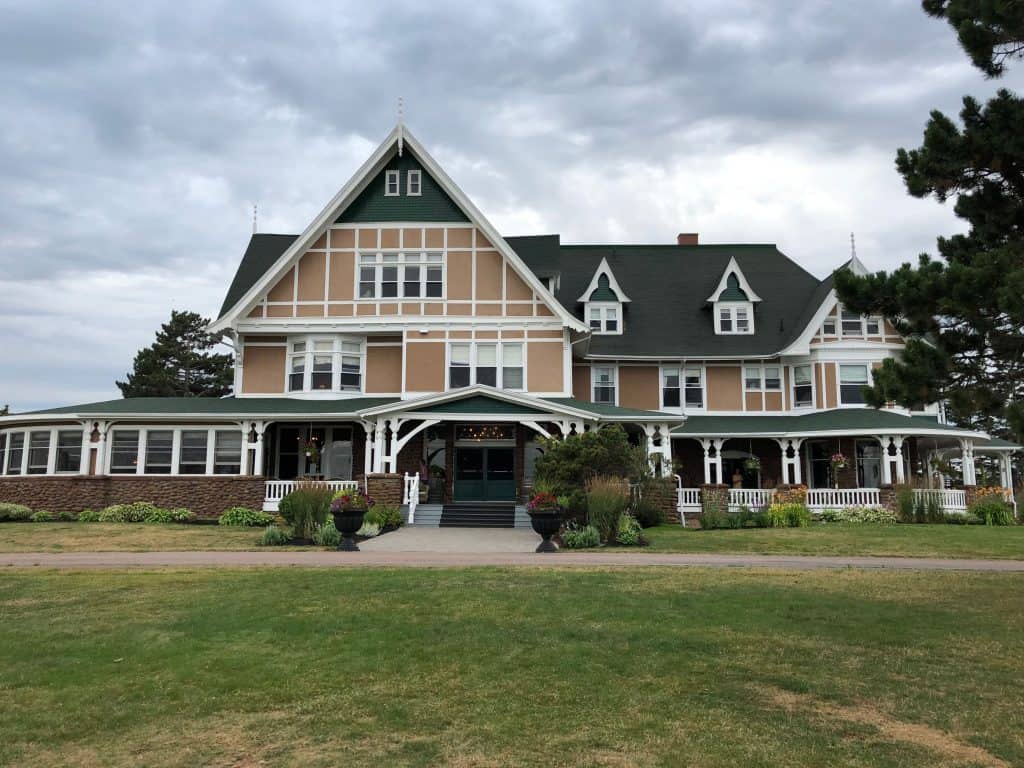 20. Stop for a Photo in French River
The picturesque fishing community of French River, located on New London Bay approximately a 20 minute drive from Cavendish, is one of the most beautiful places on the island in my opinion. Stop first for the great view from the road looking down the hill to the bay and the village and then head into the village to take more photos around the beautiful waterfront.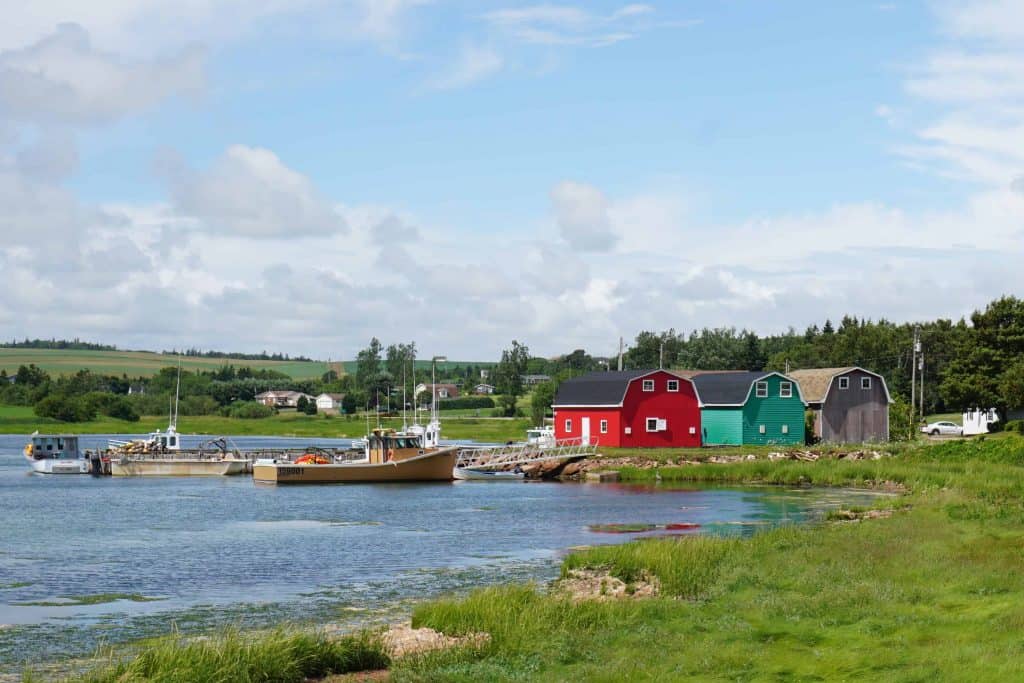 21. Tour the Bottle Houses
If you like quirky attractions then the Bottle Houses (Les Maisons de Bouteilles) in Cap-Egmont on the North Cape Coastal Drive need to be on your PEI itinerary. Édouard Arsenault began construction of the bottle houses in 1980 and by 1984 he had cemented together over 25,000 recycled bottles of various shapes, sizes and colours to construct three buildings – a six gabled house, a tavern and a chapel. There is also a lovely garden to enjoy on site which features glass sculptures and a replica lighthouse.
Located at 6891, Route 11, Cap-Egmont.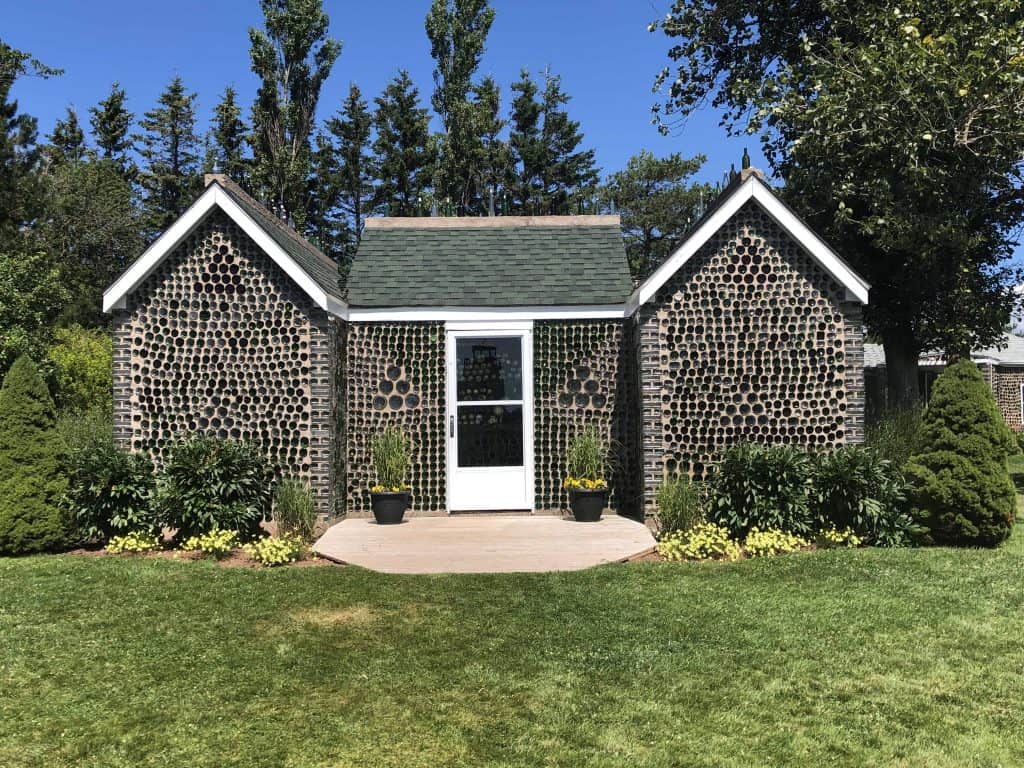 22. Play Dress-Up
At some point while you're on the island you should take the opportunity to dress up like Anne of Green Gables – you will go home regretting it if you don't! One of our favourite places to dress up is at Gateway Village at the foot of the Confederation Bridge in Borden-Carleton. Male, female, young, old – everyone likes to dress up as Anne and they have a wall of photos to prove it! There's a small fee to dress-up and then you can take as many photos as you want using your own camera.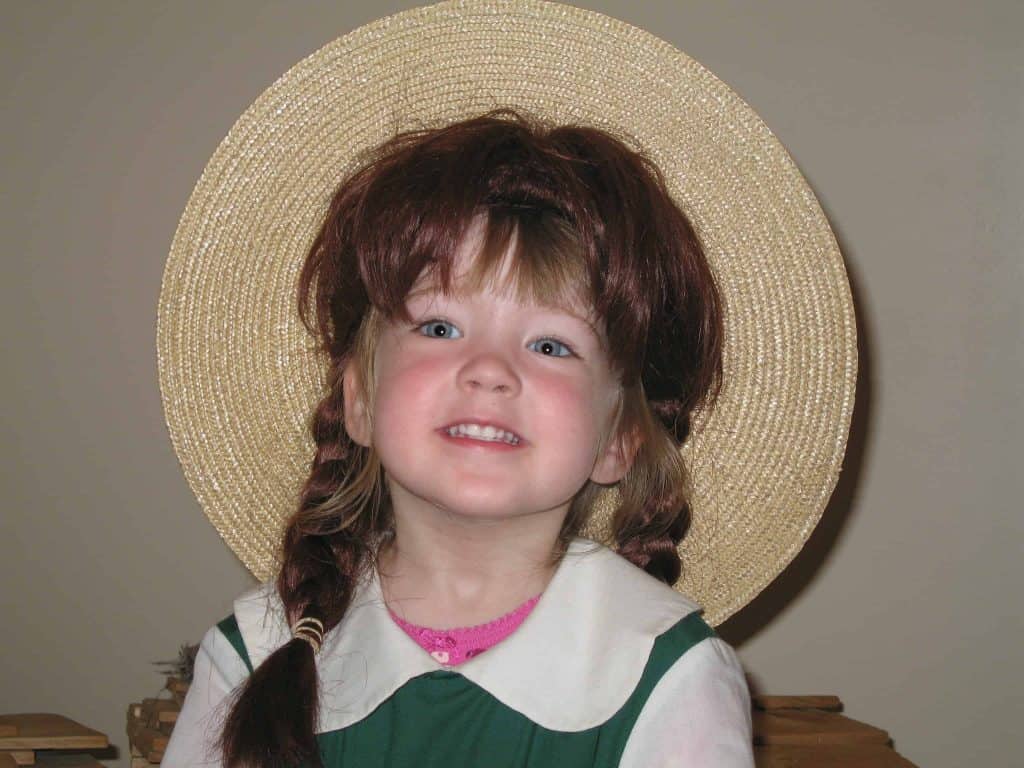 23. Eat Cows Ice Cream
Under no circumstances should you visit Prince Edward Island and not sample Cows Ice Cream! In our experience, once a day is about the right amount of COWS – you are on vacation after all! COWS began making ice cream in 1983 using all natural ingredients, and a recipe dating back to the days of Anne of Green Gables, and continues to use the same old-fashioned ingredients today. In addition to the delicious ice cream, the company also makes whimsical clothing and other items featuring cow themed parodies.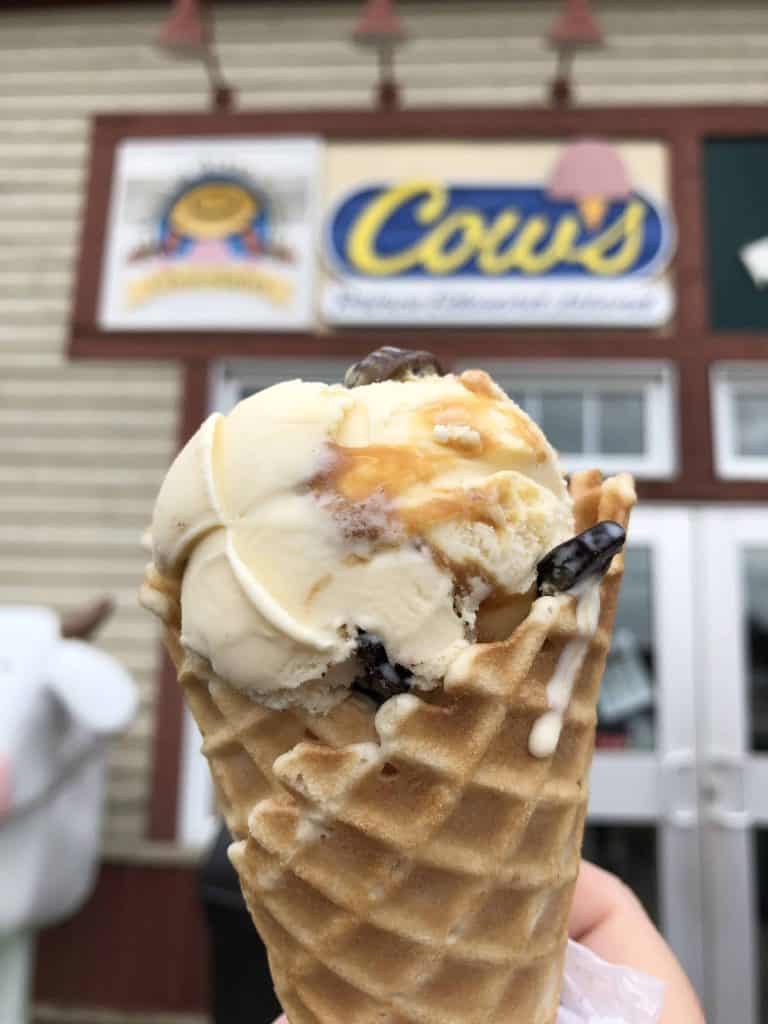 24. Take a Scenic Coastal Drive
You will see scenic landscape no matter where you drive on Prince Edward Island, however, there are also three popular coastal drives which cover most of the island – The North Cape Coastal Drive, the Central Coast Drive, and the Points East Coastal Drive. You can't go wrong no matter which one of these three well-marked scenic drives you choose – or you could do them all if you have time.
We spent a wonderful day on our last visit driving the North Cape Coastal Drive which featured magnificent scenery and one-of-a-kind attractions.
The Tourism PEI website has additional information on PEI coastal drives.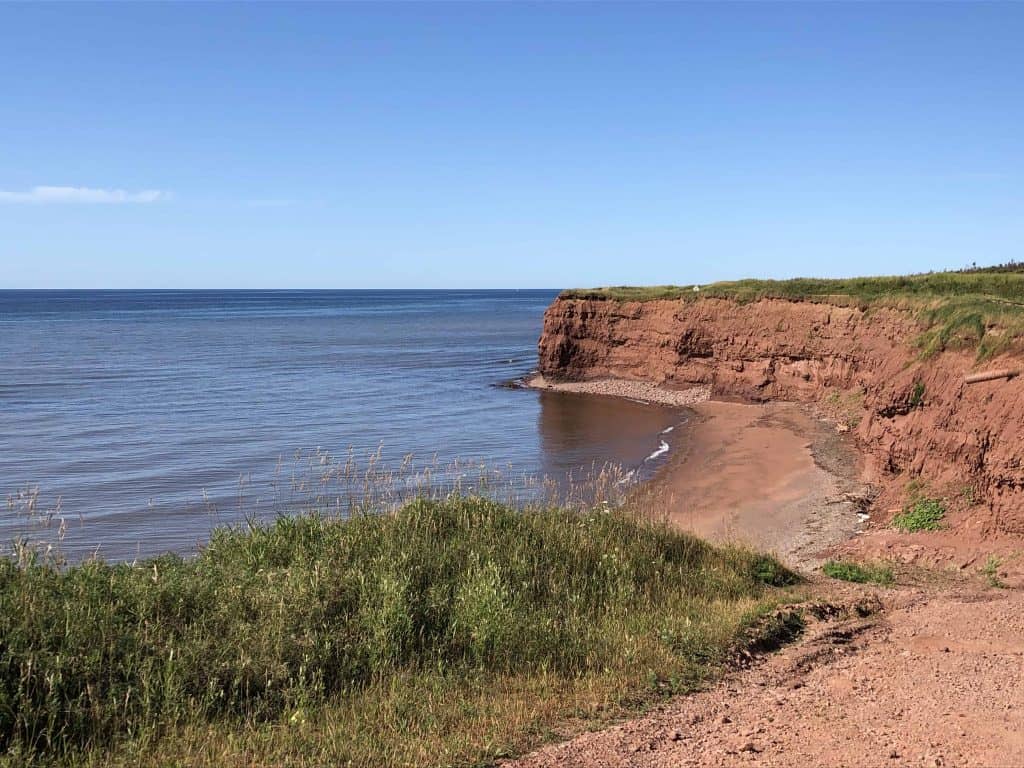 25. See Confederation Bridge
The Confederation Bridge, an engineering marvel that links Prince Edward Island to mainland New Brunswick across the Northumberland Strait, first opened in 1997. The bridge is 12.9km long (or about 9 miles) and is the longest bridge over ice-covered water in the world. More than 1 million people drive across the bridge every year. You will get an interesting view of the bridge while driving over it but to get the best views of Confederation Bridge you will have to head to one of these recommended locations.
If you're arriving (or departing) via the bridge, then make a pitstop at Gateway village at the foot of Confederation Bridge for visitor information, a bite to eat, to browse the shops or to dress up like Anne of Green Gables.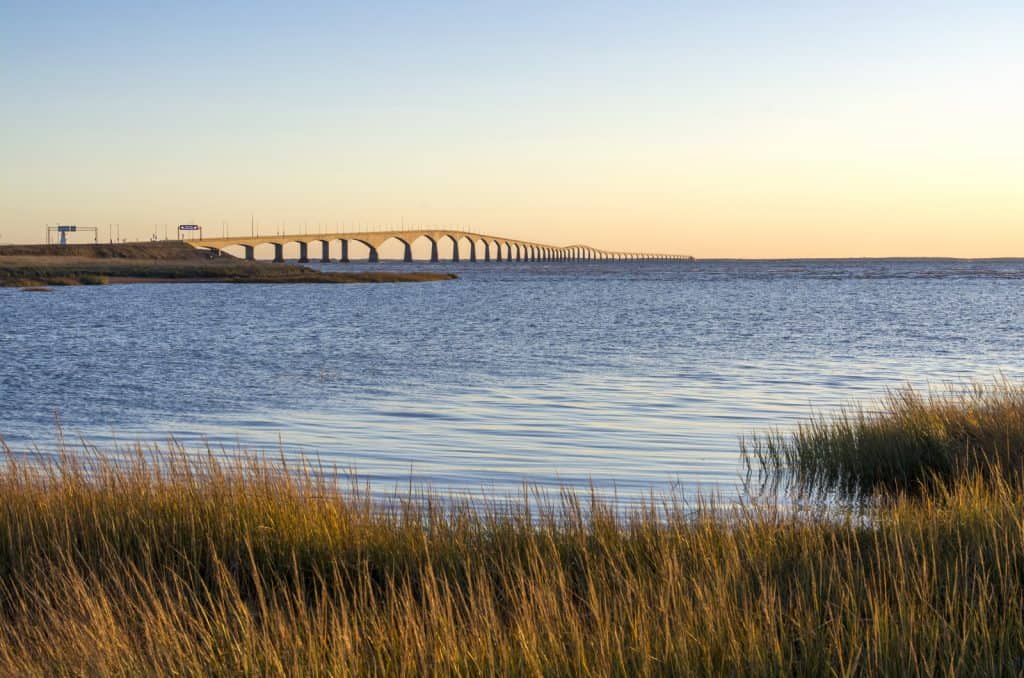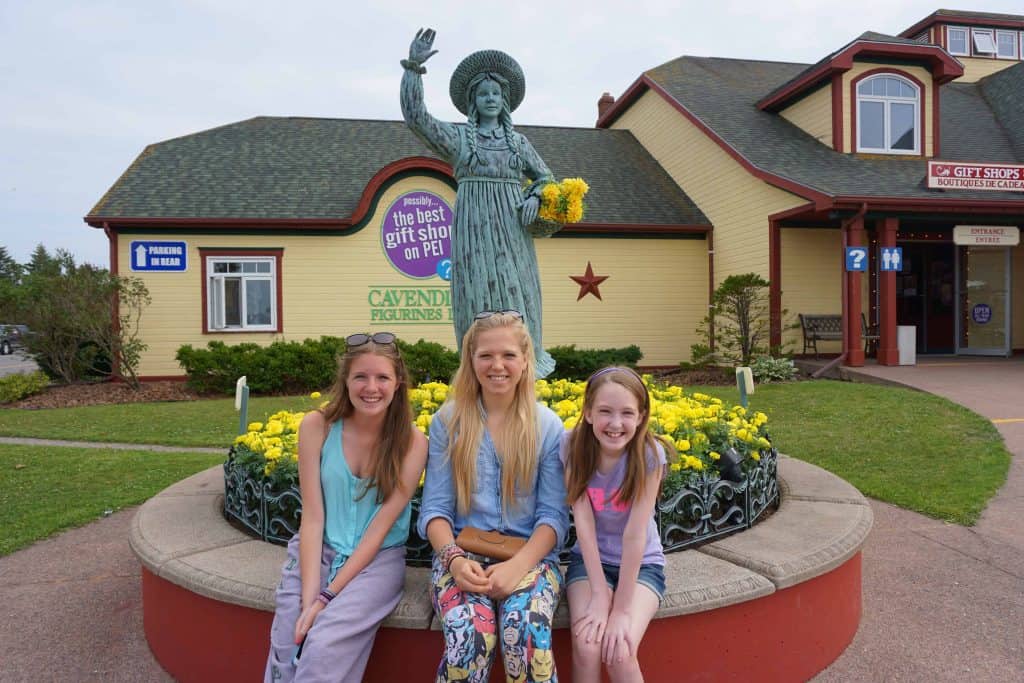 Where To Stay in Prince Edward Island
If you are looking for a cottage in PEI then I highly recommend Kindred Spirits Country Inn & Cottages in Cavendish, PEI. We have stayed at Kindred Spirits in the Cavendish area on each and every one of our family trips (9 times!) to Prince Edward Island.
The Inn is a lovely Victorian style country home located in the heart of the Cavendish resort area right next door to the Anne of Green Gables house and the Green Gables Golf Course. This PEI resort is family-owned and operated which means that there is a personal touch to everything.
Kindred Spirits offers a range of accommodations including various types of rooms in the inn and gatehouse and a number of 2 and 3 bedroom cottages that circle the property. There is also an outdoor heated swimming pool and hot tub, a playground, laundry facilities, campfires, wifi and more.
When it comes to places to stay in Prince Edward Island, Kindred Spirits feels like our home away from home and my family would not consider anywhere else.
Find the best deal, compare prices, and read what other travelers have to say at TripAdvisor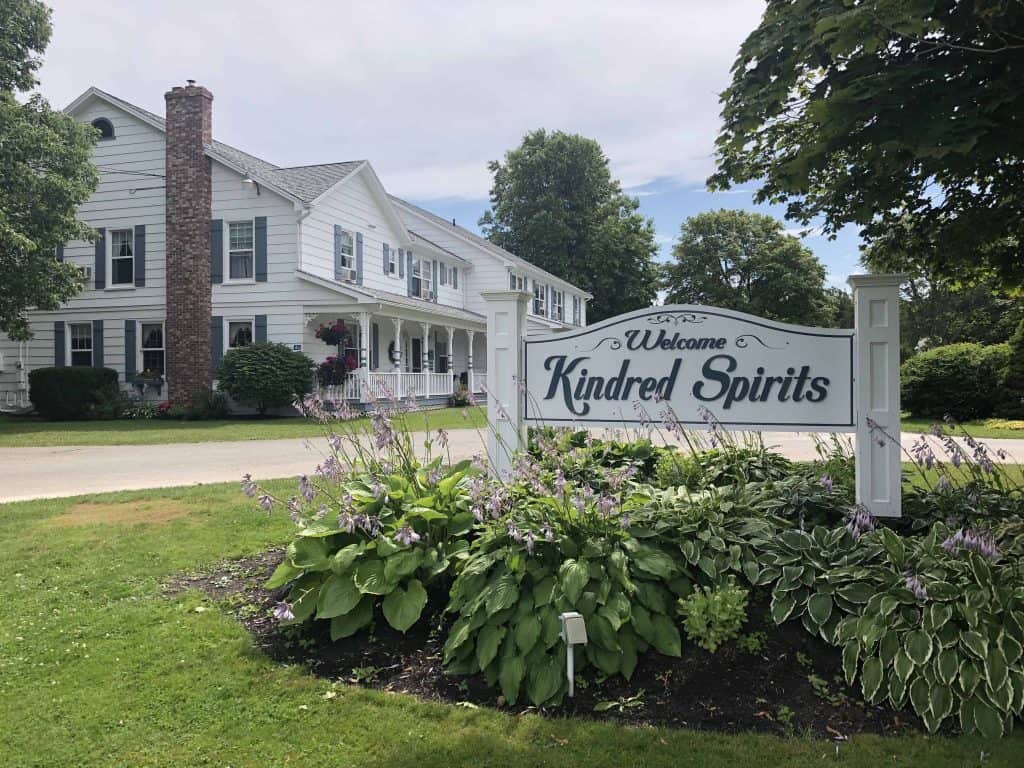 In Charlottetown we have stayed at the Holman Grand Hotel. The hotel's location on Grafton Street in the heart of downtown Charlottetown across the street from the Confederation Centre of the Arts was ideal for us as we were within easy walking distance of everything we wanted to see and do. We loved the contemporary style of the hotel rooms which had hardwood flooring, spa-like bathrooms, very comfy beds and a kitchenette. Free WIFI was also much appreciated as was the fabulous view of Province House from our window.
Find the best deal, compare prices, and read what other travelers have to say at TripAdvisor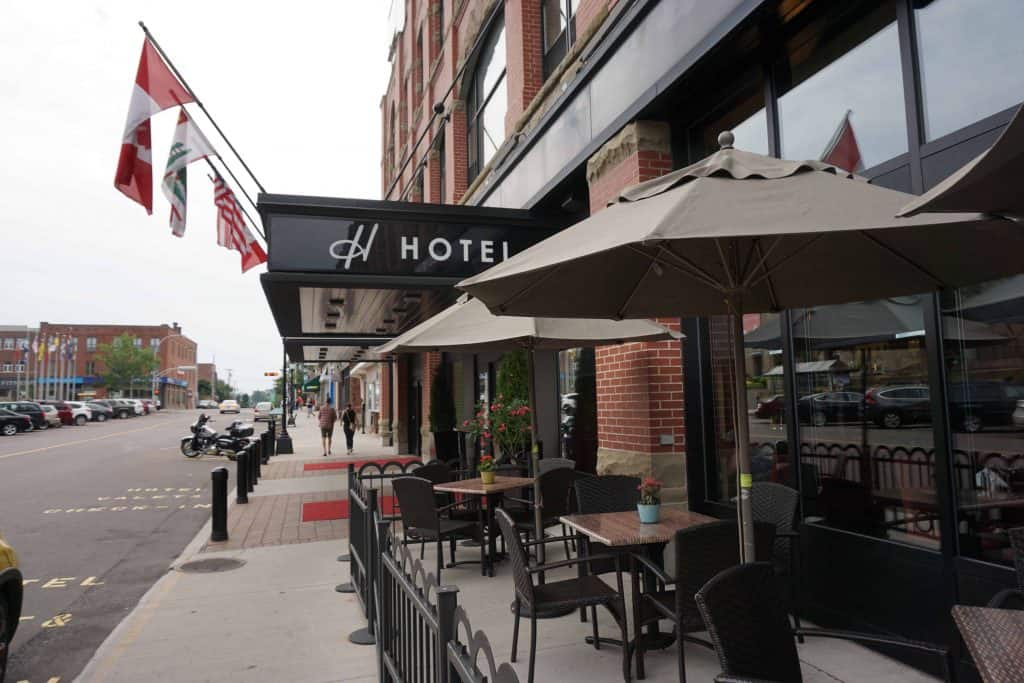 We are a participant in the Amazon Services LLC Associates Program, an affiliate advertising program designed to provide a means for us to earn fees by linking to Amazon.com and affiliated sites.
Related Articles
10 Things To Do On Prince Edward Island's North Cape Coastal Drive
9 Beautiful Must-See Lighthouses on Prince Edward Island
The Ultimate Guide to Prince Edward Island for Fans of Anne of Green Gables
Things To Do in Charlottetown, PEI with Kids
Cavendish, Prince Edward Island with Kids
A Beautiful Scenic Drive Along the Nova Scotia Lighthouse Route
7 Family-Friendly Activities in Halifax, Nova Scotia
Pin This For Later