One of the best Nova Scotia scenic drives is the Lighthouse Route which we recently drove from Halifax to Lunenburg as a day trip from Halifax. We drove the same route 13 years ago when our children were quite young but were able to add more stops this time.
The Lighthouse Route along the south shore of Nova Scotia is 339 kilometres from Halifax to Yarmouth. As this was a day trip for us, we only drove as far as Lunenburg (approximately 100 km) with stops along the way at Peggy's Cove, Chester, Mahone Bay and finally Lunenburg.
The more scenic route is along the coast, however, you can also hop onto the main highway at anytime as it's faster. We took the more scenic route on our way to Lunenburg and then took the main highway back to Halifax.
This post may contain affiliate links. If you click an affiliate link and make a purchase then we receive a small commission at no additional cost to you.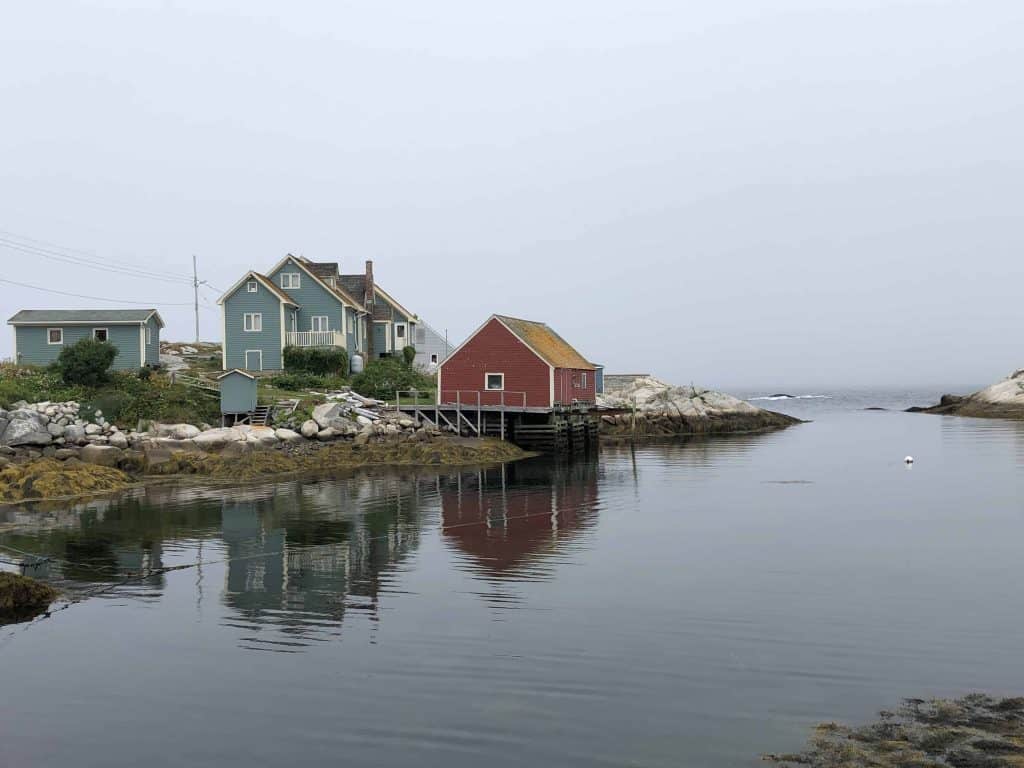 Peggy's Cove, Nova Scotia
Distance from Halifax to Peggy's Cove approximately 45 km
The first stretch of the drive is from Halifax to Peggy's Cove , a distance of approximately 45 km that takes about 45-50 minutes depending on traffic, time of day and which route you take.
The weather turned on us somewhere between Halifax and Peggy's Cove and what had promised to be a warm summer's day had become a foggy and chilly morning by the time we reached the car park at Peggy's Cove. As a result, we had to quickly run into a gift shop to buy a sweatshirt – a planning fail since we were driving and should have brought sweaters in the car – but at least it looked cute on her!
Travel Tip: Plan for any sort of weather even if you're visiting in August! Over the course of our day on the Lighthouse Route we experienced foggy cool weather, a downpour and intermittent warm sunshine.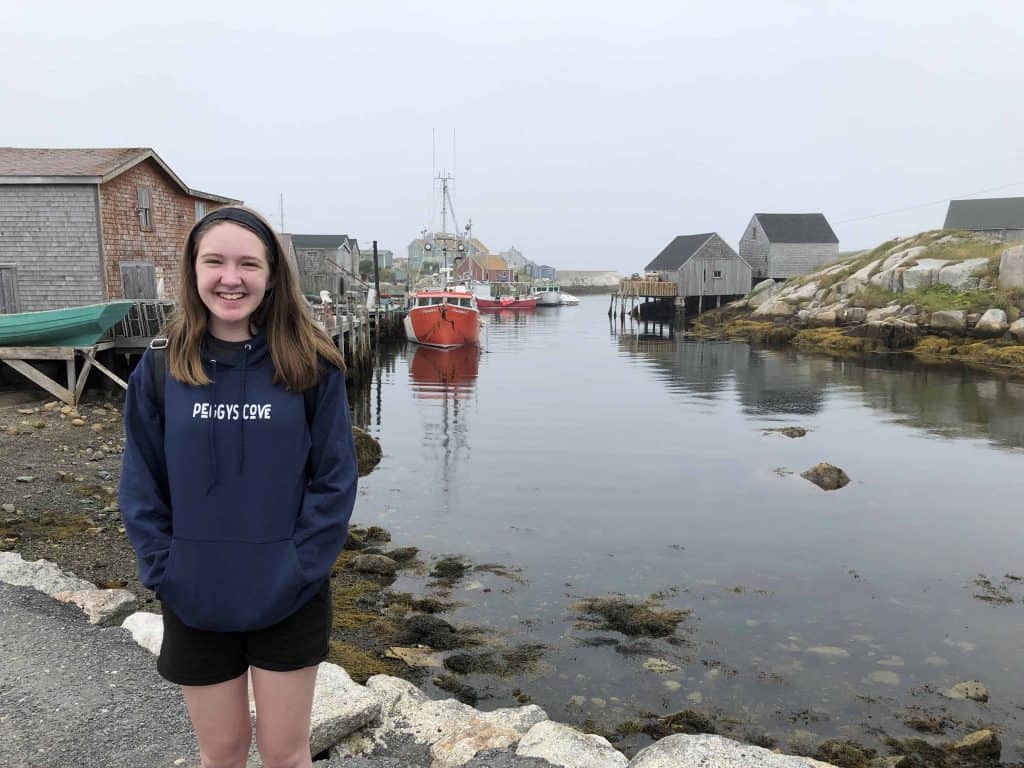 Peggy's Cove is a small rural fishing community located on the eastern shore of St. Margaret's Bay. Peggy's Cove is one of the must-see attractions of Atlantic Canada and the lighthouse is one of Canada's most-photographed landmarks. We have visited here several times and I enjoy taking photos around the quaint fishing village itself even more than the lighthouse.
Located at 72 Peggy's Point Road, Peggy's Cove, Nova Scotia. Located just an hour from Halifax, Peggy's Cove and the lighthouse may be reached on Highway 333 from Halifax or Highway 103 from Halifax to Exit 5 and then Route 333. There's parking available on site, gift shops, picnic tables and a restaurant.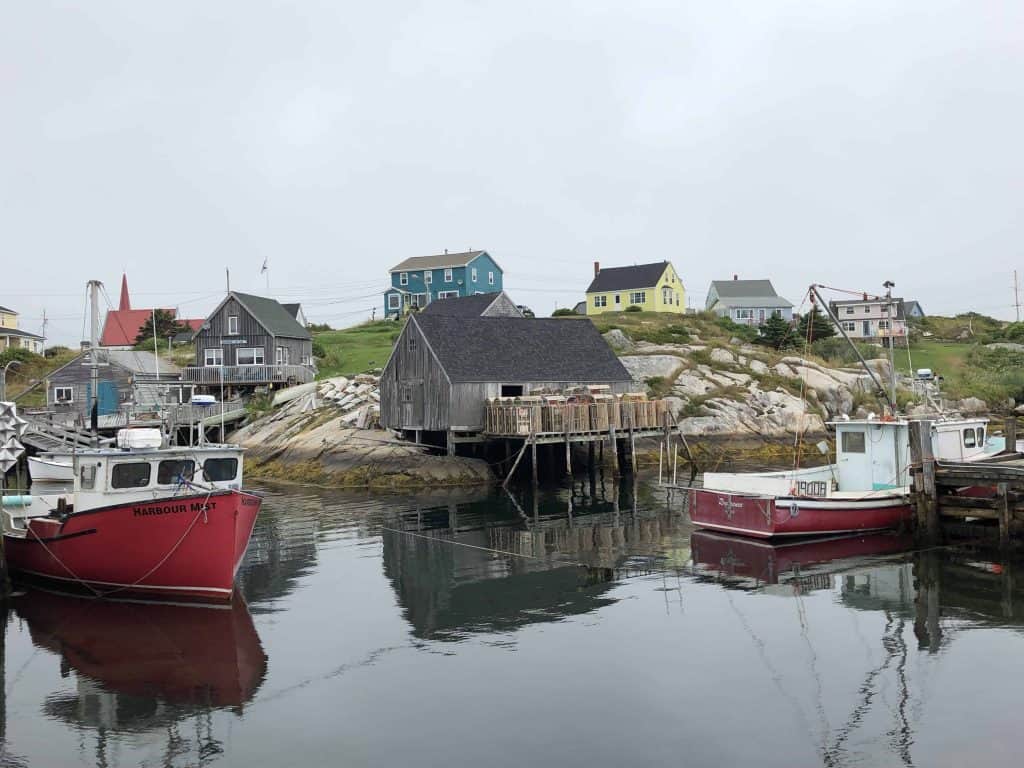 Historic Peggy's Point Lighthouse is a classic red and white octagonal lighthouse perched on wave-washed granite rocks. This active lighthouse was built in 1915 to replace an older structure and is operated by the Canadian Coast Guard. It was rather foggy on this visit but I quite enjoyed the moody atmosphere even more than when we have visited on bright sunny days.
Travel Tip: Exercise caution at Peggy's Cove particularly if you're travelling with children. Stay back from the edge as the rocks can be precarious particularly on wet and windy days. Tragically, many people have lost their lives here after being swept into the sea. Generally stay on dry white rocks because if the rocks are dark then they're wet and more likely to be hit by more waves. Rogue waves can splash up over the rocks even on calm, sunny days.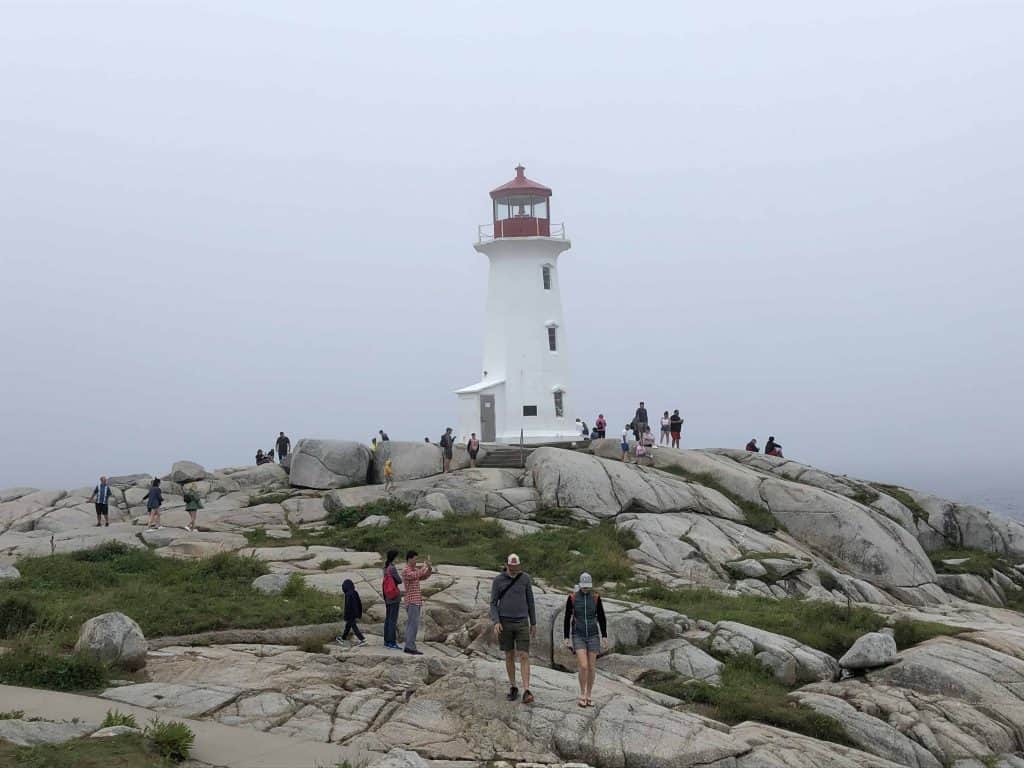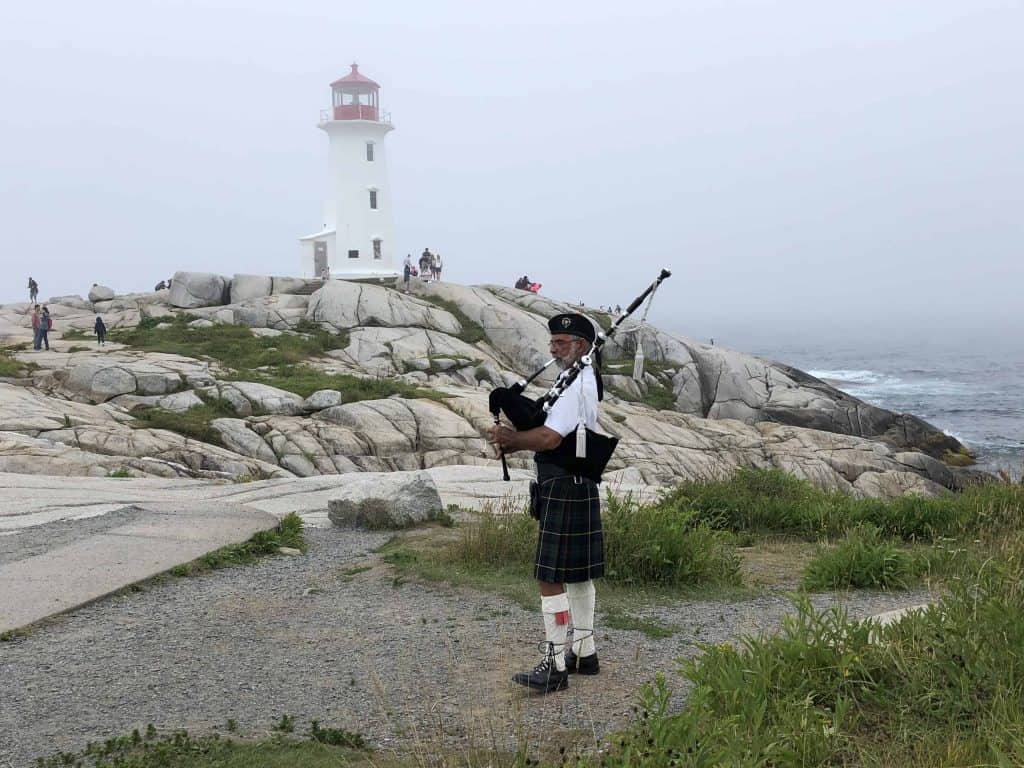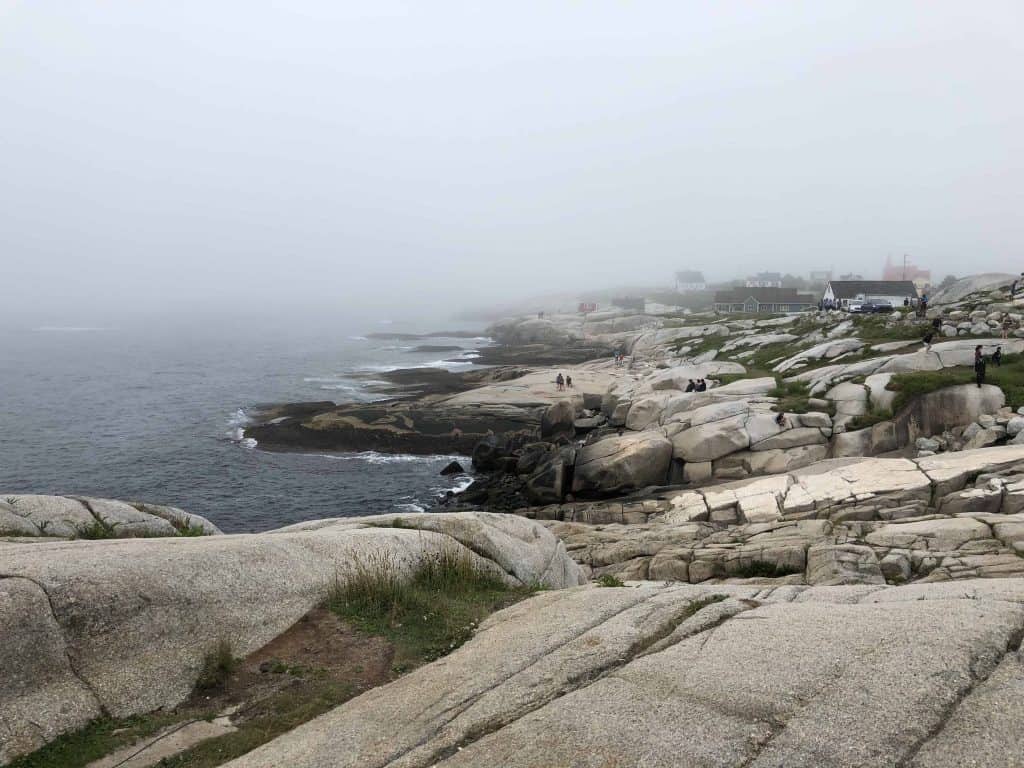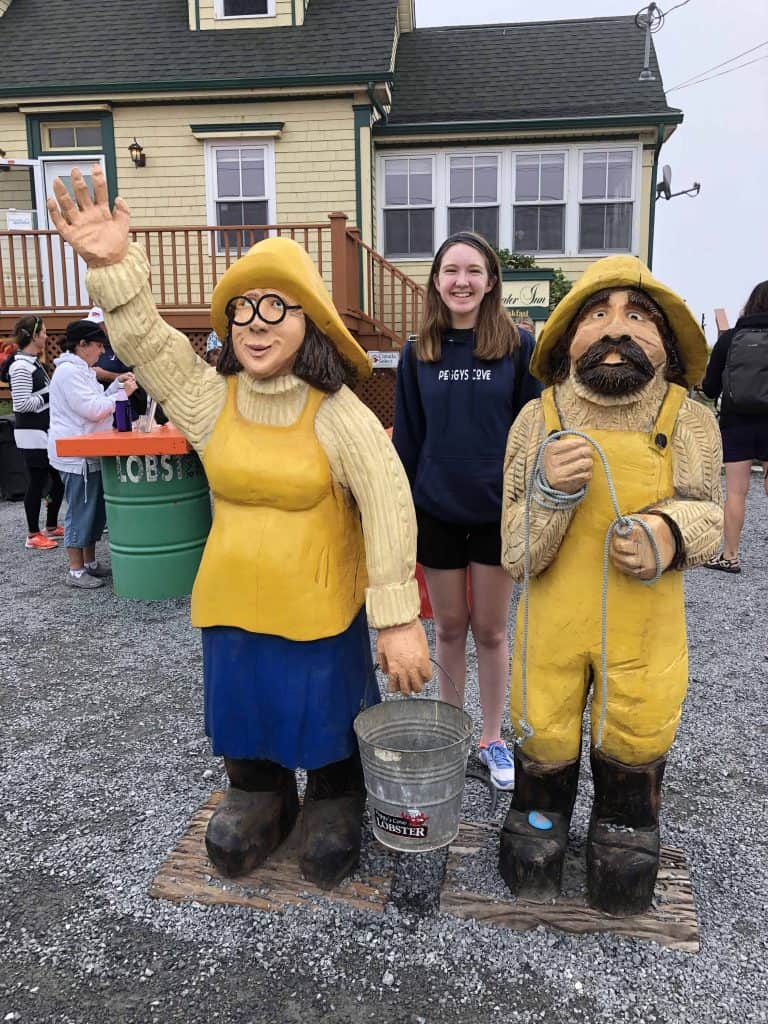 As an Amazon affiliate I earn from qualifying purchases.
White Sails Bakery & Deli
Distance from Peggy's Cove to Tantallon approximately 23 km
We have driven the Lighthouse Route a couple of times previously so we knew that our next stop would be to buy snacks at the White Sails Bakery & Deli in Tantallon approximately 23 kilometres from Peggy's Cove. It was pouring rain when we arrived but it was worth the soaking for the delicious baked goods!
Located at 12930 Peggy's Cove Road, Tantallon, Nova Scotia. Open seasonally.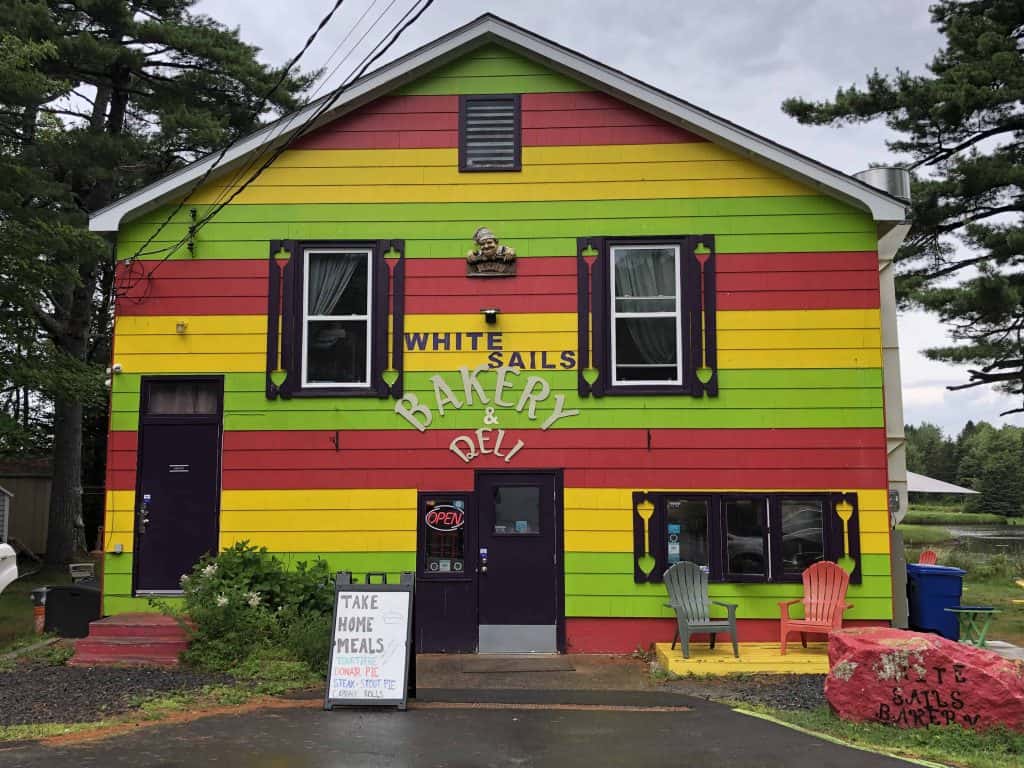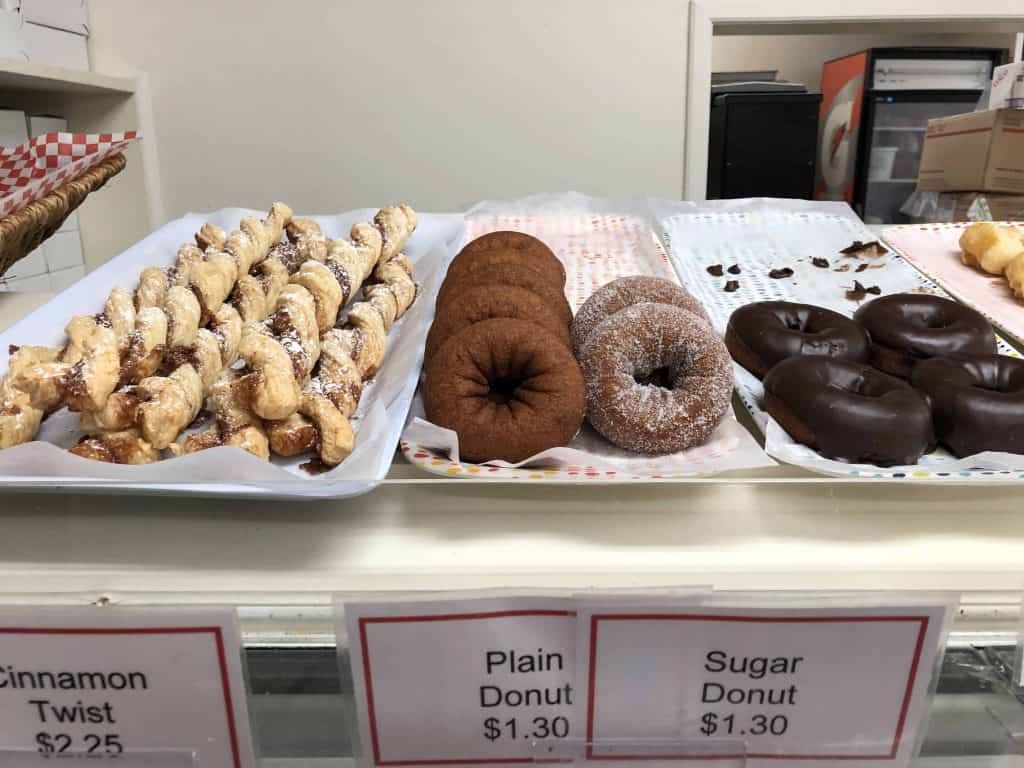 Chester, Nova Scotia
Distance from White Sails Bakery to Chester approximately 45 km
The next stop on our day trip was Chester, a seaside resort village on Mahone Bay that we hadn't visited before. Chester is known for its stately residences and summer yacht races but there are also bout tours departing from the harbour, boutiques and galleries to browse and live theatre year-round at The Chester Playhouse.
We didn't spend more than an hour here – just popped into a few of the unique shops for a look and went for a walk around the waterfront. The Fo'c'sle Tavern here is the oldest pub in Nova Scotia (dating back to 1764).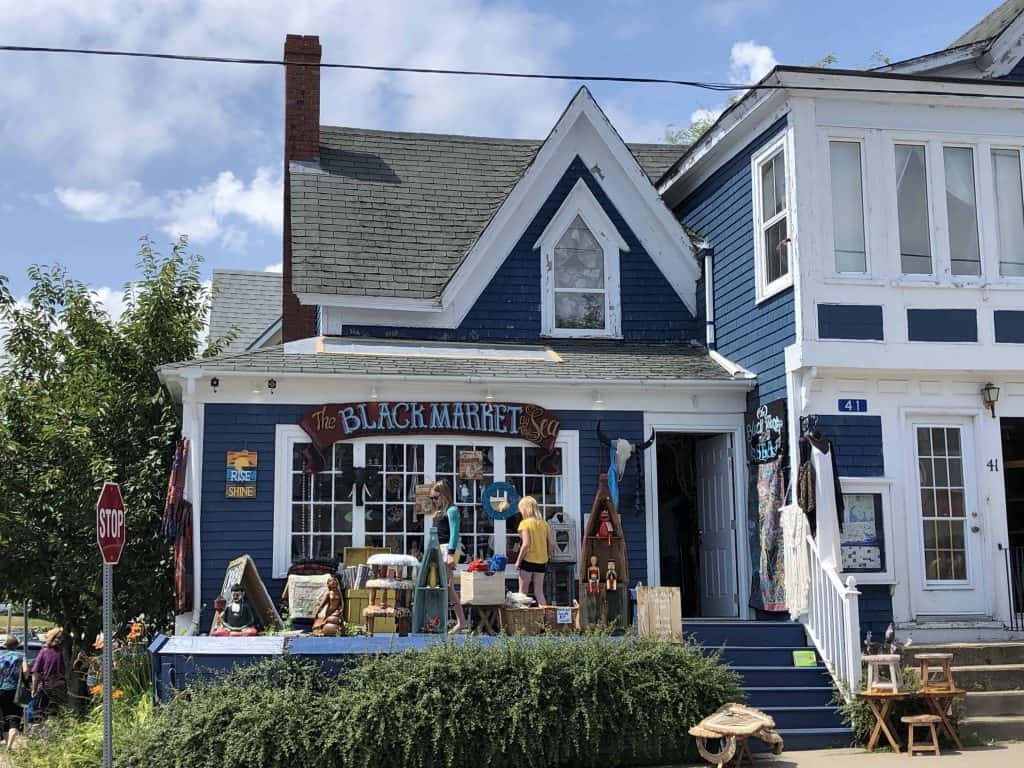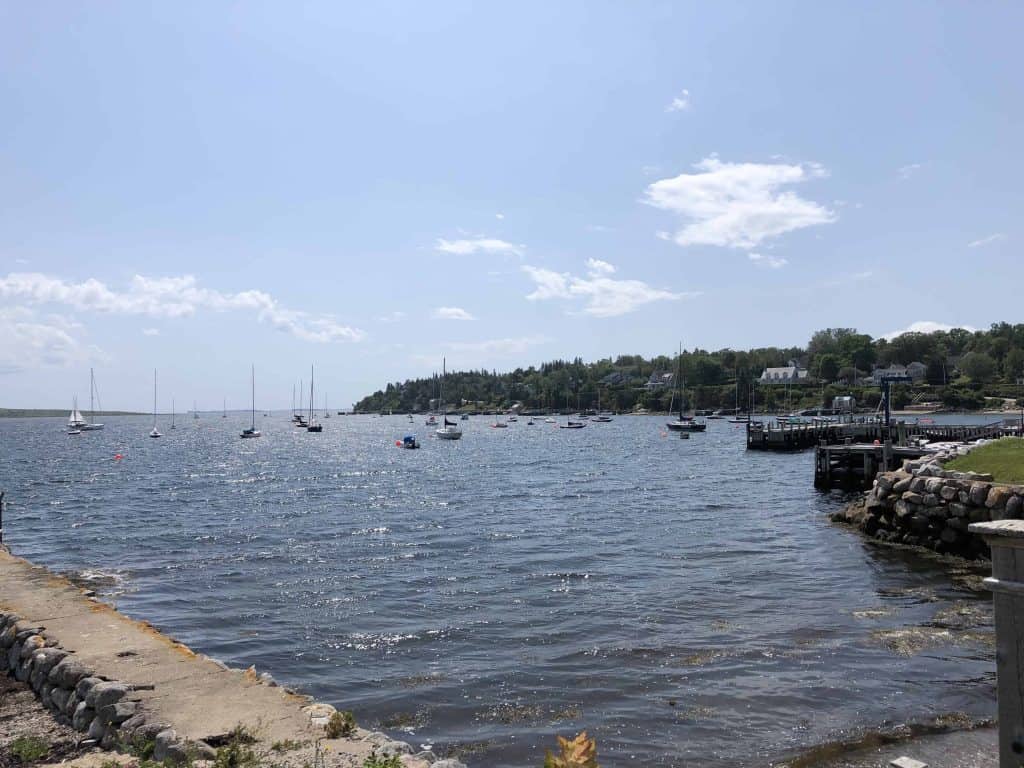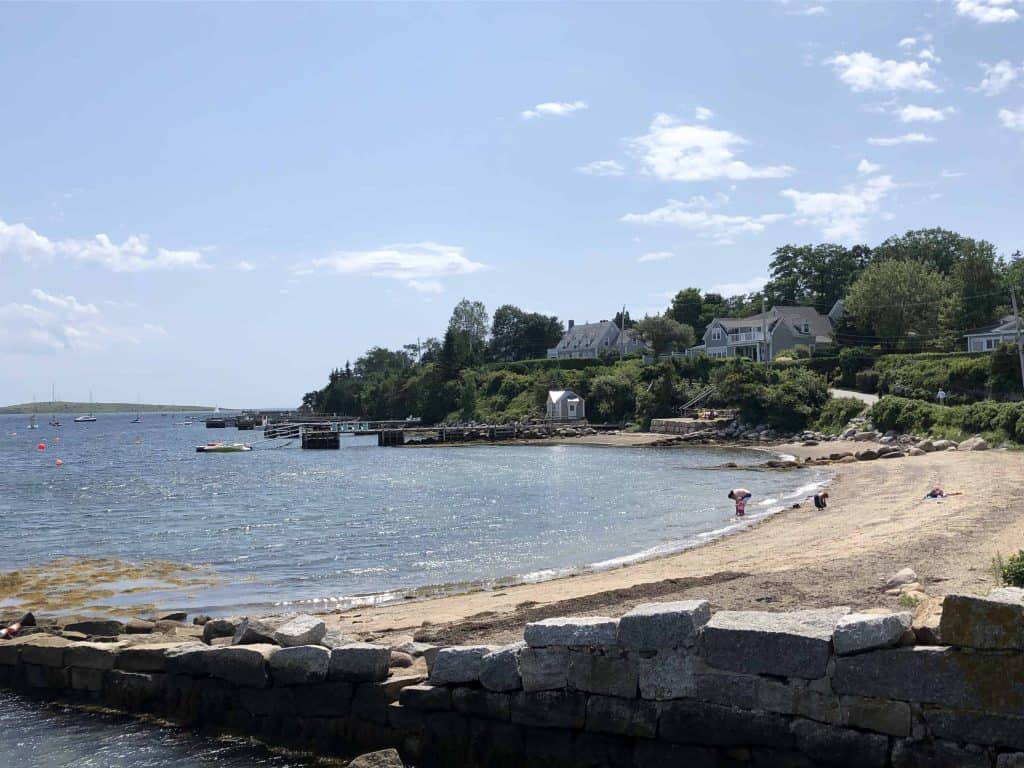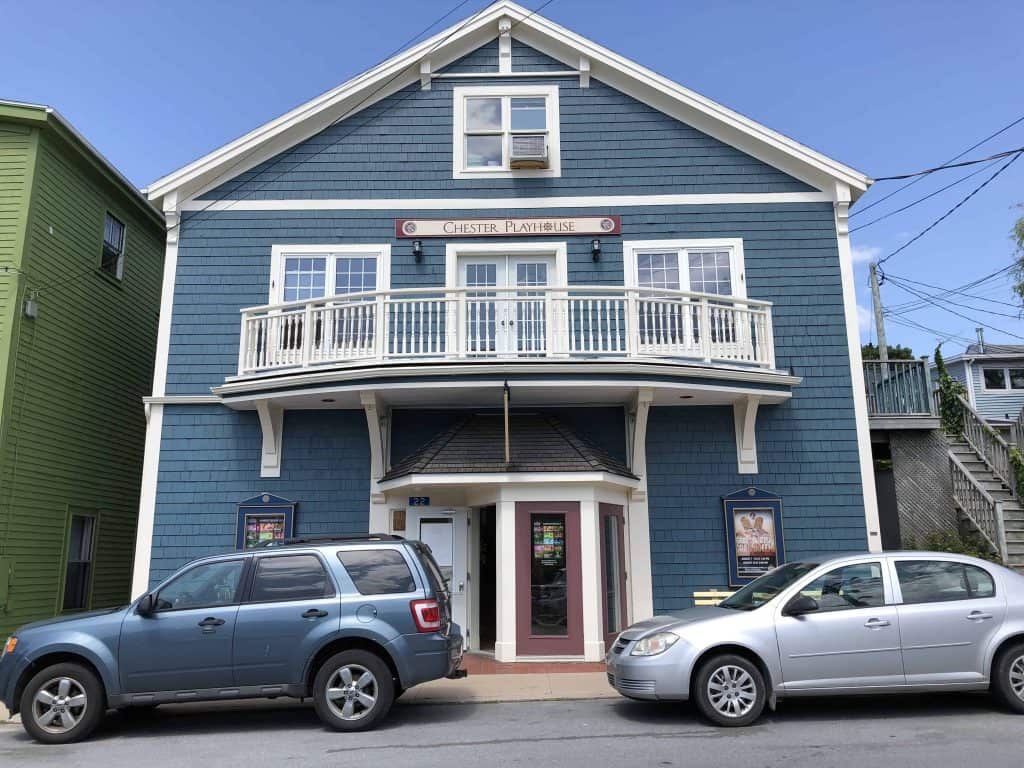 Mahone Bay, Nova Scotia
Distance from Chester to Mahone Bay approximately 28 km
Our next stop along the Lighthouse Route was Mahone Bay, a picturesque town on the shore of Mahone Bay in Lunenburg County which was originally settled in 1754 and founded on the shipbuilding and logging industries. Mahone Bay is primarily known for the iconic images of three churches along the waterfront which is one of the most photographed spots in Nova Scotia.
We just spent some time browsing the unique shops in the pretty seaside Main Street district but there are other activities available in the town as well. This is a popular spot for kayaking and paddleboarding as the waters of Mahone Bay are generally calm. Guided tours are available or you can rent your own kayak or paddleboard.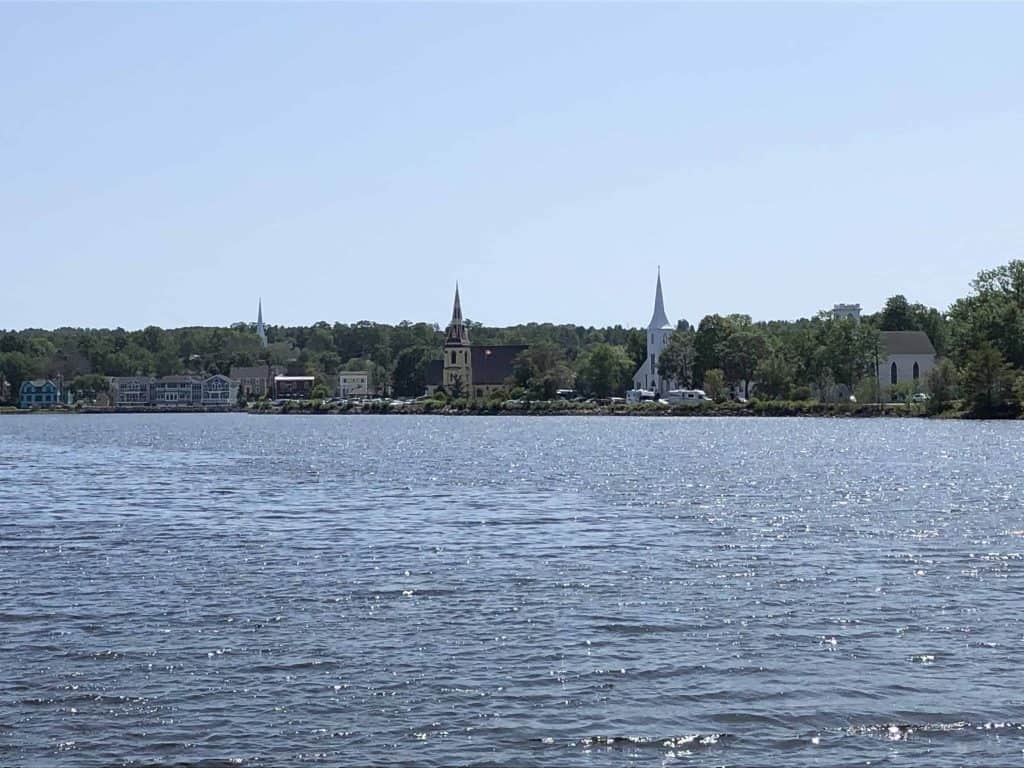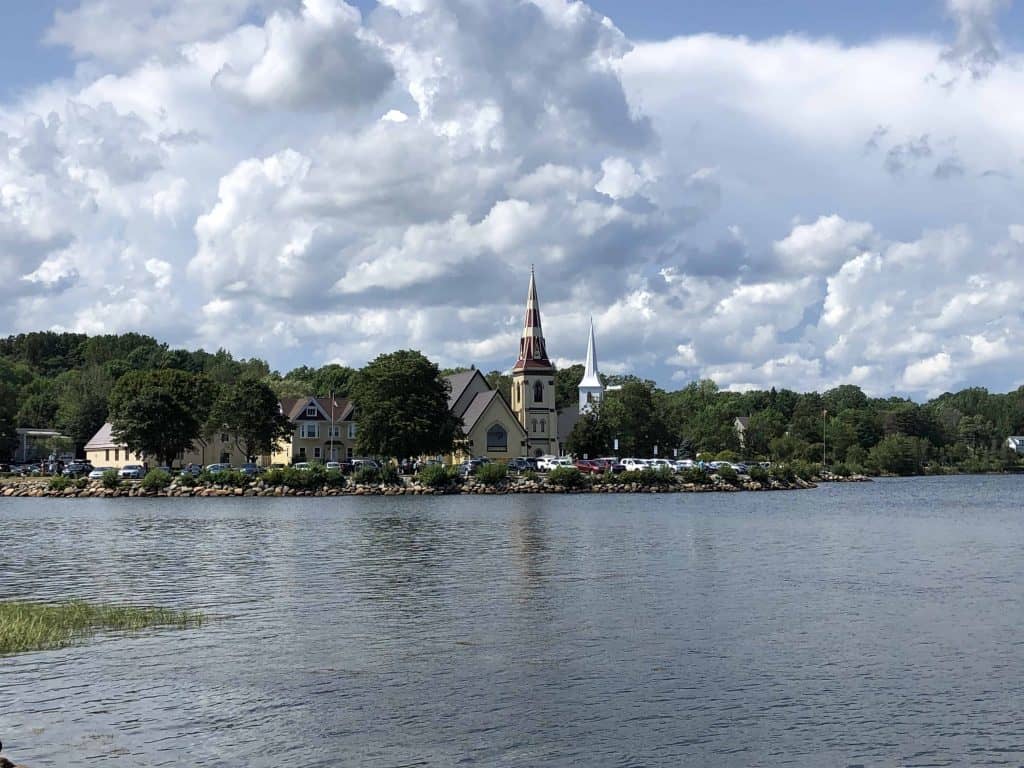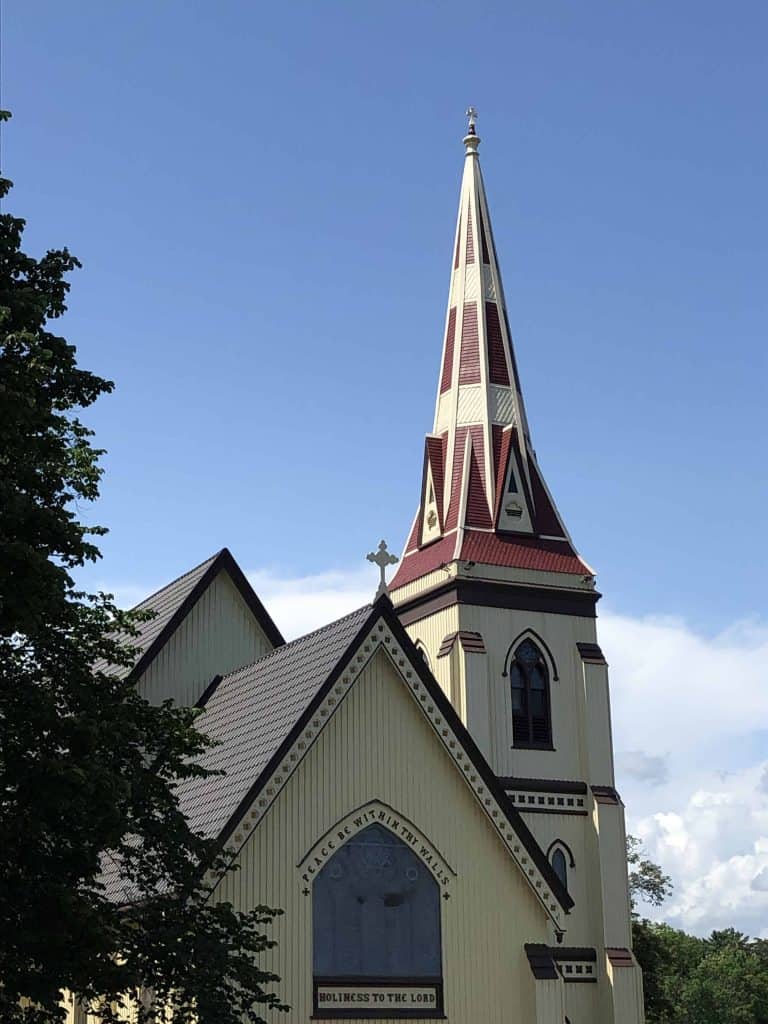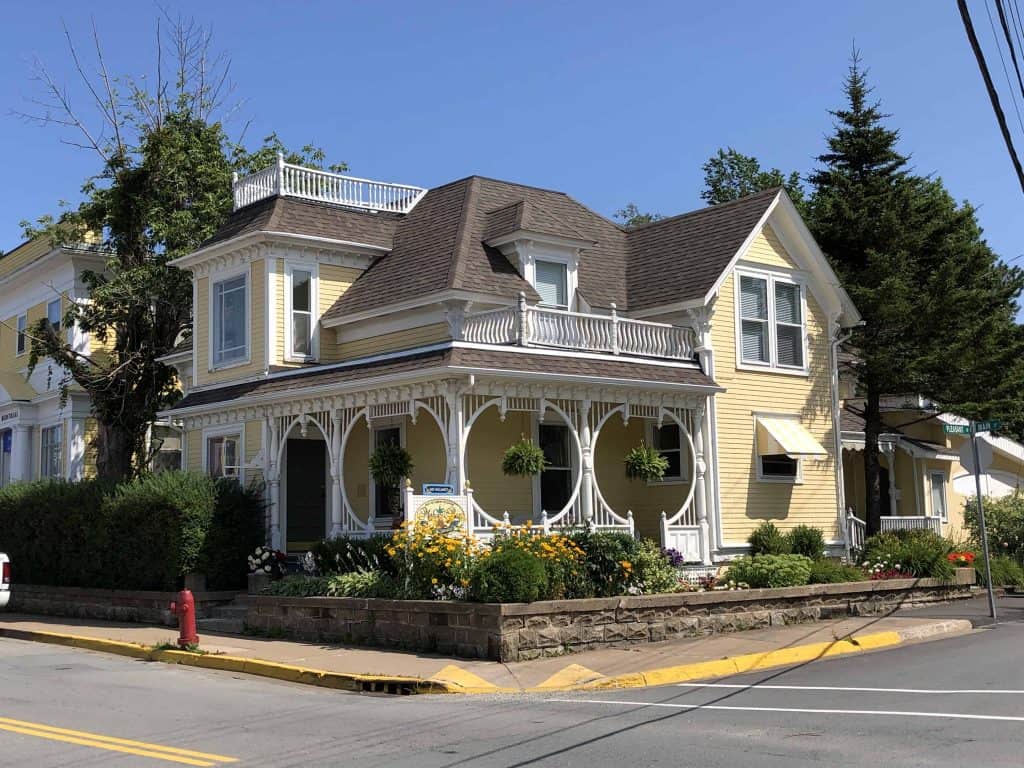 Lunenburg, Nova Scotia
Distance from Mahone Bay to Lunenburg approximately 11 km
Our final stop of the day was Lunenburg, a UNESCO World Heritage Site which is also the home port of the Bluenose II. Lunenburg was formally established in 1753 as the first British colonial settlement in Nova Scotia outside of Halifax. A vibrant economy developed in the area based primarily on shipbuilding and fishing.
Old Town Lunenburg was designated a National Historic District in 1992 and was added to UNESCO's World Heritage List in recognition of the town's cultural and natural heritage in 1995. One of the reasons that Lunenburg was designated a UNESCO World Heritage Site is that 70% of the original colonial buildings from the 18th and 19th century are still standing. Anyone who appreciates colonial architecture will not be able to get enough of this town.  
On a previous visit, we took one of the horse and carriage tours around Lunenburg Old Town and enjoyed the driver's stories about the history of the town. This trip we just walked around the waterfront and a few of the narrow side streets visiting the shops and taking photos of the colourful historic buildings.
Some of the hills are a bit steep so you might want to consider a carriage tour if anyone in your family isn't up to climbing. If you're lucky then you might get a chance to see the iconic Canadian tall ship Bluenose II which offers two hour public sails when in port. Check out a dime and you'll see an image of the original Bluenose on the coin!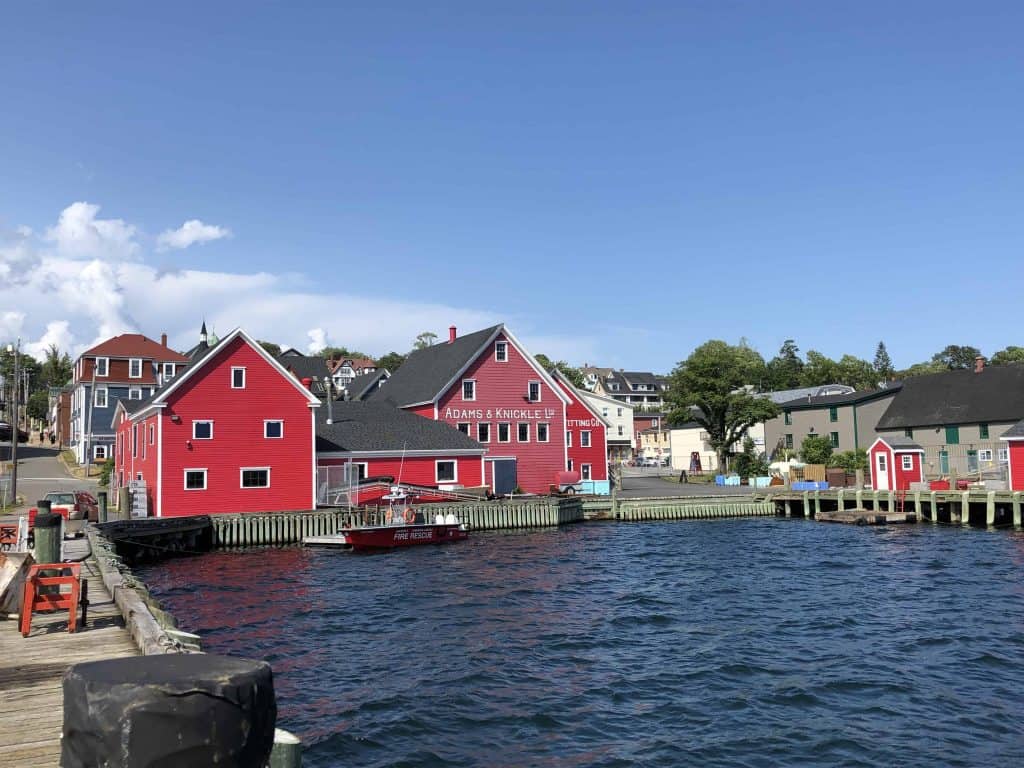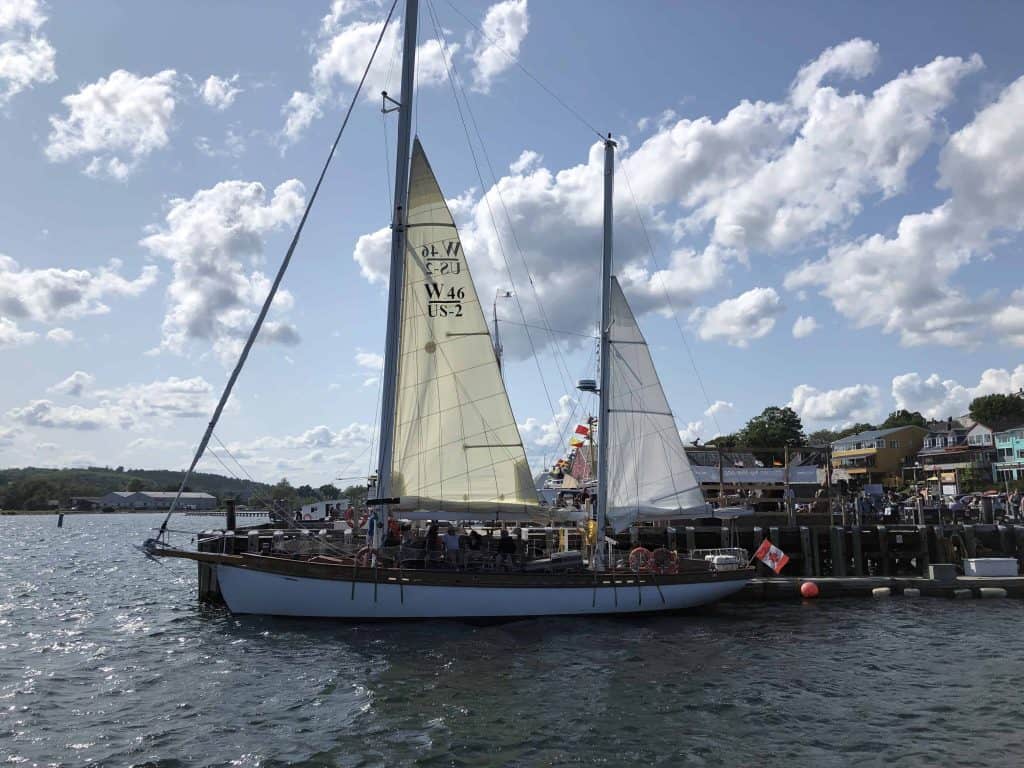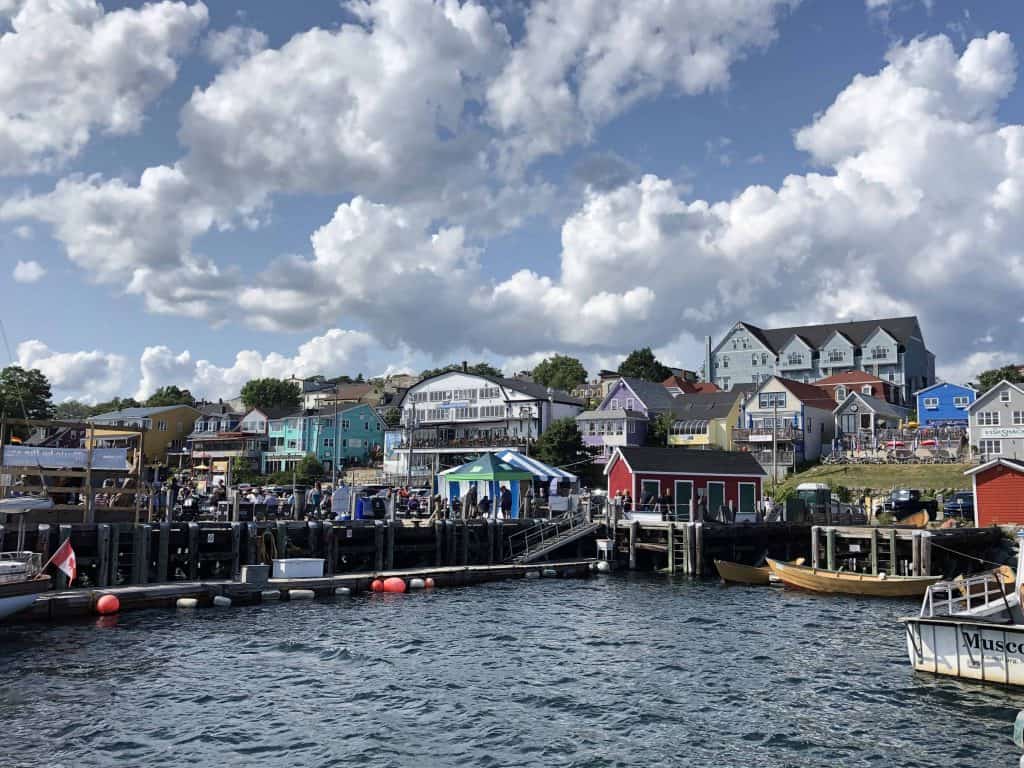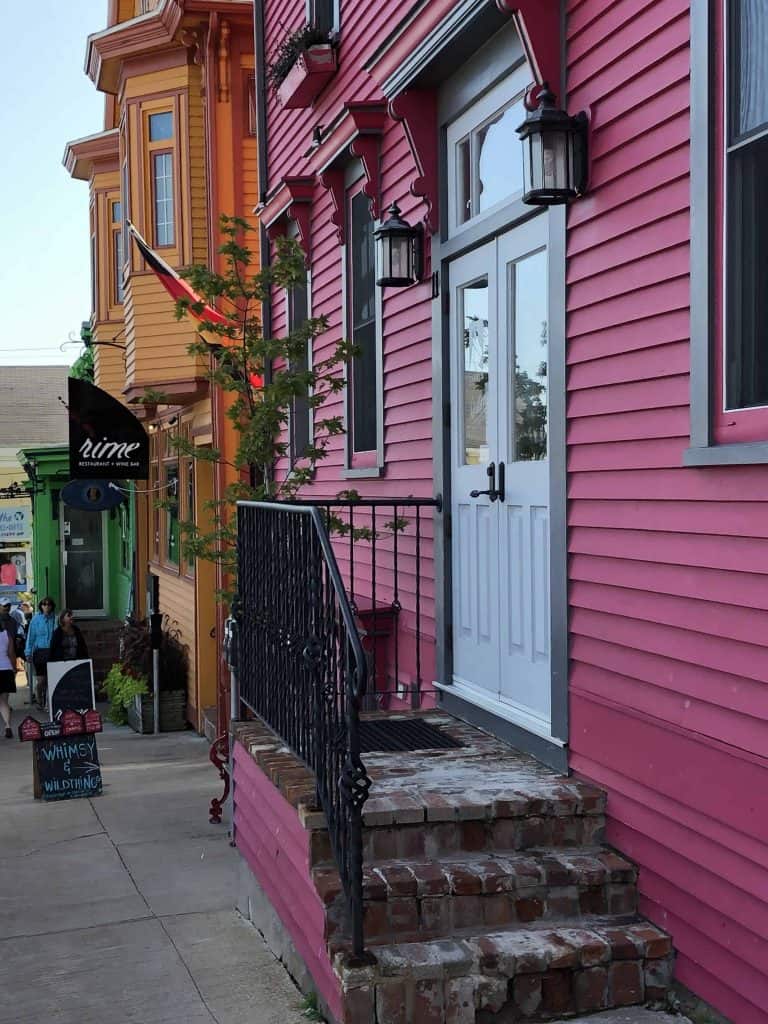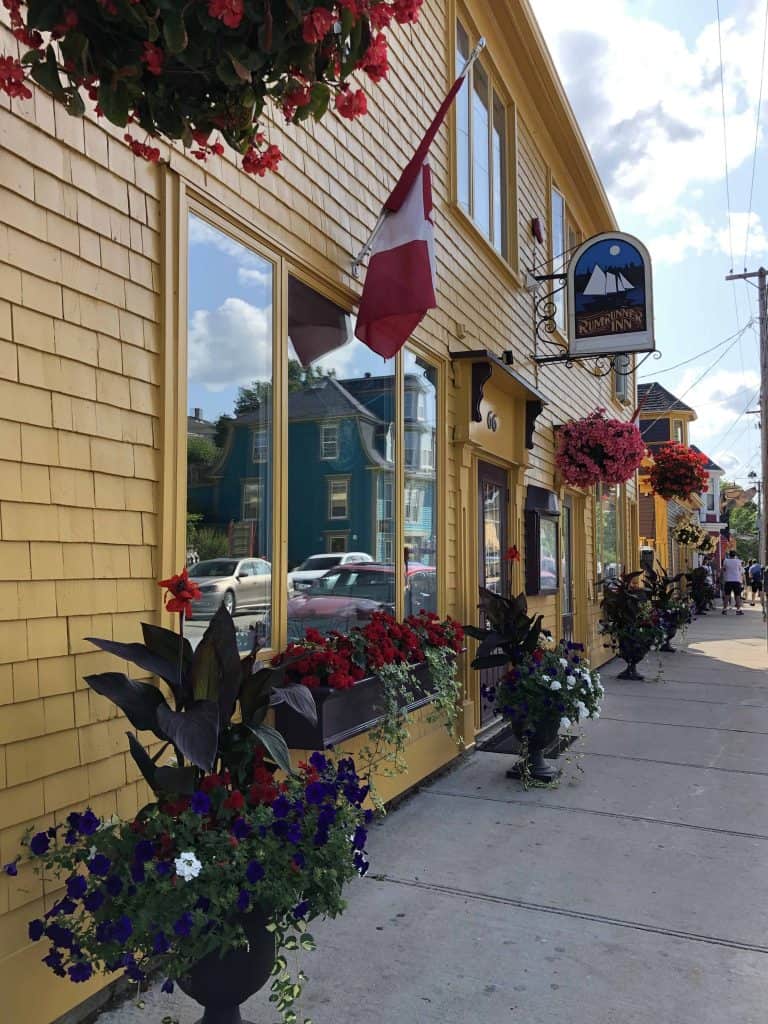 We are a participant in the Amazon Services LLC Associates Program, an affiliate advertising program designed to provide a means for us to earn fees by linking to Amazon.com and affiliated sites.
Pin This For Later