I first read Lucy Maud Montgomery's novel Anne of Green Gables when I was 11 or 12 years old and dreamed of someday visiting the land where Anne's adventures took place. That dream finally came true about 20 years later on our first family trip to Prince Edward Island and I felt as if I had stepped into the pages of the book and the fictional world of Avonlea.
In the years since, we have visited the island a total of 10 times and my daughters have grown up as fans of Anne of Green Gables. As a result, we have visited nearly all of the "Anne of Green Gables" locations on the island that have a connection to either L.M. Montgomery herself or her most famous fictional character.
Updated February 2023
We are a participant in the Amazon Services LLC Associates Program, an affiliate advertising program designed to provide a means for us to earn fees by linking to Amazon.com and affiliated sites. As an Amazon affiliate I earn from qualifying purchases.
This post may contain affiliate links. If you click an affiliate link and make a purchase then we receive a small commission at no additional cost to you.
Anne of Green Gables Books
Lucy Maud Montgomery was born in what is now New London, Prince Edward Island in 1874 and was raised by her maternal grandparents after her mother's death when she was 21 months old. Her classic novel about a spunky redheaded orphan who finds a home and a family in Avonlea was first published in 1908. The book was an immediate success and launched Montgomery's career as an author.
She went on to publish a total of 20 novels including several sequels to Anne of Green Gables as well as many short stories, poems and essays – almost entirely set on Prince Edward Island. The book was so popular that Canada's smallest province saw a huge boost in tourism as fans of Anne of Green Gables travelled to the island to see Anne's Land for themselves. That popularity continues today and thousands of tourists make the trip to PEI each year to visit the many Anne-related attractions around the island.
Buy Anne of Green Gables on Amazon
Here are 22 things for fans of Anne of Green Gables to see and do on a trip to Prince Edward Island including sites that were relevant in Montgomery's real life and attractions connected to the fictional world of Avonlea that she created as well as some filming locations from movies and television. I have personally done and can recommend everything on this list!
Anne of Green Gables – Cavendish Region
There are a number of attractions located in Cavendish which is the region of Prince Edward Island that was home to Lucy Maud Montgomery and where Anne Shirley's fictional village of Avonlea would have been located.
1. Visit Anne's Green Gables Home
Green Gables Heritage Place (also known as the Anne of Green Gables house) should be at the top of the list for any fan of Anne of Green Gables visiting PEI. The green-cabled farmhouse which inspired Montgomery to pen the Anne novels was owned by relatives of the author and is now part of Lucy Maud Montgomery's Cavendish National Historic Site operated by Parks Canada.
Visitors to the site can take a self-guided tour of the farmhouse which has been restored and furnished with authentic pieces from the time period and feel like they are walking through the rooms occupied by Anne and the Cuthberts.
There are also a number of interpretive programs on site which will immerse visitors of all ages into the world of Anne of Green Gables. In addition, families will enjoy finding the 4 geocaches hidden on the site and children aged 6-11 will also enjoy exploring the site using the Parks Canada Xplorers activity booklet.
The Green Gables Visitor Centre which opened in 2019 has an exhibit hall featuring exhibits related to L.M. Montgomery's life and her writings as well as a gift shop that sells all manner of Anne souvenirs.
8619 Cavendish Road – Route 6, Cavendish, PEI. Open May to September. Free admission for youth 17 and under. Admission fees for adults vary by season.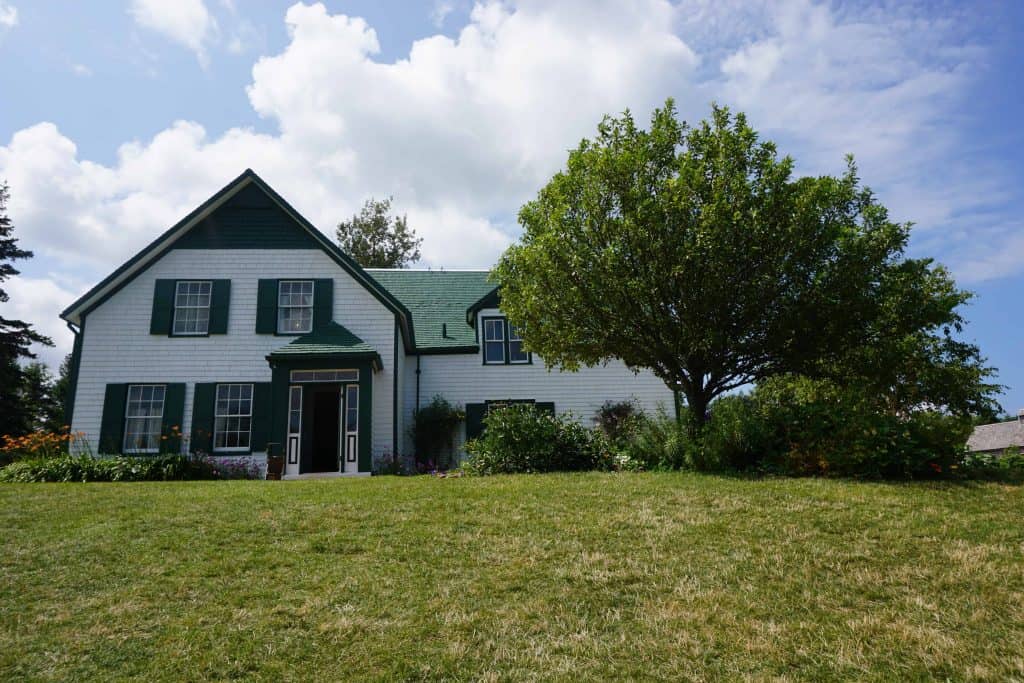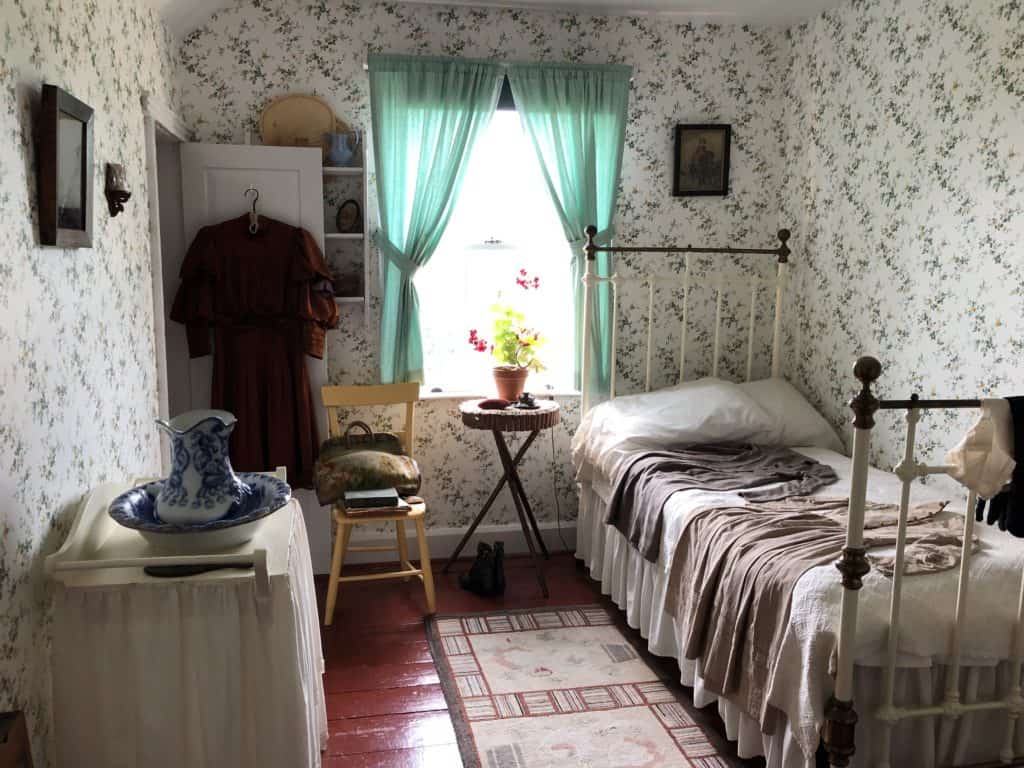 2. Walk the Trails from Anne's Stories
The designated Cavendish National Historic Site also includes two trails which will be familiar to readers of the Anne series and can be explored as part of the admission to Green Gables Heritage Place. The Balsam Hollow Trail which is an easy walk of less than 1 kilometre begins with Lover's Lane and wanders through woodlands and follows a brook.
There is also an easy trail of less than 1 kilometre through the wooded area which served as the inspiration for Montgomery's descriptions of The Haunted Wood in Anne of Green Gables. The Haunted Wood Trail passes near the Cavendish Cemetery and connects to the Site of L.M. Montgomery's Cavendish Home. There is signage along the trail which highlights passages from the books and the sources of Montgomery's inspiration.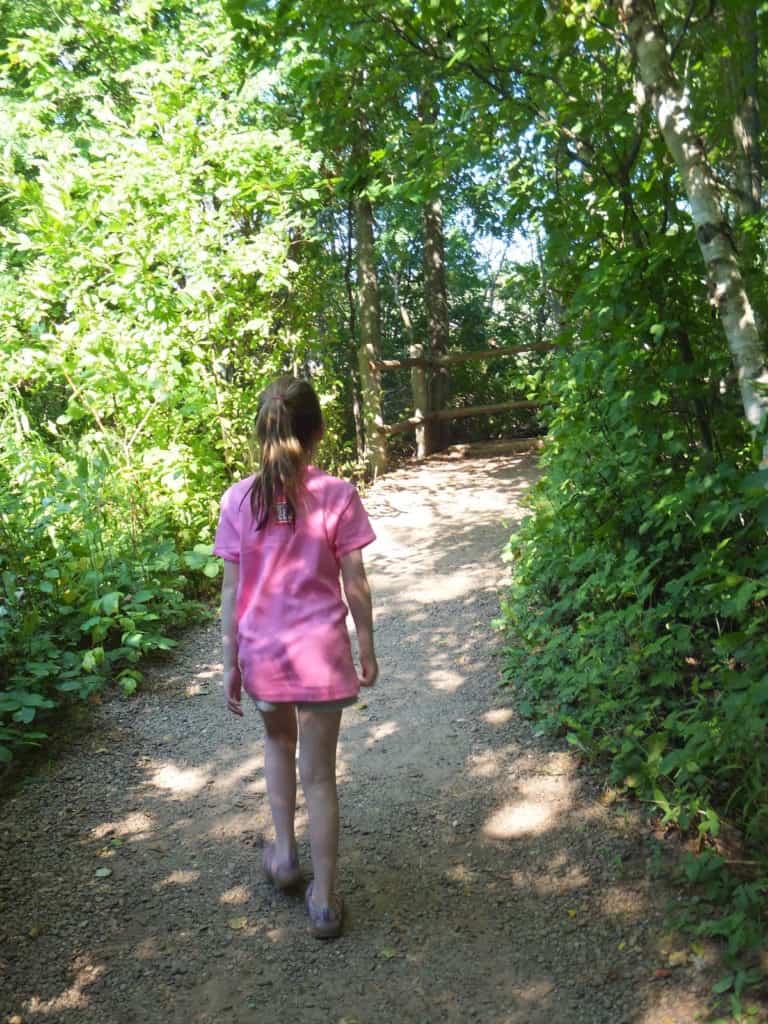 Meet Anne of Green Gables
Do you want to meet the island's famous redhead in person? The best place to do that is at Green Gables Heritage Place where the interpretive programs scheduled daily provide several opportunities to meet Anne Shirley. Kids (and adults too!) will love playing games and engaging in other activities with Anne and other characters from the stories. Be sure to check the schedule when you arrive at Green Gables so that you don't miss out on any of the fun!
Available programming may vary depending on COVID-19 precautions.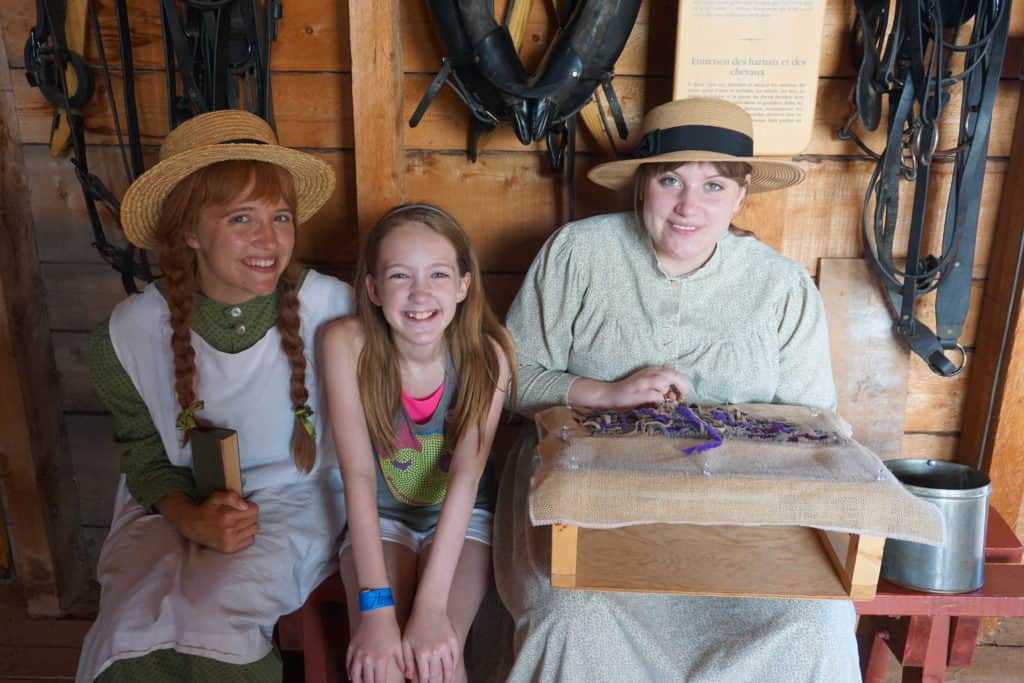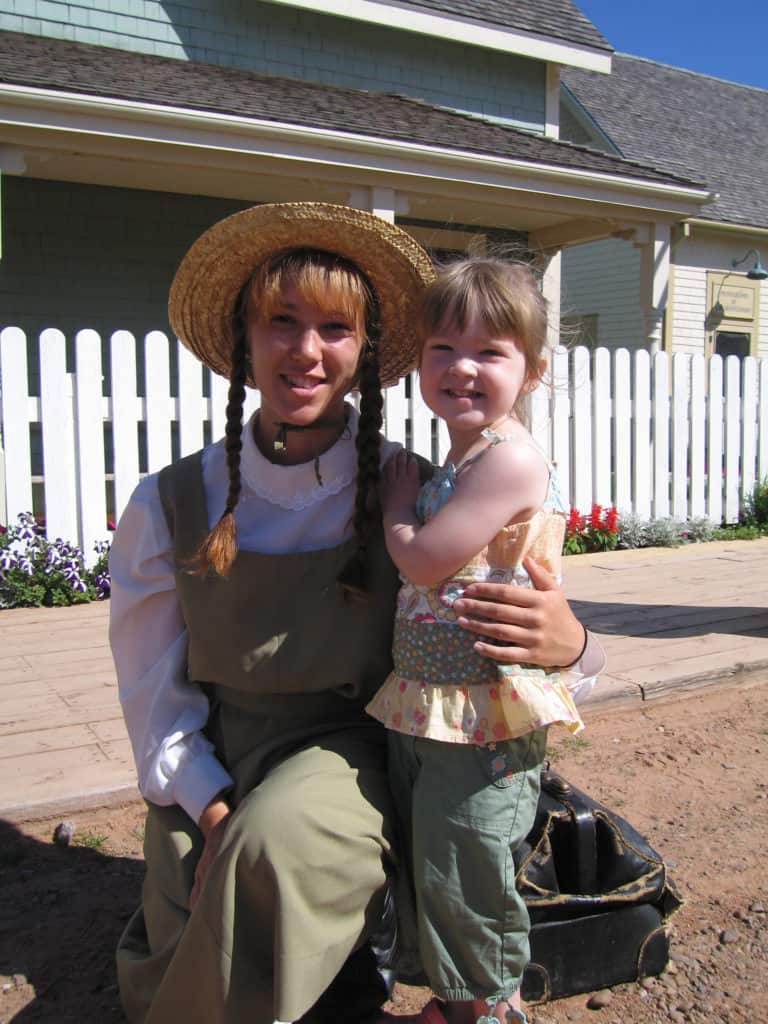 4. Visit Avonlea Village
Avonlea Village is a recreation of the fictional 19th century island village based on Cavendish that Lucy Maud Montgomery created in the Anne of Green Gables books. The village includes several heritage buildings as well as new construction designed to fit the time period.
At one time, Avonlea Village had a full slate of daily Anne of Green Gables themed activities and actors playing the characters interacted with visitors to the village. This changed in 2015, however, and the village now exists as a showcase for island food and shopping.
There is no longer an admission charge so it's still worth visiting to see the buildings and browse the shops or grab a bite to eat – Moo Moo Grilled Cheese and Dave's Lobster are favourites with my family and I love Samuel's Coffee House for my morning latte.
Route 6 Cavendish – Open seasonally.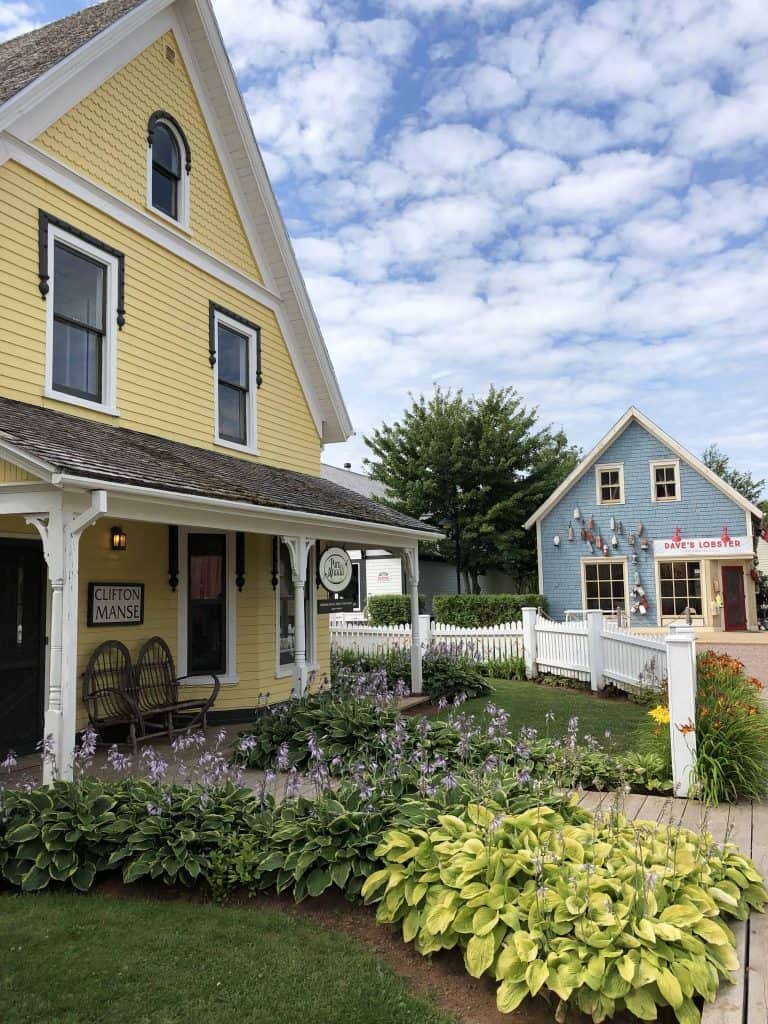 5. L.M. Montgomery Exhibit (Green Gables Post Office in Cavendish)
A small exhibit relating to Anne of Green Gables titled Yours Sincerely, Lucy Maud Montgomery produced by the Canadian Museum of History in collaboration with Canada Post is housed at the Green Gables Post Office in Cavendish.
The exhibit illustrates how Lucy Maud Montgomery worked as an assistant postmaster while writing her novel and how this helped her to get her manuscript sent out and published. Canadian postage stamps commemorating the author and her most famous work are also available at this working post office.
8555 Cavendish Road – Route 6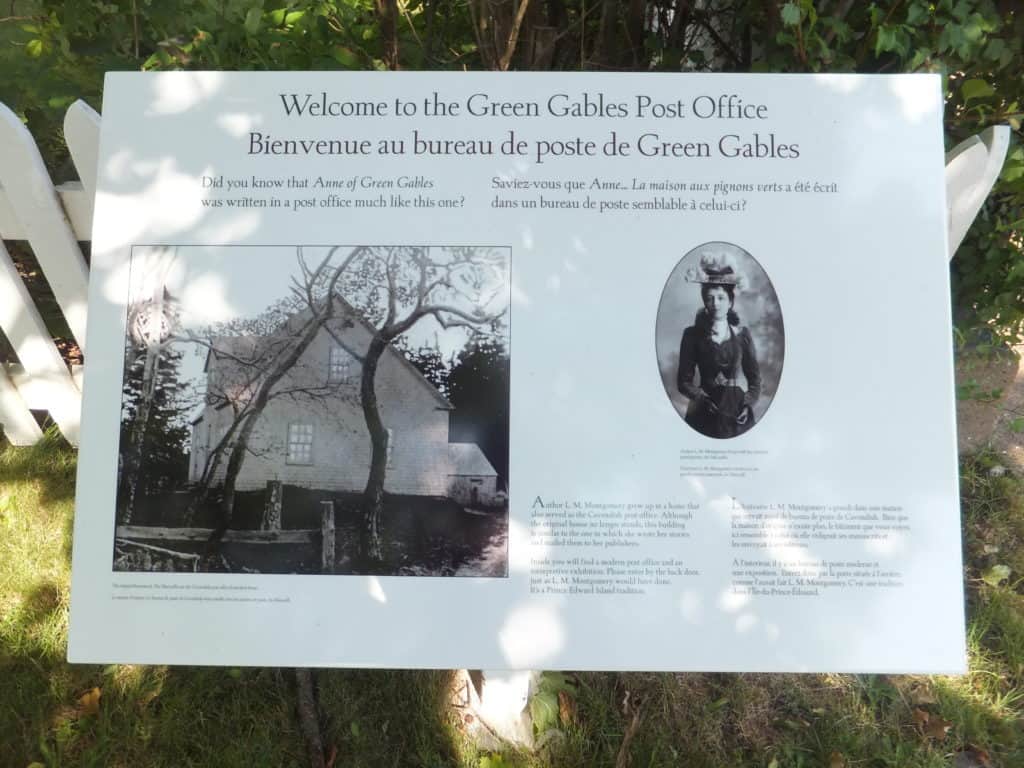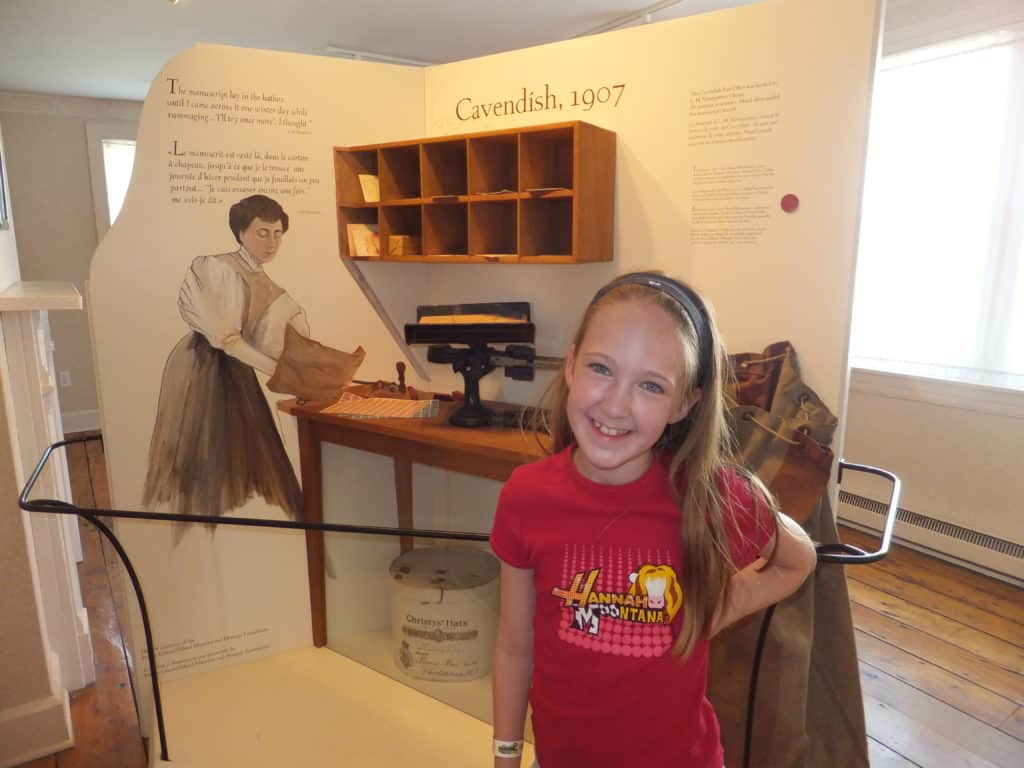 6. Resting Place of Lucy Maud Montgomery
Those who wish to pay their respects to Montgomery who died in 1942 can find her grave in the Cavendish Cemetery where she is buried alongside her husband, the Reverend Ewen Macdonald.
Intersection of Routes 13 and 6, Cavendish
7. Lucy Maud Montgomery Birthplace
The author was born in this small cottage in New London on November 30, 1874 and lived here until the death of her mother when she was only 21 months old. A volunteer foundation operates the Lucy Maud Montgomery Birthplace site with items associated with the author on display such as a replica of her wedding dress and some of her original scrapbooks from her years as a student as well as when she was a teacher and a writer.
Intersection of Route 6 and Route 20, New London. Open seasonally – 7 days a week, 9 – 5.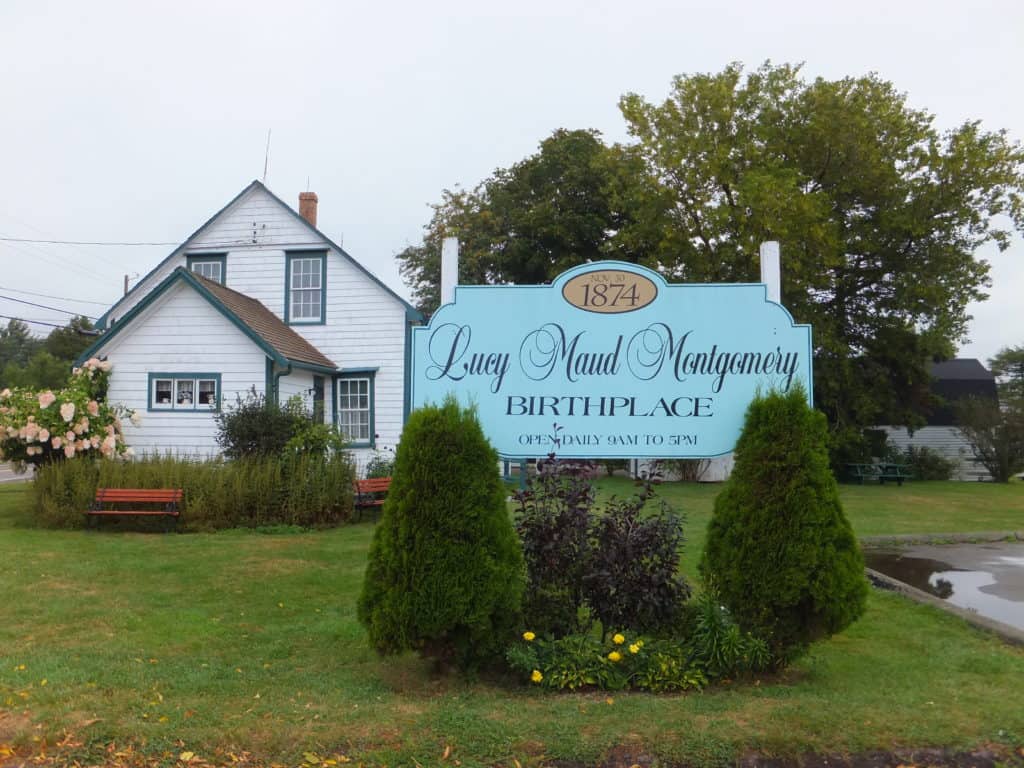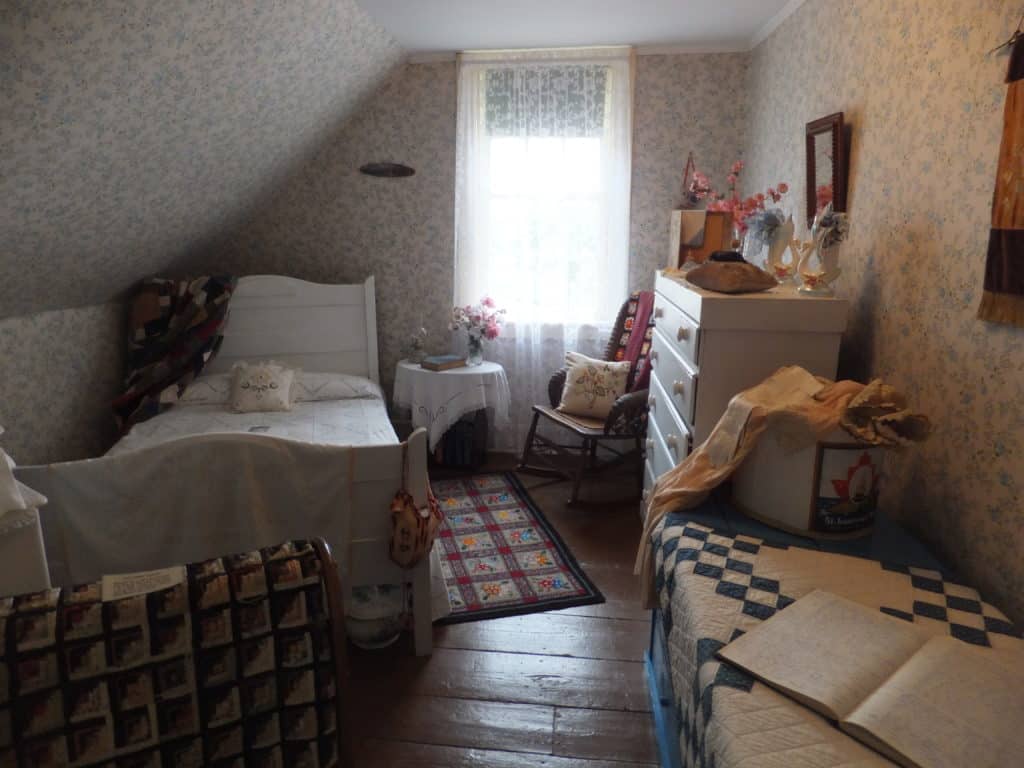 8. Site of Lucy Maud Montgomery's Cavendish Home
The Site of Lucy Maud Montgomery's Cavendish Home is the farmland belonging to Montgomery's maternal grandparents (Alexander and Lucy Macneill) where she lived from the time that her mother died when she was a small child in 1876 until her marriage to Rev. Ewen Macdonald in 1911.
The farm was passed down through generations of Macneills and today the family continues to maintain the site which is part of Lucy Maud Montgomery's Cavendish National Historic Site of Canada.
The site consists of the ruins of the house and farm buildings that existed in Montgomery's time, as well as the wooded groves and pathways described in her stories. There are also placards around the site with quotes and pictures that are intended to help the visitor understand Montgomery and the time that she spent living here. There is also a bookstore/museum on the premises.
Route 6. Open seasonally.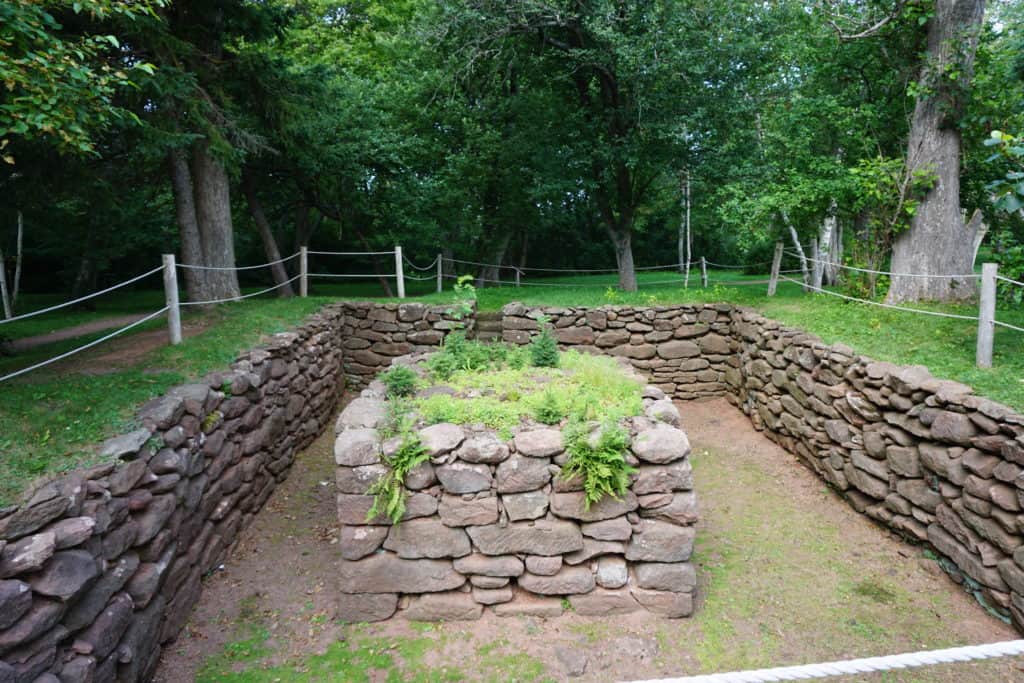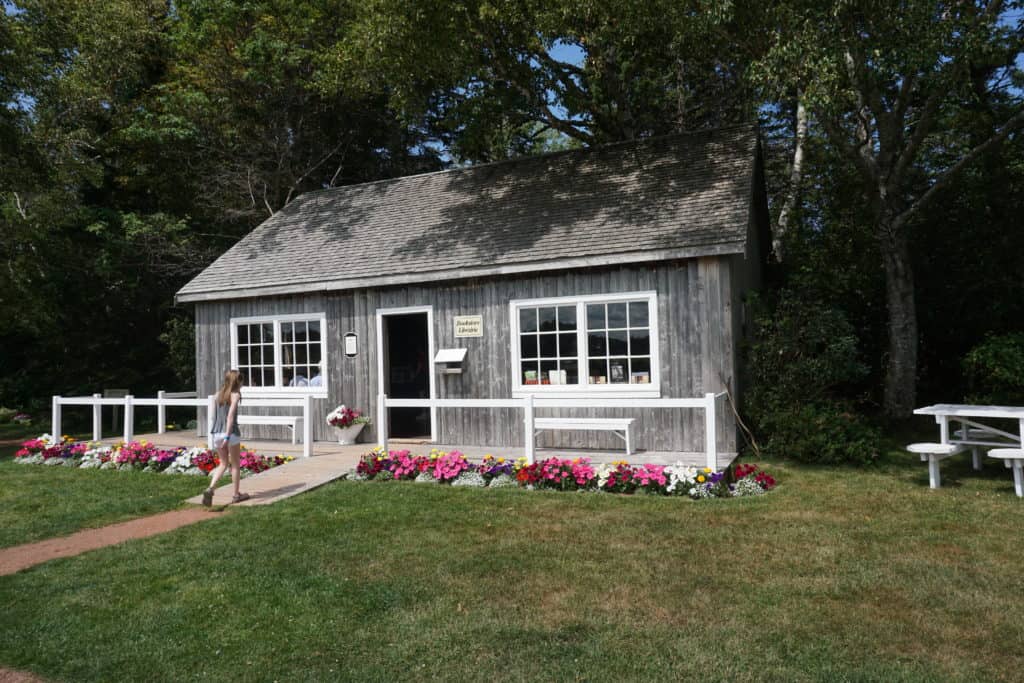 9. Visit the Lucy Maud Montgomery Statue
One of the newest "Anne" attractions on Prince Edward Island is the life-sized Lucy Maud Montgomery statue which was installed in Montgomery Park (formerly known as Cavendish Heritage Park) in 2019. The statue was a collaboration between an artist in PEI who provided the sketched design and a sculptor from British Columbia who cast the image in bronze.
Montgomery Park is also the starting point for the L.M. Montgomery Literary Tour which can be completed in person or virtually. There are 16 designated locations related to L.M. Montgomery on the tour and commemorative plaques that provide information about the author and her works.
Route 13, Cavendish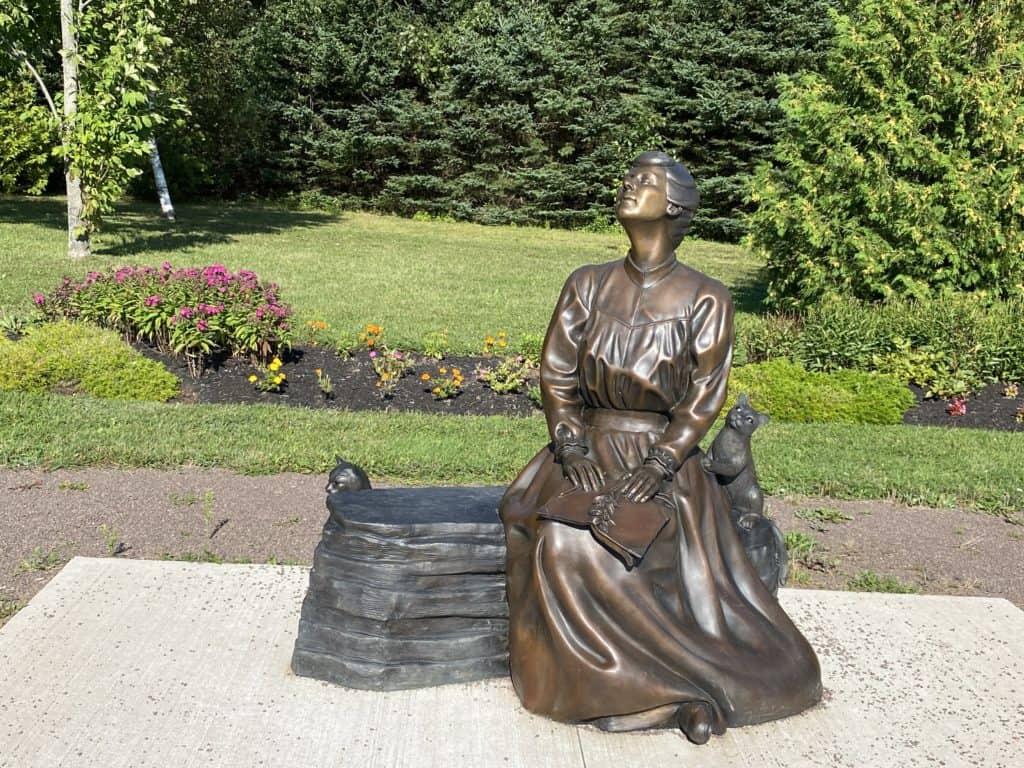 10. Walk in PEI National Park
Prince Edward Island National Park may not be an Anne attraction per se but take a walk on the sandy shores alongside the red cliffs and you will understand why Montgomery loved her island home so much and why her character Anne was so taken by the beauty of her new home.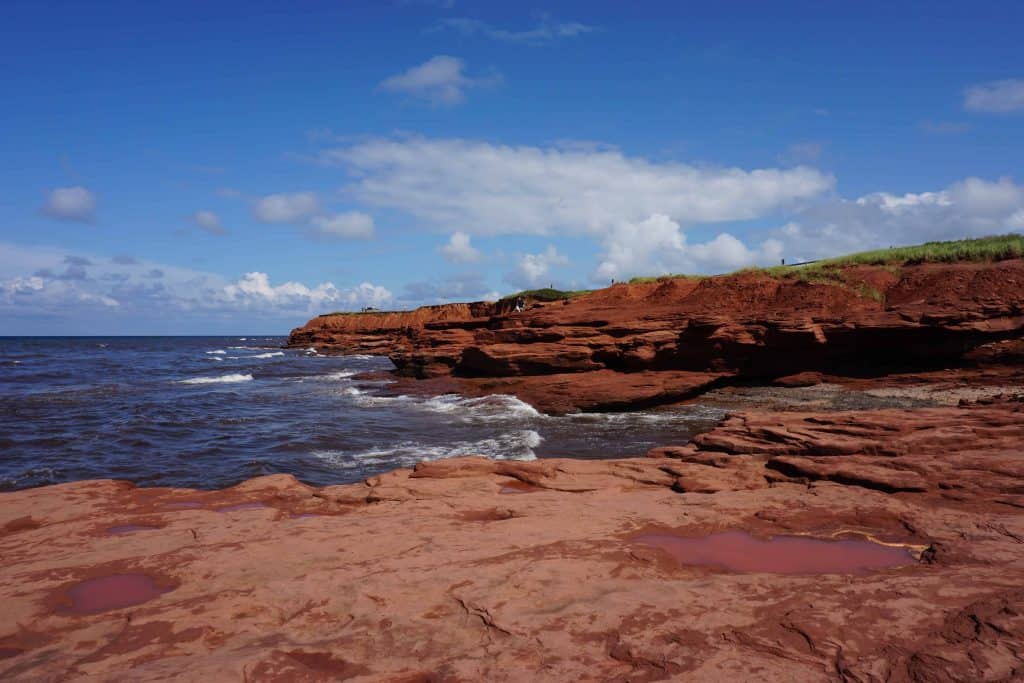 Anne of Green Gables – Charlottetown
Enjoy these Anne experiences while in the province's capital city – Charlottetown.
11. Anne of Green Gables – The Musical
Anne of Green Gables – The MusicalTM had been playing at the Confederation Centre of the Arts in Charlottetown each summer since 1965 making it the world's "longest running annual music theatre production" according to the Guinness Book of World Records. This run was interrupted by the COVID-19 pandemic in 2020, however, the production returned to the stage at the Confederation Centre in 2022. The musical will not be performed in 2023 but will return in 2024 to coincide with the 150th birthday of Lucy Maud Montgomery and will be performed every two years thereafter.
Despite loving both theatre and Anne, we had to give it a miss on our first visit to PEI as my older daughter, Katie, was a young toddler. The following summer we decided to attend even though she was not quite 3 years old and she loved it!
This was the first major musical that she saw and I like to think that it inspired her love of theatre. We have seen the family-friendly musical every time that we have been to PEI since and I recommend it to everyone – whether you have read the books or not.
145 Richmond Street, Charlottetown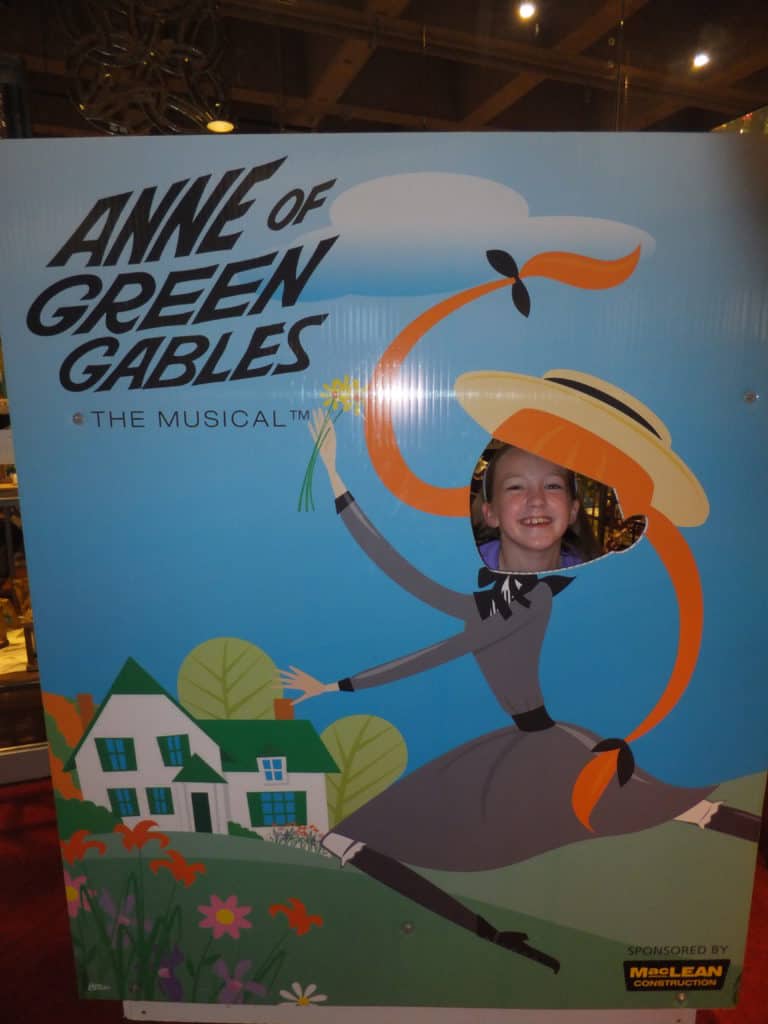 12. Anne & Gilbert, The Musical
Anne & Gilbert, The Musical, launched in 2005, is a charming sequel of sorts to the original musical which covers the romantic relationship between Anne and her childhood sweetheart, Gilbert Blythe, as young adults. We had the pleasure of attending a performance at The Guild while in Charlottetown on a couple of recent visits to the island and I daresay that I loved it even more than the original Anne musical.
Anne & Gilbert will be on stage summer 2023 (May 31 – October 5) at the Florence Simmons Performance Hall, 140 Weymouth Street, Charlottetown.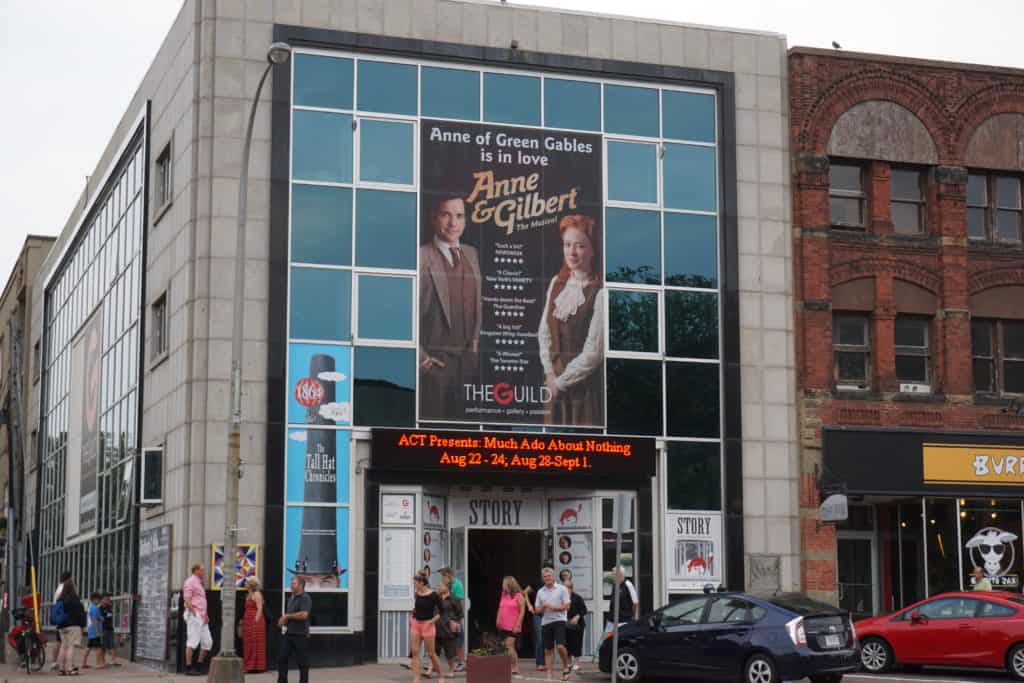 13. Find the Perfect Souvenir at The Anne of Green Gables Store
There are Anne souvenirs available in shops all over the island but the best selection in one place is at The Anne of Green Gables Store which has locations in Charlottetown and Cavendish. Books, dolls, DVDs, and gifts of all sorts – you can buy anything Anne themed that you want here including a straw hat with braids so you can dress up like Anne at home!
72 Queen St., Charlottetown – hours vary. Cavendish location on Route 6 open seasonally. Online shopping is also available.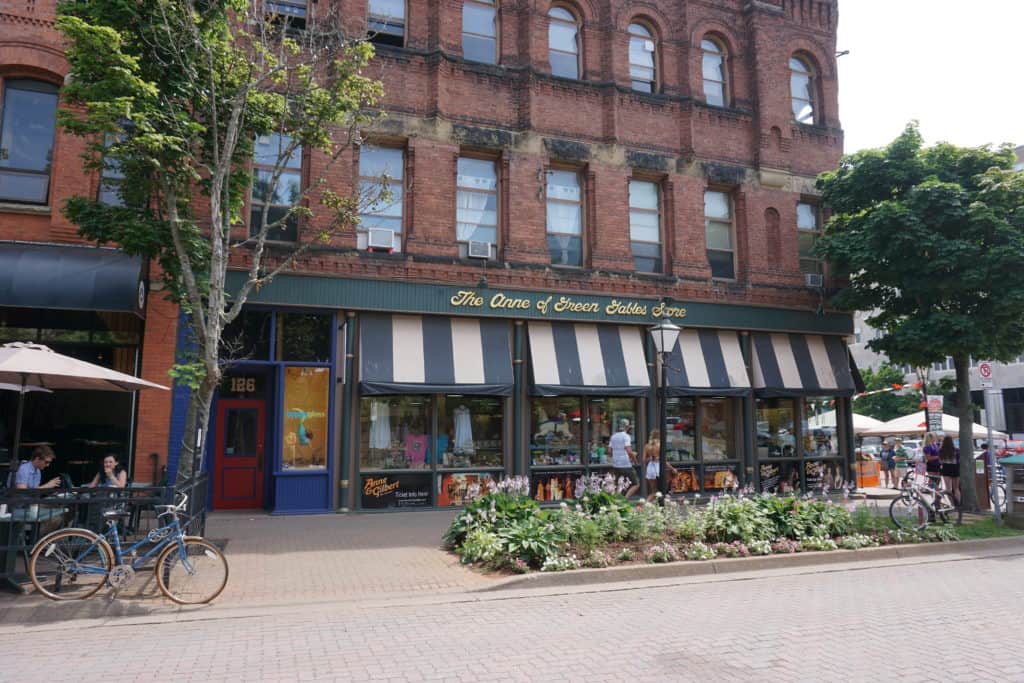 Anne of Green Gables – Elsewhere on the Island
While Cavendish is known as Anne's Land, there are Anne related things to see and do elsewhere on Prince Edward Island as well.
14. Visit Bideford Parsonage Museum
The Bideford Parsonage Museum, a provincially registered historic home on the North Cape Coastal Drive, was once the residence of Lucy Maud Montgomery. Today the building houses a museum that is open seasonally.
Visitors can see the room where Montgomery was inspired to write and browse the museum's growing collection of artifacts. The museum also hosts a weekly lecture series and ceilidh as well as an annual strawberry social (check the website for details).
784 Bideford Rd, Route 166, Bideford. Open seasonally.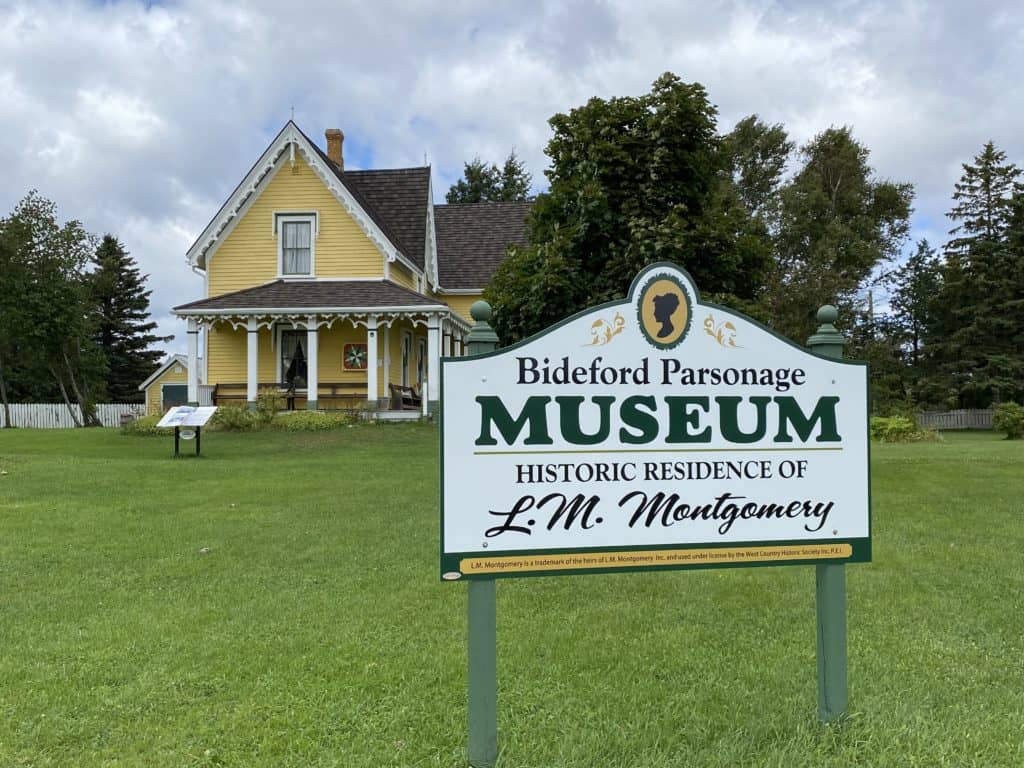 15. Anne of Green Gables Museum
The Anne of Green Gables Museum in Park Corner is located on the farm that has been in the Campbell family since 1776. Lucy Maud Montgomery referred to the home built here by her Uncle John and Aunt Annie Campbell as the "wonder castle of my childhood" and it appears in her work as Silver Bush.
This is one of the places where Montgomery gained inspiration for her novels and it's the setting for Anne's Lake of Shining Waters. Montgomery was married in the parlour on the Campbell homestead and today couples can arrange to have their own wedding on the property.
There are many items on display in the museum including the enchanted bookcase described by Anne in the first book. In addition to the museum there are beautiful flower gardens on the property, a gift shop, and a playground for children.
4542 Route 20, Park Corner. Open seasonally and by appointment during the off-season.
16. Matthew's Carriage Ride
While visiting the Anne of Green Gables Museum in Park Corner, be sure to take the time to enjoy Matthew's Carriage Ride with "Matthew" as your guide and driver. Carriage rides go around the museum property to view the Lake of Shining Waters as well as the beautiful gardens and through the countryside. Both half hour and one hour carriage rides are available in a carriage that can seat up to 4 people.
4542 Route 20, Park Corner. Open seasonally.
17. Visit Dalvay by the Sea
Dalvay by the Sea, located within Prince Edward Island National Park, is an elegant inn built in 1895 that has been operated as a country resort since the 1930s and is now a National Historic Site of Canada. Anne fans may recognize Dalvay by the Sea as the fictional White Sands Hotel from the Anne of Green Gables movies and from the television show Road to Avonlea.
We have a family tradition of dining here on our last night on the island and every meal that we have had has been memorable – both for the setting and the cuisine. Dalvay by the Sea has also long been one of my bucket list hotels in Canada and I finally had the opportunity to stay on a couples getaway in Nova Scotia and Prince Edward Island last fall. It was as lovely as I had hoped!
16 Cottage Crescent, Dalvay. Open seasonally May to October.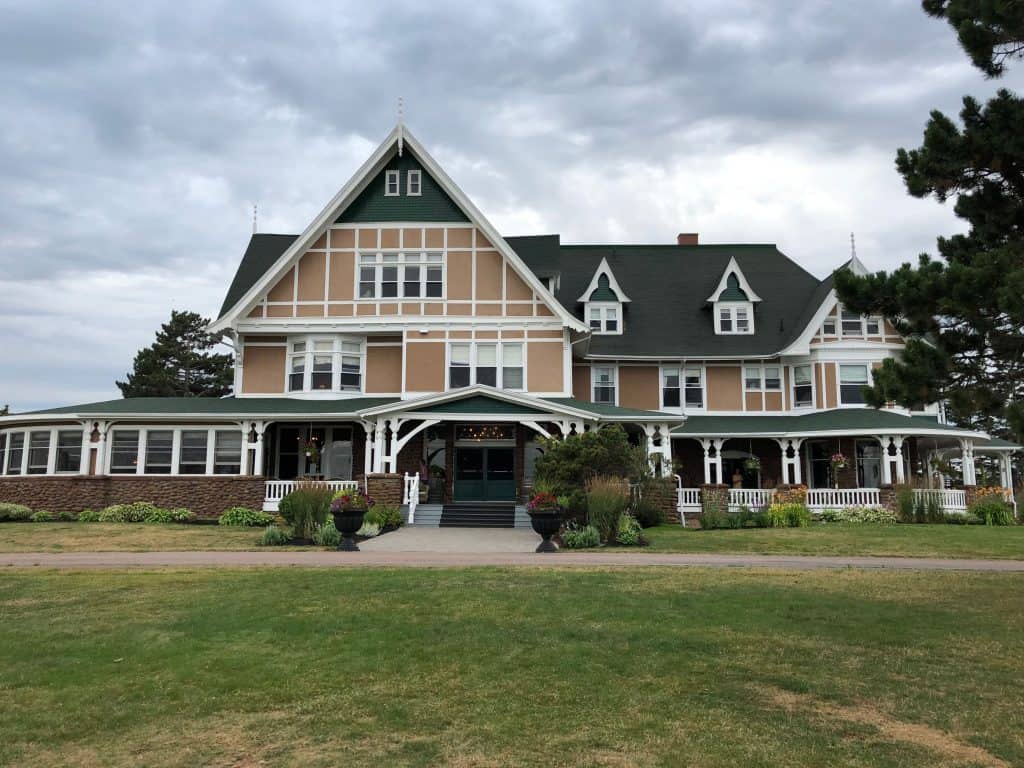 18. Drink Raspberry Cordial
One of the most memorable events in Anne of Green Gables is the tea party when Anne serves "raspberry cordial" to her friend, Diana Barry, only to discover after Diana becomes intoxicated that she had mixed up the cordial with the currant wine. While on the island, you can try the delicious bottled version of raspberry cordial with no worries about experiencing the same result as poor Diana.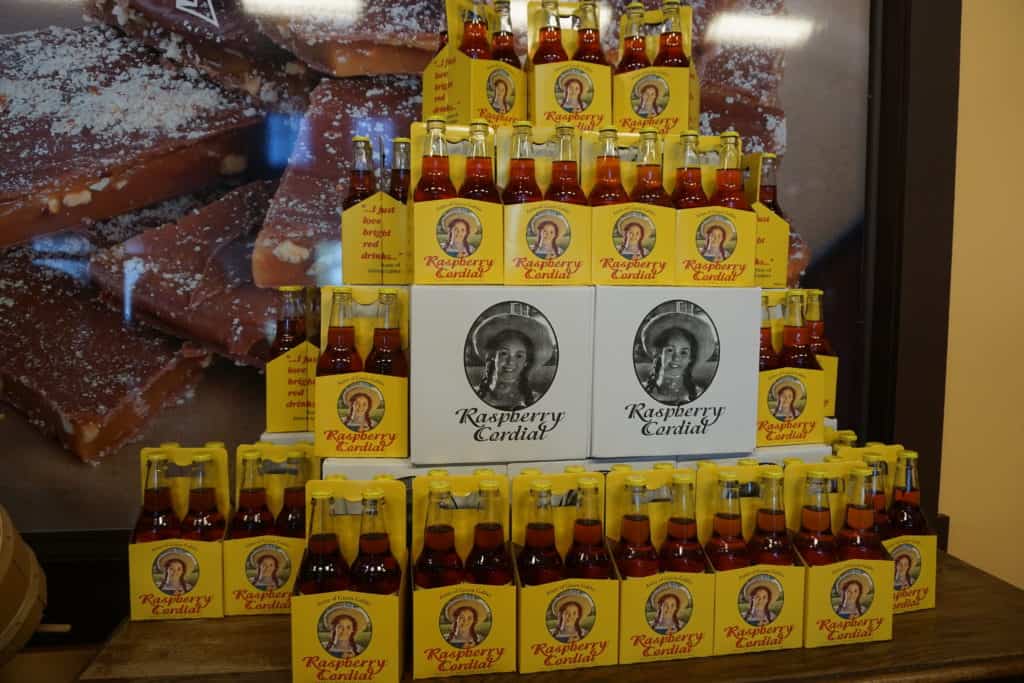 19. Dress Up as Anne
You don't have to be a kid to dress up like Anne of Green Gables at Shop & Play (formerly Cavendish Figurines) in Gateway Village at the foot of the Confederation Bridge in Borden-Carleton. Male, female, young, old – everyone likes to dress up as Anne and they have a wall of photos to prove it! There's a small fee to dress-up and then you can take as many photos as you want using your own camera.
Open seasonally.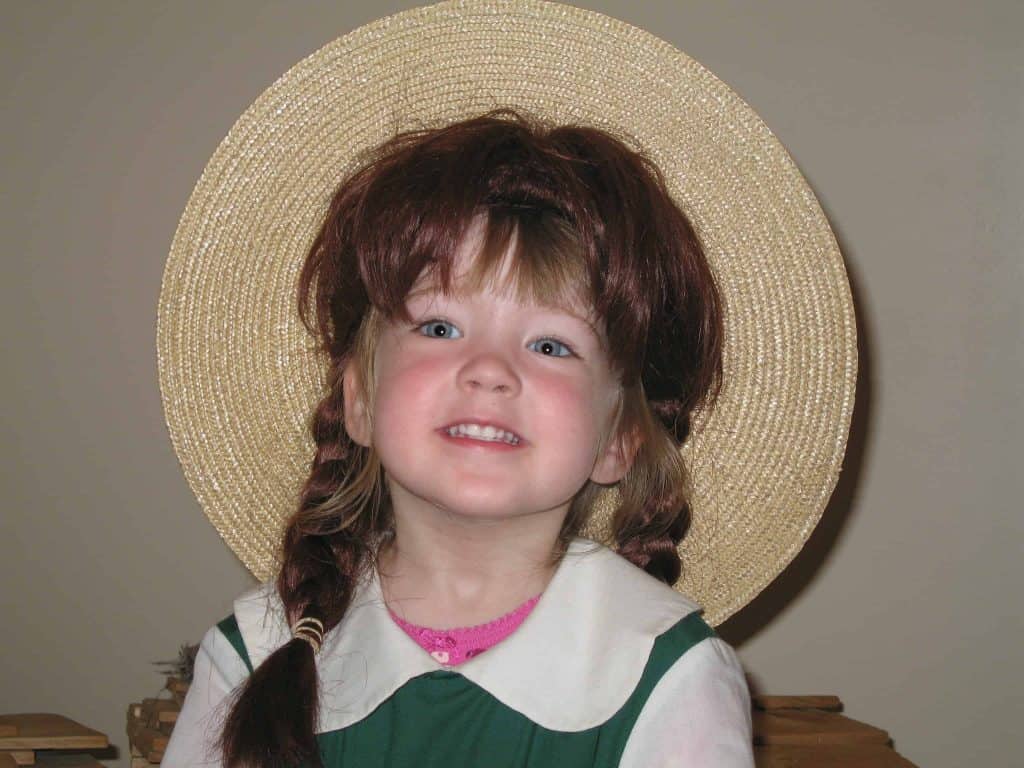 20. Take a Photo with the Spirit of Anne Statue
While at Gateway Village in Borden-Carleton, you must also take a photo with the popular Spirit of Anne statue which is outside Shop & Play (formerly known as Cavendish Figurines).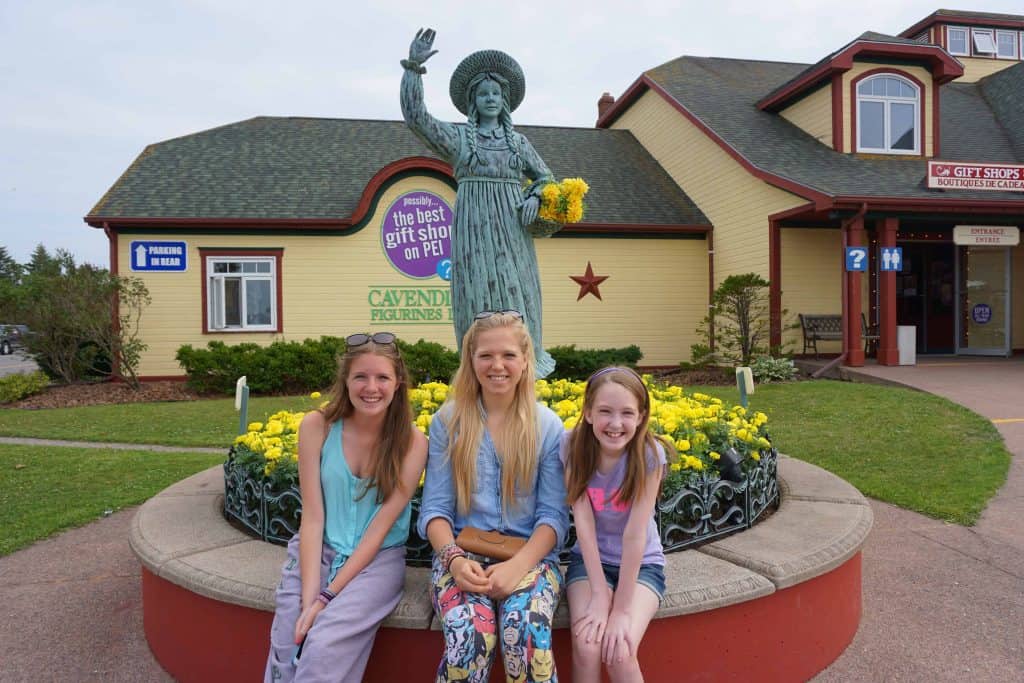 21. Kensington Train Station
This historic train station which has been restored and now houses a pub was seen in the film version of Montgomery's Anne of Green Gables and makes a great photo op for Anne fans! While in Kensington, be sure to pop in to the charming Willow Bakery & Cafe (just across the tracks from the train station) for a coffee and delicious, home-baked goodies.
62 Broadway Street (Route 20), Kensington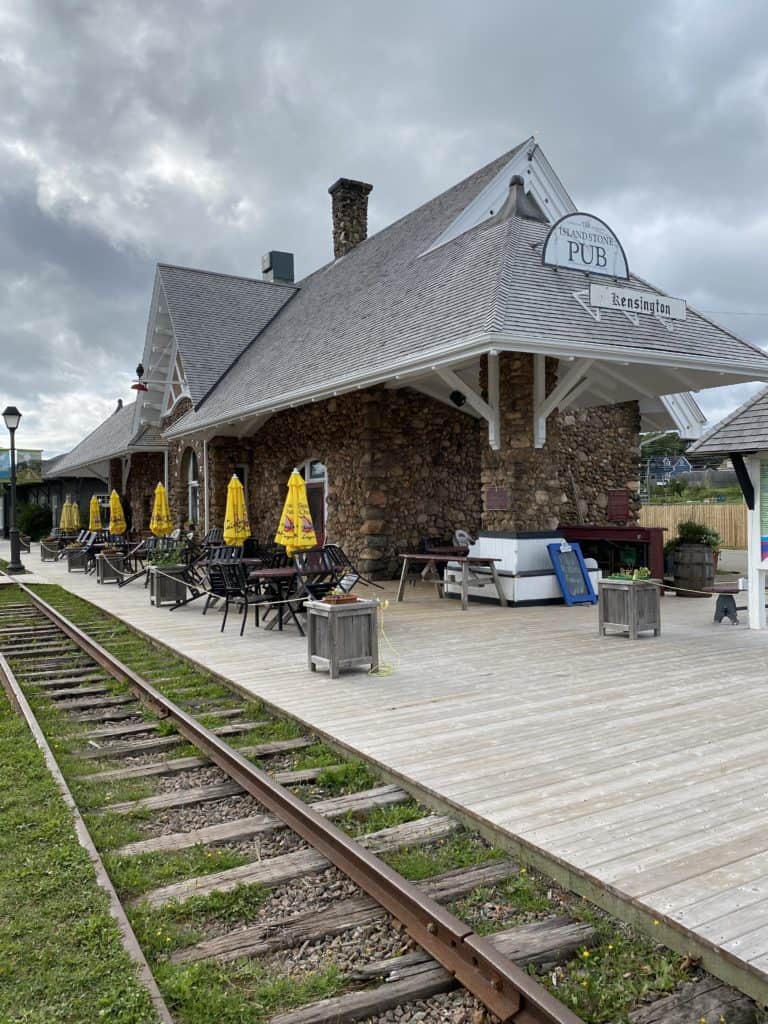 22. Eat Ice Cream
"Ice cream, is anything more delectable than ice cream…" (from Anne of Green Gables – The MusicalTM) Anne loved ice cream so it would just be wrong to visit her beloved island and not sample some of the best ice cream you will ever taste at COWS Ice Cream.
COWS began making ice cream in 1983 using all natural ingredients, and a recipe dating back to the days of Anne of Green Gables, and continues to use the same old-fashioned ingredients today. In addition to the delicious ice cream, COWS also makes whimsical clothing and other items featuring cow themed parodies.
Island locations for COWS include Charlottetown, Cavendish and Gateway Village.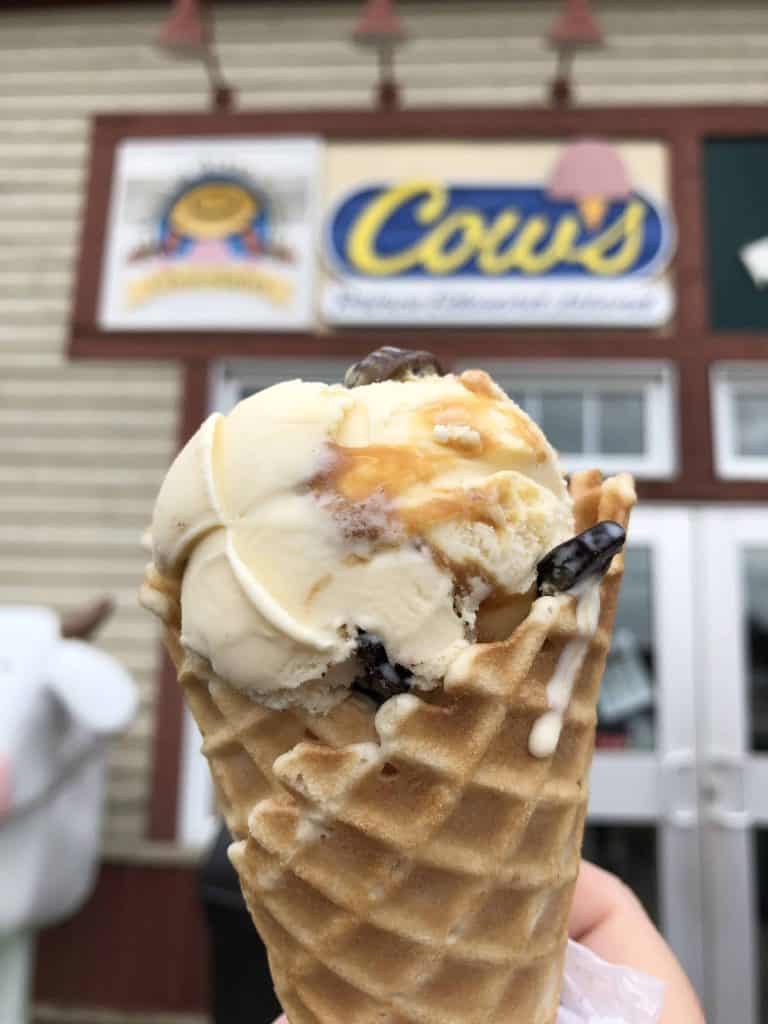 Pin This For Later