One of the things that I love about travel is staying at hotels. I love researching accommodations during the travel planning process and finding the perfect place for us to stay. A great hotel or resort can make or break a trip for me and can even be a destination in and of itself!
We're Canadian and love travelling across our beautiful country and staying in fabulous hotels and resorts including these 17 luxurious and unique hotels located across Canada. I have stayed at the majority of these (and hope to return) while a few are on my bucket list and I hope to stay at them soon.
Updated September 2023
This post may contain affiliate links. If you click an affiliate link and make a purchase then we receive a small commission at no additional cost to you.
1. Fogo Island Inn
Staying at Fogo Island Inn in one of Newfoundland's remote outport communities (one of the four corners of the earth according to the Flat Earth Society) has been on my personal bucket list since the doors were first opened in 2013. This unique 29 room award-winning boutique hotel features one-of-a-kind rooms and suites with dramatic floor to ceiling windows and views of the Atlantic Ocean.
I was initially attracted to the inn's architecture and modern take on traditional design but was even more intrigued when I learned that it was built using principles of sustainability and respect for nature and culture. Fogo Island Inn is a community asset with 100% of operating surpluses reinvested into the community so guests can feel good about the business that they are supporting.
There's a long list of available activities at the inn which vary by season and introduce guests to the nature and culture of the community. Food and activities are included in the room rate and there's a two night minimum most of the year and three night minimum during the summer season.
Staying at the inn would be a huge splurge but I hope to one day – perhaps for a special anniversary celebration!
2. The Algonquin Resort
Our family stayed at The Algonquin Resort in charming St. Andrews-by-the-Sea, New Brunswick almost twenty years ago so I think it's high time we planned a return visit! The luxury resort, established in 1889 and now part of Marriott's Autograph Collection of hotels, combines the elegance of an old-time seaside hotel with modern amenities and a laidback, family-friendly atmosphere.
There are a variety of activities available to guests at the year-round resort including indoor and outdoor pools, a waterslide, spa, beach access, complimentary bicycles and a golf course. Guests also enjoy shopping along Water Street in the historic village, strolling through nearby Kingsbrae Garden and kayaking or whale watching in the Bay of Fundy. The resort is ideal for families, couples and anyone who loves fresh seafood!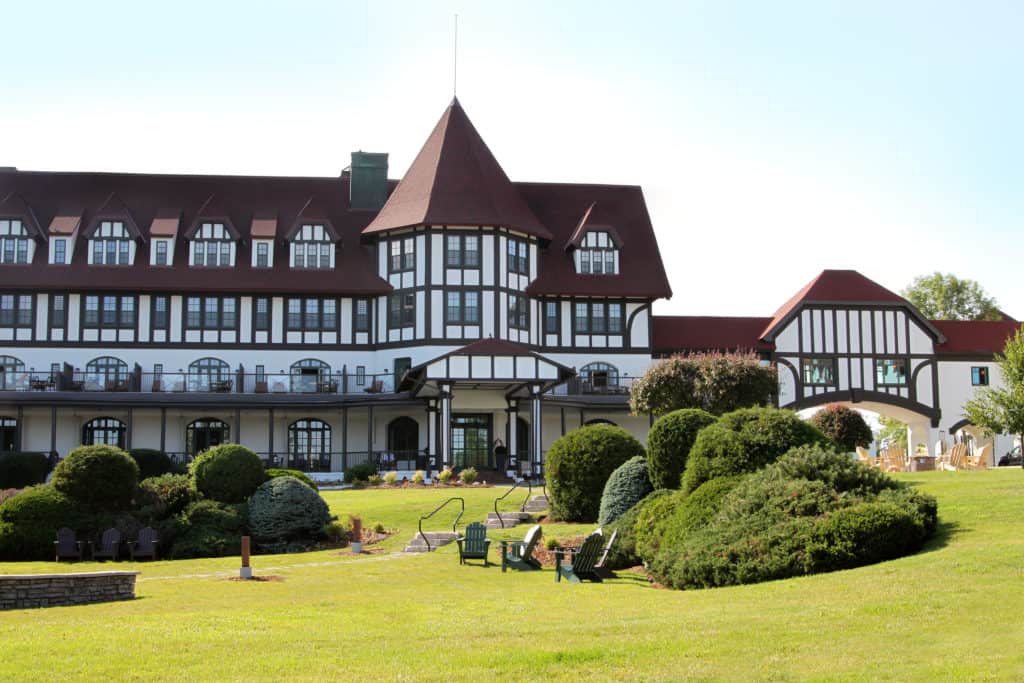 3. West Point Lighthouse Inn
Have you ever dreamed of sleeping in a lighthouse? The historic West Point Lighthouse, built in 1875, is a highlight of the North Cape Coastal Drive in Prince Edward Island as well as Canada's first inn in an active lighthouse. This 4-star inn isn't a luxury hotel but it is unique. The lighthouse inn is located on a beautiful stretch of sandy beach and the sunsets over the Northumberland Strait are breathtaking!
The inn features 11 contemporary rooms which offer gorgeous views of the Northumberland Strait and walkout decks as well as two rooms located in the actual tower of the historic lighthouse in a private guests-only section. Rooms are available to rent from June through September.
My husband and I stayed here on a Prince Edward Island couple's getaway and loved it! We stayed in the Tower Room which is located in the tower of the lighthouse as is the Keepers Quarters room. I had read that our Tower Room was haunted but, alas, no ghosts appeared during our stay. It was a bit wet and blustery when we arrived at the end of a long day of travel but the next morning was perfect and we enjoyed a walk along the beach to wrap up our stay at this lovely lighthouse inn.
Read 10 Things To Do on Prince Edward Island's North Cape Coastal Drive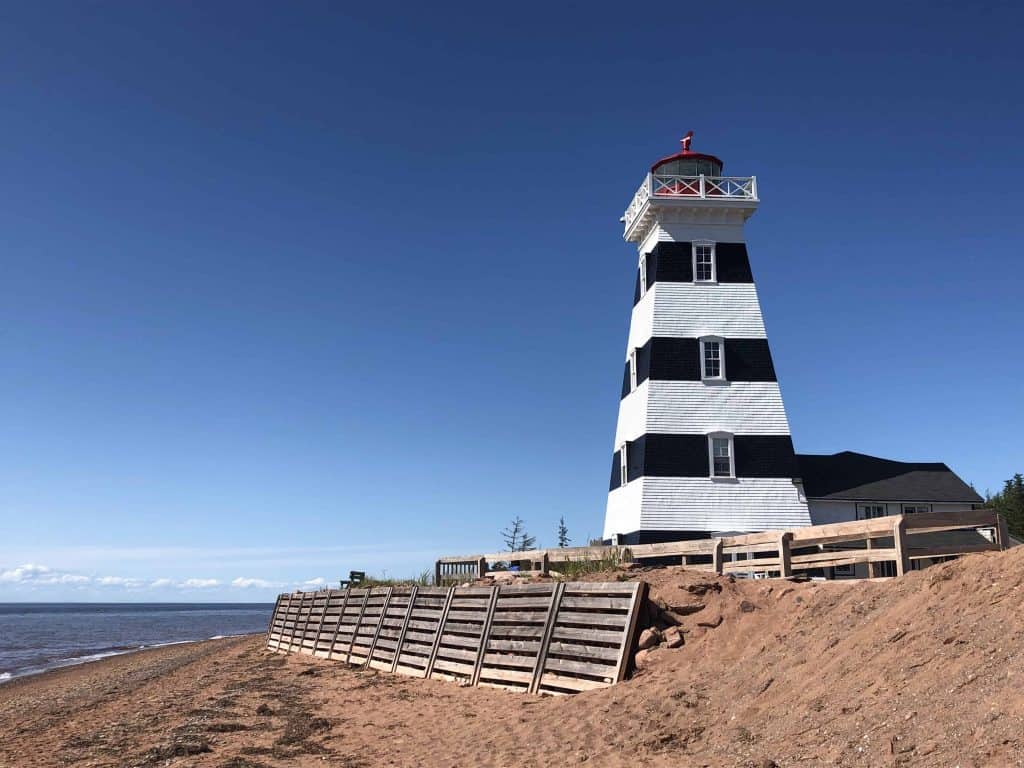 4. Dalvay by the Sea
Dalvay by the Sea, located within Prince Edward Island National Park, is an elegant inn built in 1895 that has been operated as a country resort since the 1930s and is now a National Historic Site of Canada. If you're a fan of Anne of Green Gables then you may recognize Dalvay by the Sea as the fictional White Sands Hotel from the Anne of Green Gables movies and from the television show Road to Avonlea.
We have visited PEI many times and have a family tradition of dining here on our last night on the island but had never stayed on site until our recent couples getaway on the island. I was thrilled to finally have an opportunity to spend the night at Dalvay-by-the-Sea in one of the guest rooms in the main inn – it was as lovely as I had imagined!
Dalvay by the Sea, open seasonally from May to October, has 25 unique guest rooms furnished with period antiques available in the inn and also eight 3-bedroom cottages located adjacent to the inn.
Read 25 Fun Things To Do in Prince Edward Island on Your Summer Vacation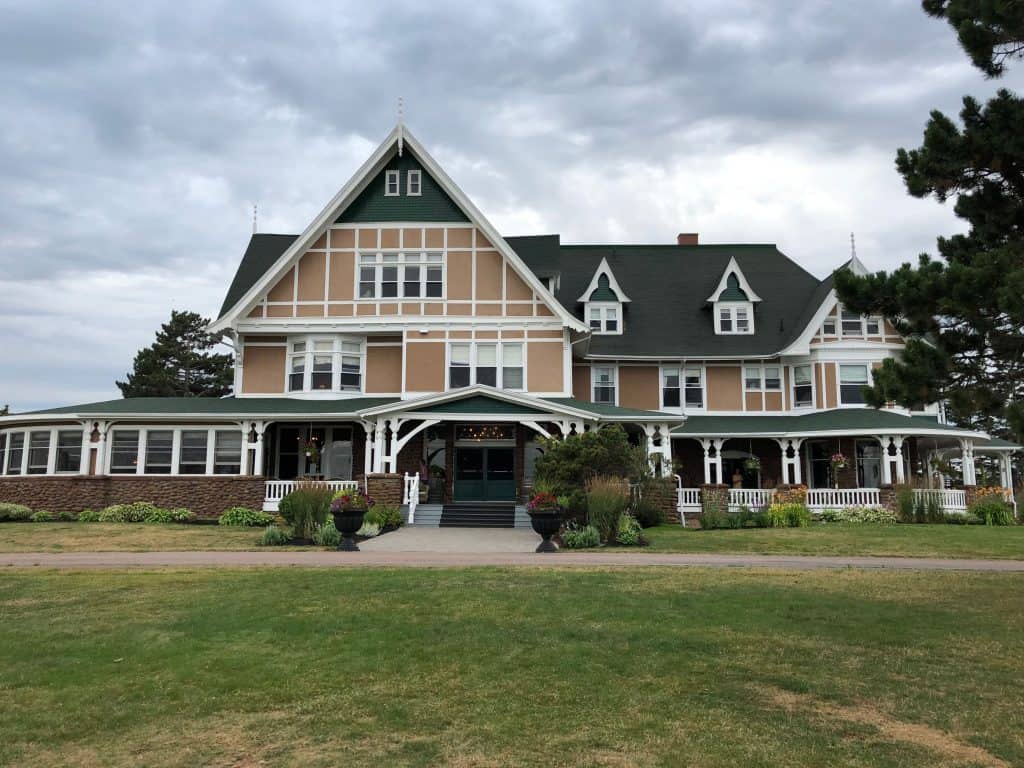 5. Fairmont Le Château Frontenac
If you have ever fancied staying in a castle then the magnificent Fairmont Le Château Frontenac in Québec City might be the perfect hotel for you! The Château, now a National Historic Site, was one of Canadian Pacific's grand railway hotels built late in the 19th century to appeal to upscale travellers on the railway. The elegant hotel with it's distinctive architecture reminiscent of a French château is one of the most photographed hotels in the world for good reason.
We first stayed at the luxurious Château Frontenac several years ago prior to the most recent renovation and I can't wait for the opportunity to stay again. I loved both the hotel's historic charm and its location in the Upper Town of Old Québec overlooking the St. Lawrence River. The location is ideal for exploring the old city on foot – both Upper Town and Lower Town as it is mere steps from the doors of the hotel to either the funicular or Escalier Casse-Cou (the Breakneck Stairs) to Lower Town.
Read 10 Things To Do at the Québec Winter Carnival and 20 of the Best Things To Do in Québec City on a Summer Visit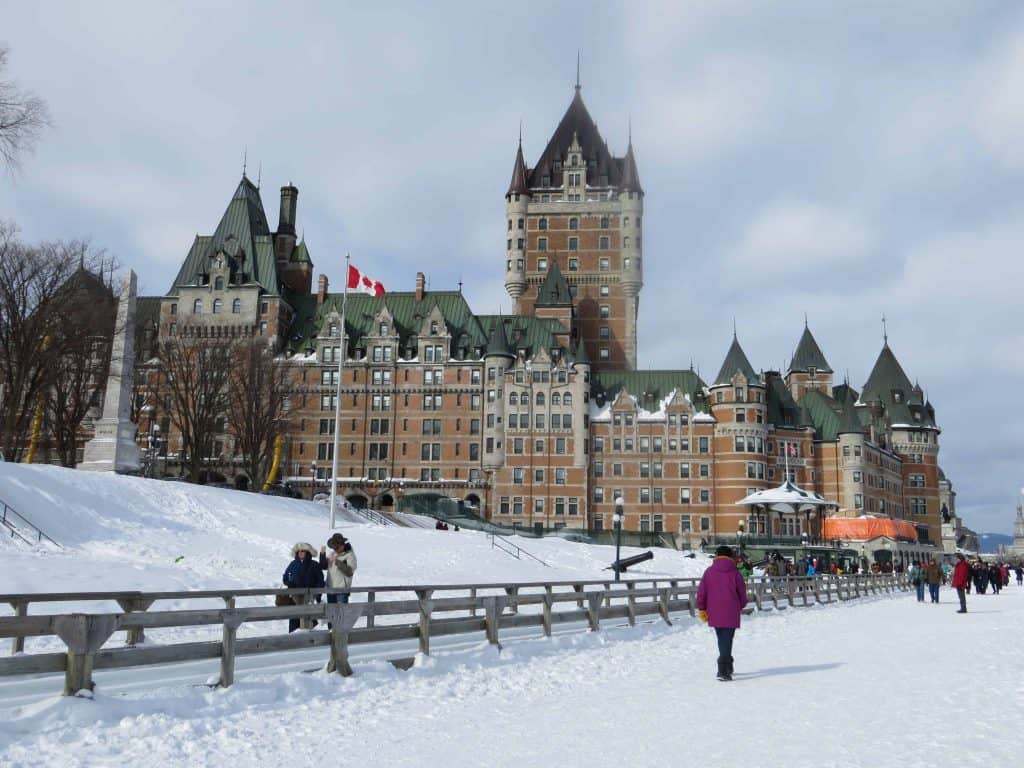 6. Quebec's Hôtel de Glace (Ice Hotel)
For a truly one-of-a-kind hotel experience, consider bundling up and spending an unforgettable night in a cozy room made from ice. The Hôtel de Glace, the only ice hotel in North America, is located a few minutes from Québec City and opens to guests from January to March each year.
The hotel features 44 rooms and themed suites including some suites with fireplaces, the Grand Hall, a beautiful chapel that is popular for weddings and vow renewals, an ice slide and a bar serving cocktails in glasses made from ice.
The hotel is also open for day visitors to tour and changes themes annually so it's always a delight to visit even if you have been before. I toured the hotel a few years ago while travelling solo but was hesitant to spend the night by myself and have regretted it ever since. Perhaps if I return with my family then I'll be brave enough to spend the night!
Read A Photo Tour of Québec's Hôtel de Glace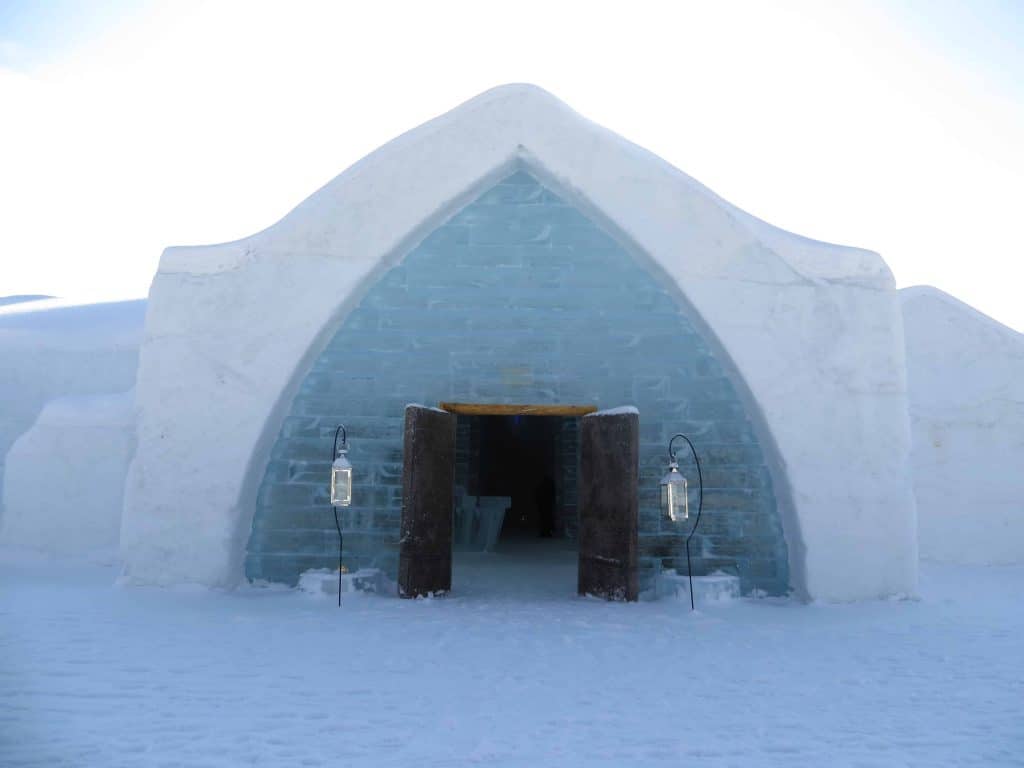 7. Fairmont Le Château Montebello
Another truly Canadian experience is a stay at Château Montebello which earns you the right to boast that you have slept in the world's largest log cabin. The stunning red cedar log château was built in 1930 and was a private retreat for the next 40 years until it was taken over by the Canadian Pacific hotel chain.
Today this resort is owned by Fairmont hotels and is famed for its rustic charm, beautiful natural surroundings and the abundance of year-round activities available to guests.
We have stayed during summer vacation and twice during the Christmas holiday season and it's one of my family's favourite Canadian resorts. There's nothing better than spending a busy day partaking in the resort's activities followed by a delicious dinner in Aux Chantignoles and an evening by the lobby's inviting stone fireplace.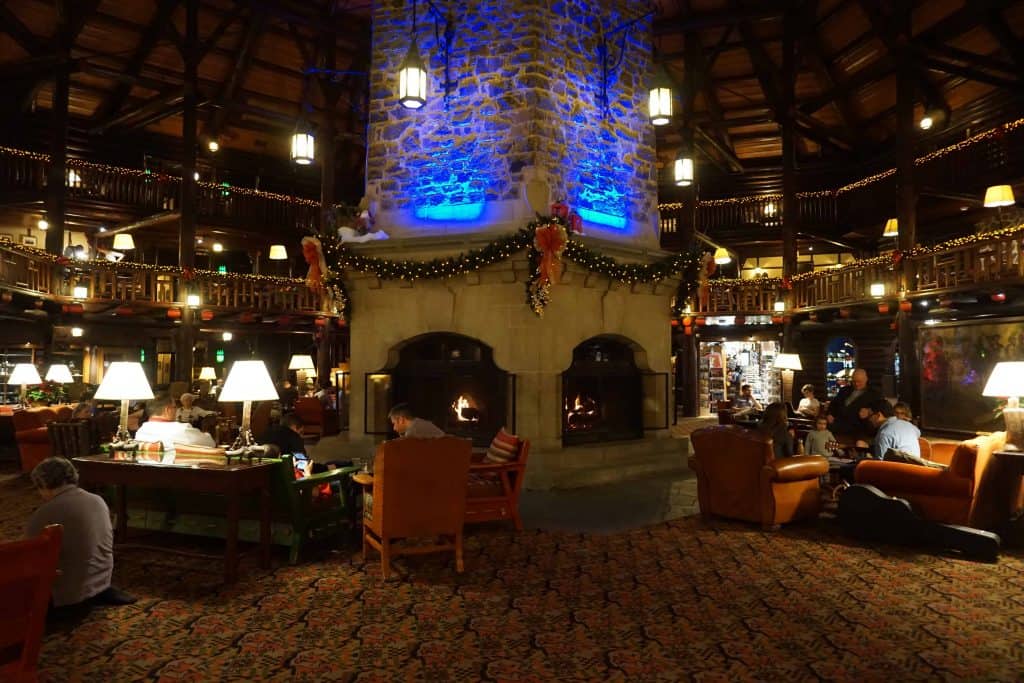 8. Fairmont Le Manoir Richelieu
The historic Fairmont Le Manoir Richelieu, located in La Malbaie in Québec's Charlevoix Region within easy driving distance of Québec City, is another favourite Canadian resort for my family. The luxurious family-friendly resort hotel overlooking the St. Lawrence River features spectacular views, spacious accommodations, and three restaurants on-site ranging from casual buffet to fine dining.
The resort offers year-round activities and also makes a great home base for exploring the region. Our stay was only three nights but we had time to enjoy the hotel and day-trip to Tadoussac which is famous for whale watching tours as well. A return visit is on my bucket list as I would love the opportunity to further explore the region.
Read A Scenic Road Trip from Québec City to the Charlevoix Region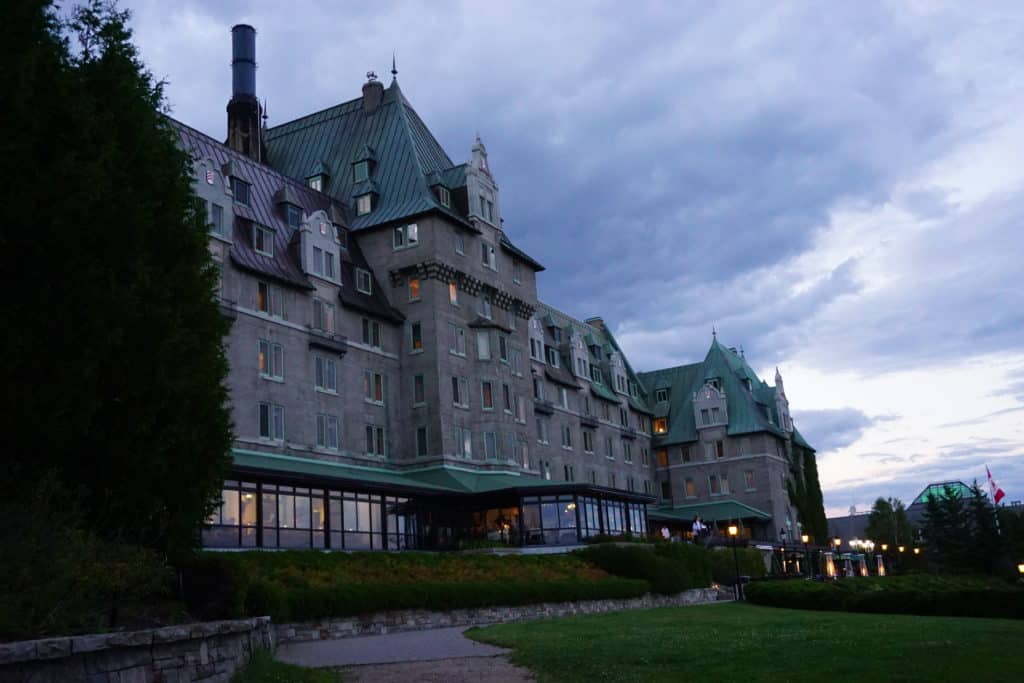 9. Fairmont Château Laurier
I have stayed at the historic Fairmont Château Laurier a couple of times and it is my favourite place to stay in downtown Ottawa for a weekend getaway.
The landmark hotel, opened in 1912 as one of Canada's luxury railway hotels, has recently undergone a multi-million dollar revitalization updating the lobby and the rooms. The hotel's location in the heart of the nation's capital next to Parliament overlooking the Ottawa River and the Rideau Canal is ideal for exploring all of the city's most popular attractions.
The Château Laurier might look like an old French castle but the 426 guest rooms and luxury suites are all decorated in an up-to-date elegant style and include all of the modern amenities that you could want. For a special treat, book a room with a view of the Parliament Buildings and the Rideau Canal locks and don't miss the afternoon tea which is offered at three sittings on Saturdays and Sundays.
Read 10 Fantastic Free Things To Do in Ottawa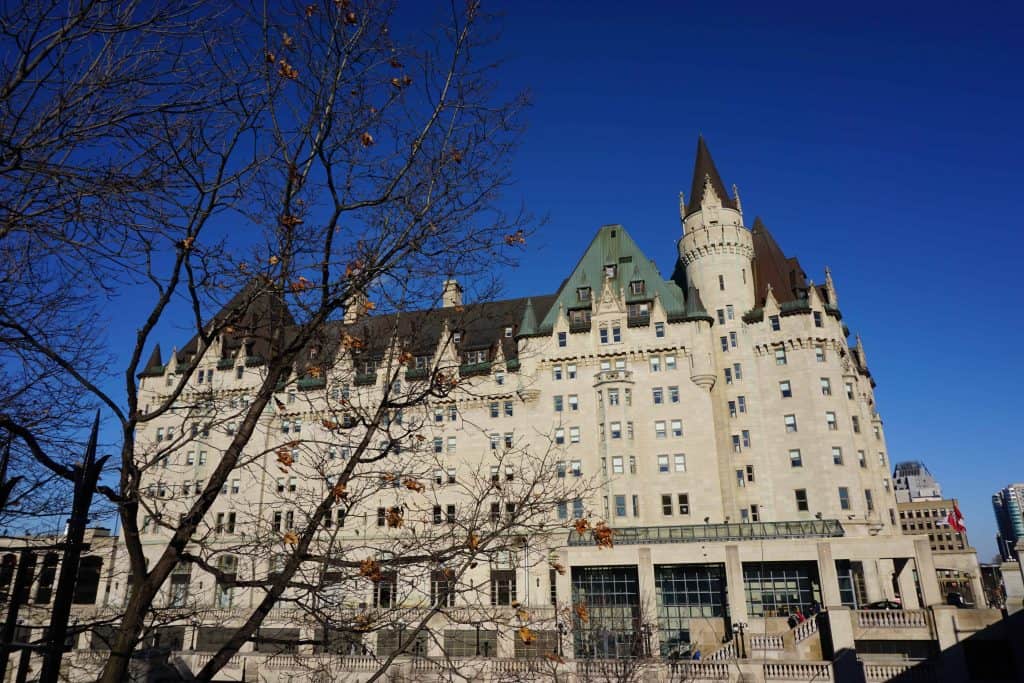 10. Langdon Hall Country House Hotel & Spa
This luxury Relais & Châteaux property is located in the countryside outside of Cambridge about 90 minutes from Toronto and is known for its award-winning cuisine and elegant accommodations.
Langdon Hall has lovely spacious rooms and suites available in the Main House, adjacent Cloisters and restored Stables all featuring luxurious feather beds and down duvets (hypoallergenic bedding is also available on request). Many of the rooms also have seating areas and wood-burning fireplaces which you will appreciate on a romantic weekend getaway! My husband and I have stayed in one of the Cloisters rooms with fireplace for our anniversary and it was one of the most luxurious places we have ever stayed.
Read 8 of the Best Romantic Getaways in Ontario
11. The June Motel
This hip boutique motel in Prince Edward County, Ontario has been on my bucket list since my older daughter told me about it last year. And why do we both want to stay at The June Motel so much? It might be because of all the pink!! For those of you who don't know, we have a bit of an obsession with the colour. Not too long ago, my daughter and I enjoyed a mother-daughter getaway at the Don CeSar hotel in St. Pete Beach which is known as The Pink Palace and it was incredible!
The June Motel was created by two women who quit their jobs in Toronto in 2016 to jump into the motel business. They transformed a dingy motel into a popular getaway destination by creating a beautifully designed space with retro beach-town vibes. The motel is located near Picton in the heart of one of Ontario's popular wine and culinary regions and near Sandbanks Provincial Park as well.
The motel features 16 stylish rooms with funky palm leaf wallpaper, pink doors and a plant-filled Lobby Bar serving coffee and grab and go breakfast in the morning and cocktails and light snacks for happy hour. The motel is very photogenic so if you visit, be sure to sip a glass of wine under the neon pink Peace Love Wine sign in the lobby and post the photos on Instagram!
A second location of The June Motel is now open in Sauble Beach.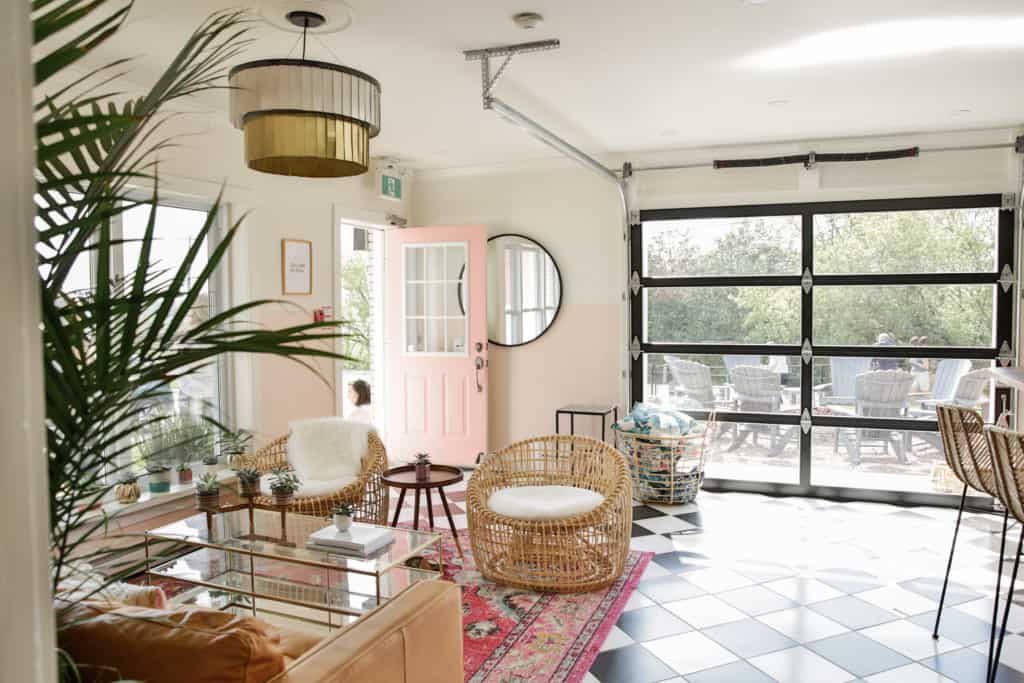 12. Fairmont Banff Springs
The majestic Fairmont Banff Springs, located in the heart of Banff National Park in Alberta, has been welcoming guests for more than 130 years. Another of the former luxury railway hotels, the picturesque resort known as the Castle in the Rockies has more than 750 guest rooms and suites and features amenities such as a spa, golf course, aquatic centre, tennis courts, and a bowling alley.
The resort is a great choice for anyone who wants an active vacation enjoying the many organized outdoor activities offered including guided wilderness walks, bike tours, snowshoeing, stargazing and more. There's also Banff Upper Hot Springs and the Banff Gondola nearby and many beautiful day trip locations such as Lake Louise and the Columbia Icefields.
My husband and I stayed at the Fairmont Banff Springs for a few nights more than 25 years ago and I fell in love with the hotel, Banff Village and the elk that wandered the streets. We returned to Banff Springs with our younger daughter this past summer on a Calgary to Jasper road trip and it was every bit as lovely as I remembered!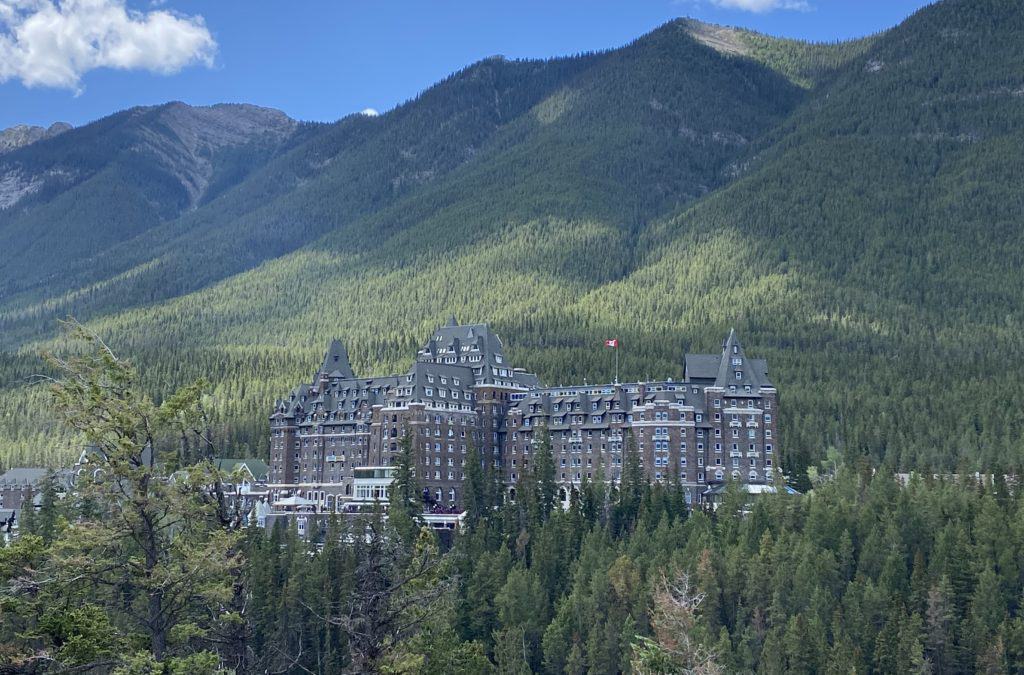 13. Fairmont Chateau Lake Louise
Fairmont Chateau Lake Louise had been on my hotel bucket list since my husband and I visited on a day trip while staying at Banff Springs years ago. The 539 room luxury hotel in Alberta's Banff National Park has one of the most beautiful locations in the world with breathtaking views of Lake Louise and the surrounding mountains.
My dilemma was trying to decide whether I wanted to visit in summer to enjoy canoeing on the turquoise waters or in winter for ice skating and sleigh rides! I finally had the opportunity to stay there this past June but the weather didn't cooperate. A surprise snow storm meant that we had to delay our Icefields Parkway drive and stay two nights at Château Lake Louise instead of one – if you have to be stranded in a June snow storm then there are worse places to be!
A highlight of a typical visit during the summer season is a hike of the Lake Agnes Tea House Trail to enjoy the breathtaking views of Lake Louise and a snack break at the charming Lake Agnes Tea House. We were satisfied with hiking the trail around the lake and a visit of Moraine Lake which were both enjoyable even in less than ideal weather conditions.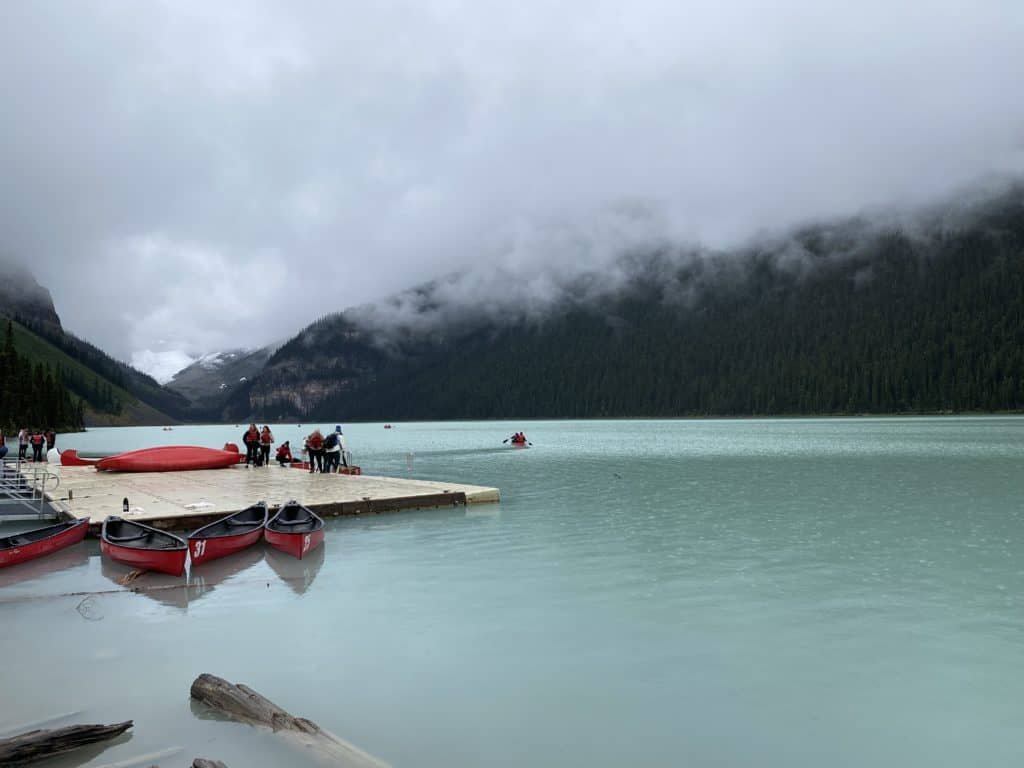 14. Fairmont Empress
On a mother-daughter trip to British Columbia, my younger daughter and I stayed at the historic Fairmont Empress, a luxury hotel overlooking Victoria's Inner Harbour which is considered one of the world's top iconic hotels.
The Empress, which first opened in 1908, completed a $60+ million restoration in 2017 that celebrates the hotel's historic past while transforming it into an elegant modern hotel. The hotel has 464 lovely rooms and suites – many of which have stunning views of the harbour.
We particularly enjoyed our dining experiences at the hotel which included a delicious meal with a wonderful view on The Veranda and afternoon tea in the sophisticated Lobby Lounge – a tradition at The Empress since 1908. The waterfront location of the Fairmont Empress is lovely and ideal for exploring much of Victoria on foot.
Read 10 Fun Things To Do in Victoria, British Columbia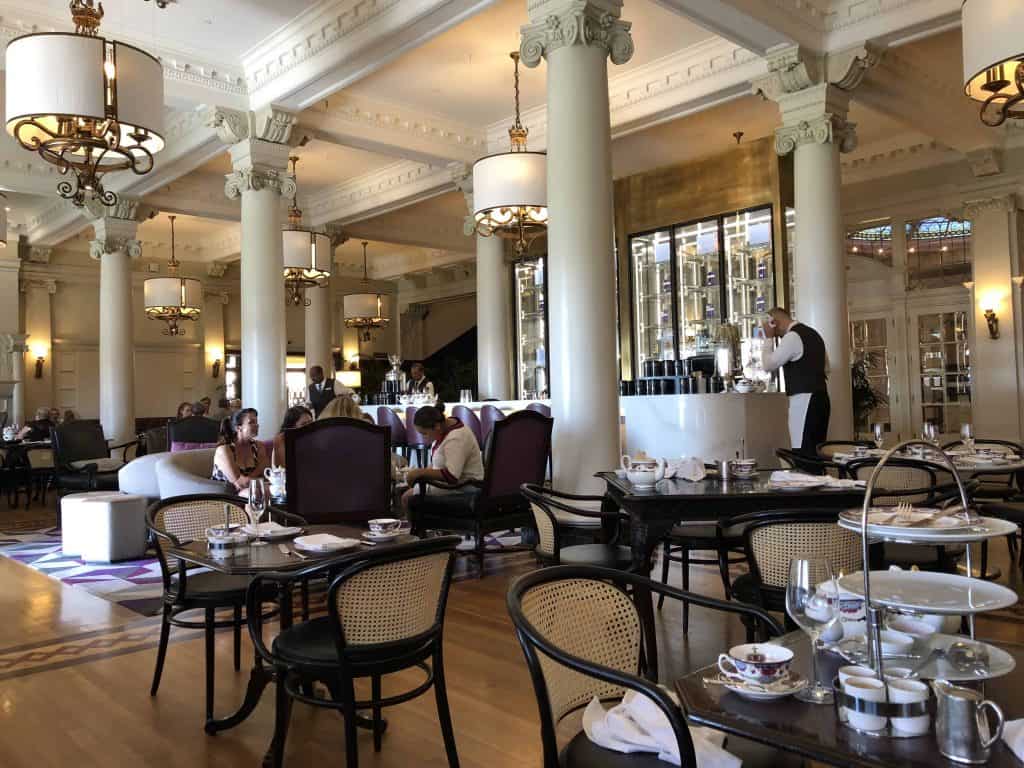 15. The Wickaninish Inn
The Wickaninish Inn in British Columbia is a Relais & Châteaux boutique hotel built on 100 acres of waterfront property a few minutes from Tofino on Vancouver Island. The eco-friendly hotel which opened in 1996 features elegant accommodations that are luxurious but understated, a fine dining restaurant serving fresh food with ingredients from local and sustainable sources and an award-winning spa all just steps from the beach.
The luxury hotel in a beautiful natural setting between the sea and the rainforest includes two buildings built in a North West Coast style using local cedar, fir, driftwood and stone. Rooms have stunning views of the land and sea and sculptures and artwork from local artisans are featured throughout the inn.
Visitors to The Wickaninish Inn can explore the rugged wilderness of Pacific Rim National Park and Clayoquot Sound and enjoy the resort's many cultural, nature, adventurous, wellness, culinary, and family-friendly activities. I have always wanted to explore more of Vancouver Island and a stay at this special inn seems like the perfect way to do that!
16. Glacier View Lodge
We had the pleasure of staying at Glacier View Lodge in Jasper National Park on our recent road trip in Alberta and it was a one-of-a-kind experience!
This premium 32 room lodge, located on the 3rd floor of the Glacier Discovery Centre at the Columbia Icefield, is the only hotel in Canada overlooking a glacier and the views of the glacier and mountain peaks are truly breathtaking. We opted for the more expensive glacier view room and it was the most incredible view that I have ever had from a hotel room!
Both glacier view and mountain view rooms are spacious and comfortable with a luxe Scandinavian design feel and are equipped with a Nespresso machine, television and complimentary high-speed wifi. There are two restaurants on the second floor of the building – Chalet, a casual cafeteria-style restaurant and Altitude, a full restaurant with glacier views serving dishes inspired by local ingredients.
Ice Explorer tours of the Athabasca Glacier and buses to the Glacier Skywalk both depart from the main level of the Glacier Discovery Centre. Be sure to book yours in advance either separately or as part of your room package – they are not to be missed experiences!
Read An Unforgettable Stay at Glacier View Lodge on the Icefields Parkway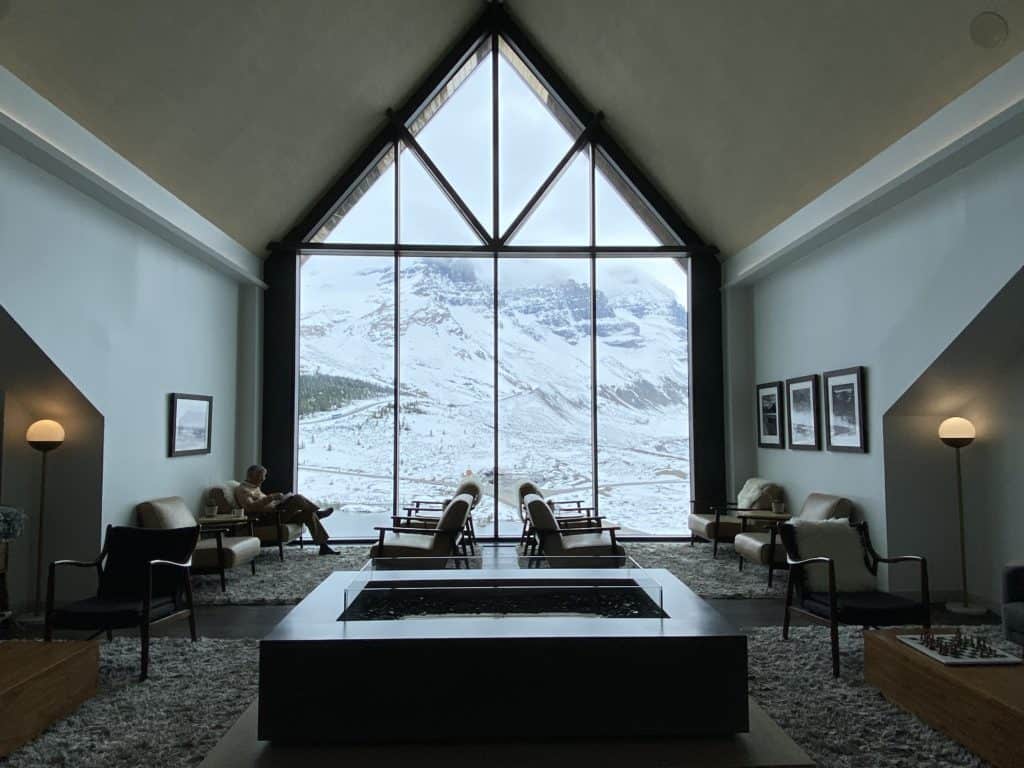 17. Jasper Park Lodge
Fairmont Jasper Park Lodge is a year-round luxury alpine resort located on the shores of Lac Beauvert in Alberta's Jasper National Park in the Canadian Rockies. Guests can select rooms in the classic wilderness lodge or chalet-style log cabins spread across the 700 acre property and enjoy a range of activities including golf, hiking, yoga, biking, canoeing, kayaking and more. Nearby activities include the Jasper Sky Tram and the famous Maligne Lake boat cruise.
The historic Jasper Park Lodge has been a prestigious Canadian holiday destination since it was first opened by one of the railway companies more than 100 years ago and has hosted many famous people including members of the British Royal Family and Hollywood stars such as Bing Crosby and Marilyn Monroe.
We had a night booked at Jasper Park Lodge as part of our summer road trip from Calgary to Jasper but had to cancel and stay an extra night in Lake Louise instead due to an unexpected snowstorm in June that stranded travellers and made driving dangerous. So for now it remains on my hotel wish list for a future stay!
Which one of these Canadian hotels are on your travel wish list? Do you have a favourite that should have made the list? Let us know in the comments below.
Pin This For Later