Photos of the Hôtel de Glace (Ice Hotel) in Québec City.
The Hôtel de Glace (Ice Hotel) in Québec City has been a must-see for visitors since first opening in 2001. The hotel is located about 10 minutes outside of the city and is generally open each winter from January through late March.
Read: 8 of the Best Day Trips from Québec City
This post may contain affiliate links. If you click an affiliate link and make a purchase then we receive a small commission at no additional cost to you.
The Ice Hotel has to be reconstructed annually and there is a theme selected for each winter's version of the hotel. The theme for 2014 is Myths and Legends from Around the World and included a special partnership with Disney to feature the studio's latest movie Frozen.
Read reviews and check current rates for the Hôtel de Glace on TripAdvisor
I recently had occasion to tour the hotel while visiting Québec for the Winter Carnival although I declined the opportunity to stay overnight.
Read reviews and book tickets in advance for the Quebec Ice Hotel Tour on TripAdvisor
Exterior of the Ice Hotel
Overnight guests and day visitors check in at the Visitors' Centre before heading to the Ice Hotel and will get a first glimpse of the snowy buildings upon stepping outside.
It's incredible to see up close a building that is completely constructed of snow and ice.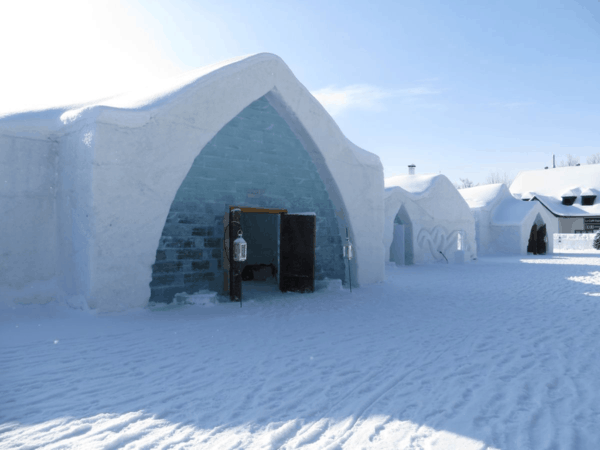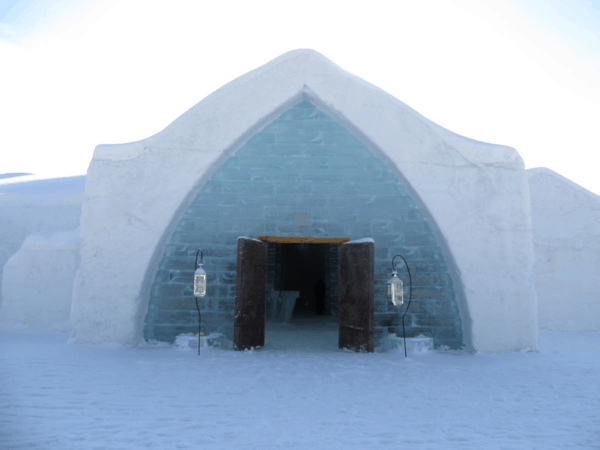 Public Rooms
There are several entrances to the hotel leading to the public rooms. The main entrance has a reception desk built entirely from ice and leads to the Great Hall which has a very impressive ice chandelier hanging from the ceiling.
There are several weddings each year held in the exquisite Chapel which has furs to warm the icy benches. More than 150 couples have been married here since the Ice Hotel first opened and winter wedding packages include details such as walking down the aisle on a red carpet, arriving at the chapel by horse-drawn carriage, and having a fireworks display to cap off the ceremony. There are even romantic wedding proposal packages designed for those who want to be truly unique and memorable.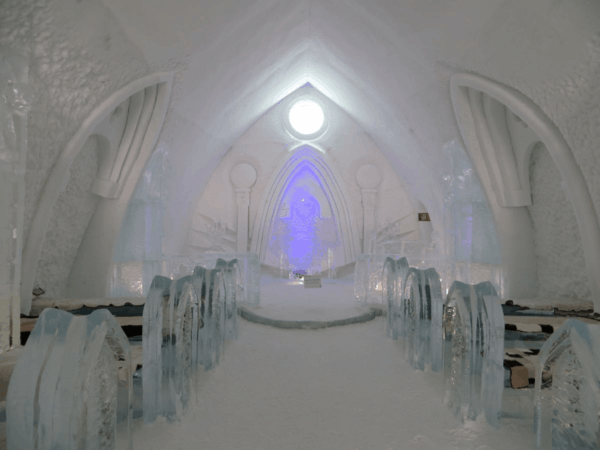 Guests and visitors can enjoy a drink at the hotel's Ice Bars which serve beverages in glasses made from ice.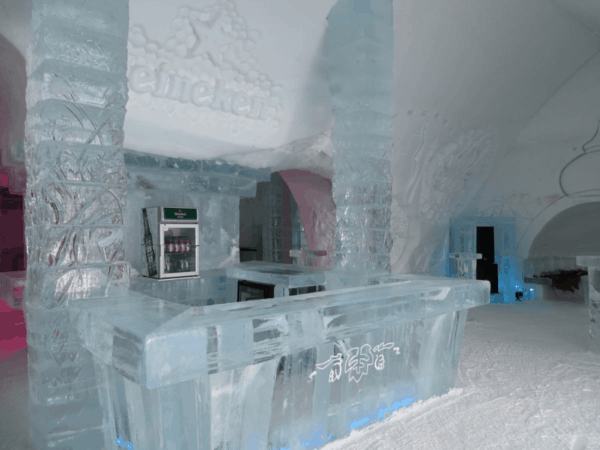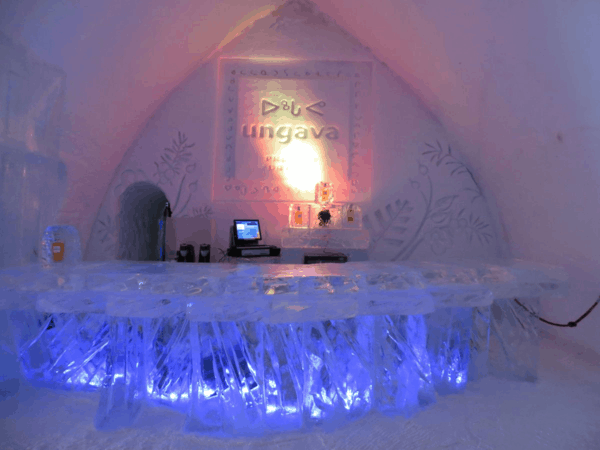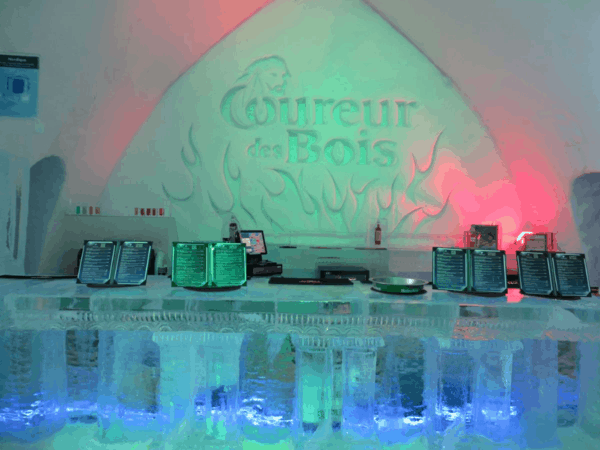 One of my favourite public areas was the room with the Grand Ice Slide which was constructed with a Frozen theme for 2014. My 10 year-old wasn't with me but had instructed me to take as many photos as possible as she loved the movie and really wanted to see these rooms.
Guest Rooms and Suites
The hotel has 44 rooms and themed suites available including premium suites with fireplaces and private spas. The standard rooms are interesting but it's the themed suites that are the most impressive with their carved ice sculptures, murals carved in snow walls, and snow-carved headboards.
La Reine des Neiges which is Disney's Frozen suite is stunning and seems to be the most popular with visitors (particularly young girls).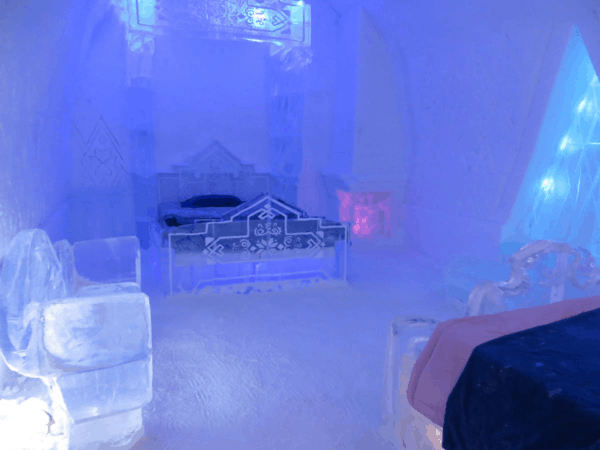 I was amazed by each and every one of the suites and took as many photos as possible despite the fact that my fingers were exposed and freezing. These are some of my favourites.
The Nordic Spa
Overnight guests have access to the nordic relaxation area with outdoor spas and sauna from 9pm-9am.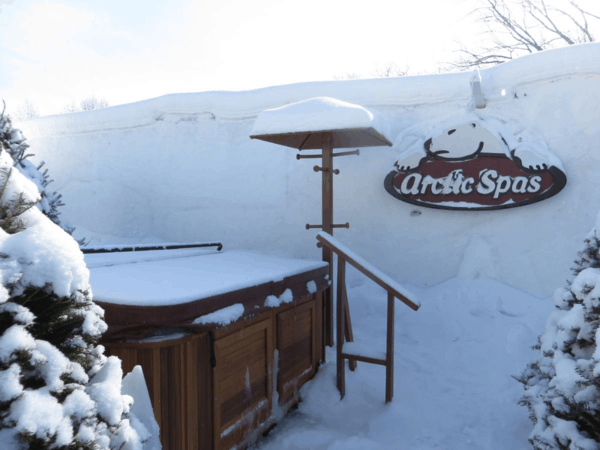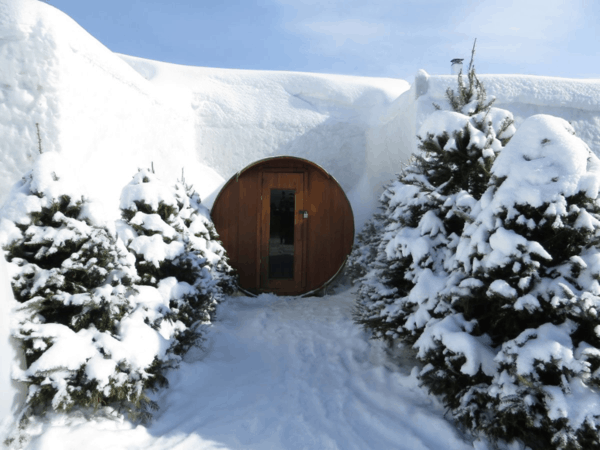 Even if you don't plan on sleeping overnight, a visit to the Hôtel de Glace to see the incredible craftsmanship that goes into each year's construction is a must for anyone visiting Québec City during the winter.
Is sleeping at an Ice Hotel on your bucket list?
What You Need To Know
The Ice Hotel is located at 9530, rue de la Faune approximately a 10 minute drive outside of Québec City.

The hotel has 44 rooms and themed suites including premium suites with fireplace and premium suites with fireplace and private spa. There are also packages available.

Tours are available during the day for visitors who would like to see the hotel without booking an overnight stay.

Temperatures inside the Ice Hotel are generally between -3 and -5 Celsius regardless of the outdoor temperature as the ice provides insulation.

Overnight guests are provided with an information guide ahead of time and required to attend an information session in order to ensure that they are comfortable during their stay in the subzero temperatures.

The hotel may be booked for private functions as well.

Day visitors may pay a supplemental fee to take advantage of outdoor activities including snowshoeing and tube sliding.

There is a Sugar Cabin outside the Ice Hotel which sells maple taffy on snow and other maple products on Saturdays and Sundays.

Prices for tours can be found on the website here. (The 2014 daily rate for adults is $18. There is a family rate, reduced rates for children and seniors and rates are reduced after 8pm.)

Room rates can also be found on the website – in 2014 overnight stays started around $200 CAD per person to sleep in a basic room.
As a member of the media, I received complimentary admission to tour the Hôtel de Glace. My opinions are, as always, my own.