Photos from a snowy winter's day in Québec City.
I recently spent a few days in Québec City over the final weekend of the 2014 Winter Carnival. I had previously visited in the summer with my family but this was the first time that I had ever been during winter and I discovered that the city has a unique charm and beauty when covered with snow.
The provincial capital of Québec (Ville de Québec) was founded more than 400 years ago by Samuel de Champlain in 1608 and the historic district of Old Québec (Vieux Québec), surrounded by the only fortified city walls remaining in the Americas north of Mexico, was named a UNESCO World Heritage Site in 1985. Rich in history, culture, and tradition, the city of Québec has a European flair that makes it one of the most interesting cities to visit in North America.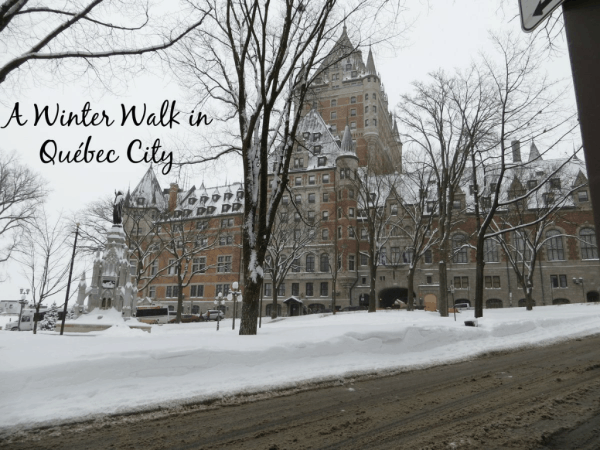 These are a few of my favourite photos from my first snowy day in Vieux Québec.
A major winter storm had been predicted to hit Québec City on the first full day that I was in the city. Flights were cancelled and schools closed as the snow began to fall and the winds began to blow. We were scheduled on a walking tour of Vieux Québec and opted to bundle up and head out despite the dire forecast. The snow was only falling lightly at first and it seemed like the severity of the storm might have been exaggerated as we left the Hilton Québec with our tour guide.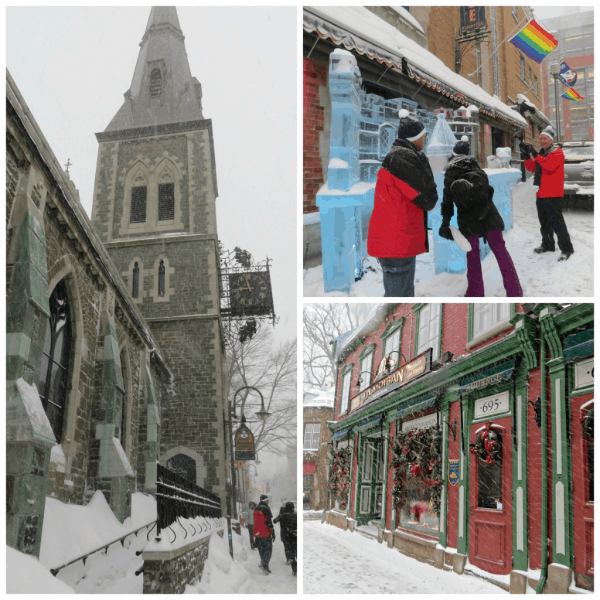 The weather quickly deteriorated, however, and we found ourselves tramping through drifts and covered in snow as the blowing winds and falling snow seemed to be coming at us horizontally at times. We took refuge at La Brulerie St-Roch café for a time to fortify ourselves with caffeine before heading back out into the storm and down toward the Old Port of Québec.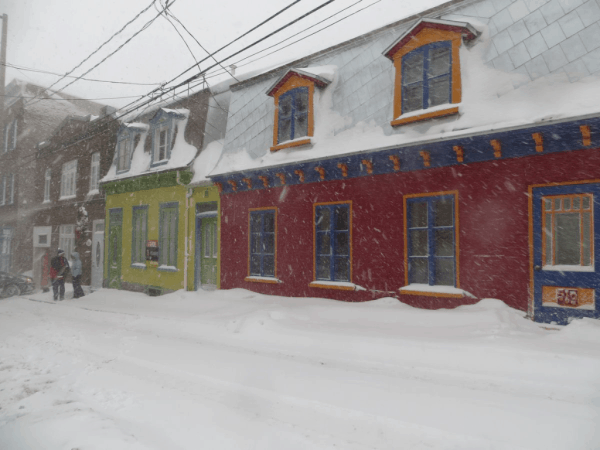 After visiting the Marché du Vieux-Port (Old Port Market) we headed back uphill toward Haute Ville (Upper Town) walking past the outdoor skating rink in front of Palais Montcalm and Le Capitole de Québec before passing through Porte St. Jean (St. John's Gate) to the other side of the city's walls.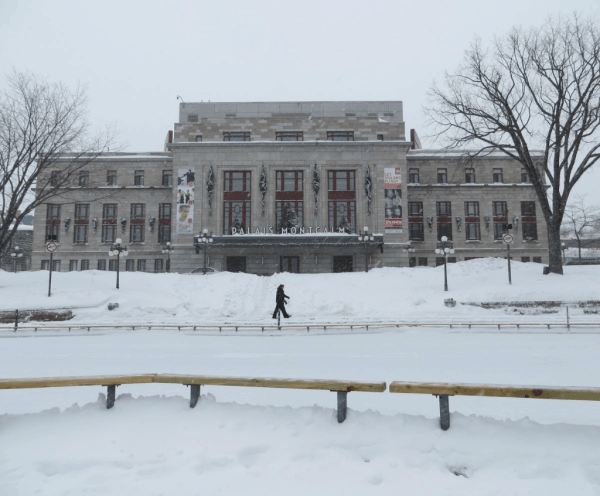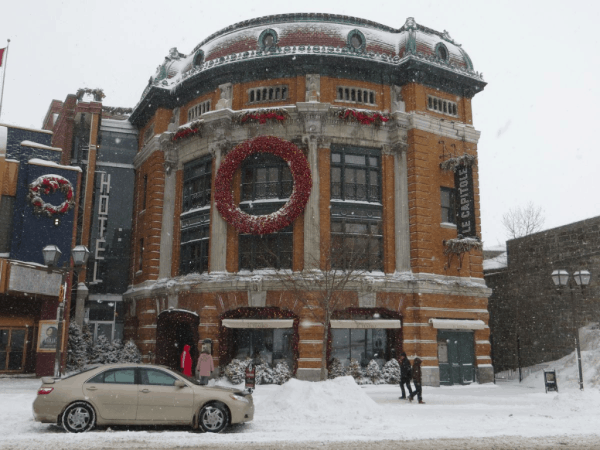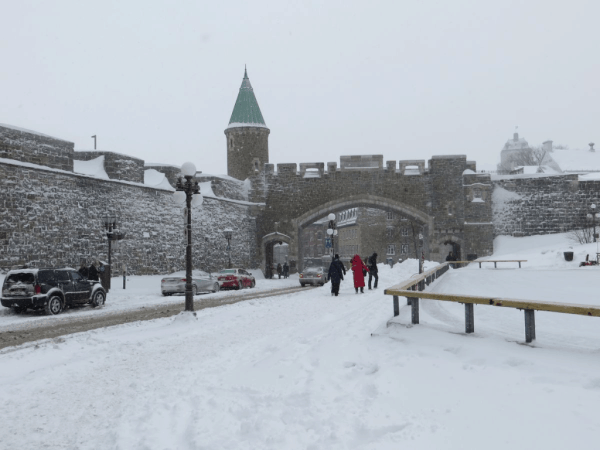 After a short break at our hotel, another blogger/journalist and I decided to head back out to explore Basse-Ville (Lower Town). By this time, the winds had died down but a light snow continued to fall, blanketing the streets and buildings of Vieux-Québec and giving them a magical appearance. We walked down Rue St. Jean toward Château Frontenac, however, the majestic hotel was barely visible through the falling snow.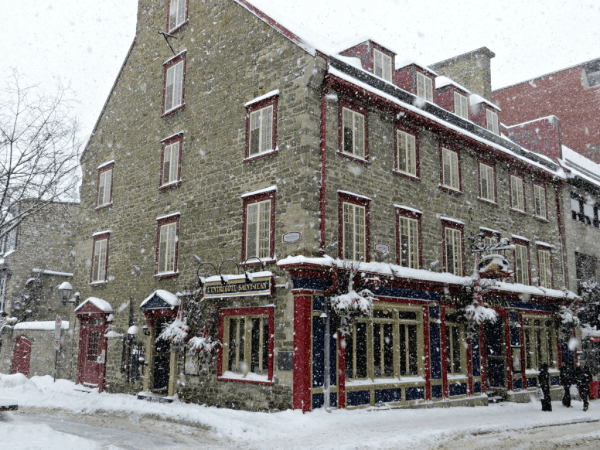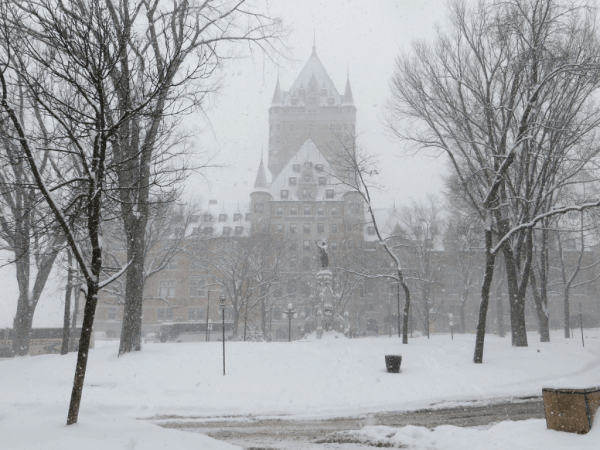 From the Terasse Dufferin in front of the Frontenac, visitors can ride the Funicular to Basse-Ville or take the stairs. We chose to climb down in order to get the view of Rue Petit Champlain as we descended.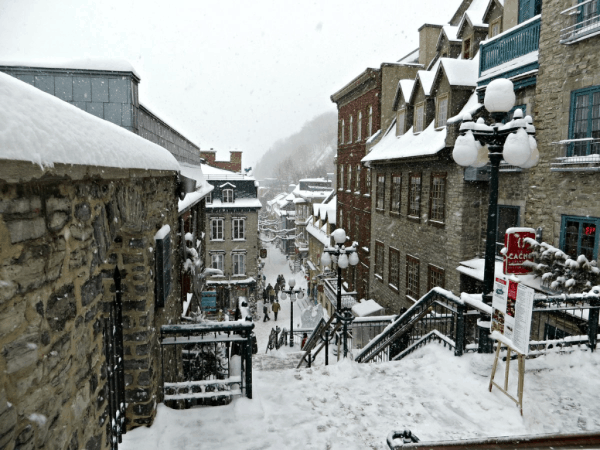 The Quartier Petit Champlain is a neighbourhood of quaint boutiques and bistros with a decidedly European atmosphere. With the twinkling decorative lights and the falling snow, the street looked like a scene lifted from a post card.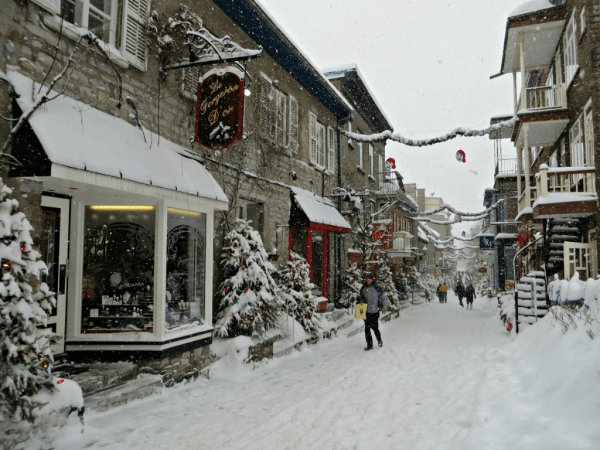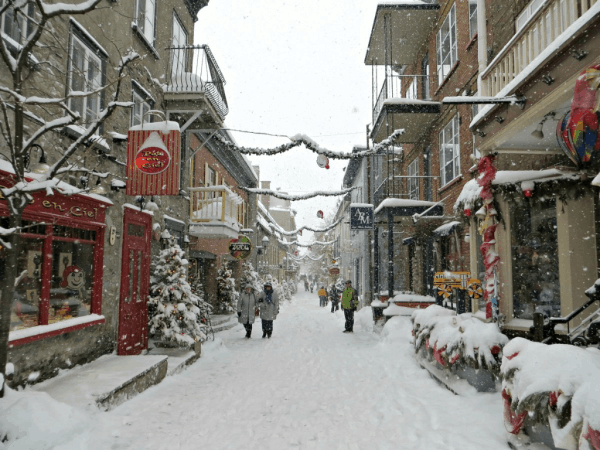 As we were short on time, we didn't pause to shop but continued our walk through the heritage district to Place Royale.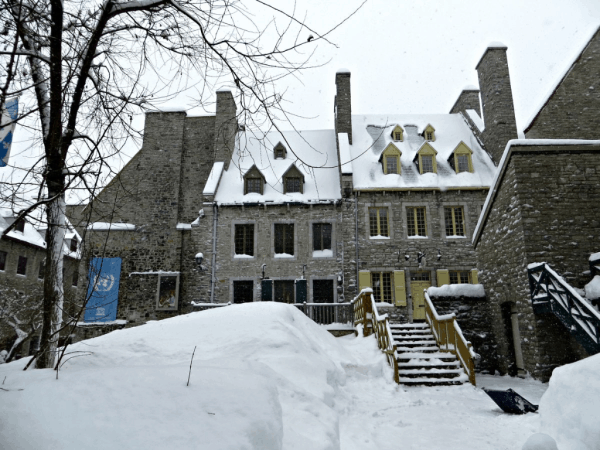 Notre-Dame-des-Victoires is the oldest stone church in North America dating back to the late 17th century and likely one of the most photographed buildings in Vieux Québec.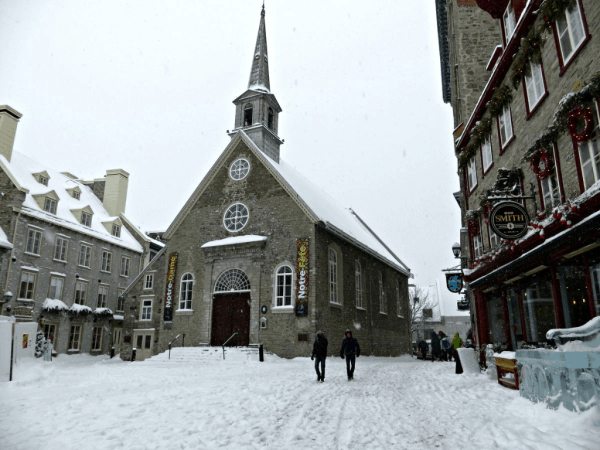 The mural Fresque des Québécois is an incredible work of art and one of my favourite sights in this neighbourhood. The trompe l'oeil mural tells the story of Québec City and the details must be closely observed to note that it includes both historical and contemporary figures.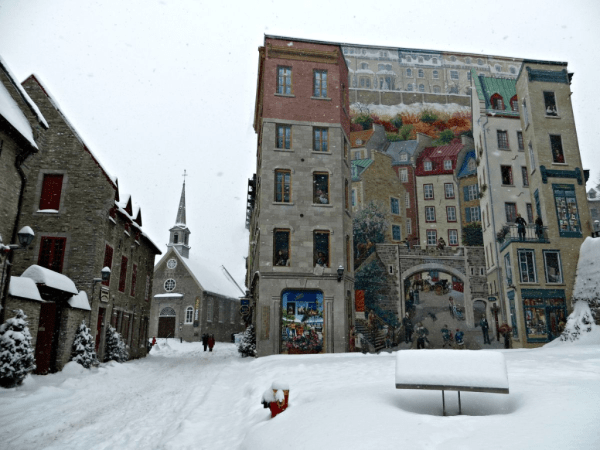 As we retraced our steps back up the Frontenac stairs, the skies cleared and we were treated to a clearer view of the Château.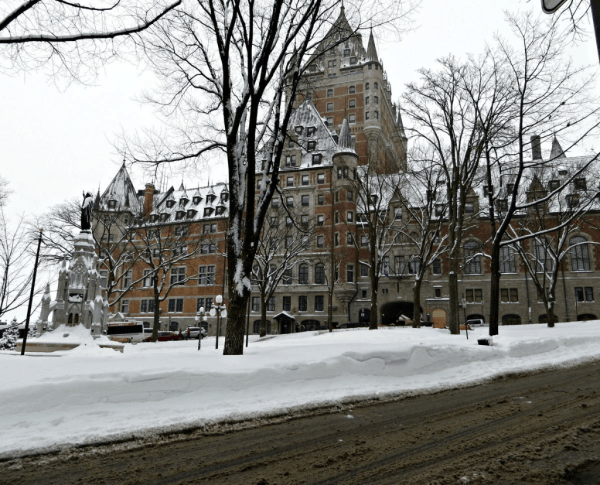 I hadn't anticipated spending my first day in Québec walking in the snow but was glad that I did as it would seem that Vieux Québec might be at its loveliest on a winter's day in a gently falling snow.
Related Articles
10 Things To Do at the Quebec City Carnival
Winter in Québec City via Instagram
A Photo Tour of Québec's Hôtel de Glace
Winter Fun in Montebello, Québec
Thank you to Tourisme Québec, Québec City Tourism and Carnaval de Québec for organizing this memorable media trip to Québec City that I attended as a representative of Trekaroo.