Québec City is one of the loveliest and most historic destinations in Canada and there's plenty to do in the city but explore a bit further afield and you'll find that the surrounding areas are every bit as beautiful. If you're staying in the city for more than a couple of days then adding one of these incredible day trips from Quebec City to your itinerary is a great idea. Whether you enjoy outdoor adventures, history, food or shopping, there's a Québec City day trip that's perfect for you!
This post may contain affiliate links. If you click an affiliate link and make a purchase then we receive a small commission at no additional cost to you.
1. Montmorency Falls
Located just outside the city, Montmorency Falls is one of the province's most impressive natural sites and one of the best Québec City day trips! The breathtaking waterfall located at the mouth of the Montmorency River where it empties into the St. Lawrence River is 83 metres (272 feet) high. Putting the size into perspective – that's 30 metres (98 feet) higher than Niagara Falls although considerably narrower.
Once you arrive, it's up to you how long your visit will be. You can opt for a leisurely walk to the viewing platform at the base of the falls where you can take loads of photos and call it a day – or try some of the other activities available at Montmorency Falls.
Ride a cable car to the top of the cliff and cross the suspension bridge over the falls, enjoy a meal on the terrace of the Manoir Montmorency, sign up for a guided tour to learn more about the history of the area or, if you're looking for an adrenaline rush, try the via ferrata and zip line for incredible views of the falls. Your visit to breathtaking Montmorency Falls will be memorable no matter what you decide to do!
Montmorency Falls is just a short drive outside the city and is accessible by public transit so it's a great option for a day trip from Québec City without a car. There is also a bike path if you're visiting in the summer and would like to cycle there. Another option is booking a half-day tour to Montmorency Falls and Ste.-Anne-de-Beaupré from Québec City.
Montmorency Falls is located at 5300 Sainte-Anne Blvd. Follow Autoroute 40 East to Exit 322 toward Blvd des Chutes. Distance from Québec City to Montmorency Falls: 13 km (8 miles) – approximately a 15 minute drive.
There is a daily access fee to visit Montmorency Falls Park as well as a parking fee and there are additional fees for the cable car, guided tour, via ferrata and zipline. During the winter months, the via ferrata and zipline activities are not available and the cable car is not always available.
Read: Visit Breathtaking Montmorency Falls, Québec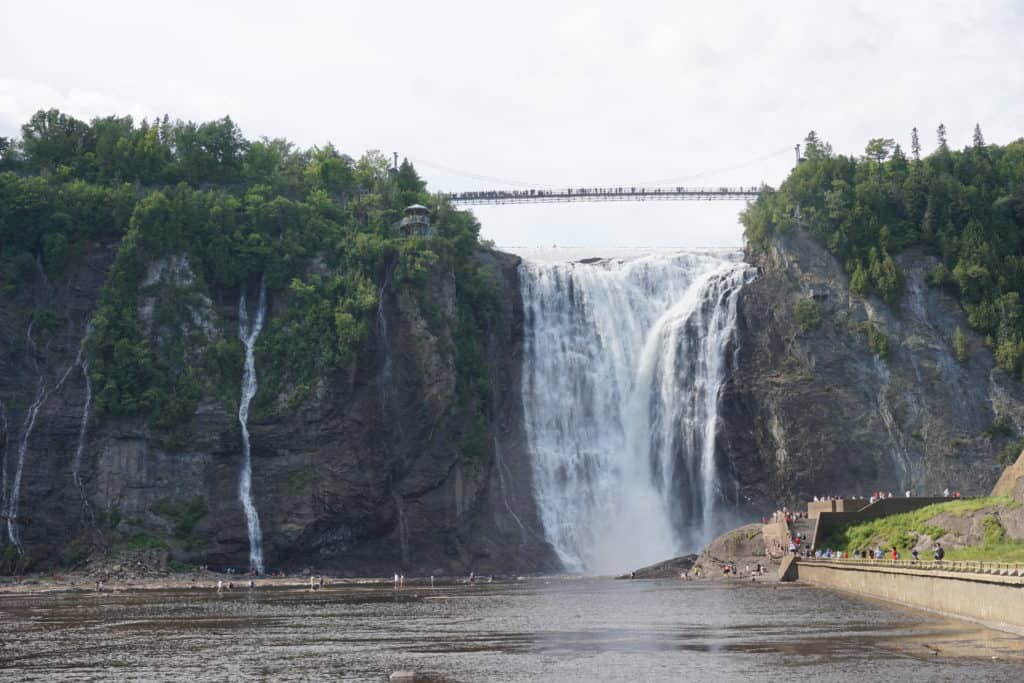 2. Île d'Orléans
I finally made it to Île d'Orléans, known as the "garden of Québec", when we visited Québec City last summer after having skipped it on several earlier visits because we were short of time. It was worth the wait! We didn't have the best weather on the day that we toured the island but we still enjoyed the pastoral scenery and stopping at a few shops to purchase jams, cheese and other items. We spent a couple of hours but would have done a more leisurely circle of the island but for the off and on pouring rain!
The island, located in the St. Lawrence River about 5 km (3 miles) east of Québec City, is only 34 km long and 8 km wide and could be driven in about an hour but the pleasure is in the stops along the way. There are six villages on Île d'Orléans and one road that circles the island (Route 368) known as Chemin Royal or Royal Road. You could visit any time of the year but mid-June to mid-October is peak season for produce.
It's a good idea to pick up a map of the island before heading out on your drive. We got one at our hotel but there is also a tourist information booth as you drive onto the island or you can download one from the official Île d'Orléans tourism website.
We drove Chemin Royal in a counter-clockwise direction and made stops at Confiturerie Tigidou to buy a few jars of delicious jam and apple cream, St. Jean-d'Orleans, the Manoir Mauvide-Genest historic site, and finally at Fromagerie d'Ile to purchase some excellent cheese.
If you don't have a car or prefer someone else doing the driving then opt for a guided tour such as the Island of Orleans Taste and Drink tour, a Food Tasting and Cultural E-bike tour, or Wine Tasting on Île d'Orléans.
The bridge to Île d'Orléans is only a few kilometres from Old Québec – about 15 minutes to drive. The bridge to Île d'Orléans is quite close to Montmorency Falls so it's easy to visit both on one day trip. Ste-Anne-de-Beaupré is not too far away either if you wanted a full day seeing as much as possible.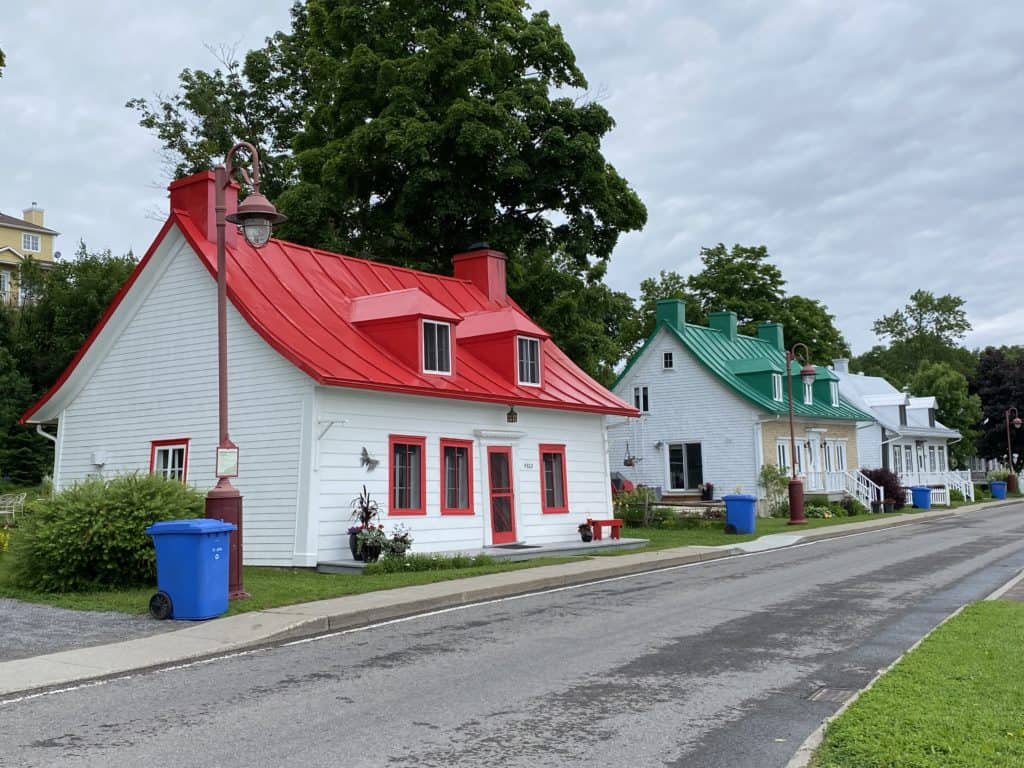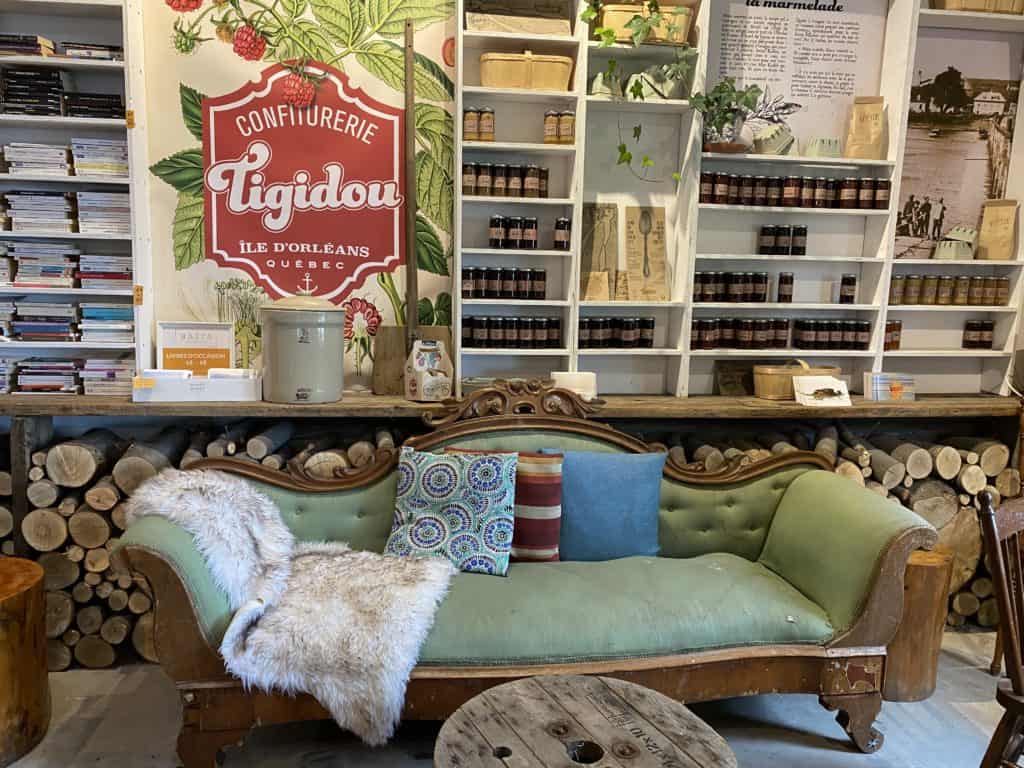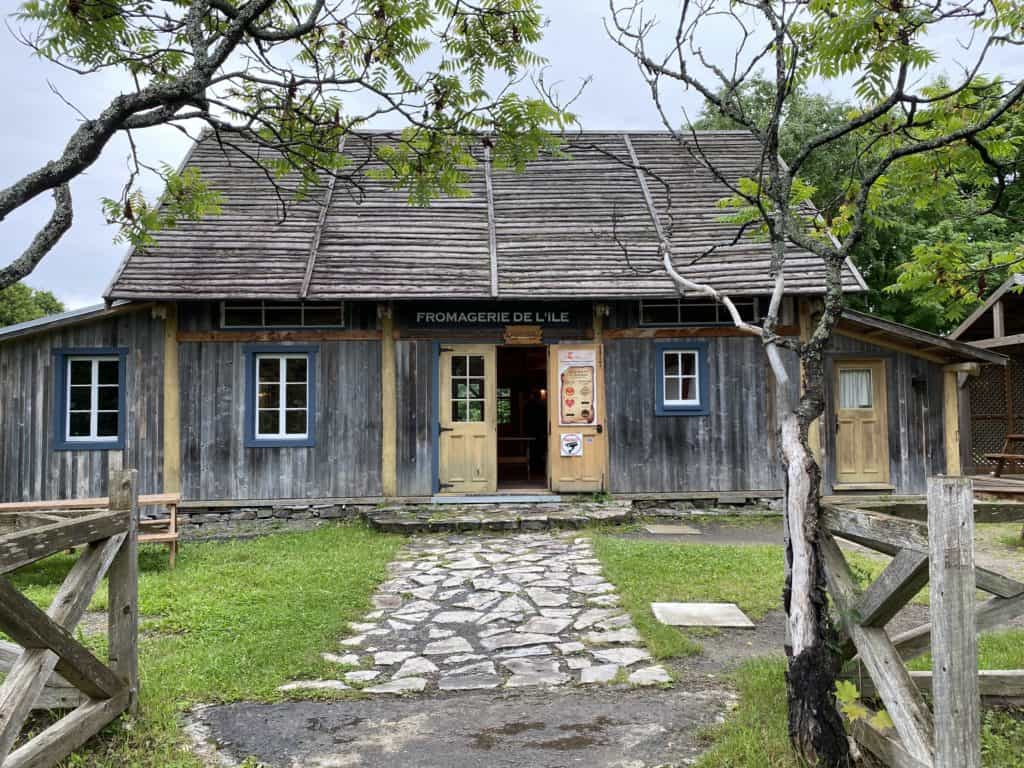 3. Grosse-Île National Historic Site
Our day trip from Québec City to Grosse-Île and the Irish Memorial National Historic Site was one of the most memorable experiences on our road trip through the province last summer.
Grosse-Île is an island in the middle of the St. Lawrence River about 48 km (30 miles) downstream from Québec City where a quarantine station was established in 1832 due to concern over immigrants arriving with infectious diseases. In 1847, a typhus epidemic in Europe coincided with the worst year of the Irish Potato Famine and unprecedented numbers of Irish immigrants set sail for North America on crowded ships with unsanitary conditions that allowed disease to spread unchecked. Thousands died en route to Québec and thousands more at the quarantine station on Grosse-Île including the young sister of my husband's great-great grandfather.
Today Grosse-Ïle and the Irish Memorial National Historic Site of Canada commemorates the importance of immigration to Canada (especially through the entry port of Québec) as well as the tragic events experienced by Irish immigrants particularly during the typhus epidemic of 1847. Visitors to the island can tour the historic buildings, interact with costumed interpreters and learn about the history of the quarantine station from Parks Canada guides.
A private ferry company, Les Croisières Lachance, provides cruises to Grosse-Île, Quebec that depart from Berthier-sur-Mer on the south shore of the St. Lawrence River. Tickets for the cruise include the Parks Canada admission and tickets must be purchased in advance. Tours operate late May to early October.
Read: Visiting the Grosse-Ile, Québec National Historic Site of Canada
To get to Berthier-sur-Mer marina from Québec City, head south over Pierre-Laporte bridge and take Highway 20 East toward Rivière-du-Loup. Take exit 364, drive towards Berthier-sur-Mer and follow the signs to the marina. Berthier-sur-Mer is approximately 45 minutes from Québec City.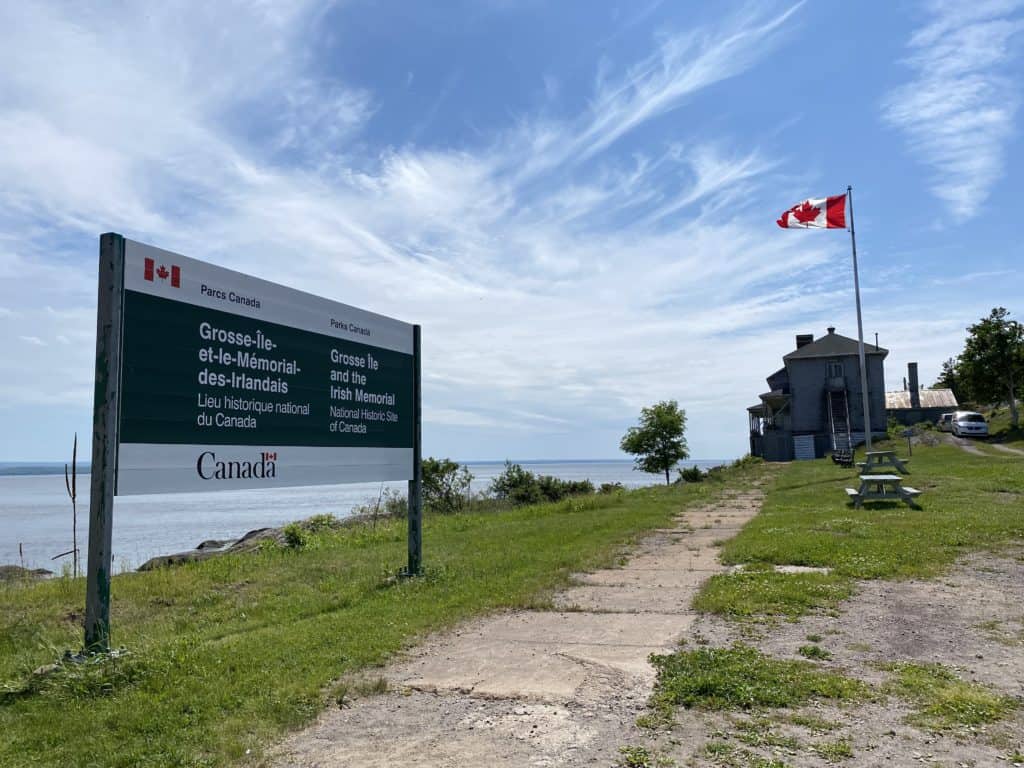 4. The Basilica of Sainte-Anne-de-Beaupré
The Shrine of Sainte-Anne-de-Beaupré, located in the town of the same name along the St. Lawrence River, is approximately a 20 minute drive north-east of the city. It's worth visiting for the architecture, design, artwork and grounds of the Basilica even for those with no interest in visiting for religious purposes. A visit can be combined with other day trips such as Montmorency Falls and Île d'Orléans.
The Shrine of Sainte-Anne-de-Beaupré, dedicated to the mother of Mary and grandmother of Jesus, is the second oldest pilgrimage site in North America and has been credited by the Catholic church with miracles of curing the sick and disabled. Pilgrims have been visiting the site for more than 350 years and today the pillars at the entrance to the Basilica are covered with crutches, canes and braces representing those that have been healed.
The basilica welcomes almost a million people annually of all faiths from around the world and the site was declared a historic monument of Québec's heritage in 2001.
Read: Visit the Shrine of Sainte-Anne-de-Beaupré in Québec
The address is: 10 018 avenue Royale – located approximately 35 kilometres from downtown Québec City (about a 20 minute drive). Be sure to check the website for details on visiting as hours may vary by time of year.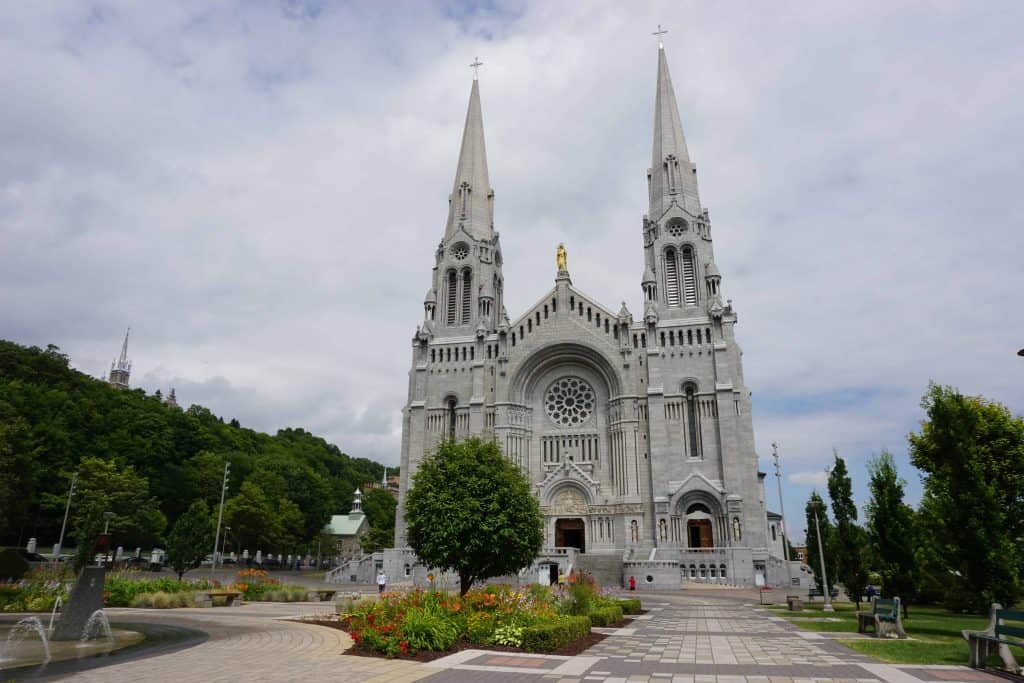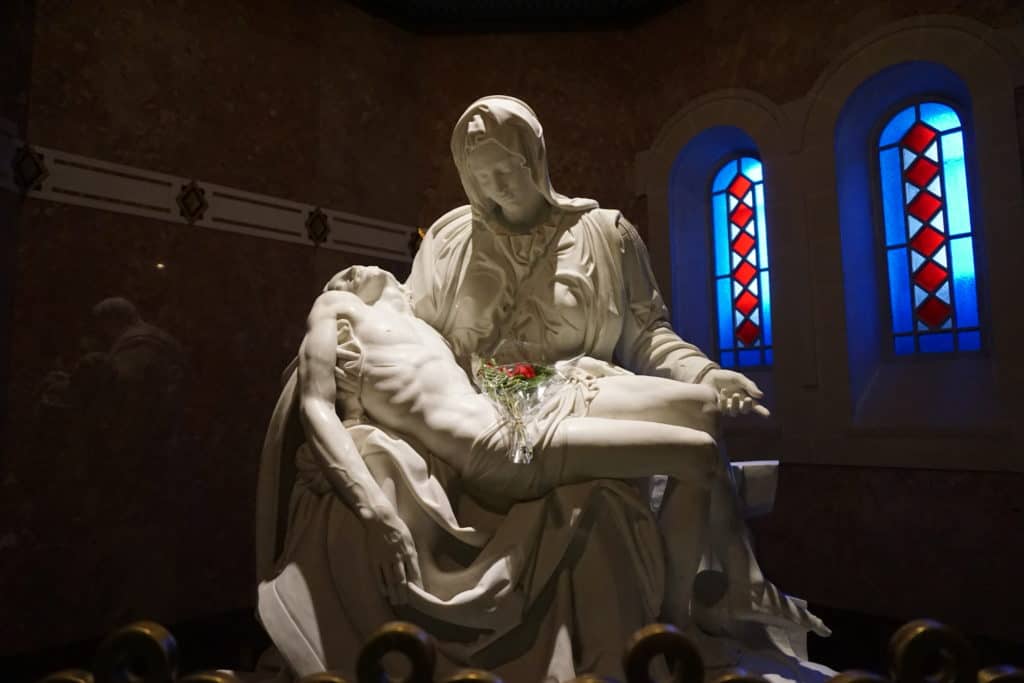 5. Québec Ice Hotel
If you're visiting Québec City in winter then you must schedule a day trip to the Hôtel de Glace which is located about 10 minutes outside of the city and generally open each winter from January through late March. The Ice Hotel, one-of-a-kind in North America, has to be reconstructed annually and there is a theme selected for each winter's version of the hotel.
The hotel features 42 rooms and themed suites including some suites with fireplaces, the Grand Hall, a beautiful chapel that is popular for weddings and vow renewals, an ice slide and a bar serving cocktails in glasses made from ice.
It's a bucket list hotel stay but is open for day visitors to tour so, even if you aren't spending the night, it's worth visiting this architectural wonder constructed from snow and ice. It's always a delight to tour even if you have previously visited since the annual theme change makes it a completely different experience.
Read A Photo Tour of the Hôtel de Glace (Ice Hotel) in Québec
Located at Village Vacances Valcartier approximately 30 minutes drive north of Québec City. Free parking. Unitours also offers a shuttle service from Old Québec to the Ice Hotel.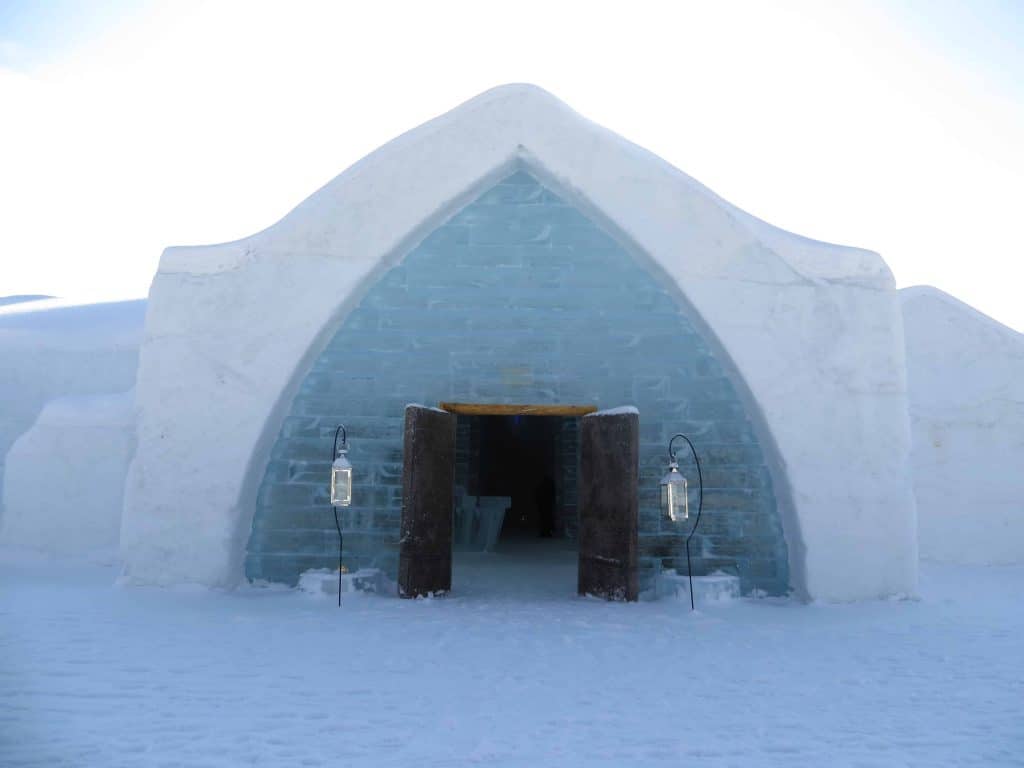 6. Drive to Charlevoix Region
The drive from Québec City along the majestic St. Lawrence River through the province's Charlevoix Region to La Malbaie is one of Canada's most scenic drives. With the Laurentian Mountains on the north and the river on the south, this drive takes you up and down rolling hills, through picturesque villages and along the riverfront with many interesting places to stop along the way.
Read: A Scenic Road Trip from Québec City to the Charlevoix Region
The distance from Québec City to La Malbaie is approximately 150 km (94 miles) or about 2 hours of driving time on QC-138 East.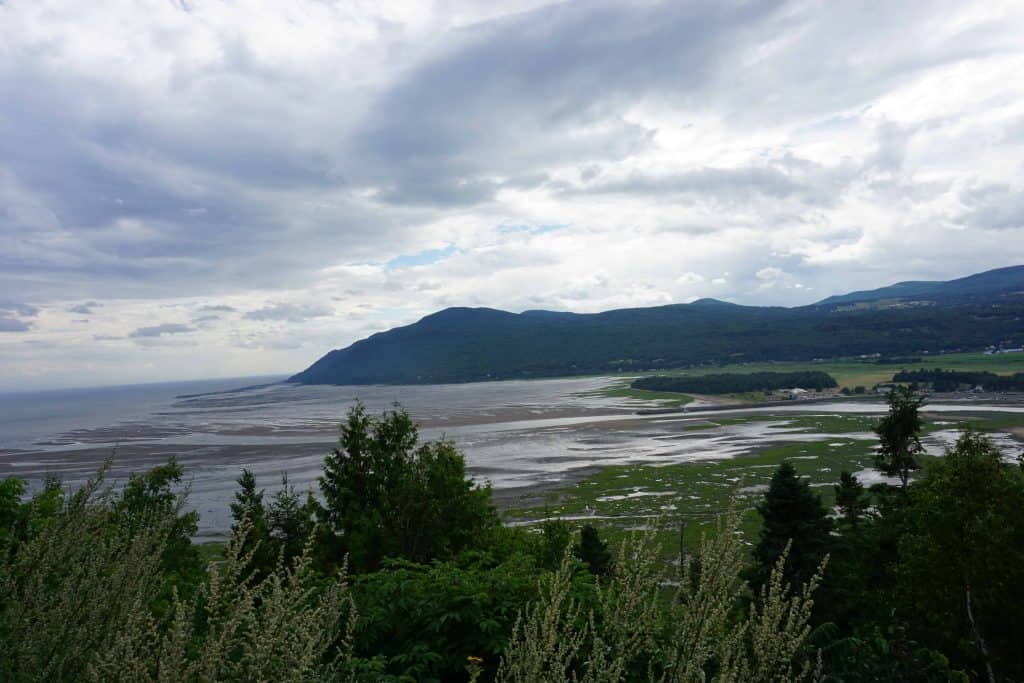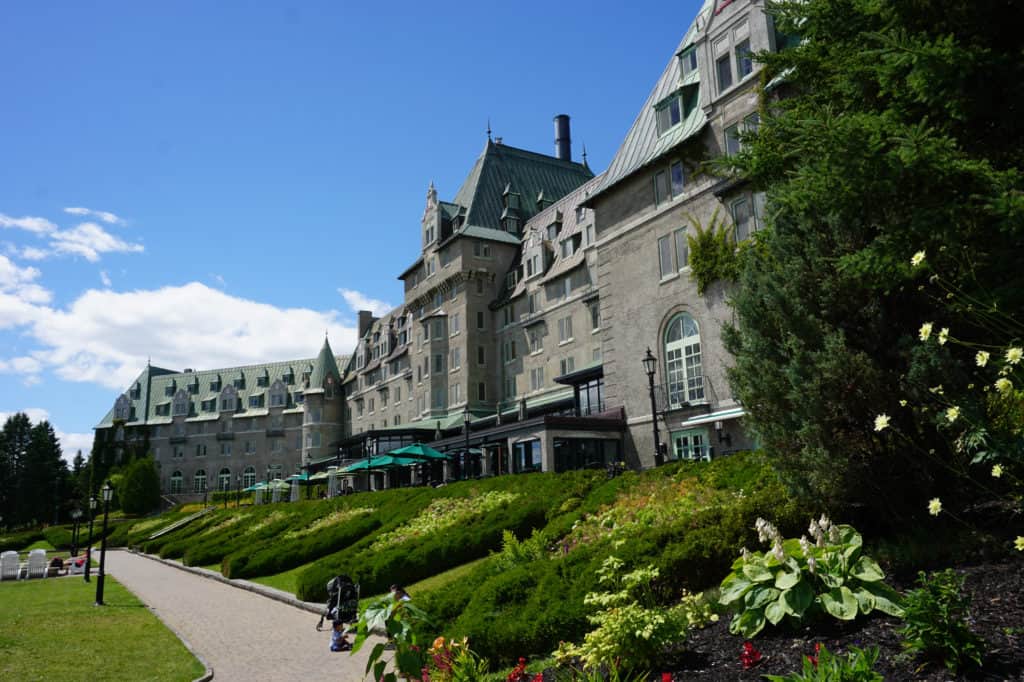 7. Baie St. Paul
Baie St. Paul is a charming village known for its art galleries, quaint boutiques and restaurants. Located at the mouth of the Gouffre River on the north shore of the St. Lawrence, it is one of the oldest communities in Québec dating back to the mid-17th century.
The natural beauty of the area has always drawn painters and it has come to be known as an artist's paradise. It's also the birthplace of the world famous Cirque du Soleil which started here as a troupe of street performers in the early 1980s.
Distance from Québec City: 93 kilometres (57 miles) – a little over an hour driving time – on QC-138 East to the exit for QC-362 East.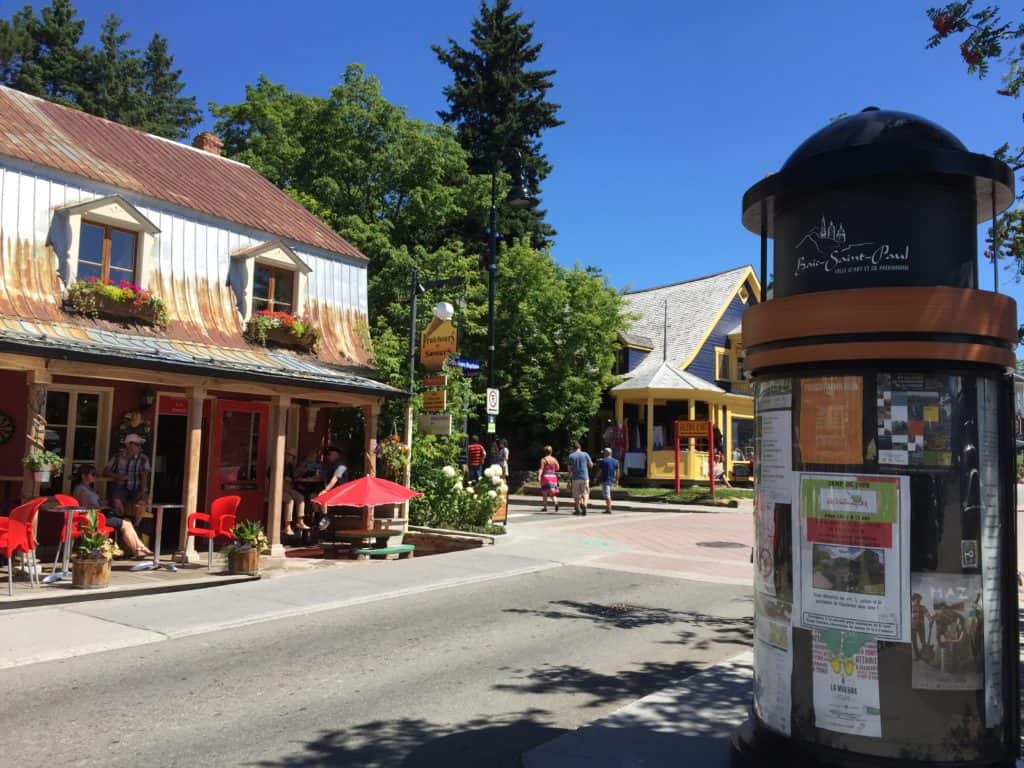 8. Tadoussac
This one is a bit of a drive (215 km or about 3 hours each direction) and ideally would include an overnight stay but if you can't swing that then it's worth the long drive for a day trip to Tadoussac.
Tadoussac sits at the confluence of the St. Lawrence and Saguenay rivers and is known as one of the best places in the world for whale watching tours. A dozen whale species can be found in the area including the beluga whale which is the only whale that lives in the St. Lawrence year-round. Boats range from small inflatables to comfortable 200-600 passenger vessels so you can choose the cruise that suits you best.
Tadoussac is also a town rich in history as it was a meeting place for First Nations people conducting trade and also one of the first places that European explorers set foot on the continent – Jacques Cartier visited when he was sailing up the St. Lawrence in 1535 and Pierre de Chauvin set up a fur-trading post in 1600. If you have time, it's worth visiting some of the town's heritage sites including the Little Chapel, Hotel Tadoussac and the Chauvin Trading Post.
Sea kayaking, hiking, boating and playing on the beach are also popular activities in Tadoussac and visitors can learn all there is to know about whales in the St. Lawrence at the Marine Mammal Interpretation Centre (open May – October).
Distance to Tadoussac is 215 km (134 miles) – approximately 3 hour drive on QC-138 East and includes a ferry from Baie-Sainte-Catherine to Tadoussac – schedule varies by time of year.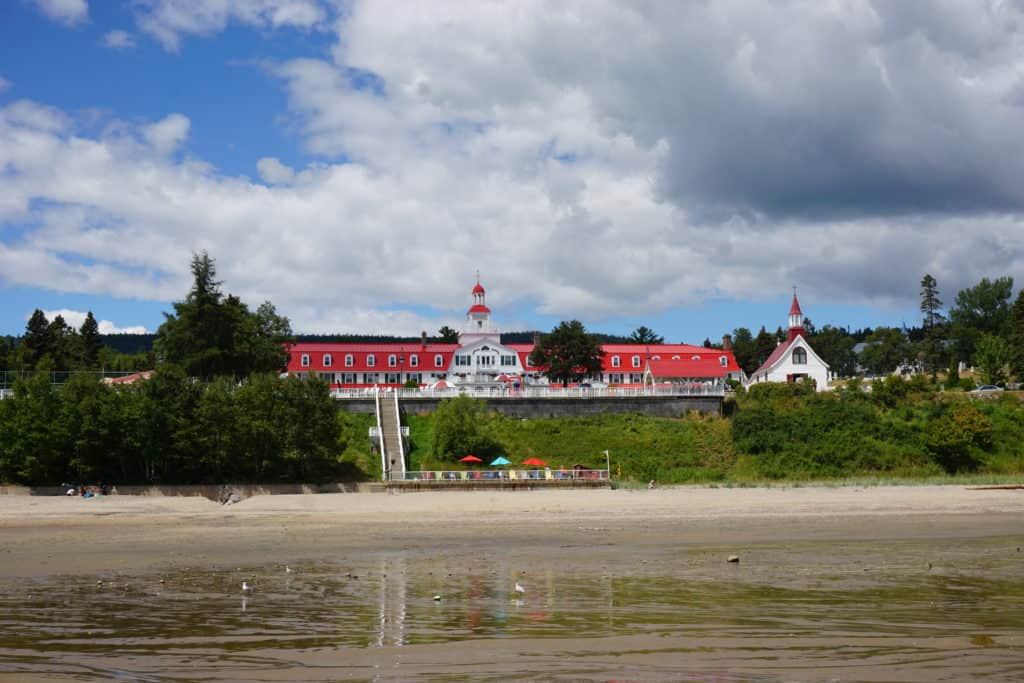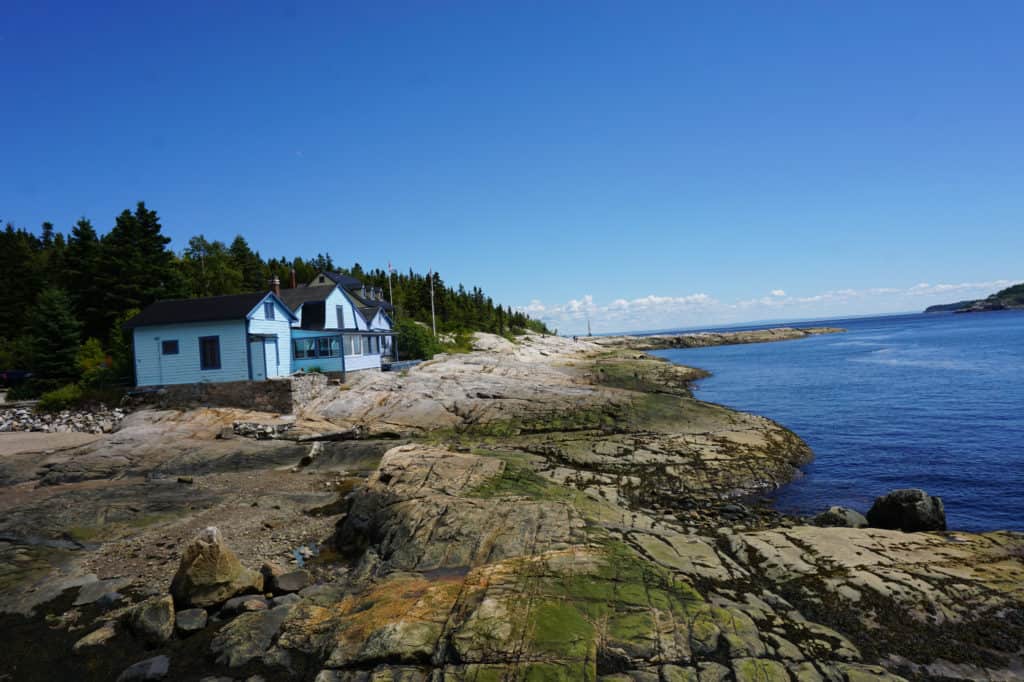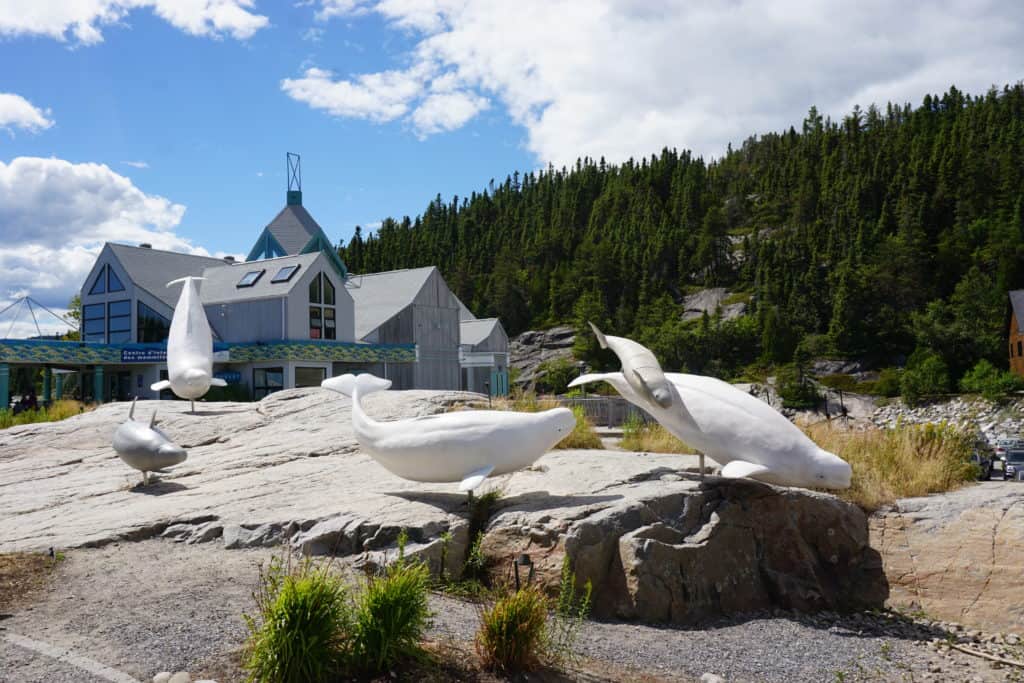 Pin This For Later