I have had a Gaspé road trip on my travel wish list for some time and finally crossed it off last summer. This road trip through the Gaspésie region of Québec is one of the best road trips in Canada. On the scenic drive that loops around the peninsula, you will experience stunning landscape, natural wonders, historic sites, delicious food and enjoy the beautiful Canadian outdoors and wildlife. The Gaspésie region of Québec is one of the most popular destinations in the province for good reason!
We managed to see and do quite a bit in just 6 days but could have easily spent more time just relaxing and enjoying time outdoors. Less time than that would be quite rushed and 2 weeks could really do the area justice.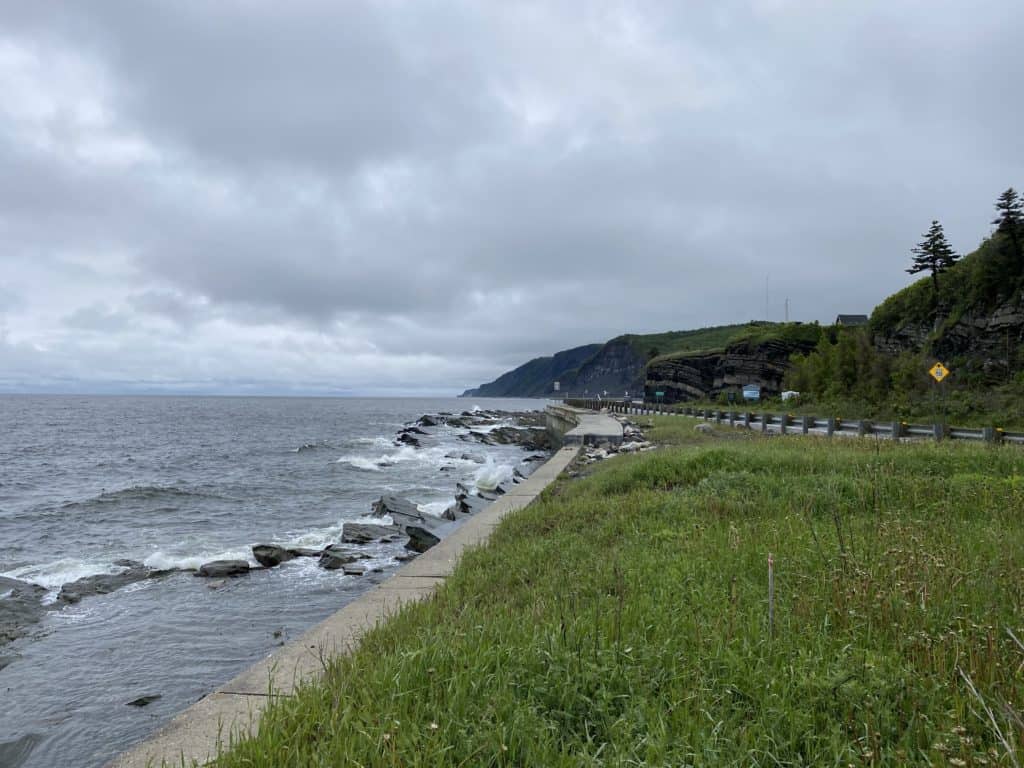 This post may contain affiliate links. If you click an affiliate link and make a purchase then we receive a small commission at no additional cost to you.
Getting to the Gaspé Peninsula (Gaspésie)
My husband, our teen daughter and I drove to Québec from our home in Oakville, Ontario (a distance of approximately 1,000 km (620 miles) which takes about 10 hours to drive) but flying to Montréal or Québec City and renting a car is another option. On the A-20 it's approximately 430 km (267 miles) from Montréal to Rivière-du-Loup and 210 km (130 miles) from Québec City.
We drove to Rivière-du-Loup on the first day of our vacation and stayed at Hôtel Universel for one night before starting our Gaspé road trip from there the following day.
L'Hôtel Universel Rivière du Loup is the largest hotel and conference centre in Eastern Québec. Modern and conveniently located with a restaurant, a pool with waterslide and spa onsite. We booked an Excellence category room with two Queen beds. Check out current rates and reviews on TripAdvisor or Booking.com.
Our trip was mid-June so most places were not very busy yet and some weren't fully open. The weather was a bit chillier than normal which made finding outdoor dining more difficult than it would have been if we had travelled a week or so later.
A Gaspé road trip is a circular loop around the peninsula and mostly on one road – Route 132. We opted to drive it counterclockwise with overnight stays in Carleton-sur-Mer, Percé and Gaspé but you can travel in either direction.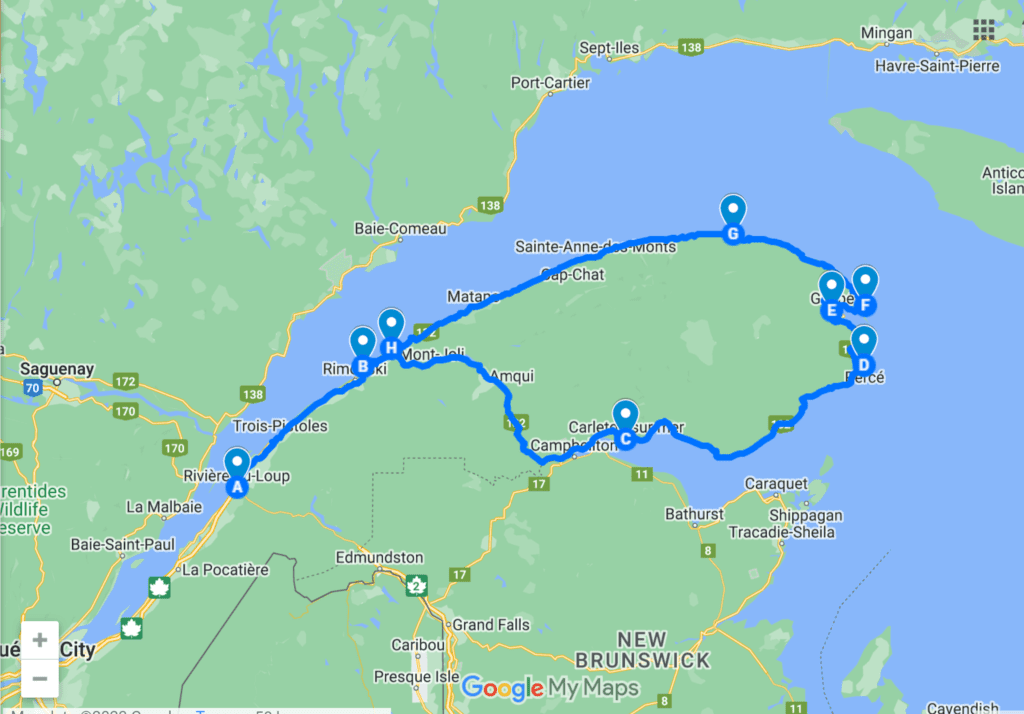 Day 1: Riviere-du-Loup to Carleton-sur-Mer
Riviere-du-Loup to Carleton-sur-Mer (348 km or 216 miles)
We left Rivière-du-Loup in the morning heading for Carleton-sur-Mer with plans to make several stops along the way.
Parc national du Bic
Our first stop was at Parc national du Bic (Bic National Park) which is about an hour's drive from where we were staying. This is a Québec national park not a Parks Canada National Park – the equivalent of a provincial park in the other provinces.
Located in the St. Lawrence estuary on the south shore, Parc national du Bic is known for its beautiful scenery and as a sanctuary for wildlife. The park is open year-round for visitors who can hike, bike, and sea kayak, participate in a slate of discovery activities or sign up for guided hikes and sea kayaking excursions. Sea birds nest in the park, rare plants can be found on the rocky capes and the park is home to large populations of harbour seals and grey seals.
We didn't have time for hiking but had decided to make a quick stop here because I had read that it was the best place to see seals basking in the sun near the shore. We had a lovely walk to the water and along the shore but I hadn't taken tides into consideration. The tide was out when we arrived so there were no seals close to shore but we could see a couple on rocks in the distance. There are boundaries for seal observation and it's important for visitors to remain within the observation area to avoid disturbing the seals.
The Rivière-du-Sud-Ouest entrance off Route 132 approximately 20km southwest of Rimouski is the main entrance to Bic National Park. Daily access is $9.25 for adults. Opening hours vary by time of year.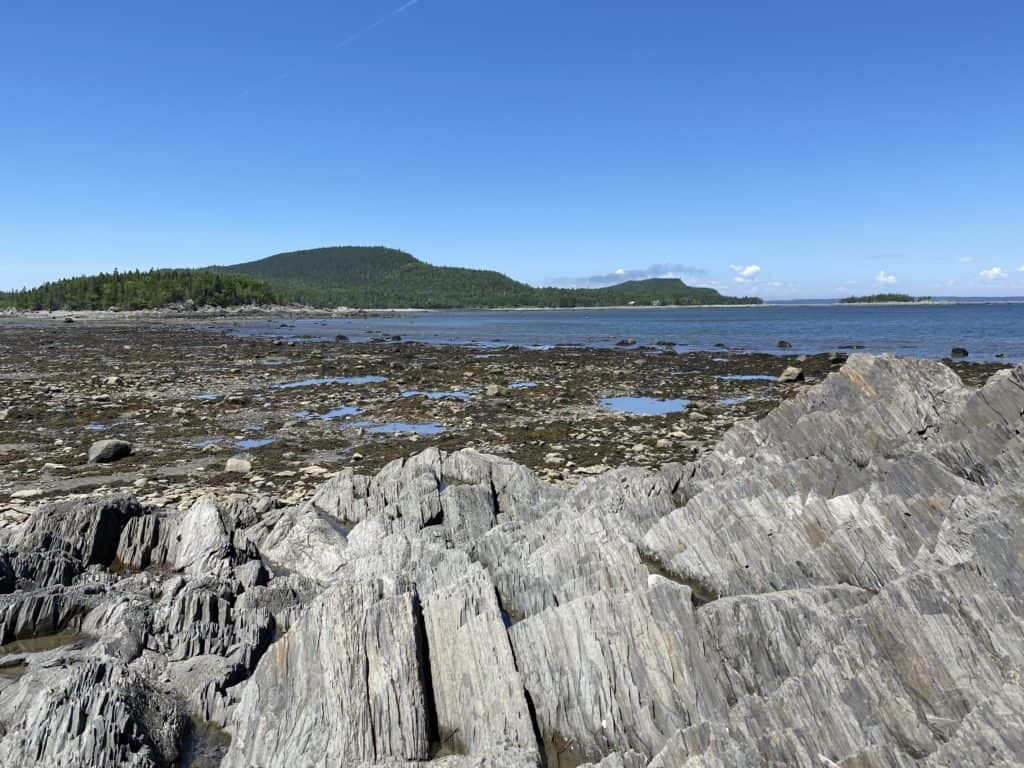 Pointe-au-Père Maritime Historic Site, Rimouski
Our second stop of the day was at the Pointe-au-Père Maritime Historic Site in Rimouski which has three attractions (lighthouse, submarine, museum) as well as a shop, a playground and picnic area and a snack/dairy bar. We could have easily spent much more time here but had to limit it as we had several hours of driving ahead. We opted to just tour the submarine and then had a walk around the site before hopping back in the car to head toward Carleton-sur-Mer.
1000 rue du Phare, Rimouski. Attractions are closed in winter – check website for details. Admission prices vary – tickets may be purchased for one, two, or three attractions.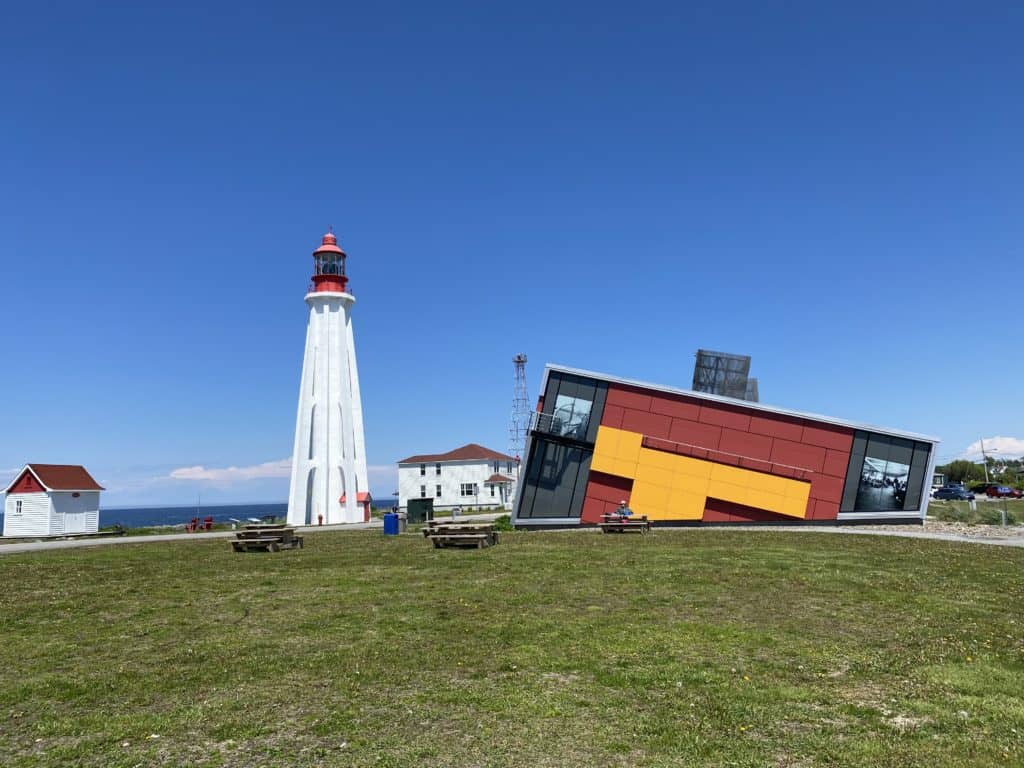 The Pointe-au-Père Lighthouse National Historic Site is operated in collaboration with Parks Canada and is open to the public to browse the exhibits in the keeper's house, the lighthouse station and the foghorn shed. On a guided tour, visitors can climb 128 steps to the top and appreciate the incredible views of the St. Lawrence. The name Point-au-Père refers to a Jesuit priest (père in French) who celebrated the first mass on the south shore of the St. Lawrence near this site in 1663 after which the site went by that name.
This is actually the third of four lighthouses built on the site since 1859 and it is the second tallest in Canada. It was built in 1909 and is a unique avant-garde design – a 33 metre tower supported by 8 buttresses overlooking the St. Lawrence River. Parks Canada took over ownership of the lighthouse in 1977 and a skeleton tower with an automated light then operated from 1975 until the station was closed in 1997.
There are also two Parks Canada red Adirondack chairs outside the lighthouse where you can sit for a bit and enjoy the scenic view. Parks Canada has placed over 200 of these red chairs in peaceful and scenic locations throughout many of the country's most unique and treasured places. (The Parks Canada website has a list of the locations of all of the red chairs.)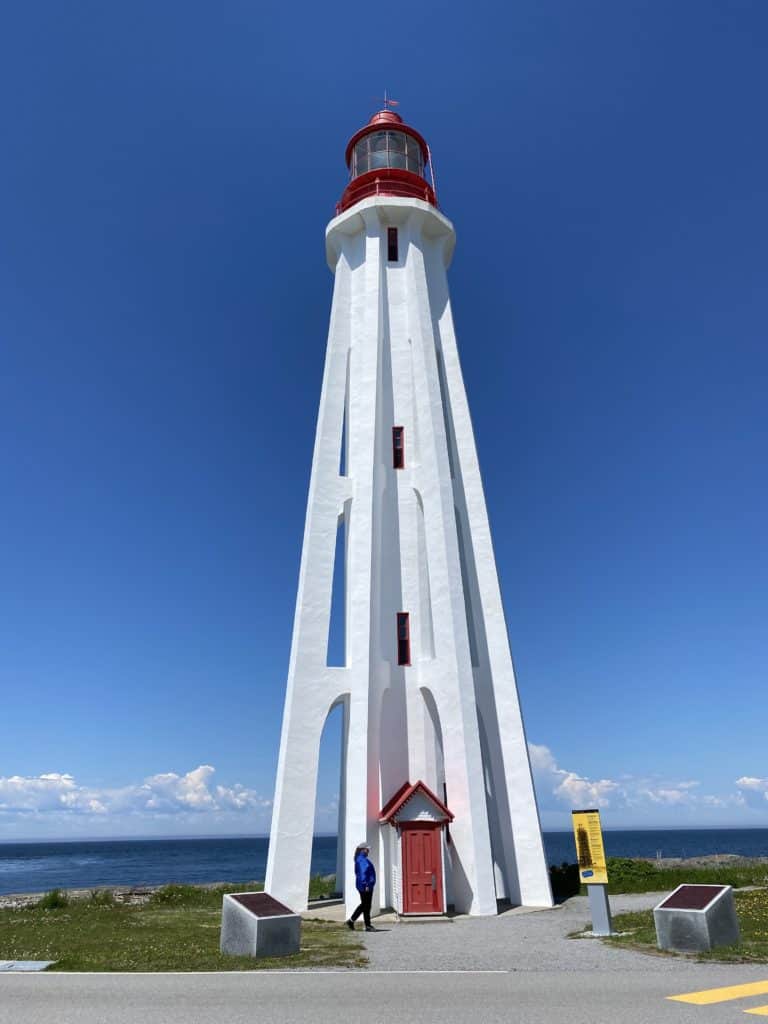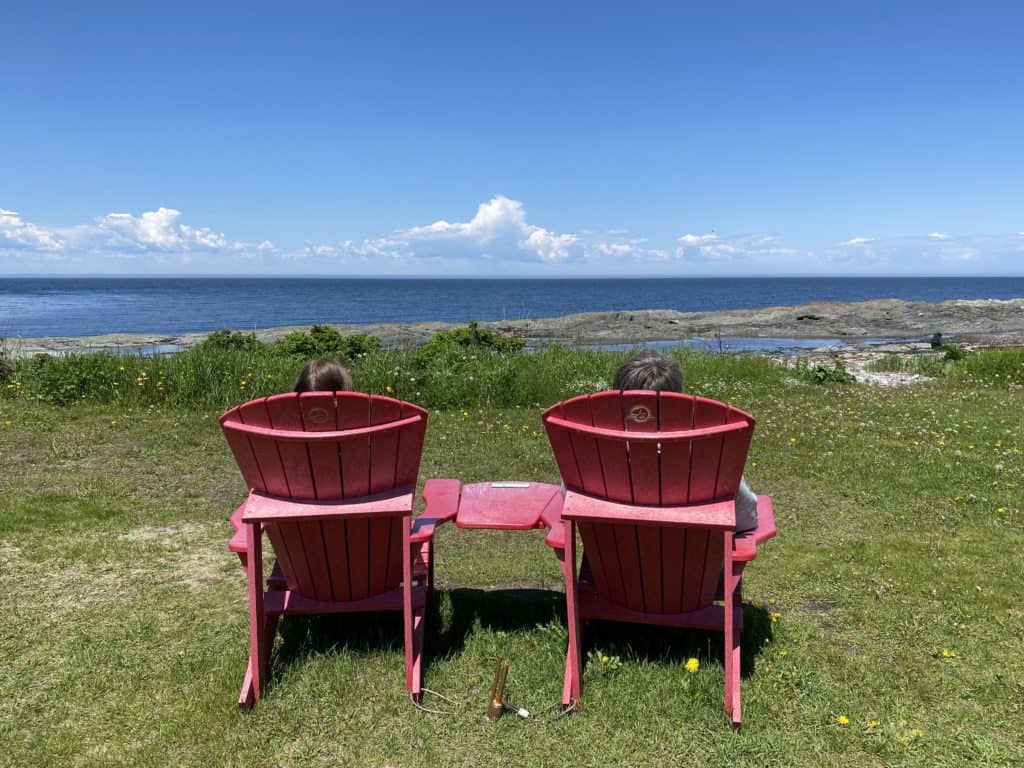 If you have ever wanted to get a good look inside a submarine then this is your chance! The 90 metre (295 foot) Onondaga submarine is Canada's first publicly accessible submarine and you can go aboard and learn about life on the submarine using a self-guided audio tour that is available in English or French.
It's fascinating to see inside the submarine but quarters are a little tight so anyone with claustrophobia might want to give it a miss.
Onondaga was one of three Oberon class submarines purchased by Canada from Britain during the 1960s and was in service for 33 years which was longer than any other submarine in the history of the Canadian Navy. During that time, she travelled more than 500, 000 nautical miles, visited more than 53 ports in 12 different countries and was a frequent contributor to NATO missions.
The submarine was decommissioned in 2000 and later purchased by the Point-au-Père Maritime Historic Site to display as a museum vessel.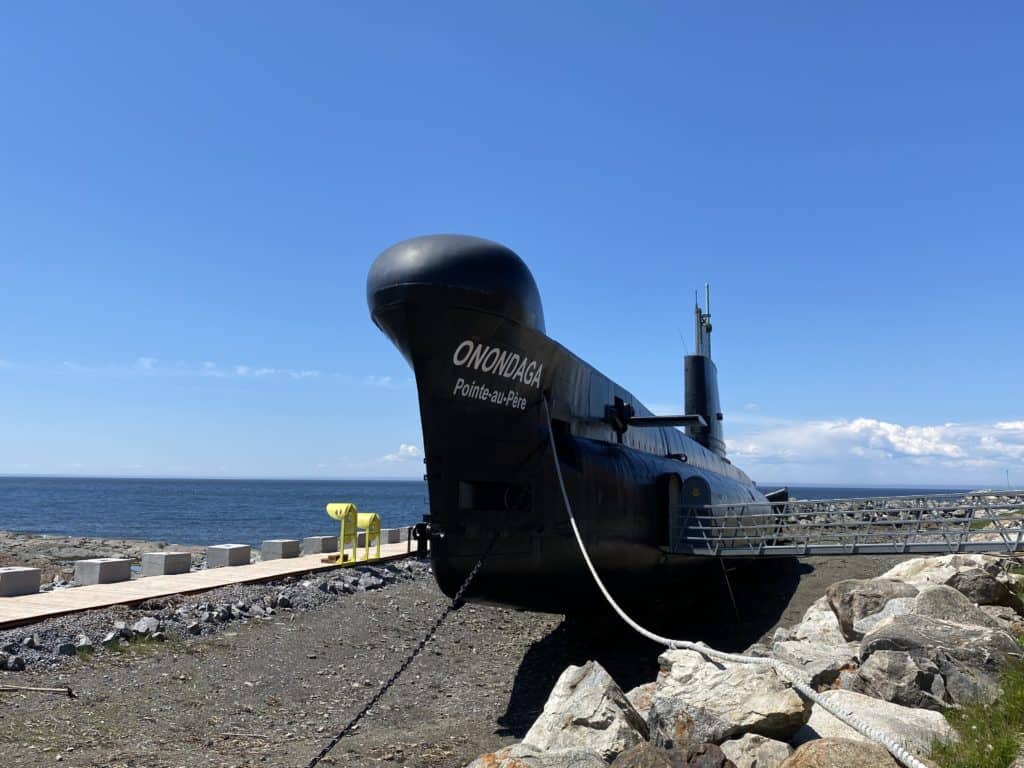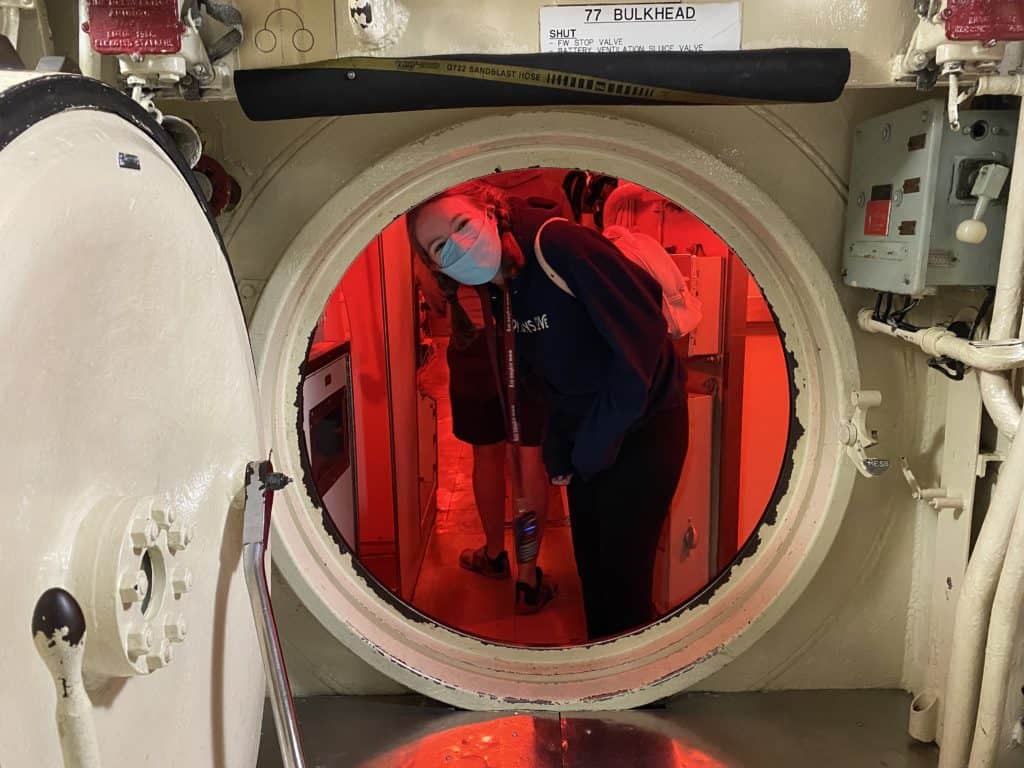 The third attraction on site is the Empress of Ireland Museum which is dedicated to the Empress of Ireland ocean liner, a 168 metre ship belonging to the Canadian Pacific Steamship Company, which tragically sank near Point-au-Père in 1914 following a collision in thick fog. Although equipped with more than enough lifeboats for those aboard, the ship sank in only 14 minutes and 1,012 of the 1,477 people aboard died making it the worst peacetime maritime disaster in Canadian history.
The museum is an interactive exhibit space divided into zones where you can learn about the history of the ship, the wreck, the sinking and the passengers' memories. There's also an award-winning multimedia presentation called The Last Journey with visual and sensory effects that will make you feel like you're on the ship.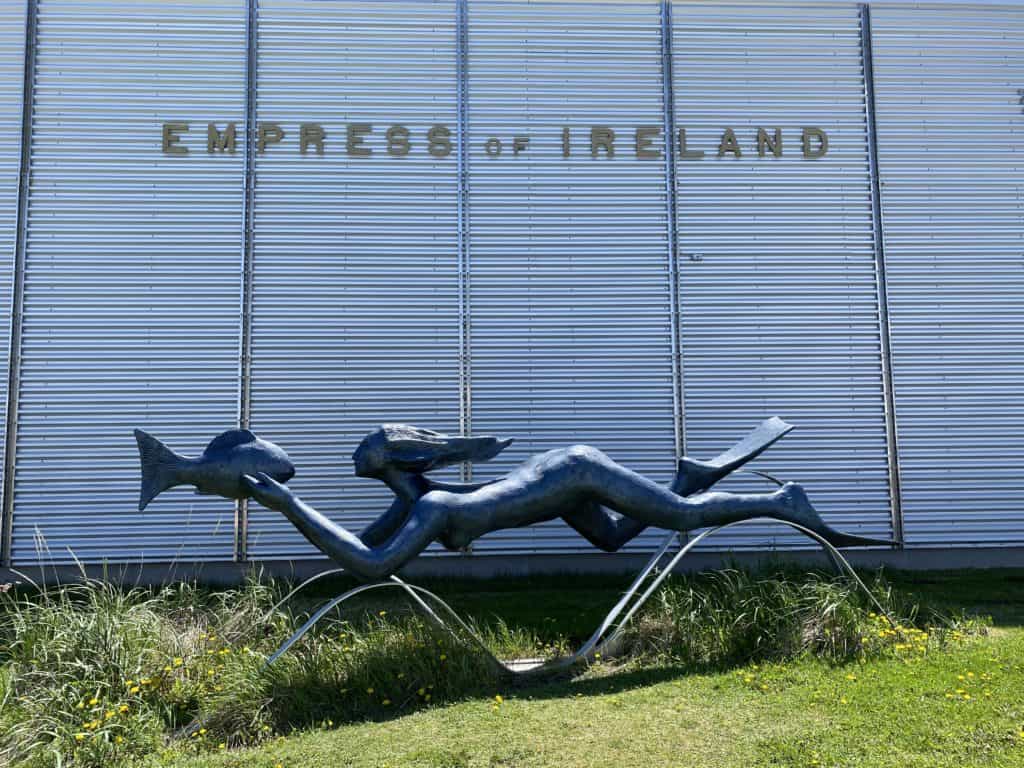 Routhierville Covered Bridge
I knew when I was planning our Gaspé road trip that I wanted to see as many covered bridges as possible and the Routhierville covered bridge was at the top of my list. The bright red covered bridge that spans the Matapedia River is a designated historic monument that dates to 1931. It's 78 metres long (255 feet) which makes it the longest covered bridge in the region. We were lucky that we had a perfect day for taking photos!!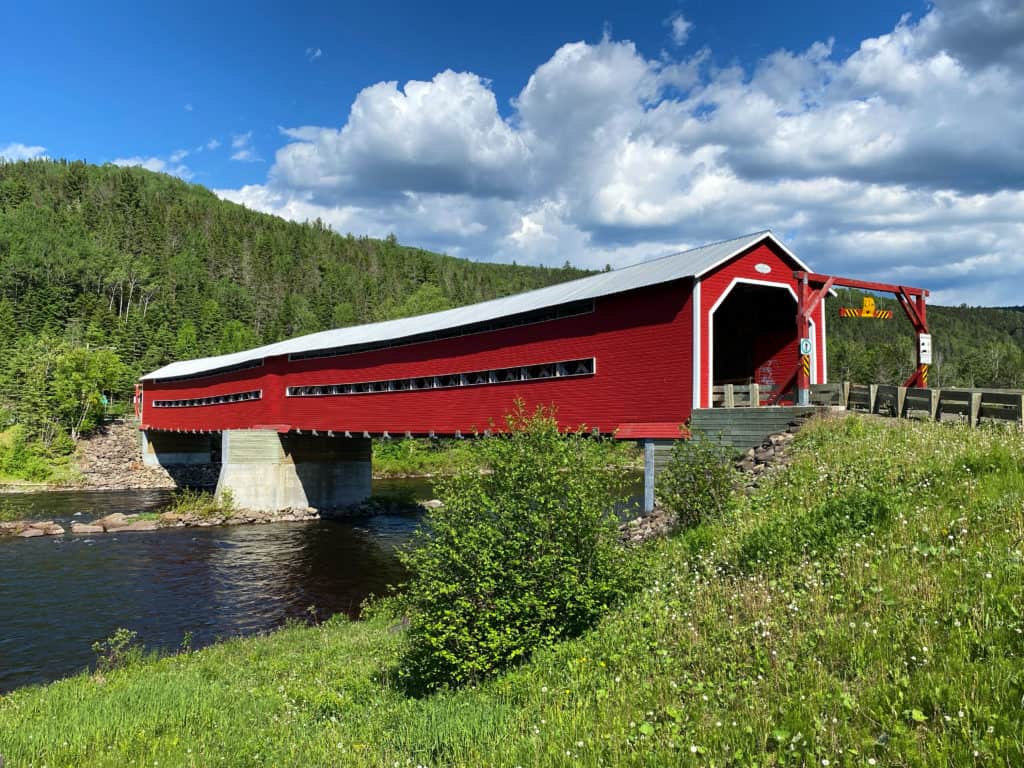 Carleton-sur-Mer
We arrived in Carleton-sur-Mer, located on Chaleur Bay, very late in the afternoon and checked into Manoir Belle Plage where we were staying for one night. We had a quick bite to eat and went for a walk to the pier to watch the incredible sunset.
We booked the Executive Studio – Triple on the third floor of the Manoir Belle Plage. It was modern, lovely and spacious for the three of us with a separated bedroom with queen bed, pull-out queen sofabed and a small kitchenette. Check out current rates and reviews on TripAdvisor or on Booking.com.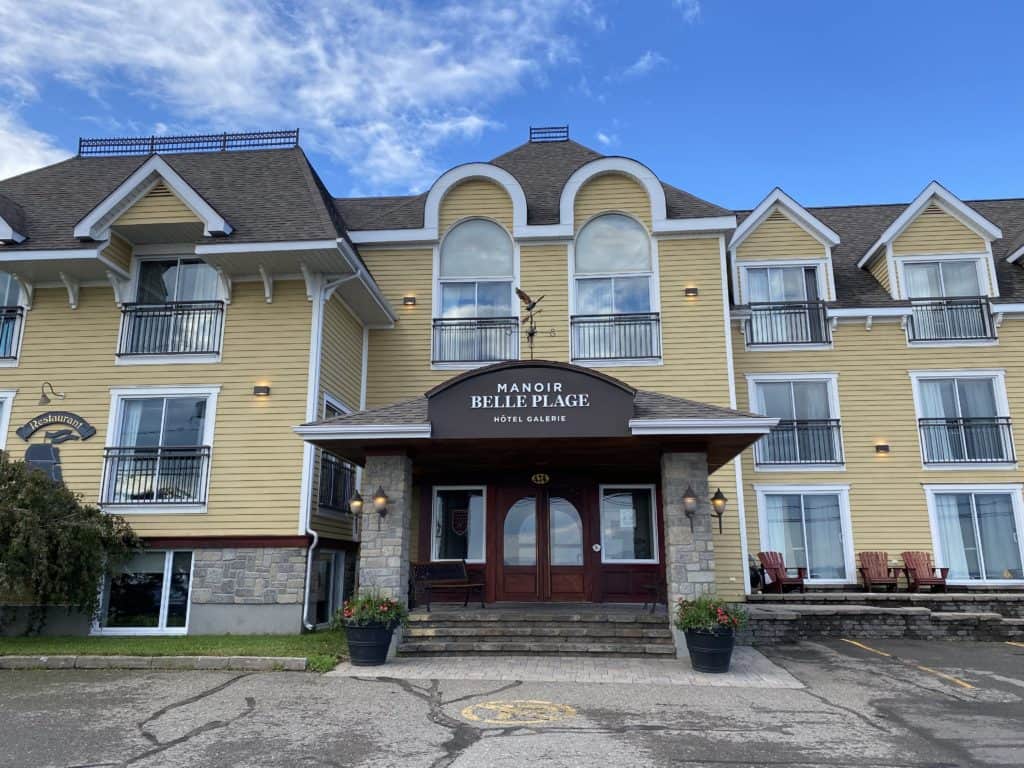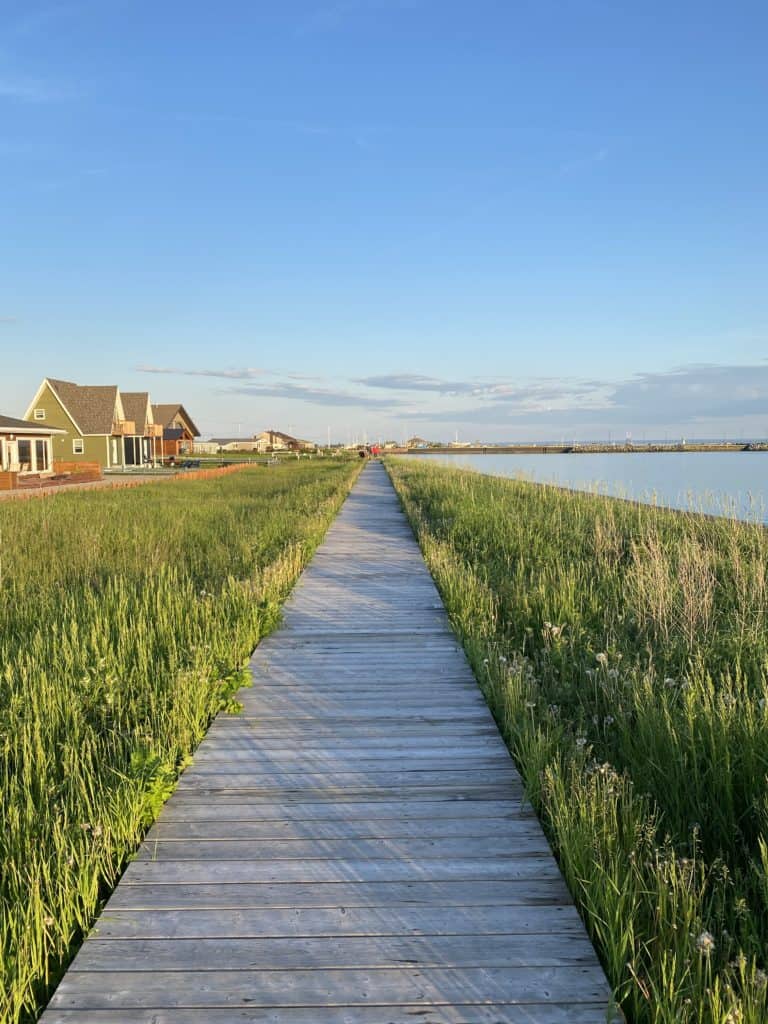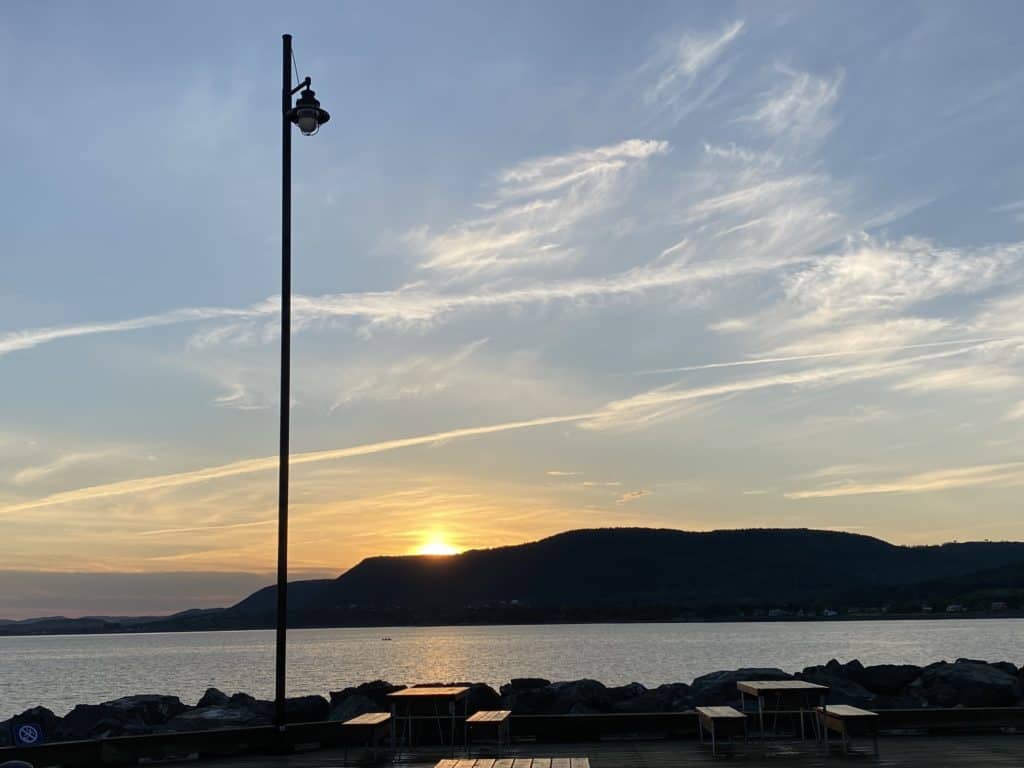 Day 2: Carleton-sur-Mer to Percé
Carleton-sur-Mer to Percé (200 kilometres or 125 miles)
After checking out of our hotel, we made a quick photo stop at Carleton-sur-Mer Lighthouse located at the tip of Pointe Tracadigash. I'm sure the sunset views would have been incredible from here!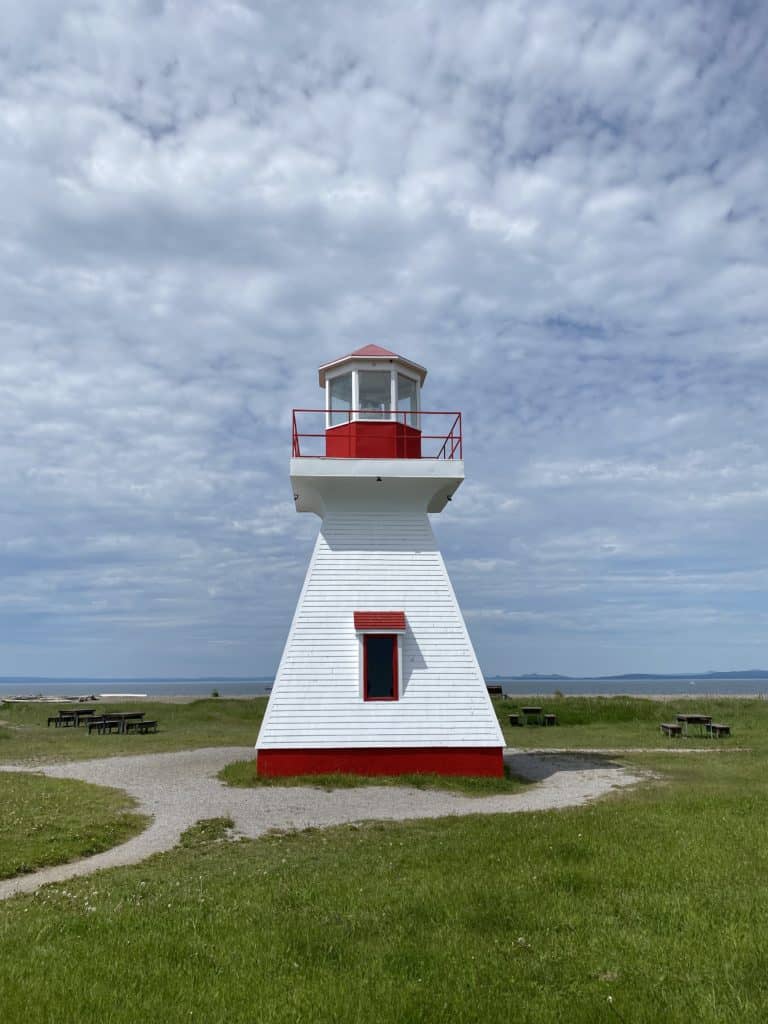 Driving into Percé along Provincial Route 132 from Carleton-sur-Mer and getting that first view of Percé Rock was incredible! (We discovered the next day while out for a drive that the views are even more impressive when approaching the village from the other direction.)
Once in the village, we checked into Hôtel La Normandie and then went for a walk to get views of Percé Rock from the pier and stopped for lobster rolls at Resto du Village on the way back to the hotel.
Percé Rock (Rocher Percé in French), a huge reddish limestone rock formation located in the Gulf of St. Lawrence on the tip of the Gaspé Peninsula, is one of Canada's most majestic natural attractions. The rock formation which is 450 m long (1475 feet), 90 m wide (295 feet) and 85 m high (280 feet) is one of the world's largest natural arches over water. It was once connected to the mainland but is now linked to the coast only by a sandbar at low tide.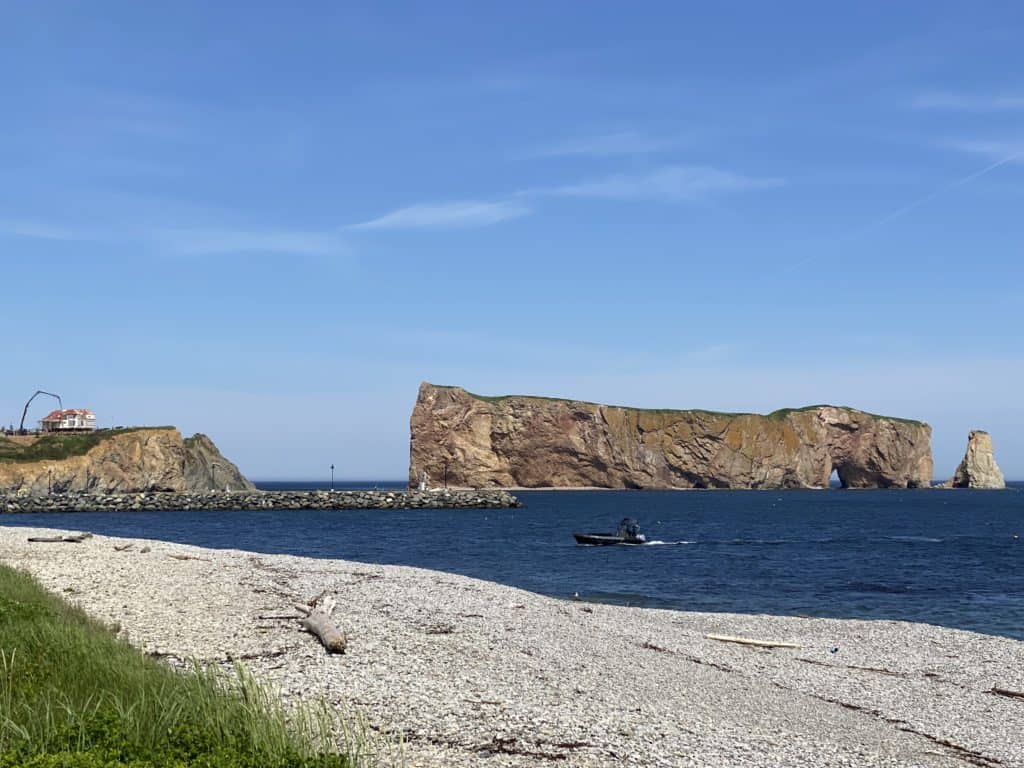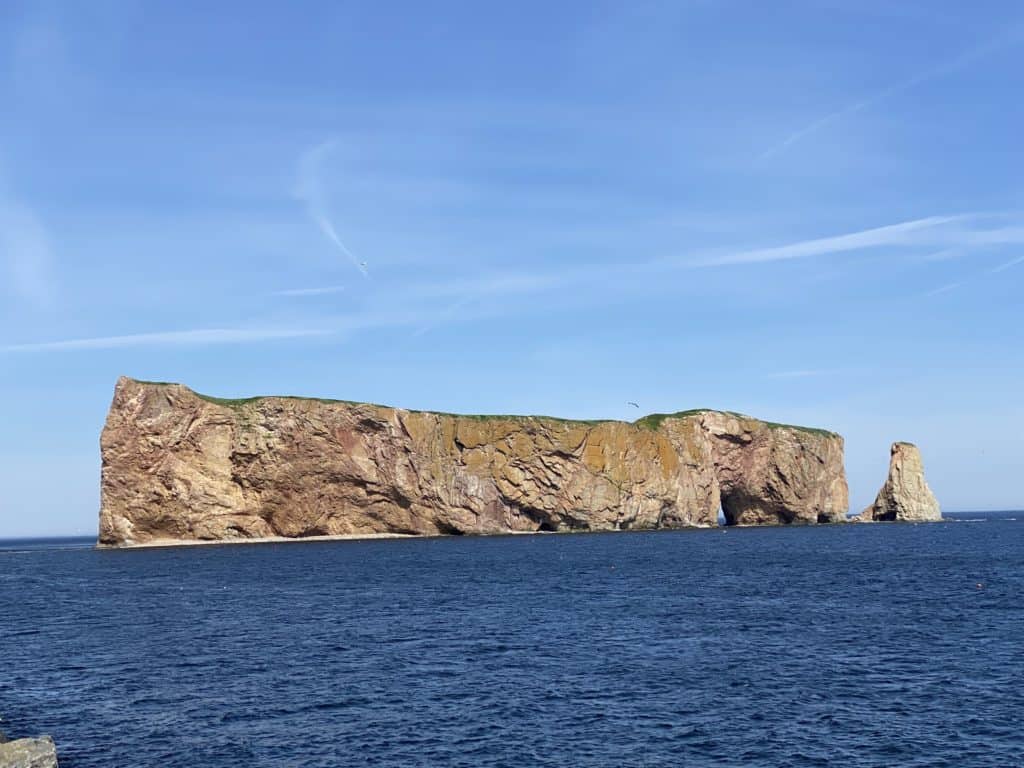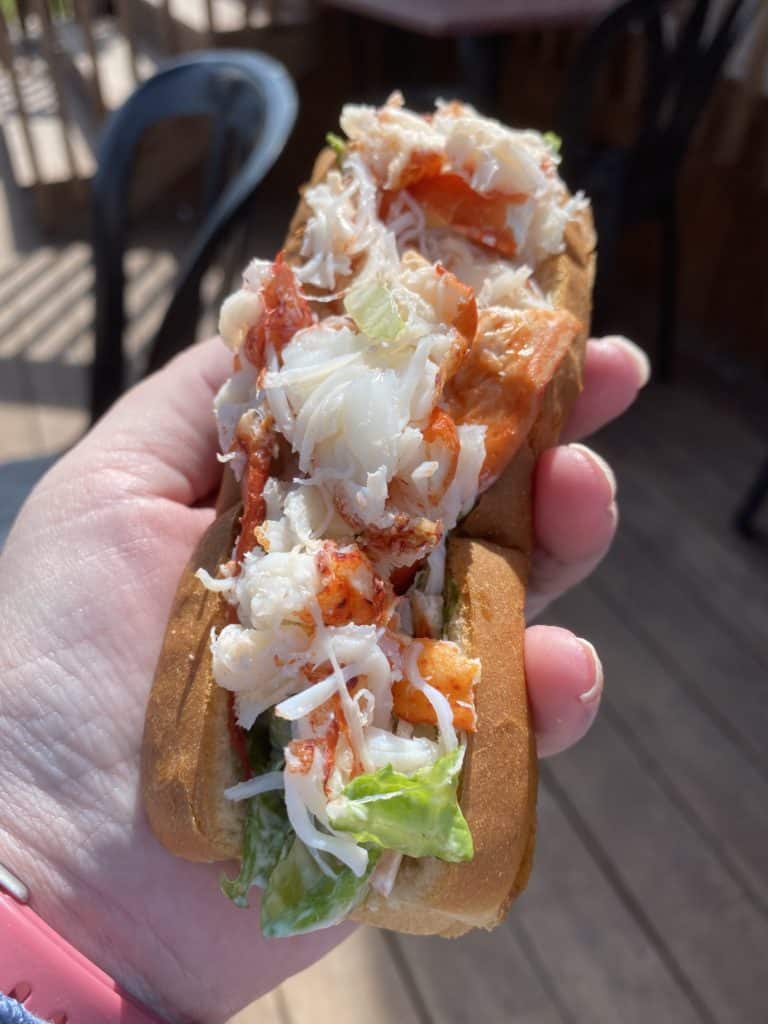 Hôtel La Normandie is a charming seaside hotel located right on the beach in the heart of downtown Percé. We booked a two night stay in a Junior Suite with two queen beds and a seating area on the 3rd floor with a view of Percé Rock that was incredible – quite possibly the best view that I have ever had from a hotel room! It is necessary to climb some stairs for third floor rooms. Check out current rates and reviews on Trip Advisor.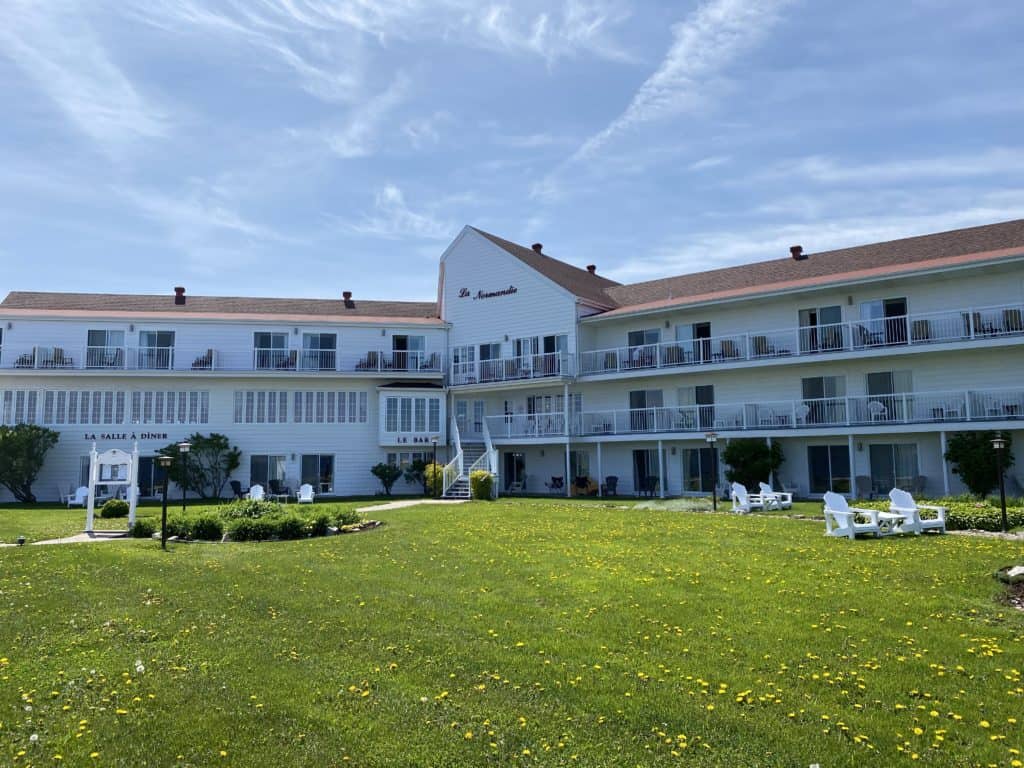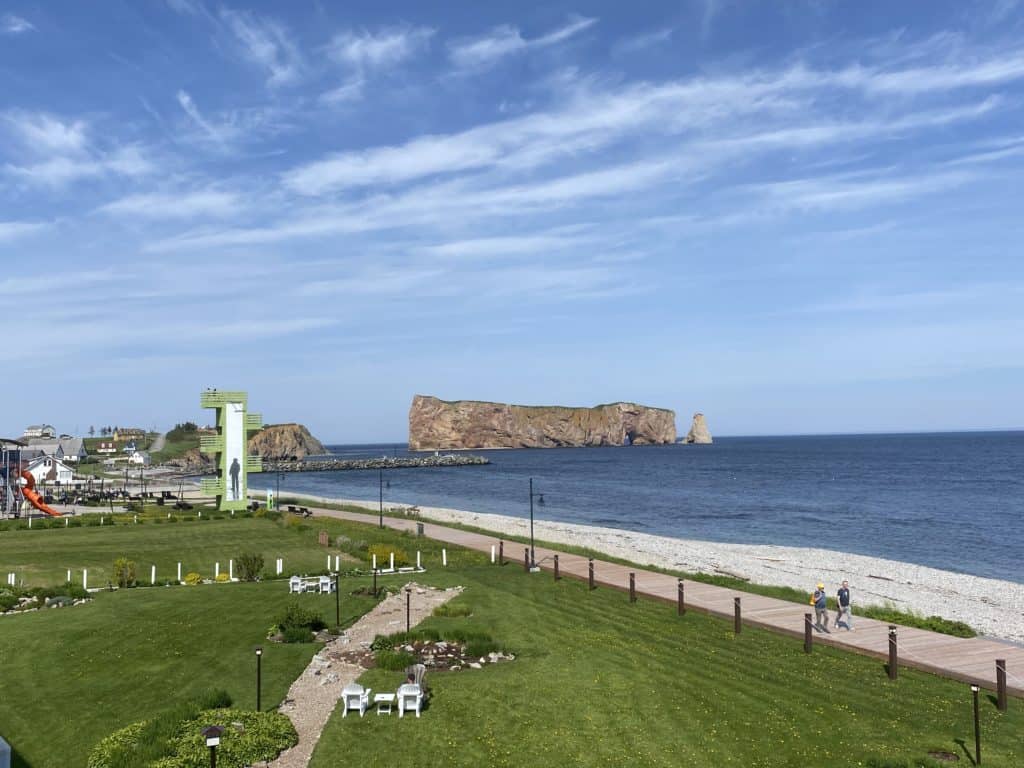 Day 3: Exploring Percé the Village
Our initial plan was to visit Bonaventure Island on our full day in Percé but when we got up in the morning it was both foggy and windy. The water looked rough to me and I'm always a bit nervous about boat excursions so we decided to wait until the next day.
Instead we decided to check out the Geopark and then spent the rest of the day exploring Percé for more views of the rock. The rock formation dominates the view in town but if you walk around and drive to various view points then you can see and photograph it from different angles.
The charming village of Percé is a very popular vacation destination in Quèbec particularly during the summer months. We visited mid-June before Canadian schools are out for the summer so high season had yet to begin and not everything was fully open but there were still quite a few people around. It is a good idea to at least book accommodations ahead if you plan to stay in Percé or you might find that you're out of luck. Outdoor activities are the focus, however, you'll also find shops, restaurants and cafés in the village.
Read Visiting Percé Rock and Bonaventure Island
The Percé UNESCO Global Geopark
A visit to the Percé UNESCO Global Geopark is a must while in the village. Activities at the geopark include hiking (self-guided or guided), a suspended glass viewing platform, ziplining, four-season camping and multimedia experiences. (Be sure to pick up the Map of Trails and Geosites at the Welcome Centre when you arrive.)
We hiked on our own to the suspended glass platform which took approximately 45 minutes. It isn't a difficult hike but there is a fair elevation gain – coming back down was much faster!
The glazed platform suspended cantilevered from a cliff of Mont Ste-Anne at an altitude of 200 metres (656 feet) first opened to visitors in 2017 and provides a breathtaking view of the village and Percé Rock. The start of the zipline is also nearby. I have a fear of heights so standing on the glass platform was daring enough for me – I wouldn't even entertain the thought of ziplining!
Admission Pricing varies by activity. Children 5 and under are free: The Geopark is open 12 months a year, however, from November to May the Pavilion is only open weekends, statutory holidays, school breaks and by reservation.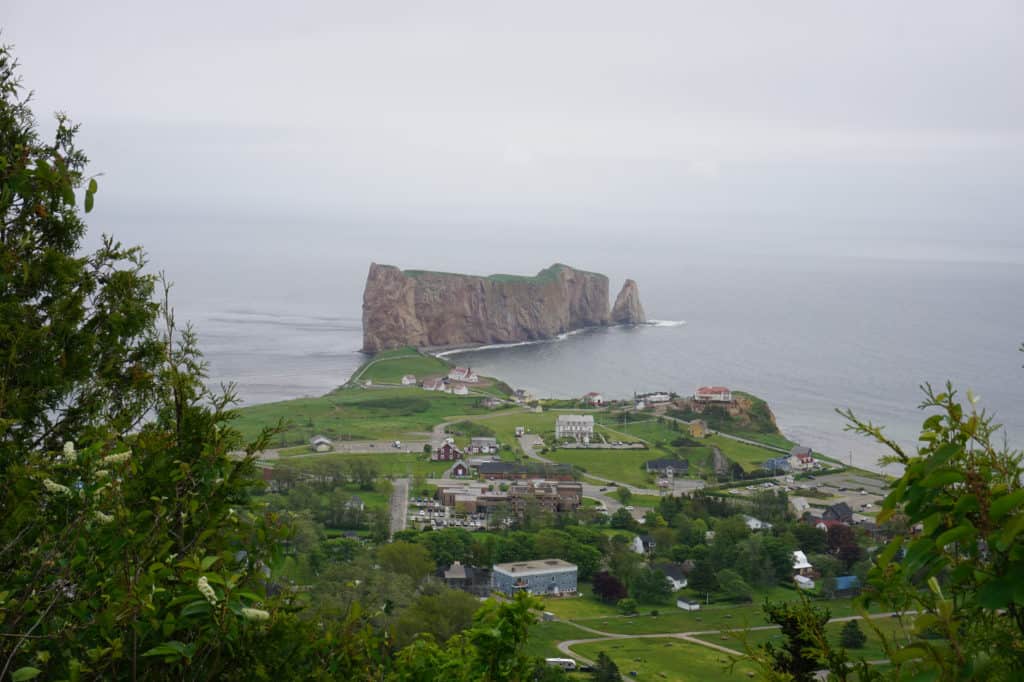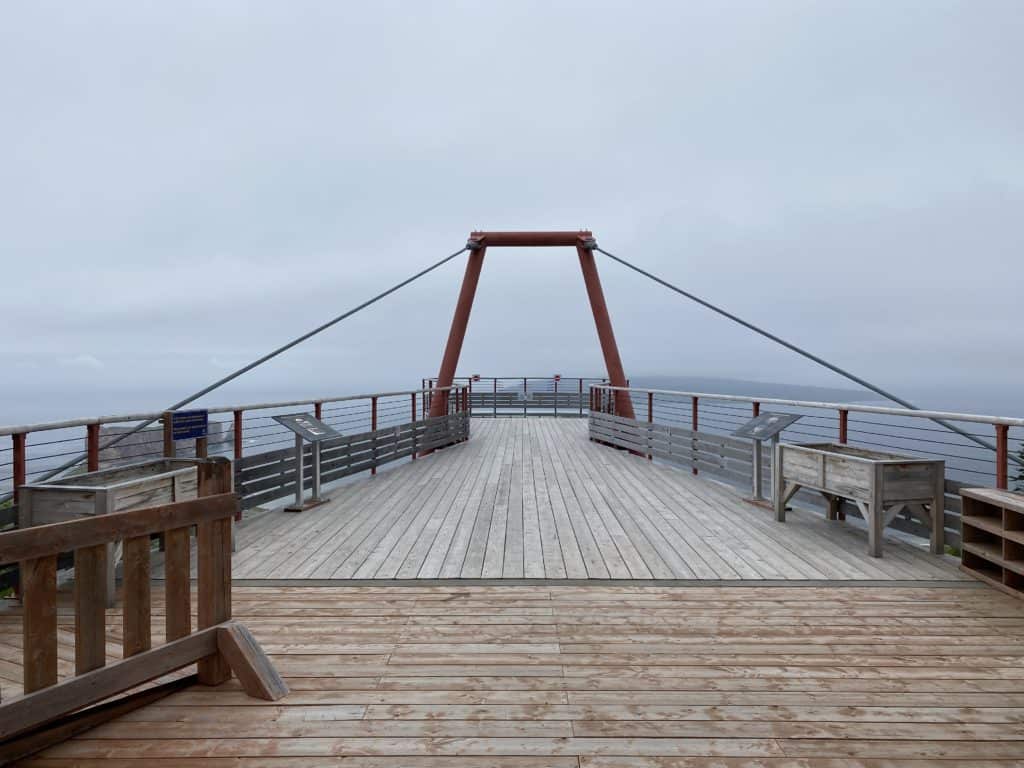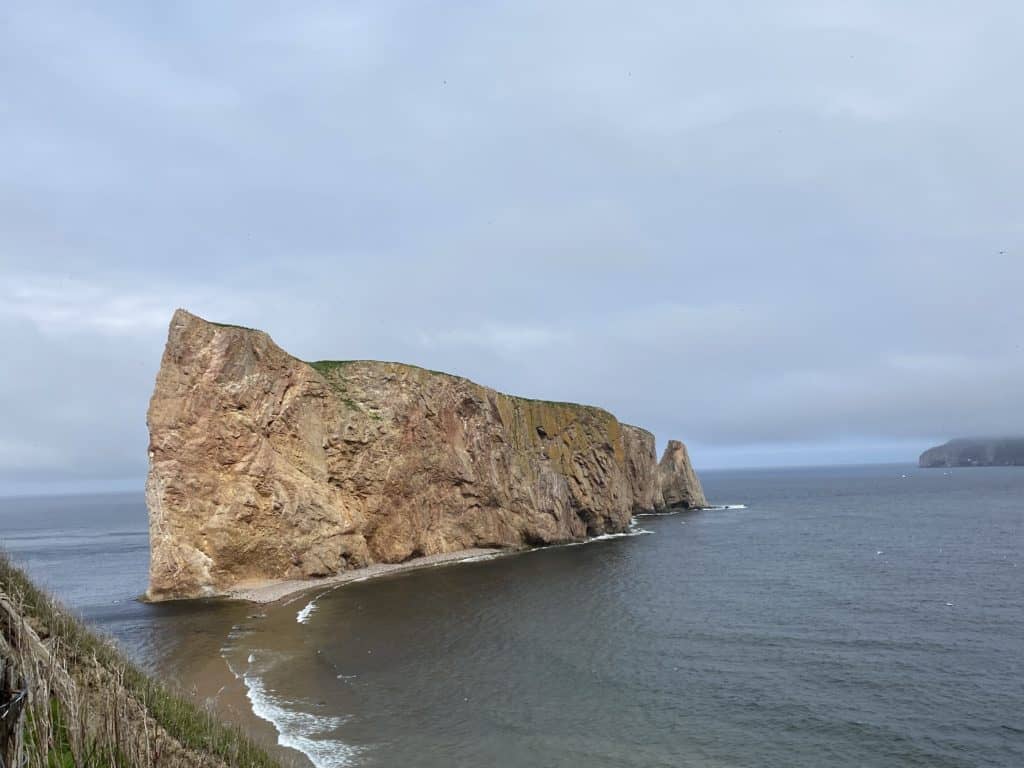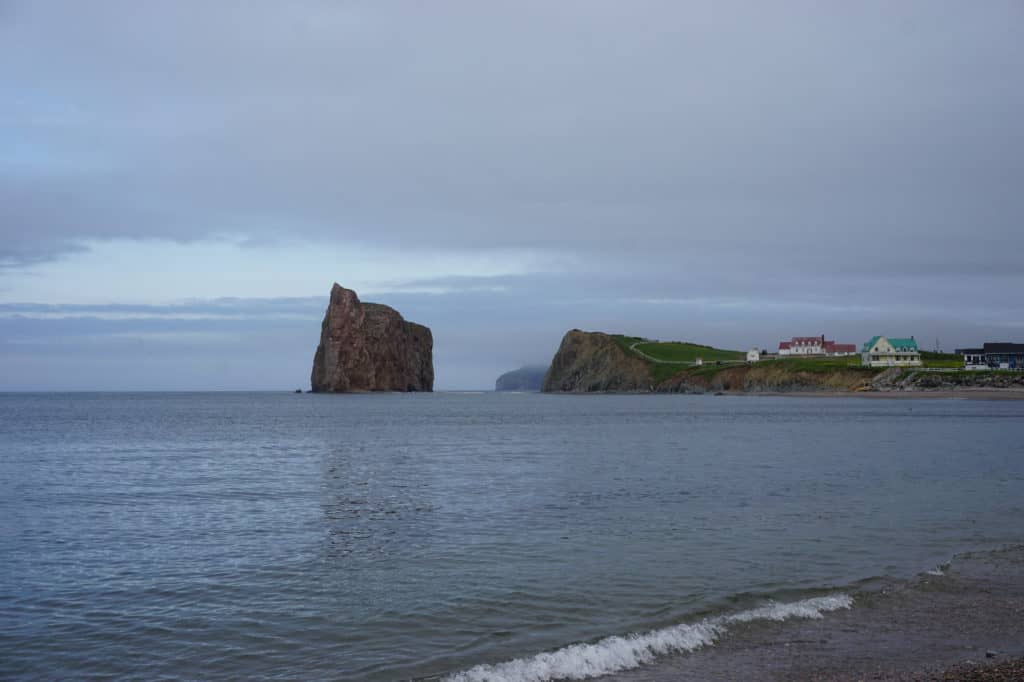 Day 4: Percé to Gaspé
Percé to Gaspé (61 kilometres or 38 miles)
When we got up the next day, the wind had died down but the fog was so dense that we couldn't see Percé Rock. We weren't sure if we should go ahead with an excursion to Bonaventure Island but I knew that I would be disappointed if I missed the experience so we opted to wait and see.
We purchased tickets when the fog lifted briefly early afternoon but it had rolled in again by the time we departed and we couldn't see Percé Rock as we sailed around it. Fortunately, it cleared as we approached Bonaventure Island so we were able to see sunbathing seals and the weather was lovely for the rest of the afternoon.
Bonaventure Island's Northern Gannet Colony
Percé Rock and Bonaventure Island National Park (a Québec National Park similar to provincial parks) is home to the largest migratory bird refuge in North America and the northern gannet colony (home to 110,000 northern gannets) is the most accessible in the world. The park is only open to visitors from late May to early October each year.
There are four hiking trails and a historic heritage trail on Bonaventure Island but due to our late start we now only had time to hike the easiest and most direct trail (Les Colonies Trail) to the gannet colony and then back to the wharf. The trail has some elevation gain and on a hot day it took us close to an hour to get there but the return trip was faster.
The large colony of more than 110,000 Northern Gannets is a breathtaking sight and it's an incredible experience watching them interact with each other from a close distance (there are rope barriers in place so humans don't get too close and disturb the birds). We spent about 30-45 minutes at the colony watching and taking photos.
Read more about our visit to Percé and Bonaventure Island.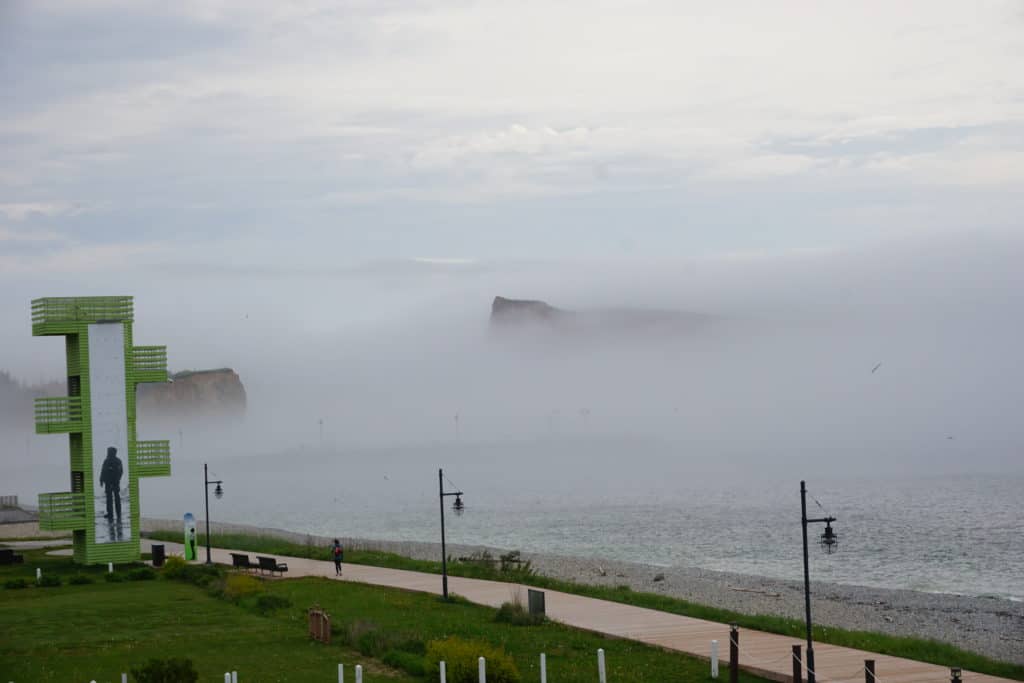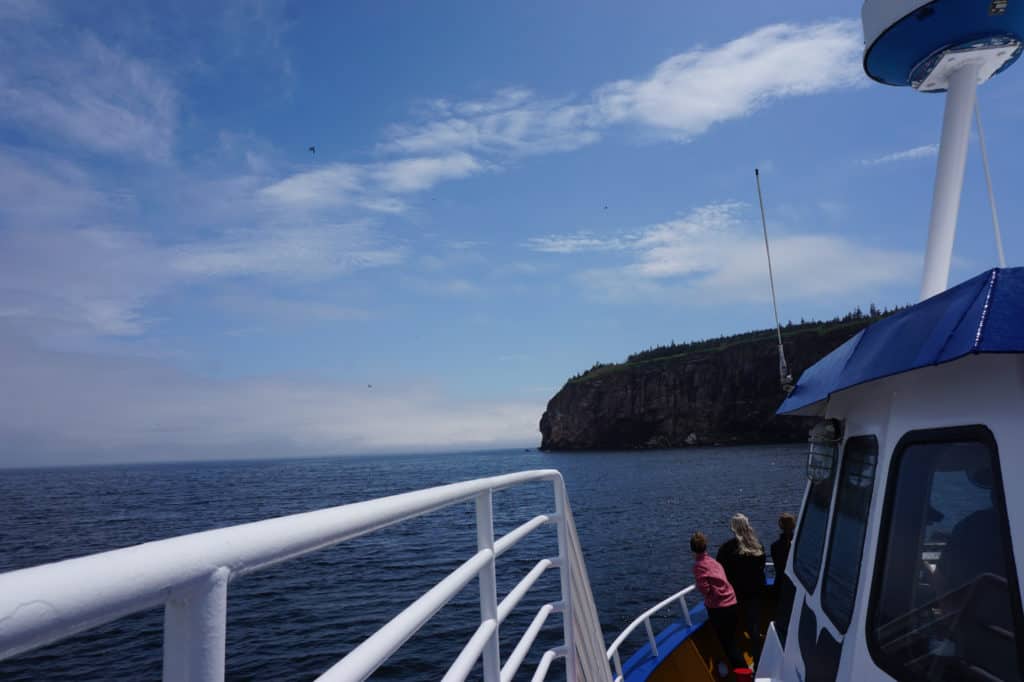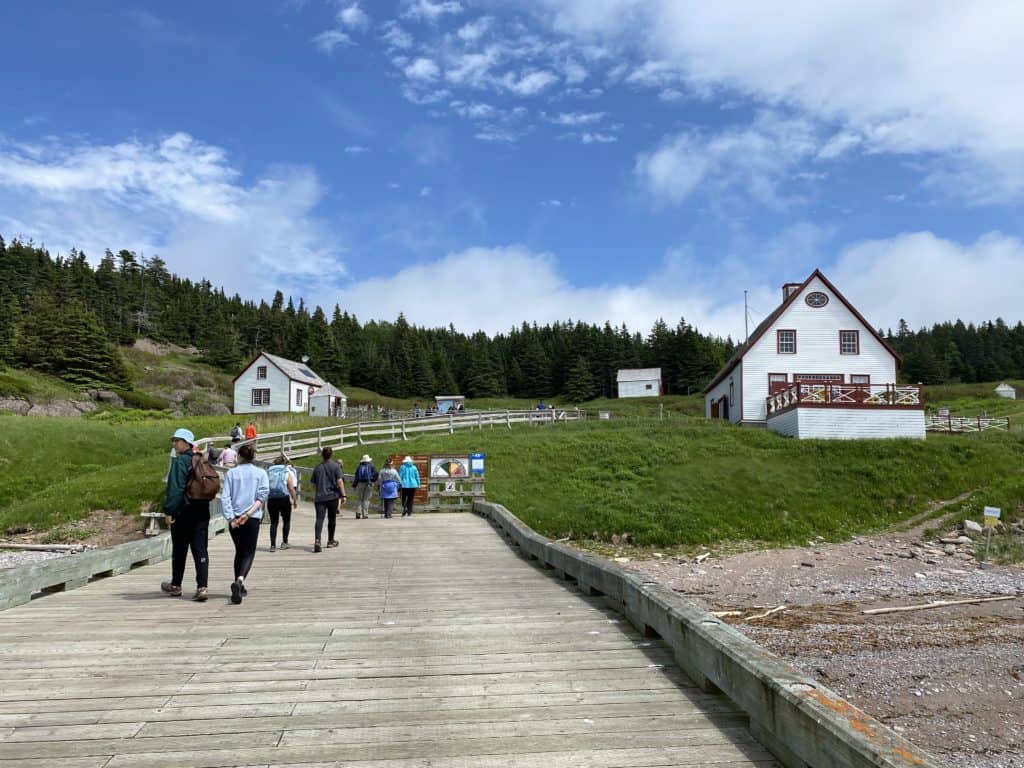 We had hoped to visit the historic general store in Anse-à-Beaufils near Percé as well, however, it wasn't opening for the season until the next day.
It was starting to rain when we returned to the village at the end of the day from our Bonaventure Island excursion so we grabbed a coffee at Nath & compagnie then headed down the road to the city Gaspé where we had booked a stay at Hôtel Plante as our base for exploring Forillon National Park.
Hôtel Plante is located in the heart of downtown Gaspé just a short walk from restaurants and shops. We booked a 2 night stay in the Espace Océan part of the hotel in a room with a balcony, 1 bed and a wall bed that converted into a sofa. I loved the aqua blue Keurig coffee maker in our room! Check out current rates and reviews on TripAdvisor or Booking.com.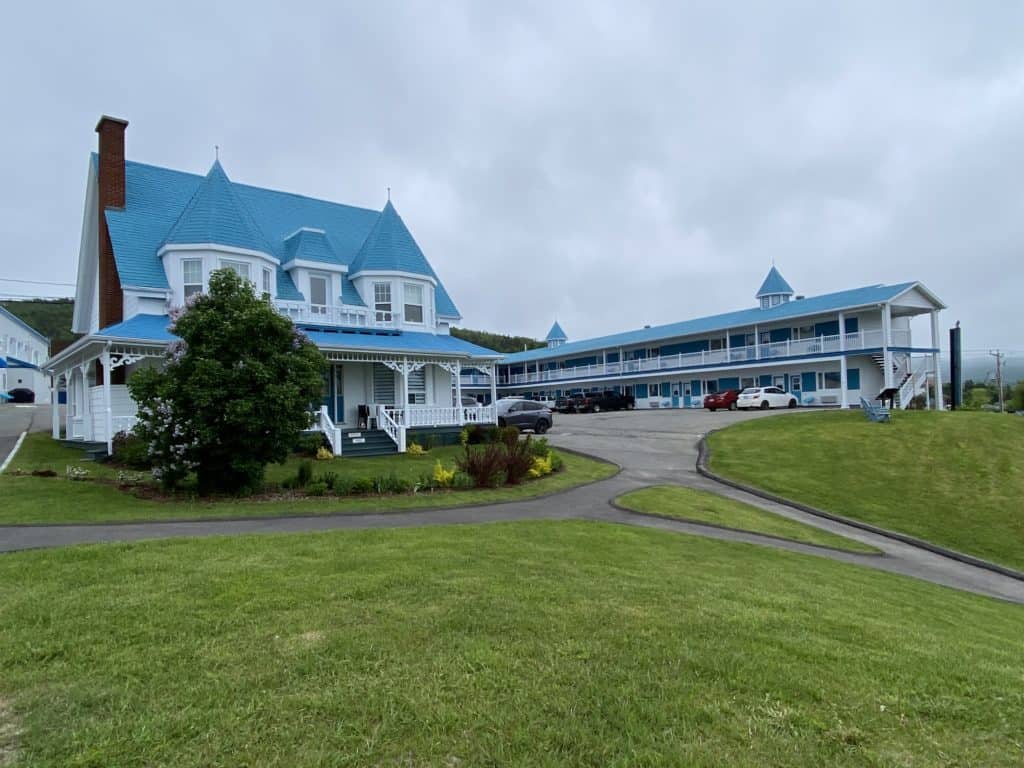 Day 5: Gaspé and Forillon National Park
Our plan was to spend our full day in Gaspé exploring Forillon National Park but, unfortunately, the weather wasn't cooperative.
Jacques Cartier Monument
On our way to the park we stopped to see the impressive Jacques Cartier Monument in Gaspé which is on the Musée de la Gaspésie's outdoor site. The monument is made of of several giant cast-iron slabs which commemmorate the encounter between Jacques Cartier and the St. Lawrence Iroquoians in 1534.
Nearby on the site is a monumental sculpture by Renée Mao Clavet titled 'In Memory of Her' which is a tribute to all women who built the region.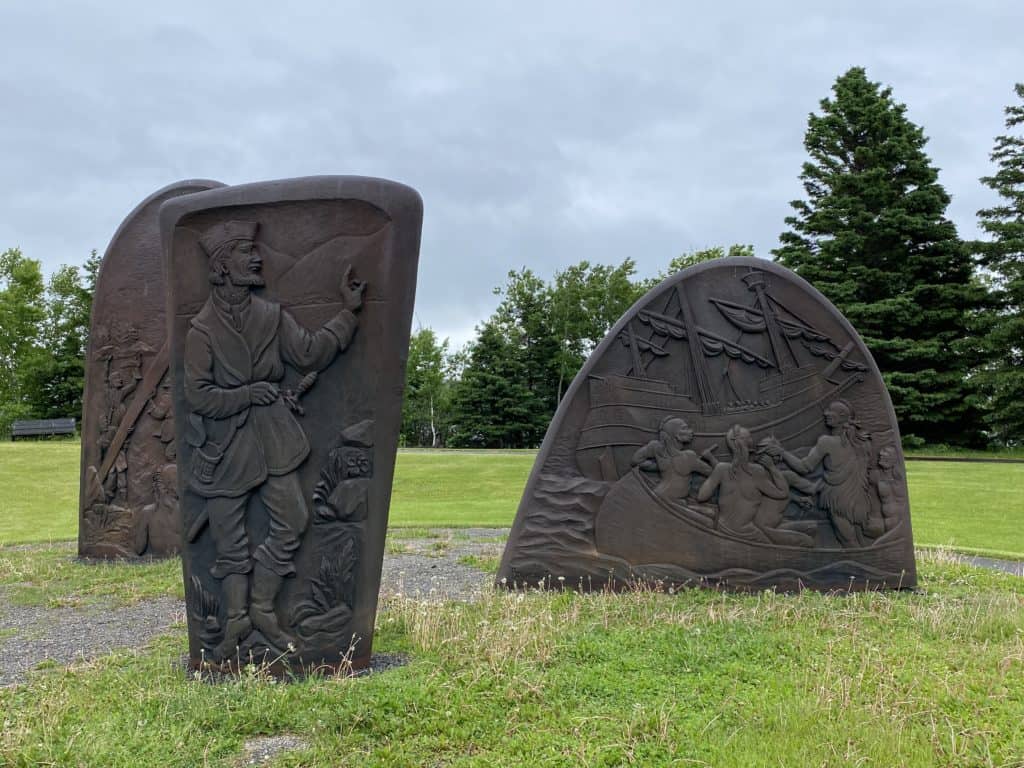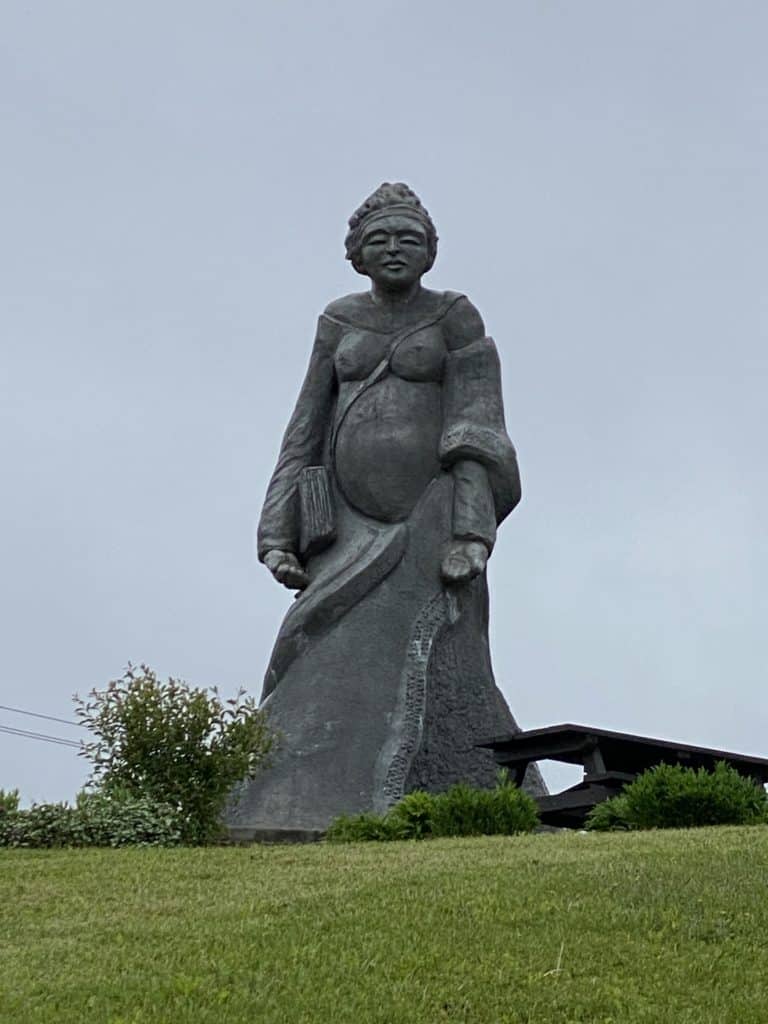 Forillon National Park of Canada
Forillon National Park of Canada, a 244 km² park located along the rugged coastline at the outer tip of the Gaspé Peninsula of Quebec, was inaugurated by Prime Minister Pierre Trudeau in 1977. Activities available in the park include hiking, whale watching cruises, sea kayaking, wharf fishing, and camping. There's even a recreation centre with a heated outdoor pool that's fun for vacationing families. On the lookout for Parks Canada red Adirondack chairs? There are 16 in Forillon National Park!
We had planned to do some hiking in the park but it was rainy/cold and I'm a fairweather hiker so we mostly had brief stops and a couple of short walks to get us out of the car. We still managed to see some beautiful scenery and a few interesting spots that we would have missed if we had been hiking so, all in all, it was a few hours well-spent despite the weather.
Daily admission fees at Forillon National Park vary by season. Free admission for youth 17 and under. Access to the park is from highway 132 East. In 2023, campsite reservations can be made starting early in March – check Parks Canada website for details.
Our first stop was at the Vistor Reception Centre at Penouille. It was mostly overcast at this point so we decided to go for a short walk along the boardwalk portion of the La Taiga trail located here and check out the views of the beach and salt marsh. 30 minutes later we were back in the car and on our way again.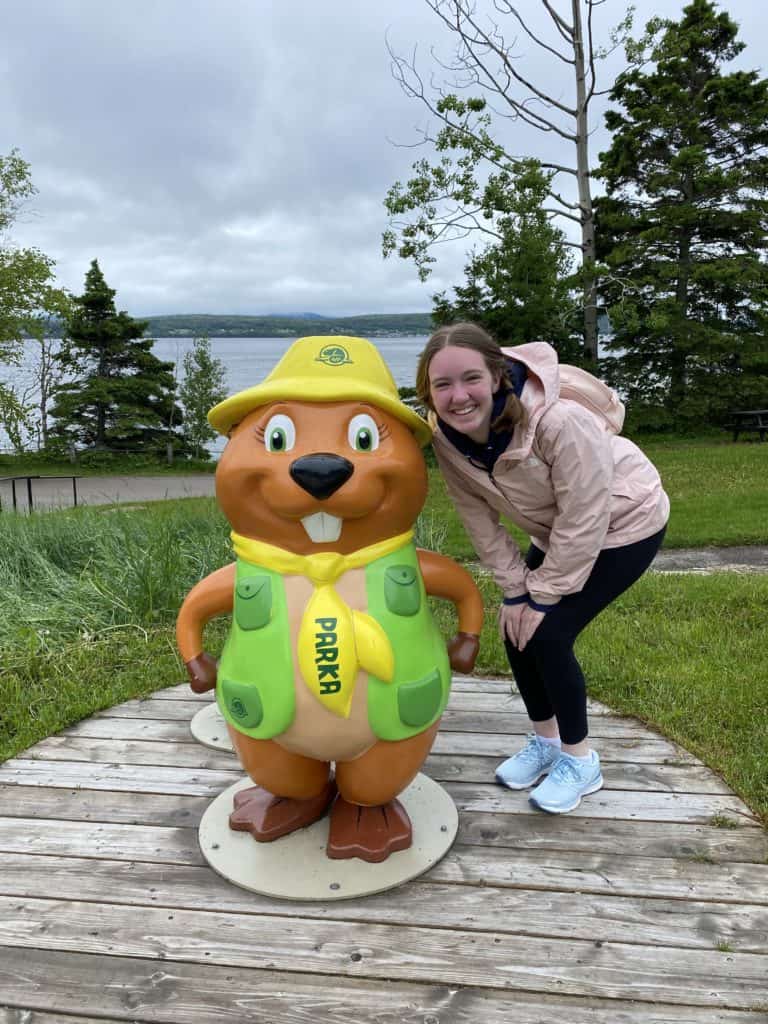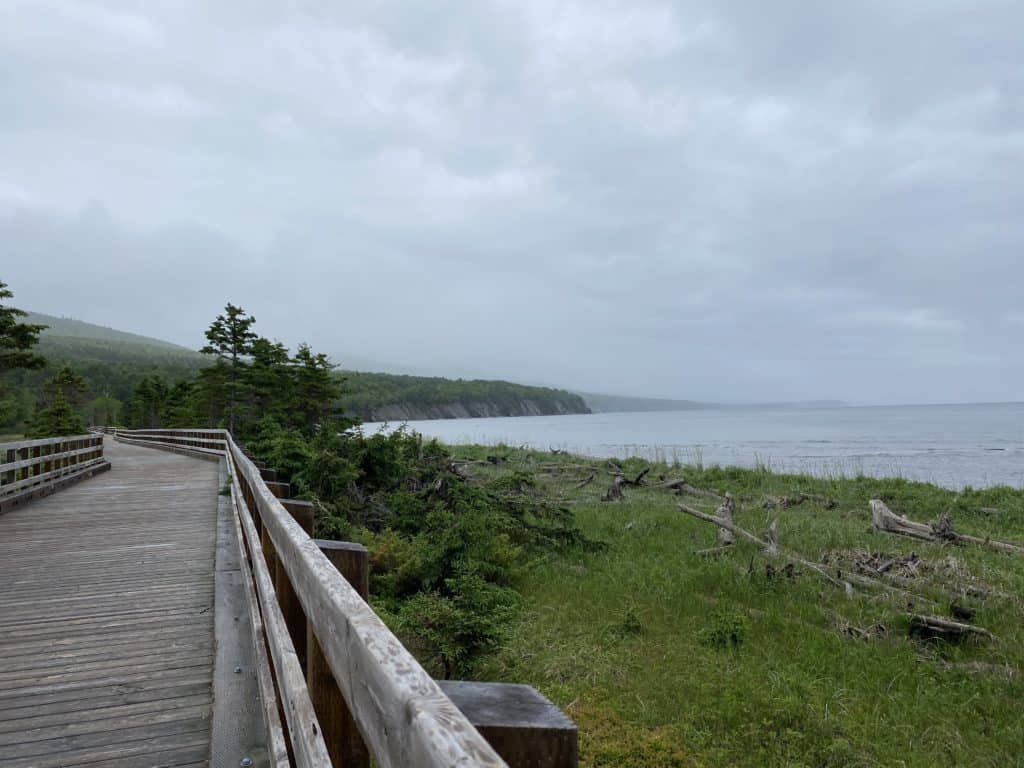 The most impressive scenery of the day was at Cap-Bon-Ami Lookout which is accessible by car. There are incredible views to be enjoyed just a short walk from the parking lot and there are stairs down to the rocky beach. This is also the starting point for the hike up to Mont Saint-Alban Observatoire which boasts spectacular views (a 7.8 km intermediate loop trail that takes 4 hours). I'm sure Cap-Bon-Ami is beautiful on a sunny day as well but the gloom was very dramatic!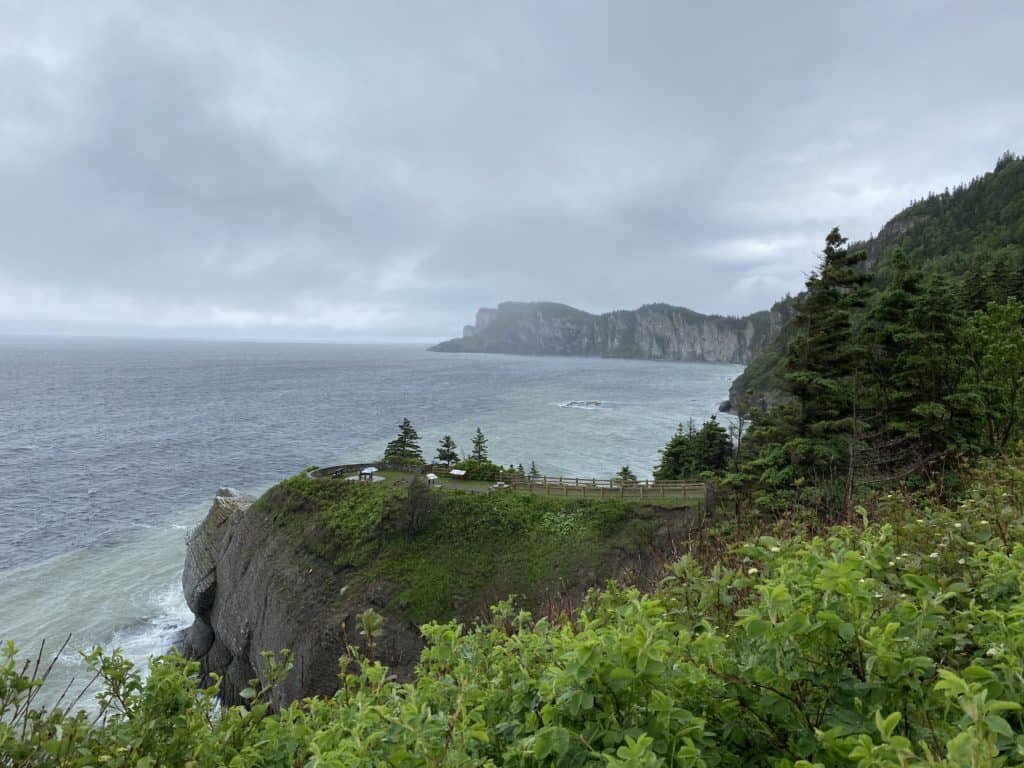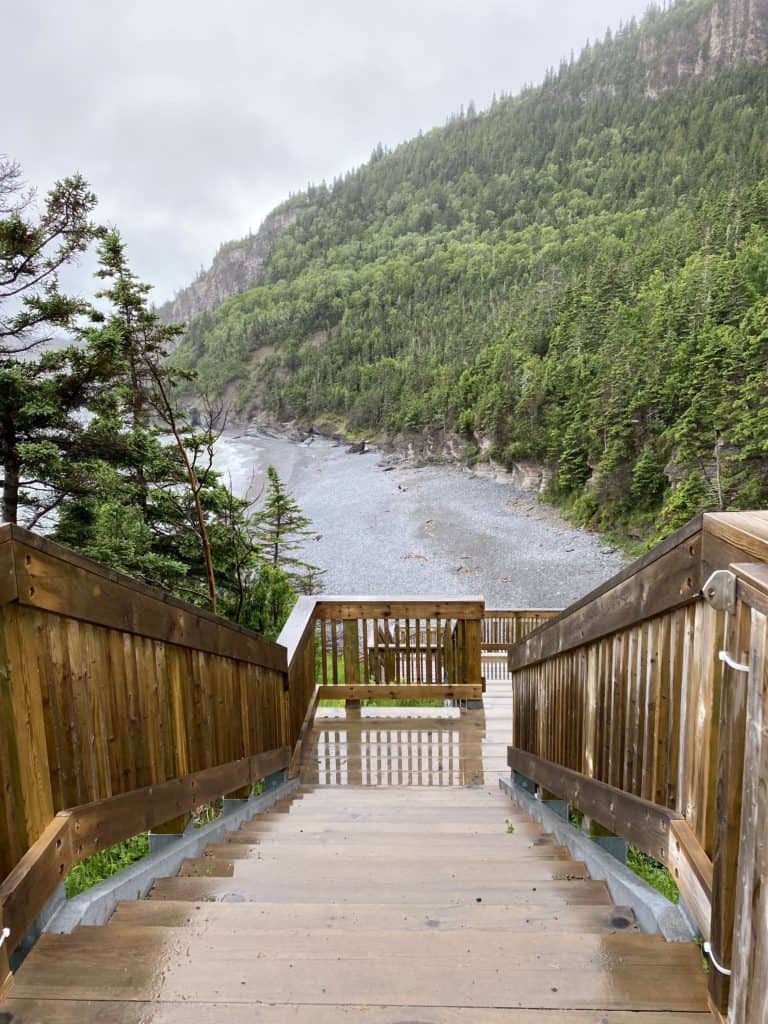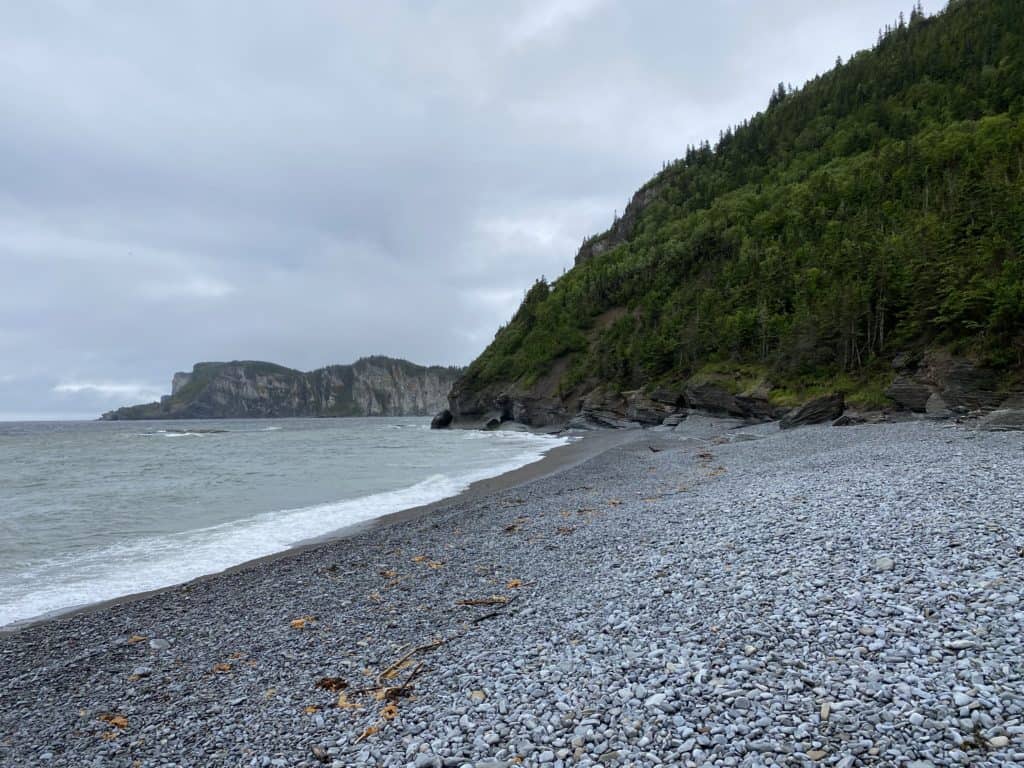 There are also several heritage sites in Forillon National Park which we wouldn't have considered stopping by but for the weather. During the summer season there would be Parks Canada costumed interpreters at heritage sites but, unfortunately, we were a few days ahead of the start of the season so could only view the buildings from the outside.
We stopped at Hyman & Sons general store, Blanchette House and Peter's Church but the Dolbel-Roberts House was not accessible at the time and we didn't make it to the Cap-Gaspé Lighthouse.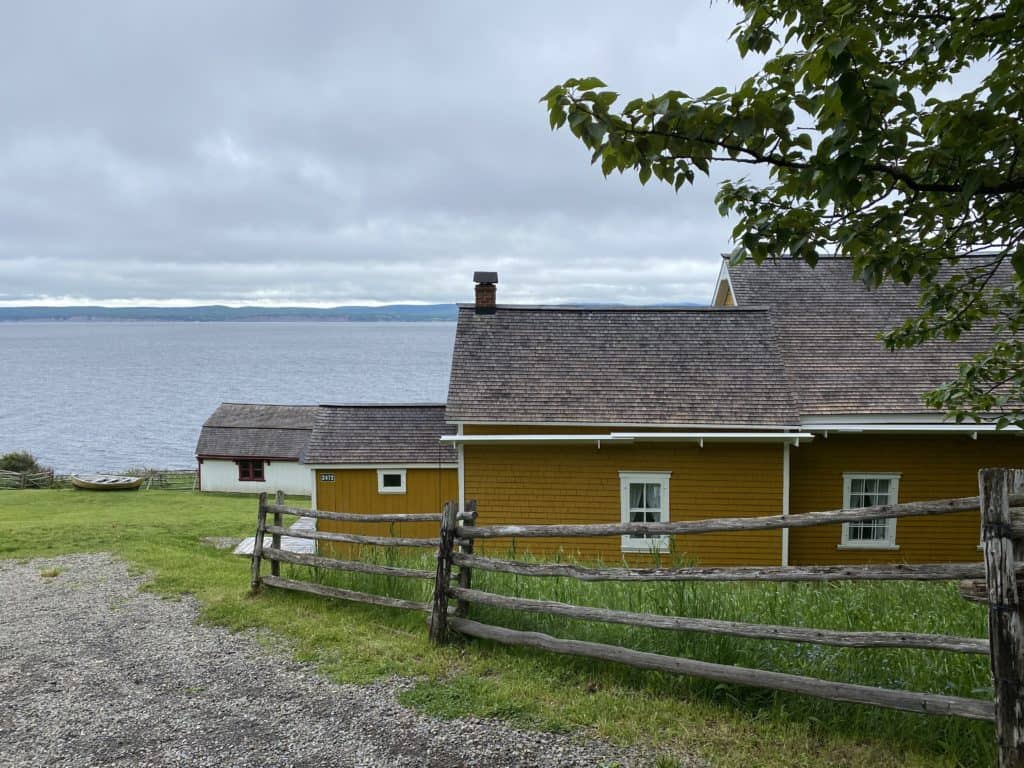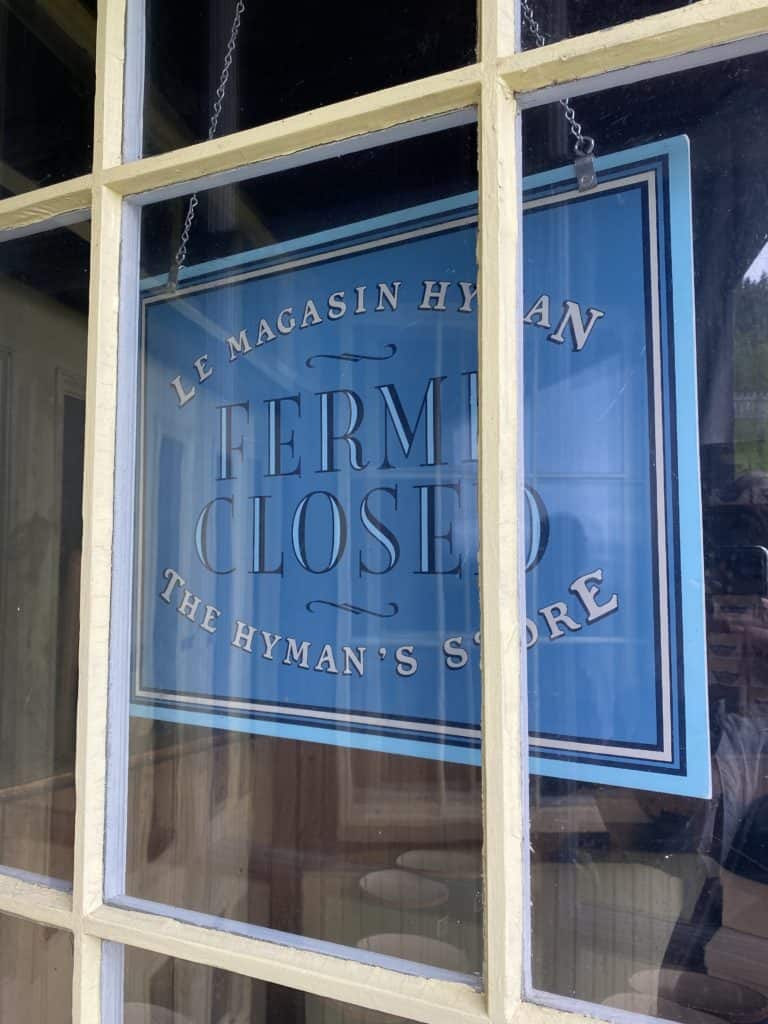 We made a quick stop at the L'Anse-aux-Amériendiens look-out spot before heading back toward Gaspé.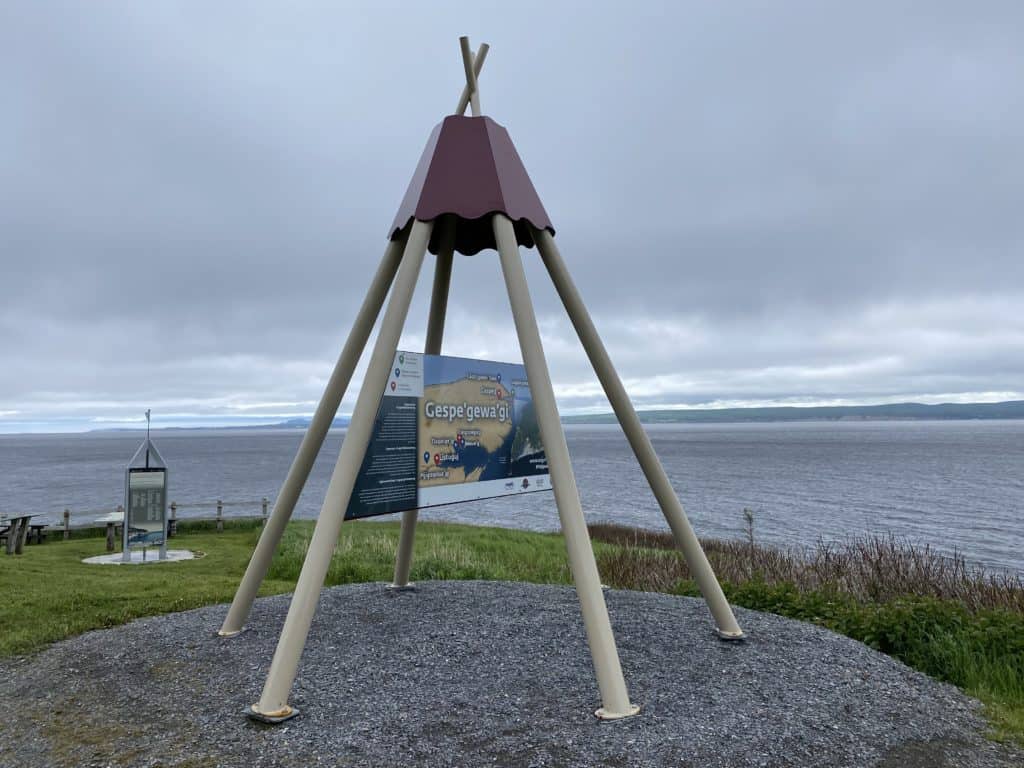 The Fort Peninsula underground fortifications are located on Route 132 near Penouille. Fort Peninsula is the only World War II shore battery that has been completely preserved and that is open to the public in Quebec.
During the Battle of the St. Lawrence which took place near these shores between 1942 and 1944, German submarines sank 23 Allied ships resulting in the loss of hundreds of lives. This was the first time since the War of 1812 that naval battles took place in Canada's inland waters.
It doesn't take long to tour the underground fortifications but it is an interesting bit of Canadian war history.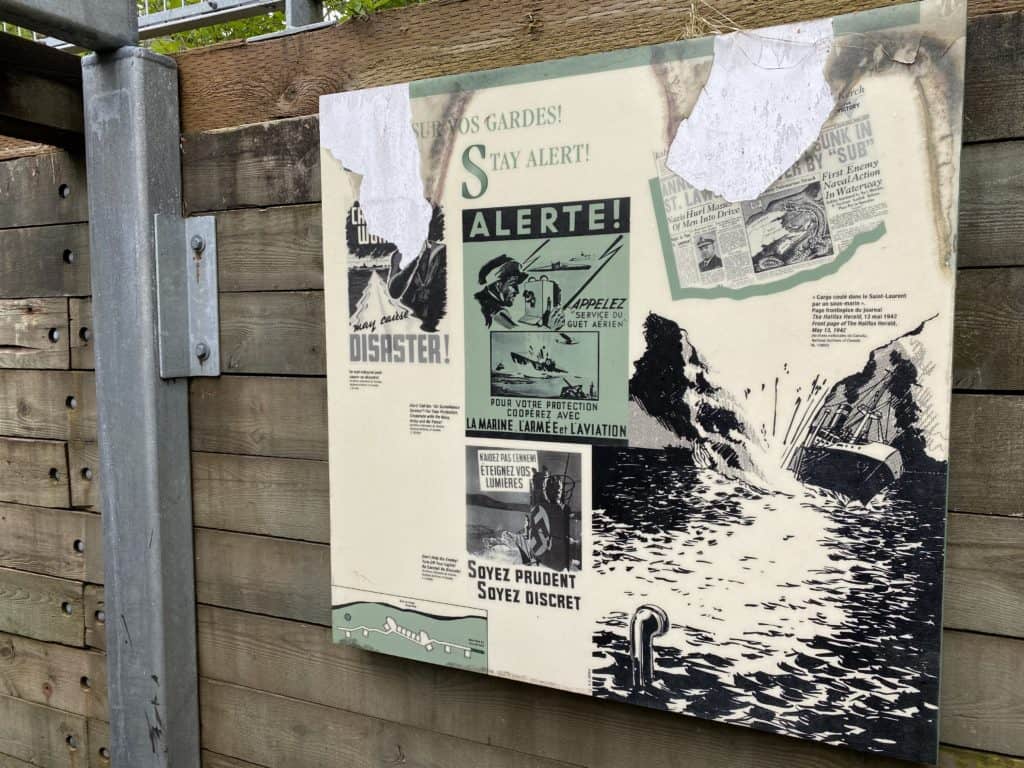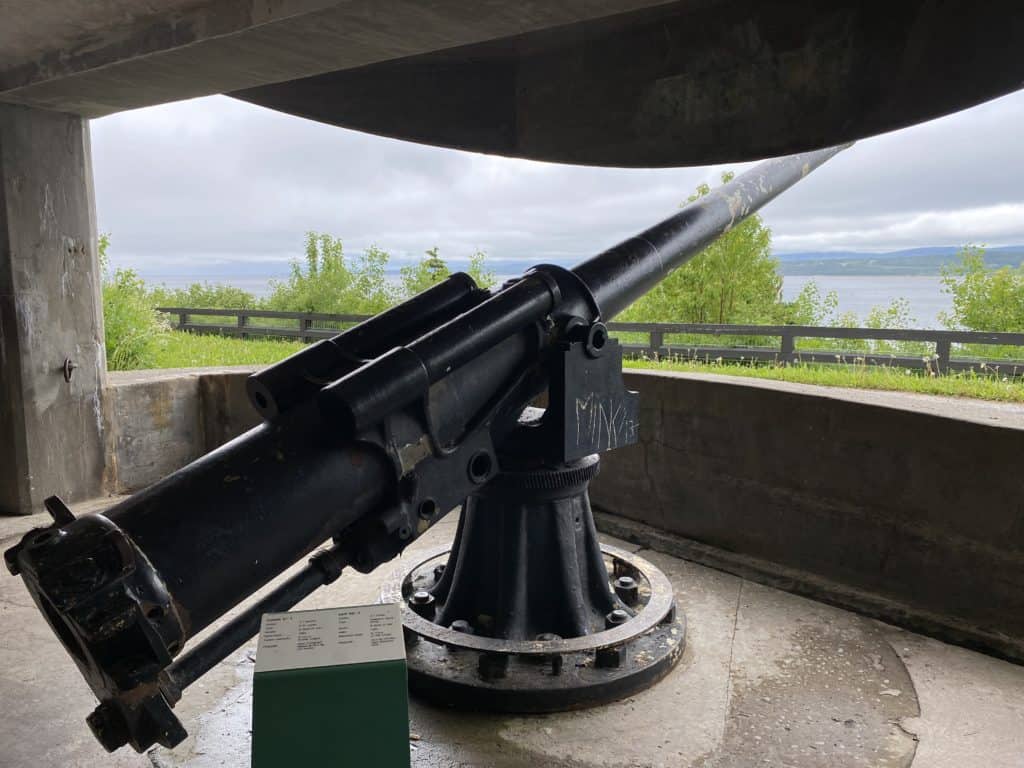 Musée de la Gaspésie (Gaspé Museum)
Since the weather cut short our time in Forillon National Park, we decided to visit the Musée de la Gaspésie, a regional history museum that celebrates the history and heritage of the Gaspé region.
The museum's permanent exhibit – Confluence des Mondes (Where Worlds Meet) – chronicles key moments in the history of the Gaspé region. The exhibit is presented in English and French and focuses on the contributions of the three founding peoples using multimedia, artefacts and documents.
There were several interesting temporary exhibits as well plus the outside site which includes the Gaspésienne cod fishing boat installed alongside the museum and the monuments we visited earlier in the day.
80, boulevard Gaspé, open daily 11am – 4pm September to May – extended hours in summer.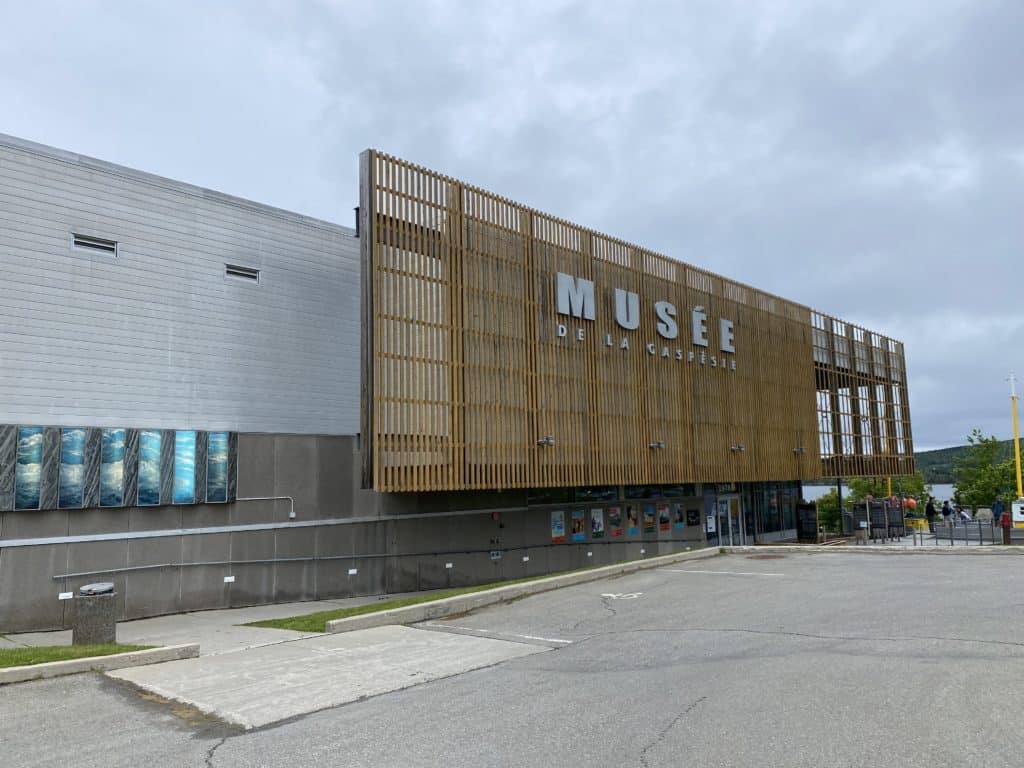 Birthplace of Canada Site
Before returning to our hotel for the evening, we walked around the waterfront in Gaspé to see the Birthplace of Canada site. The site includes replicas of historic buildings, a Mi'gmac longhouse, and the massive Jacques Cartier Cross Monument (also known as the Cross of Gaspé) – granite monolith that was gift from the Government of Canada to Gaspé in 1934 to commemmorate the 400th anniversary of the arrival of Jacques Cartier in the region
The site is open during summer season with interpreters to discuss history and answer questions but had closed already when we arrived so we had a quick look around at the buildings from the outside.
179, Montée Wakeham on the waterfront in Gaspé. Open 10:00 – 17:00 mid-June to late September. Closed Sundays.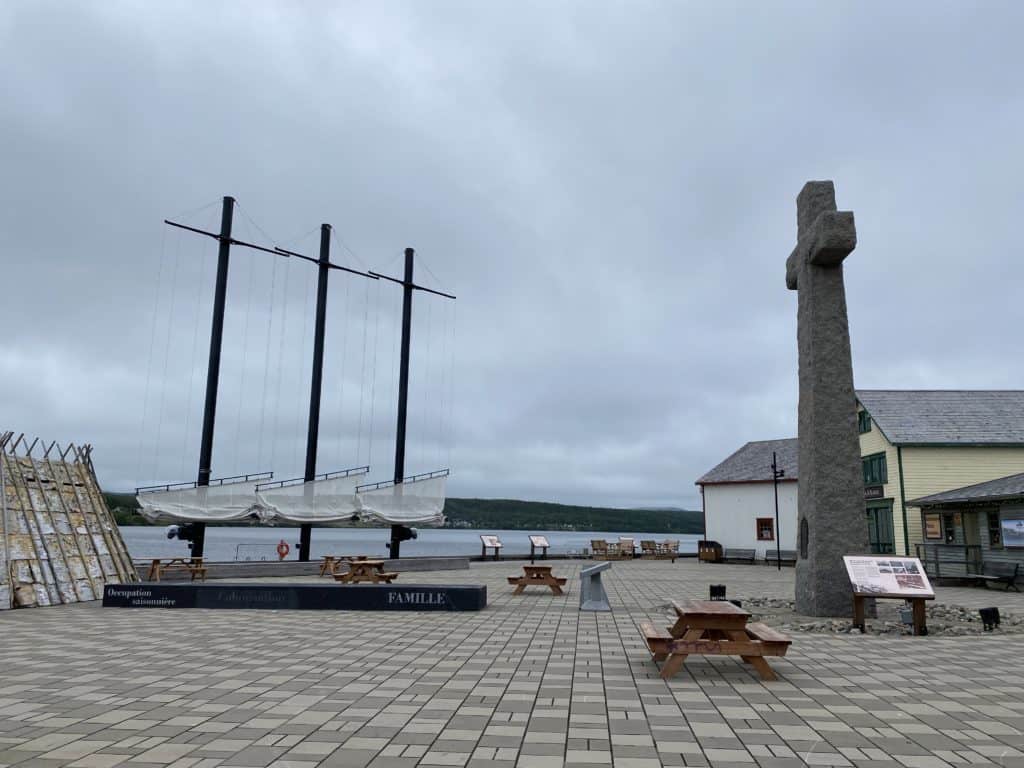 Day 6: Gaspé to Rivière-du-Loup
Gaspé to Riviere-du-Loup (590 kilometres or 367 miles)
We started the day with latte from Café des Artistes in Gaspé and hit the road as soon as we could as we had planned several stops on our route back to Rivière-du-Loup.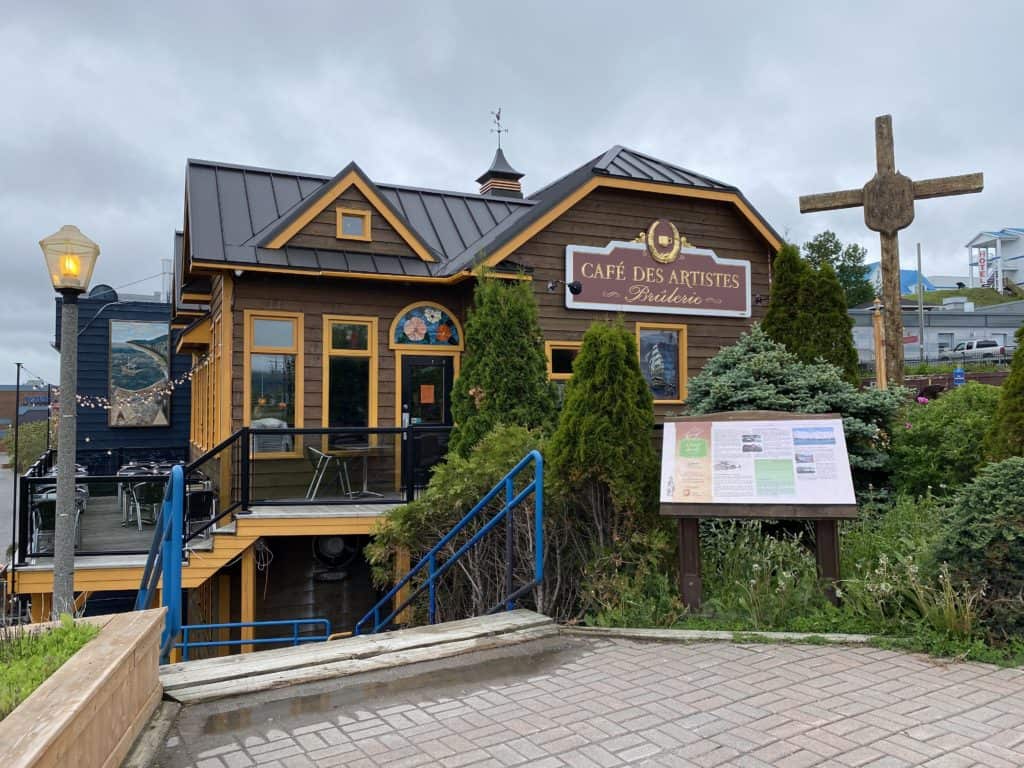 Our first stop was at the Cap-des-Rosiers Lighthouse, one of a series of tall, tapering towers erected on the Gulf of St. Lawrence by the Department of Public Works. Perched on the rugged cliffs near the tip of the Gaspé Peninsula, this lighthouse built in 1858 is the tallest lighthouse in Canada at 34 metres (112 feet) and has been designated a National Historic Site of Canada. We decided not to bother with the guided tour and just stopped to take a quick photo.
1331 Boulevard de Cap des Rosiers, Cap-des-Rosiers off Route 132. Located within Forillon National Park. Admission fee – open during summer for guided tours.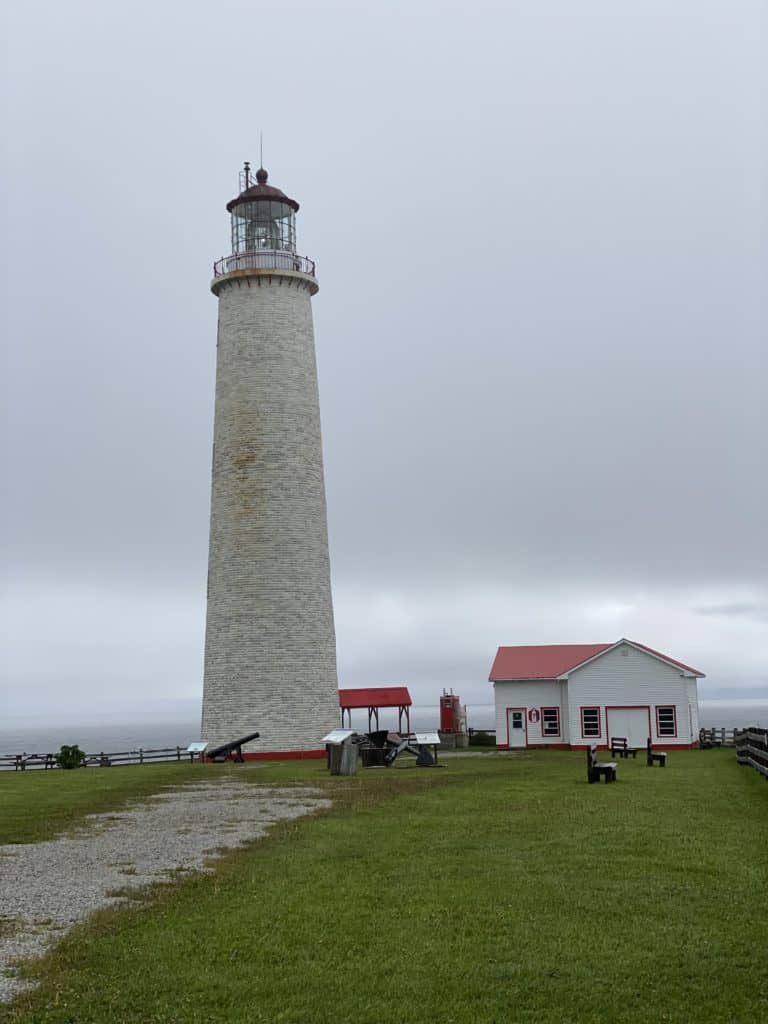 The Point-a-la-Renommée Lighthouse is a little hard to get to but the reward is unique and stunning views. It's known as the most travelled lighthouse in the world as it was repatriated to this original site in 1997 after having been moved to the Port of Québec for 20 years. In addition to the century-old lighthouse, this historic site also has the first marine wireless telegraphy station in North America, access to hiking trails and a boutique.
Open summer only June – September. Located off Route 132 several kilometres down a gravel road. There is a $3 fee to access the site and an additional fee for a tour of the lighthouse, lighthouse keeper's house, and Marconi station.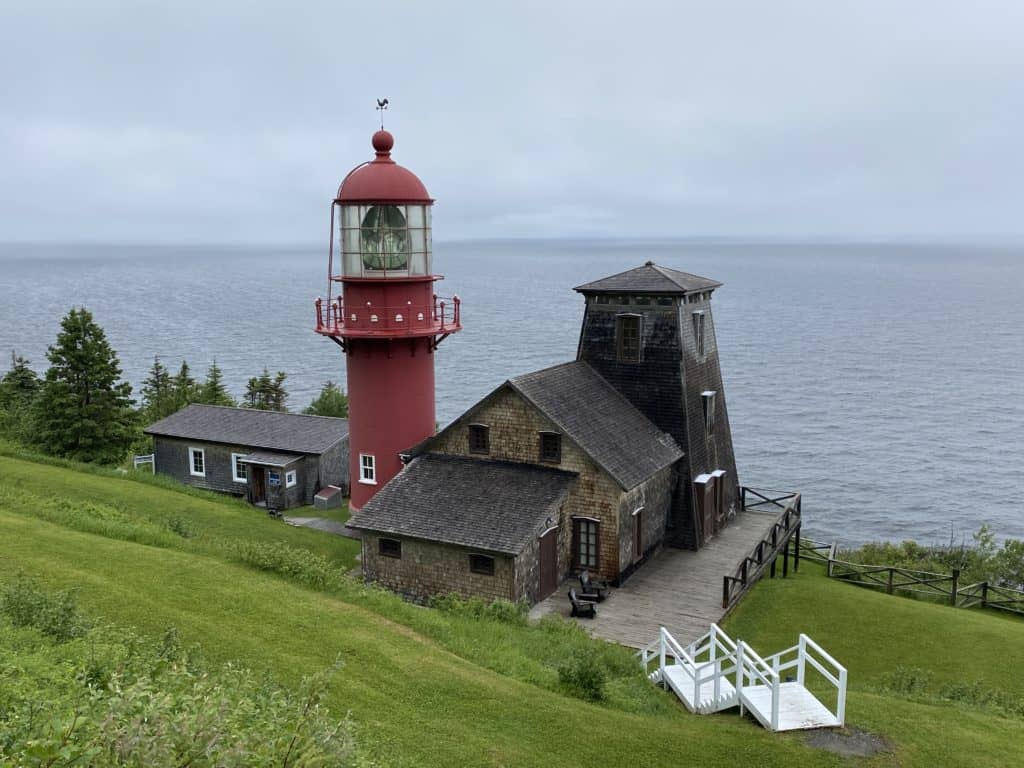 Another quick photo stop at the Galipeault wooden covered bridge which spans the Grande-Vallée River.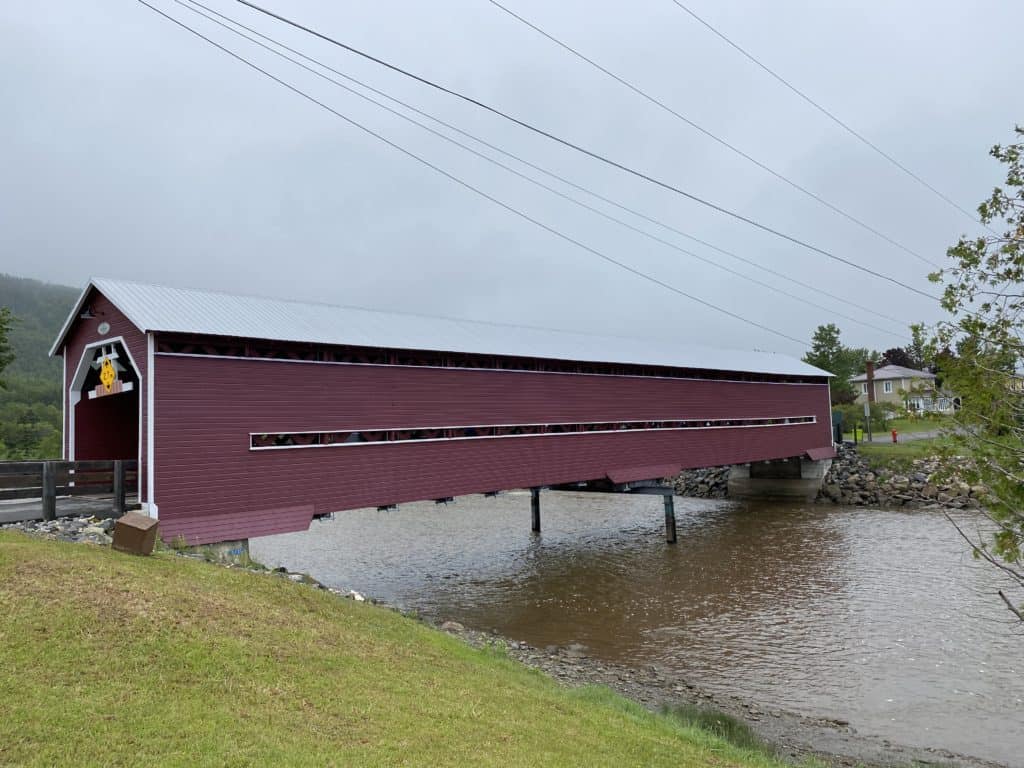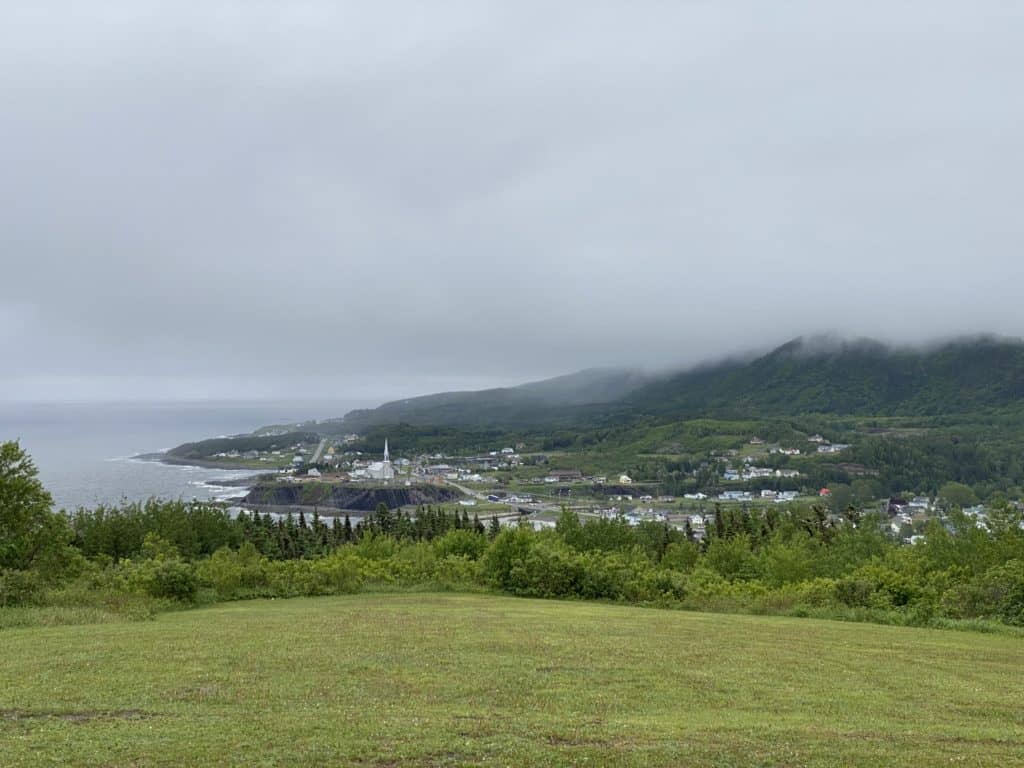 The Cap-de-la-Madeleine Lighthouse is another beautiful heritage lighthouse operated by Parks Canada. This 17 m (55 ft) cylindrical structure topped with a circular iron lantern and a domed roof boasts stunning panoramic views.
du Phare Road, Sainte-Madeleine-de-la-Rivière-Madeleine. Guided tours are generally available June-October.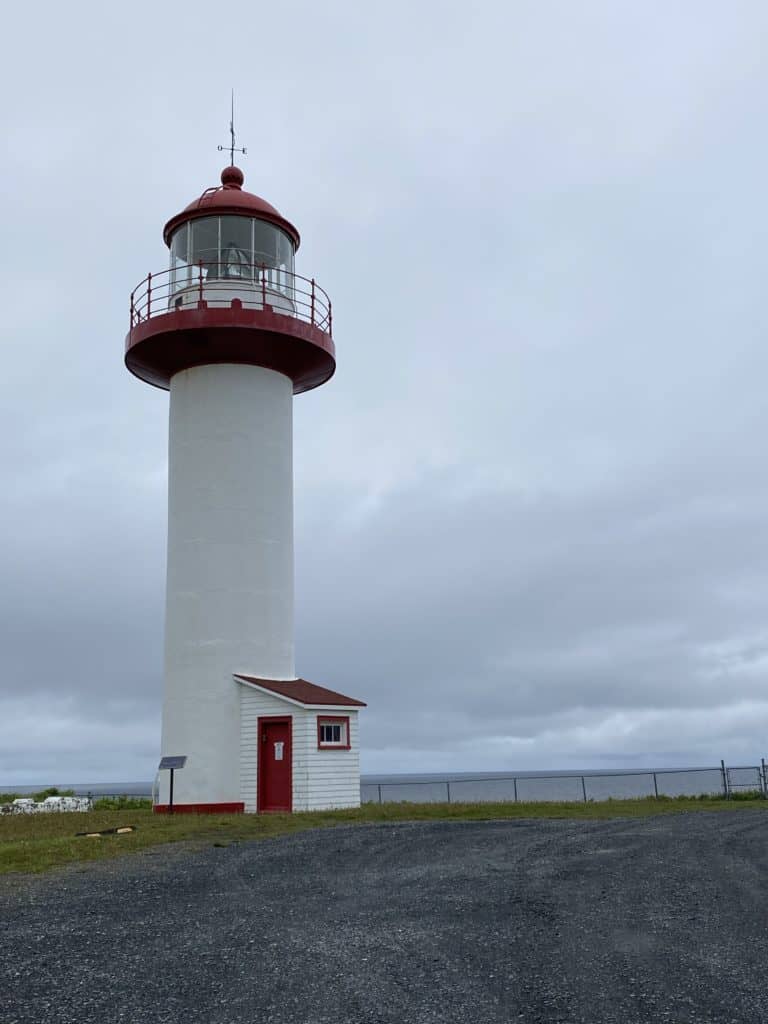 La Martre Lighthouse, in operation since 1906, is a beautiful lighthouse primarily red with one white stripe on the side facing the water. The lighthouse is at the top of a steep hill but you can drive up. There's also a small waterfall in La Martre cascading down the cliffs alongside Route 132. There's a paved roadside stop area where you can park and get out to take photos of the waterfall.
10, avenue du Phare, La Martre. Tower and museum are open June through September.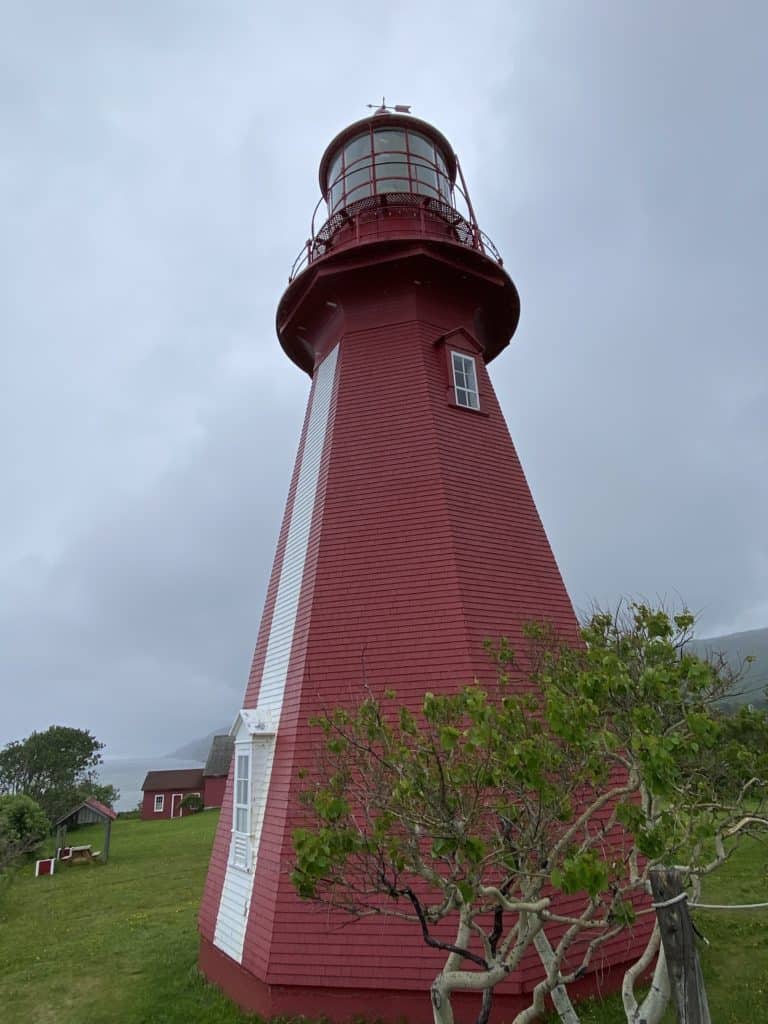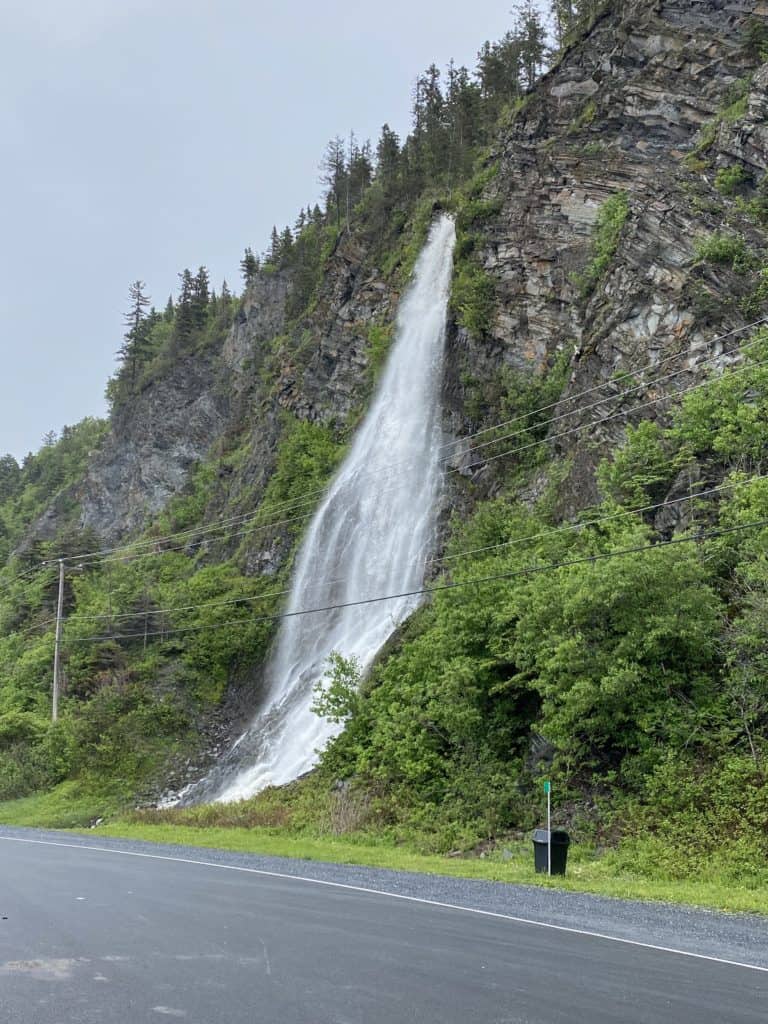 The final covered bridge of our Gaspé road trip was the Pierre Carrier covered bridge in St. Ulric which spans the Rivière Blanche. The bridge, built in 1918, is a heritage site and is 24 m (81 ft) long.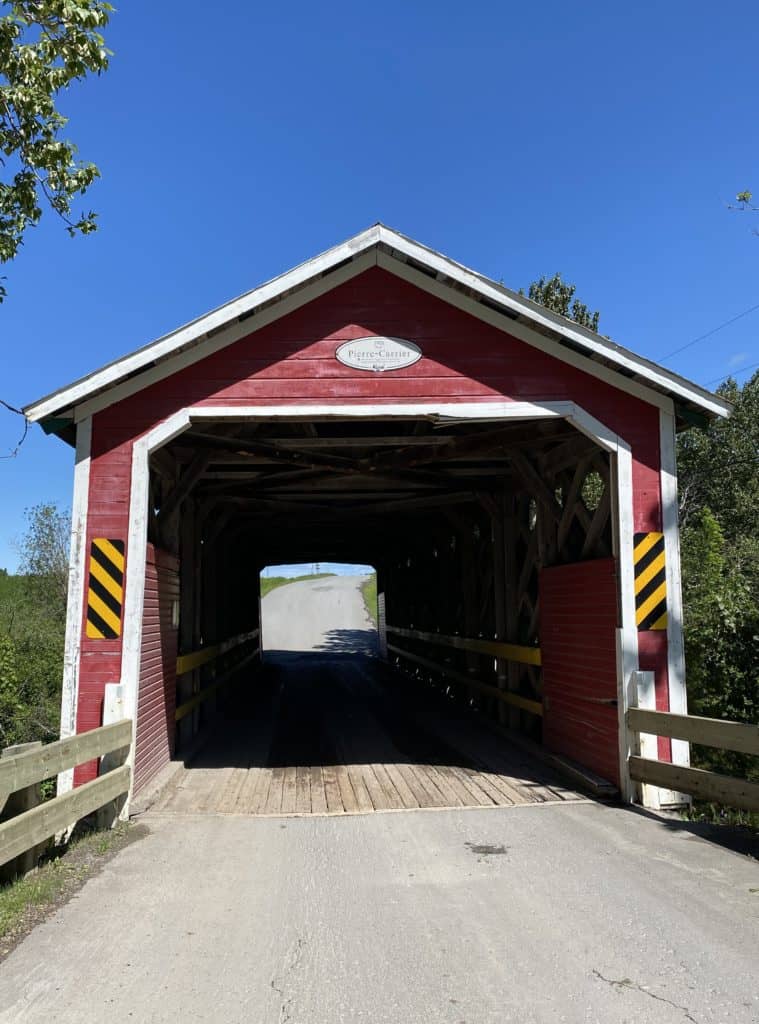 If you enjoy interesting art installations then you must stop in Sainte-Flavie at Marcel Gagnon's Centre d'Art to see Gagnon's sculpture Le Grand Rassemblement (The Great Gathering). This incredible work of art features more than 100 life-size figures made from reinforced concrete rising out of the waters of the St. Lawrence.
We visited at low tide and I would have loved to have had the opportunity to see Le Grand Rassemblement at high tide as well. In addition to the art gallery there is also a hotel and a restaurant on-site.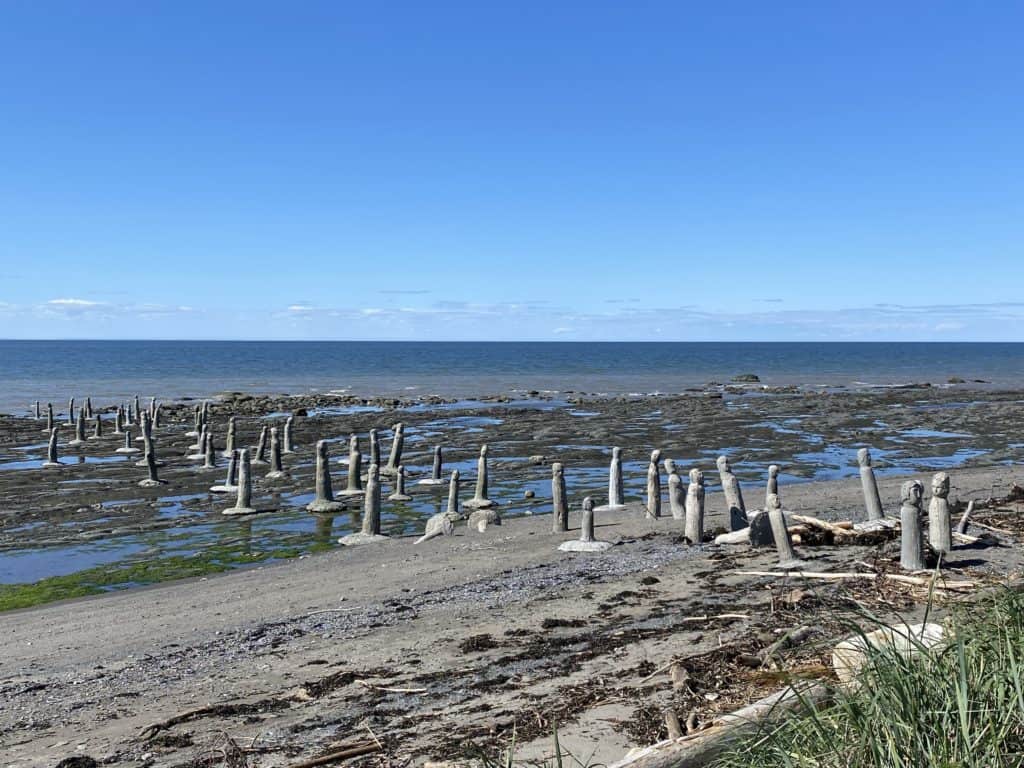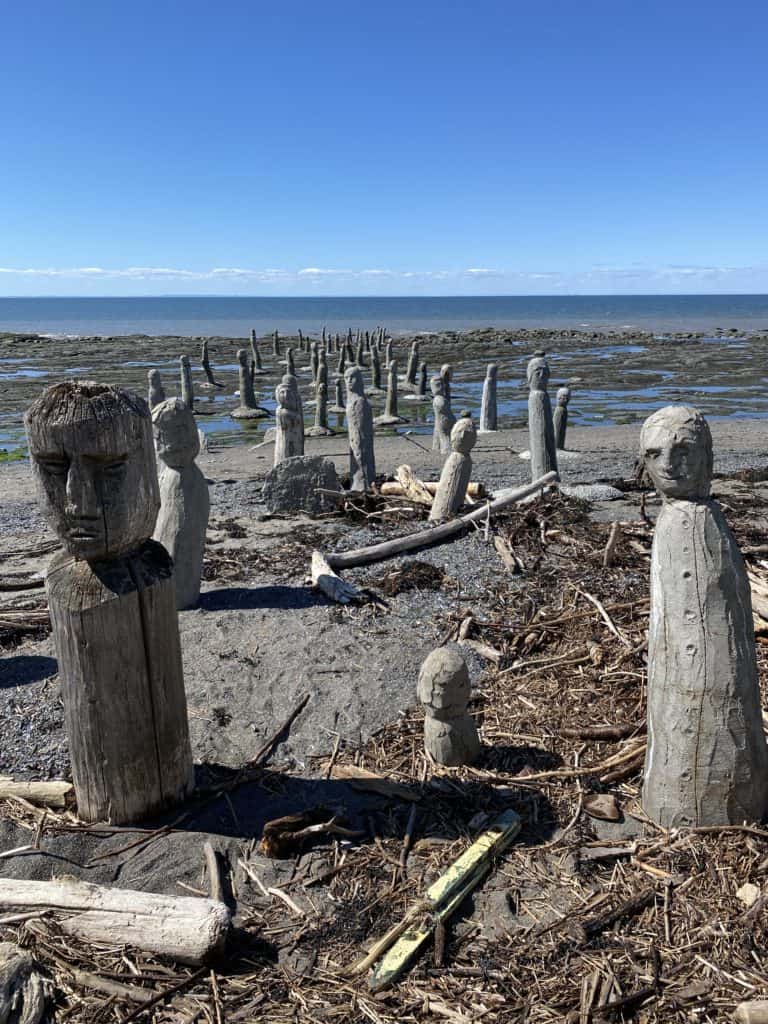 Our final stop of the day was in Sainte-Luce to see the colourful houses by the waterfront and enjoy a leisurely stroll along the boardwalk.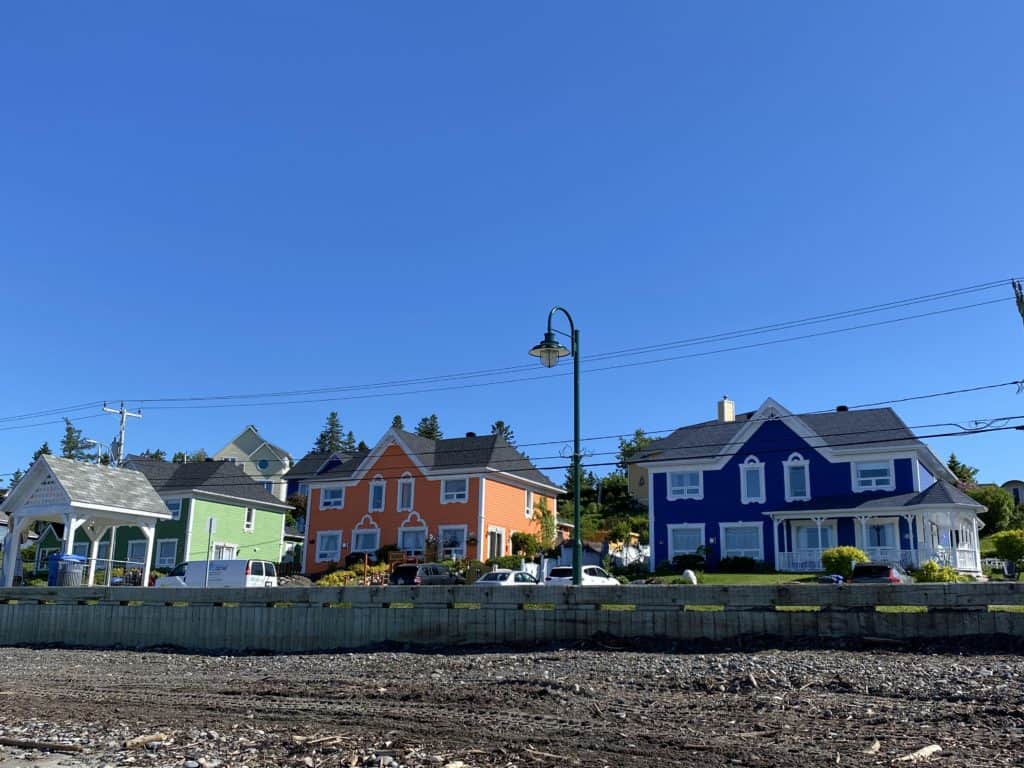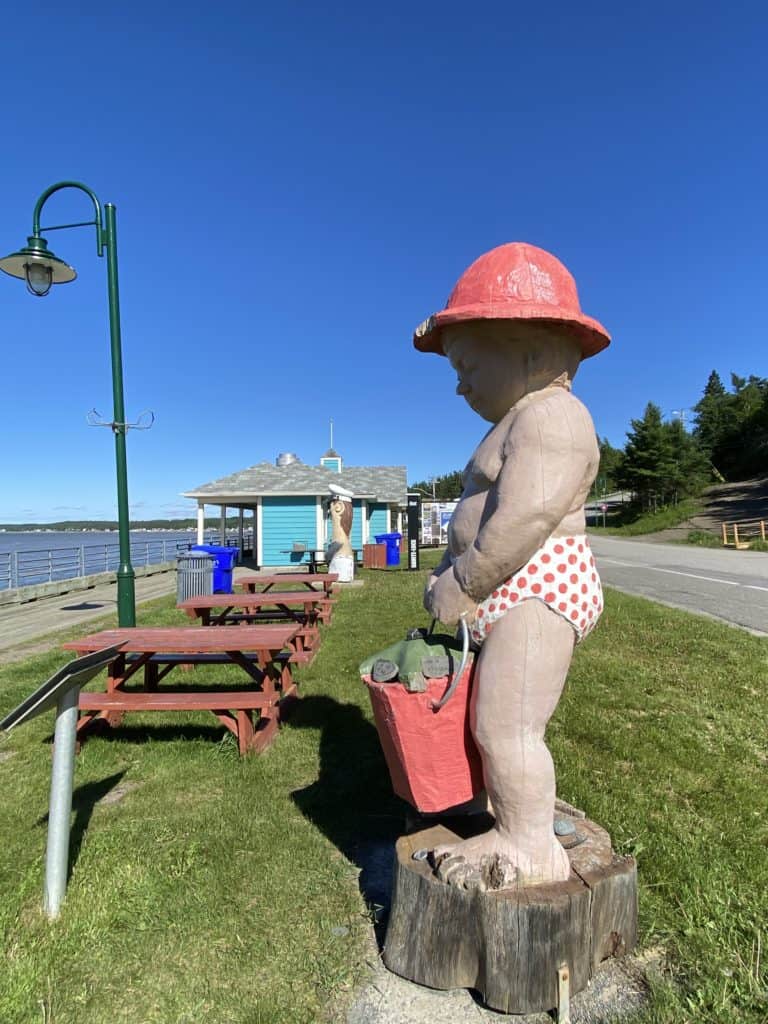 Our Gaspé road trip ended back in Rivière-du-Loup where we stayed one night at Hôtel Levesque. The next morning we made a quick stop at the waterfall in Parc des Chutes before departing for Québec City where we spent 3 nights before heading home.
Hôtel Levesque is a modern hotel with restaurants, pool and gym on site – perfect for business trips or family getaways. We booked an Aqua Room with two queen beds and a view of the St. Lawrence River and enjoyed a lovely dinner on the terrace of Resto-bar Terrace Le 171 followed by a spectacular view of the sun setting over the St. Lawrence from our room. Check current rates and reviews on TripAdvisor or Booking.com.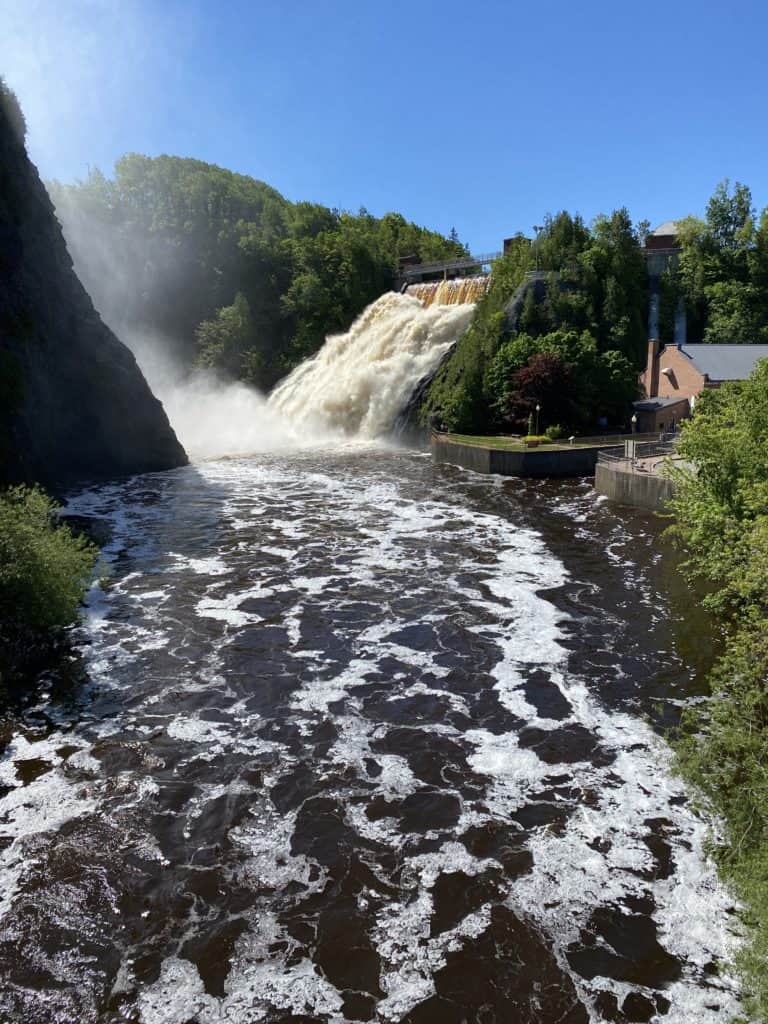 Pin This For Later