This past summer vacation I travelled with my husband and teen daughter to visit Percé Rock and Bonaventure Island in Quebec's Gaspé Region (Gaspésie). We planned our road trip to Gaspé because seeing Percé Rock has been on my Canadian bucket list for quite some time. When I started planning our trip it was with the sole purpose of seeing the rock but once I started researching, I discovered that the gannet colony on Bonaventure Island was one of the things to do in Percé and was soon just as excited about seeing the birds!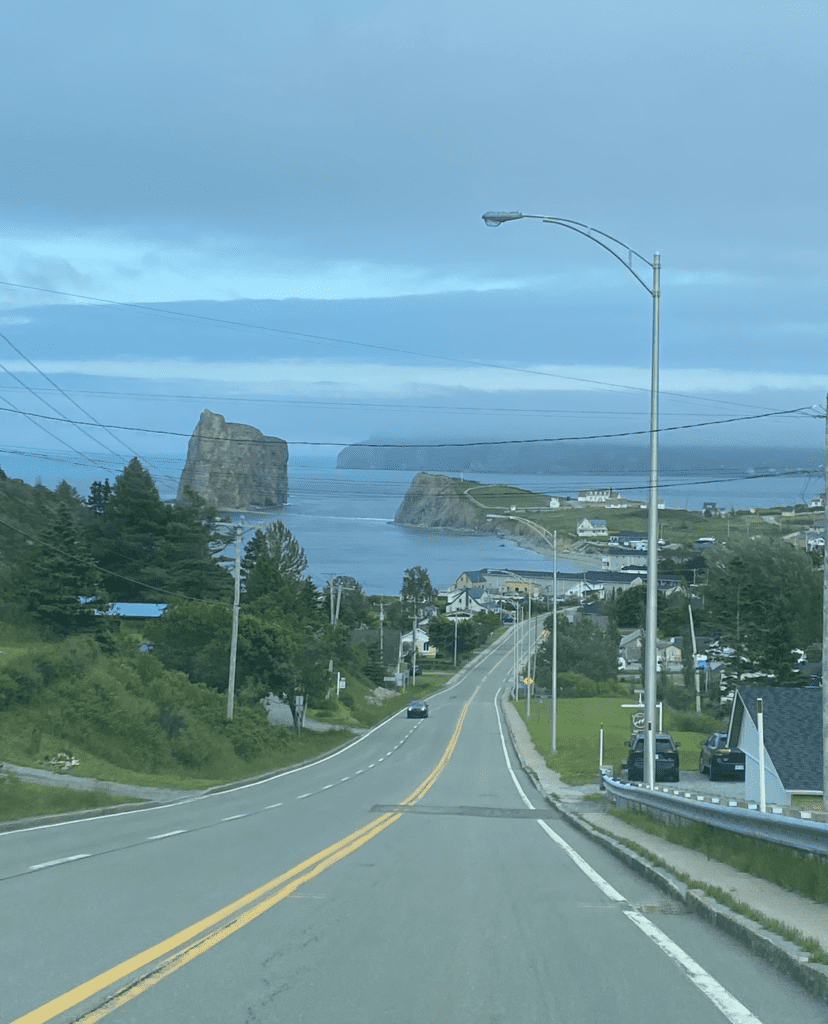 This post may contain affiliate links. If you click an affiliate link and make a purchase then we receive a small commission at no additional cost to you.
We are a participant in the Amazon Services LLC Associates Program, an affiliate advertising program designed to provide a means for us to earn fees by linking to Amazon.com and affiliated sites. As an Amazon affiliate I earn from qualifying purchases.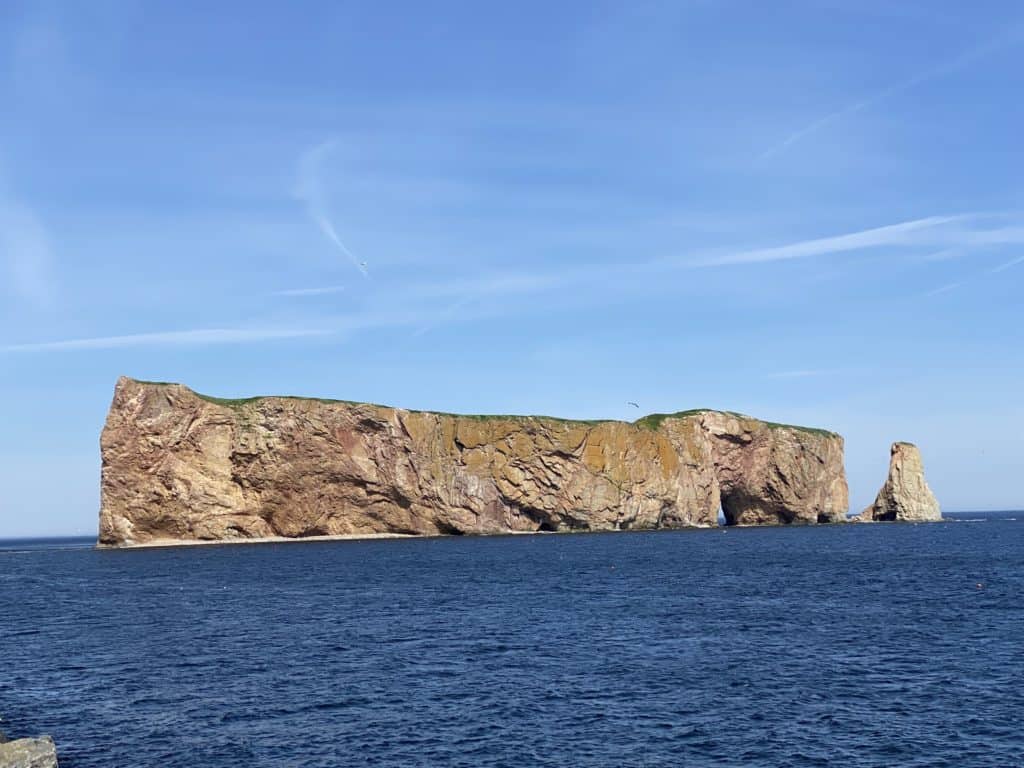 Percé Rock (Rocher Percé in French), a huge reddish limestone rock formation located in the Gulf of St. Lawrence on the tip of the Gaspé Peninsula, is one of Canada's most majestic natural attractions. The rock formation which is 450 m long (1475 feet), 90 m wide (295 feet) and 85 m high (280 feet) is one of the world's largest natural arches over water. It was once connected to the mainland but is now linked to the coast only by a sandbar at low tide. Walking to Percé Rock is forbidden though as falling rock can be quite dangerous.
Percé Rock, named by Samuel de Champlain in 1607, is a major tourist attraction in the province of Québec which attracts thousands of visitors each summer. The arch which has been carved into the limestone by the sea inspired the name "rocher percé" which means "pierced rock" in English.
It is believed that there may have once been four arches but the second-to-last arch collapsed due to erosion in 1845 and it's expected that the remaining arch may disappear within 400 years as a substantial amount of rock is lost each year. Percé Rock is home to many birds including razorbills, cormorants and black-legged kittiwakes which breed there every year.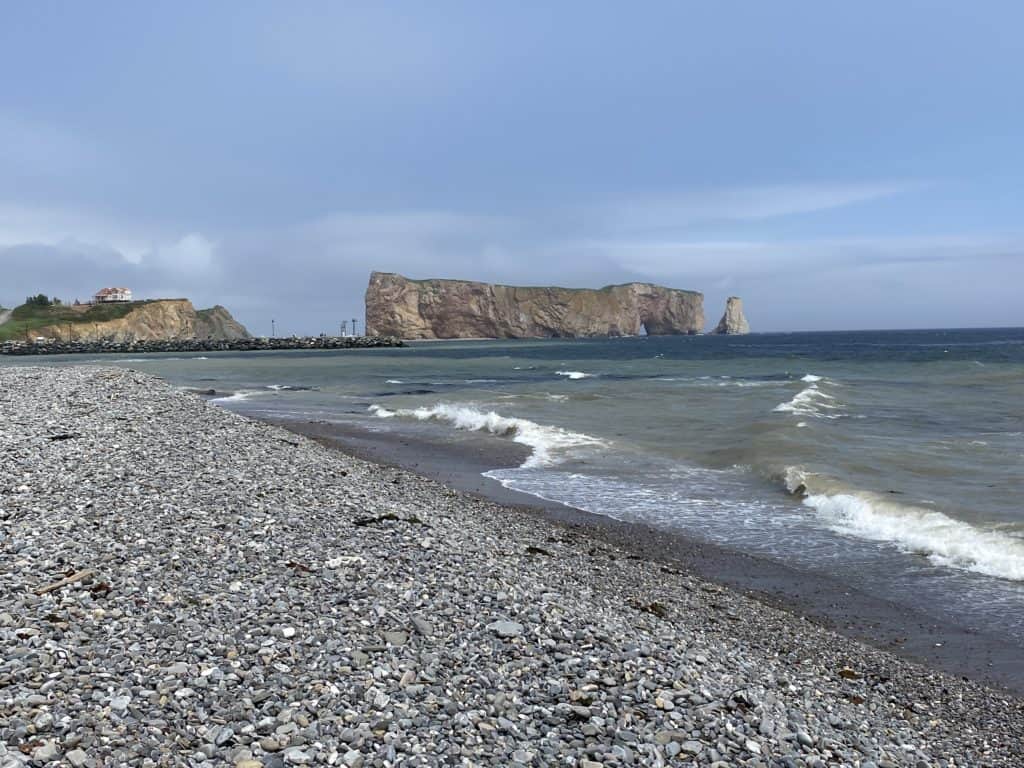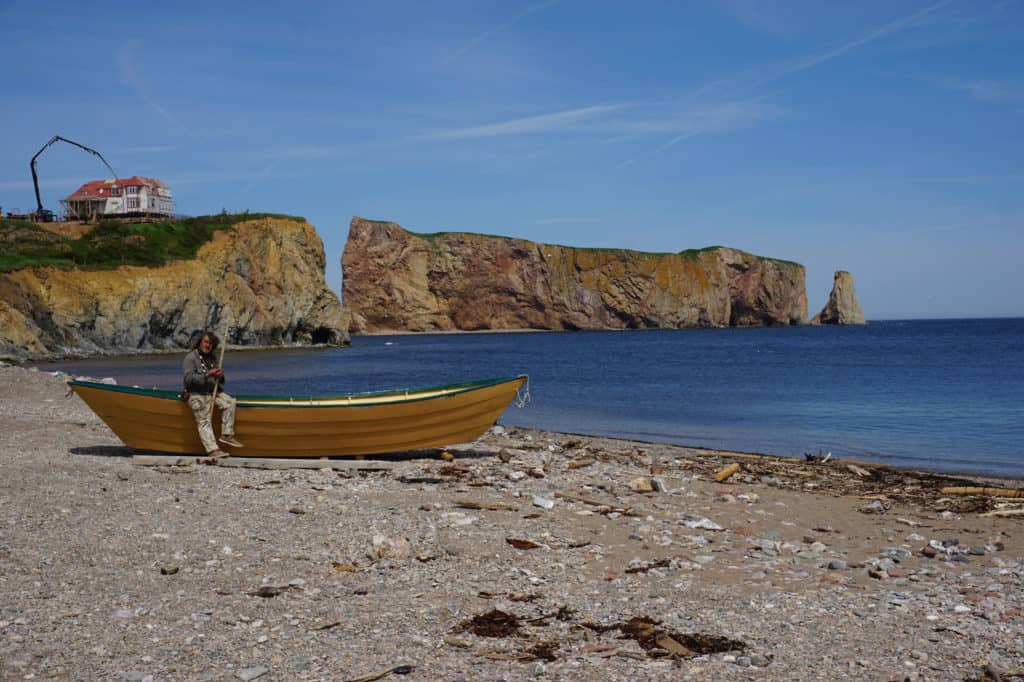 Initially we were planning to visit the village just to see the rock but we discovered that there were more things to do in Percé so opted for a 2 night stay giving us more than two days to enjoy the area before moving on to stay in the city Gaspé.
1. Enjoy the Village and the Views
I couldn't contain my excitement as the rock came into view on our drive into Percé along provincial Route 132 from Carleton-sur-Mer. The rock formation dominates the view in town but if you walk around and drive to various view points then you can see and photograph it from different angles.
The charming village of Percé is part of the city of Percé which is a large rural area and the region is a very popular vacation destination in Quèbec particularly during the summer months. We visited mid-June before Canadian schools are out for the summer so high season had yet to begin and not everything was fully open but there were still quite a few people around. It is a good idea to at least book accommodations ahead if you plan to stay in Percé or you might find that you're out of luck. Outdoor activities are the focus, however, you'll also find shops, restaurants and cafés in the village.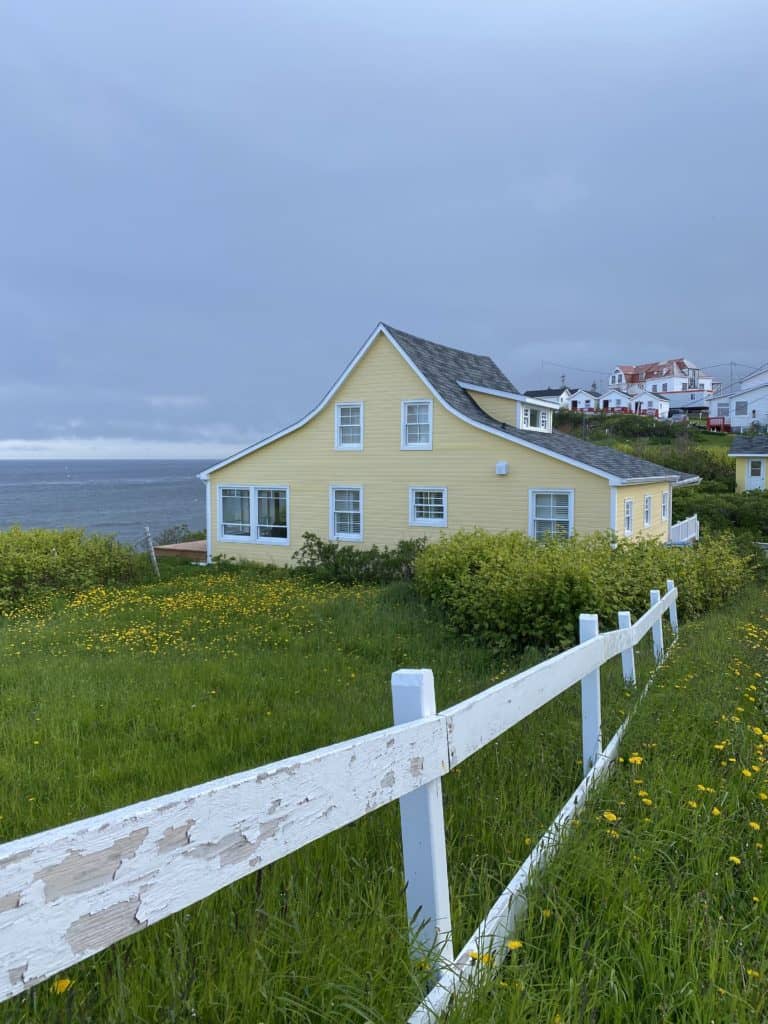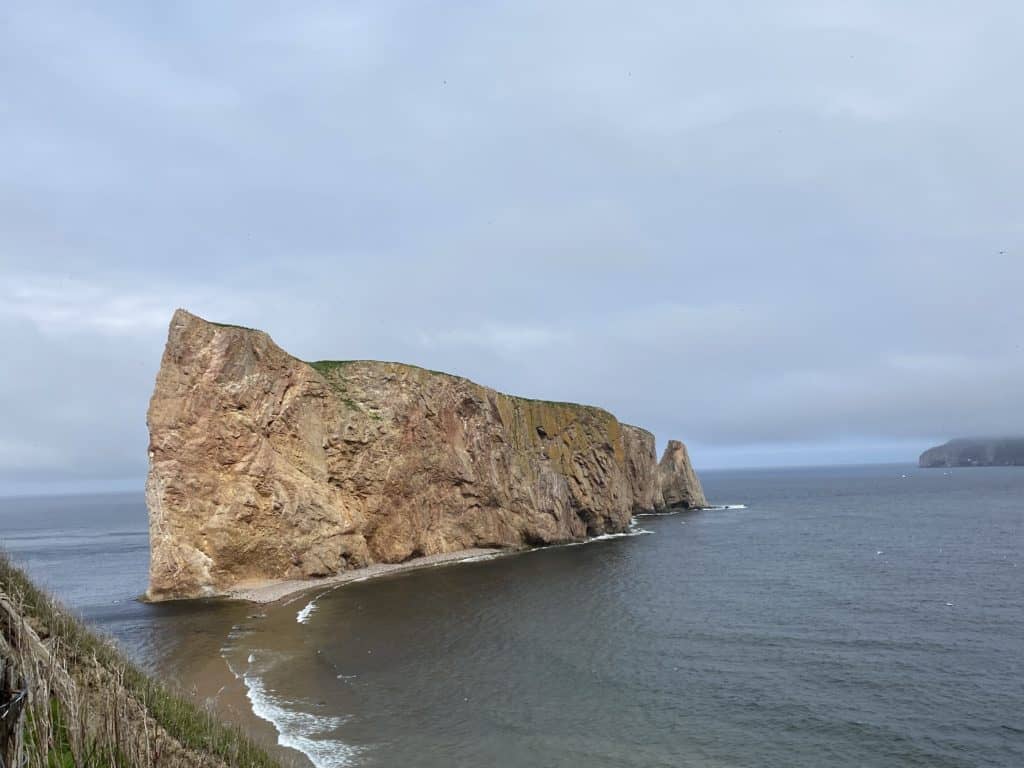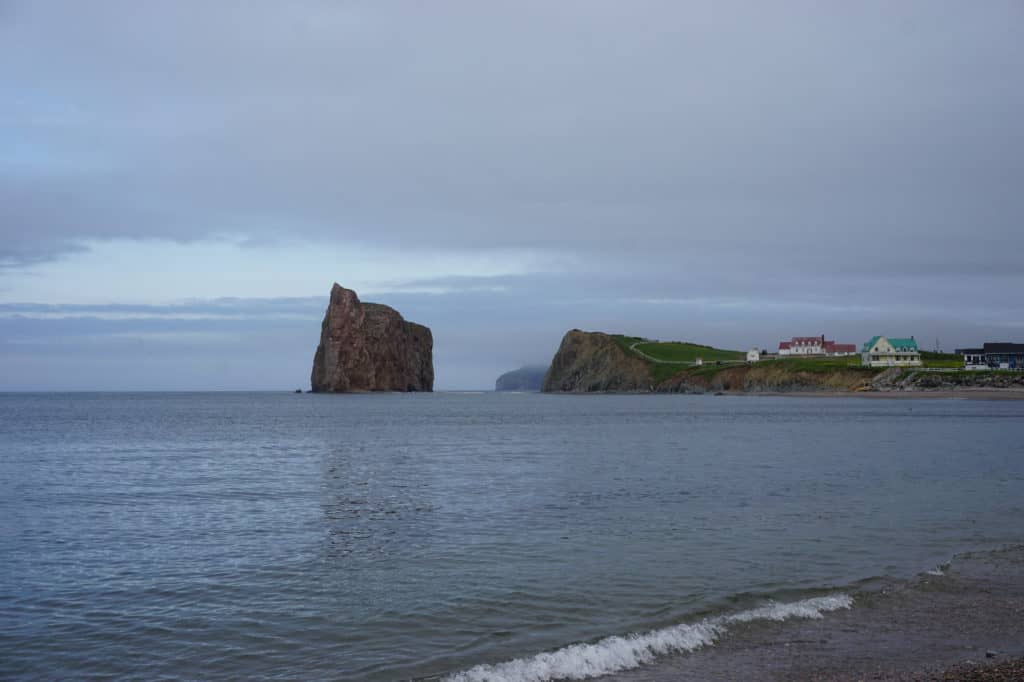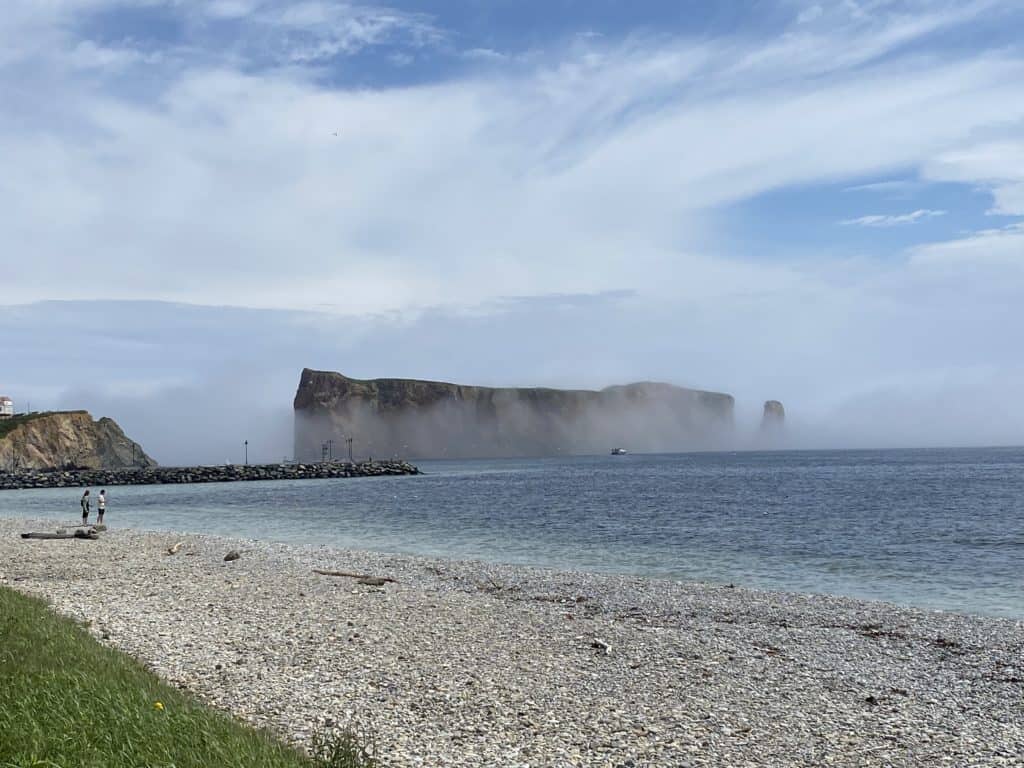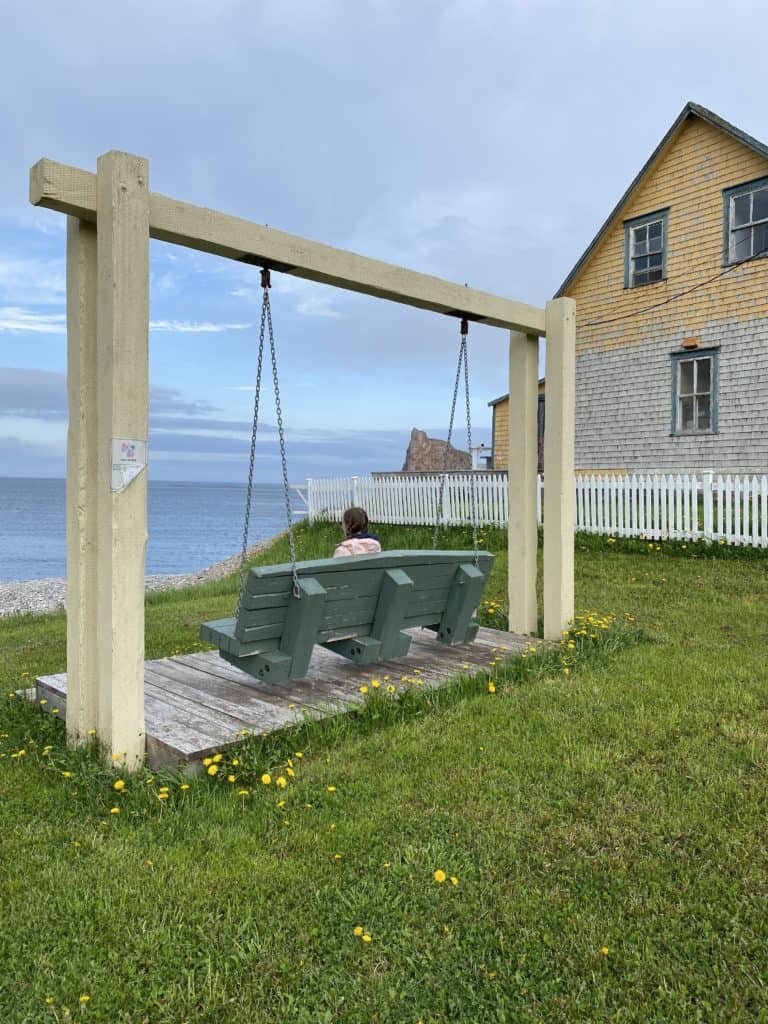 2. The Percé UNESCO Global Geopark
A visit to the Percé UNESCO Global Geopark is a must while in the village. A UNESCO Global Geopark is "a geographical area where sites and landscapes of international geological significance are managed according to a global concept of protection, education and sustainable development". UNESCO has been working with geoparks since 2001 using a "bottoms up" approach that combines conservation and sustainable development while involving local communities. There are currently 177 UNESCO Global Geoparks in 46 countries (2022) – five of them are in Canada including the one at Percé.
Activities at the geopark include hiking (self-guided or guided), a suspended glass viewing platform, ziplining, geocaching, camping and a multimedia experience called Tektonik at the Experiential Pavilion near the entrance where visitors can learn more about the formation of Percé Rock. Access to the 18km of trails is free but there is a fee for guided hikes.
We hiked on our own to the suspended glass platform. It isn't a difficult hike but there is a fair elevation gain – coming back down was much faster! The hike to the platform takes approximately 30-45 minutes, however, there is also a shuttle available for $7 per person that departs from the Experiential Pavilion.
The glazed platform suspended cantilevered from a cliff of Mont Ste-Anne at an altitude of 200 metres (656 feet) first opened to visitors in 2017 and provides a breathtaking view of the village and Percé Rock. The start of the zipline is also nearby. I have a fear of heights so standing on the glass platform was daring enough for me – I wouldn't even entertain the thought of ziplining!
Admission Pricing (2022) – Children 5 and under are free: Tektonic Multimedia Experience $15.25 (Adults)/$10.25 (Children); Suspended Glass Platform $11.25/$8.25; Zipline $14.25/$10.25; Shuttle Bus $7/$6.
The Geopark is open 12 months a year, however, from November to May the Pavilion is only open weekends, statutory holidays, school breaks and by reservation. Depending on weather conditions, scheduled activities may be cancelled or postponed.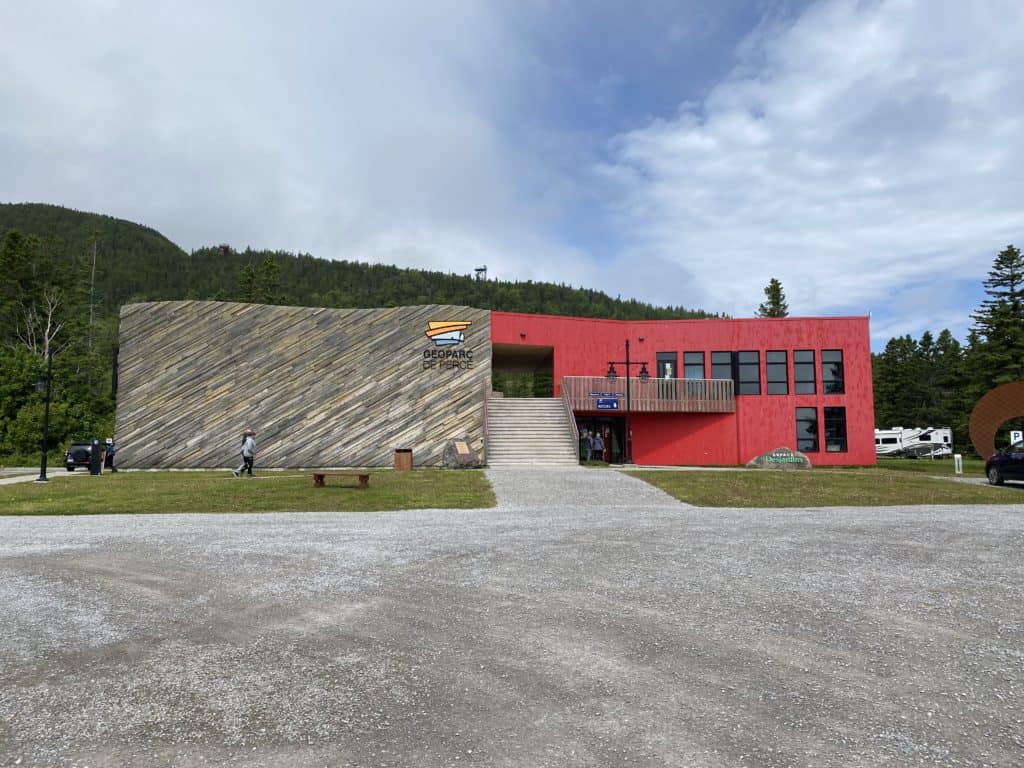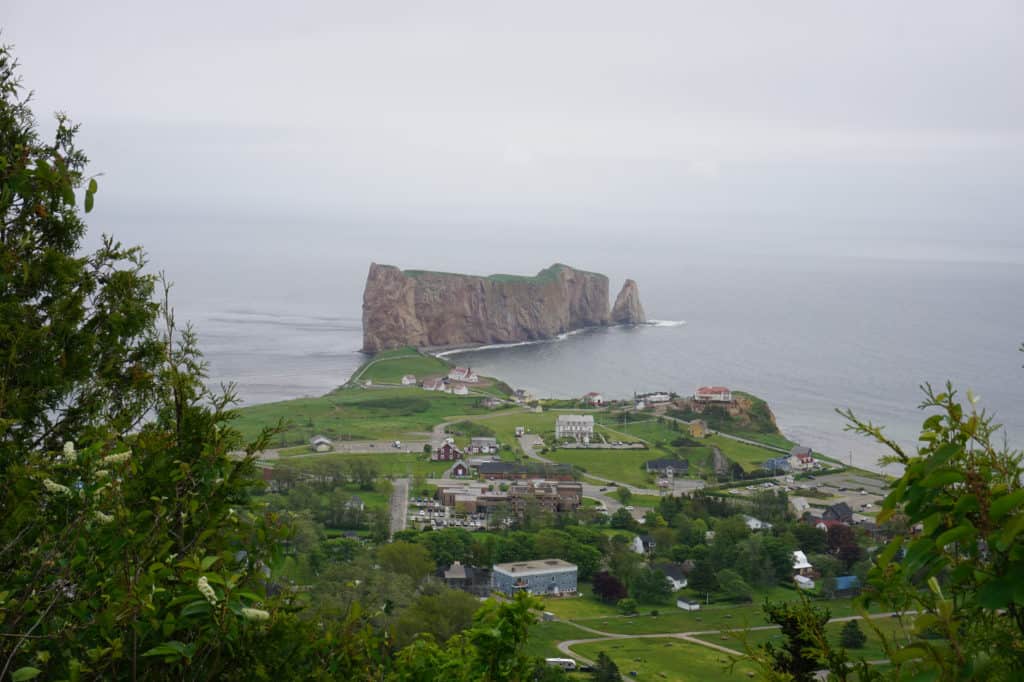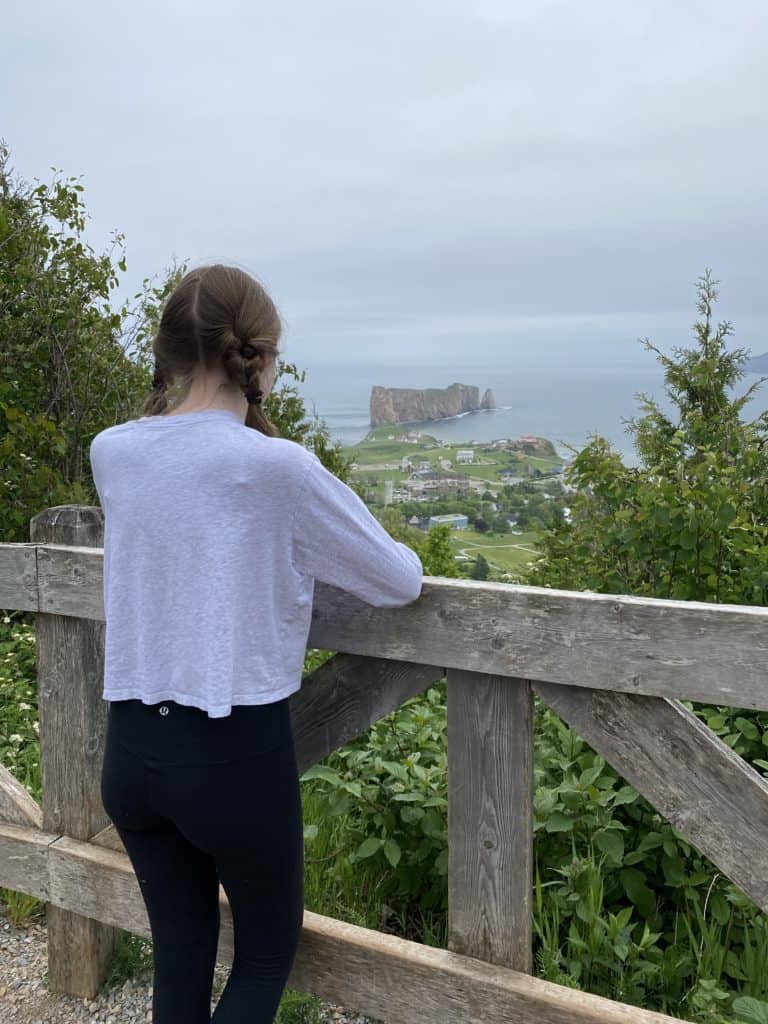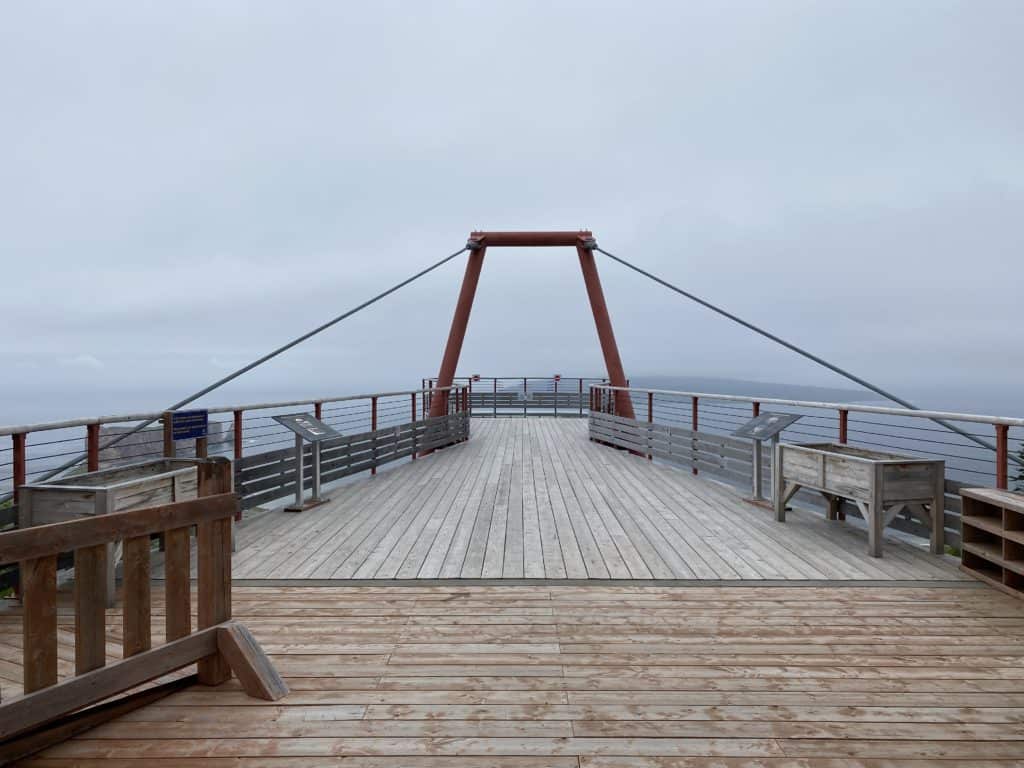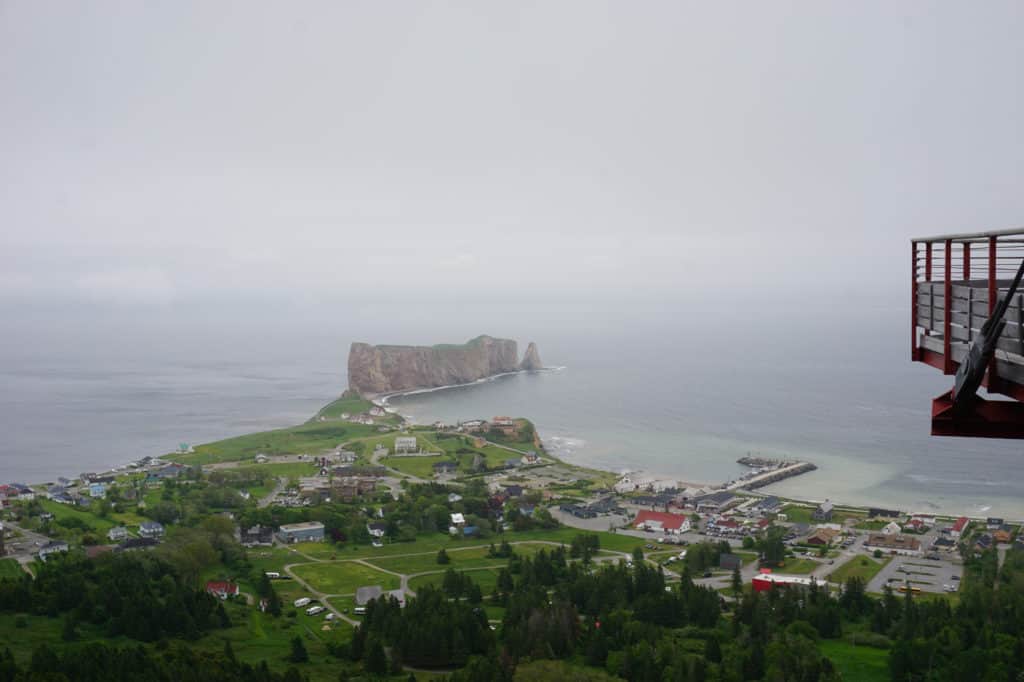 3. Bonaventure Island's Northern Gannet Colony
Once I started researching things to do in the Gaspé Region and Percé Rock and Bonaventure Island National Park (Parc National de L'Île-Bonaventure-et-du-Rocher-Percé), visiting Bonaventure Island (Île Bonaventure) to see the gannet colony vaulted to the top of my wish list as well. (Note: This is a Québec National Park which is equivalent to provincial parks in other provinces and not a Parks Canada park.)
The island park is home to the largest migratory bird refuge in North America and the northern gannet colony which is home to 110,000 northern gannets is the most accessible in the world. Bonaventure Island also offers four hiking trails and a historic heritage trail that reflects the island's prosperous past. The park is only open to visitors from late May to early October each year.
How to get to Bonaventure Island
Purchasing a ticket to get to Bonaventure Island is a two step process since the boat excursions are run by private operators from the dock in Percé. Visitors need to buy a ticket for the boat excursion directly from the boat operators and pay the separate admission fee for entrance to the park if they wish to disembark on Bonaventure Island.
Park admission can be purchased at the SÉPAQ Discovery and Visitors' Centre which is near the dock. The Visitors' Centre also has available information about services and activities in the park, educational displays and a boutique. (2022 pricing: $9.25 for adults, children 17 and under free.)
We purchased our excursion for a cruise around Percé Rock and Bonaventure Island from Les Croisières Julien Cloutier Inc. which had several scheduled trips each day. Tickets must be purchased in person and reservations are only available for large groups. The duration of the round trip excursion is approximately 1 h 15 and the pricing in 2022 was $45 per adult and $22 for children 6-15. Once on the island you can stay as long as you like but be mindful of the sailing times for boats returning to Percé as you don't want to miss the last one of the day.
Boat Excursion to Bonaventure Island
We had planned to visit Bonaventure Island on our full day in Percé but it was extremely windy that day and we could tell that the water was rough – not good for someone like me who is a bit of a nervous sailor. The next day we got up and the winds had died down somewhat but there was a dense fog so we weren't sure whether or not we should go ahead with an excursion.
The fog cleared early afternoon so we bought our tickets only to have it roll in again. We departed in dense fog and could hardly see Percé Rock at all as we sailed around it but luckily it cleared completely as we approached Bonaventure Island and we had lovely weather while we were there. One of the highlights of the trip for me was seeing the seals sunbathing on rocks around the island and the Bonaventure Island birds on the cliffs as we approached the island.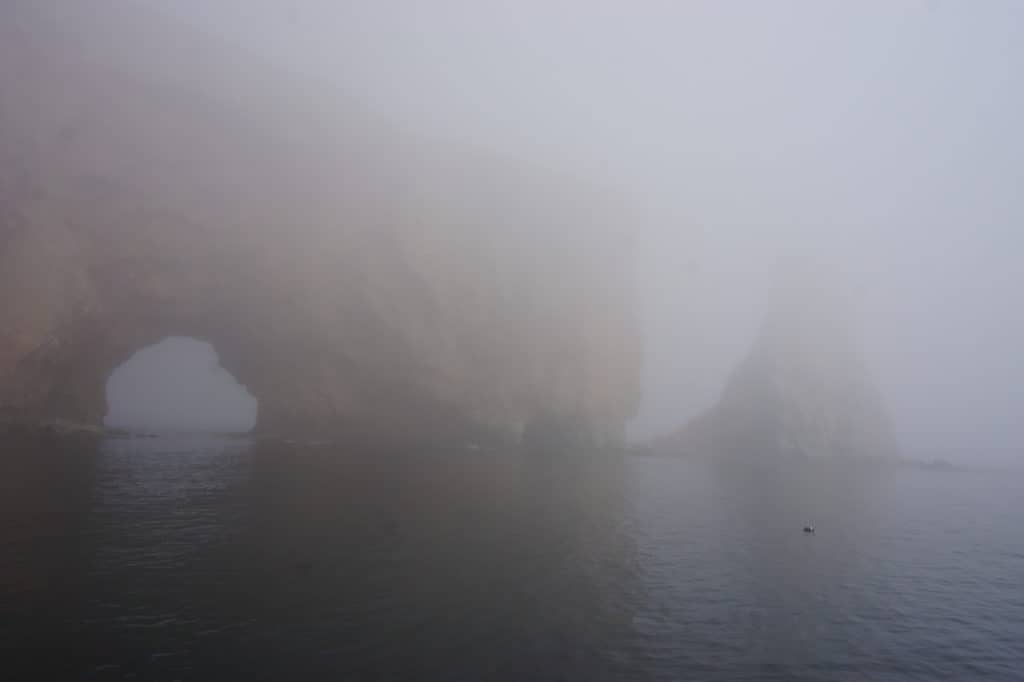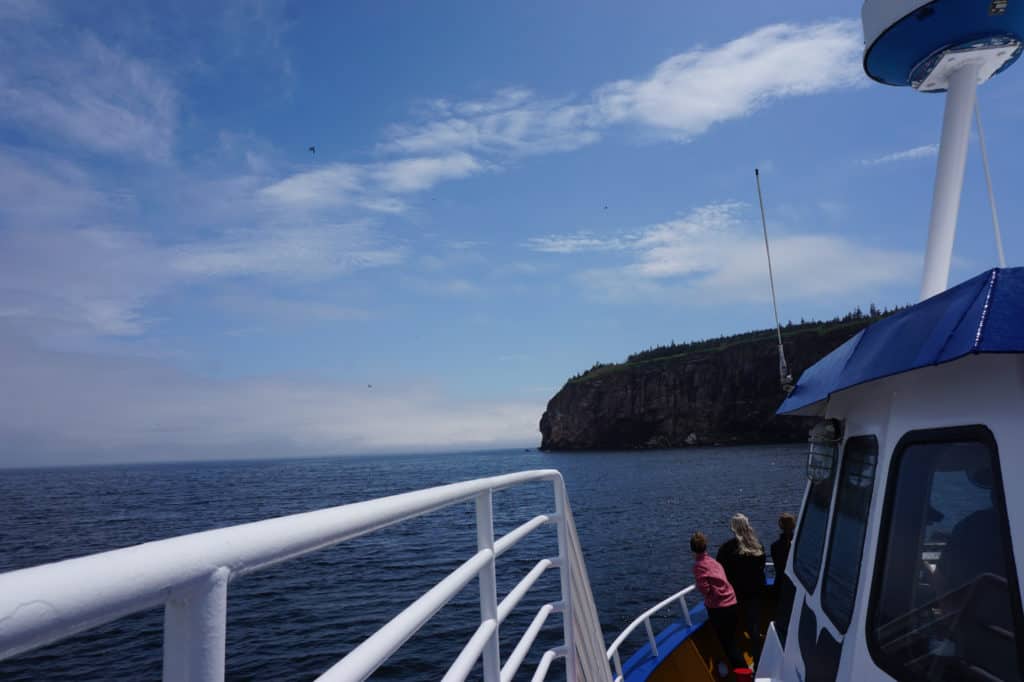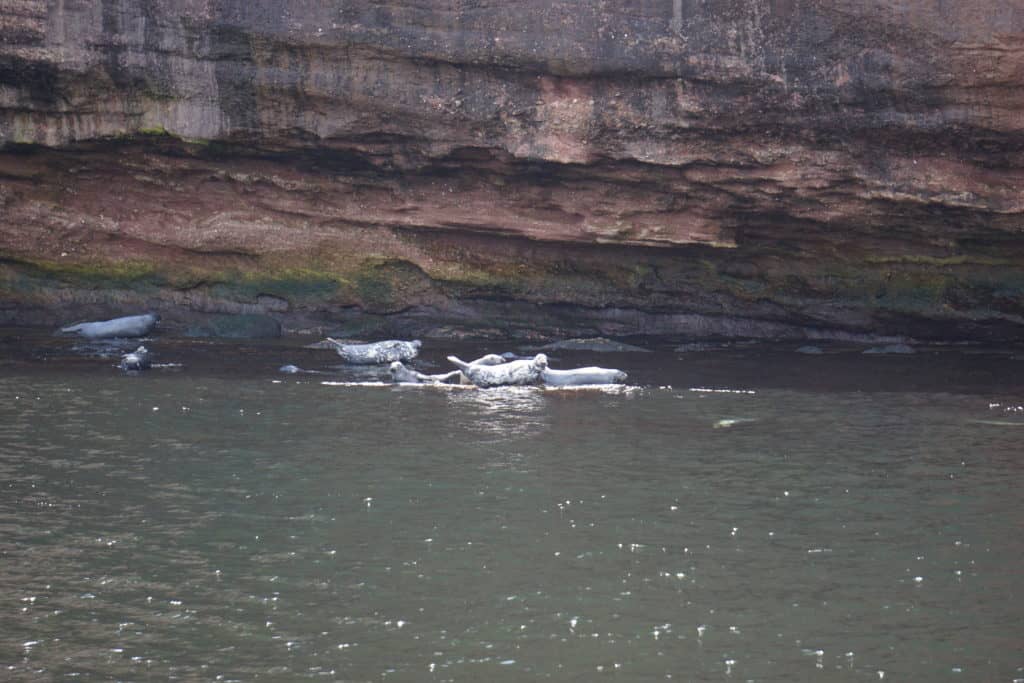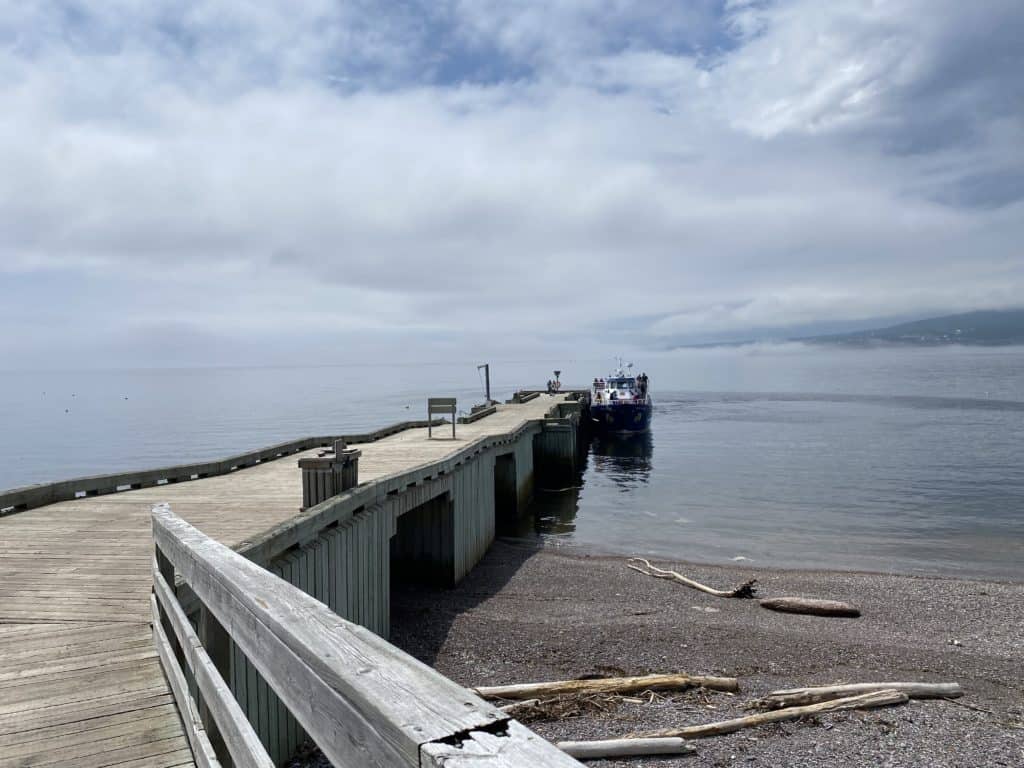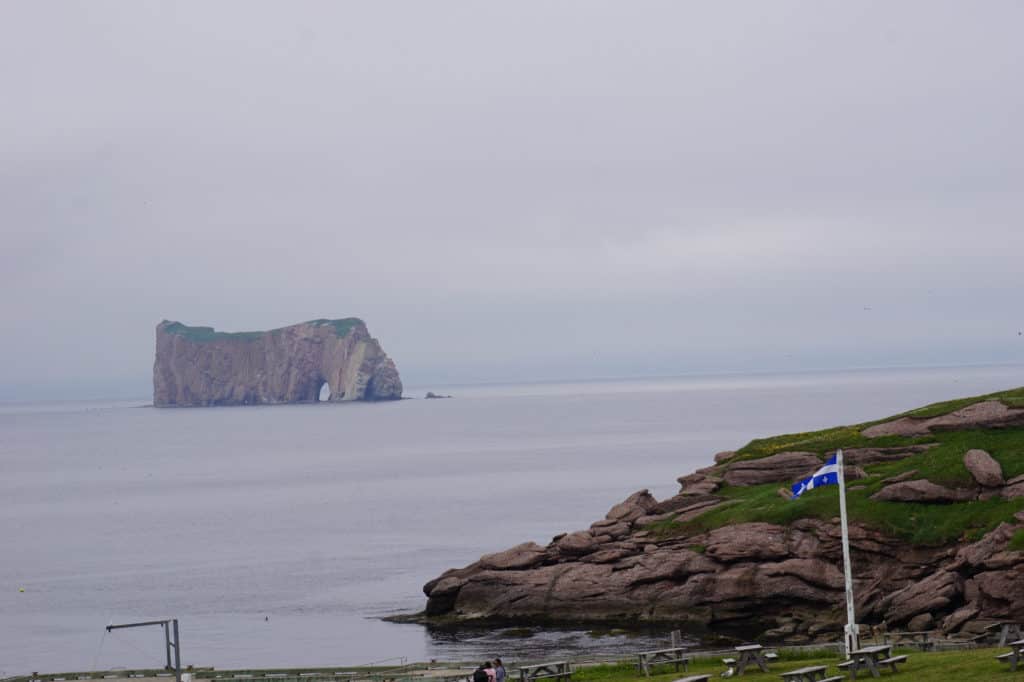 Arrival on Bonaventure Island
There is a small restaurant/café (Resto des Margaulx) with an outdoor dining patio near the dock where we stopped to buy a snack before heading out on our hike. There are also restrooms available nearby.
Our focus was hiking to the Northern Gannet colony as we didn't have as much time as we would have liked because of our delayed start due to fog. There's also a historical house on the island The LeBoutillier House (Maison Le Boutillier) but we only had time for the one hike directly to the bird colony and back to the wharf.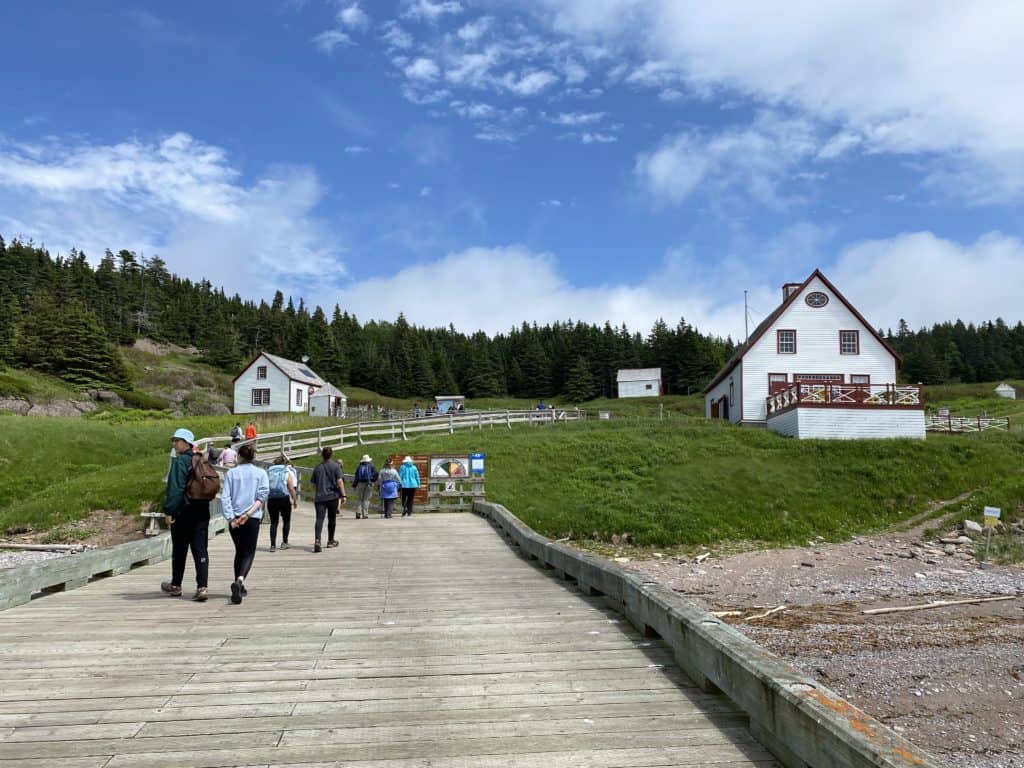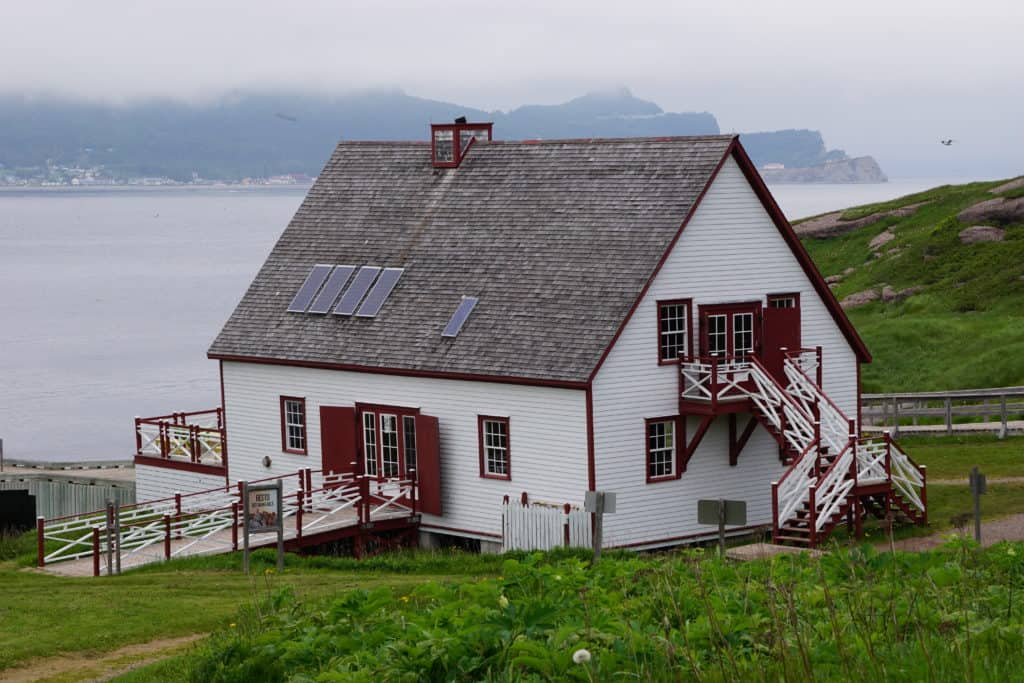 Bonaventure Island Hike
There are several hiking trails on Bonaventure Island and if we had arrived in the morning as intended then we would have spent more time hiking the island. As it was we chose the Les Colonies Trail which is described as the easiest and most direct route to the famous gannet colony. The trail is not difficult (it's considered an intermediate trail) but has some elevation gain. It's not a loop trail and is listed in park guide as 5.6 km taking approximately 1.5 hours to complete , however, it took us close to an hour just to walk there but a little less time going back. You will know when you're getting close to the colony because you'll hear the noise from the birds!
The park is the largest migratory bird sanctuary in North America and home to more than 200,000 birds from 11 different species although the gannet colony is the star attraction. The large colony of more than 110,000 Northern Gannets is a breathtaking sight and it's an incredible experience watching them interact with each other from a close distance (there are rope barriers in place so humans don't get too close and disturb the birds).
We spent 35-45 minutes watching the birds and taking photos before heading back to the dock for the return trip to Percé.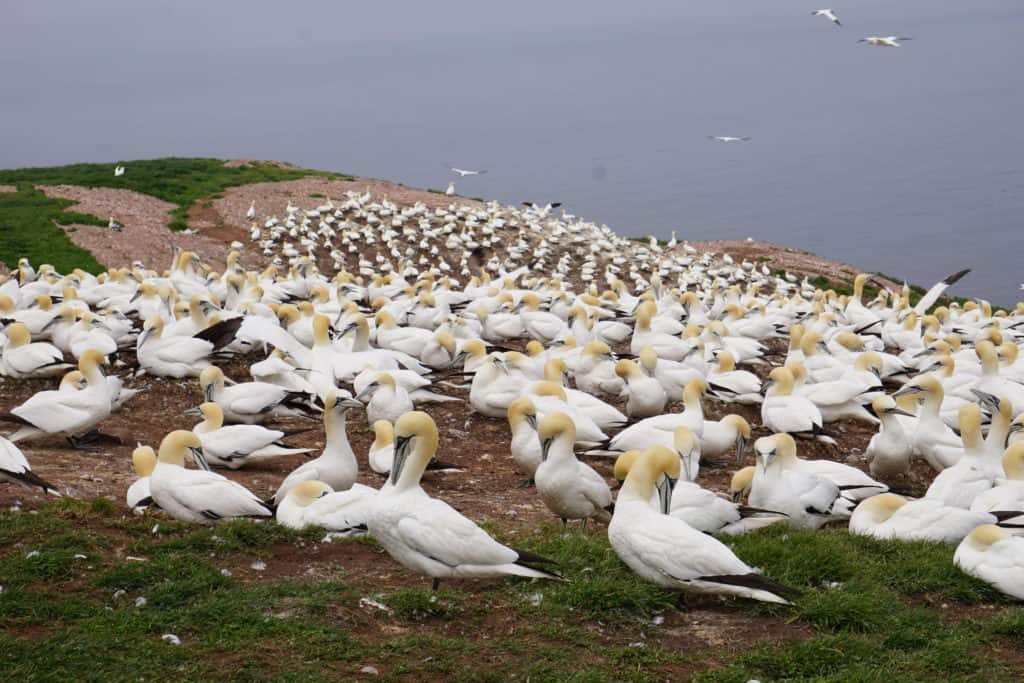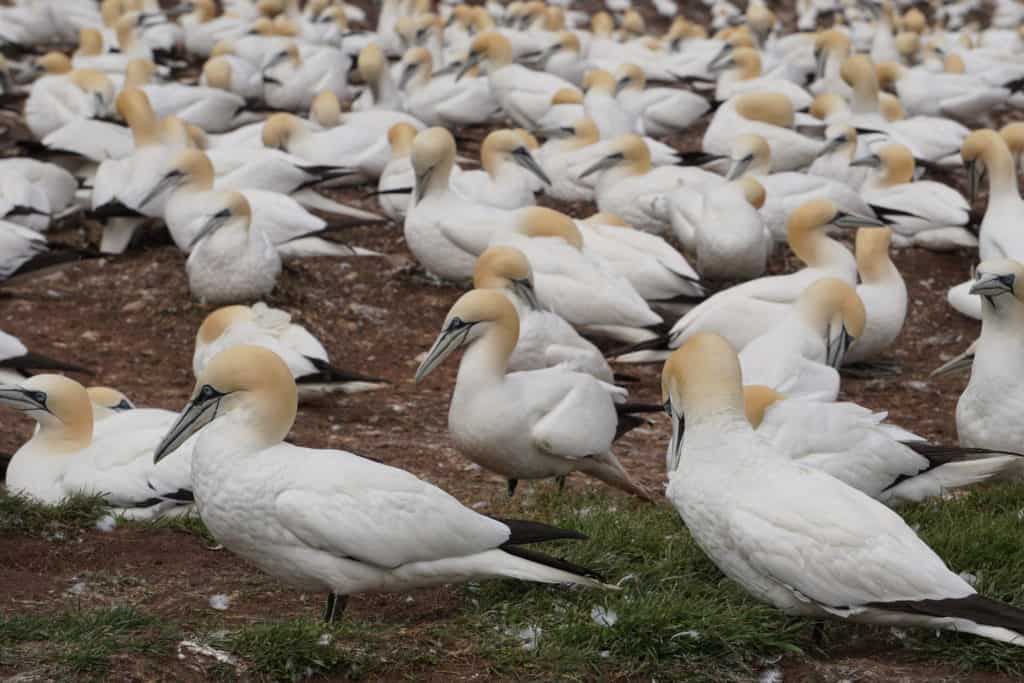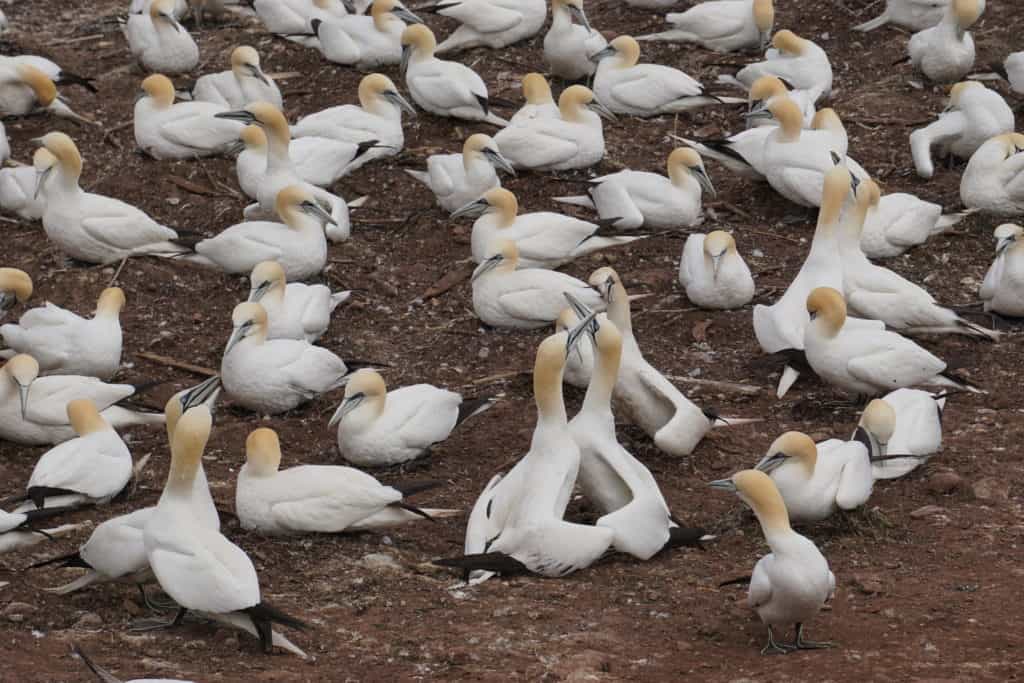 We had hoped to visit the historic general store in Anse-à-Beaufils near Percé as well, however, it wasn't opening for the season until the next day so after our visit to Bonaventure Island we hopped back into the car and headed down the road to Gaspé which would be our base for exploring Forillon National Park.
Where to Stay in Percé
We stayed at Hôtel La Normandie which is located on the waterfront in Percé. Our room was on the top floor and we had an incredible view of Percé Rock from our balcony. We stayed for 2 nights in a Junior Suite on the 3rd floor (wifi included, free outdoor parking, refrigerator in the room). Our room was spacious and comfortable but for me the view was the most important thing!
There is a restaurant, however, we didn't eat here as outdoor dining wasn't available. We were travelling in as covid cautious way as possible so were dining outdoors or orderting takeout only.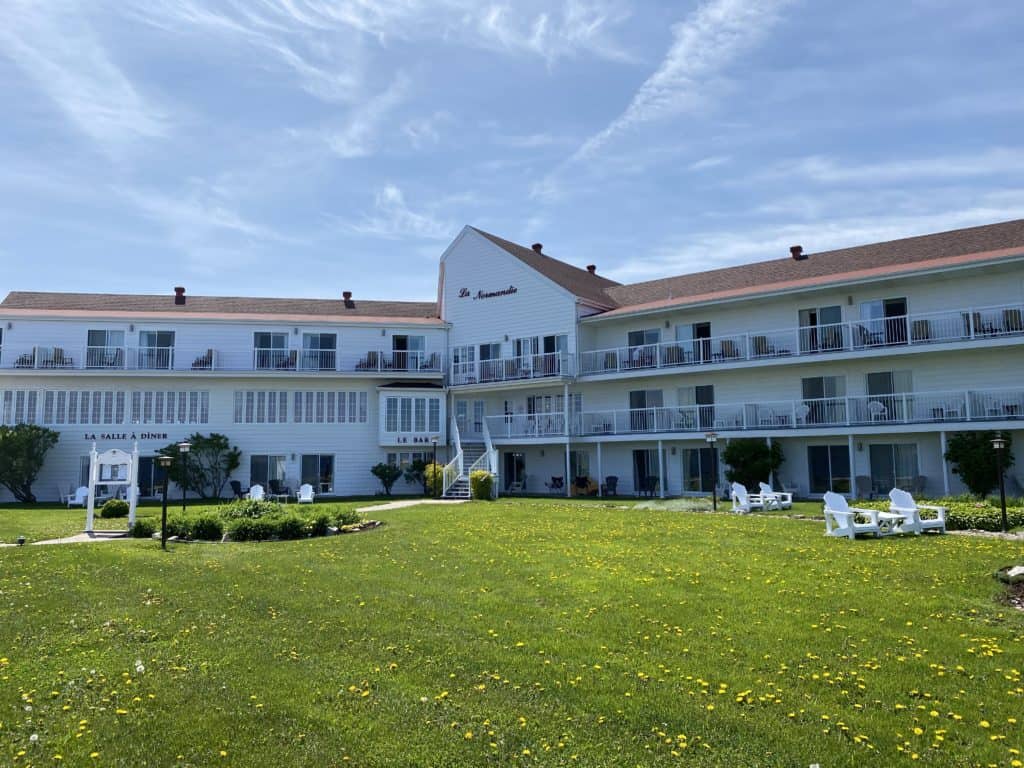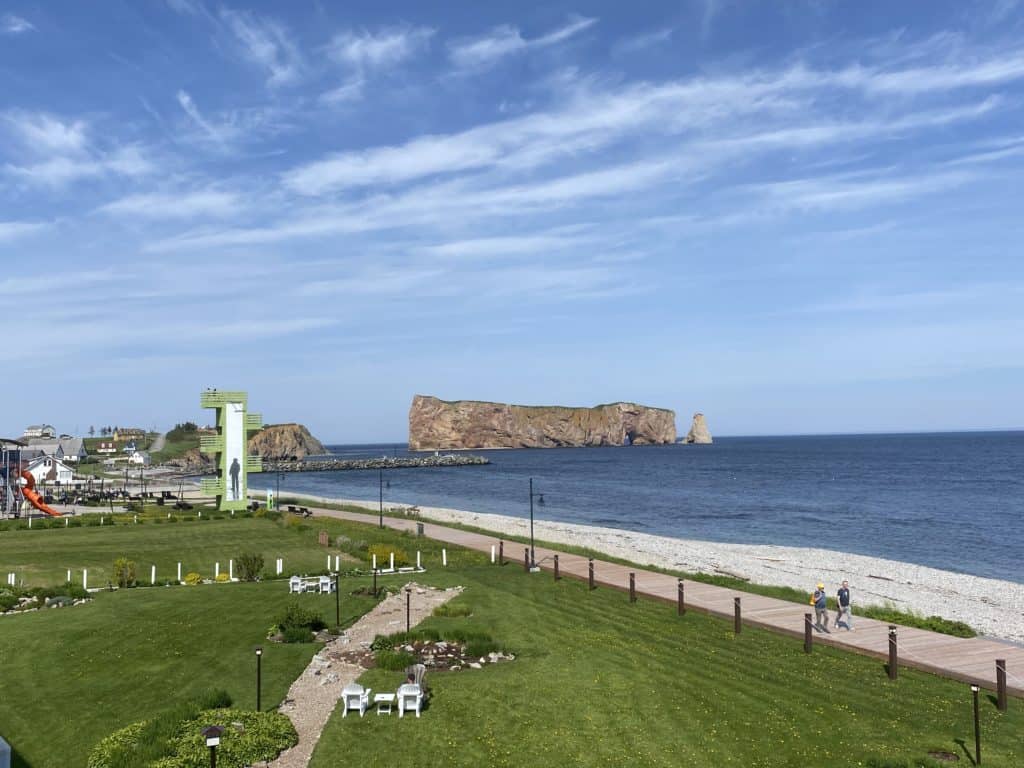 Where to Eat in Percé
My daughter and I love our lobster rolls and the ones we had at Resto du Village were quite good. This is a small, very casual restaurant with outdoor dining located on the main street in the village. We also enjoyed Nath & Compagnie which was directly across the street from our hotel – delicious latte and loved the café-bookshop combination!
We had planned to eat at La Maison de Pecheur which is located on the boardwalk just a few steps from the wharf with views of Percé Rock but the weather wasn't always cooperating for outdoor dining on our mid-June road trip and it rained the day we were to eat there. I might have to return one day as I've heard this restaurant is excellent!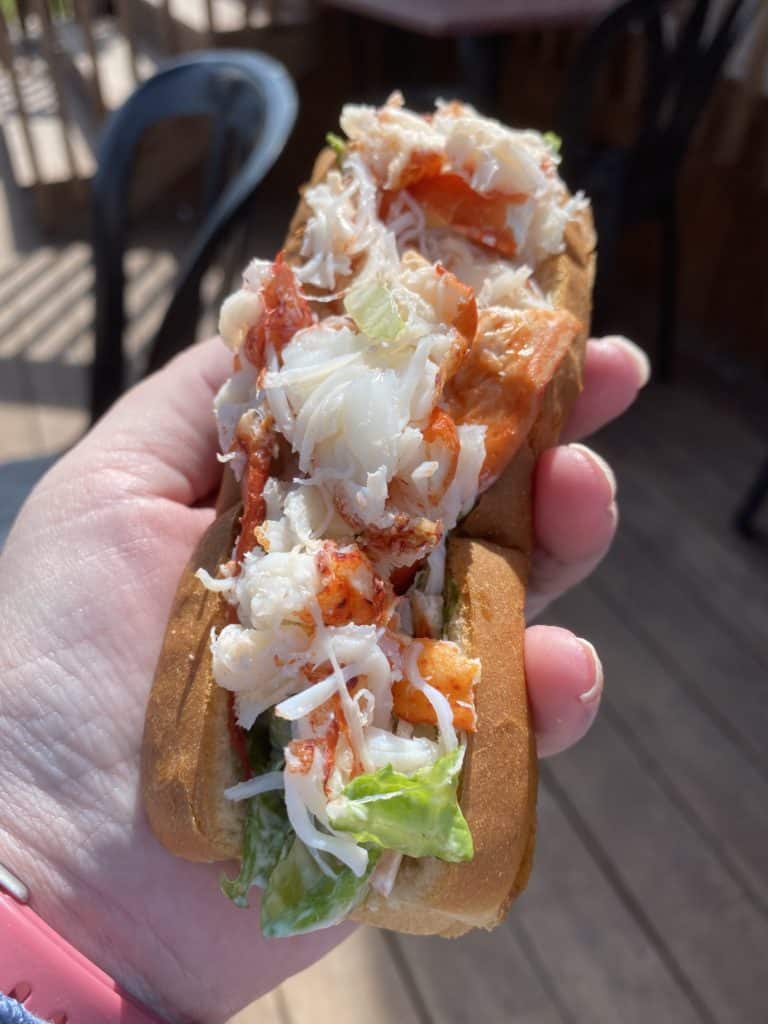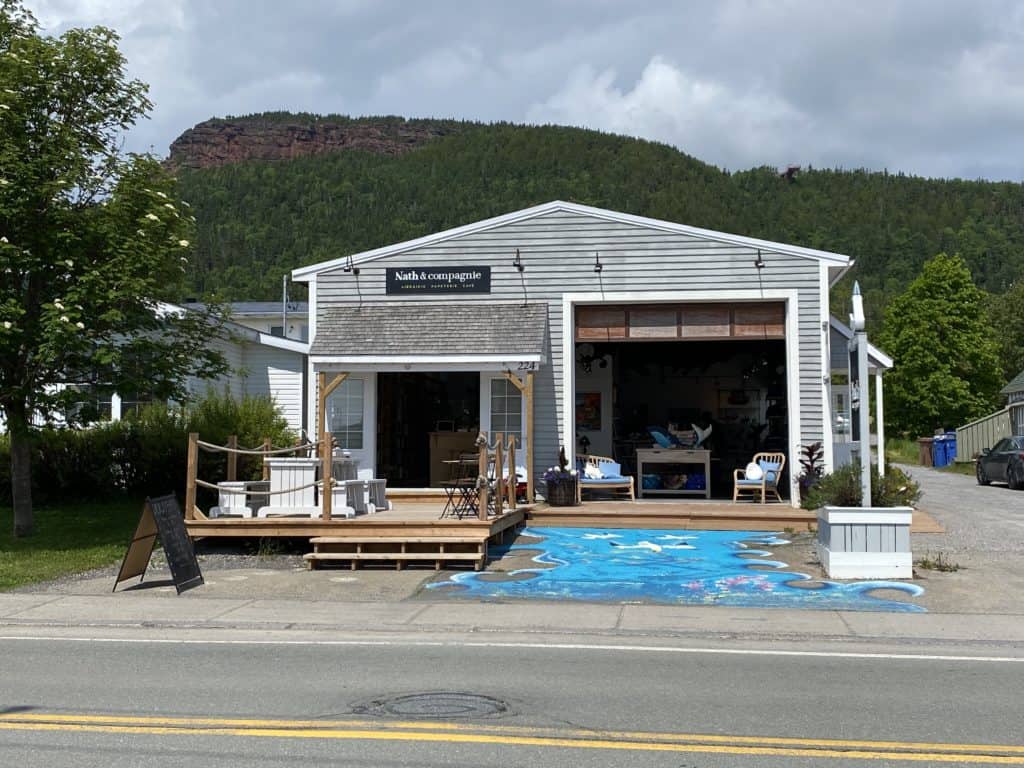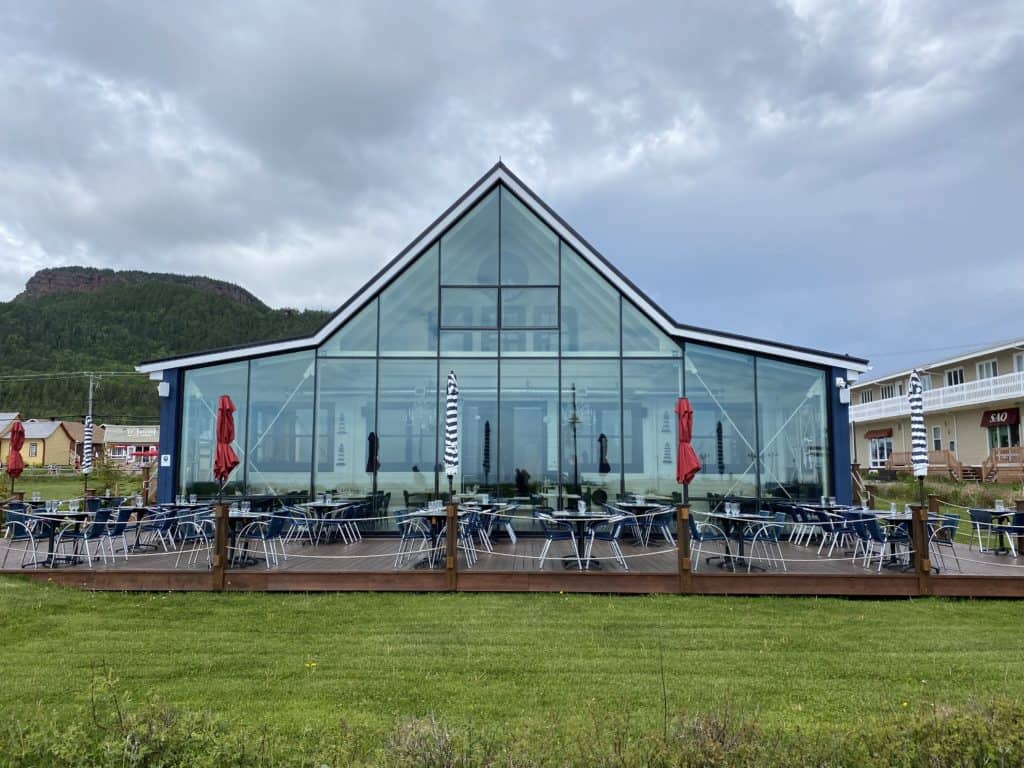 Pin This For Later